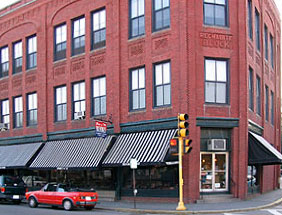 The Spirit of '76 Bookstore and Card Shop in Marblehead, Mass., has closed, marking another closure or sale of bookstores by HugoBooks, which now has just two shops, both in Andover, Mass.: the Andover Bookstore, one of the oldest bookstores in the country, and Campus Collection, which focuses on Phillips Academy and town clothing and gifts.
The Spirit of '76 Bookstore was founded in 1965 by the late Bob Hugo, who with his son, owner John Hugo, bought and founded a group of other bookstores north of Boston. These included the Book Rack in Newburyport, which closed in September; Cabot Street Books & Cards in Beverly, which was sold this summer to Meg Wasmer and Julie Karaganis, who have renamed it Copper Dog Books; and the Spirit of '76² in Swampscott, which had a brief run, opening in 2011 and closing in 2013.
The original Spirit of '76 Bookstore was 500 square feet. In 1969, the store moved into its longtime location, which had 3,000 square feet. According to the Salem News, stock at the store had been diminishing in the past several months. A sign posted over covered windows reads: "The Spirit of '76 & The Hugo Family THANK YOU FOR 54 YEARS 1965-2019 OF BOOKSELLING IN MARBLEHEAD."