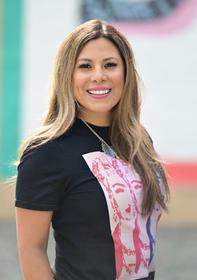 Yamile Saied Méndez is a fútbol-obsessed Argentine American. She lives in Utah with her Puerto Rican husband and their five kids, two adorable dogs and one majestic cat. An inaugural Walter Dean Myers Grant recipient, she's a graduate of Voices of Our Nations and the MFA program in Writing for Children and Young Adults at Vermont College of Fine Arts. She is the author of five middle-grade books, as well as the picture book Where Are You From, illustrated by Jaime Kim. Méndez is also part of Las Musas, the first collective of women and nonbinary Latinx middle grade and young adult authors. Her YA debut, Furia (Algonquin Young Readers), last week received the inaugural Pura Belpré Young Adult Author Award.
Congratulations! How does it feel to win the first-ever Pura Belpré Young Adult Author Award?
Thank you so much! I feel such a mix of emotions, mainly gratitude. I'm so grateful for all the people who championed Furia from the very beginning, back in the early 2000s when I was a very young mom, stealing moments here and there to write the book of my heart. I'm so inspired by the other award winners, whose books are life changing and important, and I'm honored to see my book beside theirs. I'm thrilled that after this recognition, Furia may reach even more readers. Given that this is the inaugural medal in the YA category, I'm honored and grateful.
What is it like to win such an exciting award for your debut?
When I started writing Furia (under a very different title), I didn't have the craft tools to tell what I had in my mind and my heart. As I grew as a woman and a writer, I acquired those tools and a community. I stuck with the story until I had the skills to do it justice, and now to see the wonderful reception is a validation of so many years of solitary work and persevering. 2020 was such a challenging year, but in terms of books published, there was such a wealth of stories! I'm honored to have won the medal especially during a pandemic and a social revolution. It inspires me to continue telling my stories.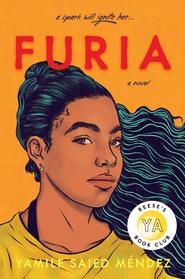 In Furia, Camila Hassan, a 17-year-old soccer player living in Argentina, desperately wants to get an athletic scholarship to a North American university. What inspired you to write this story?
I've always been obsessed with fútbol, but when I was a teenager, there weren't opportunities for girls to play, at least in Argentina. When I started writing Furia, I hadn't been back in Argentina for several years, and I was extremely homesick. Furia was my personal alternate reality where I loved exploring what if. Every time I sat down to write, I could visit Rosario, albeit in my mind and my heart, and I drew from my own experiences growing up there and that of the amazing futboleras I met in my youth.
The realism of Camila's family being opposed to her playing the sport she loves is something a lot of teens can relate to--whether it be sports or some other aspect of their life. Additionally, Camila grows and changes, builds herself up and becomes a young woman in the face of patriarchy and misogyny. Why did you want to write this book?
I couldn't not write it. Writing to me is like bearing witness of the things I see and experience. Camila is based on so many people I know, whose stories deserved to be told. I guess writing is also my activism, a way to rise my voice to call attention to things that matter to me and affect all of society.
What do you hope readers take with them when they finish Furia?
I never sat down to write with the purpose of teaching or leaving a message, but I did with the hope that my future readers would be dazzled by the power of a teenage girl with big dreams and be inspired to realize their own.
Is there anything else you'd like to tell Shelf Awareness readers?
I just want to express my gratitude for the wonderful support a story about a girl from a humble barrio in Rosario has received. Even if your background and circumstances are very different from Camila's, I invite you to glimpse into this world, and you might be surprised that so many things connect us as human beings. And I hope that many future authors will add their stories and voices to the growing canon of Latine stories. We need to read different perspectives. I hope after reading Furia you will be inspired to add your own. --Siân Gaetano, children's and YA editor, Shelf Awareness