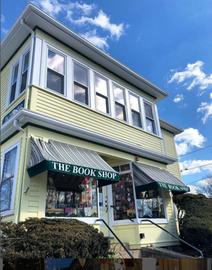 The Book Shop of Beverly Farms, Beverly, Mass., has launched a biweekly podcast, John Updike's Ghost, that features casual discussions between the store owners--siblings Hannah Harlow and Sam Pfeifle--about what they're reading, running the store, how they match books with readers and more. Harlow and Pfeifle bought the store two years ago.
"These are the kinds of conversations we have with people who come into the shop all the time," said Pfeifle. "They want to know what we're reading, how we read, why we read what we read. Since we're always having these kinds of conversations with each other anyway, we figured why not hit the record button so people can hear how we talk about books."
Harlow added, "There are a lot of weird ideas about reading out there. People think you have to read hard books, or that you have to finish everything you start, or that long books are too intimidating. We want them to hear that we read romances and mysteries, too, and that we think some books aren't working for us at all and just put them down all the time. And reading books should be fun! It shouldn't feel like work!"
The owners have backgrounds in education, journalism, the publishing industry, creative writing and bookselling, giving them a useful perspective on books and their role in society, which they hope to pass on, along with their enthusiasm and joy for books and reading, to listeners. They also hope to act as a filter, they said: "With so many books being released each week, it can be hard to know what to take a chance on."
The podcast is named after John Updike because the store thinks of him as its "patron saint." The owners explained: "As a long-time resident of Beverly Farms, the Book Shop was his local source for books, and he frequented the spot, which first opened in 1968. As Harlow and Pfeifle learn more and more about his role in the community, his philosophy on reading and writing, and the way his catalog stands up to contemporary scrutiny, Updike's presence really seems to resonate through the Shop."