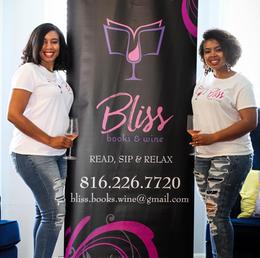 Bliss Books owners La'Nae Robinson and La'Nesha Frazier
The opening of Bliss Books & Wine in Kansas City, Mo., has been delayed after owners and sisters La'Nesha Frazier and La'Nae Robinson were denied a liquor license.
According to the Kansas City Star, Kansas City's Regulated Industries Division refused the license on the grounds of density, explaining in a letter that there are already 11 businesses in a 3,000-foot radius with retail sales from drink/tavern liquor licenses. Some 9,151 people live in that same 3,000-foot radius area, and a "minimum population of 18,000 is required before a retail sales by drink/tavern license could be issued at this location."
The editorial board of the Star wrote that although the City Council revised some liquor license ordinances earlier this year, "the amendments didn't go far enough." Jim Ready, the manager of the Kansas City Regulated Industries Division, has also written in a letter that the city's "density model has become antiquated because there are many different types of businesses that have an interest in getting a liquor license that are not simply categorized as a 'tavern' or a 'package store.' "
Robinson and Frazier have gathered neighborhood support and spoken to a number of City Council members in advance of a meeting next month during which further changes to the city's liquor license laws will be discussed. If the city council ultimately approves the changes, the manager of the Regulated Industries Division would be able to approve or deny applications on a case-by-case basis.
Earlier this year, Frazier and Robinson ran a Kickstarter campaign that raised $44,073 to help them open their bookstore and wine bar. They had planned to open this month, but for now the store remains an online-only business.