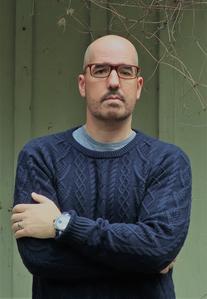 photo: Michael Livio
Riley Sager is the author of six novels, including Lock Every Door, Home Before Dark and Survive the Night. His debut novel, Final Girls, won the ITW Thriller Award for Best Hardcover Novel and has been published in more than 30 countries. A native of Pennsylvania, Sager now lives in Princeton, N.J. His latest book, The House Across the Lake (Dutton, June 21, 2022), is an escapist work of psychological suspense about an actress on retreat after a streak of bad press.
Handsell readers your book in 25 words or less:
It's Rear Window on a lake, with a mid-book twist so wild that we had to beg early readers to keep it a secret.
On your nightstand now:
Things We Do in the Dark by Jennifer Hillier, which comes out this month. She's one of my favorite writers. We became friends more than a decade ago, and it's been a joy watching her talent continue to grow.
Favorite book when you were a child:
Charlie and the Chocolate Factory by Roald Dahl. Reading it was the first time I felt truly transported by a book. It really made me understand the hypnotic power of the written word.
Your top five authors:
In alphabetical order: Agatha Christie, Stephen King, Lorrie Moore, David Sedaris, Anne Tyler. Because I'm a thriller writer, some of these names might come as a surprise. But I love all genres and styles, especially stories told in a distinctive voice. All five of these geniuses have that in spades.
Book you've faked reading:
The Goldfinch by Donna Tartt is one of those books I bought with the best intentions but never got around to reading more than 50 pages. I thought it was amazing, but I got so distracted by life, work and other books that I haven't picked it up again.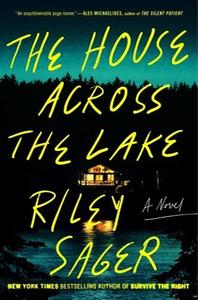 Book you're an evangelist for:
I love Beautiful Ruins by Jess Walter more than I love certain family members. There are books that come into your life at exactly the right moment and give you everything you didn't know you needed. This is one of those books. It's gorgeously written, and the sprawling narrative about love and longing and Hollywood just took my breath away.
Book you've bought for the cover:
Midnight in the Garden of Good and Evil by John Berendt. In my defense, it's an iconic cover. Like a lot of people, I was drawn to it because of that photograph of the Bird Girl statue. Lucky for all of us, it also turned out to be a great book.
Book you hid from your parents:
My parents still don't know how much Stephen King I read in secret when I was way too young to be doing so. I would say The Shining, but I didn't finish it because I was too scared. So Pet Sematary for the win! That one I was able to finish, even though the ending left me shaken for days.
Book that changed your life:
And Then There Were None by Agatha Christie is the first "adult" novel I ever read. It blew my young mind. I grew up on Dr. Seuss and Judy Blume. I had no idea books were capable of being this sinister and suspenseful. But after reading Agatha Christie, there was no going back.
Favorite line from a book:
"Only connect," from Howards End by E.M. Forster. The line is so famous that I feel a little chagrined for choosing it. But those two words speak so powerfully to me that I couldn't help myself.
Five books you'll never part with:
The Secret History by Donna Tartt
Misery by Stephen King
The Accidental Tourist by Anne Tyler
Dare Me by Megan Abbott
Special Topics in Calamity Physics by Marisha Pessl
Book you most want to read again for the first time:
Definitely Jess Walter's Beautiful Ruins. (I truly am an evangelist for this book!) I'd love to enter it again not knowing any of its pivots and time jumps and glittering surprises.