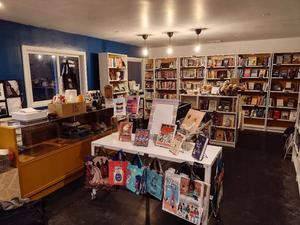 Maren Comendant opened Nook & Cranny Books earlier this month at 15th Ave E. in Seattle, Wash., formerly the site of the Oh Hello Again bookshop. The Capital Hill Seattle blog reported that in March, Kari Ferguson had announced she was seeking a new owner for Oh Hello Again "after just over a year of business at the little bookstore where she introduced the idea of retail bibliotherapy to Seattle with a shop organized by topics--'mental health, everyday problems, bettering yourself, relationships, travel and many more.' "
Comendant purchased the business, including Ferguson's stock, and set about shaping her own shop. She has stuck with the bibliotherapeutic organization, saying she and Ferguson share "a very similar literary aesthetic.... They are books I wanted to read, mostly."
Active in the city's arts and drama scene, Comendant is still working as a catering chef. Although her original dream was to have a book cafe where she hoped to mix her love of the written word with food and drink, after learning about the bookshop's availability she decided to build from the book side of things.
"I do want to bring a more culinary angle to it but that might be more subtle than I first thought," she added.
Nook & Cranny's "tiny dimensions are also a natural gate on ambitions," CHS wrote, adding that "the size limitations also inspire creativity. As the business settles in on 15th Ave E, Comendant says she hopes to eventually add events that could spill onto the street around the store." For now, she continues to work as a chef while also spending time behind the counter. Her sister also works at the shop and is helping to curate Nook & Cranny's kids selections.
Comendant said she is happy to see regulars returning, and that the space has turned out to be a perfect starting point for her journey in bookselling, with a steady stream of passersby and foot traffic in the busy commercial neighborhood. Thoughts of a book cafe still linger even in this smaller, simpler form.
"I want to celebrate the stories in my community," she said. "More than what is printed in the books.... My mission has not changed."