After debuting as an online and pop-up store roughly two years ago, Verb Bookstore will open a bricks-and-mortar store in Jonesboro, Ark., later this fall.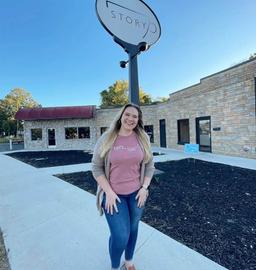 Sari Harlow in front of Verb Bookstore's future location.
Owner Sari Harlow reported that the bookstore will be in a temporary 500-square-foot space for the holiday season and early 2023 before moving into its long-term 1,700-square-foot home next year. Both locations are in Jonesboro's Gee Street District, which Harlow described as in the midst of a revitalization.
The temporary space, Harlow continued, is next door to Story Coffee House, a popular coffee shop with which Verb Bookstore has already partnered a number of times. Verb Bookstore sells new books for all ages, with a "little bit of everything" included in the inventory. The store's sideline offerings, meanwhile, include things like wine glasses and loose leaf teas as well as stationery and store-branded sweatshirts.
Harlow explained that in fall 2020, after she had decided to start a bookstore of her own, an independent bookstore about 30 miles north of Jonesboro closed. She bought that bookstore's inventory, allowing her to start the pop-up with a "store's worth of inventory." Over time she's filled in that selection with new titles based on customer and community feedback.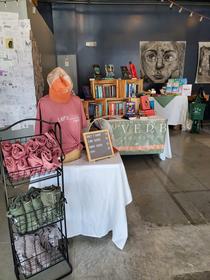 Verb pop-up
"Our goal is to be a hub of books and book culture here in northeast Arkansas," Harlow said, adding that she sees her role as a provider of "books and goodies" for the community. In posts on the bookstore's social media pages, she frequently refers to herself as the "book fairy." She continued: "I'm not here to judge anyone's book tastes or dictate anything. I'm here to serve my community and customers."
Verb Bookstore has already started hosting events and book clubs and forming partnerships with businesses across Jonesboro. In the future, Harlow plans to host more community events, including author signings, book releases and other things that "bring people together around a love of books."
Asked about the store's long-term home, Harlow said the building was originally built in the mid-20th century as an auto dealership. It "has a lot of character," with curved walls and a "ton of windows." She plans to turn it into a "beautiful, dreamy bookstore" filled with natural light. The space is still being renovated, and Harlow hopes to move in in early 2023.
Opening a bricks-and-mortar store, Harlow recalled, has been in the back of her and her husband's minds ever since they launched Verb Bookstore, but they didn't think it would come about so soon. Their initial plan was to go from an online store and pop-up shop to a bookmobile, and though they did turn an Airstream travel trailer into a mobile bookshop they call Vera, emphasis has shifted to the bricks-and-mortar store.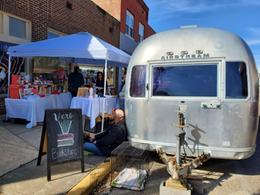 Remodeling and maintaining the Airstream, Harlow continued, took longer than expected, and she and her husband faced the choice of spending their weekends working on it or "getting out in the community" and doing conventional pop-up appearances. At the same time, the demand for a bricks-and-mortar store in Jonesboro was immense.
Prior to 2020, there was a Barnes & Noble in a local mall. In late March 2020, shortly after the start of the Covid-19 pandemic and right around when Harlow chose to pursue her bookstore dream, an EF4 tornado struck Jonesboro and hit the mall. The B&N was "wiped out," and the bookstore getting "nader'd" left a huge hole in the community.
The community's response to Verb Bookstore has been "overwhelming in the best way," Harlow said. Last week she posted on Facebook about opening the bricks-and-mortar space, and very quickly the post got more than 600 likes and was shared more than 500 times, including by the local news.
People are "absolutely ecstatic" to hear about the plans, Harlow added. Jonesboro is "craving" the connection and community that Verb Bookstore aims to provide. "It's been incredible to see everyone come together." --Alex Mutter