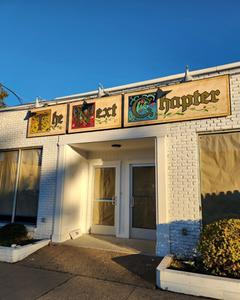 The Next Chapter, the bookstore founded by former Book Revue manager Mallory Braun, is preparing to open in Huntington, N.Y., in time for the holiday shopping season, TBR Newsmedia reported.
Earlier this year Braun found a storefront at 204 New York Ave, just a five-minute walk from Book Revue's former home, and has been busy getting the space ready. The shop will carry new and used books along with vinyl records and other items, and Braun noted that Richard Klein, Book Revue's former co-owner, is helping her and her team get ready for the opening.
In the meantime, the Book Revue team has been holding pop-up appearances at places in the area like the Huntington Fall Festival, a home decor store called Nest and a coffeehouse called Southdown Coffee. Braun said the pop-ups have been great for helping build relationships with local businesses and she intends to do more even after the bricks-and-mortar store opens.
Late last year, Braun launched a Kickstarter campaign for the Next Chapter that raised more than $250,000 with the help of 2,216 backers. Book Revue closed in September 2021, and the following month Braun announced her plans to open a new store that would carry on Book Revue's legacy.