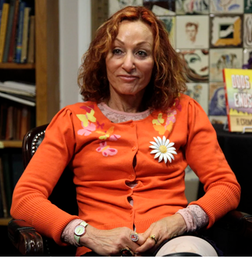 Aline Kominsky-Crumb
(Richard Drew/AP)
Aline Kominsky-Crumb, "who in the early 1970s used a self-deprecating and sexualized confessional style to create what is believed to be the first autobiographical work by a woman in underground comics--and who continued to explore her life after her marriage to Robert Crumb," died November 29, the New York Times reported. She was 74.
"I have stayed out of the mainstream my entire life," she told Artforum earlier this year, "partially because the work itself determines that it's not mainstream work. We started our comics off in the revolutionary underground. I was a painter with a degree in fine art, and I chose to do stuff that could be read on a toilet."
In the male-dominated world of underground comics, Kominsky-Crumb "established the tone for her idiosyncratic career as a member of a collective of female artists in San Francisco," the Times noted. Her first autobiographical story, "Goldie: A Neurotic Woman," appeared in the inaugural issue of the collective's Wimmen's Comix, published in 1972. She left the Wimmen's Comix collective with Diane Noomin (who also died this year) to create the one-shot comic Twisted Sisters.
Phoebe Gloeckner, who wrote and illustrated the 2002 graphic novel The Diary of a Teenage Girl: An Account in Words and Pictures, recalled finding underground comics hidden in her house by her parents and, at 15, memorizing the entire Twisted Sisters comic. "Aline was telling the story of her adolescence, and I said, 'This is what I want to do,' " Gloeckner recalled. "I started doing comics in my diary about my life. She just lit the bulb. She and Diane were my heroes."

Cartoonist Roz Chast said Kominsky-Crumb's influence is visible in "every woman who creates her own cartoon voice."
Kominsky-Crumb and Crumb "began collaborating shortly after they met in 1971, working on a serial autobiography, published first in two issues of Dirty Laundry Comics, in 1974 and 1978, and later in various other publications over the years," the Times wrote. The entire saga was anthologized in a book in 1992. They married in 1978.
In 1981 the Crumbs started a comics anthology, Weirdo, which Kominsky-Crumb later edited for several years. While Crumb was acclaimed for years, Kominsky-Crumb "did not receive comparable praise until 2007, when her graphic memoir Need More Love was published and an exhibition of her work was held at the Adam Baumgold Gallery in Manhattan," the Times noted.
Hillary Chute, author of Graphic Women: Life Narrative and Contemporary Comics, said that the burst in Kominsky-Crumb's renown after years of doing work that "no one was noticing" was attributable to the surging popularity of graphic memoirs and to "an intense interest from young people in different forms of feminism, not just about power and attaining perfection but the whole scope of being a woman."