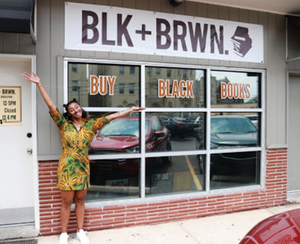 Cori Smith, the owner of BLK + BRWN in Kansas City, Mo., has launched a $20,000 crowdfunding campaign as the bookstore begins "officially amping up for phase two of our plan for BLK + BRWN.," including salary compensation for a part-time employee and a rent fund for a larger space.
"Many of you all know that BLK + BRWN. has been a one-woman show (but always shout out to the incredible people that come through and volunteer to help out) since our existence," Smith wrote in an Instagram post. "2023 means we are almost at our TWO year mark and it's time to think bigger. I am grateful for all the support that has flooded in since launching our website, opening the bookstore, surviving a cyberattack, and through the other incredible wins and setbacks along the way. But as programming increases, our ecosystem grows, and word is spread--I simply cannot keep up with it all by myself and we have begun to outgrow our tiny space."
On the GoFundMe site, Smith added: "The goal for this tiny bookstore to become a community-safe space has come around full circle, and as our ecosystem continues to grow, so does our need to make more space for those to come and be a part. Our next major milestone is a bigger space and a team. This operation has been the brainchild and product of a one-woman show. But, to keep up with the demands and stay transparent about my capacity, it's time to expand the team officially. Because this is for us, it was essential to be able to make the ask to the community at large to help us make this a reality."