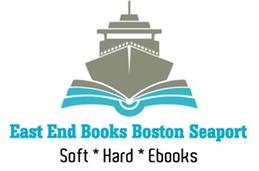 East End Books Boston Seaport will have its soft opening tomorrow, December 10, at 300 Pier 4 Blvd., Unit 4 in Boston, Mass. East End Books Ptown in Provincetown had revealed plans for its second location last summer when it hosted a pop-up book event in the Seaport neighborhood space. Owner Jeff Peters said at the time that he hoped to have the new store open for the holiday season.
"It's been a journey, but we're finally almost there!" East End Books noted in an e-mail promoting this weekend's plans. "We're thrilled to announce a soft opening of our new Boston Bookstore Saturday 12/10 at 11am! Huge thanks to our friend Kristin Canty, owner of Woods Hill Pier 4 Restaurant for making the bookstore opening possible!... We'll be open for the holidays and then close briefly to complete the build-out."
Today East End Books Boston Seaport is hosting a special book event and reception, featuring Jenny Slate (Little Weirds) in conversation with Julia Glass (Vigil Harbor) and Ben Shattuck (Six Walks: In the Footsteps of Henry David Thoreau).

The bookstore plans to reopen next year in time for an event on March 11, featuring Coinneach MacLeod and his new book The Hebridean Baker: My Scottish Island Kitchen.