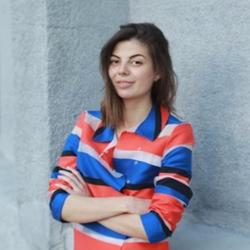 Kateryna Nosko
"Book publishing in Ukraine continues to exist against all odds. Even despite the fact that after the Russian shelling of critical infrastructures in Ukraine, there was no electricity, water or communication throughout the country for almost three days, publishers continue to announce new releases, and readers continue to buy books," Kateryna Nosko, publisher at IST Publishing, wrote in a new dispatch (translated by Iryna Kurganska) for the Bookseller, headlined "A Book Is Hope."
"For example, our small bookstore in Kyiv is part of The Naked Room space, which is a bar and contemporary art gallery," she continued. "So when the water supply was cut off and there was a need to save electricity, the bar and gallery space temporarily could not fully function. Only our book corner remained open. And it was then, after another air raid siren went off, that people continued to visit us. That evening we sold more books than usual. And afterwards, customers wrote to us that although they had to spend the evening without electricity, they were happy to read with flashlights. Books remain a reliable partner in times of loneliness, Covid-19, blackout and war."
Roman Malynovskyi, publisher and editor-in-chief of Babylon Library, one of the progressive small publishing houses of Ukraine, spoke with Nosko about the complexities and importance of books now: "People have been buying books on our website because it gives faith. To buy a book means to read it someday. This indicates that there will be calm times."
Nosko wrote: "Despite the fact that the book prices have had to be increased, the dynamics of sales of new titles from the publishing house over the past eight months has increased. One of the reasons may be that in general Ukrainian publishers produce fewer books, i.e., there is a certain shortage of new titles. It can also be assumed that the success of some novels may be due to their themes and the manner of narration."
As an example, Malynovskyi cited Kurt Vonnegut, "whom we published, is 'consumed' well among readers; he calms them down with his text, because he calmly perceives the apocalypse."
"Summing everything up, we can define the main challenge of the publishing sphere--to withstand," Nosko observed. "Not all publishing houses will survive this war. Often, teams or key employees find themselves in such living conditions that everything stops. Now we need to get to the point where we can plan again. Until then, we will row to the shore, which is not yet visible.... Every book bought and read is our answer to those who want to deprive us of this possibility. Every book published today is a slap in the face to the Russians who came to 'solve the Ukrainian question.' "
---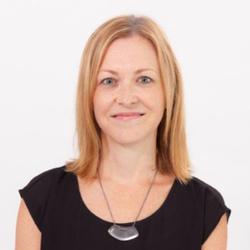 Julie Burland
Penguin Random House ANZ CEO Julie Burland is the new president of the Australian Publishers Association, Books+Publishing reported. She succeeds Ultimo Press managing director James Kellow, who recently announced his move to the U.K. to set up the publisher's team there.
Kellow called Burland "an outstanding leader, and I'm confident that she'll help the industry create a positive future. I took on this job knowing that there were great people involved, and that the work mattered to the present and future of publishing in this country. Knowing that, it shouldn't have been such a surprise that I've enjoyed it as much as I have!'
Burland added: "James has been an energetic and effective president who has made a huge contribution to growing and developing Australian publishing. I am honored to be taking on the role and looking forward to continuing to build on the foundation James and the board have created."
---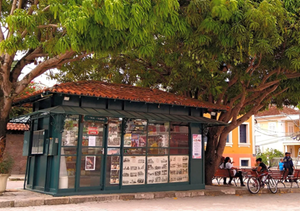 In the heart of Brazil's Amazon rain forest, Banca do Largo bookshop in Manaus is "easy to walk past without noticing. But through its green glass doors lies the world's largest collection of Amazonian literature: a treasure chest of forgotten cultures and ignored histories," the Guardian reported.
"It was always my dream to have a bookstore," said owner Joaquim Melo. "I've spent my life searching for these treasures.... The books I sell here show what the Amazon actually is. But it's hard to find Amazonian literature outside the Amazon.... I've been here for 18 years and I've been doing what I can to promote Amazonian culture. We just need to let these books speak for themselves."
Melo has curated a collection of more than 3,000 books and his bookshop "serves as a refuge for Amazonian writers and activists alike, pushing to protect the region from exploitation. By promoting local literature, particularly works by Indigenous writers, Melo believes he can help spread new ideas about societal organization and the environment that are different from the capitalistic frameworks prevalent in the west," the Guardian wrote. --Robert Gray