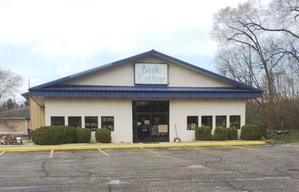 Book Cottage, Jackson, Mich., has closed after nearly 10 years in business, but co-owners Nancy and Mark Oakley plan to open "a different, but smaller store," at 4000 Page Ave. in Michigan Center. Treasure Chest, will be a vendor store hosting booths of antiques, collectibles and local art, MLive.com reported.
After the owners announced in November that they would be closing, customers launched a GoFundMe campaign to try to save the store. "The GoFundMe allowed us to catch up a little bit on back bills because they'd gotten so far behind," Nancy Oakley said. "Which is part of the reason we were able to do something besides completely close."
Customers visiting Book Cottage since November "bought thousands of books and shared their sorrow to see the business close, which is why the owners decided to downsize to a different store," MLive.com said. "Through the years, the bookstore didn't just serve as a place for books, it served the community by hosting local vendors and community events, such as flea markets and fundraisers."
"The people have come through and told us they're going to miss us and how much this bookstore has meant to them," Oakley said. "So, this is at least going to allow us to do some of the community things that we thought we were going to have to give up."
The new store will feature a small section for books, but it won't be the same as hosting a large collection, she added. "It's heartbreaking to close the bookstore. We've had these kids who've come in and have turned into readers because of coming into the bookstore."
In a Facebook post, the booksellers wrote: "As we start the new year, and close the doors of Book Cottage, we have to express how much we will miss our customers. We have met thousands of amazing people, and we have enjoyed all of you, the ones that came twice a week, to the ones that visited once a year. The people who love every genre, to the ones that only read one author. We will miss talking about books, recommending books and introducing special books to people. We will miss the kids who became readers in our store, the kids who taught us about some great books we didn't know, and the ones who treasured books like a dragon treasures gold. We will miss the Harry Potterheads, who believe in magic no matter their age. We will miss the teachers who came in to get books to tempt specific students. We will miss running the bookstore, but we are so grateful to have been given the last 9 1/2 years, being part of this book community. Thank you Jackson, we are blessed to be part of this town!"