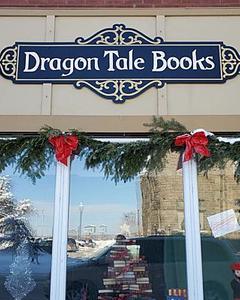 Dragon Tale Books, which "incorporates fantasy and fun while encompassing a wide range of genres for all to enjoy," has opened in Menomonie, Wis., Volume One reported. Bookends on Main, which had been for sale since last summer, closed December 27 and the new store, located just one space down the street, held a grand opening four days later, on December 31.
Bookends on Main's owner, Susan Schoenbauer Thurin, had been looking for someone to take on the responsibility of a new bookstore so that she could retire, and Ann Vogl, who had been a librarian for 17 years, accepted the challenge of a new venture as bookstore owner.
Vogl is hoping to add online bookselling and audiobooks through bookshop.org and libro.fm to her offerings. Volume One noted that "talking to independent bookstore owners and receiving constant support helped Vogl prepare for the big switch-off, something she said has been both a little scary and exciting." She also wants to host literature-related events to get the community involved with the store again through weekend book readings, guest speakers and more.
"I really believe in the value of books and reading," Vogl said.