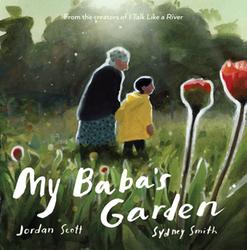 In I Talk Like a River, writer Jordan Scott and illustrator Sydney Smith collaborated on a picture book about a boy who stutters. Their subdued but heart-tugging follow-up, My Baba's Garden, presents another scenario in which a straight-ahead verbal exchange just isn't possible. In this case, the workaround is both sufficient for communication and meaningful to the kid telling the story.
Every morning, the narrator's father drives him to see his grandmother, Baba, who "lives in a chicken coop beside a highway"; the boy always finds her in the kitchen. Baba serves him the same breakfast each morning: "oatmeal with lots of butter; pickles, cabbage, and beets from her garden." If he spills any oatmeal, she picks up the glob, kisses it and returns it to his bowl. The narrator notes that his mother has told him that for an extended period in Baba's life, she didn't have enough food.
After breakfast, Baba walks her grandson to school. When it's raining, she "hums and sings songs I don't understand" and walks slowly because she's looking for worms, which she puts in a dirt-filled jar she keeps in her pocket. After school, Baba is always there to walk her grandson back to her house, stopping first to put the worms in her garden. "When I ask my Baba why she does this," the narrator reports, "she wets her finger with rain and traces all the lines in the palm of my hand." After a big change comes, the narrator improvises a new version of their old rituals, albeit with roles reversed.
In an author's note, Scott explains that Baba is based on his Polish-born grandmother, who immigrated to Canada after World War II and never learned much English; as a boy, he communicated with her "through gesture, touch, and laughter." Smith is an illustrator well suited to capturing a nonverbal bond. As in I Talk Like a River, his dense watercolor and gouache art has a shimmery, textured richness. Light features prominently in both outdoor and indoor scenes, as when the sun outlines grandmother and grandson in Baba's garden and shoots through her kitchen window while she's preparing his food. My Baba's Garden hints at themes like immigration, poverty, loss and the end of life, but the narrative works beautifully at its most basic level: it's a love letter from a grandchild to a grandparent. --Nell Beram, freelance writer and YA author
Shelf Talker: In this subdued but heart-tugging picture book, a boy and his grandmother, who regularly walks him to school and doesn't speak much English, share a nonverbal bond.