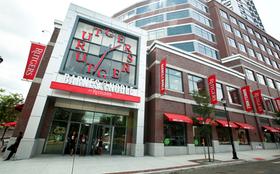 Barnes & Noble Education employees at the Rutgers University store in New Brunswick, N.J., have voted to join the Retail, Wholesale and Department Store Union by a unanimous vote, Forbes reported. Last month a group of employees had informed management of their intentions and plan to submit a filing asking the U.S. National Labor Relations Board for an election.
Rutgers B&N employees claimed they have "faced safety issues amid the rebound of the pandemic; workplace harassment; substandard pay for the industry below that of independent booksellers; unstable scheduling practices; a lack of structure when it comes to job duties and tasks, and favoritism by management," Forbes noted. These are issues they look to address at their first contract negotiations.
The RWDSU will represent approximately 70 workers at the store in contract negotiations, which will commence this year. The workers in the proposed bargaining units include booksellers, baristas, cashiers, and all non-supervisory employees at the store.
B&N Education, a separate company from Barnes & Noble, operates more than 750 physical bookstores and hundreds more online stores. The Rutgers University store would be the first to unionize.