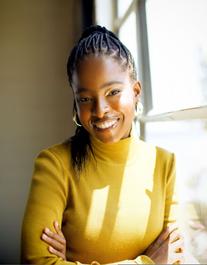 Amanda Gorman
Poet Amanda Gorman has been named Indie Bookstore Ambassador for the American Booksellers Association for 2023-2024. She will be "a champion for independent bookstores" year round, including for Banned Books Week (October 1-7), Indies First on Small Business Saturday (November 25), and Independent Bookstore Day (April 27, 2024).
Gorman said she was "incredibly honored.... Independent bookstores are vital parts of our communities and bastions of literature. We must work together to support local booksellers everywhere so that they can continue to thrive and champion books on a local level with the personal touch and human connection that we all need, now more than ever."
The youngest presidential inaugural poet in U.S. history--she spoke at President Biden's inauguration in 2021--Gorman is the author of The Hill We Climb, Call Us What We Carry, the children's picture book Change Sings, illustrated by Loren Long, as well as the upcoming picture book Something, Someday, illustrated by Christian Robinson. She also read from Change Sings in the poetry theater interludes during the ABA's 2021 virtual Winter Institute.
The ABA called Gorman "a committed advocate for the environment, racial equality, and gender justice." And it noted that Gorman's words in May after The Hill We Climb was banned at a Florida school--"Together, this is a hill we won't just climb, but a hill we will conquer"--are "inspiring and speak to the importance of finding our voices and ourselves on bookstore shelves, and the importance of working as a community--a goal indie bookstores also share."