Shelf Awareness for Readers: Bookstore edition
Booksellers: You can get a FREE customized version of Shelf Awareness for Readers for your customers!
The bookstore edition has all of the content from Shelf Awareness for Readers that you know and love, plus some great additional features:
Prominent placement of your bookstore's logo
Buy buttons for each reviewed book, which link directly to YOUR store's e-commerce page for that specific title
Inclusion of your store's events (if you have an RSS feed)
Set up is easy! We just need a few items from you and then we take care of building the customized version and sending it out for you each Tuesday and Friday.
The response we've had from our bookstore partners has been fantastic! Stores have reported an uptick in e-commerce sales and that their customers have been asking for (and buying!) books they saw in Shelf Awareness. We'll make sure to let you know ahead of time which titles will be reviewed in each issue, so that you can decide if you want to bring extra copies in to your store. Some stores have set up displays to highlight the titles featured in that week's newsletters.
Here are some examples of what the bookstore version looks like:
Village Books, Bellingham, WA
Tattered Cover, Denver, CO
Elliott Bay Books, Seattle, WA
University Book Store, Seattle, WA
Blue Willow Bookshop - Houston, TX
Click here to see a list of stores already delivering the newsletter.
We're able to offer this service for free to bookstores and subscribers because of the support of advertising from publishing houses. Our promise to you is that these ads will NEVER link directly to a competitor's retail site.
To find out more about the program or to get your bookstore signed up to participate, please contact bookstores@shelf-awareness.com.
In-Store Displays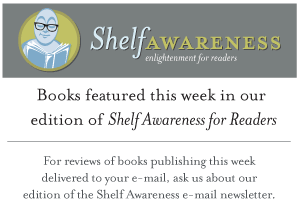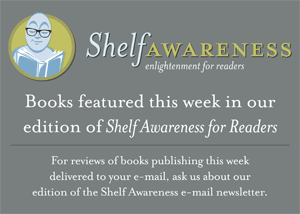 Want a place to direct customers looking for titles they read about in your edition of Shelf Awareness for Readers this week? These handy printable signs will help you create a display. Just pick a size and click to download the PDF file, then either print it from your office or take it to a local printer.
Do you have a display in your store? Tell us about it!
Participating Stores
Village Books - Bellingham, WA
The Tattered Cover - Denver, CO
Elliott Bay Book Company - Seattle, WA
University Book Store - Seattle, WA
Annie Bloom's Books - Portland, OR
Riverwalk Books - Lake Chelan, WA
Malaprop's Bookstore/Cafe - Asheville, NC
The Book Shelf - Winona, MN
Saturn Booksellers - Gaylord, MI
Nightbird Books - Fayettville, AR
The Vermont Book Shop - Middlebury, VT
Vintage Books - Vancouver, WA
The Country Bookshop - Southern Pines, NC
Garden District Book Shop - New Orleans, LA
Liberty Bay Books - Poulsbo, WA
Schuler Books & Music - Grand Rapids, Okemos, & Lansing, MI
Blue Willow Bookshop - Houston, TX
Fact & Fiction Books - Missoula, MT
Island Books - Middletown, RI
Octavia Books - New Orleans, LA
The Booksellers at Laurelwood - Memphis, TN
Paulina Springs Books - Redmond, OR
Fountain Bookstore - Richmond, VA
Boulder Book Store - Boulder, CO
Bookworks - Albuquerque, NM
Third Street Books - McMinnville, OR
Bank Square Books - Mystic, CT
Odyssey Bookshop - South Hadley, MA
Maria's Bookshop - Durango, CO
Fiction Addiction - Greenville, SC
Eagle Harbor Book Company - Bainbridge Island, WA
The Bookworm - Omaha, NE
Buxton Village Books - Buxton, NC
Inklings - Yakima, WA
Island Bookstore - Kitty Hawk, NC
Hugo Bookstores - Andover, MA
Over the Moon Bookstore - Crozet, VA
Womrath's - Tenafly, NJ
Copperfield's Books - Northern California
Page After Page - Elizabeth City, NC
The Bookcase - Wayzata, MN
Collected Works Bookstore & Coffeehouse - Santa Fe, NM
Mackerel Sky Books & More - Honeoye, NY
Bluebird Books - Hutchinson, KS
Apostrophe Books - Long Beach, CA
Bunch of Grapes Bookstore - Martha's Vineyard, MA
Acorn Books - Dover, DE
City Lights Bookstore - Sylva, NC
The BookMark Shoppe - Brooklyn, NY
Lift Bridge Book Shop - Brockport, NY
The Family Bookshop - Deland, FL
BookPeople of Moscow - Moscow, ID
Nantucket Bookworks - Nantucket, MA
Mitchell's Book Corner - Nantucket, MA
Water Street Bookstore - Exeter, NH
Books & Books - Miami, FL
Duck's Cottage Coffee & Books - Duck, NC
Duck's Cottage Downtown Books - Manteo, NC
The Book Frog - Rolling Hills, CA
Bestsellers Cafe - Medford, MA
Quiet Man Bookshop - Mountainhome, PA
Redbery Books - Cable, WI
Chester County Book Company - West Chester, PA
The Book House of Stuyvesant Plaza - Albany, NY
The Little Book House - Albany, NY
Market Block Books - Troy, NY
Quarter Moon Books & Gifts - Topsail Beach, NC
BayShore Books - Oconto, WI
Union Ave Books - Knoxville, TN
Book World stores - Iowa, Illinois, Michigan, Minnesota, & Wisconsin
Bob's Beach Books - Lincoln City, OR
Morgan Hill Bookstore - New London, NH
BookSmart - Morgan Hill & Newark, CA
Branches Books & Gifts - Oakhurst, CA
The Bookstore - Glen Ellyn, IL
Barrington Books - Barrington, RI
Square Books - Oxford, MS
Fireside Books - Palmer, AK
American Book Center - Amsterdam and the Hague, Netherlands
Sophos - Guatemala City, Guatemala
The Fine Print - Lakeside, OH
Watermark Books & Cafe - Wichita, KS