Shelf Awareness for Thursday, March 6, 2014

News
Happy World Book Day!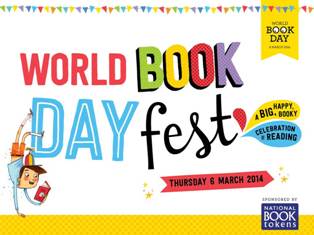 Today is World Book Day in the U.K and Ireland. The goal of the annual celebration of authors, books and young readers "is to encourage children to explore the pleasures of books and reading by providing them with the opportunity to have a book of their own."

In addition to events at schools, libraries and bookshops, as well as offerings like The Biggest Book Show on Earth, the day is marked by sending "millions of book vouchers to children and young people (more than 14 million, in fact: that's one for nearly every child aged under eighteen in the country)." The children can take their voucher to a local bookseller and use it to choose one of 10 "(exclusive, new and completely free) books. Or, if they'd rather, they can use it to get £1 off any book or audiobook costing over £2.99 at a participating bookshop or book club."

As part of its coverage of World Book Day, the Guardian offered some guidance in the form of "reviews of the 2014 £1 books written by our wonderful website members."


Anne Rice Signs Petition Against 'Gangster Bullies' on Amazon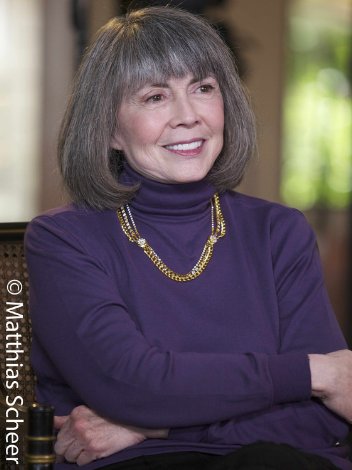 Anne Rice has joined nearly 3,000 people who have signed a petition asking Amazon.com to "protect users and indie publishing authors from bullying and harassment by removing anonymity and requiring identity verification for reviewing and forum participation."

The petition, launched by Todd Barselow, seeks to bring attention to "the lack of oversight and or control in the Amazon system regarding product reviewing--in particular book reviewing--and in the participation of the many forums on Amazon." He plans to deliver the petition to Amazon.

Rice told the Guardian that the anonymous "anti-author gangsters" who attack and threaten writers online have "worked their way into the Amazon system as parasites, posting largely under pseudonyms, lecturing, bullying, seeking to discipline authors whom they see as their special prey. They're all about power. They clearly organize, use multiple identities and brag about their ability to down vote an author's works if the author doesn't 'behave' as they dictate."

Good E-Reader noted that "what is more interesting than the same battle that has been circulating since groups on Goodreads and a grassroots effort called Stop The Goodreads Bullies first began waging organized warfare on authors or reviewers is that Rice is no casual observer of the issue. Apart from lending her famous name to the petition by signing, Rice has posted a fair amount of commentary on the issue on her Facebook page, much of it in response to people who are taking the argument--and their derision of the issue--to the comments section of her page."


Bookstore of the Year Finalists Named
Five finalists have been announced for the Bookstore of the Year Award by Publishers Weekly. They "were chosen from among storefront retail bookstores in the U.S. that excel in buying, vendor relations, marketing, handselling, customer care, community involvement, management-employee relations, merchandising, and business operations," Bookselling This Week reported. This year's shortlist:

The Elliott Bay Book Company, Seattle, Wash.
Green Apple Books, San Francisco, Calif.
McLean & Eakin Booksellers, Petoskey, Mich.
Prairie Lights Books, Iowa City, Iowa
Women & Children First, Chicago, Ill.


Ancestry Books Update: Community Kickoff Event
Ancestry Books, North Minneapolis, Minn., will host a community kickoff event Friday to share the owners' vision "as well as celebrate all that has happened these 40 days as a testament to community power," Chaun Webster wrote in an update for the Twin Cities Daily Planet. "June Jordan was known to say that she 'always had to invent the power her freedom required,' we hope that Ancestry Books builds on that sentiment, knowing that the arts, that the radical imagination can invent the kind of power that freedom requires."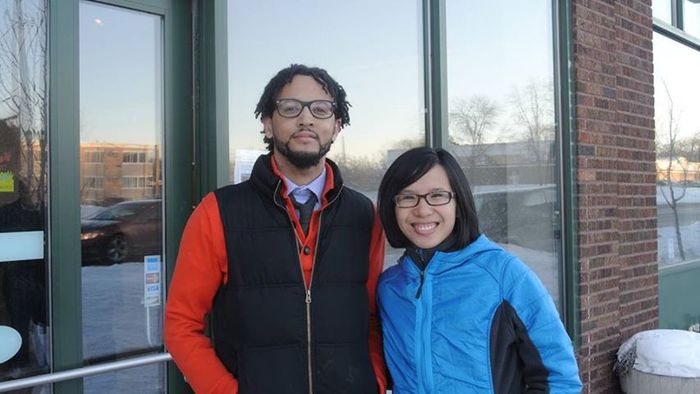 On January 27, Webster and partner Verna Wong launched a Kickstarter campaign just a few days after signing the lease on a storefront located at 2205 Lowry Avenue. Within 13 days, they had surpassed their $10,000 goal, and the support has continued.

"One of the more common things community members have communicated to us over these last few months of preparation is that they are thrilled that there will be a space near their homes where they can see themselves in the literature that will be available," Webster noted, adding: "We are not alone, Ancestry Books is a part of a larger story of space and arts based community development that is building off of the tradition of African Memorial Bookstore, Uhuru Books, La Casa Azul Bookstore and Juxtaposition Arts."


Obituary Note: Aimée Thurlo
Aimée Thurlo, a writer of mystery, romance, and romantic suspense, died on February 28. She was 62.
In partnership with her husband, David Thurlo, who survives her, Aimée wrote the Ella Clah series of Native American mysteries, including Blackening Song and Ghost Medicine (Forge Books); The Pawnbroker: A Charlie Henry Mystery (Minotaur); the Sister Agatha mysteries, including Bad Samaritan (Minotaur); A Time of Change, a Trading Post novel (Forge Books); and many other books.


Notes
Image of the Day: Rainbow Rowell & 'Read Brave'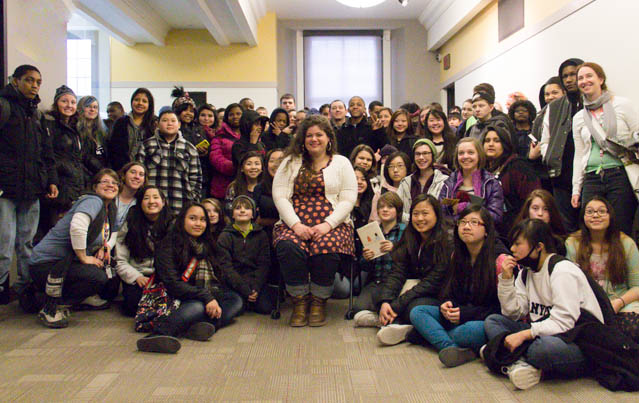 Rainbow Rowell, author of Fangirl and Eleanor & Park (St. Martin's), with students from Open World Learning Community at the Central Library, St. Paul, Minn., after the library's Read Brave event featuring Rowell. Addendum Books for Young Adults and Children was the official bookseller.


Great Group Reads Sought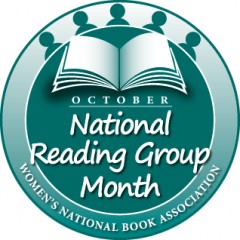 The organizers of National Reading Group Month, sponsored by the Women's National Book Association, have called for publishers to submit titles for inclusion in the 2014 Great Group Reads program. The program, currently in its sixth year, provides book clubs, reading groups, libraries and bookstores with a valuable resource for book selections and recommendations.

The GGR Selection Committee is looking for literary fiction and memoir published in the U.S. between October 1, 2013, and September 30, 2014, with a bent toward titles from small presses and midlist releases of larger houses that may have gone overlooked. The committee's reading period will stretch from April to July. Final selections will be made in August, with the formal announcement coming in September.

Titles should be submitted to Great Group Reads chair/selections manager Bebe Brechner no later than April 4, and submissions are limited to two per publisher or imprint.


Bookshop Window Display of the Day: Star Cat Books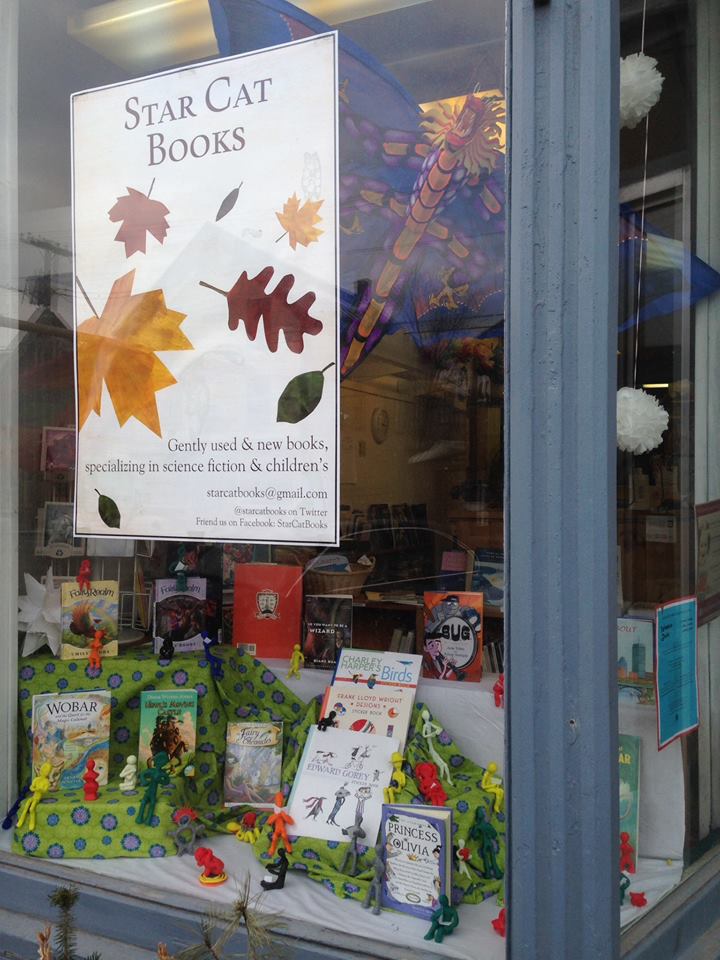 From the Facebook page of Star Cat Books, Bradford, Vt.: "We have new window displays at the store, done by the highly creative and talented Nila! The photos don't do justice to all the little details we worked on together, like the little people scattered throughout the window with the big Balinese dragon kite I've bought to hang (later) over the children's book area. And the other window has a book that's bursting open and creating little books that are flying away to their new homes!"


'Things I Thought Were True About Publishing!'
To celebrate this week's release of Janet Gurtler's book 16 Things I Thought Were True, Raincoast Books, Richmond, B.C., posed this question on Facebook: "What do you think we do at Raincoast all day long?"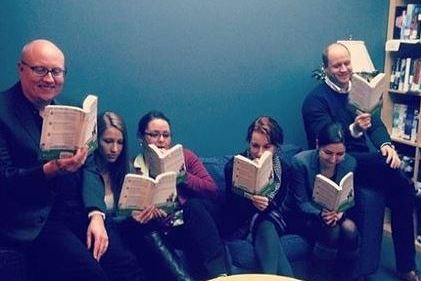 To answer the question, Raincoast presented "Things I Thought Were True About Publishing!" beginning with "Day 1--People think when you work in publishing that you get to read all day. Sadly, not true. #books #yalit #16thingsithoughtweretrue.... Check back tomorrow when we'll have another publishing myth."


Book Trailer of the Day: The 1929 Bunion Derby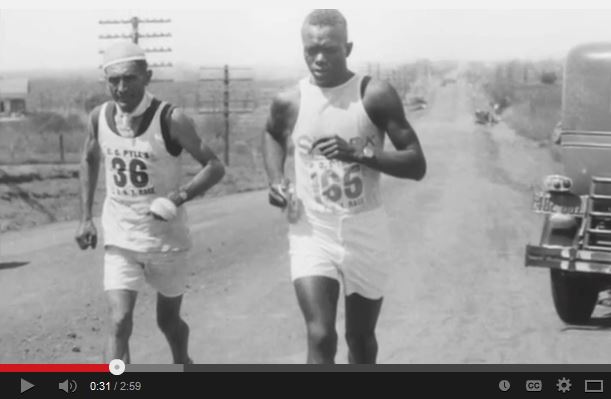 The 1929 Bunion Derby: Johnny Salo and the Great Footrace Across America by Charles B. Kastner (Syracuse University Press).


Media and Movies
Media Heat: James Patterson on Morning Joe
Tomorrow morning on Good Morning America: Jo Frost, author of Jo Frost's Toddler Rules: Your 5-Step Guide to Shaping Proper Behavior (Ballantine, $16, 9780345542380).
---
Tomorrow morning on Morning Joe: James Patterson, hero of independents.
Also on Morning Joe: Jim DeMint, author of Falling in Love with America Again (Center Street, $25, 9781455549801).
---
Tomorrow on PBS's Newshour: Zachary Karabell, author of The Leading Indicators: A Short History of the Numbers That Rule Our World (Simon & Schuster, $27, 9781451651201).


TV: Guilt by Association
Julia Stiles (the Bourne movie franchise) is playing the lead role of Rachel Knight in TNT's drama pilot Guilt by Association, which will be executive produced by Nelson McCormick, writer/showrunner Dee Johnson and former prosecutor Marcia Clark, on whose book the project is based, Deadline.com reported. Stiles joins a cast that includes Rose Rollins and Elisabeth Röhm.


This Weekend on Book TV: Amy Chua and Jed Rubenfeld
Book TV airs on C-Span 2 this weekend from 8 a.m. Saturday to 8 a.m. Monday and focuses on political and historical books as well as the book industry. The following are highlights for this coming weekend. For more information, go to Book TV's website.

Saturday, March 8
2:45 p.m. Megan McArdle, author of The Up Side of Down: Why Failing Well Is the Key to Success (Viking, $27.95, 9780670026142). (Re-airs Sunday at 7:15 a.m.)

3:45 p.m. A discussion about the history and current use of Arab and Asian stereotypes in America featuring John Kuo Wei Tchen and Dylan Yeats, editors of Yellow Peril!: An Archive of Anti-Asian Fear (Verso, $29.95, 9781781681237), and Jack Shaheen, author of Reel Bad Arabs: How Hollywood Vilifies a People (Olive Branch Press, $25, 9781566567527).

8 p.m. Elizabeth Kolbert, author of The Sixth Extinction: An Unnatural History (Holt, $28, 9780805092998). (Re-airs Sunday at 2 p.m.)

9 p.m. David Brion Davis, author of The Problem of Slavery in the Age of Emancipation (Knopf, $30, 9780307269096). (Re-airs Monday at 2 a.m.)

10 p.m. After Words. Slate editor David Plotz interviews Amy Chua and Jed Rubenfeld, authors of The Triple Package: How Three Unlikely Traits Explain the Rise and Fall of Cultural Groups in America (Penguin, $27.95, 9781594205460). (Re-airs Sunday at 9 p.m. and Monday at 12 a.m. & 3 a.m.)

11 p.m. Nicholas Freudenberg, author of Lethal But Legal: Corporations, Consumption, and Protecting Public Health (Oxford University Press USA, $29.95, 9780199937196). (Re-airs Sunday at 4 p.m.)

Sunday, March 9
6:45 p.m. Carol Berkin, author of Wondrous Beauty: The Life and Adventures of Elizabeth Patterson Bonaparte (Knopf, $27.95, 9780307592781), at Politics & Prose Bookstore, Washington, D.C. (Re-airs Monday at 6 a.m.)

7:45 p.m. Catherine Neal, author of Taking Down the Lion: The Triumphant Rise and Tragic Fall of Tyco's Dennis Kozlowski (Palgrave Macmillan, $28, 9781137278913).

10 p.m. Jared Cohen and Eric Schmidt, authors of The New Digital Age: Transforming Nations, Businesses and Our Lives (Vintage, $15.95, 9780307947055).


Books & Authors
Awards: PEN/Faulkner Fiction; B&N New Writers; N.E. Society
Finalists have been named for the PEN/Faulkner Award for Fiction. Three judges--Madison Smartt Bell, Manuel Muñoz and Achy Obejas--selected five books from among more than 420 submitted works. The winner, who receives $15,000, will be announced April 2, with the four finalists receiving $5,000 each. All five authors will be honored May 10 during the 34th annual PEN/Faulkner Award ceremony at the Folger Shakespeare Library. The 2014 shortlisted authors are:

Daniel Alarcón for At Night We Walk in Circles (Riverhead)
Percival Everett for Percival Everett by Virgil Russell (Graywolf)
Karen Joy Fowler for We Are All Completely Beside Ourselves (Putnam)
Joan Silber for Fools (Norton)
Valerie Trueblood for Search Party: Stories of Rescue (Counterpoint Press).

---

Anthony Marra's debut novel, A Constellation of Vital Phenomena (Hogarth/Crown), and Justin St. Germain's memoir, Son of a Gun (Random House), are the winners of this year's Barnes & Noble Discover Great New Writers Awards. Each writer was awarded $10,000 and a full year of marketing and merchandising support from the bookseller.

Second-place winners ($5,000 each) are NoViolet Bulawayo's We Need New Names (Little, Brown) for fiction and Sonali Deraniyagala's Wave (Knopf) for nonfiction. Third-place awards of $2,500 went to Bobcat and Other Stories by Rebecca Lee (Algonquin) for fiction and With or Without You by Domenica Ruta (Spiegel & Grau) for nonfiction.

---

The New England Society in the City of New York has selected finalists for the 2014 New England Society Book Awards, honoring books that "celebrate New England and its culture" in the categories of Fiction, Nonfiction, Art & Photography and Specialty Titles. The finalists are:

Fiction
The Curiosity by Stephen P. Kiernan
The Last Summer of the Camperdowns by Elizabeth Kelly
The One I Left Behind by Jennifer McMahon
The Rathbones by Janice Clarke
Sight Reading by Daphne Kalotay

Nonfiction--Contemporary
A Child's Christmas in New England by Robert Sullivan, illustrated by Glenn Wolff
Lifesaving Lessons by Linda Greenlaw

Nonfiction--History & Biography
Book of Ages: The Life and Opinions of Jane Franklin by Jill Lepore
Bunker Hill: A City, a Siege, a Revolution by Nathaniel Philbrick
Whitey Bulger: America's Most Wanted Gangster and the Manhunt that Brought Him to Justice by Kevin Cullen and Shelly Murphy

Art & Photography
Greenwich Style: Inspired Family Homes by Cindy Rinfret
Houses of Maine: Elliott + Elliott Architecture by Matthew Elliott and Elizabeth Elliott
A Lifetime of Vermont People by Peter Miller

Winners will be announced later this month and an award ceremony will be held at the Grolier Club in New York on April 16. More information about the finalists and past winners available here.


Attainment: New Titles Out Next Week
Selected new titles appearing next Monday and Tuesday, March 10 and 11:

Blood Will Out: The True Story of a Murder, a Mystery, and a Masquerade by Walter Kirn (Liveright, $25.95, 9780871404510) explores the murderer who impersonated a Rockefeller.

The Outcast Dead by Elly Griffiths (Houghton Mifflin Harcourt, $27, 9780547792774) continues the Ruth Galloway mystery series.

Now in paperback:

Seduction: A Novel of Suspense by M. J. Rose (Atria, $15, 9781451621518).


Book Review
Review: Boy, Snow, Bird
Boy, Snow, Bird by Helen Oyeyemi (Riverhead, $27.95 hardcover, 9781594631399, March 6, 2014)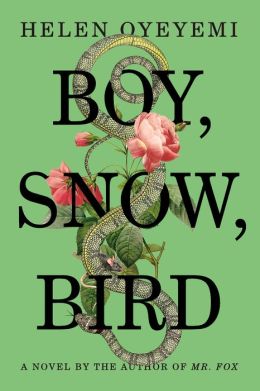 Readers who have followed Helen Oyeyemi's career have come to expect the unusual from her, rendered in virtuoso prose. Boy, Snow, Bird delivers once again, though it is in many ways more down-to-earth than her previous offerings. While it has surreal echoes of myth and fairy tale, as well as some plot twists that just barely fall short of defying what is plausible, Boy, Snow, Bird feels like a venture into a more mainstream accessibility. Unlike the delightfully dizzying Mr. Fox, it offers a clear and linear plot even as Oyeyemi incorporates her trademark use of fairy-tale symbolism. In Mr. Fox, Oyeyemi reconfigured the tale of Bluebeard; with Boy, Snow, Bird she takes on Snow White, cleverly weaving together the "white" obsession inherent in the fairy tale and the mirror of the wicked queen--in which she constantly assesses her own beauty--to explore questions of identity, specifically with regard to race and gender.
Though it's set in 1950s America, Boy, Snow, Bird resounds with an immediate relevance. Much of the novel is narrated from the perspective of the oddly named Boy Novak, a pale blonde growing up in New York City with an abusive father who is known as "the rat catcher." After a particularly brutal episode when her father nearly feeds her face to his rats, Boy flees New York City, taking a random bus out of the Port Authority and ending up in Flax Hill, Mass. Soon she meets the symbolically named Arturo Whitman, whose stepdaughter, Snow, is beautiful, pure--and needs no interpretation.
When Boy gives birth to a dark-skinned daughter, Arturo's secret (and the irony of his last name) is made clear; his family is African-American, though their fair skin enabled them to blend successfully in the white community of Flax Hill. Questions of identity whirl about in the events that unfold--in the character of Bird, Boy's free-spirited daughter; in Snow and her enigmatic appearance of perfection; and in Boy herself, whose behavior toward Snow shows all the markers of the wicked queen from the fairy tale. But like all the characters in Boy, Snow, Bird, Boy's identity is mercurial, ever-changing; she retains a choice until the end as to what she will ultimately become. --Ilana Teitelbaum
Shelf Talker: Granta Prize winner Helen Oyeyemi turns her ingenuity with language and folklore to Snow White, using it as the basis of an exploration of race and gender identity in 1950s New England.


The Bestsellers
Top Book Club Picks in February
The following were the most popular book club books during February based on votes from more than 100,000 book club readers from more than 39,000 book clubs registered at Bookmovement.com:

1. The Husband's Secret by Liane Moriarty (Amy Einhorn Books/Putnam)
2. The Light Between Oceans: A Novel by M.L. Stedman (Scribner)
3. Orphan Train by Christina Baker Kline (Morrow)
4. Me Before You: A Novel by Jojo Moyes (Penguin)
5. The Goldfinch: A Novel by Donna Tartt (Little, Brown)
6. And the Mountains Echoed: A Novel by Khaled Hosseini (Riverhead)
7. The Book Thief by Markus Zusak (Knopf)
8. Gone Girl by Gillian Flynn (Crown)
9. The Invention of Wings by Sue Monk Kidd (Viking)
10. The Aviator's Wife: A Novel by Melanie Benjamin (Bantam)

Rising Stars:
Wonder by R.J. Palacio (Knopf Books for Young Readers)
Labor Day by Joyce Maynard (Morrow movie tie-in edition)

[Many thanks to Bookmovement.com!]