Shelf Awareness for Friday, March 27, 2015

Quotation of the Day
'Amazon's Dominance Is Causing Problems'
"I do have a concern that Amazon's dominance is causing problems. We estimate Kindle has a 95% market share of e-book sales in the U.K. and this is having a damaging effect.... Consider the struggles of Barnes & Noble and the Nook platform, the problems of the established Txtr in Germany, and the decision here of Tesco to pull out of Blinkbox Books.... I think publishing can come in for quite a bit of stick but we've done a lot to embrace technology."
--
Tim Walker
, president of the Booksellers Association, speaking on a panel about publishing and technology during the Nielsen BookInsights conference Wednesday.


News
Joyce Meskis Selling Tattered Cover to Len Vlahos, Kristen Gilligan
In a striking move, on July 1, Len Vlahos, executive director of the Book Industry Study Group, and his wife, Kristen Gilligan, are joining the senior management staff of the Tattered Cover in Denver, Colo., and on July 1, 2017, will acquire a controlling interest in the famed bookstore. At that point, longtime Tattered Cover owner Joyce Meskis will retire and be available as needed.

Vlahos, who is resigning from BISG effective June 12, worked for the American Booksellers Association for 20 years and was chief operating officer when he joined BISG in 2011. He has been a bookseller in independent, university and chain stores, and is the author of the YA novel The Scar Boys and its forthcoming sequel, Scar Girl. He just signed a two-book deal with Bloomsbury.

Gilligan worked for 10 years at the ABA, last serving as director of meetings and events. She was earlier a bookseller and bookstore manager and currently works on special projects for the Book Industry Charitable Foundation (Binc) and had worked for the American Booksellers Foundation for Free Expression.

"Len and Kristen are exceptionally well-qualified and well-suited to guide the Tattered Cover through the opportunities and challenges of the future," Meskis said. "Their energy, passion, philosophical faith in the importance of the role bookselling plays in the community and solid commitment to the strength of its future, ensures my confidence in the longevity of the Tattered Cover in their hands."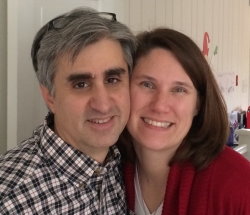 Len Vlahos and Kristen Gilligan
"We're both over the moon and very humbled and have some nervousness," Vlahos told Shelf Awareness. "Clearly Kristen and I believe enough in indies and their future that we're investing in the Tattered Cover, moving cross country and putting it all on the line."
He called the move a dream come true, saying that he and Gilligan had talked for a long time about becoming booksellers again. Vlahos noted that after he left ABA, he missed bookselling. "I have retail in my blood."
Vlahos and Gilligan had been talking with Meskis "for a while.... I've known Joyce for more than 20 years. I think she was president when I joined. Over the course of these conversations, as impressed as I was knowing her casually, now I'm 10 times as impressed with all she and her staff and team have done."
Next month, Vlahos and Gilligan will go to Denver for a week to house hunt as well as help pack up and unpack for the move of Tattered Cover's Highlands Ranch store. "It'll be a good chance to meet a lot of staff," he said.
Vlahos said that he and Gilligan are "very excited" that the next ABA Winter Institute will be held in early 2016 in Denver, which will make for a homecoming of sorts: for the first six years of its existence, as ABA staff, the pair were deeply involved in running the Winter Institute.

For her part, Gilligan said, "I've experienced first hand how the profession of bookselling changes lives. There's a magic and a magnetism in seeing the right book find its way to the right customer. I am thrilled beyond belief that I will have the opportunity to help Tattered Cover continue and grow its great tradition of bookselling in Denver."

When Meskis purchased the Tattered Cover in 1974, it was a small, struggling 950-square-foot store. Over the years, despite boom and bust cycles in Colorado, the growth of chain superstores and the advent of e-commerce and digital books, as well as the Great Recession, Meskis built Tattered Cover into an icon of American bookselling and a much-admired example for other booksellers around the country and the world. There are now four Tattered Cover retail stores in and around the city, including locations on Colfax Avenue, in Lower Downtown and in the newly refurbished Denver Union Station. The Tattered Cover store formerly located in Highlands Ranch will soon reopen in the Aspen Grove Shopping Center in Littleton. There are also three licensed stores at Denver International Airport, and another is arriving soon.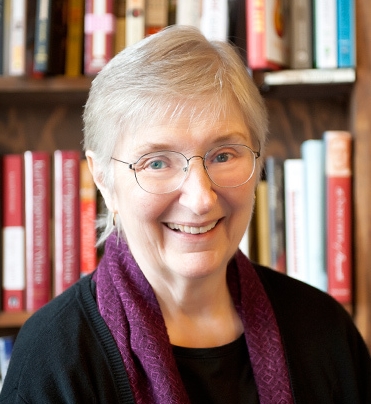 Joyce Meskis
Meskis, 73, is a former president of the ABA and has been honored by numerous organizations for her commitment to free speech and First Amendment rights, winning the American Library Association's Award for Free Expression and the Distinguished Service Award for Outstanding Achievement and Exceptional Service to the Denver Metropolitan Area from the University of Colorado. She also served for seven years as the director of the Publishing Institute at the University of Denver, retiring at the beginning of the year.
Speaking with the Denver Post, Meskis said that her two daughters have other careers, which ruled out a family transition. In addition, she has Parkinson's disease--while not an immediate impediment, it's made her want to plan ahead. "I believe in the store, and I believe in it as a service to the community," she said. "And I want to see it continue in good hands." She also said that once retired, she plans to support the new owners and read more books--and added that people shouldn't be surprised to see her hanging out at one of the stores.
ABA CEO Oren Teicher said that Meskis "helped create the modern independent bookstore. She served our organization with great distinction as a board member and president, and her leadership on First Amendment and free expression issues is legendary. That Tattered Cover will continue under the expert leadership of Kristen Gilligan and Len Vlahos reinforces the good news surrounding indie bookstores of late. I can say with complete confidence that all of us associated with indie bookstores are smiling broadly with this announcement."

Tattered Cover general manager Matt Miller, who has worked at the store for more than 35 years, served on the boards of the ABA and ABFFE--thereby working directly with Vlahos and Gilligan--said, "It has been both a pleasure and a privilege to work with Joyce these many years, building a business that is so rewarding and so important to the community. Having known and worked with Len and Kristen over the years, I can think of no better scenario for the future of the store than for them to take the reins as Joyce transitions toward retirement. I am confident that they will bring continuity and vitality to the Tattered Cover through their commitment, talent, and vision for decades to come. I am looking forward to working with them toward that goal."

---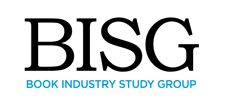 The Book Industry Study Group has appointed a search committee to find a new executive director.

"Len has been a tremendous asset to BISG during what has been an exciting yet tumultuous time in the book industry," said BISG chair Tara Catogge, v-p and sales director of Quarto Publishing Group USA. "His hard work and insight over the last few years have positioned us well as we continue to provide the industry access to best practices, standards, research and education. We are all very sad to see him go but wish him well in his move to Denver."

About his tenure at BISG, which he joined in 2011, Vlahos said, "I have great fondness for BISG and its mission and have valued my time here immensely. I've learned a lot from not just the members of the Board, but from the many industry stakeholders who volunteer on BISG committees, and, of course, from my colleagues on the staff. It's a great organization and I'm happy to have played some small part in positioning it for what I believe is a very bright future."


Millennials Prefer Print Books and Bookstores, Survey Finds
A Publishing Technology survey of 1000 millennials in the U.S. found that 79% of consumers between the ages of 18 and 34 read a print book in the last year, while 46% had read an e-book on a tablet and only 31% had read an e-book on a dedicated e-reader. Millennials also reported reading e-books on phones (36%) and computers (37%).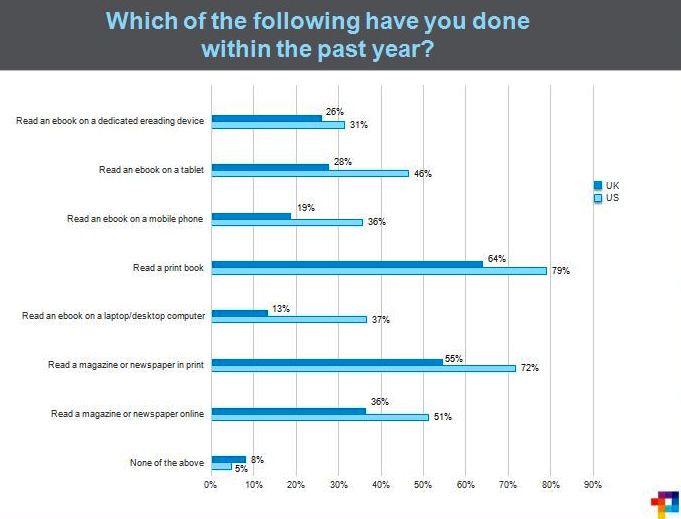 Millennials prefer to acquire print books from physical bookstores: 52% of respondents said they preferred to buy from chain bookstores, while 45% said they preferred used bookstores, and 53% said they preferred to check out books from libraries. Only 40% of respondents, meanwhile, said they preferred online retailers. And when it came to purchasing e-books, 57% preferred to use an app. 42% would rather buy directly on their devices, and 22% wanted to use subscription services.

Word-of-mouth recommendations are still important, even for millennials: 45% of respondents said they learn about new books offline. By comparison, 34% and 32% said that they heard about new books mostly on social media and website browsing, respectively. Only 25% said that they discovered new books while browsing libraries and bookstores. 54% of millennials also recommend books and discuss books offline, and only 20% and 18% discuss books on social media and in online communities, respectively.

Full survey results can be found here from Publishing Technology.


Obituary Note: Marni Hodgkin
Marni Hodgkin, who was "an outstanding editor of children's books in an era before it was obvious that they would become one of the most important areas of the publishing business," died March 11, the Guardian reported. She was 97. "At Macmillan, to which she moved in 1966, there had never been a children's books department, in spite of a splendid back list that included Lewis Carroll and Rudyard Kipling," the Guardian noted. "Looking back in 1984, Marni stressed how determined she had been to convince her fellow editors how much it matters what children read. She said: 'Children's books wield a power that adult books, save only the truly great, never equal.' "


Notes
Image of the Day: PRH Publisher Services Client Summit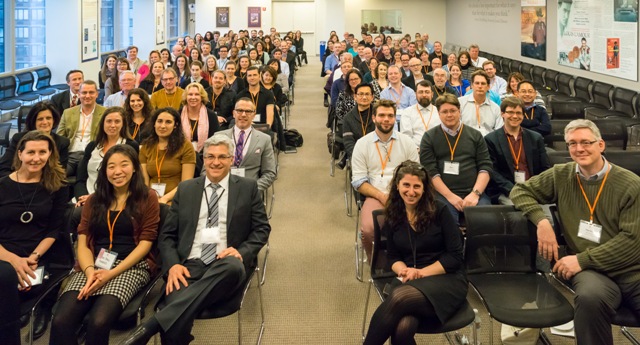 Penguin Random House Publisher Services (PRHPS) hosted its ninth annual client summit at Penguin Random House's midtown Manhattan offices this week. More than 150 representatives from PRHPS's 33 distributed publishers participated in two days of intensive seminars and workshops with PRH sales, operations and marketing executives.
Thursday morning began with "Indies First: A State of the Union on Independent Bookstores" from Betsy Burton, v-p of the American Booksellers Association and co-owner of the King's English Bookshop in Salt Lake City, Utah, and featured a presentation on how PRHPS can help its clients build more targeted and effective marketing plans.


Happy 35th Birthday, Bloomsbury Books!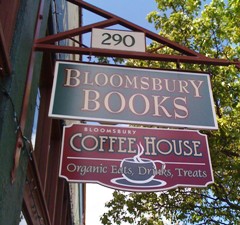 Bloomsbury Books, Ashland, Ore., will celebrate its 35th anniversary April 19, when co-owners Karen Chapman and Sheila Burns host a day of events commemorating "Bloomsbury's long life, and the staff and customers who keep it going strong," Daily Tidings reported, noting that "Ashland's iconic downtown bookstore has grown from small beginnings into a two-story hub of literary greatness that was previously named Best Small Bookstore in the state by the Oregonian."



The bookstore was launched in 1979 by Chapman, Burns, Denise Harnly and Nancy Peterson, and although there have been changes in ownership and the physical space over the years, Chapman said Bloomsbury has remained true to its original goals: "As far as how we wanted the bookstore to feel, a browsing atmosphere with nooks and crannies, and lots of quality books, it is the same."

Former co-owner Denise Harnly and the family of Nancy Peterson will be at the celebration, as well as many longtime customers. "We've made so many friends along the way and it will be nice to have everyone in one place, sharing memories," Chapman said.


Washington Indies Rely on the 'Personal Touch'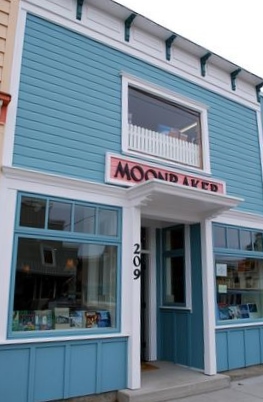 Josh Hauser, owner of Moonraker Books, Langley, Wash., "is no stranger to the stresses that an increasingly digital world poses to her downtown Langley bookstore. But instead of trying to wrap her arms around a threat that's seemingly too big, Hauser chooses to focus on what she can control and often hugs a customer instead," the Whidbey News-Times reported, noting that this is "all part of a personal touch that Hauser has provided has provided for 43 years as owner of Moonraker Books, one of Langley's oldest surviving businesses."

"We offer something that's close to nonreplaceable," Hauser said. "We really are interested in people and interested in books.... Very much what we do is very personal. I don't care if Amazon says, 'Hi,' and my name pops up. It's not the same as walking into a real bookstore and touching real books."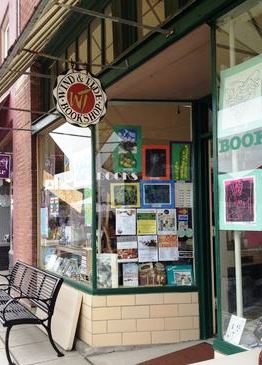 Karen Mueller, owner of the Wind & Tide Bookshop in Oak Harbor, said that while her shop is struggling, she believes when it comes to young children, nothing replaces a real book being read to them: "Maybe I'm old-fashioned and I don't want to realize it, but reading to children never changes. They need to be read to. It's been proven that reading to a child helps their cognitive function throughout their whole lives. It's critically important."


Book Trailer of the Day: After Abel & Other Stories
After Abel & Other Stories by Michal Lemberger (Prospect Park Books).


Media and Movies
Refreshed Younger to Begin Airing on TV Land
Younger, the 2005 novel by Pamela Redmond Satran about a 44-year-old suburban New Jersey woman who's able to pass for a 29-year-old and re-enters the work force and dating scene, has just been reissued by Gallery Books to tie in with the debut on Tuesday, March 31, of the TV Land series based on it. (The series stars Hilary Duff, Sutton Foster and Debi Mazar; executive producer and director is Darren Star of Sex and the City fame.) In a cool twist for everyone in the book business, Younger has a book publishing angle: besides dating a 20-something man, the middle-aged protagonist lands a job at a book publisher.

The age dynamics and deception create entertainingly awkward moments. As for the work angle, Satran noted that when the novel was published in 2005, "I was new to the world of book publishing myself and was stunned by how much had changed since I worked as an editor at Glamour magazine in the 1980s. The heroine of my book deals with all these mid-oughties innovations such as the predominance of chick lit, popular authors being used to sell classic books, and hot new cover art taking the place of gauzy antique watercolors."

And, of course, in the 10 years since Younger's appearance, there's been even more change in the book world. The show reflects that, as illustrated by this bit of dialogue between the heroine, named Liza on TV, who is interviewing for a job, and the two younger women interviewing her. They recount some of the changes since Liza left the publishing world 15 years earlier to raise her only child:

Julie: "Well, it has been quite a long hiatus, Liza. Things have changed."
Ellen: "Facebook, Twitter, iPhones..."
Julie: "iPads, eBooks, YouTube..."
Ellen: "Instagram, Snapchat, Skype..."
Julie: "Pinterest..."
Ellen: "Bang with Friends...."


Still, Liza gets a job as a marketing assistant at the fictional Empirical Publishing, where she's ordered to set up a Twitter account for Jane Austen--and sign the author up for an account on Christian Mingle. Needless to say, Liza's able to bring a lot to the job--maturity, some basic knowledge and her familiarity with the reading habits of middle-aged women, based on her experiences in suburban book groups--giving her an edge over younger colleagues.

Satran herself has been making many transitions, divorcing and moving to Los Angeles from New Jersey. She's been "to the shoots and visited the writers' room. It's amazing for a novelist who creates these worlds sitting alone in a room to be among literally hundreds of people all working on bringing a scene to life. You can't believe how many people are involved in creating a TV show, from Darren Star, who wrote the pilot along with other episodes himself and presided over the writers' room and the shoots, to the cinematographers and lighting people and costumer Patricia Field, who created Sex & the City's iconic look. And then there are the famous actors--Sutton Foster, Hilary Duff, Debi Mazar, plus fantastic newcomers Nico Tortorella and Miriam Schor--bringing these people who sprang from my head to fuller life."

As for what she calls "younger hunger," most industries, including publishing, want "the younger professional with solid experience and mature thinking--kind of the package that Liza is presenting." But like her character's life, Satran said, that person is "a fantasy." And a wildly entertaining one.


Media Heat: Siddhartha Mukherjee on Fresh Air
Today on Fresh Air: Siddhartha Mukherjee, author of The Emperor of All Maladies: A Biography of Cancer (Scribner, $18, 9781439170915).

---

Tonight on PBS's Charlie Rose: Annie Cohen-Solal, author of Mark Rothko: Toward the Light in the Chapel (Yale University Press, $25, 9780300182040). [Editor's note: yesterday, we mistakenly said this appearance would air last night. It airs tonight.]
Also on Charlie Rose: Tim Gunn, author of Tim Gunn: The Natty Professor (Gallery Books, $25, 9781476780061).
---
Sunday on CBS Sunday Morning: Brian Grazer and Charles Fishman, authors of A Curious Mind: The Secret to a Bigger Life (Simon & Schuster, $25.99, 9781476730752).


Movies: Ready Player One; The Tribes of Palos Verdes
Steven Spielberg will direct Ready Player One, based on the novel by Ernest Cline, for Warner Bros. Deadline.com noted that "a question arises about how they will bring a key element of the book's virtual world to life for the big screen. After all, it seems imperative for the audience to feel like they were dropped into the middle of a video game.... That kind of technology is just becoming available, and if these guys implement that, this could change the face of cinema."

---

Emmett and Brendan Malloy "are in talks" to direct The Tribes of Palos Verdes, Relativity's adaptation of Joy Nicholson's YA novel, the Hollywood Reporter wrote. The film stars Jennifer Garner, Maika Monroe (The Guest, Labor Day) and Tye Sheridan (Joe, Mud). Karen Croner (Admission, One True Thing) wrote the screenplay.


Books & Authors
Awards: Indies Choice/E.B. White; RITA; Great War Dundee
Members of the American Booksellers Association have begun voting to determine winners of the eight categories of the 2015 Indies Choice Book Awards and the E.B. White Read-Aloud Awards. (Finalists can be seen here.) Voting concludes on April 14. Winners will be announced on April 16 and will receive their awards at the ABA's Celebration of Bookselling Author Awards Luncheon on Thursday, May 28, at BookExpo America.
---
Finalists for the 2015 RITA Awards, sponsored by the Romance Writers of America, have been announced and can be seen here. Winners will be announced on July 25 during the RWA annual conference in New York City.
---
John Fulton won the inaugural £2,500 (about $3,710) Great War Dundee Children's Book Prize for The Wreck of the Argyll, which will be published by Cargo Publishing in September. Entries from published and unpublished authors, writing for children aged 9 to 12, were eligible.


Book Brahmin: Rachel Hartman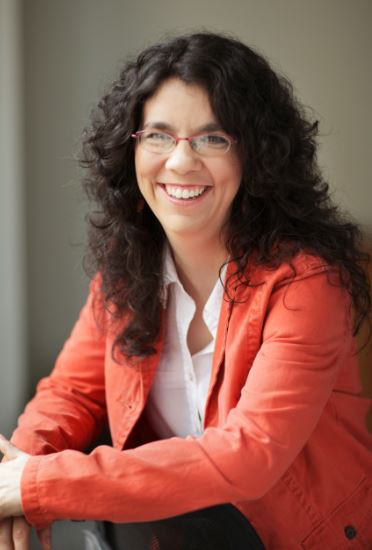 Rachel Hartman leapt onto the children's book scene in 2012 with Seraphina, which won the William Morris Award for a debut YA novel. She created a world filled with humans, dragons, music and half-dragons ("ityasaari")--like Seraphina herself, who straddles both worlds. Now Hartman returns with the sequel, Shadow Scale (Random House). Born in Kentucky, Hartman now lives with her family in Vancouver, B.C.
On your nightstand now:
I'm at a hotel right now, but I've got two books by friends I saw recently: Clockwork Game, a graphic novel by Jane Irwin, and The Amazing Cynicalman, Volume 2, a collection of comic strips by Matt Feazell. Next to my bed back home, Carrie Mesrobian's Sex and Violence languishes, half-read, waiting for me to return.
Favorite book when you were a child:
It's hard to pick just one. I was a child for an extraordinarily long time. However, let's say Finn Family Moomintroll by Tove Jansson. My mother read it to me once, then refused to read it again because she thought it was creepy. I was forced to figure out how to read it on my own, so I owe a lot to that book.
Your top five authors:
Terry Pratchett, Lois McMaster Bujold, Diana Wynne Jones, George Eliot, Fyodor Dostoyevsky.
Book you've faked reading:
The Grapes of Wrath. I lived in England the year my high school did American lit, and while I managed to read a lot of the books I missed on my own, I never did get around to Steinbeck. Which is too bad, because I think I would have liked it better than Gatsby. I know the plot, though, and somewhat more embarrassing, I know the Charlie Daniels song about it.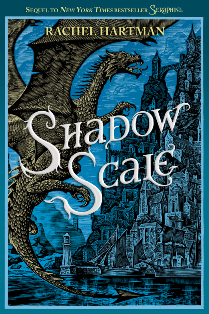 Book you are an evangelist for:
The Curse of Chalion by Lois McMaster Bujold. It was my model for a story that was both world-spanning and intimate, and I have been known to have an extra copy sitting around just so I could give it away.
Book you've bought for the cover:
I… have never done this. But now I kind of want to.
Book that changed your life:
Going Postal by Terry Pratchett. He made me realize that fantasy could encompass anything, that nothing was out of bounds, and this gave me the courage to make my fantasy novels about things that are deeply important to me.
Favorite line from a book:
"There are some awful things in the world, it is true. But there are also some great books." That's from Among Others by Jo Walton.
Book you most want to read again for the first time:
One Hundred Years of Solitude. I loved it so hard in college, and for a very long time I called it my favorite book, but I've only ever read it once. There was something in it that moved me, but I've been reluctant to revisit. Maybe the time is coming.


Book Review
Review: Deep Lane
Deep Lane: Poems by Mark Doty (W.W. Norton , $25.95 hardcover, 9780393070231, April 6, 2015)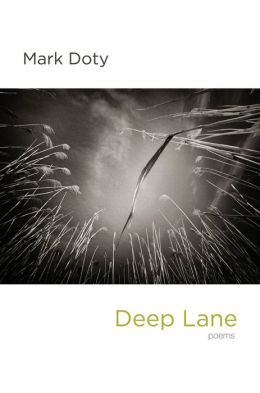 Mark Doty has been delighting readers for many years with his poetry and memoirs. My Alexandria won the National Book Critics Circle Award and Britain's T.S. Eliot Prize (Doty was the first American poet to do so). He won the National Book Award for Fire to Fire: New and Selected Poems. Heaven's Coast was his compelling memoir about the loss of his lover and partner, Wally Roberts.
Deep Lane's 35 poems continue to explore subjects Doty cares a great deal about: the natural world, animals, his personal relationships and the "divine." He once wrote that he has been "after a language of the sacred, by which I mean a language of heightened experience." One of the epigraphs in this book, from Ralph Waldo Emerson, refers to the "divine animal that carries us through this world."
Nine of the poems scattered throughout the book are all called "Deep Lane," the road Doty lives near in Amagansett, N.Y. They carefully and lovingly dive deeply into this place. His home and the world he lives in--"Eden" with its "shingled cottage"--provide the inspiration for the poems. Here are ticks ("heat-seeking, tiny, multitudinous"), a pond with its white fish soon to be swallowed by a bird ("bill raised to the air, the throat unrelenting"), his dog, Ned ("You run, darling, you tear up that hill"), maples and walnuts, radishes, the wind ("you can't stay anywhere to love"). The last poem in the sequence, set in November, is about his partner coming home late at night: "with a generous,/ unflinching scrutiny, undeceived, loving, as clear a gaze/ as anyone had ever brought to you."
Two poems examine fellow Long Islanders. "Robert Harms Paints the Surface of Little Fresh Pond" reveals the "rhythms of things/ discerned and ridden." "To Jackson Pollock" begins with Doty's sadness over a "murdered young tree" on New York City's Seventh Avenue, a "broken broomstick discarded." Then comes Pollock, "wild arcs... austere rhythms deep down things, beautiful." It ends with the supplication: "Look down/ into it the smash-up swirl, oil and pigment and tree-shat-/ ter:/ tumult in equilibrium."
One of the longer poems is the impressive "The King of Fire Island," about a buck that lives there, the "very model of his kind." The deer is missing one hoof and wears a "small crown" of ticks "between his two brave ears." He would accept carrots from Doty and his friends, safe, "no cars, no hunting." In late winter Doty hears a rumor about a deer's head floating in the bay: "I saw my own severed head/ slip to the floor, a glazed, paltry thing."
These are gentle, reflective, affecting and observant poems about Doty's past and the present world around him. As he writes in "Hungry Ghost" about his youth: "I would miss nothing,/ wanted to be marked by the passage,/ wanted to be inscribed."
"When I'm gone, will I stop wanting?
Perhaps this is also a form of immortality:
submission to a craving without boundary.
To be ravenous, and lack a mouth."
--Tom Lavoie, former publisher
Shelf Talker: These dazzling, elegant poems from one of the country's most admired and respected poets are ferocious in their love for life.


Deeper Understanding
Robert Gray: A Bookseller's #MuseumWeek
I did not know this was international Museum Week until I read about it in Monday's Guardian: "This community event runs from 23-29 March and has two main goals: to encourage the public to participate in a fun community initiative and to bring a global dimension to this event.... Instead of shouting at rule-breakers with camera phones, more and more museums around the world are starting to embrace the Twitter crowd by removing their restrictions on photography and by providing free institutional wireless access so we can snap-and-live-tweet photos of their collections. This was an important decision because everyone knows that a few tweeted photos can provide only the tiniest taste of reality, and for that reason, often serve to lure in more inquisitive people rather than fewer."

As of Thursday, 2,827 museums from 76 countries were taking part in #MuseumWeek, including New York's Morgan Library, which tweeted: "Books on books! The walls are lined with bookcases fashioned of bronze and inlaid walnut." For many reasons, I've long associated being a bookseller with some of my best museum experiences, so #MuseumWeek represents a perfect melding of complementary obsessions:


In 1999, I saw the brilliant "Van Gogh's Van Goghs" exhibition at the Los Angeles County Museum of Art, just before BookExpo America began.
I was a bookstore remainder buyer for many years and regularly attended CIROBE, spending extended lunch breaks exploring the Art Institute of Chicago's permanent collection, as well as special exhibits like "Van Gogh and Gauguin: The Studio of the South" and an extraordinary Juan Munoz retrospective in 2002.
A few years ago at the Midwest Independent Booksellers Association fall conference in St. Paul, I visited the Science Museum of Minnesota to view fragments of the Dead Sea Scrolls. I recall being overwhelmed by the concept of words defying time.
In 2013, I saw the Frick Collection's "Vermeer, Rembrandt and Hals: Masterpieces of Dutch Painting from the Mauritshuis," featuring "Goldfinch," a 17th-century painting by Carel Fabritius that plays a key role in Donna Tartt's bestselling novel. The exhibition also showcased Vermeer's "Girl With a Pearl Earring," which drew art lovers as well as fans of Tracy Chevalier's bestselling 2000 novel.
Since BEA settled in New York City for its annual trade show, my membership at the Museum of Modern Art has provided welcome, brief respites from the crazy carnival of books at Javits Center.

I'm not the only bookseller who feels this connection between books and museums. On Facebook yesterday, Berkeley Books of Paris posted: "The bookseller grew up just before the Internet arrived, and sometimes there are these moments. They consist of pure wonder bordering on awe, and would not occur if I'd been raised with the Internet. It's not the technology itself, but how people use it.

"Had one of these moments yesterday because of Twitter. The bookshop has a Twitter account, and follows mainly museums, indie publishers, and other bookshops. This week has been designated Museum Week, and museums around the world are showing off their pretty things.

"Yesterday afternoon the Musée de Cluny, the medieval museum here that is located in Roman ruins, threw down a challenge. The Louvre and the National Library picked up on it right away. They proceeded to have a battle of rooftop views over Paris, which morphed into a battle of the doors. When I was done rubbing my eyes, I still couldn't believe what I was seeing. The upshot is, the great museums were very playful yesterday, and your faithful correspondent grew giddy. If you use Twitter and want to see what I'm talking about, see #‎BattlePortes #‎Battletoits."

The post reminded me of a pleasant stroll I took a few times two years ago in Paris from the Louvre to the Musée d'Orsay to Shakespeare & Company bookstore, and what a perfect, cobbled little path winding between art and literature that proved to be.

And I thought of British artist Tom Phillips, whose love for words and literature infuse his work ("After Henry James," "Iris Murdoch," "Curriculum Vitae," "Samuel Beckett," "A TV Dante"). "I love the smell of a library and the feel of books," he once observed. "Most of all I love the serendipity and the aleatory quirks of browsing.... Every book, however unpromising, will turn out to have its day."

Happy #MuseumWeek! --Robert Gray, contributing editor (column archives available at Fresh Eyes Now)