Shelf Awareness for Tuesday, October 21, 2014

News
Amazon and S&S Reach Modified Agency Agreement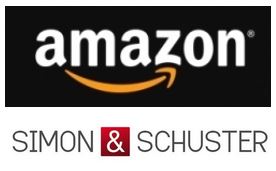 Amazon and Simon & Schuster have concluded a new contract for print and digital books that uses a modified agency model, with S&S setting most prices but giving Amazon some opportunity to discount titles. The agreement includes S&S distributed publishers.
In a letter to authors and agents, S&S president and CEO Carolyn Reidy called the deal "economically advantageous for both Simon & Schuster and its authors and maintains the author's share of income generated from eBook sales. It addresses our mutual concerns about preserving the value of our intellectual property in the marketplace, as it is a return to a version of agency pricing that, with some limited exceptions, gives control of eBook pricing to Simon & Schuster, while providing us the flexibility to deliver great prices for readers."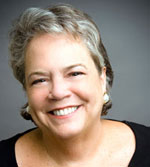 Reidy
Amazon confirmed the deal, according to the Wall Street Journal, and said, "The agreement specifically creates a financial incentive for Simon & Schuster to deliver lower prices for readers."
Apparently referring to the Amazon-Hachette dispute, Reidy noted that the deal assures that S&S authors' books "will be continuously available for sale at this major retailer through this year's holiday book buying season and well beyond. It is not our usual practice to announce such agreements, but our publishers and I feel that the high level of public speculation over the status of these talks made it important to let you know about this positive development."
According to Business Insider, S&S made an offer, which was agreed to after "only a few tweaks by Amazon." Quoted by the Journal, Douglas Preston, organizer of Authors United, asked the obvious question, wondering whether Amazon is offering similar terms to Hachette.
Amazon has similar negotiations coming up with the other major U.S. publishers: Penguin Random House, HarperCollins and Macmillan. Without knowing the details--Amazon hides behind nondisclosure requirements--it's difficult to tell how the deal with S&S fits into its strategies with Hachette and the others.


Fancy a Bookstore Sleepover at Waterstones?
That was fast. After an American tourist was accidently locked in the Waterstones branch in Trafalgar Square in London last week--he was rescued after several hours, many tweets and much publicity--the Piccadilly Waterstones is offering an overnight stay for up to 20 people this Friday.
Waterstones was struck by the many people who tweeted that being locked in a store after hours would be a dream, according to the Evening Standard.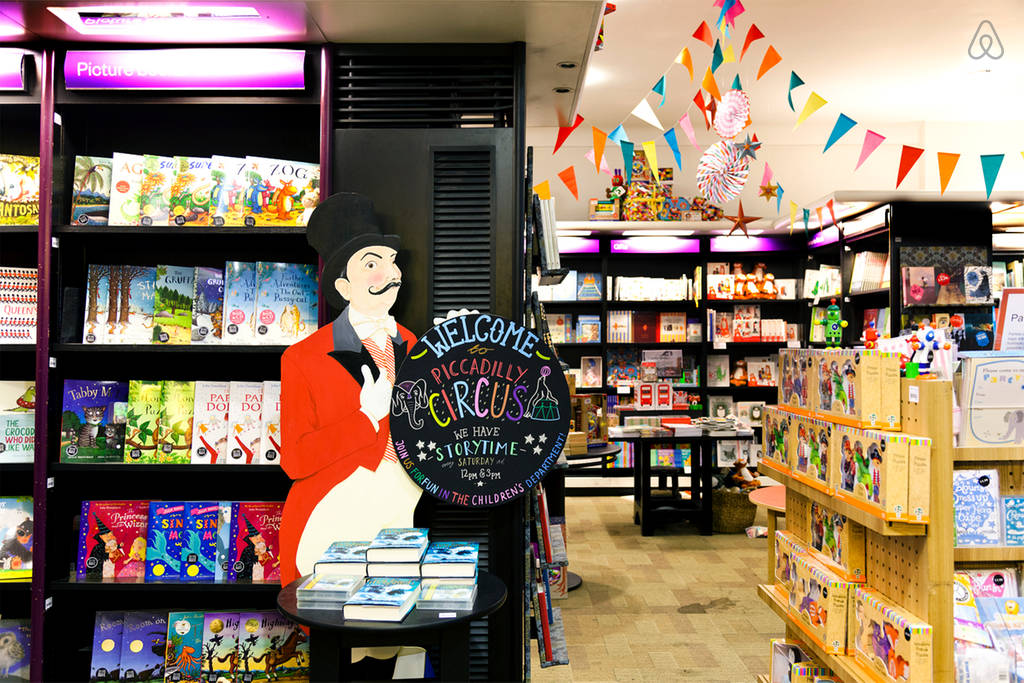 Interested book lovers can apply via an Airbnb listing for 10 spots (each winner can bring a friend). The listing reads, in part:
"With Waterstones Piccadilly all to yourself, saunter up and down our beautiful central staircase, from our Ground Floor Bestsellers to our Fourth Floor's Russian Bookshop, and let your imagination loose. Settle down on the comfy airbeds and sleeping bags provided and drift off surrounded by the fantastical tales, incredible true stories and beautiful books of all shapes and sizes that are packed into the more than eight and a half miles of book shelves.
"That's not all though--there's plenty of treats and surprises in store. Food (Grazebox and Weetabix to name a few), entertainment, bedding--we got you covered! The only thing you need to worry about is what to read next. And if someone will let you out in the morning... But that wouldn't be a problem would it?
"House Rules: Only serious book lovers need apply. Be considerate--other guests may be trying to read. And why wouldn't they, they're in a bookshop after all?"
A Waterstones bookseller will give a tour of the store at 9 p.m.
Bookstore overnights seem to be the new international trend. On November 1, Japanese bookstore chain Junkudo will host six people overnight at the company's store in the Chiyoda section of Tokyo--with the proviso that they buy at least one book by the time they leave. Depending on the experience, Junkudo may hold more bookstore overnight events.


Gibbons Named U.K.'s First Comics Laureate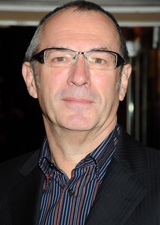 Bestselling graphic novelist and Watchmen artist Dave Gibbons is the U.K.'s first comics laureate. The Guardian reported that Gibbons was appointed to the biennial role by Comics Literacy Awareness. During his tenure, which begins in February, he will act as an ambassador for comics and their potential to improve literacy. He will also "champion the role of comics in getting children to read as well as visiting schools and attending training events for staff and education conferences."

Noting that the comics medium is often "sidelined" in the U.K., Gibbons said, "The idea of telling stories or imparting information with a combination of words and pictures is a fairly universal thing, geographically and historically. I loved comics from the age of three or four. I learned to read before I went to school so I could see what was going on and they inculcated in me a lifelong love of reading."

Gibbons added he will "do all that I can to promote the acceptance of comics in schools. It's vitally important not only for the pupils but for the industry too."


Obituary Notes: Kay Sexton; Grant Hugh Kennedy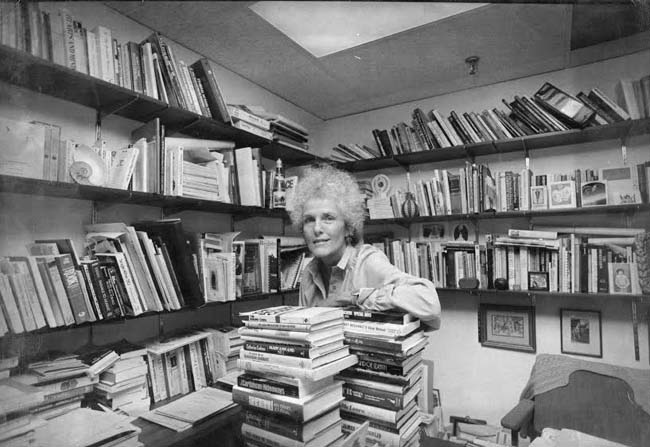 Legendary B. Dalton bookseller Kay Sexton died October 17. She was 91.

The Pioneer Press has a long informative and entertaining obituary of the woman who was a bookseller at Dayton's department store, when department stores were still the single most important book retailers, then managed a Dalton store--the chain was founded by department store chain Dayton Hudson--and proved such a good buyer and bookseller that she eventually became a Dalton v-p.

As the Pioneer Press wrote: "Sexton's uncanny ability to pick winning books showed in her weekly in-house newsletter, officially known as Hooked on Books but affectionately referred to in the bookselling world as 'the green sheet.' This publication, featuring Sexton's thoughts on what books would appeal to middle America, became the bible of the publishing industry."

Sexton was also a mentor for many people in the industry. The newspaper wrote: "Her family recalls that her bookcase-lined office held 'the couch' where everyone from secretaries to book buyers and CEOs would come by to pour out their hearts or ask for advice. Her straightforward advice: Know your values, be true to your beliefs, and follow your passion."

She helped create the Minnesota Center for Book Arts and served on the board of Graywolf Press. The Minnesota Book Awards include the Kay Sexton Award, honoring an individual or organization for longstanding dedication and outstanding work in fostering books, reading and literary activity in Minnesota.
---
Grant Hugh Kennedy, founder of Lone Pine Publishing, died last Tuesday, October 14. He was 79.

After working in radio and TV, including a stint on Canada's National Film Board, in 1980, Kennedy started Lone Pine Publishing in Edmonton, Alberta. The press is well known in Canada and the U.S. for its gardening books, bird guides and nature guides. It has published more than 800 titles with the motto "The World Outside Your Door."

In the late '90s, Kennedy retired to British Columbia's Sunshine Coast. His son Shane is currently president of Lone Pine Publishing.


Notes
Image of the Day: Neil Young's Artwork on Tour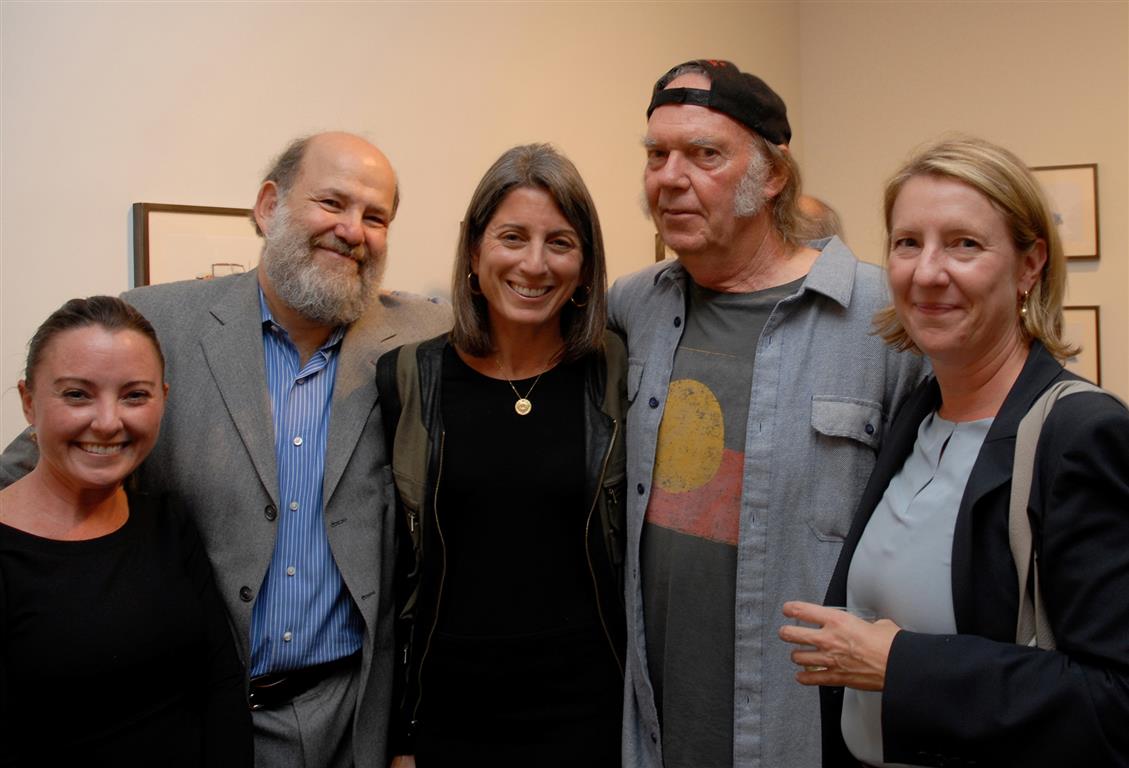 Photo: Mike Stoughton
Neil Young, author of Special Deluxe: A Memoir of Life & Cars (Blue Rider Press), celebrated an art exhibit featuring original watercolors by him--all of which are featured in the book--that was held earlier this month at the John Goodman Gallery in New York City. The show is moving to Los Angeles, where it will appear November 3-8 at the Robert Berman Gallery. (L. to r.): Caroline Riordan, director, digital & online business development, Penguin Random House; David Rosenthal, president of Blue Rider Press; Linda Cowen, v-p, legal counsel, Penguin Random House; Young; and Jaci Updike, president of sales, Penguin Random House U.S.


Chelsea Green: 'Vermont's Homegrown Publishing Guru'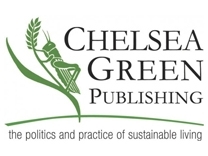 Vermont publishing company Chelsea Green, which "started out with one unlikely book back in 1984, an eco-fable called The Man Who Planted Trees," now offers approximately 250 titles and a "sustainable, small-is-good, push-for-justice philosophy," VT Digger reported.

"Anyone who's involved with building a business knows it's a long slog in the early years; you teeter on and off to going out of business. It's extremely stressful. We've gotten to a point now where we're profitable and we've built up a list that, you know, keeps selling year after year," said Margo Baldwin, describing herself as "president and publisher, CEO, whatever."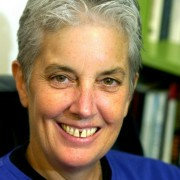 Baldwin
From The Man Who Planted Trees, which has sold more than 300,000 copies, to The Straw Bale House (150,000 copies since 1994)--which Baldwin called "a big seller for us, kept the company alive for a number of years"--to the New York Times bestseller The Art of Fermentation by Sandor Katz, Chelsea Green has been "Vermont's homegrown publishing guru for the do-it-yourself, self-sufficiency and energy efficiency, better health, better backyard (and better world with a hint of doomsday) segment of society," VT Digger wrote.

"We've been way ahead of the curve on lot of these subject areas," said Baldwin, adding that many of Chelsea Green's books "were so ahead of the time they didn't work.... It's been a big frustration over the years that we keep publishing these things and the world doesn't keep getting it." Enough of the world has caught up, however, for Chelsea Green to publish 25-30 books a year, garner $5 million in annual sales, and prove, as VT Digger put it, that "some fables--like a small Vermont publishing company beating the odds and the drums--can actually come true."


When in San Francisco, Root for the Giants
Even though Washington, D.C., native Christopher Scotton, author of the debut novel The Secret Wisdom of the Earth (Grand Central, Jan.), is a Nationals and Orioles fan, when a pre-pub bookseller dinner landed him in San Francisco on the night last week when Travis Ishikawa's three-run homer put the Giants into the World Series, he was a good enough sport to wear the team's hat for a photo. Scotton has a deep affinity for other regions and their customs--for example, he backpacked through Appalachia in his 20s and fell in love with the place and its people. That setting, coupled with the memory of a friend's mother who never got over the tragic front-yard accident that killed her oldest son, became the seeds of the story in The Secret Wisdom of the Earth.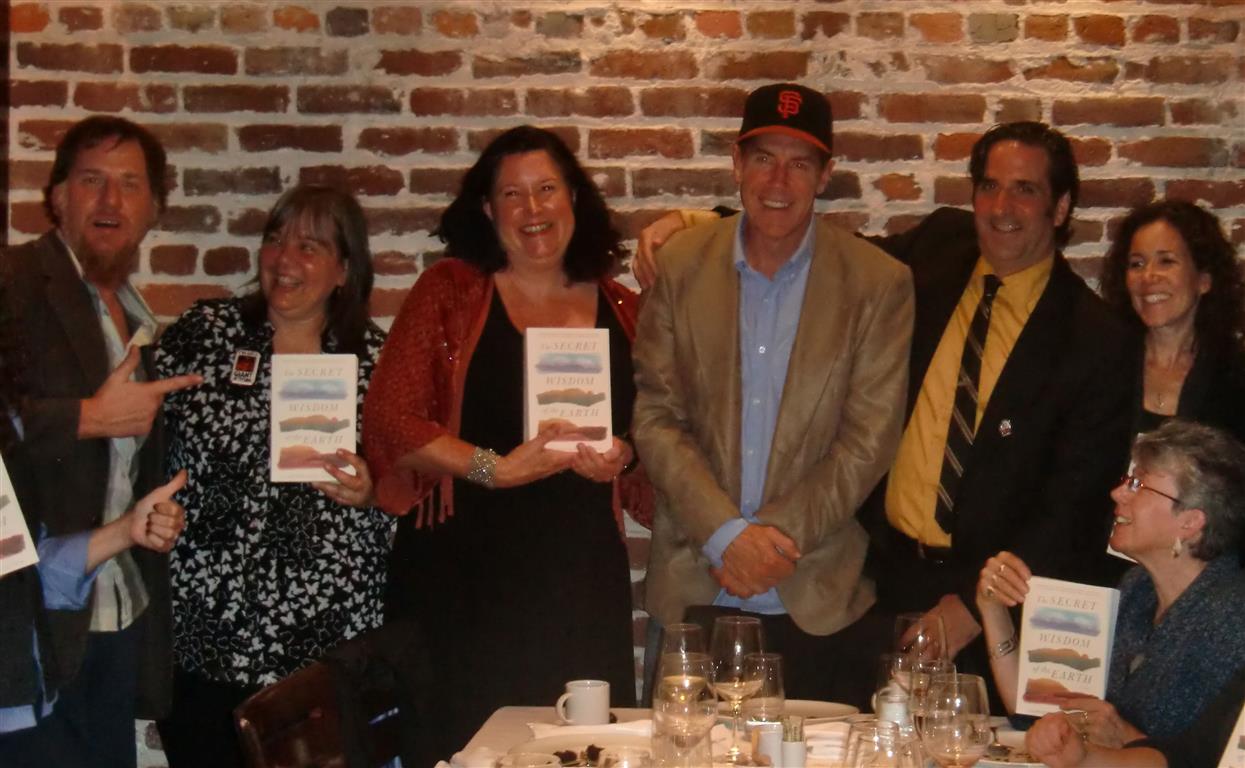 l. to r.: Kevin Hunsanger from Green Apple--who lent the author his Giants cap; Nystrom; Karen West from Book Passage; Scotton; Nick Petrulakis from Books Inc.; Luisa Smith from Book Passage; and Sheryl Cotleur from Copperfield's (seated).
"There was a long gestation period with this novel," Scotton told the booksellers. He said he spent about two decades coming up with excuses not to write the novel he imagined in his 20s, but then "something wonderful happened--I got fired." Liberated from a job running a software company, Scotton wrote the story of Kevin, a 14-year-old who goes with his mother to her father's home in Kentucky to heal after the tragic death of his little brother. Pops, the grandfather, is a small-town veterinarian who tends to the animals--and humans--in an area besieged by mountaintop mining.

"Pops is the grandfather I wished I had and also the grandfather I wish to become," said Scotton. Ingrid Nystrom from Books Inc. likened Pops to Atticus Finch, which pleased the author. The comment also rang true for other booksellers who had read the book, some of whom thought the character was a cross between the patriarch in To Kill a Mockingbird and Gus McCrae in Lonesome Dove. --Bridget Kinsella


Book Trailer of the Day: Tinseltown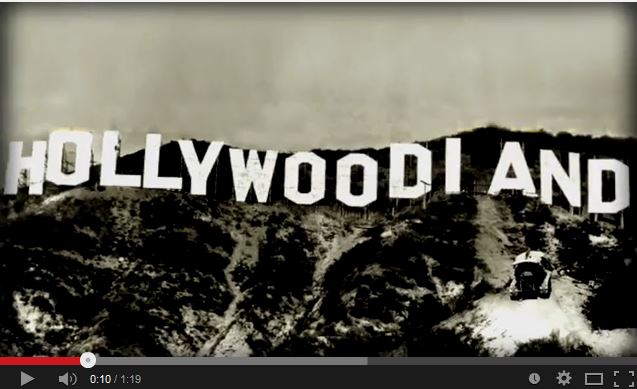 Tinseltown: Murder, Morphine, and Madness at the Dawn of Hollywood by William J. Mann (Harper), a trailer that resembles a silent film.


Media and Movies
Media Heat: George Clinton on Tavis Smiley
Today on PBS's Makers: Women in War: Gina Bennett, author of National Security Mom (Wyatt-MacKenzie, $14.95, 9781932279795).
---
Tomorrow on Bloomberg's Surveillance: Walter Isaacson, author of The Innovators: How a Group of Hackers, Geniuses, and Geeks Created the Digital Revolution (Simon & Schuster, $35, 9781476708690).

---

Tomorrow on the Ellen Degeneres Show: Derek Hough, author of Taking the Lead: Lessons from a Life in Motion (Morrow, $24.99, 9780062323194).

---

Tomorrow on the Talk: Alan Cumming, author of Not My Father's Son: A Memoir (Dey Street Books, $26.99, 9780062225061).

---

Tomorrow on Tavis Smiley: George Clinton, co-author of Brothas Be, Yo Like George, Ain't That Funkin' Kinda Hard on You?: A Memoir (Atria, $27, 9781476751078).


TV: The Hot Zone; Marley & Me
"As the Ebola virus continues to dominate the headlines, producer Lynda Obst and director-producer Ridley Scott are bringing the deadly pathogen to the small screen," the Hollywood Reporter wrote, noting that Fox TV Studios is developing a limited series based on Richard Preston's 1994 bestselling book The Hot Zone: The Terrifying True Story of the Origins of the Ebola Virus.

Although Obst and Scott have been working on the project, which they optioned two decades ago, for the past year, it "became incredibly timely a few months ago" when the current outbreak began making headlines, the Hollywood Reporter noted.

In yesterday's New York Times, Preston--whose updated research on the Ebola epidemic appears in this week's New Yorker magazine--expressed some concern regarding the potential sensationalizing of the issue by TV: "It's been the impulse in Hollywood to fictionalize it. I keep telling them: 'Don't do that. Don't turn it into another predictable Hollywood drama.' "

But io9 was skeptical: "No bets on whether he's actually going to be able to stop that from happening."

---

John Grogan's Marley & Me, which was adapted into a 2008 movie starring Jennifer Aniston and Owen Wilson, has received a put pilot commitment from NBC, Deadline.com reported. Jenny Bicks (Sex and the City) will write the script for the project, with the film's director, David Frankel, also helming the potential pilot.


The Hunger Games: Mockingjay Part 1: 'District Voices'
Noting the "massive marketing run-up for The Hunger Games: Mockingjay Part 1 continues in a big way this week," Deadline.com reported that Lionsgate and Google are featuring "District Voices," the videos set in Panem that were created by five teams of "noted Youtube video creators." Episodes are rolling out daily this week, and will run on YouTube and Capitol TV.

A new teaser trailer, as well as some photos, have also been released for the film, which hits theaters November 21 with "faces new and old, including Josh Hutcherson, Liam Hemsworth, Woody Harrelson, Elizabeth Banks, Julianne Moore, Philip Seymour Hoffman, Jeffrey Wright, Sam Claflin, Jena Malone, Natalie Dormer and Stanley Tucci," Indiewire noted.


Books & Authors
Awards: Prime Minister's Literary; Carnegie/Kate Greenaway
Shortlists in six categories have been announced for the 2014 Prime Minister's Literary Awards, which "recognize the role Australian writers play in enlightening and entertaining us, reflecting on our history and taking our stories to the world." The Prime Minister's Literary Awards feature a total prize pool of $600,000 (US$525,480). Winners will be named by the end of the year.

---

Nominations have been released for the 2015 CILIP Carnegie (for an outstanding book for children and young people) and Kate Greenaway (illustration for children and young people) medals. The longlist titles will be announced February 10, shortlist March 17 and winners June 22.


Book Review
Review: Hiding in Plain Sight
Hiding in Plain Sight by Nuruddin Farah (Riverhead, $27.95 hardcover, 9781594633362, October 30, 2014)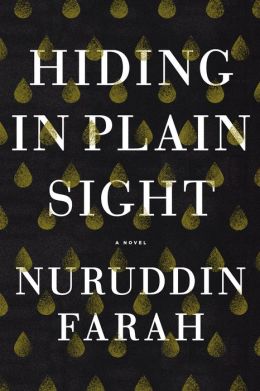 The murder of a good man creates a vacuum his bereaved sister bravely tries to fill in this intimate family drama by African novelist Nuruddin Farah (Crossbones). After her elder brother, Aar, a U.N. ambassador in Somalia, loses his life to a terrorist bomb, fashion photographer Bella leaves her job in Italy to take over as guardian of his teenage son and daughter in Nairobi, Kenya. Her grief at losing the person who loved and supported her most overwhelms her, but Bella knows she must stay strong for her niece and nephew's sake. Their mother, Valerie, left the family for another woman years ago, and with Aar dead, Bella hopes Valerie will simply leave the children in peace. However, as Bella makes progress on forming a new family with suspicious Salif and fragile Dahaba, Valerie resurfaces with her lover, Padmini.
Fresh off a stint in a Ugandan jail after an unscrupulous businessman exposed them as a couple, Valerie and Padmini arrive in Nairobi under the assumption that they will take custody of the teenagers. Although she has always loathed her toxic sister-in-law, Bella knows she must navigate their interactions carefully, unsure of Valerie's legal privileges. For her part, Valerie feels she has a maternal right to her children and has always found Bella cold and intimidating. Loyalties splinter and shift as the people closest to Aar try to make sense of a world without his presence.
From the first moments of the story--the only segment told from Aar's point of view--Farah establishes Bella as a woman who wields her power confidently and feels comfortable in multiple roles. Farah makes a point of not putting her in one box; smart, socially savvy and never strident, Bella is a free spirit who is also focused on her career, her brother and his children. Even moments of extreme difficulty never bring into question her dedication to her family and her work.
By contrast, Valerie is clearly a poor choice of guardian for her children: impractical, catty and erratic. And though she's the source of much conflict, readers should not assume that Farah makes judgments against the LGBT community in general. Rather, he draws attention to their plight. While gay and lesbian couples in the U.S. continue to fight for marriage equality, homosexuality itself is a crime in many African countries and can even carry the death penalty, an iniquity noted by his characters in the story.
Gracefully pulling together social issues with the seismography of a single family and underscoring it all with hints at the Somali diaspora of the 1990s, Farah once again offers a complex look at the struggle and joy of finding home. --Jaclyn Fulwood, blogger at Infinite Reads
Shelf Talker: A Somalia-born novelist delves into the intricate bonds of family while also exploring the dangers homosexuals face in Africa.


Deeper Understanding
World's Longest Bookstore Tour: Part 5
Jenny Milchman, whose newest book is Ruin Falls (Ballantine), embarked earlier this year on a cross-country author tour. This is the fifth and last installment of notes from her trip.

One of the discoveries on the world's longest book tour has been the smart, savvy and creative ways booksellers are making--or continuing to make--their stores into hubs of the community.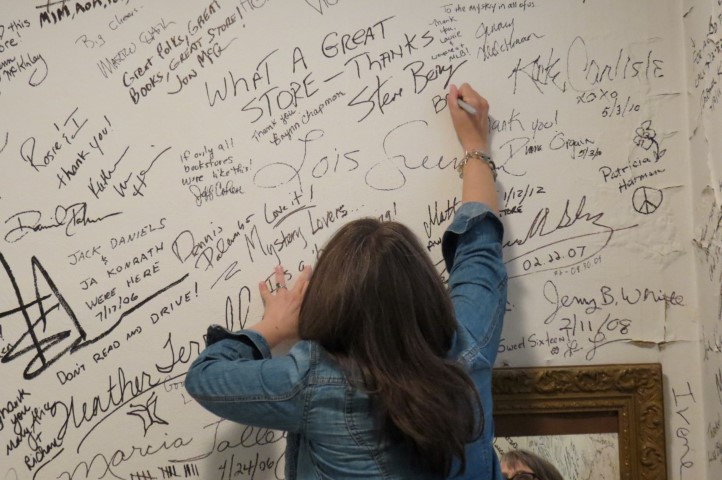 Signing the bathroom at Mystery Lovers Bookshop in Oakmont, Pa.
A long-standing issue is getting attendees into events, and booksellers are meeting this challenge in a range of ways. Mystery Lovers Bookshop outside Pittsburgh holds a weekend brunch with an author. The conversation pokes and prods deep into the heart of a book, steered by booksellers who are the heart of this place. By the way, if you visit MLB, don't miss the bathroom!

Hudson, Ohio, is a quaint, historic town, and the Learned Owl serves both the tourist and the townsperson. An author can stay for hours, talking to a stream of readers like guests on a receiving line. Bookseller Kate Schlademan, who took the helm in 2013, has much to say about the past, present and future of bookselling.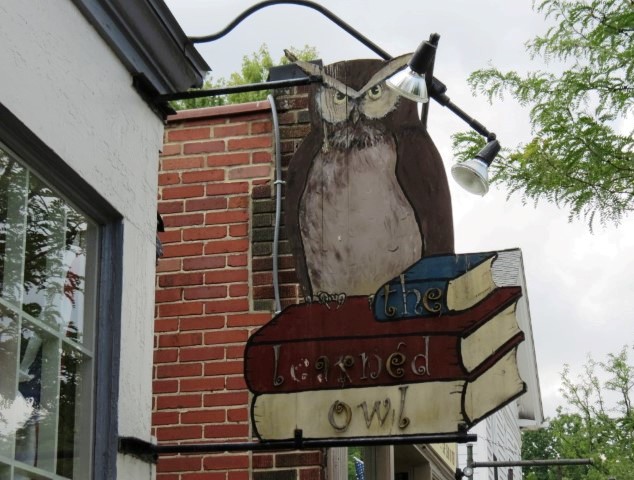 Learned Owl's quaint storefront in Hudson, Ohio
Michigan is one of the most bookstore-dense states in the country. Although cities boast great bookstores, in a way the bookstore scene really comes alive in the smaller towns and outposts. First up was an event at a chain little known in the Northeast--Books-A-Million--where I paired with romantic suspense novelist Elizabeth Heiter for a talk about being a debut author.

We next stopped at 2013's Raven Award-winning mystery bookstore, Aunt Agatha's, in Ann Arbor, for a rousing conversation with fellow author Brian Freeman. The night felt more like stand-up comedy than a book event, judging by the laughter from the crowd. (Who would've thought two thrillers could be so humorous?) Aunt A's boasts a carefully curated collection of relics--a Pocket display stand from the first days of paperbacks; publisher swag from the big books of yesteryear.

Schuler Books is its own mini-chain with three stores. I appeared at the Okemos location with bestselling self-published author Rick Murcer, as well Robin Devereaux Nelson, an author with Soft Skull Press, for a discussion about publishing roads today. This bookstore embraces each publishing path for authors and customers alike, yet another way of welcoming new folks into stores.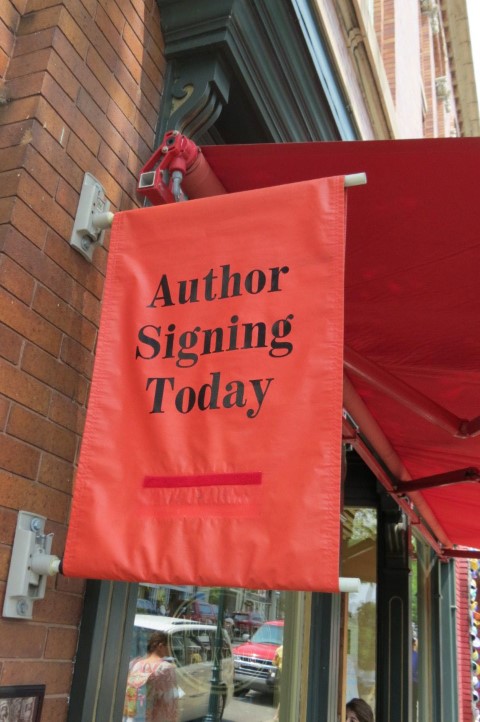 McLean & Eakin reels in attendees.
You could take a day trip to Northern Michigan and visit three destination bookstores, with stock so different that there was almost no overlap (as evidenced by the finds all four members of my family took away). McLean & Eakin Booksellers, Petosky, hosts a lively Meet & Greet that takes full advantage of the foot traffic through this vacation community. In Gaylord, even a morning visit at Saturn Booksellers will be hopping as everyone from local kids to fellow travelers flocks to meet authors. Between the Covers in Harbor Springs will round out your evening for a discussion that winds down as slowly as the sinking sun. The bookseller even spices things up with homemade dessert.

Wisconsin boasts two mystery bookstore treasures, as different as Christie was from Hammett. Mystery to Me in Madison just celebrated its first anniversary, having hosted 75 events in that short time. Titles appear on shelves and displays like paintings at a museum, and the soaring shelves smell of fresh-cut wood and paint. A flat-screen TV connects customers with authors who appear via Skype. Meanwhile, Mystery One in Milwaukee is a close cloister of books. Like Hanukkah oil, the shelves hold far more titles than you would think could fit in the space. You might discover a signed first edition or that paperback you loved as a kid. Readers crowd in, even sitting on the floor for the lively events.

The Twin Cities are a comet burst of bookstores, including Magers & Quinn, Common Good, Micawber's, Moon Palace and more. I'd love to visit every single one, but when I come to Minnesota, I spend an evening at Once Upon a Crime. Booksellers Pat Frovarp and Gary Shulze believe in growing an author through the years, and their event calendar features the likes of local William Kent Krueger and Reed Farrell Coleman, who has just taken over writing the late Robert Parker's series. OUAC is another recent Raven Award winner and raven collectibles are among the titles on the shelves.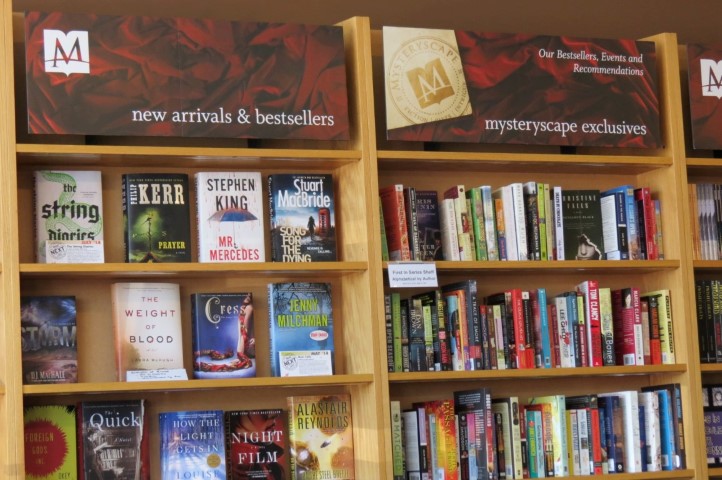 Mysteryscape's store logo is as artistic as a book cover.
Another worth-driving-out-of-your-way-for bookstore is Mysteryscape in Overland Park, Kan. This bookstore marries art with marketing, and books with community. The local Sisters in Crime chapters meets here monthly. When a local artist came in, hoping to grow a business for his work, bookseller Acia Morley offered to recommend him to emerging writers looking for help with book covers. Art is a big part of this bookstore: each sub-genre of book is marked by custom designed prints that carry the bookstore logo. After two delightful days spent here, I would recognize a Mysteryscape bookshelf faster than I would a can of Coke.

Just 45 minutes away is Lawrence, Kan., the city where Sisters in Crime was founded. Lawrence is a cultural oasis with a radio show that accompanies many author visits to the Raven. The host will often show up at the lively events that draw college students, local writers and avid readers into one interesting group.

Watermark Books & Café in Wichita has a scrumptious bookstore café whose aroma greets you as you walk in, and a plentiful event calendar. On the day I was there, a writers group met in the back of the store, while the author talk went on up front. Customers had trouble choosing between the two... and those who got waylaid could peruse the stock.

At Slate Creek Books in Wellington, Kan., I met local aspiring writers, along with the bookseller and her six children, for a homegrown experience that proves even the tiniest of towns needs a bookstore.

Full Circle Books in Oklahoma City, Okla., packed the house for me and self-published author Richard Cunningham, who traveled from Texas. Some of the attendees were interested in the nuts and bolts of putting a book out, but more of them seemed concerned with what all these new options mean for the future of reading.

Some bookstores are actively exploring how they can help grow an author from undiscovered to all-the-rage. At the Booksellers at Laurelwood in Memphis, Tenn., a New Author Night is accompanied by wine, chocolate, snacks and balloons. There's a party atmosphere to these events, and the whiff that this is something a customer will surely want to be part of. But it's the Laurelwood booksellers' love of the book they are showcasing that seems to be the most powerful recommendation of all.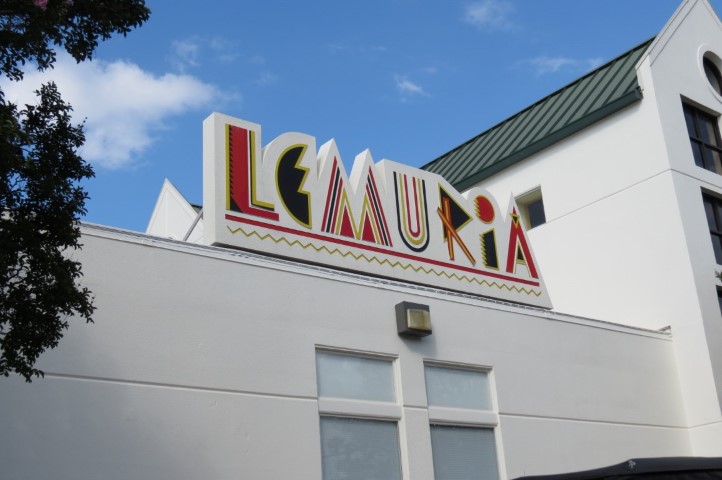 Jackson, Miss., is home to a terrific book blogger, Tamara Welch, who showed up at my event at Lemuria Books. Authors sit on a velvet banquette surrounded by a teetering stack of books, just waiting to be signed. The hours disappeared in a discussion about two crucial parts of the hand-selling equation: book bloggers who do it virtually, and booksellers who are out there face-to-face.

Nashville, Tenn., was poised to lose its last independent bookstore when the townspeople rallied. Aided by community support, author Ann Patchett opened up Parnassus Books, and there I met thriller author A.J. Scudiere for a rousing talk about something Ann herself might've been interested in: gender roles in publishing and how everything changed for my fellow author when she traded her first name for initials.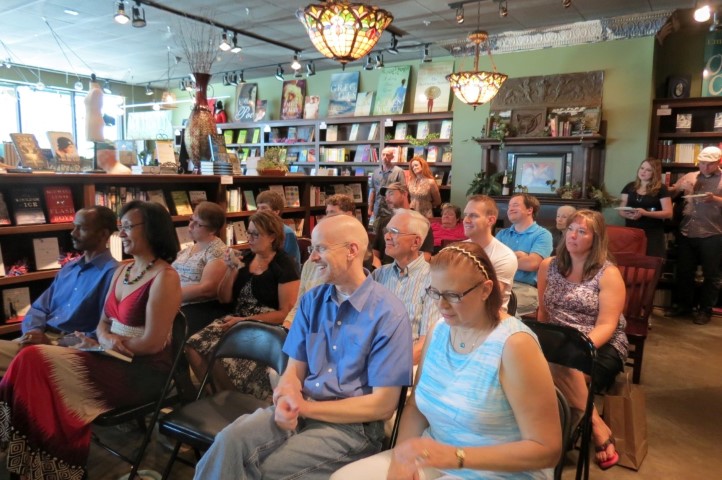 FoxTale Book Shoppe fills the room.
Followers of this series may remember that the first time I appeared at FoxTale Book Shoppe outside Atlanta, Ga., there was a coffin. I write suspense, after all, and this is a bookstore that knows how to put on an event, complete with displays that are like art installations. This year I appeared with an author who published her debut in yet another interesting way: through a bookstore press. Our event was a party complete with Southern tapas, and thanks to the booksellers' expert managing of the full house and long signing line, we didn't even miss the coffin.

Fiction Addiction in Greenville, S.C., hosts an lunchtime author chat, and a loyal group of attendees make the trip to this cozy store for each one. The conversation was laced with Southern drawl and banter, making this Northern author feel very much at home.

The other candidate for most bookstore dense state is North Carolina. You can take a vacation to the beautiful mountains of Asheville and come across one of the premier destination bookstores of this country. Malaprop's Bookstore/Cafe has a loaded event calendar and a café that entices. Here I appeared with fellow authors Carla Buckley, Jamie Lee Mason and Bryan Robinson to try to answer the question, "What kind of escape are we looking for when we read?" It was a thorny knot of a discussion, but bookseller Cindy Norris packed the store with just the sort of people to explore it.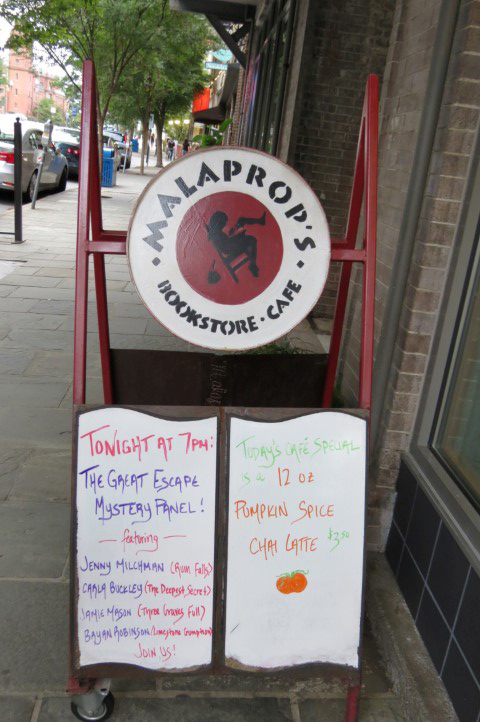 A destination bookstore in Asheville, N.C.
Shelby, N.C., is a growing town, and Fireside Books is partially driving that expansion. Local businessmen and women stopped by when I appeared again with author Carla Buckley, to ask us about the life and times of a writer. Meanwhile, the bookseller offered mimosas from behind the counter!

Two of North Carolina's greatest bookstores are in the Triangle. Flyleaf Books, Chapel Hill, is trying out a novel approach to events--working with a team of media experts to increase attendance by targeting people who will be most interested in a particular evening. The generous event space boasted filled seats, and the conversation ranged toward the meta. Why am I out here on the road? What can booksellers hope to gain by showcasing authors--and what can an author give back?

Quail Ridge Books, Raleigh, is our second must-visit-the-bathroom bookstore, and also a place that knows how to structure everything from a 100-plus-person gathering to an intimate circle of guests. Attendees stayed late into the night to discuss the particulars of my books. Taking the author reading and signing and elevating it to a book club/writers group/literary salon is the special genius of these booksellers.

Park Road Books in Charlotte is known for its handselling. Almost every person who attended my event stated, "Sally [Brewster] put your book in my hands." When the bookseller is that involved with her customers, books become part of those readers' life journeys. One attendee was having surgery soon after my event, and the carefully assembled stack of books she bought reflected her upcoming hiatus.

Politics & Prose in Washington, D.C., hosts such great book events, including trips to Paris, that could intimidate a new author from even trying to get booked. The events coordinator suggested I put together a workshop, which drew an array of D.C. writers wondering how to publish their books. That evening, some of the attendees gathered in nearby Kramerbooks' upstairs events space, which is also a restaurant and wine bar.

Barnes & Noble hosted four distinct events during the last leg of my tour. First, in Plano, Tex., three local authors and I took part in a roundtable discussion about the writing craft. Barnes & Noble paired with the Greensboro Public Library in North Carolina for a brown bag lunch. The Plymouth Meeting, Pa., Barnes & Noble hosted me at a book club. And finally, the Ithaca, N.Y., Barnes & Noble is the home to Nikki Bonnani's Killer Coffee Club, complete with an endcap display of books for the featured author.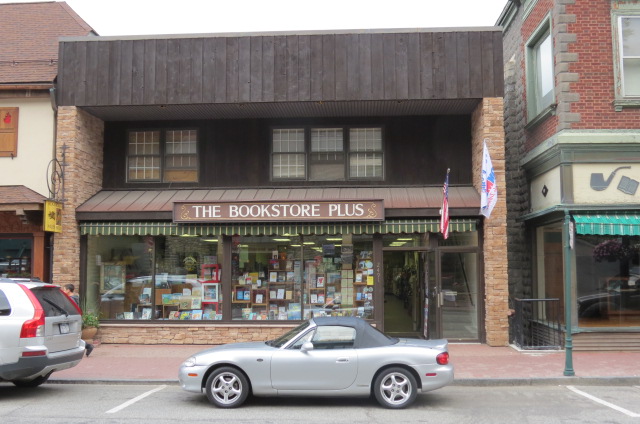 Small town living surrounds the bookstore in Lake Placid, N.Y.
It's fitting that the world's longest book tour wound up in the Adirondacks, where my books are set. In Lake Placid, N.Y., the Bookstore Plus is a mainstay both for locals and tourists. I appeared on Labor Day weekend and had no sooner greeted one reader at my table before another appeared. Bookstore Plus invited me for a second event before I drove south: the store's book club held a circle conversation as substantive and intimate as the other day had been pulsing and busy. Wine and coffee lubricated the evening's discussion.

The world's longest book tour has come to its official end, but no roundup of bookstores in the U.S. would be complete without mention of the one I journeyed to four weeks later. Mechanicsburg Mystery Bookshop in Pennsylvania appears on a lone stretch of road, yet draws customers, readers and writers from all over. This is one of the few East Coast spots Craig Johnson comes to when he releases a new book. One reason for this bookstore's popularity is the one-day conference it hosts annually, not to mention its mystery-themed gift baskets. Just two more ways booksellers are getting creative--and keeping the bookstore scene so thriving that I can't wait to set out again.