Shelf Awareness for Friday, October 24, 2014

News
Amazon: Sales Growth Slows, Loss of $437 Million

Amazon's third-quarter results, announced yesterday, continued the trend of the past several years: slowing if still monumental sales growth, and rising losses, both beyond analysts' expectations. This time the loss was its largest quarterly loss in 14 years--nearly half a billion dollars. And the company's predictions for fourth quarter sales disappointed analysts, leading to another drop in Amazon's share price.

In the third quarter ended September 30, net sales at Amazon rose 20.4%, to $20.58 billion, while the net loss increased more than tenfold, to $437 million, or 95 cents a share, compared to a net loss of $41 million, or 9 cents a share, in the same quarter last year. Both figures were below analysts' estimates of a sales gain of 21.6%, to $20.8 billion, and a net loss of 74 cents a share. The company also predicted that in the fourth quarter, sales will be between $27.3 billion and $30.3 billion, up only 7%-18% compared to the fourth quarter of 2013 and below analysts' estimates of a gain of 21%, to $30.89 billion.

As with the last several quarters, Wall Street did not like the news. In after hours trading, Amazon stock, which was already down 21% for the year, fell another 12%, to $279.75. In late 2013, it hit its all-time high of $408.06 a share.

The Wall Street Journal noted: "The bottom-line losses reflect Amazon's heavy investments in new businesses and services that some investors worry are stretching the Seattle company too thin. This year, it has released an array of new offerings including a hand-held grocery-ordering device, unlimited e-book rental and streaming services, and its first set-top box and smartphone."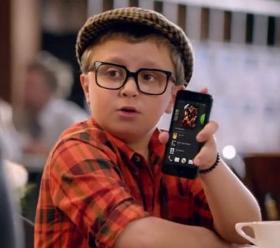 The Fire phone failure was also a major factor in the losses. As the New York Times put it, "The third quarter was marred by the disappointing reception of the Fire phone, Amazon's long-awaited and much-promoted entry into the smartphone market. A marketing survey of 500 Amazon customers could not find any who reported owning a Fire. The majority of the reviews on Amazon's own site give the Fire the lowest possible rating.

"A $200 price cut last month briefly pushed the phone up on Amazon's list of top-selling electronics products, but it quickly fell off again. Thousands of employees spent years developing the phone. It is a rare case of Amazon completely misjudging the appeal of a new product."

The Amazon announcement's long list of milestones in the quarter did not mention Hachette or any other publishers. Still, the New York Times speculated that Amazon's "take-no-prisoners attitude toward its suppliers might be catching up with it," saying that "one particularly weak segment for Amazon in the third quarter was North America media sales, which means books, movies and music. It increased a mere 4.8% from 2013."
In a conference call with analysts yesterday, Amazon CFO Thomas J. Szkutak attributed the slow growth to a shift to renting textbooks rather than buying them, and a strong 2013 quarter, making for a difficult comparison. But Colin Gillis, an analyst with BGC Partners, called the drop to 4.8% "a violent deceleration in growth," adding, "The controversy with [Hachette] likely also contributed to the slowdown."
Reflecting investor dissatisfaction with Amazon's spending sprees and increasing losses, Szkutak sounded an unusually cautious tone in the conference call, saying, "We've certainly been in several years now what I would call an investment mode. There is still lots of opportunity in front of us, but we know we have to be very selective about the opportunities we pursue."
Several observers pointed out that because of the huge loss, Amazon has been able to take yet another tax benefit, amounting to $205 million in the quarter. (Its pre-tax loss was $634 million.) Noting that Amazon's stock-based compensation to management has risen 40%, to $1.4 billion, over the past year and that some $470 million in stock-based compensation will be handed out in the fourth quarter, Matthew Finston on SeekingAlpha commented: "This might be seen as a positive to some, but I think it is a bit screwy. The company gets to handsomely award management, exploit its employees, short-change investors [by diluting stock], and when all is said and done Amazon gets a nice little tax deduction from Uncle Sam. Seems to me like Amazon gets to have its cake and eat it too."


B&N's Bronx Store to Remain Open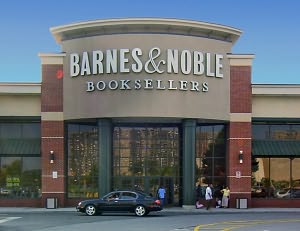 Barnes & Noble has reversed a decision announced earlier this week to close its only store in the Bronx. The New York Times reported that B&N executives said yesterday the Bay Plaza location in Co-op City will remain open for at least two more years, following "efforts by Ruben Diaz Jr., the borough president, to negotiate a compromise between the bookseller and its landlord, Prestige Properties & Development." Under the agreement, B&N will receive a two-year extension of its current lease with no rent increase.

"I hope that, during this two-year extension, both companies are able to reach a long-term agreement that ensures their mutual success in our borough while keeping Bronxites employed," Diaz said. "This is a major victory for the Bronx."

He added that it was now up to Bronx residents to do their part: "If you want a store to flourish and stay here in our borough, you have to petition with your wallets. You've got to come here and buy books."


Zalaznick Appointed to Penguin Random House Board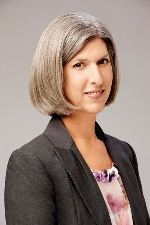 Lauren Zalaznick has been appointed the first independent board member of Penguin Random House. She publishes the LZ Sunday Paper, a newsletter about women in business, media and culture, and earlier worked at NBCUniversal for 12 years, where she was president of TR!O network, president of Bravo Media, president of NBCUniversal Women & Lifestyle Entertainment Networks (including Oxygen and Telemundo), and executive v-p and chairman of Entertainment, Digital Networks and Integrated Media.
She is also a trustee of the Corporation of Brown University and is on the board of directors of Shazam and the National Association of Television Program Executives.
Penguin Random House said that Zalaznick has "devoted her 30-year career to transforming the cultural landscape and brings extensive content, marketing and digital expertise to the Penguin Random House Board."


Handler at NCIBA: 'We Are Pirates'

At the Northern California Independent Booksellers trade show yesterday, Pete Mulvilhill, one of the owners of Green Apple Books, said one of the things he admires about Daniel Handler (aka Lemony Snicket) is Upstream, Handler's recent call to authors to partner with their indie bookstores on Small Business Saturday, November 29.
Handler, a San Francisco native who said he "grew up in Green Apple" and who has credited the great Bay Area independent bookstores with helping him lure his wife, author and illustrator Lisa Brown, across the country, admitted he lived in constant fear of being fired from his first job as a bookseller because of his poor wrapping skills. But he did learn a few things about bookselling--or at least enough to devise a game to open the NCIBA trade show yesterday at the South San Francisco Convention Center that explored the many similarities between booksellers and pirates. We Are Pirates, after all, is the Handler's forthcoming book from Bloomsbury--but pirating, he admitted, was an occupation that intrigued him way before bookselling.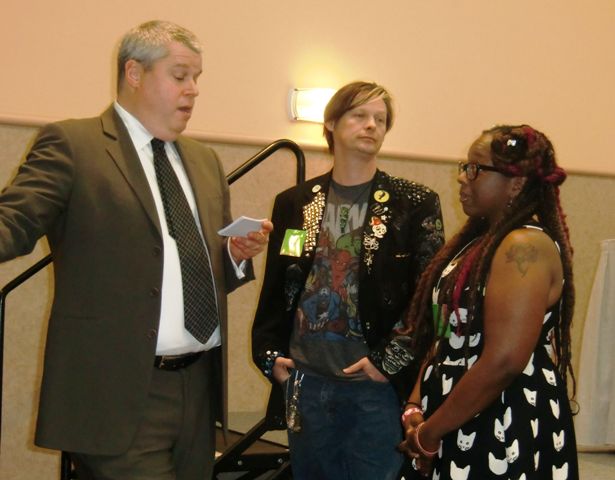 At NCIBA, Handler quizzes volunteers Ray Lawrason from Copperfield's and Melanie Knight from Books Inc. about pirating, bookselling and other random topics.
While a student at a San Francisco high school, Handler explained that he and a friend managed to get their entire homeroom to skew a standardized career test to show that students in the City by the Bay had a strong affinity for pirating. "It became a back-up career in case novelist didn't work out," Handler joked.
As he researched We Are Pirates, Handler became intrigued with the notion of buccaneers working with mapmakers to make fake maps to lure unsuspecting vessels. "I became even more fascinated with it because our world is all mapped out," he said. "We are living in an age of maximum surveillance." And what two populations are "watched like hawks" more than teenage girls and the elderly, he thought, so why not bring them together in a modern pirate story?
But his question for the NCIBA booksellers was, "Do you have what it takes to steal a boat and commit acts of mayhem," as his characters do in his new book? To answer that, Handler asked for two bookseller volunteers to take a career quiz of his creation. Ray Lawrason from Copperfield's and Melanie Knight from Books Inc. took the challenge, for the chance to win a store appearance by Handler.
Handler's questions included puzzles like: " 'If it's the pirate's life for me' is the traditional pirate refrain, what is the bookseller refrain?" Knight answered correctly: "I can special order that for you." And the lightning true/false round with stumpers like "It's okay to be allergic to wheat, but don't go around talking about it" (true) and "Pablo Picasso, what's the big deal?" (false).
Something that Handler said was never in question was why he wanted to work in a bookstore and still revels in them today: "To be in the company of literature." With Upstream, Mulvilhill said, Handler is doing something that "no online competitor can--bring together authors and readers in our stores," which is why he was an apt choice to open NCIBA's renamed "Discovery" trade show.
Expect more reporting and fewer pirate facts from NCIBA next week. --Bridget Kinsella


Obituary Note: Frank Miller
Frank Miller, "a well-known poet and jazz musician in New York, although wider public recognition evaded him," has died, the Guardian reported. He was 86. Miller "had very specific and non-negotiable views about how his poems should be published.... But Frank found it impossible to find a publisher who would print his poems as he had written them. He wanted many to have photographs, and, sometimes, his own drawings and paintings, published in the body of the text. This was extremely costly and beyond the budget of poetry publishers. Nevertheless, some of his work was published," the Guardian wrote.


Notes
Image of the Day: Lit Crawl Rocks L.A.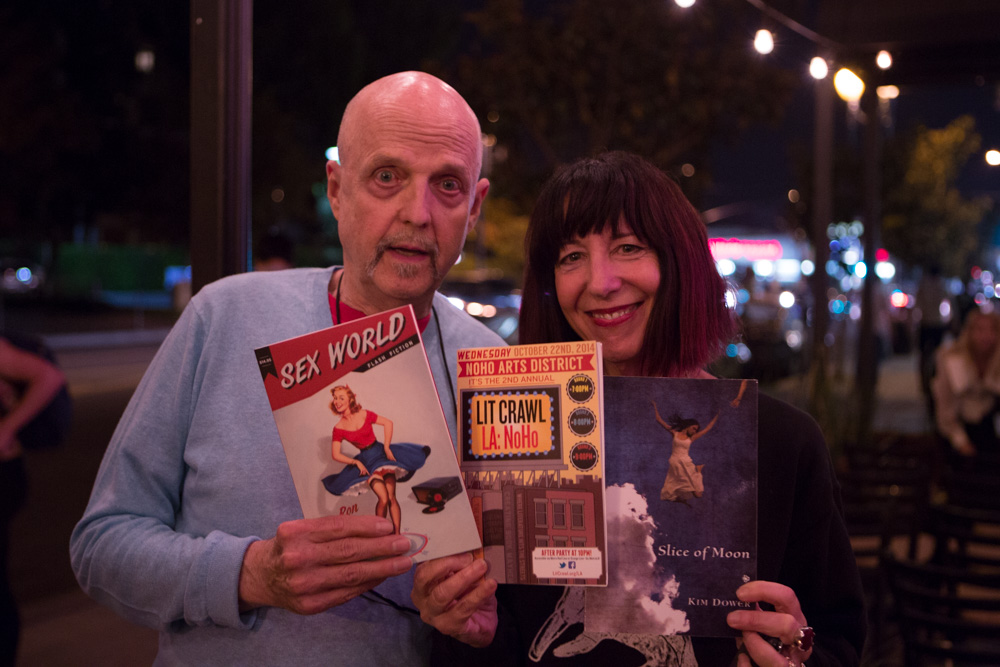 Lit Crawl L.A. rocked the bars and restaurants of the NoHo Arts District Wednesday, featuring an eclectic cross-section of L.A.'s literary scene at 30 locations. Held in three 45-minute rounds, this progressive literary carnival hosted more than 170 writers and poets, including Red Hen Press poets Ron Koertge, whose latest book is Sex World, and Kim Dower (Air Kissing on Mars and Slice of Moon).


Bookseller Video of the Day: Malvern Books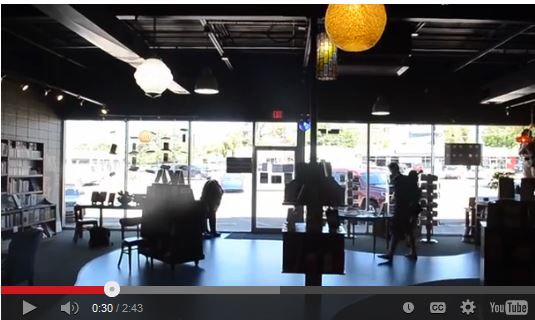 From the Facebook page of Malvern Books, Austin, Tex. which specializes in fiction and poetry from independent presses: "This video from the Daily Texan is an excellent introduction to all things Malvern (and you get to meet Dr. Joe!)."


Road Trip: 'Best Bookstores in Chicago'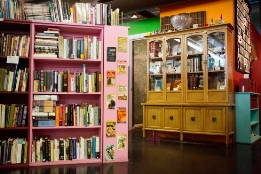 Open Books, Chicago
"You know what you can't buy on Amazon?" asked Time Out Chicago. "A cozy nook to hang out and skim the new or used book you're about to buy. Knowledgeable staffers (not algorithms) to recommend favorite novels. Some of our favorite bookstores even offer coffee, wine or beer. So the next time you're on the hunt for a page-turner, browse the stacks inside these wonderful, well-read shops."


Personnel Changes at Penguin Random House
Christopher Dufault has been named v-p, director, Penguin hardcover sales development, a newly created position.


Book Trailer of the Day: Crazy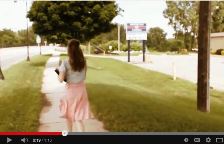 Crazy by Linda Vigen Phillips (Eerdmans Books for Young Readers), a debut novel-in-verse about a high school girl dealing with her mother's mental illness in the early 1960s.


Media and Movies
Media Heat: Ann Patchett on Fresh Air
Today on Fresh Air: Ann Patchett, author of This Is the Story of a Happy Marriage (HarperPerennial, $15.99, 9780062236685).
---
Tomorrow on CNN's Fareed Zakaria GPS: Walter Isaacson, author of The Innovators: How a Group of Hackers, Geniuses, and Geeks Created the Digital Revolution (Simon & Schuster, $35, 9781476708690). He will also appear on Bloomberg Radio's A Closer Look with Arthur Levitt.
---
Tomorrow on Studio 360: Mark Mothersbaugh, author of Mark Mothersbaugh: Myopia (Princeton Architectural Press, $40, 9781616892623).


TV: The Red Tent
Lifetime has released a trailer for The Red Tent, adapted from the 1997 bestselling novel by Anita Diamant, that offers "glimpses of a bloody Dinah (Rebecca Ferguson, The White Queen), Minnie Driver as Leah, Morena Baccarin as Rachel and Game of Thrones star Iain Glen as Jacob," Yahoo TV reported. The Red Tent airs December 7 and 8.


Movies: The Martian; Suite Française
Chiwetel Ejiofor (12 Years a Slave) will play Venkat Kapoor, director of the Mars Mission, in 20th Century Fox's production of The Martian, adapted from Andy Weir's novel and directed by Ridley Scott, Deadline.com reported. The cast also includes Matt Damon, Jessica Chastain, Kristin Wiig, Michael Pena, Kate Mara and Sean Bean. The script was adapted by Drew Goddard (Cabin in the Woods). The Martian will be released November 25, 2015.

---

A trailer is out for Suite Française, based on Irene Nemirovsky's novel. Indiewire reported that the film, starring Michelle Williams, Matthias Schoenaerts, Kristin Scott Thomas and Sam Riley, was written and directed by Saul Dibb (The Duchess). It will open in the U.K. January 23.


Books & Authors
Awards: Kirkus Winners; T.S. Eliot Poetry Shortlist
The winners of the inaugural Kirkus Prizes, sponsored by Kirkus Reviews and worth $50,000 each, are:

Fiction: Euphoria by Lily King (Atlantic Monthly Press)
Nonfiction: Can't We Talk About Something More Pleasant? by Roz Chast (Bloomsbury)
Young Readers' Literature: Aviary Wonders Inc.: Spring Catalog and Instruction Manual by Kate Samworth (Clarion)

The winners were announced last night at a ceremony in Austin, Tex.
---
The Poetry Book Society announced the shortlist for the £20,000 (US$32,070) T.S. Eliot Prize, with two poets from the U.S., one from India, three previous winners and one debut collection. To mark the 50th anniversary of the poet's death on January 4, the T.S. Eliot estate has increased the value of the winner's share and the 10 shortlisted poets will each receive £1,500 ($2,400). The estate has also extended its support to become sole sponsor of the prize. This year's shortlisted titles are:

Bright Travellers by Fiona Benson
All One Breath by John Burnside
Faithful and Virtuous Night by Louise Glück
Fire Songs by David Harsent
The Stairwell by Michael Longley
Learning to Make an Oud in Nazareth by Ruth Padel
Fauverie by Pascale Petit
Letter Composed During a Lull in the Fighting by Kevin Powers
When God Is a Traveller by Arundhathi Subramaniam
I Knew the Bride by Hugo Williams


Book Brahmin: Lissa Warren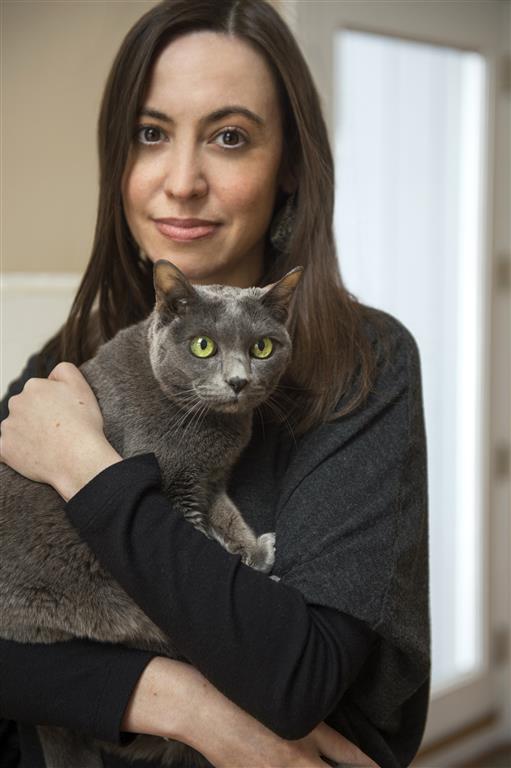 photo: Liz Linder
Lissa Warren is v-p, senior director of publicity at Da Capo Press and the author of The Good Luck Cat: How a Cat Saved a Family, and a Family Saved a Cat (Lyons Press, October 7, 2014), a memoir about grief, hope and how pets both complicate and enrich our lives.
On your nightstand now:
A pair of eyeglasses I don't let anyone see me in; a bottle of Sheer Cotton nail polish that I've been meaning to use for about a week now; The Dog Year by Ann Garvin, who was nice enough to write a blurb for my book--it's a novel about a stray dog who saves a straying woman; and a soon-to-be-opened jar of Gerber turkey and gravy baby food, which I'm about to feed to my cat. If you read my book, that sentence may seem less crazy.
Favorite book when you were a child:
My dad was college friends with publishing VIP Esther Margolis, and she gave him a galley of Lynne Reid Banks's The Indian in the Cupboard to give to me. The idea of getting to read a book before everyone else got to read it was delicious. Still is. Before that, picture books like Bill Peet's Chester the Worldly Pig and Russell Hoban's Bedtime for Frances were favorites. Only now do I notice the common denominator: the protagonists were animals.
Your top five authors:
The book publicist in me wants to say "the ones who respond to my e-mails promptly." But the short-story lover in me says J.D. Salinger (for "For Esmé--with Love and Squalor"), Raymond Carver (for "A Small, Good Thing"), Ernest Hemingway (for "Cat in the Rain," of course), Andre Dubus (the elder; for "A Father's Story") and John Updike (for "The Happiest I've Been"). All of the stories resonate with me in ways I'll probably never understand. I know my choices are very "dead, white male literary canon." That's what happens when you major in English at a liberal arts college in Ohio. They're still great stories, great writers.
Book you've faked reading:
Alas, William Maxwell's So Long, See You Tomorrow. Truth is I'm afraid to read it--afraid it'll break my heart.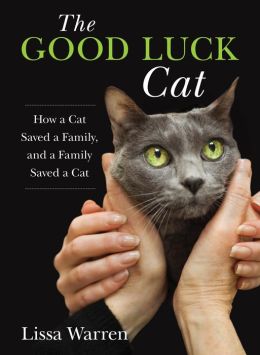 Book you're an evangelist for:
I evangelize books for a living--books by theoretical physicists, heavy metal guitarists, Civil War historians, even vegan chefs. We have an eclectic list. Some I take a special shine to because I like the author, or like the book, or just believe the book is important. Occasionally there's a book that rates on all three levels. One such title is Steven M. Wise's Rattling the Cage: Toward Legal Rights for Animals. I'd have gladly evangelized that book even if it wasn't my job, and I'll continue to evangelize it to anyone who will listen. Seriously, go read it. It'll change the way you think about your cat, your dog, and every non-human animal on this planet.
Book you've bought for the cover:
Slap any painting by Edward Hopper on the cover and I'll read it.
Book that changed your life:
Harper Lee's To Kill a Mockingbird taught me to stick up for those who are defenseless. And, of course, I loved the relationship between Atticus and his daughter, Scout--the way he made her feel both protected and respected. It's not every dad who can pull that off, and I'm lucky to be able to say it felt familiar to me.
Favorite line from a book:
In Zora Neale Hurston's Their Eyes Were Watching God, when Janie tells Tea Cake "those are just your night thoughts." I'm paraphrasing, but I love the concept: night thoughts.
Which character you most relate to:
I tend to relate to authors more than I relate to the characters in their books. Isn't that why we read certain authors again and again--why we go to their readings, why we follow them on Twitter, why we friend them on Facebook? To connect? So which authors do I relate to? William Carlos Williams, with his poet's soul and demanding day job. Joan Didion with her numbness and her loss. Robert Frost, my fellow swinger of birches. Jane Kenyon, with her sense of wonder and her humility as a writer ("Who is it who asks me to find language for the sound a sheep's hoof makes when it strikes a stone?"). I could go on and on. Books make life much less lonely, don't they?
Book you most want to read again for the first time:
J.D. Salinger's Nine Stories. I could read it a hundred times and still miss things, but never again will I have that first-read rush, or that realization that simple language can hold great truths. In fact, the more books I read, the more I see that only simple language can hold great truths. I'm not much one for artifice, I guess.


Book Review
Review: @War: The Rise of the Military-Internet Complex
@War: The Rise of the Military-Internet Complex by Shane Harris (Houghton Mifflin Harcourt, $27 hardcover, 9780544251793, November 11, 2014)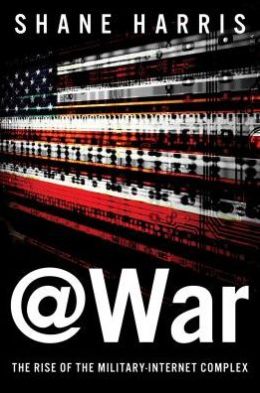 Shane Harris (a senior writer at Foreign Policy magazine) follows his unnerving and prize-winning book The Watchers with a similarly discomfiting study of the current state of the United States' ever-growing efforts to fight the next major war--a cyberwar potentially equal to nuclear war in its threat to the global electronic infrastructure that supports everyone from farmers to Wall Street financiers. With a cast of characters straight out of contemporary spy thrillers, @War untangles the many acronym-laden agencies and their "inscrutably" named initiatives and amounts to a history of the American government's fifth dimension of warfare (after land, sea, air and space).
Harris follows math/quantum physics geek Bob Stasio into Army ROTC and then the NSA's SIGINT (Signals Intelligence) Section to intercept Iraq insurgents' cell and text messages--just like he saw it done in his favorite TV show, The Wire. As head of the NSA and, later, director of National Intelligence, Navy vice-admiral Mike McConnell interrupted a Booz Allen career to cajole presidents to beef up cyber-security. Keith Alexander, a West Point classmate of Gen. David Petraeus, became the first top dog of the United States Cyber Command. Under these men, the budgets for the United States' global cyber-sleuthing and -offensives rapidly ratcheted up during both the Bush and Obama administrations.
In addition to the well-known NSA, CIA and DHS umbrella agencies, Harris explores their more clandestine special surveillance groups, like the NSA's elite hackers TAO (Tailored Access Operations); RTRG (Real Time Regional Gateway), a kind of "Google for the new soldier-spies"; and DITU (Data Intercept Technology Unit), the FBI's version of SIGINT. He describes the numerous U.S. defensive and offensive cyber operations with code names like Pinwale, Nevershakeababy, Starburst, Buckshot Yankee and Stuxnet--the latter a computer worm designed to disable Iranian nuclear reactors.
With companies like Google, Yahoo and Microsoft sharing their billion e-mail accounts; Netflix, Facebook, Twitter and YouTube providing user information; and Verizon, AT&T and Sprint divulging phone data, the government's cyber warriors seem to be able to know just about everything about everybody. But, as Harris points out, all this vast metadata may not be enough to prevent an attack from the other side--whoever that might be (China, al-Qaeda, the Islamic State, Russia or renegade Belarusian hackers). In this very lively overview of the fifth dimension of war, he suggests that cyberspace should be managed like any other potential battlefield, where civilian-directed military oversight of its myriad pieces would serve us better than the current hodge-podge of public/private data collecting, spying and hack-attacking. In Harris's view, we don't need an Edward Snowden to expose the reach of the combatants, we need a unified approach to prevent and contain the inevitable conflict. --Bruce Jacobs, founding partner, Watermark Books & Cafe, Wichita, Kan.
Shelf Talker: Award-winning journalist Shane Harris presents a convincing and unnerving story of the current state of cyber-defense and the likely threat of cyberwar.


Deeper Understanding
Robert Gray: Regional Education Sessions--Sidelines Buzz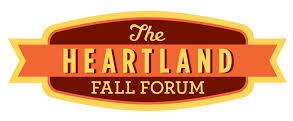 "The only thing you deserve is the chance to do the work," Kate DiCamillo said a few weeks ago at the Heartland Fall Forum, co-hosted by the Midwest Independent Booksellers Association and the Great Lakes Independent Booksellers Association. As I mentioned recently, I've been encouraged by the trend in bookseller educational programming to focus more on doing the work--on getting better rather than just getting by.

"That is exactly what we are trying to do," said GLIBA executive director Deb Leonard. "Both boards are creative and focused, and we want to continue to give our members the kind of education that helps our stores adapt to the evolving challenges of bookselling in the 21st century. We listen to the feedback we get from our booksellers, and try to incorporate their suggestions for the next year."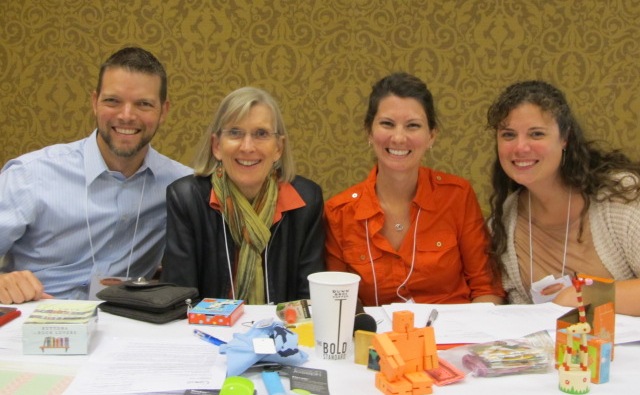 Eric Heidemann, Cecile Fehsenfeld, Kelly Estep & Jessilynn Norcross

In upcoming columns, I'll share a few things I heard and learned at education sessions this fall, beginning with a Sidelines Buzz Panel at HFF. Moderator Jessilynn Norcross of McLean & Eakin Booksellers, Petoskey, Mich., was joined by Eric Heidemann of Fujii & Associates, Cecile Fehsenfeld of Schuler Books (with stores in Grand Rapids, Lansing & Okemos, Mich.) and Kelly Estep of Carmichael's Bookstore, Louisville, Ken.

Norcross suggested there are three priorities to consider when dealing with sidelines in a bookshop: available space, the passion to sell certain items and whether you have particular customers in mind for them.

"Don't be afraid to try something new," advised Fehsenfeld, who admitted the decision to diversify had not been an easy one for her. "We'd always been purists. My staff had to argue with me to put greeting cards in 30 years ago." Ultimately, however, "It actually has been a positive and not a negative, which I was afraid of." She backed up her opinion by noting that she was wearing earrings, a necklace and scarf that are all fair trade products carried by her store: "Fair trade happens to be huge for us. It's most gratifying."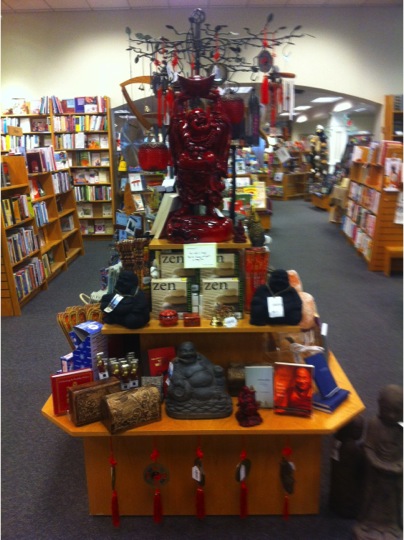 "Zen Display" at Schuler Books

To source useful information on sidelines, Norcross recommended Giftware News., adding: "It's also important to see what's happening on the West Coast. There are a lot of companies that are based out there." She noted that McLean & Eakin "tries not to carry things that are going to be carried downtown or near us." When ordering from sidelines vendors, she said "meeting minimum orders may be optional. All you have to do is ask.... Offer to pay up front to get lower minimums. And co-op is often available; they just don't call it that." Most of all, she counseled, "Ask your customers, 'Would you buy this?' "

"If you like something, try it. The bottom line is your staff has to be passionate about it," Heidemann said, adding that vendors "love doing sample request orders." He also noted that "pictures are worth dollars," encouraging booksellers to send display photos to their sales reps.

Regarding price points, Norcross suggested "looking at the product before you look at the pricing. How much would you pay for it if you were the customer?" Estep agreed: "I choose to price my sidelines when they come in and I look at them." Fehsenfeld noted that her standard markup is 120%, and Norcross added: "You can always lower your price. You can never raise your price."

When the conversation turned to displaying merchandise, Fehsenfeld cited the standard 80-20 rule, but added this reservation: "While 20% of your product is going to produce 80% of your sales, you still have to have enough items to make the display look good."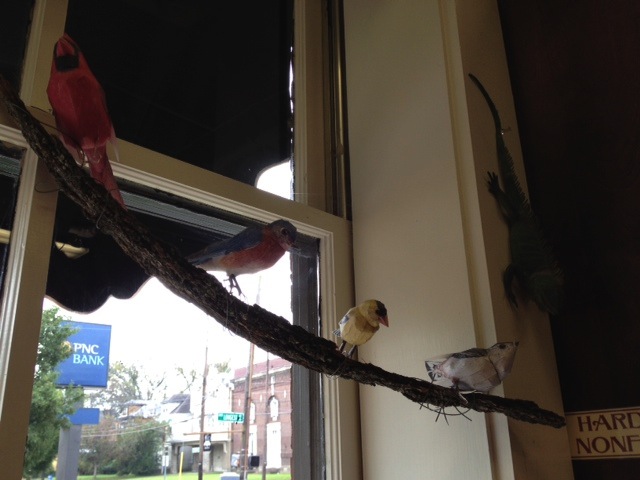 Bird display at Carmichael's

Be creative, Estep advised, noting that sales of Sterling bird kits at Carmichael's spiked only after she created a front window display featuring already-assembled birds perched on a limb: "I think we've sold 60 boxes now." Heidemann called this "the difference that four birds can make in sales," and reiterated: "Don't eat that cost. Ask for a sample."

Schuler's display of Crabtree & Evelyn products "sells really, really, well," as do $3 chocolates placed near the cash registers, Fehsenfeld said, offering high praise as well for the store's cross-promotional "Zen display," which "has been up for three years and we just keep changing products."

Discussing shelf life for sidelines, Fehsenfeld observed that "when something gets to be six months old and hasn't sold, it isn't going anywhere." While the store watches inventory turn carefully, "the more product we add, it seems like our turns slip a little." Norcross cautioned, however, that "the turn for a gift item is not the same as for a book. It will be high on Chapstick or glasses, but the higher-priced items, you want to give more of a grace period."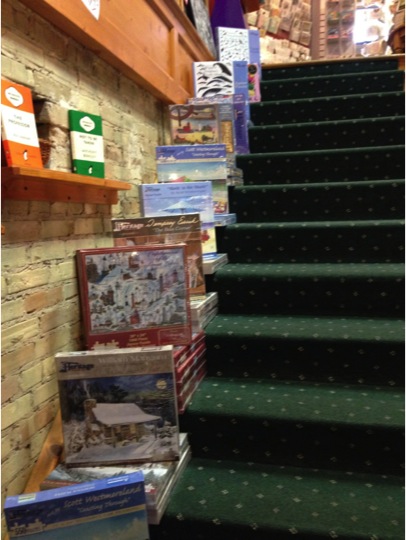 Staircase puzzle display at McLean & Eakin

And, in an election year, Heidemann noted that with more communities instituting plastic bag bans, sales of products like Envirosax and ChicoBags are increasing: "Sometimes politics provides opportunity."

Booksellers talking to each other. What a concept. Carrie Obry, MIBA's executive director, told me that total attendance (exhibitors, attendees, and authors) at HFF this year was 882, up from 748 in 2013 (Chicago) and 770 in 2012 (Minneapolis). Notably, attendees numbered 408, a substantial increase from last year's 304 and 373 in 2012. More is better, especially during the education sessions involving booksellers with a wide range of experience, challenges and solutions. I learn something every time. Class will be in session again next week. --Robert Gray, contributing editor (column archives available at Fresh Eyes Now)