Shelf Awareness for Friday, December 19, 2014

News
Macmillan and Amazon Make a Deal
Following recent Hachette and Simon & Schuster deals, Macmillan has concluded a multiyear sales agreement, effective January 5, with Amazon that will use the agency model for e-books. As with the other publishers, Macmillan will control pricing but will receive "a financial incentive" when it offers lower prices, Amazon told the Wall Street Journal.
In an open letter to "authors, illustrators and agents," Macmillan CEO John Sargent said that the company will use the agency plan for e-books for all accounts except Apple. (The Justice Department is requiring publishers to allow Apple to discount titles--in Macmillan's case, until October 5, 2017. Macmillan and Simon & Schuster are appealing this requirement.) In a reference to Apple's role five years ago in wanting publishers to use the agency model--which led to the Justice Department action--he said, "Irony prospers in the digital age."
Sargent emphasized that, as he put it, the agreement doesn't address "one of the big problems in the digital marketplace. Through great innovation and prodigious amounts of risk and hard work, Amazon holds a 64% market share of Macmillan's e-book business. As publishers, authors, illustrators, and agents, we need broader channels to reach our readers."
As a result, Sargent said the company is reconsidering its longtime opposition to the subscription model, which Macmillan has worried "will erode the perceived value of your books." Beginning in the next few weeks, Macmillan is testing subscription sales through several companies that offer "pay per read" plans using backlist titles, "mostly with titles that are not well represented at bricks and mortar retail stores."


The Booksellers Opening Second Location in Ohio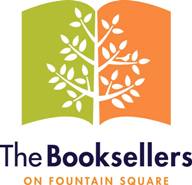 The Booksellers, Cincinnati, Ohio, will open a second location next September at Austin Landing in Dayton. Owned by Neil Van Uum, co-founder of Joseph Beth Booksellers, the new 12,000-square-foot store will feature a wide selection of books, stationery and gifts, with a strong emphasis on books for children and families. There will also be a café.

"The past 10 years have been challenging for bookstores," Van Uum said. "The Internet, online retailers and electronic books have taken their share. The growth in these areas has slowed significantly and readers are finding that the experience of shopping and browsing in bookstores is all part of the reading culture. Readers are a special people and they comprise a special culture. They need bookstores. Not big boxes filled with books. Great bookstores. And that is what I am about crafting in this new era of bookselling."

Andrew Papanek, president of the board of trustees for Miami Township, where the 142-acre Austin Landing development is located, added: "We're excited to have the opportunity to have another unique business starting a new operation in Miami Township. This new bookstore will add to the diversity of shopping experiences that people can have in Miami Township and further highlights Miami Township's role as one of the regions premier shopping destinations."


Booksmith Musicsmith in Orleans, Mass., Seeks New Space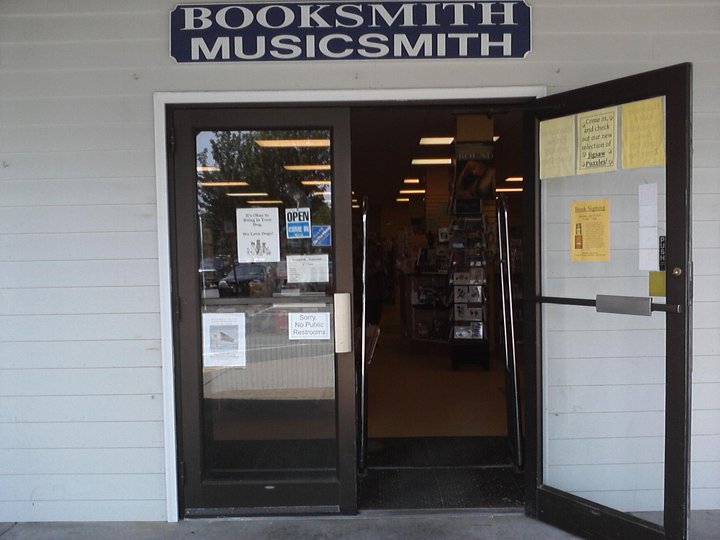 Booksmith Musicsmith, Orleans, Mass., "is being forced to pack up and close its doors" after 35 years in business, Wicked Local Orleans reported. Matt and Cherry Reid, who have owned the business for nearly 20 years, hope to find a new location.

"We can't pay $6,000 a month. It's crazy," said Cherry Reid. "We are not giving up. The intention is to keep going. We want to stay in Orleans."

The owners had approached Keypoint Partners, which manages the plaza at Skaket Corners, about a rent reduction, but the landlord would only agree not to raise it. While the booksellers have until the end of March in the plaza, they do not think paying the high rent until then is feasible. Although they have been telling customers the bookshop's days may be numbered, Reid remains optimistic: "We just need people who can be flexible... who believe."


U.K. Prison Book Ban: Ministry of Justice Gets Booked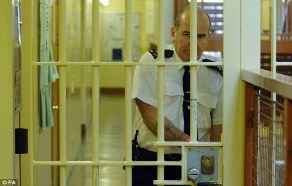 Three days after the the High Court declared the British government's controversial ban on sending books to prisoners unlawful, English PEN and the Howard League for Penal Reform "delivered hundreds of books to the Ministry of Justice to send to prisoners" last week, the Bookseller reported.

Authors Francesca Simon and Miranda France joined representatives of the charities for the delivery of gift-wrapped parcels as part of the Books for Prisoners campaign. The organizations "are calling on ministers to accept the judgment and lift the restrictions quickly so that prisoners can receive books in time for Christmas," the Bookseller wrote.


Harbor Books Moors in Sag Harbor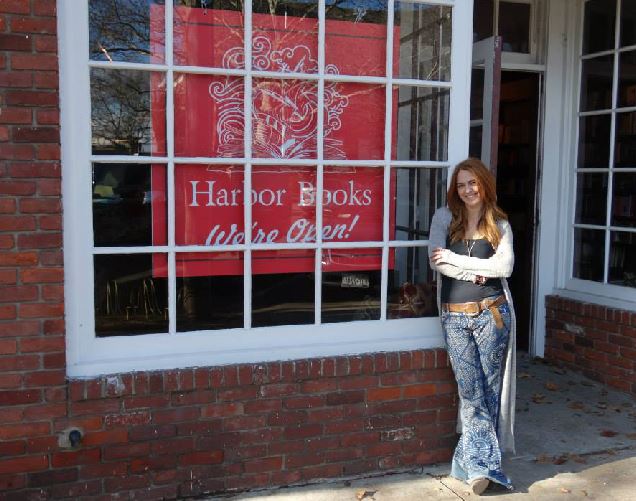 Taylor Rose Berry, owner of Harbor Books.
"I always found that the book and restaurant industries are similar, because at the end of the day it's all about customer service," said Taylor Rose Berry, the owner of Harbor Books, which opened in Sag Harbor, N.Y.--on the far eastern end of Long Island--on Black Friday. Before opening the store, Berry had worked at Book Hampton, first as a bookseller and then as their community navigator; for many years before that, she worked in the restaurant industry. She lives in Sag Harbor, and after watching the number of bookstores in the community drop from five to just one small primarily used bookstore, she felt compelled to do something about it.

"It was just very sad to me that such a literary community no longer had a literary homebase in a sense," she explained. "I've always just loved books and being in the book business. I was inspired to open up a new store."

Harbor Books is a 2,200-square-foot, general-interest bookstore with a range of titles for adults and children. "I'm a strong believer in the idea that you should be able to walk into a bookstore and get anything your literary heart desires," she said. "I don't believe in editorializing what people read."

While Berry has no plans to stock used books, she may eventually stock first editions and rare or out-of-print books--and may offer some food or drinks down the road. For now, customers are all welcome to bring in coffee and snacks and relax.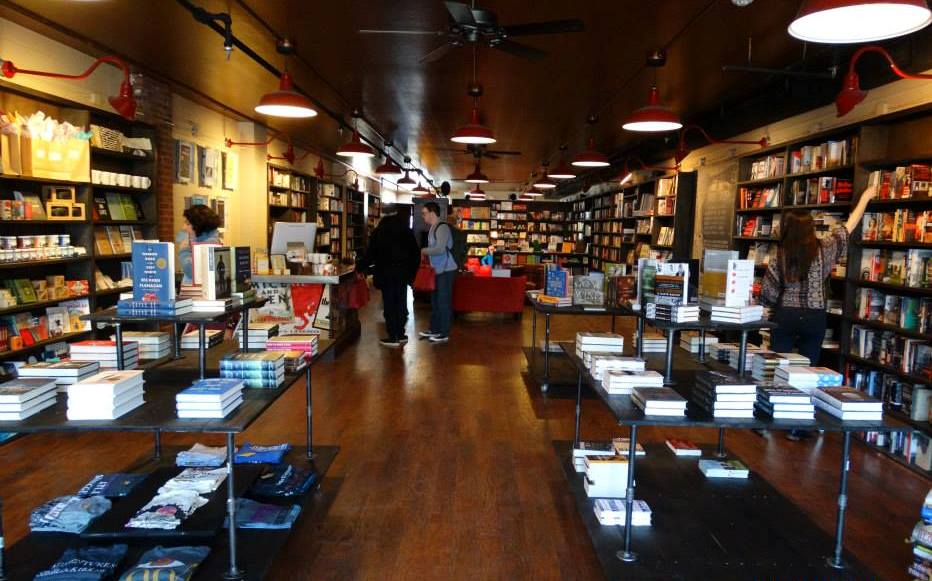 Harbor Books' space previously housed a culinary supply store and, earlier, one of Sag Harbor's lost independent bookstores. A great deal of renovation had to be done, Berry recounted, to get the space ready to be a bookstore once again. "I re-did the entire space," she said. "It was important to me to give the space a new soul, so to speak."

She described the interior of the shop as very open but still warm and cozy. There are dark wood floors and bookshelves, tin and copper ceiling tiles, and big, comfortable chairs throughout the store. Her favorite thing in the store, Berry said, is a replica of the phantom tollbooth from Norton Juster's The Phantom Tollbooth, which serves as the entrance to the kids' section. Another beloved item is a working Royal portable typewriter on which customers leave notes and messages.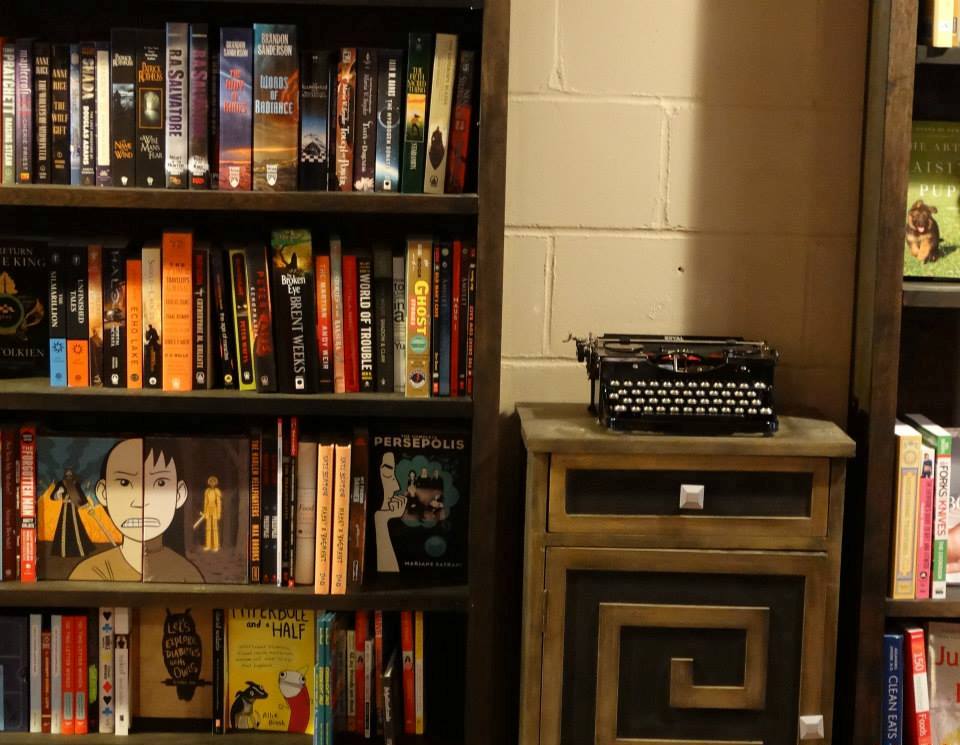 "People have written so many things, from music quotes to their favorite books," Berry said. She has the most fun, she added, reading what little kids write on the machine. "When it's working, you hear it throughout the store. There's something magical about that sound. It's incredibly enchanting."

Philippe Petit, the French high-wire artist who walked a tightrope between the Twin Towers in 1974 and the author of several books, including this year's Creativity: The Perfect Crime, dropped by the store unannounced recently to sign books and talk to customers. He also used the typewriter. "He just wrote about being marvelous," Berry recalled.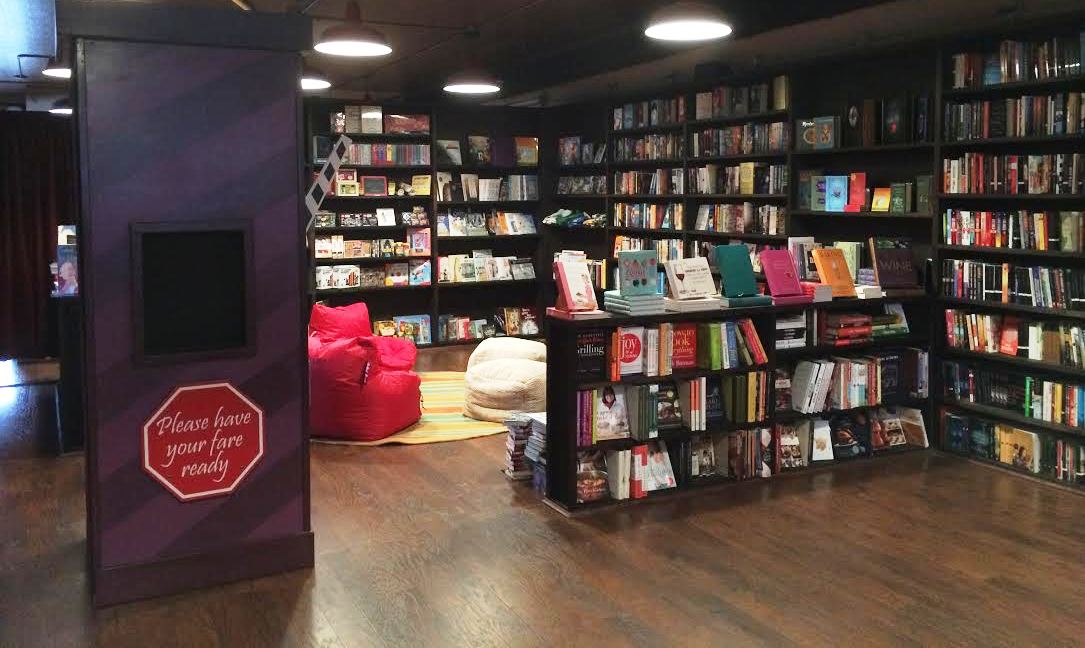 With the store's opening coinciding with Black Friday and the beginning of the busiest shopping season of the year, Berry has yet to host any events, but in the new year she'll start the store's events program in earnest. In addition to the standard author events, she intends to host workshops and book clubs, among other things.

"I believe that if you're not growing, you're dying," Berry said. "We're always going to evolve and grow with the times. Events will be a really big thing."

Berry described the Sag Harbor community's reaction to the store as incredible. "One of our staff members said, I've never seen so many people walk in and be so happy," she recalled. "People thank me for doing this. It's been such a warm welcome. It's been truly, truly touching." --Alex Mutter


Obituary Note: Sandor Szatmari
Sandor Szatmari, who worked for 37 years at Little, Brown as national accounts manager before retiring in 2005, died December 13. He was 76.


Notes
Image of the Day: Happy Holidays at Melville House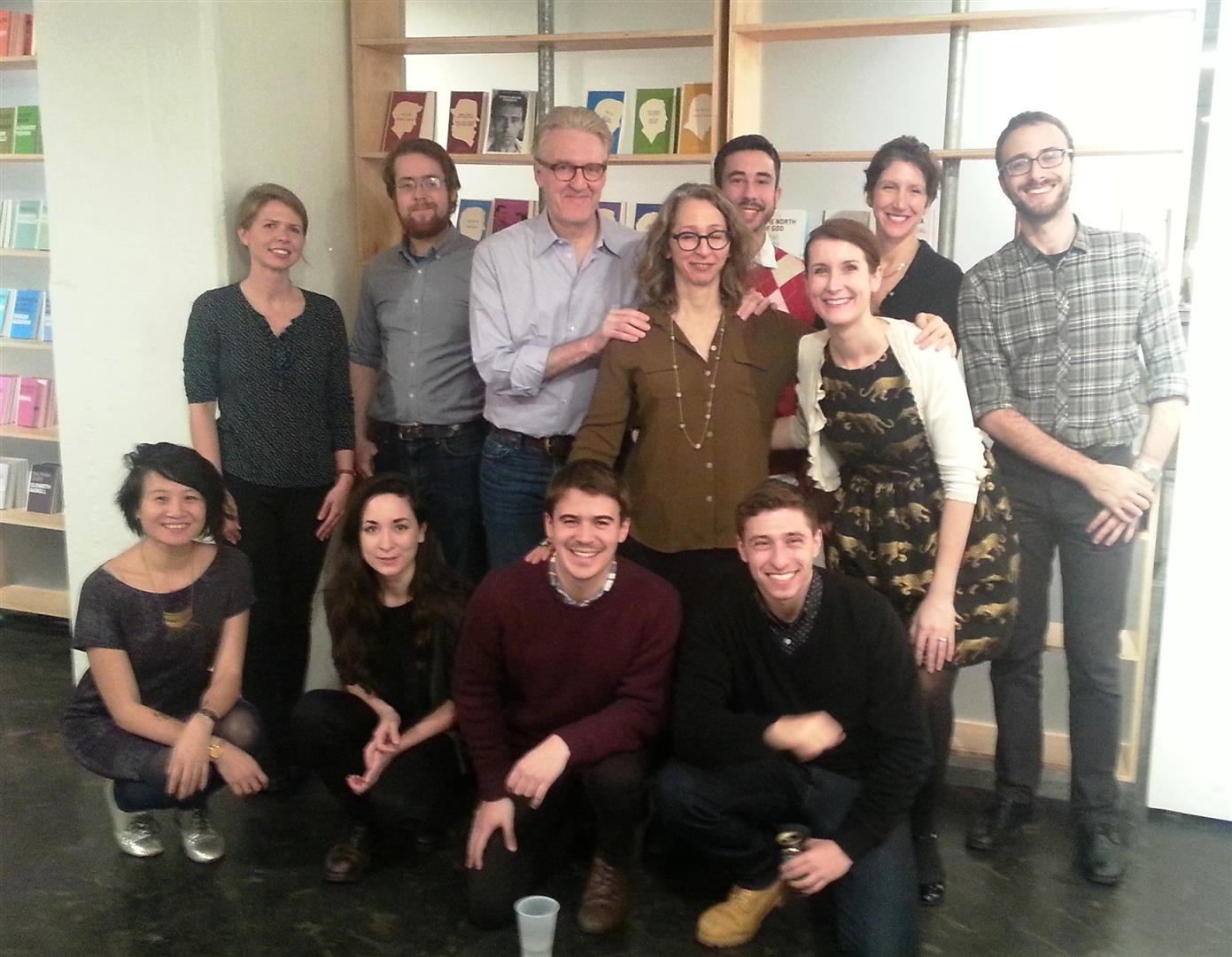 On Wednesday night, just as the first guests arrived at the Melville House annual holiday party, the staff gathered for a moment. At center are co-founders Dennis Johnson and Valerie Merians.


Cool Idea of the Day: Debut Author's Indie Bookstore Grants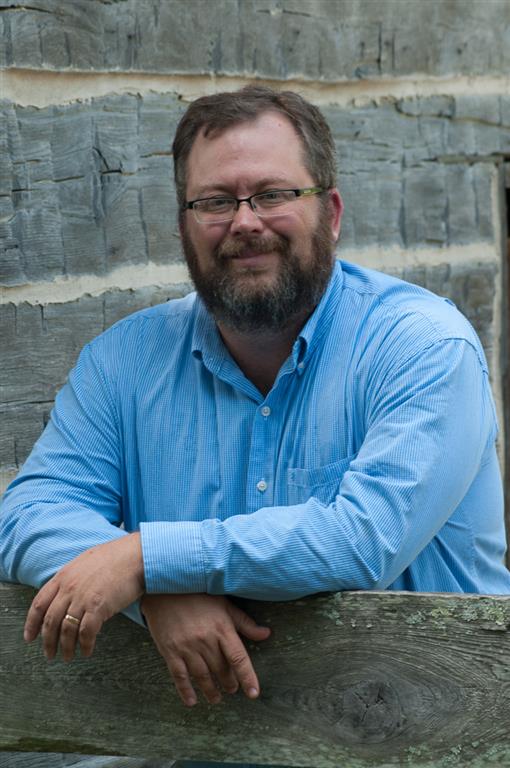 Jeff Stayton
You don't have to be James Patterson to have an impact on independent bookstores. Author Jeffrey Stayton, whose debut novel, This Side of the River, will be released in February by Nautilus Publishing, sponsored a Cheer for the Bookstores competition, offering $250 grants to be used to benefit store, staff and customers. The six winning bookstores, and their plans for the grant money, are:

Burke's Book Store, Memphis, Tenn., "to begin a fundraising project to purchase a delivery bike and book mobile trailer."
Fiction Addiction, Greenville, S.C., "to offset expenses for our new kid's Book Scouts program so we can get a new generation hooked on reading."
40 Acre Wood, Lexington, Tex., "to hire someone in the community to design and launch a webpage for the store. In this way 40 Acre Wood can reach further, beyond its own community."
Books of Wonder, New York, N.Y., to "provide my key bookstore employees with additional holiday gifts and/or bonuses. They work so hard, do such a great job, and make the kids and parents who show at our store so happy."
Horton's Books & Gifts, Carrollton, Ga., to "help us create a children's reading nook inside a recessed door frame that is no longer in use."
Fountain Bookstore, Richmond, Va., because "a hotel just opened next door and we need to buy postcards, other regional items and books. They don't have a gift shop! And we've been suffering through 18 months of construction waiting for them to open. "

"Jeff is not only a customer and author-to-be, he also worked here," said Cheryl Mesler, co-owner of Burke's Book Store, which will celebrate its 140th anniversary next year. "We want to get a Burke's delivery bike and book mobile trailer so that we can deliver books in our neighborhood and can have a mobile book store to take to schools and farmers markets and festivals. This is going to be seed money for our crowdfunding project."


Holiday Video of the Day: Chronicle Books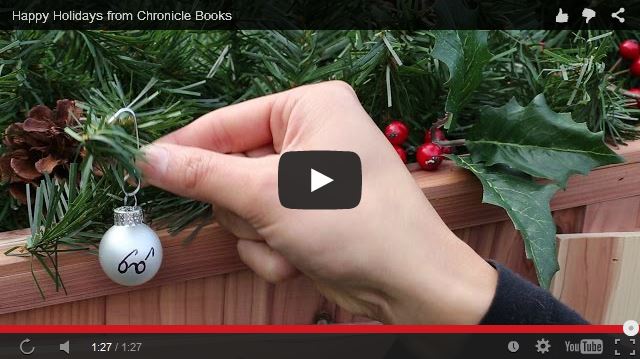 Chronicle Books' holiday video features a sleek, cedar version of a Little Free Library. In the spirit of the season, Chronicle will give away the Little Free Library installation during National Library Week, April 12-18, 2015.


Media and Movies
Media Heat: Misty Copeland on CBS Sunday Morning
Sunday on CBS Sunday Morning: Misty Copeland, author of Life in Motion: An Unlikely Ballerina (Touchstone, $24.99, 9781476737980).


TV: Recovery Road
ABC Family has picked up Recovery Road, a drama pilot based on the YA novel by Blake Nelson. Deadline.com reported that the project, written by Bert V. Royal (Easy A) and Karen DiConcetto (Ruby & the Rockits), is the first scripted series order for Karey Burke since she joined the network as executive v-p, programming and development in October. "This series will explore relevant social issues for our audience and shine a light on addiction," Burke said.


Movies: American Sniper; The BFG
A new trailer and clip are out for Clint Eastwood's American Sniper, based on the book American Sniper: The Autobiography of the Most Lethal Sniper in U.S. Military History by Chris Kyle and Scott McEwen, Indiewire reported. The film, starring Bradley Cooper and Sienna Miller, opens in limited release Christmas Day.

---

In her first feature film role, Ruby Barnhill will play Sophie in Steven Spielberg's adaptation of Roald Dahl's The BFG, Variety reported. She joins a cast that includes Mark Rylance, who had previously been cast as the Big Friendly Giant. The movie is set for release in 2016.

"After a lengthy search, I feel Roald Dahl himself would have found Ruby every bit as marvelous as we do," Spielberg said. "We have discovered a wonderful Sophie in Ruby Barnhill."


Books & Authors
Danielle Legros Georges Named Boston's Poet Laureate
On Wednesday, Boston Mayor Martin J. Walsh announced that Danielle Legros Georges is the city's next poet laureate, having been "selected by a diverse and distinguished search committee from a wide range of talented applicants." Legros Georges, who is a professor in the Creative Arts and Learning Division at Lesley University, is the author of Maroon (Curbstone Press).

"Poetry is an art form to be celebrated. It helps us tell our stories and express ourselves," said the mayor. "I look forward to the work Danielle will do to share her passion and talent for poetry throughout the Boston community."

"Boston's Poet Laureate position is a great statement by the city," Legros Georges observed. "This is a wonderful opportunity to bring poetry to Boston neighborhoods, schools and other settings--and to all Bostonians, from our young people in Boston Public Schools to our eldest residents in the senior community."


Book Brahmin: Barbara Cleverly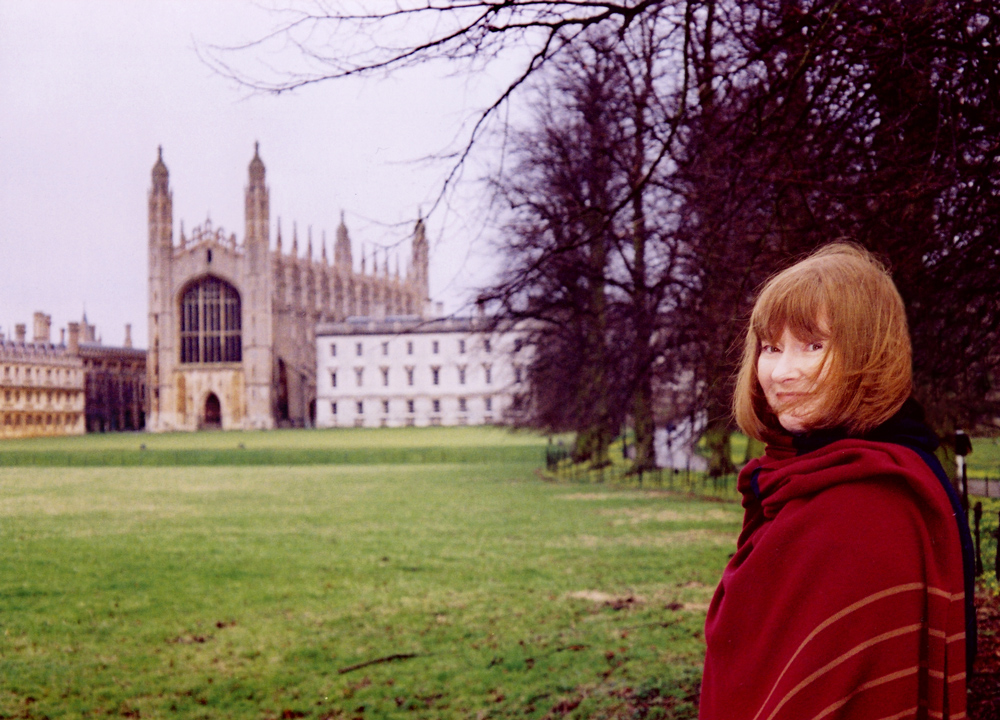 Barbara Cleverly has lived in Cambridge, England, for many years and written 15 crime thrillers. Her debut, The Last Kashmiri Rose, was named a 2002 Book of the Year by the New York Times. Enter Pale Death (recently published by Soho Press) is her 12th mystery starring Joe Sandilands, the Scotland Yard detective.
On your nightstand now:
I've extracted four from the shifting cargo: Don't Point That Thing at Me by Kyril Bonfiglioli, Slow Horses by Mick Herron, The Code of the Woosters by P.G. Wodehouse and The Complete Dorothy Parker. I like to fall asleep laughing, and any one of these does it for me!
Favorite book when you were a child:
I was reared on adventure stories: John Buchan, Zane Grey, Viking sagas. Man-eaters of Kumaon by Jim Corbett is the true-life, captivating tale of an Indian tiger-hunter who became one of the first preservers of wildlife. Colonel Corbett established a National Tiger Reserve in the foothills of the Himalayas. I still love the man and shamelessly wove Colonel Corbett's character into one of my books set in India.
Your top five authors:
Jane Austen, Raymond Chandler, Pliny the Elder, Marcel Pagnol and P.G. Wodehouse.
Book you've faked reading:
All of Dickens. I can quote bits, but the whole oeuvre overwhelms and discourages me. He's so good he makes me pull the plug on my keyboard.
Book you're an evangelist for:
The Marjorie Kinnan Rawlings cookbook [Cross Creek Cookery]. My original is disintegrating with use. It falls open at "Black Bottom Pie!"
Book that changed your life:
Gods, Graves and Scholars by C.W. Ceram. This opened my eyes to archeology, which has been an abiding enthusiasm.
Favorite line from a book:
Mark Forsyth's advice on how to handle alliteration, from The Elements of Eloquence: "...if you say, 'Full fathom five thy father lies,' you will be considered the greatest poet who ever lived. Express precisely the same thought any other way--e.g. 'your father's corpse is 9.144 metres below sea level'--and you're just a coastguard with some bad news."
Which character you most relate to:
"Relate to," not necessarily "admire?" There are two ladies who strike a deep, twanging chord with me: Mattie Ross in True Grit by Charles Portis (my young self) or Grendel's Mother in Beowulf (the monster I fear becoming!). Any girl who gets angry and comes through a door with a gun or a battle-ax in her hand will have my empathy. (I was born in Yorkshire in the lands of the turbulent Celtic tribe of the Brigantes, and I think I'd know what to do with a battle-ax.)
Book you most want to read again for the first time:
The Big Sleep by Raymond Chandler. Hoping that this time I might be able to follow the plot.
Book you most admire in your own genre:
In historical crime fiction, Steven Saylor's Roma Sub Rosa series about Gordianus the Finder: historically accurate, gripping plots, fisticuffs and swordplay. And a hero you'd love to wake up with next morning.


Book Review
Review: A Useless Man: Selected Stories
A Useless Man: Selected Stories by Sait, Sait Faik Abasiyanik, trans. by Maureen Freely, Alexander Dawe and (Archipelago Books, $18 trade paper, 9780914671077, January 6, 2015)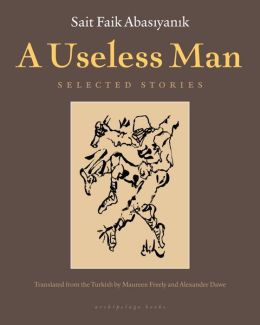 Almost 60 years after the author's death, the short stories of Turkish literary treasure Sait Faik Abasiyanik (who published as Sait Faik) have been superbly translated into natural, everyday English in A Useless Man: Selected Stories. In this sampler of 37 pieces from his 12 volumes of short works, Sait Faik trustingly confides his very personal tales to the reader in small, intimate constructions that can span an entire lifetime or capture a fleeting moment. His minimalist verbal delights--stream-of-consciousness monologues, elegiac prose-poems, love confessions, melancholy reflections--are evocative and nostalgic without ever being saccharine.
A man who never leaves the four streets of his neighborhood and hasn't bathed in seven years takes a fearful trip to the city in "A Useless Man." In "I Just Don't Know Why I Keep Doing These Things," an old hunchback loses his amber prayer beads in a coffeehouse and is convinced the narrator has stolen them. A man whom strangers always ask for help is approached by a newly employed illiterate man to read aloud lab results in "Four Pluses." A mentally compromised carpenter tries to explain to a judge why he shouldn't go to jail, but then starts to change his mind in "His Uncle's Coat." And "In the Rain" has a drunk who follows and confides in a beautiful woman, begging her not to turn around and see how wretched he is.
Often Sait Faik comments on his stories while writing them. "What made me sit down to scribble out these lines?" he may ask, or "it was a dark mood that brought me to this sheet of yellow paper." Midway through a telling, Sait Faik is not above considering a different topic for the story altogether, only to abandon the alternative and go back to his original plot.
Like quality chocolates, each story is worth pausing over to savor the nuances, wondering about the hints and where they lead. He creates puzzles of human behavior for us to re-think and ponder, taking place in a harsh world of snowstorms and bitter poverty, hunger and wood-burning stoves, in dimly lit taverns and coffeehouses full of laborers and fishermen.
Elliptical and unexpected, sometimes lyrical, sometimes earthy, using elementary language and a stark, Chekhovian simplicity, these loving tributes to the unnoticed loners on the margins of life reveal the world through Sait Faik's eyes in all its brutality and loneliness and beauty. --Nick DiMartino, Nick's Picks, University Book Store, Seattle, Wash.
Shelf Talker: These 37 short stories, selected from Turkish author Sait Faik Abasiyanik's 12 published volumes, demonstrate his intimacy, humanity and compassion.


Deeper Understanding
Robert Gray: A Bookstore Cat Guy's Christmas Story
"A Fur Person must be adopted by catly humans, tactful, delicate respectful, indulgent; these are fairly rare, though not as rare as might be supposed." --from May Sarton's The Fur Person, which isn't technically about a bookstore cat, though protagonist Tom Jones is a very literary feline indeed.

Bookstore cats and booksellers share many traits, perhaps none so much as a keen awareness and appreciation for the homes they ultimately find in bookshops after long and arduous journeys.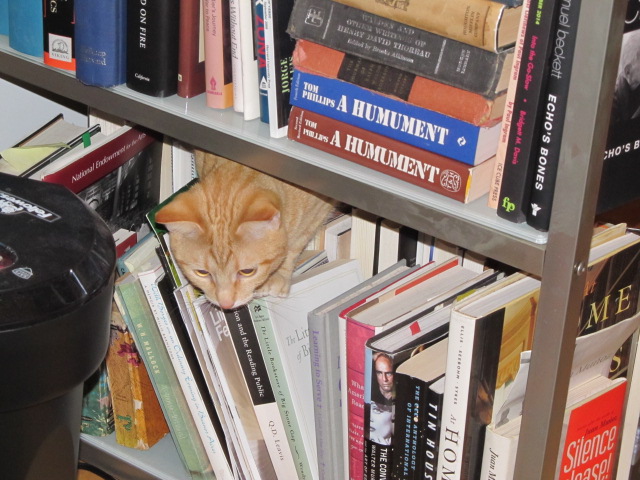 Molly, a Shelf Awareness editorial cat, finds a copy of Wendy Welch's The Little Bookstore of Big Stone Gap in the stacks.
It was destiny, I suppose--a crucial moment in infancy--that sealed my fate as a bookstore cat guy. For my first Christmas, when I was eight months old, one of my aunts gave me an autographed and inscribed copy of The Blue Cat of Castle Town by Catherine Cate Coblentz, illustrated by Janice Holland. It was a Newbery Honor Book in 1950, the year of my birth, though of course I wasn't aware of that at the time. My initial review was probably that it tasted good when I chewed the cover.

My aunt lived in Castleton, Vt., which served as the 19th Century setting for this tale of a blue cat searching for "a hearth where a mortal understood and sang that song" of beauty, peace and contentment.

Unfortunately, I never worked in a bookstore that had a resident cat. Some of my favorite bookshops do, but I couldn't begin to showcase them all. We occasionally highlight bibliocats of note in Shelf Awareness, like the award-winning Amelia of the Spiral Bookcase, Philadelphia, Pa.; petcam-wearing Molly Bloom at Annie Bloom's Books, Portland, Ore.; or Franny the Instagram sensation at Skylight Books, Los Angeles.

And I have my personal favorites:

Wendy Welch, co-owner of Tales of The Lonesome Pine bookshop in Big Stone Gap, Va., offers bookstore cat internships in collaboration with a local shelter. Sporting new names with a literary pedigree, they get to roam the stacks (or perch on the branches of the Christmas book tree) while she helps them find "forever homes" via the bookshop's Facebook page. Wherever they end up, the kitties will always be honorary bookstore cats.

I've also grown quite fond of Cake and Lemon at BooksActually in Singapore. Owner Kenny Leck's irresistible resident feline booksellers appear regularly on Facebook, but also provide a legion of fans with updates on their own Twitter accounts, @caketheking and @lemonthekisser.

Recently I learned that in China, the "20 cats that inhabit the Xinhua Bookstore entertain customers, wander freely and jump from one bookshelf to another. The bookstore, also home to the Nanjing Cat Café, has a wall covered with hydroponic flowers and luscious plants. Part of the revenue earned at the café is used to buy food for the cats that live in the store and also for stray cats outside." Nice.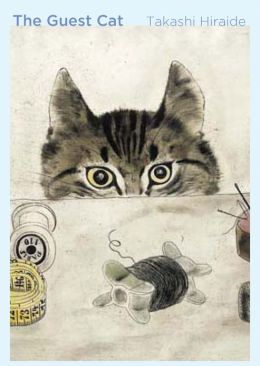 To honor of bibliocats everywhere this holiday season, I'd like to offer you a gift by recommending a great read: Takashi Hiraide's small gem of a novel The Guest Cat, translated by Eric Selland (New Directions). It's one of my favorite books of 2014, and I'm not alone.

The Guest Cat, which was an unanticipated New York Times bestseller in the U.S. earlier this year, has more recently become a holiday season hit in the U.K. The Independent reported that "booksellers loved it. They placed it in their windows, on their front tables.... Just a few months after publication, it has sold 20,000 copies, an unimaginable figure for a title without a marketing campaign. It is now set to be among December's top sellers and is already the biggest-selling paperback of the year at one branch of Waterstones, in London's Gower Street."

"It's such an easy book to sell," said branch manager Alison Belshaw. "There is the physicality of the book for starters: it looks beautiful. It's also short.... And you can read it as a simple story, or see all sorts of depths to it." Belshaw recalled a man who came into the shop looking for a sci-fi novel: "And I sent him away with The Guest Cat. It's that kind of book. You want to recommend it to everyone."

Like the Fur Person and the Blue Cat and bookstore cats (and booksellers) worldwide, Chibi the "guest cat" is worth meeting, though getting to know her will be, as it must, just a little more complicated ("Chibi remained unfettered, coming and going as she pleased."). That's why she's my honorary bookstore cat of the year, and why you might consider giving her a "forever home" on your bookshelves. --Robert Gray, contributing editor (column archives available at Fresh Eyes Now)


The Bestsellers
AbeBooks' Most Expensive Sales in 2014
Irony ruled the day and the year as an 1867 edition of Das Kapital by Karl Marx sold for $40,000 to achieve the #2 ranking on AbeBooks annual list of its 50 most expensive sales for 2014. Here's the top 10:


Les Maîtres de L'Affiche (Masters of the Poster) ($43,450)
Das Kapital by Karl Marx ($40,000)
Aquatilium animalium historiae, liber primus, cum eorundem formis, aere excusis by Ippolito Salviani ($22,638)
Call for the Dead by John Le Carré ($22,500)
La Dioptrique oculaire ou la théorique, la positive et la méchanique, de l'oculaire dioptrique en toutes ses espèces ($21,112)
Recueil des Noticies et Mémoires de la Société Archéologique, Historique et Archéologique du Département de la Wilaya Constantine ($21,060)
Revue Africaine Société Historique Algérienne ($20,718)
Alice's Adventures in Wonderland by Lewis Carroll, illustrated by Salvador Dali ($20,000)
A Farewell to Arms by Ernest Hemingway ($18,000)
Lexicon Iconographicum Mythologiae Classicae ($17,655)