Shelf Awareness for Thursday, August 28, 2014

News
PRH: Applebaum in 'Emeritus' Role, Von Schilling Promoted
Penguin Random House announced changes to its corporate communications group, with Stuart Applebaum moving into a "more flexible work schedule" as emeritus executive v-p and Claire von Schilling taking on an expanded role as senior v-p, director, corporate communications.


Applebaum has worked in publishing communications for 43 years, beginning as a publicist and publicity director for Bantam Books and going on to head communications at Bantam Doubleday Dell, Random House and Penguin Random House. PRH CEO Marcus Dohle observed that Applebaum "has presented and explained--with clarity, intelligence and farsightedness--our news, our vision, and our values to the wider world. What stands out to me most about Stuart is not just the decades and volumes of accomplishment from his 24/7 work ethic, but his ongoing drive and commitment to our company."

Applebaum will now "step aside from his current responsibilities and assume a new full-time role that is as unique as he is," Dohle added. "From his office and online, Stuart will continue the excellent collaboration he has with Claire, advising her and working with our colleagues on key communications issues and opportunities."

Von Schilling joined PRH three years ago, after working in public and government affairs in Washington, D.C., as well as for Bertelsmann and Sony Music. Dohle noted that "she approaches her work both thoughtfully and strategically, and with an inclusiveness and openness that have made her a trusted and valued member of the Penguin Random House team."

Since joining PRH, von Schilling "has been instrumental in our many major communications initiatives since. At the same time that she has effectively managed high-profile projects such as the development and launch of our global brand identity and the worldwide planning and implementation of our pre- and post-merger communications, Claire has also been an understated force, offering wise counsel and hands-on support to many colleagues and to me on a variety of topics of importance to our company."


Oakland's Laurel Book Store Relocating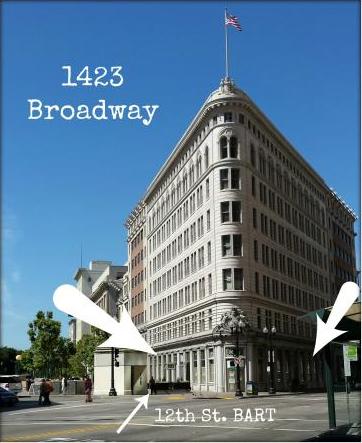 After a year of searching for a new location, Laurel Book Store, Oakland, Calif., "will be moving into a ground floor space in the First National Bank Building, now known as the Lionel Wilson Building at 14th and Broadway. It was most recently a bank, so it looks very elegant. (And one friend wisely noted that it's used to money already.)," owner Luan Stauss announced in an e-mail to customers, adding: "There are entrances on Broadway and Frank Ogawa Plaza, huge, light-filled windows and enough space to do just what I think we're capable of. It's steps from the 12th Street BART entrance and on the B Line."

With the store's lease at its current store running out this summer, Stauss had begun the search for a new location a year ago with the goal of finding "a larger space with better flexibility for events, better access to transportation, and a bit more foot traffic." After considering many possibilities, she knew immediately when she found the right spot: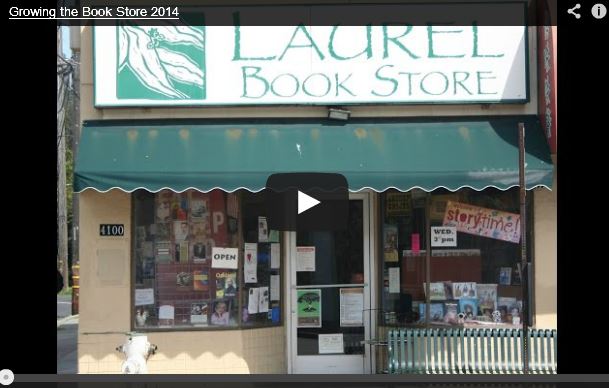 "Do you know that feeling when you walk into a place and it just feels right? Like you can instantly imagine what you'd do with the space, how you'd spend your time there, and who would walk in and be happy to be there? That's what happened to me. I felt it. But just to make sure, we arranged another visit and I took two rational, level-headed people to see it. They immediately had the same feeling I did."

Tentative plans call for Laurel Book Store to remain where it is through September, with hopes of opening in the new space in October, though much "depends on the work that needs to be done. I have a crackerjack contractor and we'll work hard to open as soon as possible," Stauss wrote. She also noted that "in addition to our investment and an SBA loan, we are raising funds through an Indiegogo crowdfunding campaign."


BAM Names James Phelps V-P of E-Commerce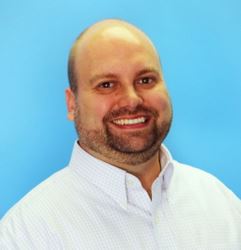 James Phelps
Veteran e-commerce director James Phelps has joined Books-A-Million as v-p of e-commerce, responsible for executing the vision, branding, merchandising and marketing strategy for the company. Prior to joining BAM, he worked with several retailers, including HSN, Kohl's Department Stores and Brookstone

"I'm excited for the opportunity to bring my in-store experience to the Books-A-Million brand online," said Phelps. "My focus is to not only create synergy between the online and in-store shopping experience, but to give our customers compelling reasons to make Booksamillion.com their primary destination for the best selection of books, toys, tech and more."

BAM CIO and president Cy Fenton commented: "We are pleased to welcome James to Books-A-Million, and look forward to him bringing his expertise to our team as we continue to build our digital business."


Obituary Note: Wendi Harris Kaufman
Wendi Harris Kaufman, "a well-known and beloved author who created and nurtured many facets of the D.C. literary community," died yesterday, the Washingtonian reported. On Facebook, Politics & Prose Bookstore praised Kaufman as a "staple of the D.C. literary community," and Kramerbooks & Afterwords Cafe & Grill posted: "A great loss for our community and the literary world at large."

Relegation Books publisher Dallas Hudgens also heads George Mason University's Stillhouse Press, which will release Kaufman's Helen on 86th Street and Other Stories. "I saw the same caring spirit that Wendi shared with her fellow writers, focused on her characters. Her compassion and humor shone in her life and writing," he observed.


Notes
Image of the Day: Vreeland's Launch a Crowdpleaser at Warwick's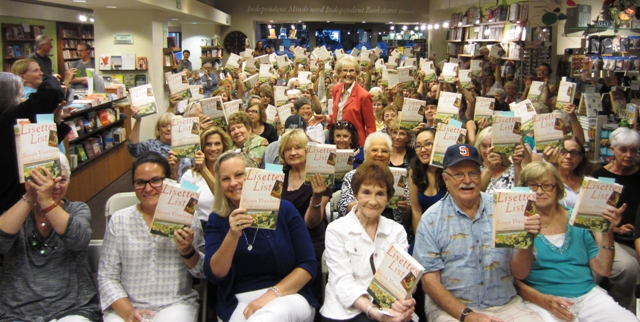 More than 160 people turned out at Warwick's in La Jolla, Calif., Tuesday night for the launch event for Susan Vreeland's Lisette's List (Random House). Here she is in the midst of her adoring fans... who bought over 120 books!


New Bookstore Part of Colorado Springs' Downtown Resurgence
Downtown Colorado Springs, Colo., "can boast of several new shopping, dining, drinking and entertainment options, and there's more in the works," the Colorado Springs Business Journal reported in a piece headlined "City center's resurgence filling vacancies." Among the new businesses contributing to the renaissance is Mountain Fold Books, a nonprofit LLC founded by Marina Eckler and Jonathan Fey that is expected to open in mid-October.

"We wanted to bring in a literary center that was somewhere between a library, reading room and bookstore," Fey said. "It's nonprofit and it's going [to operate] mainly through membership donations. It's free to be a member, but we encourage donations along with membership, and we'll have a retail element as well.... It will be mainly a small-press bookstore. There are only a few other small-press bookstores in the U.S., which should help distinguish us from all of the other great literary forces already in Colorado Springs."


Cool Idea of the Day: Books & Beer
This fall, McIntyre's Books in Fearrington Village, Pittsboro, N.C., is hosting a Books & Beer event series to celebrate North Carolina authors and provide an informal space for writers and book lovers to enjoy a good read over local craft beer at Fearrington Village's Roost beer garden. The "informal and intimate literary event" series launches September 11 and will run for six weeks.


N.C. Triangle Indies 'Thrive on the Personal Touch'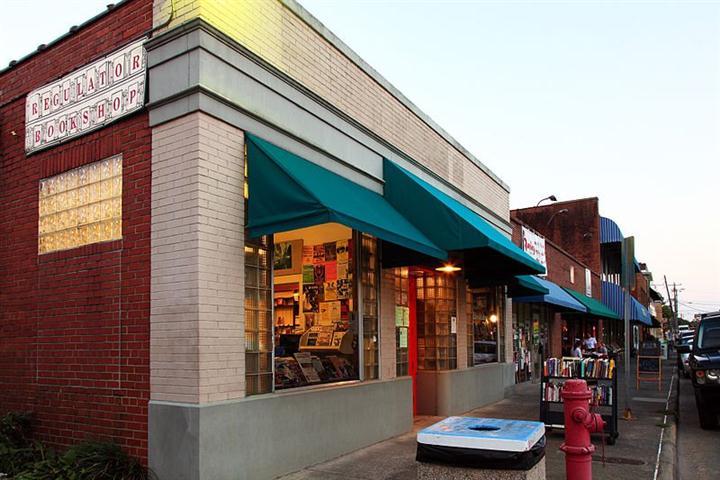 Booksellers in the Triangle region of North Carolina "are moving to take back the local marketplace," Indy Week reported in highlighting "30-year Raleigh mainstay" Quail Ridge Books & Music, which "just finished its first year under new owner Lisa Poole," So & So Books in Raleigh, Flyleaf Books in Chapel Hill, the Regulator Bookshop in Durham as well as Letters Bookshop in Durham.

"Having grown up here, staying part of the community is everyday life, not a marketing strategy," said Poole.

The Regulator's co-owner Tom Campbell observed that it "continues to be a challenge just to get people to walk in the door. You need to be doing events, promoting them in ways that you didn't have to 10 years ago, like Facebook and Twitter.... The challenge for independents is to let people know that it's an experience that can't be duplicated on a computer screen. And none of your money stays here if you buy something on Amazon--it's like you put all that money on a plane out of RDU. It's gone."

Flyleaf's marketing manager Linnie Greene said the store has done "better this year than any year we have been open.... You have to make yourself a community center."


Book Trailer of the Day: Sam & Dave Dig a Hole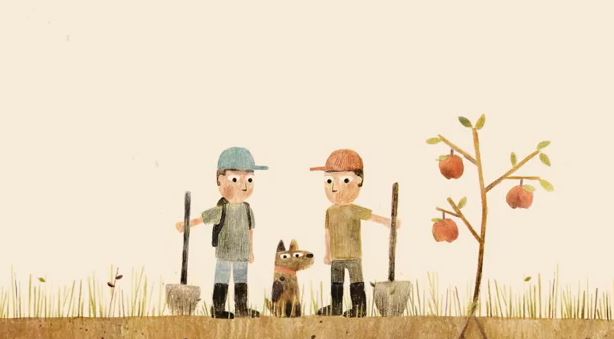 Sam & Dave Dig a Hole by Mac Barnett, illustrated by Jon Klassen (Candlewick), in which Mac and Jon dig a hole in the desert to celebrate their new book.


Media and Movies
Media Heat: Jon Gnarr on the Late Late Show with Craig Ferguson
Tomorrow on a repeat of Tavis Smiley: Joan Rivers, author of Diary of a Mad Diva (Berkley, $26.95, 9780425269022).

---

Tomorrow night on a repeat of the Late Late Show with Craig Ferguson: Jon Gnarr, author of Gnarr: How I Became the Mayor of a Large City in Iceland and Changed the World (Melville House, $23.95, 9781612194134).


TV: Assisted Loving; Lewis Trilogy
NBC "is exploring the comedy in the relationship between generations" with Assisted Loving, from Claudia Lonow (How To Live With Your Parents, Accidentally On Purpose) and producers Aaron Kaplan and Tracy Katsky, Deadline.com reported. The project is Lonow's "semi-autobiographical take" on the book Assisted Loving: True Tales of Double Dating with My Dad by Bob Morris.

---

Since so many BBC programs now find their way to U.S. TV screens eventually, it is worth noting for future reference a deal that made news this week. The BBC "snapped up the rights to adapt another bestselling series of Scottish crime novels," the Scotsman noted in reporting that author Peter May agreed to a deal for the Lewis Trilogy, which is set in the Outer Hebrides. Three separate two-hour TV films are being planned for BBC 4 and BBC Scotland "has already started development work on the first installment of his series, The Blackhouse."


This Weekend on Book TV: National Book Festival
Book TV airs on C-Span 2 this weekend from 8 a.m. Saturday to 8 a.m. Tuesday and focuses on political and historical books as well as the book industry. The following are highlights for this coming weekend. For more information, go to Book TV's website.

Saturday, August 30
10 a.m. Live coverage of the 14th annual National Book Festival at the Walter E. Washington Convention Center in Washington, DC. (Re-airs Sunday at 12 a.m.)

7:30 p.m. Otto Santa Ana, author of Juan in a Hundred: The Representation of Latinos on Network News (University of Texas Press, $24.95, 9780292743748). (Re-airs Sunday at 1:30 p.m. and Monday at 1:30 a.m.)

8 p.m. Kenneth Timmerman, author of Dark Forces: The Truth About What Happened in Benghazi (Broadside Books, $27.99, 9780062321190).

9 p.m. Tim Grove, author of A Grizzly in the Mail and Other Adventures in American History (University of Nebraska Press, $18.95, 9780803249721), at Politics & Prose Bookstore in Washington, D.C.

10 p.m. William E. Burrows, author of The Asteroid Threat: Defending Our Planet from Deadly Near-Earth Objects (Prometheus Books, $19.95, 9781616149130). (Re-airs Sunday at 9 p.m. and Monday at 12 a.m. and 3 a.m.)


Sunday, August 31
1 p.m. Lane Hirabayashi, co-author of A Principled Stand: The Story of Hirabayashi v. United States (University of Washington Press, $29.95, 9780295992709). (Re-airs Monday at 1 a.m.)

8 p.m. John Bemelmans Marciano, author of Whatever Happened to the Metric System?: How America Kept Its Feet (Bloomsbury, $26, 9781608194759), at WORD Bookstore in Brooklyn, N.Y.

10 p.m. Hampton Sides, author of In the Kingdom of Ice: The Grand and Terrible Polar Voyage of the USS Jeannette (Doubleday, $28.95, 9780385535373), at at Politics & Prose Bookstore in Washington, D.C.

11 p.m. Daniel Davis and Phillip Greenwalt, authors of Hurricane from the Heavens: The Battle of Cold Harbor, May 26-June 5, 1864 (Savas Beatie, $12.95, 9781611211870).


Books & Authors
Awards: PEN Center USA
Winners were announced for this year's PEN Center USA Awards, which recognize "the best writing in the western United States. The winning writers in each category receive $1,000 and will be honored November 11 at the the 24th annual Literary Awards Festival in Beverly Hills, Calif. The 2014 PEN Center USA Award winners are:

Fiction: Sea of Hooks by Lindsay Hill
Creative nonfiction: Facing the Wave by Gretel Ehrlich
YA/children: The Lightning Dreamer: Cuba's Greatest Abolitionist by Margarita Engle
Journalism: "Deadly Charades" by Craig Malisow (Houston Press)
Poetry: The Boss by Victoria Chang
Research nonfiction: Dallas 1963 by Bill Minutaglio & Steven L. Davis
Translation: Wayne A. Rebhorn for The Decameron
Drama: Se Llama Cristina by Octavio Solis
Screenplay: The Place Beyond the Pines by Ben Coccio
Teleplay: Girls ("Together" episode) by Judd Apatow & Lena Dunham

The graphic literature category winner and the recipient of PEN Center USA's Award of Honor will be named in coming weeks. Last month, PEN Center USA announced the winners of its Lifetime Achievement Award (Norman Lear), First Amendment Award (Glenn Greenwald & Laura Poitras) and Freedom to Write Award (Jose Antonio Vargas)


Attainment: New Titles Out Next Week
Selected new titles appearing next Tuesday, September 2:

What I Know For Sure by Oprah Winfrey (Flatiron Books, $24.99, 9781250054050) is a selection of columns from O, The Oprah Magazine--and the first title from Flatiron Books.

Somewhere Safe with Somebody Good by Jan Karon (Putnam, $27.95, 9780399167447) continues the Mitford series.

Personal by Lee Child (Delacorte, $28, 9780804178747) is the 19th Jack Reacher thriller.

The Bone Clocks: A Novel by David Mitchell (Random House, $30, 9781400065677) is the latest novel from the author of Cloud Atlas.

The Secret Place by Tana French (Viking, $27.95, 9780670026326) continues the Dublin Murder Squad series.

Dr. and Master Sha: Miracle Soul Healer: Exploring a Mystery by William Gladstone (BenBella Books, $24.95, 9781940363714) explores a spiritual healer.

unPHILtered: The Way I See It by Phil Robertson and Mark Schlabach (Howard Books, $25.99, 9781476766232) shares the opinions of the star of A&E's Duck Dynasty.


IndieBound: Other Indie Favorites
From last week's Indie bestseller lists, available at IndieBound.org, here are the recommended titles, which are also Indie Next Great Reads:

Hardcovers
The Home Place: A Novel by Carrie La Seur (Morrow, $25.99, 9780062323446). "Alma Terrebonne, a rising star in a Seattle law firm, has left behind her complicated family and past tragedies in Billings, Montana, until one morning when a call for help pulls her back. Returning to identify her sister, dead apparently from exposure, and to care for her 11-year-old niece, Alma is overcome by guilt, fragile family relations, powerful memories from the past, and the hold the family homestead has over her. Both a tense, page-turning police procedural and a delightful romance with carefully drawn characters, The Home Place will resonate with the reader long after the book is finished." --Darwin Ellis, Books on the Common, Ridgefield, Conn.

Small Blessings: A Novel by Martha Woodroof (St. Martin's Press, $25.99, 9781250040527). "A cast of quirky characters--a well-meaning but bumbling college professor, his agoraphobic wife, his sitcom-worthy mother-in-law, and a charming itinerant bookseller--is thrown into a whirl when a small 'orphan' boy appears in their midst. The power of love and caring lifts everyone above their flaws in a heartwarming story about finding love and family in unconventional ways." --Jenny Stroyeck, the Homer Bookstore, Homer, Alaska

Paperback
Enon: A Novel by Paul Harding (Random House, $15, 9780812981773). "Charlie Crosby has to face what no parent should ever have to--the death of their child. Enon is the town where Charlie and his wife, Susan, and daughter, Kate, live until one September day Kate is run over while riding her bike home from the beach. Kate's birth had bound Charlie and Susan back together and according to Susan was supposed to make them both better people. What now? How does any parent survive the death of a child? Charlie will travel a tormented road of sorrow, grief, anger, hopelessness and the big question, why? Paul Harding pulls no punches when describing Charlie's life after Kate's death. A moving meditation, including the history of Enon, the seasons of New England and the mysteries of life. Profound, powerful and heart-breaking. Not to be missed. " --Karen Briggs, Great Northern Books & Hobbies, Oscoda, Mich.

For Ages 4 to 8
Planet Kindergarten by Sue Ganz-Schmitt, illustrated by Shane Prigmore (Chronicle Books, $16.99, 9781452118932). "Who knew what aliens abound in that planetary world of--Kindergarten? Having new experiences and making new friends will reassure all those making the transition to real school. Both kids and parents will delight in the cheerful exuberance of Prigmore's style and its sly wink to the Jetsons! Blast off to the land of Kindergarten--a great and cool place to go!" --Maureen Palacios, Once Upon a Time, Montrose, Calif.

[Many thanks to IndieBound and the ABA!]


Book Review
Review: Cry Father
Cry Father by Benjamin Whitmer (Gallery Books, $25 hardcover, 9781476734354, September 16, 2014)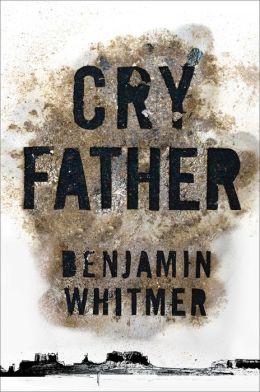 Benjamin Whitmer (co-author of Charlie Louvin's autobiography, Satan Is Real; Pike) stands squarely in that "rural noir" sub-genre niche of tweakers and trigger-happy drunks worked so effectively by Daniel Woodrell, Larry Brown and Rick Gavin. Whitmer's Cry Father is an accomplished, swaggering tale of battered-but-still-striving men living in the no-man's land of southeast Colorado. It's a male-centric story of fathers and sons whose women are ex-wives, girlfriends, baby mamas and nursemaids--but not much more. Nonetheless, Whitmer hardly needs them to tell his often-violent story of men hanging on to whatever slivers of redemption they can find.
Patterson Wells is an itinerant tree trimmer called in after tornadoes, floods and other natural disasters to clear power lines and occasionally pull bodies out of the debris. With his dog, Sancho, and a bottle of Evan Williams bourbon, he jumps in his Ford Ranger to cash in on calamity wherever it turns up before sleepwalking home to his rudimentary cabin on a mesa in the San Luis Valley. After his young son Justin's death from a botched surgery, the divorced Patterson ("maybe forty-five, and a hard forty-five at that... old enough that when the cocaine runs out of his system it takes most of his brains with it") clings precariously to the companionship of Sancho, his still-sympathetic ex-wife and his neighbor Henry--a broke-down, recovering alcoholic and former rodeo bull rider. It's a life, but not much of one. Were it not for his majestic view of Blanca Peak in the Rockies' Sangre de Cristo Range, bourbon, Vicodin, blow and his diary-like letters to Justin, it would be no life at all. When Henry's drug-running, drug-toking, sh*t-kicking son Junior shows up from Denver to rail against the once-absent, abusive father he thinks screwed up his life, Patterson's marginally tolerable life takes a turn for the worse.
Junior is a mule for the Mexican La Familia cartel. He drives his matte-black 1969 Dodge Charger ("what's the point of being a drug runner if you can't drive a cool car") up and down I-25 between the Juarez connection and his dealer in a seedy corner of Denver ("within two miles of six Superfund sites, one of which happens to be the neighborhood itself"). In a misguided attempt to protect Henry, Patterson gets sucked into Junior's fast and loose life of cinderblock bars, Mexican whores and a bulked-up, tattooed, pony-tailed Denver cartel enforcer. In Junior's turbulent wake, Patterson learns to accept his own failings as a father, husband, friend--and to pick himself up, concluding: "Nothing ends, nothing heals. Not that I'd have it any other way." Whitmer is one helluva storyteller, and Cry Father nails it on all fronts. --Bruce Jacobs, founding partner, Watermark Books & Cafe, Wichita, Kansas.
Shelf Talker: Benjamin Whitmer's second novel is a first-rate addition to the canon of "rural noir" storytelling.