Shelf Awareness for Friday, April 24, 2015

Quotation of the Day
'A Collective Sense of Community'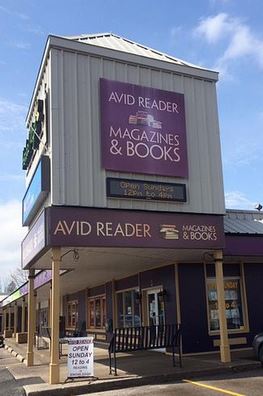 "I made a choice in 1999 to leave a high-salaried but low-personal-growth job and came to The Avid Reader.... We know that the store exists only because people choose to shop here and our staff recognizes that in our interactions with every person who enters. Working in an indie bookstore isn't about selling--it's about sharing....
"While most mourn the loss of our legendary independent bookstores, there has been little done to proactively help them until it's too late.... Authors for Indies is an extraordinary event. It's a pre-emptive, preventative step by Canadian authors against more losses. It's recognition for the importance of indies across Canada.... We are proud and honoured to be part of this celebration."
--Kelly Beers, in an article on the
Authors for Indies website
titled "The Avid Reader: Indie bookstores know and respect their customers"


News
Amazon First Quarter: Sales Up 15.1%, Net Loss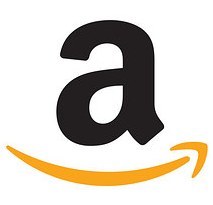 In the first quarter ended March 31, Amazon net sales rose 15.1%, to $22.7 billion, and the net loss was $57 million compared to a net gain of $108 million in the first quarter of 2014. The company said that without the effect of the strong dollar, sales would have risen 22%.
Books were barely mentioned in the company's announcement of its results for the quarter. This time Amazon's cloud services business was the focus, as the company unveiled its results for the first time. Amazon Web Services revenues grew 49%, to $1.57 billion in the quarter, and generated operating income of $265 million, higher than expectations. The company is considered the dominant supplier of cloud services.
And because Amazon results were better than Wall Street estimates--a net loss of 12 cents a share instead of 13 cents, and net sales $330,000 better than expected--the company's stock soared 9.4%, to $426.62 a share, in after-hours trading yesterday.
Net sales of "media," which includes books, rose 5% in North America, to $3 billion, and international media fell 12%, to $2.3 billion. (Without the effect of the strong dollar, international media sales would have risen 2%, the company said.)


BAM Launches Self-Publishing Site

Books-A-Million has launched BAM! Publishing, a DIY website where authors can create, edit and publish their own books. The program offers perfect-bound paperback books and full-color covers, with both black-and-white and full-color printing of interior pages available.

"We are thrilled to offer a new and easy way to self-publish," said Joyce McKinnon, Espresso Book Machine coordinator at BAM. "It's also a great option for beginners, or those wishing to create beautiful personal projects like family histories, cookbooks, or even custom journals. You can even print full color interior pages, which will add interest to any project. The DIY tools are easy to use, easy to customize, and easy to share."

BAM has Espresso Book Machines at its Brookwood Village location in Birmingham, Ala., and in South Portland, Maine.


China: New 24-Hour Beijing Bookstore; Reading Rates Up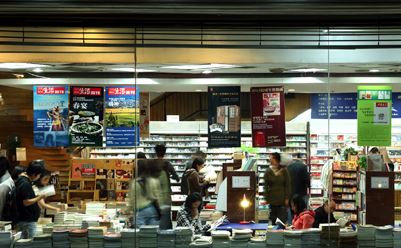 Sanlian Taofen Bookstore has opened a second 24-hour branch in Beijing, one year after the debut of its first 24-hour location, which "ended up seeing a 58% increase in sales and a 111% increase in profits," Xinhua reported. The new store is located in the Wudaokou neighborhood of north Beijing.

"At first, we just wanted to do more for the readers. We thought that as long as we could keep the business running, it didn't matter if it was profitable or not," said STB general manager Zhang Zuozhen, adding: "We have confidence in the newly opened branch."

---

On average, Chinese people read 4.56 books in 2014, with those in the 17 and under age group reading 8.45 books (a rise of 1.48 books over the previous year), according to the 12th annual National Reading Survey. Noting that the rate of reading printed books was 58% in 2014 (up 0.2%), China Daily reported that for families with children less than 8 years old, 88.8% of parents "had the habit of reading with children and on average spent 23.64 minutes a day reading with their kids." Chinese adults averaged 18.76 minutes (up 5.33 minutes) reading books. Nearly 40% of respondents said they read less than they would like to and approximately 70% of them wanted local governments to organize regular reading activities.


Librify's BEA Startup Challenge Returns
This year's BookExpo America will again host the BEA Startup Challenge. On Wednesday, May 27th, there will be a Startup Alley--sponsored by Sourcebooks and Ingram--featuring 20 startups selected to showcase their companies. They will compete to appear before judges from the venture capital and investment community, who will choose BEA's 2015 Most Promising Publishing Startup. In addition, this year the BEA Startup Challenge will offer a People's Choice Award, selected by the attendees and exhibitors at the show.

"Last year at BEA, we brought the tech community and the book publishing industry together for the first publishing Startup Challenge and we saw the great kind of innovation that comes out of bringing these communities together," said Librify CEO Joanna Stone. "Thanks to our sponsors Ingram and Sourcebooks, we are creating a place for innovation at BEA again this year. Startup Alley is a place for the growing book publishing startup community to gain access to traditional publishers and top venture capital and investment professionals."

The judges include Jordan Bettman, Bain Capital Ventures; Dominique Raccah, CEO of Sourcebooks; Brian Napack, senior advisor, Providence Equity; Jason Saltzman, Alley NYC; Ed Klaris, managing director, DiSilva+Philips.


Obituary Note: M.H. Abrams
M.H. Abrams, who edited the first seven editions of The Norton Anthology of English Literature and "transformed the study of Romanticism" with his books The Mirror and the Lamp and Natural Supernaturalism, died Tuesday, the New York Times reported. He was 102. The National Endowment for the Humanities awarded Abrams the National Humanities Medal in 2013 "for expanding our perceptions of the Romantic tradition and broadening the study of literature." President Obama presented the medal during a White House ceremony last July.


Notes
Image of the Day: #WorldBookDay in Space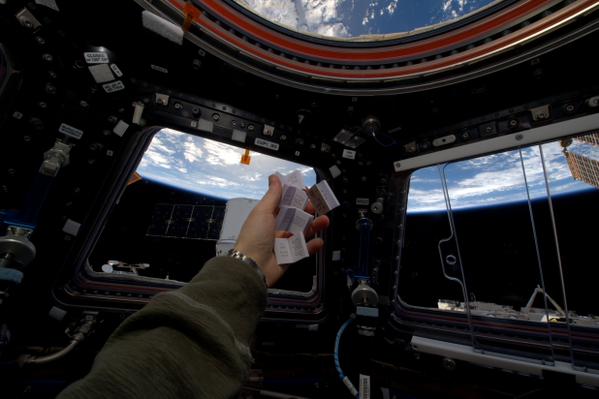 World Book Day was celebrated yesterday across the planet, as well as above it on the International Space Station. Space.com reported that Italian astronaut Samantha Cristoforetti "is not just a space traveler, she's apparently also a bibliophile who can't bear to be apart from her books, even while living off planet Earth." Displaying five miniature, weightless tomes, she tweeted: "I like reading books because they answer questions I didn't yet have... #WorldBookDay."


Jonathan Lethem's Favorite L.A. Bookstores
In an interview with Paste magazine, author Jonathan Lethem was asked the big question: Do you have a favorite bookstore in Los Angeles?

"I'm crazy for Skylight [Books]," he replied. "They're really welcoming to me and I love debuting books by having a reading there. I've had a great time at Book Soup too but it's a little further west from where I am now, so I don't get there as often. Anyone who likes used bookstores has to be pretty crazy for the Last Bookstore. Unbelievable. Heaven for book hounds. I love the way they use that space as a zone of weird marvels, like the architecture was built of discarded books."


The Country Bookshop: 'A Must Read'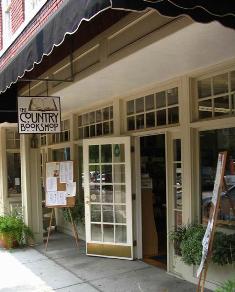 In an interview with owner Kimberly Taws, the Fayetteville Observer turned its "Business Spotlight" on the Country Bookshop, Southern Pines, N.C., calling the store "a must read." Among our favorite exchanges:

What would customers, who are accustomed to big book retailers, be pleasantly surprised to learn or experience by walking into an independent bookseller such as the Country Bookshop?
What they would be surprised is the amount of work that we've done to place and get each title on that shelf in front of you, and the thought that goes into each individual title that goes on the shelf. And the amount of information we have on that book and the history of the author. New customers would be surprised at the level of intimacy between the bookseller and the books we are selling.

What is the biggest or most unique challenge in running your business as a book retailer?
I think the biggest challenge is managing the customers' and writers' expectations. Most people already know what they want when they come in the door, and many of our customers are understanding and don't mind waiting a day or two for something to come in if we have to put in an order.

What makes running a bookstore such a rewarding experience?
We get to knock the socks off people and we can bring the big book sellers into the store or for an event. These kinds of things are the joy of it.


Book Trailer of the Day: My Grandfather Would Have Shot Me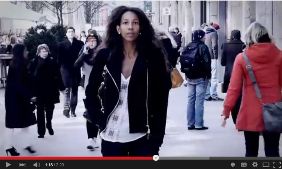 My Grandfather Would Have Shot Me: A Black Woman Discovers Her Family's Nazi Past by Jennifer Teege and Nikola Sellmair, translated by Carolin Sommer (The Experiment).


Media and Movies
Media Heat: Pulitzer-Winner David I. Kertzer on Fresh Air
Today on Fresh Air: David I. Kertzer, author of The Pope and Mussolini: The Secret History of Pius XI and the Rise of Fascism in Europe (Random House, $20, 9780812983678), which on Monday won the Pulitzer Prize for Biography or Autobiography.
---
Sunday on CBS Sunday Morning: Kent Rollins, co-author of A Taste of Cowboy: Ranch Recipes and Tales from the Trail (Rux Martin/Houghton Mifflin Harcourt, $30, 9780544275003).


Movies: Black Mass; Gemma Bovery
The official trailer has been released for Black Mass, based on the book Black Mass: Whitey Bulger, the FBI and a Devil's Deal by Dick Lehr & Gerard O'Neill. Indiewire reported that "the buzz has been pretty huge for the film" after footage was screened at CinemaCon. Directed by Scott Cooper, Black Mass features a strong supporting cast that includes Benedict Cumberbatch, Dakota Johnson, Juno Temple, Corey Stoll, Joel Edgerton, Jesse Plemons, Peter Sarsgaard and Kevin Bacon. The movie opens September 18.

---

A U.S. trailer is out for Gemma Bovery, which "updates the Flaubert classic through a metatextual twist that both pays loving homage to the novel while also tweaking the tendency people who are obsessed with such works of fiction have to try to apply their favorite narratives to real life," the Film Stage reported. Directed by Anne Fontaine, the movie stars Gemma Arterton, Jason Flemyng, Fabrice Luchini, Isabelle Candelier and Niels Schneide.


Books & Authors
Awards: Triangle; Thwaites Wainwright; CrimeFest
The winners of the 27th annual Triangle Awards, honoring the best lesbian, gay, bisexual, and transgender fiction, nonfiction, and poetry published in 2014, were presented last night. The winners:

The Ferro-Grumley Award for LGBT Fiction: Mr. Loverman by Bernardine Evaristo (Akashic Books)
The Edmund White Award for Debut Fiction: For Today I Am a Boy by Kim Fu (Houghton Mifflin Harcourt)
The Judy Grahn Award for Lesbian Nonfiction: Ain't Gonna Let Nobody Turn Me Around: 40 Years of Movement Building with Barbara Smith by Barbara Smith, edited by Alethia Jones and Virginia Eubanks (SUNY Press)
The Randy Shilts Award for Gay Nonfiction: Gay Berlin: Birthplace of a Modern Identity by Robert Beachy (Knopf)
The Thom Gunn Award for Gay Poetry: The New Testament by Jericho Brown (Copper Canyon Press)
The Audre Lorde Award for Lesbian Poetry: Last Psalm at Sea Level by Meg Day (Barrow Street Press)
The Bill Whitehead Award for Lifetime Achievement: Rigoberto González, the author of four books of poetry, most recently Unpeopled Eden, and 10 books of prose. He is also contributing editor for Poets & Writers magazine, is on the executive board of directors of the National Book Critics Circle and is a professor of English at Rutgers-Newark.
---
Lewis-Stempel won the £5,000 Thwaites Wainwright Prize, which highlights "the best books in U.K. nature and travel writing, for Meadowland: the Private Life of an English Field, the Bookseller reported. Chair of judges Dame Fiona Reynolds, praised the winning title as "utterly captivating.... Bewitchingly beautiful, honest and effortless, this is a book that should make us all want to explore the wonders and realities of nature on our doorsteps."

---

Finalists have been named for this year's CrimeFest Awards, which are presented in four categories: crime audiobook, crime fiction e-book published in both physical and digital format, humorous crime novel and biography or critical book related to crime fiction. Winners will be announced May 16 during CrimeFest in Bristol, U.K.


Book Brahmin: Pam Cady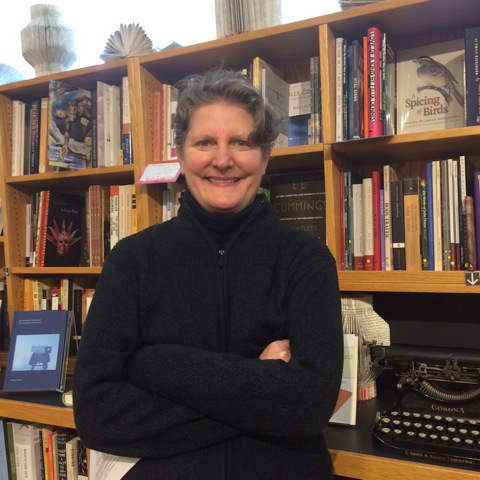 photo: Anna Micklin
Pam Cady has been in the book business since 1981, when she accepted her first job after moving from Rhode Island, as a bookseller for B. Dalton Bookseller in Torrance, Calif. After that she helped run a small independent shop in Long Beach, Calif. She and her family moved to Seattle, and in 1997 she joined the part-time staff at University Book Store. After working at several branch stores and a long stint in the children's department, Pam became assistant manager of the general books department at the flagship store in 2007, and in 2013 she became the manager. Pam is proud to work with a staff of smart and passionate booksellers who go to great lengths to put the right books in the hands of readers. An art lover, Pam's truest book love is picture books.
On your nightstand now:
The Cloud of Unknowing by Anonymous, Bettyville by George Hodgman, Boo by Neil Smith, In a Dark Wood by Joseph Luzzi, Dinner with Buddha by Roland Merullo, Agnes Martin: Her Life and Art by Nancy Princenthal and My Favorite Things by Maira Kalman.
Favorite book when you were a child:
Charlotte's Web. It remains one of my favorite books of all time.
Your top five authors:
My top five authors of the last several months: Hanya Yanagihara, Lin Enger, John Benditt, Anthony Doerr and Marianne Dubuc.
Book you've faked reading:
I faked reading half of it. When I was in high school, I read only half of The Scarlet Letter. Sorry, Mrs. Downs.
Book you're an evangelist for:
Well, I've spoken everyone's ear off about The Boatmaker by John Benditt already, so now I'm crazy for A Little Life by Hanya Yanagihara. I fell hard for Jude. I don't know when I've been more in love with a character before. But it just wrecked me.
Book you've bought for the cover:
Anything by Maira Kalman. And I've never been disappointed. I feel like I have a long-distance love relationship with Maira that only I know about.
Book that changed your life:
The Outsiders by S.E. Hinton. That book made me a true reader. Before that I really couldn't sit still long enough to read (to myself).
Favorite line from a book:
"All I hope to say in books, all that I ever hope to say, is that I love the world." --E.B White, Letters
Which character you most relate to:
Mo from The Essential Dykes to Watch Out For by Alison Bechdel. If I was a graphic novelist, I'd want to be Alison Bechdel.
Book you most want to read again for the first time:
Me Talk Pretty One Day by David Sedaris. I was sitting in my living room, laughing so hard at David learning to speak French that my daughter ran up the stairs to make sure I wasn't having a heart attack. But mostly, I don't read back. It's always finding that next book that I'll want to read again for the first time.


Book Review
Review: Where Women Are Kings
Where Women Are Kings by Christie Watson (Other Press, $16.95 trade paper, 9781590517093, April 28, 2015)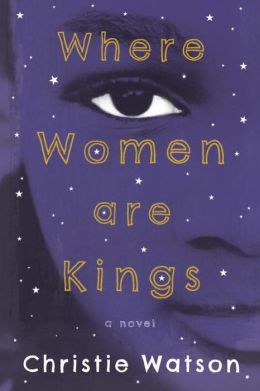 In Where Women Are Kings, British novelist Christie Watson (Tiny Sunbirds, Far Away) brings readers into an intense cross-cultural story of love, one that spans physical and emotional boundaries--to the detriment of a seven-year-old boy, Elijah. Born of Nigerian parents who live in England, Elijah has spent most of his life being shifted from one foster home to another. Based on things he remembers from his birth mother, he believes a wizard lives inside him and he must fight very hard to keep that wizard contained; otherwise, he does terrible things:
"Creeping out of little boys' skins takes a lot of effort, even for experienced wizards. First, it has to push my insides far down until it can sneak up my back. Then it moves itself up toward my head. When it is nearly there, it has to look for the nose or ear. Then is the tricky part: getting itself really small--small enough to fit through a nostril. It presses and pushes through and then it is free. I can feel the wizard crawling out and flying around the room, faster and faster. I shut my eyes tight and try to keep them closed but something forces them open. I can hear the wizard slithering out the door, then swooping down the stairs."
When Elijah is placed with yet another family after an accidental kitchen fire at his previous home, his new foster parents, Nikki and Obi (a mixed-race couple), begin to unravel the mysteries surrounding Elijah. They discover his body is covered in scars and he has severe disruptive behaviors that cause Elijah to lash out when confronted with things that trigger hidden memories.
Written in revolving points of view, the reader slowly learns the truth about Elijah's terribly abusive childhood through his own memories and the feelings he holds deep inside regarding his new parents, grandfather, school friends and birth mother, Deborah. Letters from Deborah to Elijah--that Elijah has not seen--show the deep, albeit twisted, love his natural mother feels toward her son. And readers see how love for Elijah slowly solidifies in the hearts of Nikki, Obi and the other members of his new adoptive family, despite the angst he puts them through.
Watson's portrayal of these characters, through all their worries, fears and feelings, is forceful and potent as she slowly and with increasing intensity discloses the appalling truth of Elijah's past. The story is graphic in places and may make readers cringe, but the dominant factor of love that surrounds the story is liberating; it's doubtful there will be many dry eyes by the end. --Lee E. Cart, freelance writer and book reviewer
Shelf Talker: A novel that reveals the deep emotions surrounding profound love, physical abuse and cultural differences from the author of Tiny Sunbirds, Far Away.


Deeper Understanding
Robert Gray: Expletives Undeleted
I wasn't going to write about Clean Reader. Nope. I tried to forget. I really did. But then the good folks organizing Banned Books Week announced Wednesday that this year's focus will be on young adult titles. In recent years, the majority of challenged books have been in the YA category, including several on the recently released American Library Association's Top Ten Most Challenged Books of 2014 list.

And that's when I thought again about Jared and Kirsten Maughan's Clean Reader app, which they launched earlier this year after their daughter apparently came home from school complaining a library book she had read contained a few "swear words."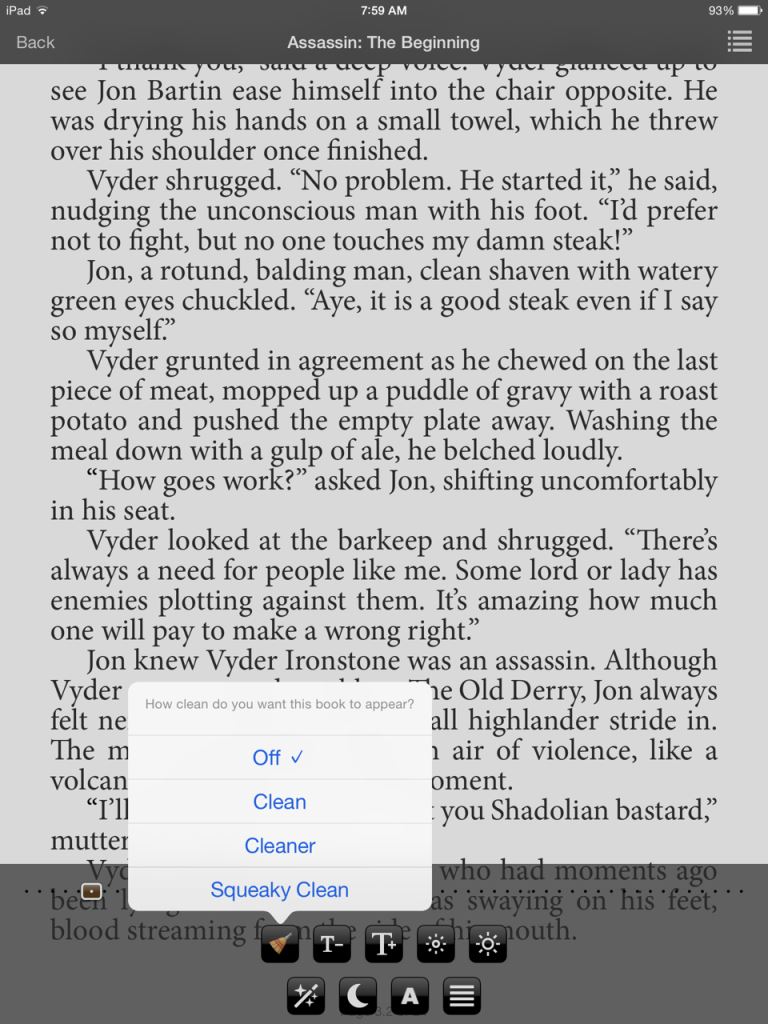 Here's the pitch: "Prevent profanity in books from being displayed on your screen with Clean Reader; the only e-reader that gives you the power to hide swear words in any e-book. Simply select from three settings to determine how clean you want your books to appear. Clean Reader then scans your book and prevents offensive words and phrases from showing up on the screen as you read. Every time a swear word is blocked from display a less offensive alternative with the same general meaning can be displayed."

Things got a little dicey almost immediately for the word-numbing startup, with many authors objecting to their books being tampered with. In a particularly scathing post on her blog, Joanne Harris wrote: "Anyone who works with words understands their power. Words, if used correctly, can achieve almost anything. To tamper with what is written--however much we may dislike certain words and phrases--is to embrace censorship."

By late March, @CleanReader was tweeting a slight change of course: "In response to authors wishes that we not sell their books, we have asked @pagefoundry to remove the bookstore from our app."

In the Los Angeles Times, David Ulin observed that he "was almost sorry" to see the developers remove books from their catalogue: "Not because I want my literature tampered with, but because the issues raised, about who owns a piece of writing, remain pressing and relevant."

When I first read about Clean Reader, I'll confess I thought it was a joke (like Dirty Reader, which "launched" on April Fool's Day with the slogan "Read Books, Enjoy Profanity!"), but the app also nudged me to consider what "control" means for us as readers. Do we really need more? We already have the upper hand when it comes to books because, well, we can read--or not read--whatever we choose to.

Beyond questions of text cleansing or copyright issues, Clean Reader prompted me to ask: Where the hell are we headed? For me, news stories about strange, redacting apps and seemingly endless YA book challenges evoke the dystopian vision of a future in which people will still be reading, but may only want to read about themselves. Why should reading be an escape from the narrow confines of your world when it can be a duplication of it? Why read at all? Why not just stand for hours staring into a mirror and telling yourself stories?

Selfie Lit, anyone?

"How much of this novel is based on your real life?" an author is being asked at this moment somewhere on the planet. It's sad to think that we might be heading toward a day when we can ask readers the same question.

When I was a bookseller, sometimes I offered this advice to customers: Make a quick list of all your personal data--age, sex, region, etc.--and then find novels that match absolutely none of those details. You are what you read is a much better motto than you only read what you are.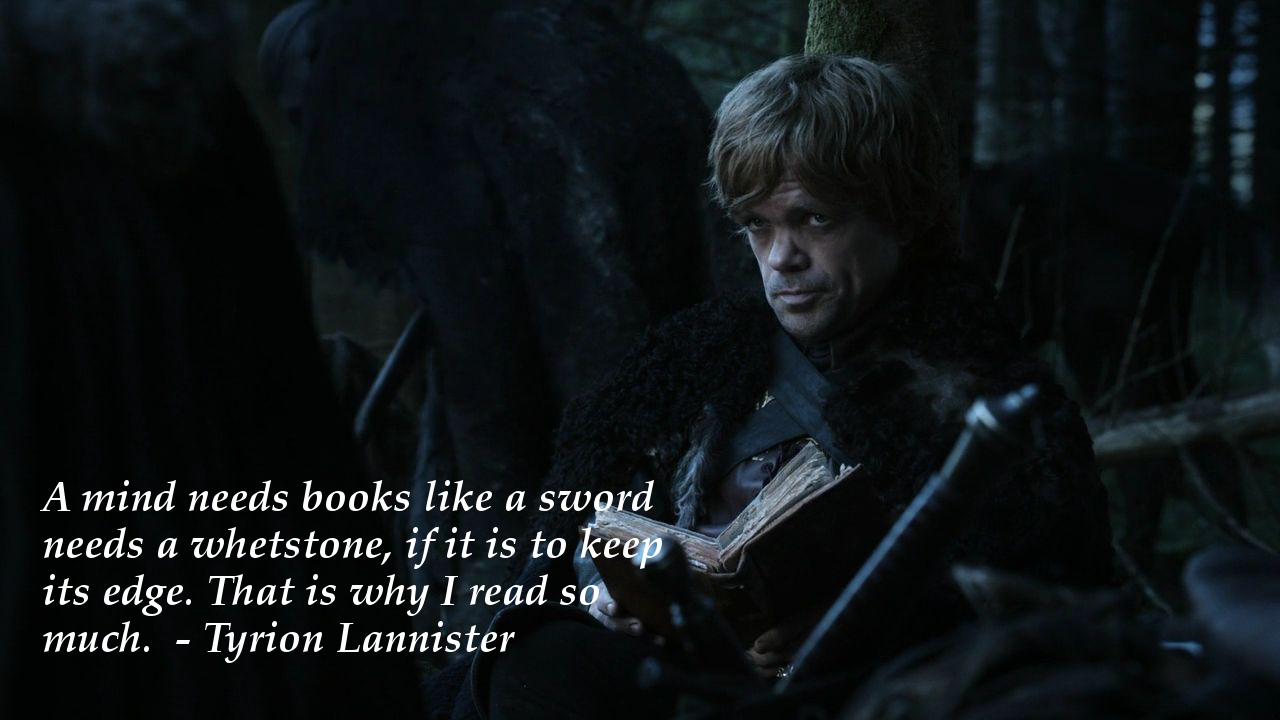 Last January, in the first flush of startup optimism, Clean Reader featured a curious deal on Twitter: "Game of Thrones 5 book bundle 50% off for the next 4 hours.... #GameOfThrones #cleanbooks." Even if the app does promise "the power to hide swear words," George R.R. Martin must have presented them with a challenge comparable to uniting the Seven Kingdoms.

In fact, I'd say Tyrion Lannister nicely sums up my thoughts about the Clean Reader app: "My mind is my weapon. My brother has his sword, King Robert has his warhammer, and I have my mind... and a mind needs books as a sword needs a whetstone, if it is to keep its edge.... That's why I read so much." May all your expletives be undeleted. --Robert Gray, contributing editor (column archives available at Fresh Eyes Now)