Shelf Awareness for Tuesday, December 7, 2010

News
Image of the Day: Rope, Prayer and Maladies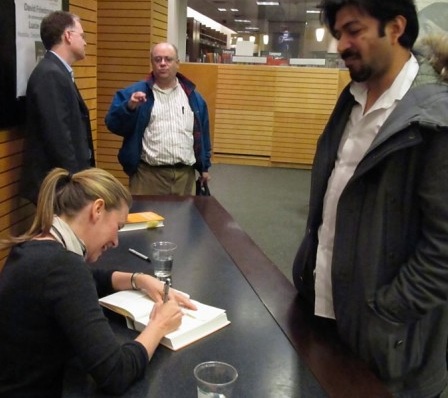 Authors supporting authors. At a signing at the Lincoln Triangle Barnes & Noble in New York City, Kristen Mulvihill, co-author with her husband, David Rohde, of A Rope and a Prayer: A Kidnapping from Two Sides (Viking), signs a copy of the book for Siddhartha Mukherjee, author of The Emperor of All Maladies: A Biography of Cancer (Scribner). Rohde is in the back at the left.

Photo: Gabrielle Gantz


At Last and With a Splash, Google eBookstore Opens

Yesterday Google officially launched Google Editions, now called Google eBookstore, a cloud-based site that instantly has become the largest e-bookseller in the world. On a post on the Official Google Blog, Google Books product manager Abraham Murray said that the service begins with three million titles, "hundreds of thousands" of which are for sale, and emphasized that e-titles are available from the Google eBookstore as well as "from one of our independent bookseller partners: Powell's, Alibris and participating members of the American Booksellers Association." Google e-books can be read on virtually any device where e-books can be used, with the notable exception of Amazon's Kindle, which has a proprietary system.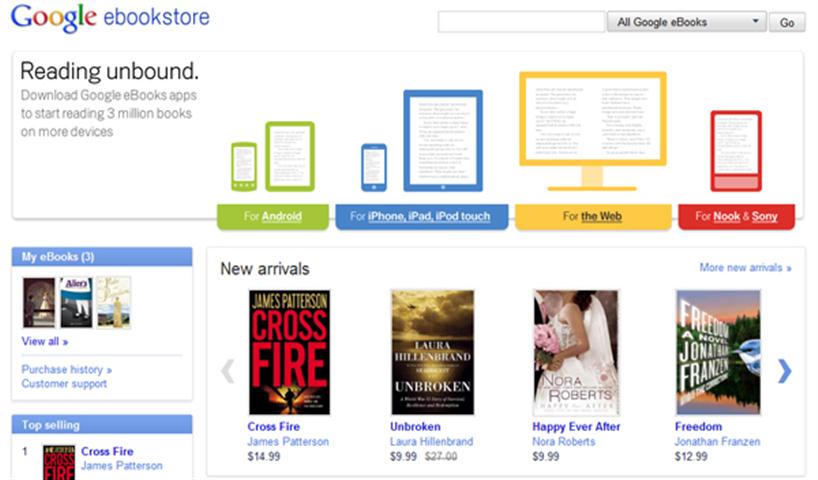 Independent booksellers, many of whom have feared being sidestepped by the dramatic growth in e-book popularity in the past few years, greeted the news enthusiastically. Michael Tucker, president of the American Booksellers Association, commented: "This partnership with Google is an important chapter in the renaissance we've been seeing in independent bookselling. It allows our membership to better compete with corporate retailers on selection, price, and convenience. It levels the playing field."

Many stores trumpeted the deal online. For example, Kepler's, Menlo Park, Calif., wrote: "Indie bookstore customers on the Peninsula no longer have to choose between reading digital and supporting their local bookstore. Kepler's is now selling Google eBooks online at Keplers.com."

Altogether 124 ABA member stores have begun selling Google eBooks on their websites. More will likely sign on. The stores must participate in the ABA's IndieCommerce program; in connection with yesterday's announcement, ABA launched IndieCommerce.com, which intends to answer consumer questions about e-books and e-readers and provide information to bookstores interested in the IndieCommerce program.

---

Powell's Books, Portland, Ore., which has been selling e-books for 10 years, is also an enthusiastic partner with Google. Powell's president Emily Powell said, "We chose to use the Google eBooks platform because it does not require our customers to limit themselves to a specific device. Our customers will be able to read their ebooks on equipment they already own."

Powell's said that the Google eBooks system allows the store "to incorporate employees' book knowledge and recommendations into the browsing process."

---

The ABA declined to comment on terms its members have set with Google eBooks; bookstores do get an unspecified cut of every e-book sale through their sites.

While prices for e-books from publishers who have adopted the agency plan for e-books--Hachette, HarperCollins, Macmillan, Simon & Schuster and John Wiley, with Penguin possibly arriving soon--are set across the board, prices for e-books from other publishers, notably Random House, follow traditional print form, meaning anything goes. Spot checks showed that Google seemed to be pricing such titles competitively against Amazon, B&N.com and other online retailers while so far indies were not being aggressive. For example, while Google, Amazon and B&N.com were all charging $9.99 for the e-book version of The Girl Who Kicked the Hornet's Nest by Stieg Larsson, a current Knopf hardcover bestseller, independents were selling the e-version for the same $27.95 that the printed version is going for. Powell's was an exception, selling the e-book for a slightly discounted $24.81.

A few indie fans worried that finally given a chance to compete in this crucial playing field, indies might blow it by pricing themselves out of the market.

In a related note, on her Booksellers Blog, Random House sales rep Ann Kingman asked a fundamental question for booksellers: "What are you going to do set your store apart from every other place I can download e-books?"

Among her suggestions: "trumpet the fact that you offer Google eBooks on your front page, and very loudly"; tie in e-book purchases with the store's loyalty program; promote staff picks, staff and customer reviews, and other content on the front page of the e-book section; provide help for customers who might have trouble navigating the account and checkout process.
Booksellers sounded happy to get in the game--and just in time. Mike Shatzkin of Idea Logical Company, who has famously predicted ever-increasing sales growth for e-books, bumped up those numbers even more yesterday. Speaking on NPR's All Things Considered, he said, "I don't know if it's going to be 100% in my lifetime, but in next 10 years, 80% or 85% or 90% of consumption is going to be e-books."
St. Mark's-OR Alliance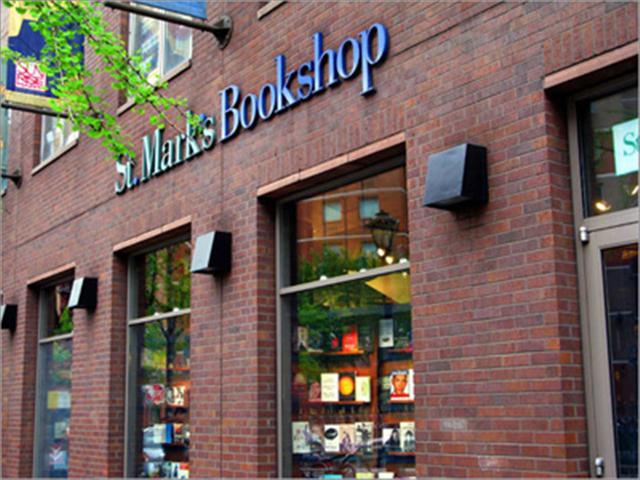 In a much smaller but very significant and related move, OR Books, the year-old publishing company founded by John Oakes and Colin Robinson that publishes only e-books and POD, has teamed up with St. Mark's Bookshop in New York City to allow St. Mark's customers to buy OR e-books and printed books on the store's website. This may be the first time a publisher has teamed up with an independent bookstore to sell e-books. OR hopes to expand the program to other bookstores in the U.S. and internationally.

St. Mark's owner Bob Contant commented: "We can now supply customers with books in any format they prefer--paperback, hardcover or electronic."

OR's John Oakes added, "We see no reason why Google Editions should have all the fun."

Great Expectations

Late yesterday, Amazon.com illustrated again how competitive and difficult the e-bookselling world can be:

On the day Oprah announced her new book club picks--A Tale of Two Cities and Great Expectations by Charles Dickens, titles being released by Penguin in one volume--the e-tailer sent an announcement noting that Kindle owners can download the public-domain books for free.

And Computerworld reported that Amazon plans to demonstrate today a new version of the Kindle for the Web that will "enable users to read full books in the browser and [enable] any website to become a bookstore offering Kindle books." The device likely won't be available until at least January--which in the fast-moving e-world feels like it might as well be a decade away.--John Mutter





Making Book on Borders's Bid for Barnes & Noble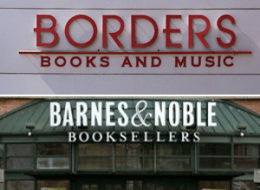 Oh, yes, there was another big story yesterday that was quickly eclipsed by the launch of Google eBooks: a possible $960 million Borders bid for Barnes & Noble that was acknowledged in a filing with the Securities and Exchange Commission.

Although intriguing, the bid that would be financed by equity fund head Bill Ackman seems as thin as a potboiler. The major problem is that Borders is in much worse shape in a variety of ways than Barnes & Noble. Its share price has hovered over just $1 a share for some time. It has deep debt, has laid off many employees, has suffered from a revolving door in the executive suite and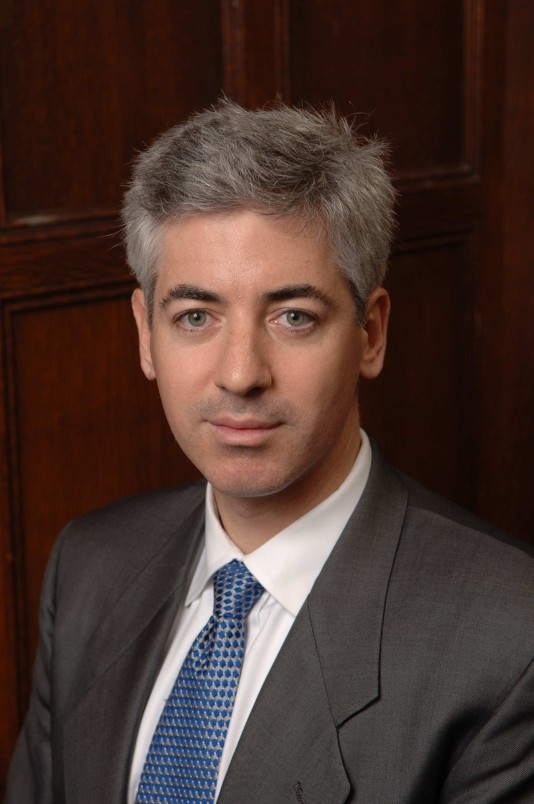 is late to the digital book game. The Wall Street Journal pointed out, too, that "B&N has more opportunity near term to reduce overcapacity by closing stores: 60% of the leases on its more than 700 stores (excluding college outlets) are up by 2014. But nearly three-quarters of Borders' 508 U.S. store leases run to 2017 or later."

Also while the $16-a-share offer was 20% above B&N's closing price last Friday, B&N rallied yesterday and closed at $15 a share, narrowing the premium. As the Journal noted, as many as 10 private equity and other firms are participating in B&N's strategic review process, and bids are expected to start above $20 a share.

In Daily Finance, Sarah Weinman shed some light on a quiet player in the drama, writing, "Even though [Bill] Ackman is in the news as the leading figure in the buyout, the tactics have Borders chairman and CEO Bennett LeBow written all over them. LeBow muscled his way into Borders' top position by acquiring a considerable amount of stock and warrants that, when they came due, gave him a 35% stake in the company.

"Past precedent shows that LeBow's modus operandi with companies is to buy his way into one, use it in an attempt to buy a bigger company--and sink both businesses in the process."

She added that the Borders offer might be incentive enough for B&N founder and chairman Len Riggio to make his own bid for the company.


Notes: More Book Lists; Last Pimp My Bookcart Winner
Another list of gift lists:
On Band of Thebes, 80 authors have selected their favorite LGBT books of 2010--altogether 100 titles. The most-mentioned book was Justin Spring's Secret Historian: The Life and Times of Samuel Steward, Professor, Tattoo Artist, and Sexual Renegade. Others included new works by Eileen Myles, Wendy Moffat, Adam Haslett, Lucy Jane Bledsoe, K.M. Soehnlein and Barb Johnson. Categories included poetry, graphic narratives, a cookbook--and an Archie comic!
The Seattle Times showcased "art books for the holidays."

Jess Walter, author of The Financial Lives of the Poets, recommended "5 Novels About Losing Your Job" for the Daily Beast, which noted: "In the midst of our recessionary times, it might be comforting to read these great novels about people losing their jobs."

Editors and writers at the Atlantic shared "their favorite titles from a year of reading."
---

The winners of the last Pimp My Bookcart contest from our friends at Unshelved include first prize honoree "I left my cart in San Francisco" from the Gleason Library at the University of San Francisco. See all the winners here--and give a moment of silence for the end of this often hilarious contest.
---
Dr. David A. Kipper, psychologist, research professor, philanthropist and husband of Chas. Levy Co. chair Barbara Levy Kipper, died last Thursday of cancer at his home in Chicago, according to the Chicago Tribune. He was 71.

Kipper was born in Tel Aviv and met his wife in New York, when he was studying at the Moreno Institute for Psychotherapy and Psychodrama. The Kippers helped facilitate the move of the Joffrey Ballet to Chicago from New York.

He wrote Psychotherapy Through Clinical Role Playing as well as many contributions to professional journals.
---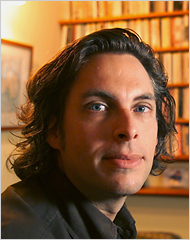 Congratulations to author Michael Chabon, who has become chairman of the board of directors of the MacDowell Colony, the Petersborough, N.H., which offers residencies to artists. He replaces Robert MacNeil, who has been chairman since 1993.

Chabon, who was first an artist-in-residence at MacDowell in 1996, commented on his appointment: "MacDowell is a miracle that has come through for me many times over the years. Serving as board chair gives me the opportunity to repay my indebtedness just a tiny bit."

One of Chabon's first duties is to support the final push for the MacDowell's $13-million Campaign for the Second Century that will build the endowment and fund a new library and media center.
---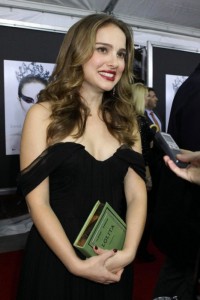 Literary fashion statement of the day: Natalie Portman appeared at the New York premiere of Black Swan carrying a purse made from of a copy of Vladimir Nabokov's Lolita. The Los Angeles Times Jacket Copy blog reported that the handbag "is by French designer Olympia Le-Tan. Her book bags feature a hand-stitched version of the books' covers, usually of titles or editions from the mid-20th century."

---

For only $22,500, you can buy a rejection letter from J.D. Salinger informing aspiring movie director Hubert Cornfield that the author is not interested in seeing The Catcher in the Rye filmed.

"I appreciate and respect your ardor, but for the present I see my novel as a novel and only as a novel," Salinger wrote. "Should I change my mind in the future--which is extremely doubtful--I very probably would take on any casting and directing chores myself." Flavorwire noted that "for a famously prickly and reclusive writer, it's a very gracious rejection."

---

Home library of the day. Modern Residential Design featured an open space, glass and concrete urban residence called Querasene House in Sao Paulo, Brazil, with a beautiful, 7,500-volume personal library.




Media and Movies
Television: Franzen's 'Best Moments' on Oprah
"The road to Jonathan Franzen's appearance on Oprah has been a long and fraught one," Flavorwire observed in featuring highlights from yesterday's highly-anticipated meeting, while confessing: "We turned in because we're suckers for a dramatic confrontation." Flavorwire's "best moments" included:


Oprah introducing Franzen to the audience: "I've been waiting a long time to meet this next guest." (knowing audience laughter) "Don't start with me, people."

When Oprah and Franzen went over their kerfuffle over The Corrections:
Oprah: "I remember I didn't want to make you feel uncomfortable... I had to read the press clips to see what actually happened."
Franzen: "One could be encouraged to forget. I spoke in very long sentences. Little pieces of those sounded bad. And your feelings were probably understandably hurt."

Franzen on the moral of that whole story: "The big thing I learned from the experience was to have more respect for television. Writers resent television because its so omnipresent. You don't remember how to communicate on a television level."


Theater: American Psycho--The Musical
First the novel by Brett Easton Ellis, then the movie starring Christian Bale and now, as the New York Post put it: "Move over, Sweeney Todd--another singing psycho is nearing his Broadway debut." American Psycho is being developed as a musical.

"Think about Malcolm McDowell singing songs during A Clockwork Orange. He sang 'Singing in the Rain,' " said Duncan Sheik, the show's composer. Sheik and playwright Roberto Aguirre-Sacasa have completed the first act, with a full draft expected by early next year.

The Post noted that this musical has been in development since 2008, when producers David Johnson, Jesse Singer, Nate Bolotin and Aaron Ray bought the rights to adapt the novel.

"There are murders, and they are on stage in full view of the audience," Aguirre-Sacasa said. "An ax and a chef's knife will be used. I think there's going to be a lot of blood."

Sheik added: "Obviously, it's not for the people who want to see Elf."


Media Heat: Remembering John Lennon

Tomorrow on NPR's Diane Rehm Show, remembering John Lennon on the 30th anniversary of his death:

Jon Wiener, author of Gimme Some Truth: The John Lennon FBI Files (University of California Press, $24.95, 9780520222465/0520222466).
Philip Norman, author of Shout!: The Beatles in Their Generation (Fireside, $16.99, 9780743235655/0743235657) and John Lennon: The Life (Ecco, $19.99, 9780060754020/0060754028).

---

Tomorrow on Tavis Smiley: Edmund Morris, author of Colonel Roosevelt (Random House, $35, 9780375504877/0375504877).

---

Tomorrow on CNN's Parker/Spitzer: Walid Phares, author of The Coming Revolution: Struggle for Freedom in the Middle East (Threshold Editions, $26, 9781439178379/1439178372).

---

Tomorrow on E!'s Chelsea Lately: Greg Fitzsimmons, author of Dear Mrs. Fitzsimmons: Tales of Redemption from an Irish Mailbox (Simon & Schuster, $25, 9781439182697/1439182698).

---

Tomorrow night on Colbert Report: Steve Martin, author of An Object of Beauty (Grand Central, $26.99, 9780446573641/0446573647).

---

Tomorrow night on the Late Late Show with Craig Ferguson: Russell Brand, author of Booky Wook 2: This Time It's Personal (It Books, $26.99, 9780061958076/0061958077).


Movies: Contemporary Frankenstein
Matt Tolmach, former co-president of Sony Pictures Entertainment, "is at the center of a preemptive pitch deal" to produce a contemporary version of Mary Shelley's Frankenstein, Deadline.com reported, noting that Craig Fernandez pitched the project and will write the script. Fernandez is also shopping his script for a futuristic adaptation of Rudyard Kipling's Captains Courageous that will be produced by Jon Shestack.


Books & Authors
Awards: Nero Winner; Agha Shahid Ali Poetry Winner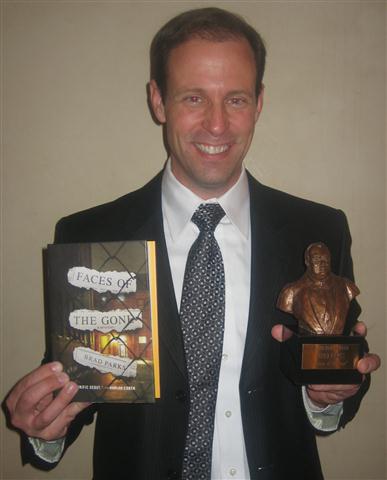 Brad Parks has won the Nero Award for Faces of the Gone (Minotaur), his debut mystery. Named for Nero Wolfe, the protagonist in some 72 Rex Stout novels and novellas, the award recognizes the best American mystery of the year and is given by the Wolfe Pack, a literary society.

In October Parks also won the Shamus Award for Faces of the Gone, making him the first person to win both awards for the same book in the combined 60-year history of the awards. Parks's next book in the series starring investigative reporter Carter Ross, Eyes of the Innocent, will be released in February.
---
Jennifer Perrine has won the Agha Shahid Ali Poetry Prize for In the Human Zoo, which, under the terms of the $1,000 award, will be published by the University of Utah Press in the spring. The press sponsors the prize with the university's English department. The prize honors the late poet and teacher.

Judge Anne Winters, professor emerita of poetry at the University of Illinois at Chicago, commented: "Jennifer Perrine's poems, saturated in taut emotion and even in overt violence, are yet cooled, disciplined, by rigorous rendering, carefully evoked locations and descriptions. Jennifer Perrine is a deeply committed poet, intelligent, intense and perceptive of the minutiae of inner and outer human trauma."

Perrine's first book of poetry, The Body Is No Machine, was published by New Issues and won the 2008 Devil's Kitchen Reading Award in Poetry. She teaches creative writing and gender studies at Drake University, Des Moines, Iowa.


Attainment: New Titles Appearing Next Week
Selected new titles appearing next Monday and Tuesday, December 13 and 14:

Witch & Wizard: The Gift by James Patterson and Ned Rust (Little, Brown, $17.99, 9780316036252/0316036250) continues a fantasy series for YA readers.

Tabloid Medicine: How the Internet is Being Used to Hijack Medical Science for Fear and Profit by Robert Goldberg (Kaplan Publishing, $25.99, 9781607147275/1607147270) explores the dangers of turning to celebrities instead of medical professionals for advice on issues like vaccines and cancer.


Now in paperback:

Star Trek: Myriad Universes: Shattered Light by David R. George III, Steve Mollmann, Michael Schuster, and Scott Pearson (Star Trek, $16.99, 9781439148419/1439148414).

Sports Illustrated Almanac 2011 by the editors of Sports Illustrated (Sports Illustrated, $14.99, 9781603208635/1603208631).


Our Top Ten Lists, Part I
Each year, we ask our staff and reviewers to share their favorite books of the year. Here's the first installment, with more to come over the next few weeks.
Top Ten Books of 2010: Valerie Ryan, reviewer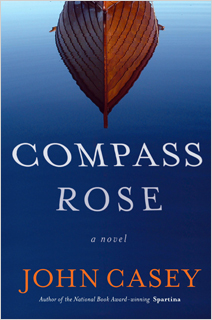 Compass Rose by John Casey (Knopf). Read the National Book Award-winning Spartina first for the full flavor of Casey's magnum opus (or magna opera). Casey can write the thoughts, feelings, emotions, hopes and dreams of women, be they wives, mothers, daughters or lovers, better than anyone since Reynolds Price wrote Kate Vaiden. Rhode Island commercial fisherman Dick Pierce and Elsie Buttrick form the centerpiece of this tale of an insular community, the interconnected lives of all who live there and the hurricanes they live with, internal and external.
Moonlight Mile by Dennis Lehane (Harper). Patrick Kenzie and Angie Gennaro are back! This book is not as edgy as the others, but they are married and have a baby now, so that ups the ante and adds some gooey baby talk. The little girl in Gone Baby Gone is missing again, 12 years later, and Kenzie and Gennaro are on the hunt. The Russian thugs are cartoonish but Lehane's dialogue is fresh and sassy as ever.
Freedom by Jonathan Franzen (Farrar, Straus & Giroux). Walter and Patty Berglund are navigating their way through their marriage, jobs, the daily news, a son who moves in with the right-wing next door neighbors, Patty's ongoing infatuation with Walter's friend, rock musician Richard Katz--and their compass fails. Franzen somehow, magically, raises all of this out of the realm of the mundane and illuminates the 21st century for us.
Our Kind of Traitor by John le Carré (Viking). Le Carré's axiom that they are all bad guys, no matter what side they're on, is borne out once again in this tale of money laundering and other nefarious acts. A young Oxford don and his girlfriend go on an off-season getaway to Antigua. They run into a bluff and hearty Russian multimillionaire who wants a game of tennis, and that's not all; what he's really after is help defecting to England.
Matterhorn by Karl Marlantes (Atlantic Monthly Press/El León Literary Arts). Thirty years in the making, this might be the definitive Vietnam War book. Marlantes was there, and the immediacy of his experience is present on every page. In circumstances of squalor, bad food, killing heat and humidity and body rot, young men are sent repeatedly to take a big hill. They succeed and are then told to give it up. The fatuousness of war comes through loud and clear.
Lacuna by Barbara Kingsolver (Harper). In Kingsolver's book, "lacuna" is used actually and symbolically, as a foreshadowing of events to come and, in its larger meaning, as a symbol for the enormous chasm between truth and perception. Harrison Shepherd is accused of being a Communist because he served as general dogsbody for Frida Kahlo and Leon Trotsky in Mexico. Kingsolver uses this as a springboard for the exploration of a dark period in American history.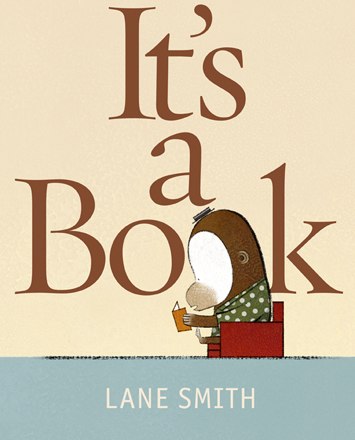 It's a Book by Lane Smith (Roaring Brook Press). We needed this! A funny, telling look at what is becoming of print in the hands of the young--some of them. A jackass questions monkey (and mouse tagging along under his hat) about what it is he has in his hand. He asks all the obvious questions: "Can you blog with it, can you scroll down" and is answered each time with, "No, it's a book." Much too good for kids.
The Noël Coward Reader, edited by Barry Day, foreword by Cameron Mackintosh (Knopf). An entertaining introduction to the life and work of the inimitable Noël Coward for those who do not know about either. Short stories, essays, patriotic works, plays, songs, light verse--filled with wit and sophistication. Even his snarky sarcasm was irresistibly clever! Wait! I think I hear him singing "Someday I'll Find You."
The Possessed by Elif Batuman (Farrar, Straus & Giroux). The subtitle of Batuman's book, "Adventures with Russian Books and the People Who Read Them," doesn't begin to tell the tale of this quirky, funny, erudite hybrid of intellectual razzle-dazzle, graduate school angst, youthful high spirits and a serious examination of aspects of Russians and their literature never before undertaken in quite the same way. Her descriptions of life in Samarkand, living with her boyfriend and studying with a series of eccentrics is told dead-pan and makes you laugh out loud. Don't miss this one-off.
Instead of a 10th book, I would like to mention 10 favorites that are certainly not past their sell-by date, but might be overlooked in the tumult of the NEW! They are: City of Thieves, The Glass Room, Mudbound, Goldengrove, Border Songs, Any Human Heart, The House on Fortune Street, The Song Before It Is Sung, White Tiger and Olive Kitteredge.
---
Top Ten Books of 2010: Debra Ginsberg, reviewer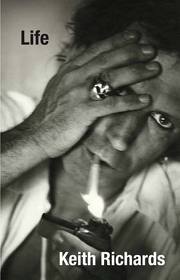 Life by Keith Richards (Little, Brown). Sex, drugs and Keith Richards. Enough said. Easily one of the best rock 'n' roll memoirs out there.
Savages by Don Winslow (Simon & Schuster). Fast, funny, dirty, and very clever. An expert crime writer, Don Winslow exposes the dark side of his sunny SoCal setting.
Blind Descent by James Tabor (Random House). James Tabor's meticulously researched account of deep cave exploration is a thrilling nail-biter. Make sure to read this tale of the dark world under the earth's surface with all the lights on.
Still Midnight by Denise Mina (Reagan Arthur Books). An outstanding thriller from Scottish writer Mina; dark, thoughtful and full of fascinating character studies.
The Good Son by Michael Gruber (Holt). Michael Gruber is surely one of the best--and smartest--thriller writers working today. This complex tale of terrorism, faith, and family is no exception.
It's A Book by Lane Smith (Roaring Brook Press). This sweet and clever hardcover about the unbridled joy of reading (and of books) may be one of the most important children's books in recent memory.
One More Theory About Happiness by Paul Guest (Ecco). Poet Paul Guest's memoir of living with quadriplegia and becoming a writer is beautifully crafted and never self-pitying.
Game Change by John Heilemann and Mark Halperin (Harper). A truly juicy and compulsively readable account of the 2008 presidential campaign. Schadenfreude for everyone!
Broken by Karin Fossum (Houghton Mifflin Harcourt). This chilling novel of psychological suspense from Norwegian writer Karin Fossum has a metafictional twist that renders her dark take on human nature completely irresistible.
Just Kids by Patti Smith (Ecco). More than simply an account of her evolution as an artist, Patti Smith's elegant, poetic memoir is also a deep and bittersweet love story.
---
Top Ten Books of 2010: Marilyn Dahl, book review editor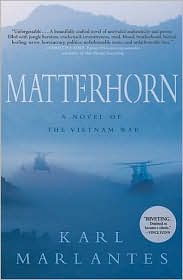 Matterhorn: A Novel of the Vietnam War by Karl Marlantes (Atlantic Monthly Press with El León Literary Arts) If I had any reservations about reading another novel about the Vietnam War, I soon abandoned them with this mesmerizing, heart-pounding ride through three months of combat. Karl Marlantes has written a novel that is vivid, thrilling and authentic, a timeless tale of bravery, misery, stupidity and love; in essence, a hero's journey, a quest for meaning. In telling the eternal story of an insane war, he has created a wondrous and remarkable book, written from the deep places of the heart with passion and courage.
City of Tranquil Light by Bo Caldwell (Henry Holt) This is an enthralling love story about Will and Katherine Kiehn, their adopted country of China, and their God--a deceptively straightforward tale told in powerful, profound prose. It's based on the life of Caldwell's maternal grandparents, who were missionaries in China and Taiwan from 1906 to 1961. In melding fiction and truth, we learn about remarkable lives, but also sense that we are discovering what Caldwell herself has learned of life and love and faith.
The Wake of Forgiveness by Bruce Machart (Houghton Mifflin Harcourt) Bruce Machart has written a marvel of a book, stunning and riveting, set in Texas in the early 1900s. The story of Karel Skala, his brothers and his brutal father is a heartbreaking exploration of how mother-loss can shatter lives. His depictions of a hard land and a hard life, softened by women and the distractions of beer, church and polka music, evoke a recent past so clearly one can hear the click of dominoes and taste a cold pilsner. His rich prose shimmers and shocks, as the tragedy sown in the wake of the plow turns into the wake of redemption.
Anthropology of an American Girl by Hilary Thayer Hamann (Spiegel & Grau) This novel opens in the autumn of 1979, with teenage Eveline on the cusp of womanhood, and follows into her 20s as Hamman explores themes of love and loss, trust and betrayal, innocence and maturity. This is an incredibly intense and passionate book; it's romantic in the grand sense, a rich, affecting experience. It's completely entrancing, and while you don't want it to end, you still feel tremendous satisfaction at the finish.
Skippy Dies by Paul Murray (Faber & Faber) Right at the beginning, Skippy does die. But how? And why? Those questions form the core of this hilarious and harrowing novel set in an elite Dublin boys' school. It's inventive, haunting and brilliant, laced with broad humor and subtle wit. Murray confronts the "grinding emptiness" at the heart of the adult world, and mourns for the schoolboys being pushed into that world without a moral compass. Skippy Dies was longlisted for the Man Booker Prize this year; we're amazed (but not bitter) it didn't win.
The Crying Tree by Naseem Rakha (Broadway reprint) An absolutely mesmerizing novel about tragedy and the redemptive power of forgiveness, plotted around the killing of a boy and his murderer on Death Row. Rakha has written a book that is almost impossible to put down. It is hauntingly beautiful, with wonderfully complex characters; there are a few surprises in the story, but the point is not the mysteries of fact, but the mysteries of the heart.
An Altar in the World by Barbara Brown Taylor (HarperOne reprint) Taylor is writing for people who long for more meaning, more feeling, more connection, more life. She says for now, we must open our arms to what is, instead of waiting for what should be. We must pay attention to the spot we're standing on, to the people around us. "The most ordinary things are drenched in divine possibility." With wisdom, grace and wit, she has given us a blessing with this honest and beautiful book.
Major Pettigrew's Last Stand by Helen Simonson (Random House) An absolutely charming book about a widower, Major Pettigrew, and a widow, Jasmina Ali. The Major is a very proper Englishman, Jasmina is Pakistani shopkeeper, and they somewhat surprisingly become friends when the Major's younger brother, Bertie, dies. There is some Pettigrew family drama concerning a set of matched pistols that the Major wants to reunite (Bertie had one of them), but the drama, and comedy, of the growing friendship between Jasmina and the Major is the attraction here. Simonson has written with aplomb a sweet, tart romantic comedy--it's hard to believe this is her first novel.
Game Change: Obama and the Clintons, McCain and Palin, and the Race of a Lifetime by John Heilemann and Mark Halperin (Harper) I usually reserve the words "page turner" for mysteries, but if any book should be called a page turner it's this one. It's fascinating, it's horrifying, it's riveting, and... it's juicy. Really juicy. I hope for a return engagement in 2012.
Hush by Eishes Chayil (Walker Books for Young Readers) Ostensibly geared to the YA market, Hush can, and should be, read by adults as well. A 17 year-old Hasidic girl, Gittel, is to be married soon, but she's haunted by her friend Devory's suicide. She knows why Devory killed herself, but in Gittel's insular religious community, her secret cannot be spoken of, because "that" just doesn't happen in her world. Her struggles with her faith and her knowledge are the core of this unforgettable novel.
Two authors, not books, round up the list to 11: Georgette Heyer and Edmund Crispin. I had read both of them years ago, and have happily rediscovered them thanks to Sourcebooks (Heyer) and Felony & Mayhem (Crispin). Heyer is best-known for her Regencies, but her mysteries are quite wonderful. Written between 1932 and 1953, they are in the vein of Christie, Tey, Allingham and Wentworth, but are distinguished by the wit that makes her Regencies so appealing. Crispin wrote in the '40s and '50s, with a literary, humorous (and often farcical) style. His character, Oxford don Gervase Fen, is brilliant, cranky, eccentric and sarcastic, and Crispin's prose is a delight.
And another vote for It's a Book!


Book Review
Book Review: Women of the Underground: Music
Women of the Underground: Music: Cultural Innovators Speak for Themselves by Zora Von Burden (Manic D Press, $15.95 Paperback, 9781933149196, September 2010)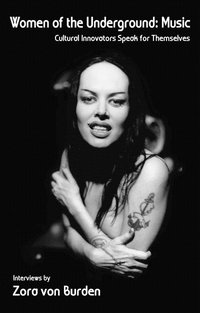 Candor, good humor and hair-raising tales of rock 'n' roll life on the road and in the studio abound in this terrific collection of interviews with women who have contributed so much to the music of our time. Among the more widely known of the 20 women Zora von Borden spoke with are Laurie Anderson, Nina Hagen, Phoebe Legere and Wanda Jackson, the Queen of Rockabilly, but everyone here, even those new to me, has wisdom and wit to impart. "Risk is the fountain of youth and the fire of transformation," says Adele Bertei of the Contortions; Miss Mercy of the GTOs (Girls Together Outrageously) reveals that Alice Cooper copied her makeup--"His name was Vince when we met him." There are no secrets in a rock 'n' roll band.
Von Burden wants to know how each one of her 20 "insurgents" became interested in music (many played instruments as children) and who influenced them. She also is curious about how they view their legacy and whether they were aware they were making history when they started performing; a surprising number agree with Pam Tent (Sweet Pam of the Cockettes): "We never considered posterity. We were too busy living in the moment." Despite not thinking about their influence on others, many have been thanked by younger women for providing inspiration for them. The downside of being a role model shows up when Deanna Ashley of Frightwig recalls playing a show in Zurich where they were billed as the "grandmothers of riot grrrl."
Punk, which thrived on raw emotion, was the perfect road into performing for people who fell a little short on technique. The important part for many here was to connect with the audience and to put on a good show (many band members met at art school). Masters of their instruments or not, they took performing seriously (as well as their band names, calling themselves the Bags, the Slits and Southern Culture on the Skids). Patricia Morrison of the Damned sums it up: "It really was all about the music. And Bacardi." Yes, Virginia, liquor, drugs and sex accompanied the musicians everywhere, and yet until a band started making money, issues of sexism seemed not to arise. Phoebe Legere is one of the few to speak out about the presumptions some music industry honchos have about the women musicians they sign. "Just because you have good hair does not mean you are stupid," she says philosophically before getting back to work. Rock on, my women!--John McFarland
Shelf Talker: A terrific collection of interviews with women who have contributed so much to the music of our time.