Shelf Awareness for Friday, February 25, 2011

Quotation of the Day
'Imagining the 21st Century's Digital Bookstore'
"As more and more Americans choose to order books online, or to switch to e-books, they don't need to patronize physical bookstores any longer. But any sales person ought to know that need and want are two different things.... I can find a much larger selection of books by firing up my Web browser than heading over to my local Borders, which is among those scheduled to close. I don't need that Borders in order to find and buy the books which interest me.

"But, as an enthusiastic reader, I want to have an excuse to get out of the house once in a while and spend some time alone with fresh books and magazines. My middle-school, book-worm daughter wants a place to hang out
with her friends after school. No, we don't need a physical place to buy books any longer, but we want that alternative.... While it's nice to daydream as a consumer about the type of bookstore I want to see in my neighborhood, for publishers, a functional 21st-century physical bookstore isn't just a want, it's something we will continue to need."


News
Notes: Mysterious Galaxy Expands; Kindle Books for Indies?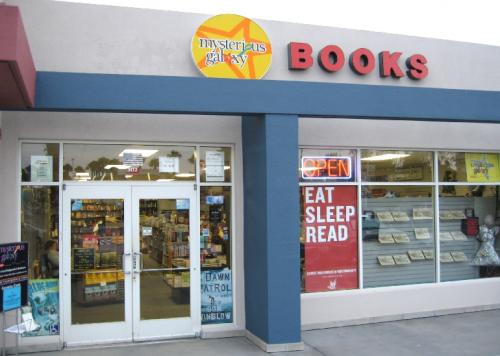 Mysterious Galaxy bookstore, San Diego, Calif., plans to add a second location in Redondo Beach this summer, with grand opening events to be held in October. The original bookstore opened in 1993, and co-owners Maryelizabeth Hart, Terry Gilman and Jeff Mariotte cited an active program of author appearances and off-site events, a knowledgeable staff and a deep selection in specific genres as reasons why it has become a successful specialty store.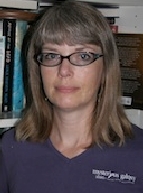 "There's so much bad news in the industry right now--bankruptcies, store closings and the like--but the fact is that there are opportunities for growth," said Hart. "Mysterious Galaxy has always been about combining our love of books with an emphasis on creating community, and exercising sound business judgment. We expect the Redondo Beach location to continue setting standards for excellence throughout the bookselling world."

Gilman has tested the waters in the Manhattan Beach/Redondo Beach area with Ladies, Lunch, and Literacy, a popular book-and-author series she launched in 2008. The response was a significant factor in their decision to expand into the South Bay area. The new store will occupy 4,000 square feet of a 6,000 square foot building at 2810 Artesia Boulevard, with the remaining footage occupied by a café. It will continue the focus on Mysterious Galaxy's current specialties--mystery, science fiction, fantasy, urban fantasy and horror--but with a wider selection of books outside those genres.

---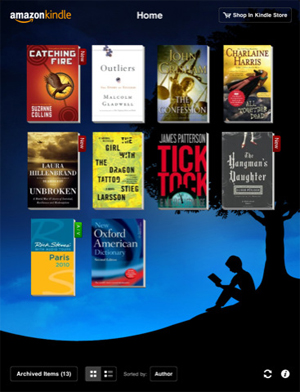 Will bookstores eventually be able to sell Kindle books? Cnet reported that Amazon might be working on a way to circumvent Apple's new rules on subscriptions by utilizing the Kindle app for iOS, citing a blog post by author Chuck Toporek. Amazon's Kindle for the Web, which is still in beta, currently lets people read chapter previews of Kindle e-books in their browsers. "While this works seamlessly on the desktop and iPad, getting Kindle for the Web to work on an iPhone takes a little extra work, but it can be done," Toporek noted.

The Kindle for the Web page also makes some intriguing "coming soon" promises, including:


Read the full text of Kindle books in your web browser. No download or installation required.
Bookstores, authors, retailers, bloggers and other website owners will be able to offer Kindle books from their own sites, let their readers start enjoying the full text of these books instantly, and earn affiliate fees for doing so.

Toporek suggested "the reason we haven't heard Jeff Bezos screaming about this recent change to the IAP rules is because Amazon isn't worried. They have a solution already in beta testing and it works just fine. Instead of using the Kindle app, iOS users can just point Safari to Amazon's site, buy the Kindle e-book, and read it right there in Safari. No app required."

---

Google's web-based Android Market is also experimenting with the e-book business. PC Magazine investigated an IntoMobile.com report Thursday that e-books had begun to appear (including Raymond Carver: A Writer's Life), but initially "was unable to pull up any e-books when it checked the site's listings, and neither the book's author, Carol Sklenicka, nor the title of the book returned any hits in the search results. Later, however, the e-book capability appeared."

---

Bookselling This Week reported that 25 new ABA member bookstores opened in 2010, "with several filling voids left by the closing of chain stores. The openings, and neighborhood response, suggest growing support for locally owned businesses, along with continued support for bricks-and-mortar stores."

Bill Skees, owner of Well Read, Hawthorne, N.J., said, "The great thing about this first year is that every day is a record day. I hear almost daily, 'I can't believe that Hawthorne has its own bookstore!' "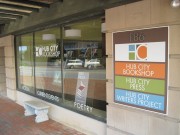 Hub City Bookshop Spartanburg, S.C., "has been going extremely well," said Erin Haire. "We are Spartanburg's only independent bookstore, so folks are very happy about that. We exceeded our 12-month sales goal in our first six months, and that is due in large part to the community response."

Kim Krajniak, owner of Blue Phoenix Books, Alpena, Mich., "received a great welcome from the community [and] exceeded Christmas-time projections by 50%.... Overall, Alpena is happy to have a bookstore again."

---

Some 40 people recently attended the second organizational meeting to start a new bookstore in Nashville, Tenn., to replace the Davis-Kidd Booksellers that closed at the end of last year, according to literary agent Mary Grey James. Attendees included public library staff and board members, former David-Kidd employees, publishers reps and authors. Former Nashvillians Donna Paz Kaufman and Mark Kaufman of Paz & Associates flew in for the meeting and gave advice. Donna spoke of the need for an "organic growth of a passionate people" and pointed out the basic steps to this "creative challenge" of finding the right location and that effective person who will be "the face of the store" to the community.

One result of the meeting: a committee is being formed to look for a store location, secure financial backing and find an entrepreneurial person to manage the store. The coordinator and contact person is Karen Hayes, who may be contacted at kmhayes2003@comcast.net.

---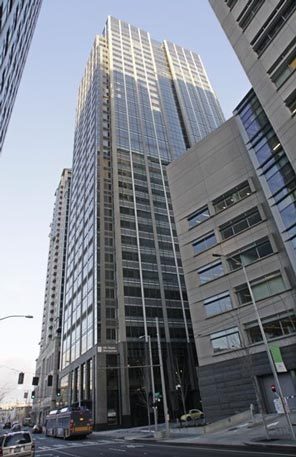 Amazon may be closing its distribution center in Texas, but the "space-hungry" company, "which already has long-term leases for nearly 2 million square feet of office space in greater downtown Seattle over the past three years, is poised to take another big chunk," the Seattle Times wrote in reference to 1918 Eighth Avenue, a Denny Triangle tower "that was completed in late 2009 and has remained mostly empty. On Amazon's behalf, a contractor filed a permit application this week with the city Department of Planning and Development for tenant improvements to floors 4 through 19 of the 36-story tower."

Kate Joncas, president of the Downtown Seattle Association, said, "When a company like Amazon locates downtown, it has a huge impact. Its large employee base impacts our housing market, attracts other businesses to the area, and helps to add vibrancy to an entire neighborhood, as we're seeing in South Lake Union."

---

An additional 75 Borders stores could be added to the 200 locations announced as closing when Borders filed for Chapter 11 bankruptcy. Andy Graiser, co-president of DJM Realty--which is managing the disposition project--told Chain Store Age: "There could be at least another 70 to 75 stores to liquidate over the next 30 days. We are currently working with a number of landlords to renegotiate the leases; during the next 30 days we will save some stores and others will go into the next round of closings. This is a very common procedure, as retailers in bankruptcy typically go through more than one round of store closings."

---


In Iran, a tough economy and stricter government control of publishing are having a negative impact on booksellers. Reuters reported that the head of Sales bookshop and publishing house "made the news recently when he said he was considering closing down his famous shop. Mohammad Ali Jafarieh told the semi-official ILNA news agency in January that more than 40 Tehran bookshops had already closed."

"Customers often ask if there is a discount on book prices. I ask you, do you get a discount on a sandwich?" said Pejman Soltani, owner of Vistar bookshop in downtown Tehran. He cited the end of government subsidies and general price increases as new threats. "When the time comes for the substantial price rises, I think people will omit books from the shopping basket."

Despite the challenges of running a bookstore in Iran, Soltani said he would continue for now: "The sale (of books) here is the outcome of years of work and perseverance. It is also the result of our passion for culture, although this passion sometimes borders on stupidity."

---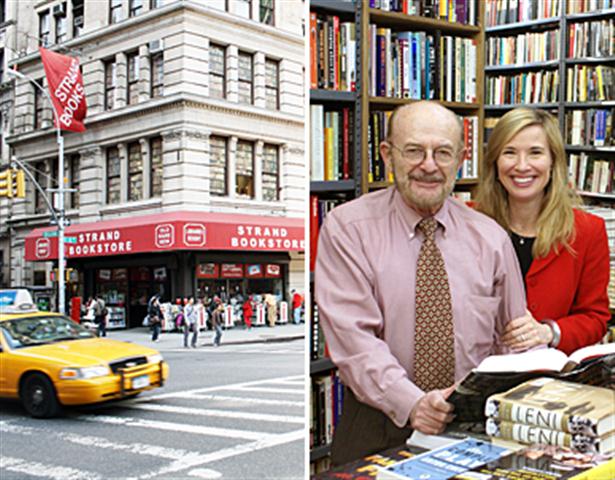 Nancy Bass Wyden, co-owner of New York City's legendary Strand bookstore spoke with the Daily Beast about the world of bookselling after Borders's bankruptcy.

"Because we are a family-owned business, we are able to make changes quickly in response to the needs and desires of our customers--we recently overhauled our website, which makes up about 25% of our annual sales; we added a nostalgic candy line so customers can reward themselves after shopping; and we are close to adding a stationery 'store' within the store as stationery is very popular with our customers," she said.

Asked if there is a future for traditional bookstores, she observed: "I really believe there is. I know so many people who love their e-reader for traveling but still prefer handling a book when they are in the comfort of their home. I think traditional bookstores just have to think outside the box and listen to their customers. Traditional bookstores can offer a unique space for community-building, where people can share ideas."

---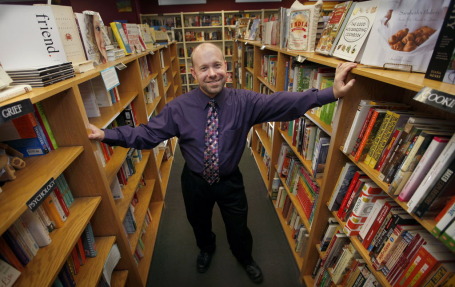 In a letter to his customers, Charlie Leonard, owner of the Bookcase of Wayzata, Wayzata, Minn., said he hopes to relocate the bookstore rather than close it, and is looking for "a more affordable spot" downtown, the Minneapolis Star Tribune reported.

"We have made no secret over the past few months about the struggles we are facing in our uphill battle to simply break even," he wrote. "To that end, we have come to recognize that our No. 1 problem right now is the cost of renting our building.... Our lease at 607 East Lake Street does not expire for a few more years. However, we have reached an agreement with our landlord to begin actively looking for a new tenant for our space now--in the hopes that we can relocate as quickly as possible."

---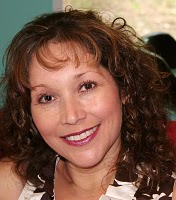 Teresa Carbajal Ravet, for whom "food and language lie at the center of her culture," owns Dulce Bread & Bookshop, Dripping Springs, Tex., and Bookselling This Week showcased her bookstore as well as her mission "to introduce and familiarize the U.S. community with the ethnic community of artists."

Dulce Bread & Bookshop has been open for a year. "I've been pleasantly surprised by the excitement it has generated," she said. "We have been steadily growing. There have been some tough times, obviously, and last year was very iffy, but [the store] is showing a lot of promise."

She added that her "relation to books and food is that I can't have one without the other. Because I have a multicultural store, promoting cultural awareness, it is my instinct to promote cultural sweet bread.... This is just what we do in my culture. If I have a book, a piece of bread, and a cup of coffee, I'm good to go."

---

Independent bookstores in western Connecticut are "hanging in," the Litchfield County Times reported, noting that "among the longtime establishments with a devoted clientele" are the Hickory Stick Bookshop, Washington Depot; House of Books, Kent; and Bank Street Book Nook, New Milford; as well as a "a crop of antiquarian booksellers." The only Borders bookstore in the region will be closing.

"For many people, unfortunately, over the years, those stores have become their local bookstores," said Hickory Stick owner Fran Keilty. "The disadvantage of a box store is it's a corporate structure. We're not a corporate structure; we're deeply imbedded in our local community, which is Litchfield County, and we're looking forward to being around for a long time."

---

In response to recent events in Egypt and other North African and Middle Eastern countries, Books for Understanding, a public service of the Association of American University Presses, has compiled a bibliography of more than 160 titles "on Egypt's politics, history, economy, and culture to shed a brighter light on today's events."

---

Check this out, library fans: Matador Trips featured a stunning photo essay, "Amazing Libraries Around the World."

---

John le Carré has donated his literary archive to Oxford University's Bodleian Library. Included among the collection are handwritten and typed drafts of Tinker Tailor Soldier Spy under its original working title, The Reluctant Autumn of George Smiley, the Telegraph reported.

---

Literary Lost & Found Dept.: The Daily Mail reported that a "long-forgotten yellowed manuscript, which had spent decades gathering dust," is a previously unseen novel by U.K. children's author Enid Blyton. Mr. Tumpy's Caravan is the 180-page "tale of a magical caravan and the travels of its inhabitants."

---

For NPR's Three Books series, Heidi Durrow, author of The Girl Who Fell from the Sky, chose Three Books to Rescue Nordic Lit From the Dark Side: Silence in October by Jens Christian Grondahl, The Summer Book by Tove Jansson and Quicksand by Nella Larsen.

---

Book trailer of the day: The Confessions of Nat Turner by William Styron (Open Road Media e-book), featuring Henry Louis Gates, Jr.


Media and Movies
Media Heat: Mark Childress on NPR's Weekend Edition
Tonight on Last Call with Carson Daly: Robert Elder, author of The Film That Changed My Life: 30 Directors on Their Epiphanies in the Dark (Chicago Review Press, $16.95, 9781556528255).

---
Sunday on NPR's Weekend Edition: Mark Childress, author of Georgia Bottoms: A Novel (Little, Brown, $24.99, 9780316033046).


Movies: Water for Elephants
Next Tuesday, the movie tie-in edition of Sara Gruen's Water for Elephants (Algonquin, $7.99, 9781616200718)--with a cover featuring co-stars Robert Pattinson and Reese Witherspoon--will be released. USA Today reported that the "film isn't in theaters until April 22, but advance publicity has helped boost sales of the 2006 novel about a traveling circus. This week it's number 8 on USA Today's Best-Selling Books list. The highest the novel has been is number 4, in August 2007, after it was first released in paperback."

"I expect we'll see a huge increase in sales of all available editions, including e-books and audio," said Algonquin's associate publisher Ina Stern.


Trailer for Murakami's Norwegian Wood
The official trailer has been released for Norwegian Wood, which opens in the U.K. March 11. Word & Film observed that "this lyrical trailer makes it all the more mystifying that Anh Hung Tran's adaptation of Haruki Murakami's Norwegian Wood has yet to score U.S. distribution.... We're doubly anxious to get a look at the results of this cinematic mashup between two epically talented artists--Radiohead guitarist Jonny Greenwood, who wrote the film's score, and Murakami, a master of elegant and emotionally astute storytelling. This trailer has only ratcheted up our anticipation levels and cemented our determination to see this film on the big screen, even if it involves purchasing a ticket to Japan. Gorgeous."


Books & Authors
Awards: CBC Bookies
CBC Books announced the winners of the Bookies, its first book club awards. Quillblog reported that the contest, "which celebrates some of the best Canadian literature of the past year, was decided by a reader-generated nomination and voting system." You can find a detailed list of the winners here.


Book Brahmin: Marie Mockett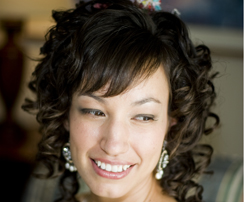 Marie Mutsuki Mockett was born in Carmel, Calif., to a Japanese mother and American father. Her Japanese family owns a Zen Buddhist temple where she often played as a child and which, among other things, performs exorcisms. Mockett's work often focuses on the intersection between spirituality and materialism in Japan and the U.S. Her poems, stories and essays have appeared in Agni, the North Dakota Quarterly, Phoebe, Fugue, LIT and other journals.
Mockett's debut novel, Picking Bones from Ash (2009), is now available in paperback (Graywolf, February 1, 2011), featuring a new cover, two original essays by the author and book group discussion questions.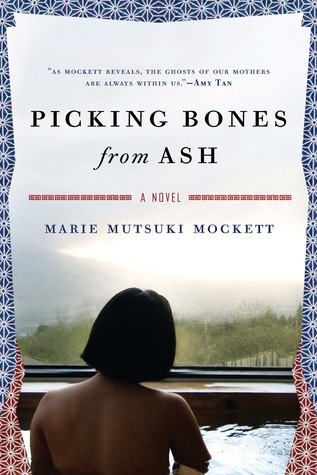 On your nightstand now:
Memento Mori by Muriel Spark; Buddha in Paradise, the Rubin Museum of Art; The Cuckoo's Egg by Clifford Stoll; Apollo's Angels by Jennifer Homans.
Favorite book when you were a child:
There were so many. One that stands out: Nothing at All by Wanda Ga'g.
Your top five authors:
A random five--I hate rankings and will be sorry tomorrow not to have listed a different five writers:
John Steinbeck; the Brontes (technically three authors, I know); John Fowles; Cormac McCarthy; Shakespeare.
Book you've faked reading:
In my semester abroad in France, we were to read Le Rouge et le Noir by Stendhal in French. I was about a quarter of the way through when I realized I was hopelessly behind everyone else, so I went to Brentano's and bought The Red and the Black in English. Then it turned out I was ahead in the class. I felt like Kirk in that episode of Star Trek where he reprograms the computer in order to complete an "impossible" mission.
Book you're an evangelist for:
It used to be Cannery Row by John Steinbeck. These days it is Blood Meridian by Cormac McCarthy. But since the latter is about to get the James Franco treatment, I'll have to move on to something else that needs my help.
Book you've bought for the cover:
I can't remember ever doing this, though I might have made a few impulsive travel guide buys based partly on an alluring cover and a desire to teleport myself immediately to that location.
Book that changed your life:
I have a hard time thinking of a book that actually changed my life. I used to find the book that I most needed at that moment. I found Cannery Row when I needed it. I found Possession when I needed it, etc. But if you mean: "What book set you on the course to becoming a writer," I'd say all these books were from childhood. In many ways, I think I'm still trying to recapture the magic I felt while reading the Laura Ingalls Wilder Little House books or The Wizard of Oz or The Secret Garden.
Favorite line from a book:
"Cannery Row in Monterey in California is a poem, a stink, a grating noise, a quality of light, a tone, a habit, a nostalgia, a dream."--from Cannery Row by John Steinbeck
Books you most want to read again for the first time:
Possession, Jane Eyre, Wuthering Heights, East of Eden, The Sheltering Sky or The Secret History.


Book Review
Book Review: The Heroes
The Heroes by Joe Abercrombie (Orbit, $24.99 Hardcover, 9780316044981, February 2011)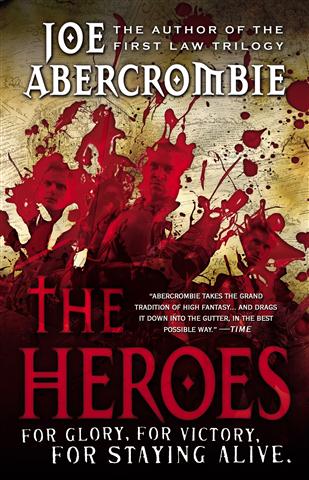 If maverick film director Sam Fuller had ever made a fantasy sword epic, it would have looked a lot like The Heroes: an unflinching portrait of, as Joe Abercrombie (the First Law trilogy) remarks in the midst of one battle scene in his latest novel, "the blood, the corpses, [and] the spreading panic" of three days of fighting over a marginally strategic hill in a largely meaningless war.
The armies of the Union have pushed their way forward to the valley of Osrung, a small town that is bordered by The Heroes, a hill with a circle of rocks around its summit. (Some say the henge is the burial site of legendary warriors of the past, but the more cynical characters don't care one way or the other.) They are met by the forces of Black Dow, a northern chieftain whose right to rule has been established by killing his rivals. Abercrombie takes this basic setup and populates it with a wide range of characters, from the grizzled but honorable mercenary Craw and Gorst, a disgraced Union officer hoping to win his way back into the king's good graces, to Beck, a young northern volunteer who quickly learns how little glory there is to be found in war, and Finree, the ambitious wife of another middling officer. During the combat sequences, the narration flits almost imperceptibly from one perspective to another, repeatedly crossing the front lines and blurring readers' perception of the big picture--because, until the fights settle down, "the big picture" is basically irrelevant.
"You think how stupid people are most of the time," explains Tunny, a Union corporal who's made a career of staying away from the front lines whenever possible. "The foolishness and the vanity, the selfishness and the waste. The pettiness, the silliness. You think in a war it must be different. Must be better... be heroic." Not so: "People are even stupider in a war than the rest of the time. Thinking about how they'll dodge the blame, or grab the glory, or save their skins, rather than about what will actually work. There's no job that forgives stupidity more than soldiering. No job that encourages it more."
Tunny's logic largely holds, up the chain of command on both sides of the war: the vainglorious Union army is pressed into an unwinnable battle due to political pressure, while Black Dow's loose alliance is targeted for dissolution by the scheming Calder, a disgraced noble who hopes to convince his peers of the futility of the whole conflict. What little heroism there is to be found in the battlefields is primarily an accident of circumstance or immediately undercut by tragedy.
Abercrombie freely embraces the anachronistic elements of his take on a fantasy setting so archaic that cannons are depicted as a form of magic--the novel's sardonic epigrams come from the likes of Brecht, Will Rogers and Mickey Mantle, while individual chapters have titles like "Hearts and Minds" and "Stuff Happens." Still, it would be a mistake to read any overt parallels to Vietnam or Iraq (or the early years of the U.S. Civil War) into his imaginary battle. Instead, he's taken bits and pieces from all sorts of war stories and assembled them into a devastatingly realistic look at the emotional and moral landscape of military combat--never mind that it's set outside our historical reality.--Ron Hogan
Shelf Talker: You could easily hand The Heroes to readers of fantasy icons like George R.R. Martin and Brandon Sanderson; it'd be interesting to see what fans of military historical fiction like Steven Pressfield's Gates of Fire or David Anthony Durham's Pride of Carthage would make of Abercrombie.


Deeper Understanding
Robert Gray: First a Novel, Then Conversations & Connections
It just happens. Sometimes a book can spark intensely personal conversations between strangers. Talented readers--even battle-weary booksellers, authors, librarians, publishers, agents, editors and others in our trade--know this.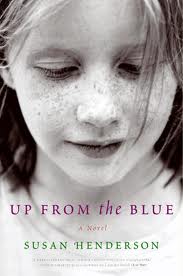 When I first read Susan Henderson's Up from the Blue as an ARC, my bookseller radar sensed that it might be one of those novels that would prompt many intense, quiet conversations. On my top 10 reads list last year (Shelf Awareness, December 9, 2010), the book explores some tough emotional territory through the prism of an eight-year-old girl's fierce determination to understand her family's disintegration. The story is heart-wrenching, yet, ultimately, earns a hard-won measure of hope. I asked the author to share some of her conversations with readers since the novel's publication last September.

If there's a defining characteristic for Tillie, the narrator, it "is that she's wonderfully obstinate," Susan observes. "She has an oomph--that thing that also makes her a handful--but I think it gives her courage, and she's determined to find humor and love and hope wherever she can. I wanted to use those strengths as I pulled that knot loose so that she wasn't stuck in time, and so she had a full range of choices for her future--not sugar-coated, but still hopeful."

At bookstore events, when Susan reads a passage about Tillie's habit of biting classmates, she often notices a particular expression on the face of someone who "knows what it's like to walk home from school as the one who's seen as the problem. And they know what it's like to enter a house full of secrets and try to make sense of it without ever breathing a word."

She adds that there is a "kind of code trauma survivors tend to speak in when they approach me at readings--they'll say the briefest thing that allows them to keep it all safe and contained: 'I felt like you were writing a book about the things I never told anyone before' or 'I carry this one line from the book in my wallet'; and they'll show you the passage which tells you something terribly private about them. Sometimes there are tears and no other words except a very quiet, 'Thank you.' I find these moments extraordinarily touching because it's not about the book anymore. It's about connection."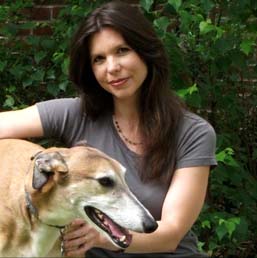 In responding to her work, readers "tend to be very personal and they tend to come to me privately--Facebook notes, people who contact me through my agent, people who seek me out after readings or signings. And they say the kinds of things they can't say in front of the rest of the audience by raising their hands."

While many people who speak with her relate to the issues of depression and suicide that are presented in the book, others "have come forward with other childhood traumas--sexual abuse, neglect, poverty--because the book spoke to a kind of generalized grief that resonated with their own experience," Susan notes. "What's been really heartening are the conversations and letters from people that feel healed in some way--that they were able to really cry and let something out so they didn't feel stuck--didn't feel they were at fault or they had to hold on to the rage or a sense of being broken. That process of grief was what felt familiar to a lot of readers, and really walking through it, for a lot of readers--certainly some found it depressing!--seemed to be what was healing.

"In the end, I think of this book as a love letter from one little girl to the person who believes she's caused irreparable harm to her. And it's Tillie's chance to tell her that she's okay--that her childhood was richer than the sorrow it contained--that there was also joy there, and affection and friendship and laughter."

One of Susan's favorite responses to Up from the Blue came from a young mother who wrote to say "she had finished my book and went back to her kids' bedroom afterwards, because she felt she needed to be near them. And she said that what my book gave her, and she hadn't felt it before, was a sense of her own importance in the lives of her children... not that she might love them better (she already loved them extraordinarily) but that she might realize how much they love her. That is what she hadn't allowed herself to experience before, and that note, all by itself, was worth me writing this book."--Robert Gray (column archives available at Fresh Eyes Now)


The Bestsellers
In Demand: Most Ordered Adult Paperbacks
The following were the most-ordered upcoming adult paperback titles on Edelweiss during the last 60 days. The listings include links to the titles on Edelweiss and links to the publishers' e-catalogues:
[Many thanks to Above the Treeline and Edelweiss!]