Monday, February 28, 2011: Kids' Maximum Shelf: Okay for Now

Editors' Note
Maximum Shelf: Okay for Now
In this edition of Kids' Maximum Shelf--the monthly
Shelf Awareness
feature that focuses on an upcoming title that we love and believe will be a great handselling opportunity for booksellers everywhere—we present
Okay for Now
by Gary D. Schmidt, which goes on sale on April 5, 2011. The review and interviews are by Jennifer M. Brown. Clarion Books, an imprint of Houghton Mifflin Harcourt, has helped support the issue.


Books & Authors
Children's Review: Okay for Now
Okay for Now by Gary D. Schmidt (Clarion/Houghton Mifflin Harcourt, $16.99, 9780547152608, 368 pp., ages 10-14, April 5, 2011)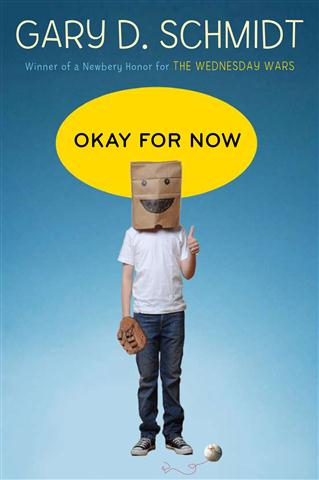 Gary D. Schmidt knows how to create a complex character. He received a Newbery Honor for The Wednesday Wars, in which we learned there was a lot more to seventh-grade teacher Mrs. Baker than Holling Hoodhood first thought. In this companion book (which may be thoroughly enjoyed entirely independent of The Wednesday Wars), we learn a great deal more about Doug Swieteck and his middle brother, who constantly bullied Holling. It begins in the summer of 1968, just before eighth grade. Doug's father has lost his job and the family is moving from Long Island upstate to Marysville, N.Y., where Mr. Swieteck's buddy Ernie Eco has found him a job at the Ballard Paper Mill. Lucas, Doug's oldest brother, is fighting in Vietnam.
"Joe Pepitone once gave me his New York Yankees baseball cap. I'm not lying," Doug begins. Joe Pepitone gave Holling Hoodhood his jacket, and Holling was thrilled, but for Doug, the youngest of three boys, Joe Pepitone's cap had even greater meaning: "It was the only thing I ever owned that hadn't belonged to some other Swieteck before me," Doug admits. Then Doug's older brother swipes the cap. Trades it for cigarettes. It's long gone. But on moving day, Holling, in his sole cameo appearance, comes by with a farewell present for Doug: a New York Yankees jacket. "You know whose jacket this was, right?" asks Doug. This jacket, a gift from Joe Pepitone to Holling, from Holling to Doug, grows in significance as the novel progresses.
One could argue that the novel relies on a number of coincidences. But for a teen like Doug, who has often been the target of an abusive father and two bullying older brothers, it feels like circumstances have been stacked against him. Maybe, though, things are turning around for him. Because Doug gets into a fight with his father, defending his mother in their new home, he's left behind while the rest of the family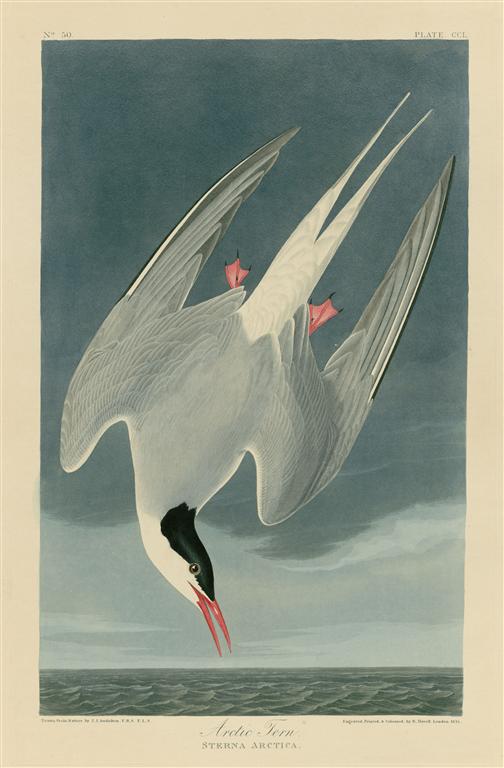 heads to the local diner. That leaves Doug alone to explore the town. He meets a girl locking up her bike in front of a building that "was trying to look a whole lot more important than it should"; it turns out to be the library. He wants to avoid the girl with the bike, so he goes upstairs in the library. And this is what he sees: a huge book with only one picture: The Arctic Tern by John James Audubon. "I couldn't take my eyes off it. He was all alone, and he looked like he was falling out of the sky and into this cold green sea.... This bird was falling and there wasn't a single thing in the world that cared at all." Doug, who never lets his feelings show, expresses emotion through his description of what he sees in the painting. As he falls asleep that night, he thinks about the bird's "terrified eye."
Each chapter opens with an Audubon plate (reproduced in b&w), and each is fully integrated into Doug's daily life. The next morning, a Sunday, Doug sees his mother's smile and wishes he could draw it. "I felt my fingers moving again, trying to get that smile right," he thinks. He heads to the library, but it's closed. Again he meets the girl with the bike. She wins him over--not with the Coke she buys him but with the belch she lets loose after she's gulped down her soda. And then Lil gets him a job working for her father as delivery boy for Spicer's Deli. That's how Doug meets Mrs. Windermere. Lil says everyone's afraid of Mrs. Windermere, but thugs have no fear. And in her home, he sees another John James Audubon painting: The Red-throated Diver. He tells Mrs. Windermere what he sees: "No one's paying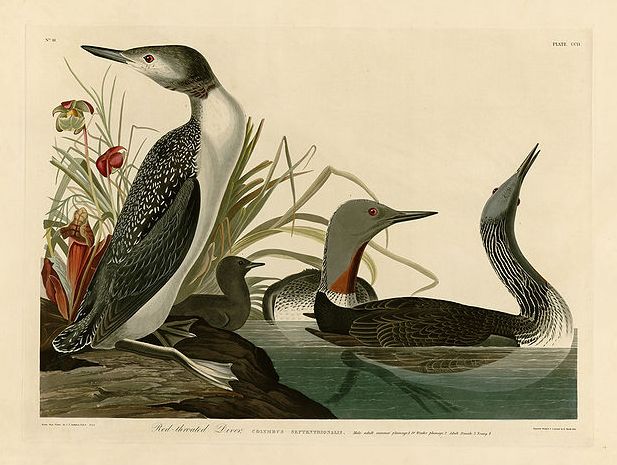 attention to the mother. Who could blame her if she took off?" She answers, "Skinny delivery boy, you have it all wrong. Look how she's standing closer to her little one. She's looking around to watch for the next spectacular thing that's going to come into his life."
Gradually, these serendipitous moments add up and Doug begins to let others in. Mr. Powell, one of the librarians, invites Doug to draw the Arctic Tern, and offers him guidance. Doug observes, "It looks like I'm showing what isn't the bird." Mr. Powell responds, "That's exactly what you're doing. Most young artists take a long time to understand that." Doug begins to think of himself differently ("Did you catch what Mr. Powell called me? 'Young artist.' I bet you missed that"). Schmidt uses Doug's direct addresses to the audience judiciously, in times of joy and betrayal, and they take on a stunning cumulative effect.
Just when things are going well for Doug, everything begins to fall apart. Someone breaks into Spicer's Deli right before school starts; Doug's older brother gets the blame. The principal of Washington Irving Junior High School aligns Doug with his allegedly corrupt brother. So does everyone on Doug's delivery route--"You could see it in [their] eyes."--except Mr. Powell, who continues the art lessons, and Mr. Ferris, the science teacher. "Doug Swieteck," Mr. Ferris says, "do you know the basic principle of physical science?" He has a toy rocking horse named Clarence. He sets it rocking, then continues, "The basic principle of physical science is this: two bodies cannot occupy the same space at the same time. Do you understand that?" Mr. Ferris explains, "In this class you are not your brother."
Doug is not his brother. The Red-throated Diver will not take off. But then Doug learns that the Audubon plates are being sold off one by one. His Joe Pepitone jacket disappears. He goes to the Ballard Paper Mill picnic and his two-man team beats his father and Ernie Eco in the baseball quiz. When Doug shows up at Mr. Ballard's office the following week to collect his prize money and a baseball signed by Roger Maris, Mickey Mantle and Joe Pepitone, Mr. Ballard says Mr. Swieteck has already collected it on his behalf. When Doug asks his father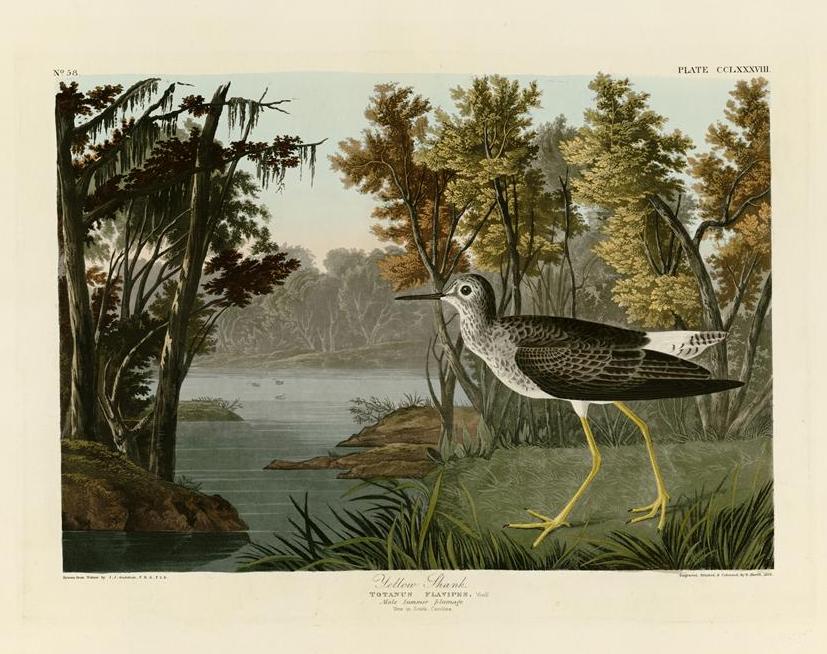 about it, Mr. Swieteck calls Mr. Ballard "a liar." In perhaps the novel's finest moment, Doug figures out what to do. He figures out the right thing to do because of Audubon's The Yellow Shank. Doug "step[s] into the middle of the picture, where he should be, with the light behind him and the dark ahead."
Doug's mother, father, brother and Ernie Eco are there to see Doug do it. This first action sets off others--other actions of Doug's own, and the actions of others. Doug begins a quest to reunite all of the Audubon plates within the book at the Maryville Public Library. "When you find something that's whole, you do what you can to keep it that way," he says. But his statement comes to mean much more than the Audubon book. When Doug's brother Lucas comes home from Vietnam, he is missing his legs, above the knees. The Swietecks begin their own journey to become whole--not without its dead ends. In Schmidt's skillful hands, both the young people and the adults come through as living, breathing, complicated characters. An adolescent male can create beautiful art and ace his baseball stats. He can love his mother's smile and stand up to his father. Doug may not know what lies ahead, but he is okay for now.--J.M.B


Gary Schmidt: Remaining Teachable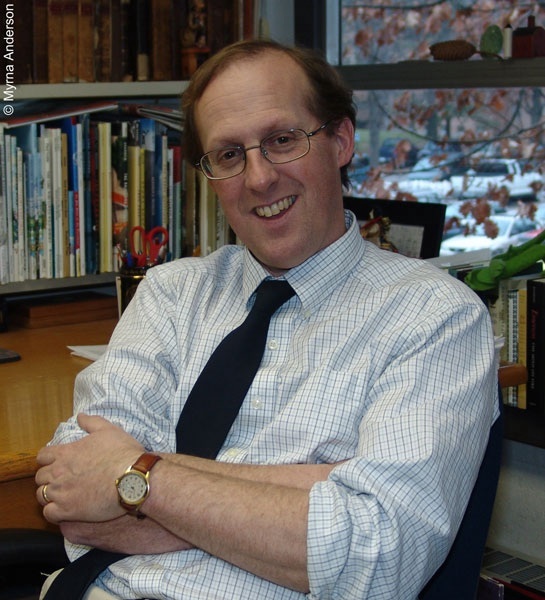 We caught up with Gary Schmidt by phone from his office at Calvin College in Grand Rapids, Mich. He had just returned from his students' rehearsal for a theatrical presentation of The Wednesday Wars. As Schmidt discussed the teachers who influenced his latest reluctant hero, Doug Swieteck, he also emphasized how much Doug had taught them. He believes, "A mature person is someone who remains open to being taught."
What inspired you to develop a story around a book of John James Audubon illustrations?
I went to be part of a library program in Flint, Mich. It's a town that's always on the edge of bankruptcy. They had an Audubon, a really lovely later edition. There are only 118 of [the Audubon books] left in the world, because the plates are worth so much individually. It was just gorgeous in a library that's struggling financially. On the way home, I heard an NPR account of a school that had an original N.C. Wyeth mural that had been donated to the school. The school was trying to decide whether to keep it and undertake the cost of maintaining it, or should they sell it to endow two more teaching positions. You can't blame them on the one hand, but on the other hand, you think of how many kids went through that school looking at that mural. And you think of the kids who won't go through the school seeing that. So those two stories came together.
Mr. Powell the librarian is drawn to Doug purely because of his interest in Audubon's artwork. How did that relationship develop in the forming of the book?
When Doug walks into that room [in the library], he's a kid who's roughed up. He doesn't go to museums. But he sees this picture of a bird and responds to it because it's so amazing. You can just say these nine plates are valuable, but Doug is the one who puts the interpretations on the plates. Doug is not a loquacious guy, nor is he going to give you his inner feelings. He really is called to the birds; it takes a while before he picks up the pencil. At the beginning he can't get out anything, he's so beat up. At the end, he cares so much about other people, and he can get that out. One thing that changes us about art is we see a larger world around us, and we can understand it better.
In the book, you gradually reveal two of Doug's secrets--one that is visible and one that is invisible. Mr. Ferris is the one who gets to the bottom of them both and shows him compassion. At what point did Mr. Ferris enter the story for you?
The first teacherly guy that came in the book was Mr. Ferris. He's a real guy, a high school chemistry teacher. His name was Mr. Ferris, and he had a Clarence. Though he put out a gruff exterior, he was an empathetic guy, probably one of the best teachers I had in my life. I didn't want to rewrite Wednesday Wars with one teacher who made a difference. So for Doug, there's a constellation of people who make a difference: Mr. Ferris, Mr. Powell and Mrs. Windermere.
One of the things I like to do in a book is make the reader participate by figuring things out. It's a first-person narrative, which means Doug's eager to tell you certain things and not eager to tell you other things.... What does 216 mean [in the baseball quiz at the Ballard Paper Mill picnic]? It's held away from you for awhile. It allows for a greater investment in the story.
The dynamics in the Swieteck family are so deeply ingrained. Did you spend a long time on the back story?
That was huge. Not only before the first drafts, but in the rewrites. Mr. Swieteck is not a bad man, but he's weak and impatient. He's easily used. Part of that is the alcoholism, and Ernie Eco being a bad influence--Ernie is a bad guy. It's easy for a reader to hate him, but I don't hate him. Mr. Swieteck is just unhappy and angry. With the baseball quiz, he thought he should have won because there should have been more questions about the Babe. He can't tell his son he's done a good job; he has to say it was fixed. He has the response of a weak person. At the end, he's able to reach out in interesting ways.
The family dynamics change only when Doug begins to change.
Doug is a huge catalyst. He becomes the strong one. Nothing is by chance. He thinks, "I'm going to be the tern that flies next to you." He's not skilled medically, but he knows he needs to get help when the youngest Dougherty boy [on his delivery route] has an asthma attack. Every kid needs to feel competency at something. He is finally the guy who can confront Lucas, who could--with some justification--wallow in self pity for the rest of his life. In a small way, Doug's also physically stronger than Lucas, which is meant to suggest his larger strength. Christopher [also] becomes stronger because of Doug's strength.
What is it about the Vietnam era that draws you back?
Writers think about the present in terms of our own pasts. Just listening to one part of the first act of the play [The Wednesday Wars], they put on Walter Cronkite's voice and--bang--you're right there. We all knew people in the war, who died in the war. And it was going on forever, since the 1950s, and who knew how long it would go. In 1968, these characters are only four years away from being drafted. It changed us a lot. Why do people go to D.C. and stand weeping next to this wall [the Vietnam War Memorial]? No one seems brave enough to end [our current war]. In the late '60s those images of the battles and people being wounded, those were on our TVs and in our faces, and those are censored now. I want to tell kids, it wasn't so different. You can take the text of Johnson's speeches and put them next to Bush's speeches, and they're identical: "We can't leave because it would dishonor the men who have gone before." Who's going to be the guy that will step up? Until there's a draft or until the casualties mount, it won't end. I wish it would, but it won't.
(Click here to see a video of Gary Schmidt discussing Okay for Now.)


Behind the Scenes with Editor Virginia Buckley
Virginia Buckley met Gary Schmidt through Katherine Paterson--indirectly. Schmidt called Buckley to interview her while he was working on a Twayne biography of Katherine Paterson. Buckley has been Paterson's editor throughout the writer's career, and ushered her to two Newbery Medals and a National Book Award, among other accolades. Shortly after Schmidt interviewed Buckley, she received a manuscript from him in a blue folder, with no letter. It was about a boy who moves to his grandparents' home in New Hampshire and discovers the local legend of a "sin eater," a person who could take on the sins of the deceased.
Luckily, Buckley remembered Schmidt's name from their phone interview. "I sat down and read the manuscript, and I loved it!" Buckley said. So she called him. He had students in his office. "I said, 'This is Virginia Buckley,' and he said, 'Oh hi, Virginia!' And then it dawned on him, 'Oh, that Virginia Buckley!' All his students stopped to listen to the conversation," she recalled, laughing. Buckley published Schmidt's first novel, The Sin Eater, in 1996, "and I've been publishing him ever since." That includes Schmidt's two Newbery Honor books--Lizzie Bright and the Buckminster Boy and The Wednesday Wars--and a Printz Honor (also for Lizzie Bright).
Buckley said she's been called "an old-fashioned editor" because she still goes through a manuscript page by page and writes an editorial letter 12-15 pages long. "I start from the beginning and check for discrepancies, give suggestions about the story line, and ask, 'Do we really need this scene here?' " she said. If a manuscript needs to be rewritten, she doesn't take it on. Schmidt is very responsive, according to Buckley: "I think we trust each other."
For this book, Buckley felt it was important to include the nine Audubon plates that open each of the chapters. "It gives the reader a reference to keep going back to. Without them, you don't get the full sense of the story." --J.M.B.


Book Brahmin: Gary Schmidt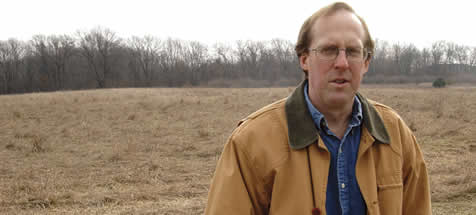 On your nightstand now:
Oliver Sachs's book on music, a collection of stories about kids fighting in Lord Nelson's naval forces and How to Train Your Dragon--mostly because I liked the movie so much.
Favorite book when you were a child:
The Doctor Dolittle series, closely followed by the Freddy the Pig series, followed--later--by the Horatio Hornblower series.
Your top five authors:
Katherine Paterson, M.T. Anderson, Avi, Patrick O'Brian, Stephen Jay Gould.
Book you've faked reading:
I'm not quite sure what this means. A book I've said I've read, but haven't? Hmm... Remembrance of Things Past--which no one has ever read. Even Proust never read it.
Book you are an evangelist for:
The Little World of Don Camillo by Giovanni Guareschi.
Book you've bought for the cover:
Oh, there was a steampunk book I bought a few weeks ago, strictly for the cover. But I can't remember the title.
Book that changed your life:
Bleak House, no question. Greatest of Dickens's books. Maybe, after that, Trollope's The Warden.
Favorite line from a book:
"Call me Ishmael." A stunner, introducing character, time, biblical association, narrator--and drawing the reader in with three successive stressed syllables. Not bad.
Book you most want to read again for the first time:
The Narnia Chronicles.