Shelf Awareness for Tuesday, March 15, 2011

Quotation of the Day
Téa Obreht: 'I Still Haven't Taken It All In'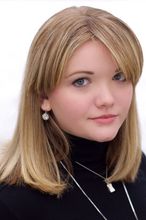 "I still haven't taken it all in. It already seems like such a long time from the moment when I said to myself, 'Somebody likes it, somebody bought it, and it's going to have a cover!' The other evening I gave a reading, and someone came up to me afterwards and said, 'The Deathless Man is my favorite character.' My immediate reaction was: how do you know about the Deathless Man? When you're writing, you're working on this private world that becomes more and more real to you, but it's still your own. And then to discover that suddenly other people can access it--in a way that really shocks me."
--Téa Obreht speaking with the
New York Times
about the whirlwind reception her debut novel,
The Tiger's Wife
, has received.


News
Image of the Day: Matterhorn Receives PNBA Award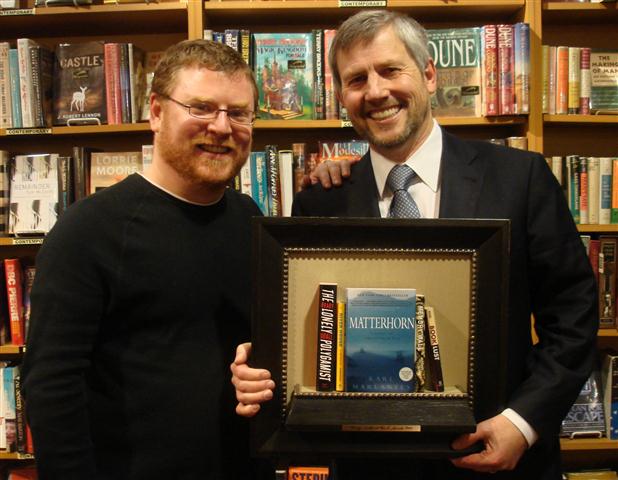 Last Saturday at Third Place Books, Lake Forest Park, Wash., in the presence of more than 150 fans, Karl Marlantes officially accepted the PNBA Book Award for Matterhorn. The awards committee wrote: "Gritty, intense, and captivating from the first page, Matterhorn is a masterpiece, shedding light on the complexities of the U.S. Marine combat experience in Vietnam." Published by Grove/Atlantic in association with El León Literary Arts, Matterhorn appears in paperback in May. Here Marlantes (r.) appears with Third Place Books managing partner Robert Sindelar.


Notes: B&N Shares Slide; New Store's 'Recorded History'
On a day the Dow fell 0.4%, shares of Barnes & Noble fell 9.1%, to $10.67, the bookseller's lowest closing price ever.
TheStreet.com
linked the drop to the news that rival Borders Group hopes to emerge from bankruptcy by the end of the summer.
---
When Michael Deyermond opened Deyermond Art + Books, Santa Monica, Calif., last September, "the vision was to restore the independent bookstore, art gallery and community arts space to Main Street U.S.A. where it belongs, instead of on the periphery of some out of the way bunker," the Mirror reported.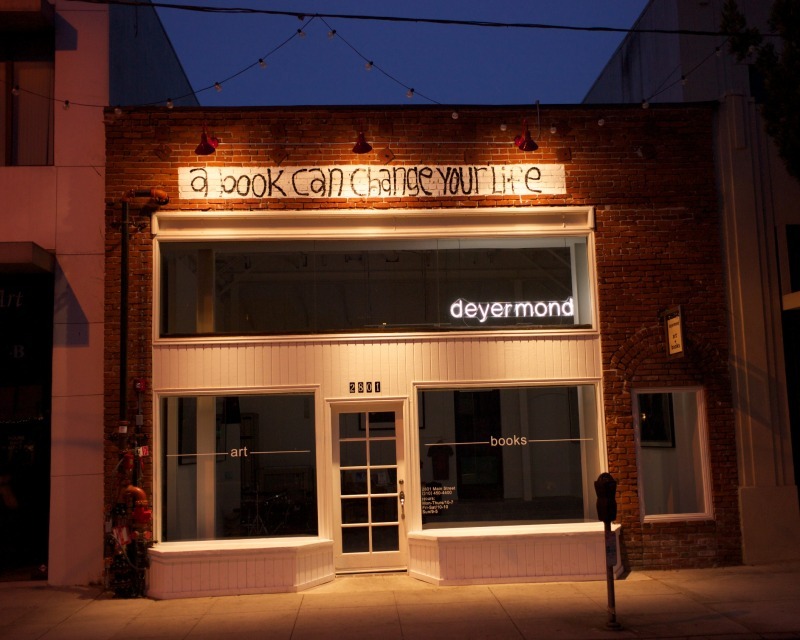 Calling the reception from the city thus far "warm and strong," Deyermond has stressed a local approach to doing business, noting in particular his weekly "Recorded History" series, in which "anyone can grab the microphone, share their writing, and have their words recorded for posterity.... Deyermond explains that the idea for the Recorded History series comes from the lack of oral history in today's fast-paced, digital world, and he was inspired by the efforts of places like the Smithsonian and StoryCorps that preserve people's stories on a national level," the
Mirror
wrote.
"I thought it would be great to do something on a local level," he said. "An oral history of Santa Monica, of our community, and our bookstore."
---
Stephen King fans finally have some good news about the Dark Tower series. On his
website
, King announced that he has written another installment,
The Wind Through the Keyhole
, which he expects to be published next year. King wrote that the new novel "won't tell you much that's new about Roland and his friends, but there's a lot none of us knew about Mid-World, both past and present. The novel is shorter than DT 2-7, but quite a bit longer than the first volume--call this one DT-4.5. It's not going to change anybody's life, but God, I had fun."
---
Cartoons of the day: "
I will not eat them... Tim Burton's Green Eggs & Ham
." Inspired by last weekend's release of
Red Riding Hood
,
Flavorwire
showcased several children's tales reimagined as Hollywood Films by cartoonist Chip Zdarsky (Steve Murray).
Also from
Flavorwire
, "
Matilda Gets an E-reader
." Cartoonist Aaron Renier created a digitally themed homage to Roald Dahl's Matilda, "imagining her as she might exist in our current (and future) age of multimedia e-readers for kids."
---
Attempting the impossible, Jay Parini selected the
10 best American poems
for the
Guardian
, admitting that the "list could go on and on, but these are the poems that seem to me to have left the deepest mark on U.S. literature--and me."
---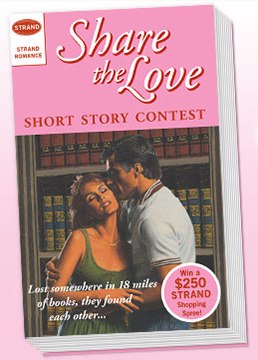 Congratulations to
Bob Wyatt
, longtime publisher and author of
Jam & the Box
and
The Fluffys & the Box
, who won the grand prize in the Strand Books' Valentine's Day Share the Love short story contest for his story "Strands." "This is what happens to a recovering editor-in-chief of New York trade book publishers," Wyatt commented to us.
The New York City bookstore asked participants to write a short story of less than 2,000 words featuring the Strand. More than 75 stories were submitted. Wyatt has donated his prize--a $250 shopping spree and a book-filled Strand Love tote--to a local primary school. "We've got to familiarize kids with the joy of shopping for books," Wyatt said.
For more on the prize and other winners,
click here
.
---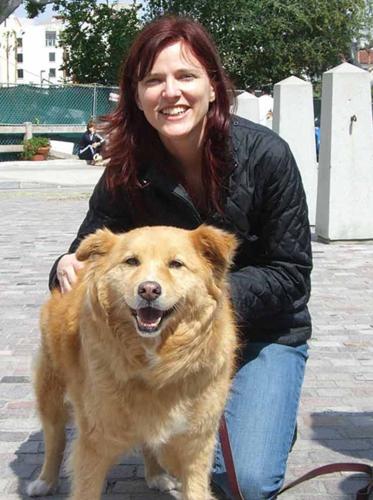 Allison Hill, president and COO of Vroman's Bookstore and Book Soup, muses in the
Huffington Post
on books borrowed and lent out--and sometimes miraculously returned years later (in one case from a former boyfriend) to remind the owner of her earlier self.
She added: "almost every day I am asked for my opinion about the future of the book. Will printed books cease to exist? And I honestly don't know the answer. But I know that I miss the books I've lost along the way. Not the stories that would otherwise be found in an e-book, or online these days, but the physical books with their notes and underlinings and associations, pressed flowers or photos stuck between the pages, bookmarks from a special place, an inscription from a friend. Without books, these time capsules, we lose something we can never get back. In this case, the excuse to look up an old flame..."
---
Book trailer of the day:
The Little Red Pen
by Susan Stevens Crummel, illustrated by Janet Stevens (Harcourt). With a mountain of paperwork, must the Little Red Pen do
all
the corrections herself?
---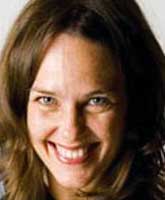 A diverse group of fiction writers have banded together to create ways to promote each other's work and cheer each other on in a very competitive field during a time of unusual change. Called the Fiction Writers' Co-op and founded by Cathy Buchanan, author of
The Day the Falls Stood Still
, the group includes more than 50 authors and has put together
a list
of ideal book club picks written by members, who like to Skype and do phone chats with book clubs. The authors are posting the list on their websites and blogs and on social media, and inviting booksellers and librarians to download the list and offer it to readers. Members will bring printouts of the list when they speak to book clubs and at bookstores and libraries.
Members include Karen Essex, Stephanie Cowell, Sandra Gulland, Jon Clinch, Melissa Senate, Tatjana Soli, Julianna Baggott, M.J. Rose, Heidi Durrow, Tasha Alexander, Meg Waite Clayton, Randy Susan Meyers, Michelle Moran, Kate Ledger, C.W. Gortner and Kelly O'Connor McNees.
---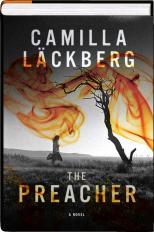 Pegasus Books has created Pegasus Crime, which will publish crime fiction, mystery novels, police procedurals, espionage thrillers and paranormal suspense, about a dozen a year.
The imprint's first title, which appears April 27, is
The Preacher
by Camilla Lackberg, the sequel to
The Ice Princess
. This summer, Pegasus Crime will publish debut author Holly Luhning's gothic thriller
Quiver
, which has been published in Canada by HarperCollins Canada, and Danish crime queen Sara Blaedel's first U.S. release,
Call Me Princess
.
Pegasus Books publisher Claiborne Hancock attributed the idea for the imprint to a comment made by Bill Rusin, director of sales at Norton, Pegasus's distributor. Looking at the suspense list in a strategy meeting, he asked, "Why not put all of these great novels under one banner and create a new imprint?"
Et voila!


Media and Movies
Media Heat: The Dressmaker of Khair Khana
This morning on NPR's Morning Edition: Gayle Tzemach Lemmon, author of The Dressmaker of Khair Khana: Five Sisters, One Remarkable Family, and the Woman Who Risked Everything to Keep Them Safe (Harper, $24.99, 9780061732379).
---

Today on NPR's On Point: Colin Thubron, author of To a Mountain in Tibet (Harper, $24.99, 9780061768262).
---
Tomorrow on CNN's American Morning: Olympic gold medal figure skater Kristi Yamaguchi, author of Dream Big, Little Pig! (Sourcebooks Jabberwocky, $16.99, 9781402252754).

---

Tomorrow on NPR's Diane Rehm Show: Miguel Nicolelis, author of Beyond Boundaries: The New Neuroscience of Connecting Brains with Machines---and How It Will Change Our Lives (Times Books, $28, 9780805090529).

---

Tomorrow on a repeat of the Colbert Report: Joshua Foer, author of Moonwalking with Einstein: The Art and Science of Remembering Everything (Penguin Press, $26.95, 9781594202292).


Movies: Trailer for Snow Flower and the Secret Fan
Fox Searchlight has released a trailer for Snow Flower and the Secret Fan, the film adaptation of Lisa See's novel. Directed by Wayne Wang, it stars Bingbing Li, Gianna Jun, Vivian Wu and Hugh Jackman. Word & Film noted that the movie "is set for a July release, so you still have plenty of time to read the book before then and to make sure your 'old same' reads it as well."


Books & Authors
Awards: Arabic Fiction Winners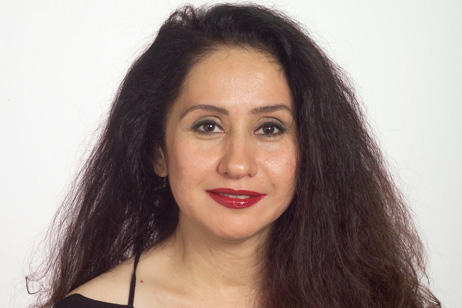 The Arch and the Butterfly by Mohammed Achaari, a Moroccan poet and novelist, and The Doves' Necklace by Raja Alem, a Saudi writer, are the joint winners of the International Prize for Arabic Fiction 2011, the first time the prize has been won by two books. Alem is also the first woman to win the prize, which was established in 2007.

Chair of judges Fadhil Al-Azzawi, the Iraqi poet and novelist, said that the books "are two wonderful novels with great literary quality and they both deal with important and realistic problems in the Middle East, problems which have been reflected on banners during the recent protests that have shaken the Arab world, demanding change."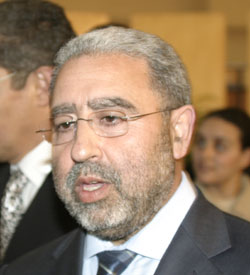 The Arch and the Butterfly deals with "Islamic extremism and terrorism and its destructive effect upon Arabic society itself, rather than on the West," Al-Azzawi said.

The Dove's Necklace "reveals the true face of Mecca: behind the city's holy veil there is another Mecca, where many crimes are committed and there is also corruption, prostitution and mafias of building contractors who are destroying the historic areas of the city, and therefore its soul, for commercial gain."

The winners are splitting the $50,000 prize and are guaranteed an English translation of their novels. Authors of the shortlisted titles receive $10,000 each. The award, recognizing "the very best of contemporary Arabic writing over the past year," is sponsored by the Emirates Foundation for Philanthropy and the Booker Prize Foundation.


Attainment: New Titles Out Next Week
Selected new titles, appearing next Tuesday, March 22:

Unfamiliar Fishes by Sarah Vowell (Riverhead, $25.95, 9781594487873) traces the evangelical efforts of New England missionaries in Hawaii and the resulting "Americanization" of a tropical paradise.

The Saturday Big Tent Wedding Party by Alexander McCall Smith (Pantheon, $24.95, 9780307378392) is the newest No. 1 Ladies' Detective Agency novel.

All the Time in the World: New and Selected Stories by E.L. Doctorow (Random House, $26, 9781400069637) is a collection of short fiction.

Started Early, Took My Dog: A Novel by Kate Atkinson (Reagan Arthur, $24.99, 9780316066730) is the fourth investigation with PI Jackson Brodie.

Night Road by Kristin Hannah (St. Martin's Press, $27.99, 9780312364427) follows an orphan who meets new friends while living with her great-aunt near Seattle.

Breaking the Rules by Suzanne Brockmann (Ballantine, $26, 9780345521224) is the 16th Troubleshooters novel.

It Gets Better: Coming Out, Overcoming Bullying, and Creating a Life Worth Living by Dan Savage and Terry Miller (Dutton, $21.95, 9780525952336) is a collection of hopeful essays for struggling gay teenagers.


Now in paperback:

A Visit from the Goon Squad by Jennifer Egan (Anchor, $14.95, 9780307477477).

Open Secrets: WikiLeaks, War, and American Diplomacy by New York Times staff, edited by Alexander Star (Grove Press, $16.95, 9780802145765).

Martha Stewart's New Pies and Tarts: 150 Recipes for Old-Fashioned and Modern Favorites by Martha Stewart Living Magazine (Clarkson Potter, $24.99, 9780307405098).

Leaving (Bailey Flanigan Series) by Karen Kingsbury (Zondervan, $14.99, 9780310266280).


Book Review
Book Review: The Wise Man's Fear: The Kingkiller Chronicle, Day Two
The Wise Man's Fear by Patrick Rothfuss (Daw Books, $29.95 Hardcover, 9780756404734, March 2011)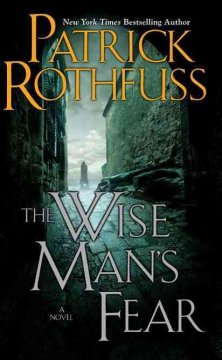 Patrick Rothfuss's 2007 debut, The Name of the Wind, reaped tons of critical acclaim and landed on the New York Times bestseller list--no small feat for an epic fantasy weighing in at nearly 700 pages--and just recently came in third in a Tor.com poll of the best speculative fiction of the past decade. It was generally considered to be the first volume of a trilogy, which was not an unusual career pattern for a fantasy novelist deemed to have commercial potential. With the publication of the long-awaited followup, The Wise Man's Fear, however, it becomes increasingly clear that what we're dealing with is not strictly speaking a trilogy but a contemporary (and jumbo-sized) variant on the Victorian "triple-decker," a single novel, called The Kingkiller Chronicle, published in three volumes.
A brief recap, then, may be in order: in The Name of the Wind, readers were introduced to Kvothe the Bloodless, a once-legendary warrior and magician who has assumed a quiet life as the proprietor of a remote inn at the edges of a kingdom in turmoil. Confronted by a traveling scribe, Kvothe agrees to tell his true life story, and flashbacks constituting the bulk of the novel reveal how he grew up in a troupe of Gypsy-like entertainers, was the only survivor when they were slaughtered in the woods, and survived as a homeless boy in the nearest big city for several years before making his way to the University, where he intended to study magic and learn whatever he could about the ancient and powerful figures connected to his family's death. Unfortunately, Kvothe's talents for music and magic are rivaled by his talent for making enemies... and then, after a night of storytelling (and one shockingly violent interruption), Kvothe pauses.
The Wise Man's Fear picks up the very next morning, lingering on the village and its inhabitants for some time. (Readers will quickly intuit that the troubles making their way to Kvothe's inn will eventually be revealed as stemming from something in his past, though the answers will not all come today.) The reminiscences resume with Kvothe's turbulent academic life. Although he makes some powerful magical discoveries, his personal conflicts also become more intense, and he is persuaded to leave campus for a while. He winds up in an aristocratic court, where, in short order, he foils a plot on a nobleman's life and helps said nobleman to woo a wife. For his troubles, Kvothe is assigned a team of mercenaries to track down a band of highwaymen, a mission that offers not one but two detours: first, he is lured into the faerie realm to become the plaything of a seductress; then, after cleverly gaining his freedom, he undergoes training in the martial arts of the Adem. After much adventure, he returns to the University triumphant, and another day of storytelling ends... but we know from the present-day situation that things are likely to turn very bad very soon.
This is all the barest of synopses, and doesn't even begin hint at the rich verisimilitude of Rothfuss's fantasy realm, a setting that is rendered as finely as, say, Jack Vance's Dying Earth stories or George R.R. Martin's A Song of Ice and Fire sequence. The Kingkiller Chronicle is also, fundamentally, a coming-of-age novel with a particular type of protagonist immediately recognizable to speculative fiction readers. Young Kvothe may be immensely talented, and even knows exactly how talented he is, but he lacks much of the discipline necessary to turn that talent into truly accomplished skill, and many is the time he's put in his place for his reckless behavior. (Robert A. Heinlein's Starship Troopers is a classic example of this story type.) Let's put it this way: whenever his friends introduce him to somebody important, they are highly likely to remind him that he needs to be polite, and he's just as likely to wonder why they think they need to tell him this. Rothfuss's narrative framework allows contemporary Kvothe to reflect on his younger self's arrogance and naivete--especially when it comes to women--while gently reinforcing readers' empathy until his maturity rises to match his ambition. By then, of course, they'll be dying to find out what could have happened after all the events Kvothe has already described that would compel him to hide away at the end of the world, "a man waiting to die."--Ron Hogan
Shelf Talker: Patrick Rothfuss has a substantial fan base: The Wise Man's Fear debuted at #1 on the New York Times hardcover fiction list. But new readers should be aware that reading this novel without The Name of the Wind under your belt is like walking into Hamlet in the middle of the third act; you could probably pick the story up contextually, but you're still missing out on a lot.


Deeper Understanding
Author and Books and Crannies: A Love Story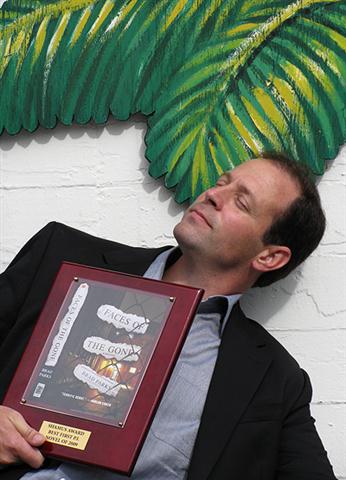 Brad Parks's debut novel, Faces of the Gone, became the first book to win both the Nero Award and Shamus Award. He is now on tour for his second book, Eyes of the Innocent, recently released by St. Martin's Press/Minotaur Books. Here he tells of a special stop on that tour.
The love affair started on e-mail.
The first missive came in August. A woman named Gayle Harris wrote to say she enjoyed the humor in my first book, Faces of the Gone. She added that the picture on my website was "very sexy."
"Thanks for the kind note," I wrote back. "I read it out loud to my wife to see if I could make her jealous. (Her reply: 'She can have you.')"
The next time Gayle and I corresponded was shortly after I won the Shamus Award in October. I sent out a newsletter that joked I was rewriting the bio on my website to conclude: "A Shamus Award-winner, Parks has been a recipient of the Shamus Award, during which time he achieved recognition as a Shamus Award-winning Shamus Award winner. He is also a proud winner of the Shamus Award."
Gayle wrote back: "Congratulations! We loved the first book and will order the next one! The little bookstore I own in Terrell, Texas--Books and Crannies--will be proud to shamelessly promote the Shamus award winning Brad Parks' books, especially since I heard somewhere that he won a Shamus award!"
Now--and here is the part of this story that becomes a cautionary tale for all you book peddlers out there--never write an author and tell him you love his book and own a bookstore. Chances are good he will do what I did: invite himself to your store for a signing.
Over a series of e-mails, Gayle and I established I would make an appearance at Books and Crannies when my book tour for Eyes of the Innocent, the follow-up to Faces of the Gone, swung through Texas. Gayle was thrilled: "I am so excited about this that I am shaking!" she wrote. Still, I was a bit apprehensive. I felt like I had just set up a blind date.
So I didn't know quite what I was getting myself into earlier this month as I drove into Terrell, a charming little town of about 17,000 just beyond the Dallas Metroplex. I certainly wasn't expecting to see my name in huge letters above the store:
"WELCOME NERO & SHAMUS AWARD WINNING AUTHOR BRAD PARKS."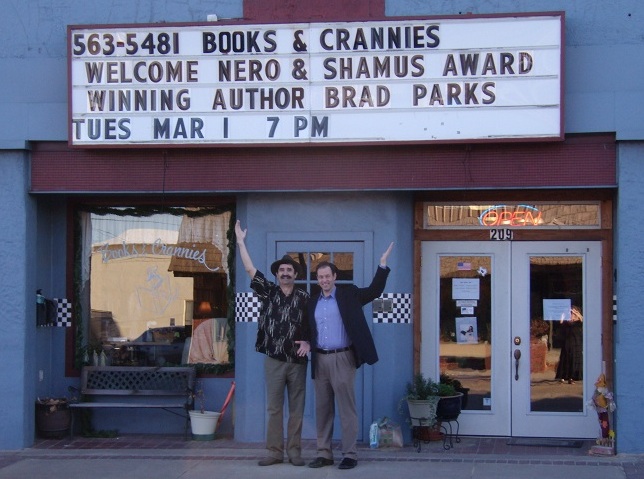 It turns out Books and Crannies is housed in a former movie theater, and even though they transformed it into a retail store, they kept the marquee. (They also converted the back of the store into a small black box theater, where a local troupe, the Vagabond Players, sometimes puts on productions.)
But there were more surprises awaiting me. As soon as I walked into the store, I heard a male voice with a Texas drawl say, "So, this is my competition, huh? My wife has been taking you to bed with her every night this week."
Then Ron Harris, Gayle's husband and the store's co-owner, smiled and extended his hand. I was relieved, mostly because he's an ex-fireman who's a couple inches taller than me. I'm not sure it would have been a fair fight.
Before the signing, Ron and Gayle took me to their favorite Tex-Mex restaurant across the street, where they told me all about their store. An avid reader, Ron was the one who wanted to buy it when it came up for sale 18 years ago. But it was Gayle who really thrived at Books and Crannies, quitting a demanding job as an accountant to work full-time there. She makes a lot less money now, she said. She also takes a lot less medication, getting off pills for a variety of ailments, all of them stress-related.
The store prospered and when the town's theater closed down seven years ago, Ron and Gayle took a leap and bought it. Ron spent two years renovating it, doing most of the work himself. Five months after moving in, a fire--which started when an employee accidentally left a candle burning--ravaged the store, reducing the majority of their stock to char.
But that's when they learned just how much Books and Crannies meant to the people of Terrell.
"For weeks after the fire, we had people showing up in coveralls saying, 'How can I help?' " Ron said. "Or people would leave boxes of used books with a note, 'Hope this helps.' It was enough to make you cry."
Five months later, they reopened. And they've been going strong ever since. It wasn't hard for me to see why they had been successful: by the time the event began, there was a bookstore full of people. And even a typically egotistical author couldn't kid himself into thinking they came because of me.
They were there because of Ron and Gayle, who knew every customer by name (and had probably been harassing them for weeks to come). They were there because Books and Crannies was the place where bibliophiles in tiny Terrell, Texas, knew they could find like-minded people. They were there because this was a space that was as comfortable and hospitable to them as their own living rooms.
I sure felt at home there. And for an author many miles from home, in the midst of a 41-stop book tour (not including stock signings), that's no small thing.
After I did a talk, a reading--yes, I do voices--and a q&a, we got around to the signing. I sold a pile of books and, again, not necessarily because of me. Gayle had marked down my $24.99 hardcover to $17.99.
"Are you making any money off that?" I asked her as I signed.
"I'd rather sell more books," she replied. "I want to get all my customers hooked on you."
I didn't hug her right at that moment. But I did later. This, clearly, is a love affair built to last.
I just hope Ron will understand.
For more Brad, sign up for his newsletter, follow him on Twitter or became a fan of Brad Parks Books on Facebook.