Shelf Awareness for Monday, May 9, 2011

Quotation of the Day
'The Best Advice'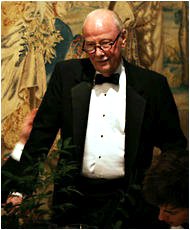 "Every day when I wake up in the morning and I come to work, I have no idea what's going to happen. All the books that I think are going to sell don't work, and all the books I don't think are going to work sell a lot and win awards. That's why I love this business so much."
--Random House editor Bob Loomis when asked for career advice, as recounted by Karen Rinaldi of Rodale Books, in a
New York Times
profile of the legendary editor's retirement this year.


News
Image of the Day: The Joy of Hobby Farming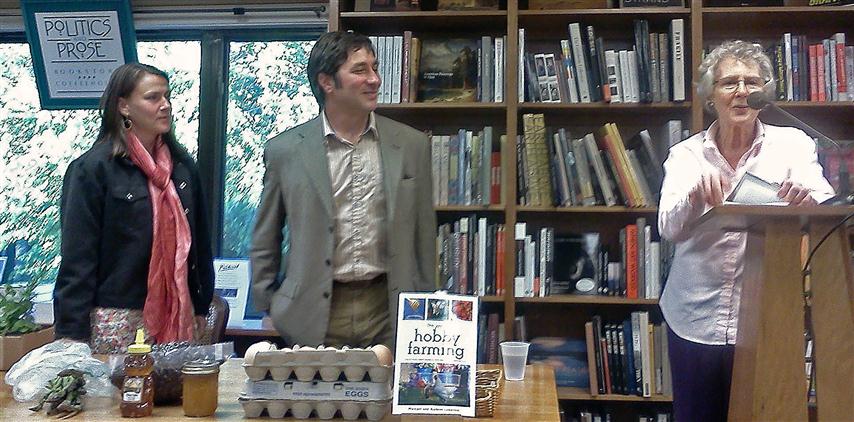 Last week longtime Norton rep Michael Levatino, who for years sold to Politics & Prose, made a different kind of call on the Washington, D.C., bookstore. He and his wife, Audrey, spoke about their new book, The Joy of Hobby Farming: Grow Food, Raise Animals and Enjoy a Sustainable Life (Skyhorse Publishing). The event included a raffle of products from the Levatinos' farm, Ted's Last Stand, including eggs, honey, jam, asparagus and even llama manure (labeled llamanure). Here P&P's Barbara Meade introduces the hobby farmer-authors-sales pros.


IPG's New Look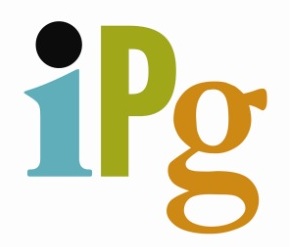 Starting today, Independent Publishers Group adopts a new logo that features the company's initials. The new look reflects the distributor's growth into a company that, as president Mark Suchomel put it, is "more technologically minded and more cutting edge and current" than when its last logo--featuring a crisp, serene open book--was introduced more than a decade ago. (How things have changed!)
While the company will continue as Independent Publishing Group, it will more often refer to itself as IPG, which is used by most people and is reflected in the new logo. Suchomel explained: "Ten years ago 'independent' had more claim to it. Now more people are using it. Sometimes it's also used for self-published titles, and while we are proud to be Independent Publishers Group, we don't want to confuse people."
The new logo will also adorn IPG's website when it is relaunched in June. The new site will have a much cleaner design and be easier to navigate. Among new features, some of which will be part of "stage two" of the effort, are the ability to sell e-books directly, author videos that are easier to put up, a place authors may contribute content to their titles as well as more information for client publishers on the part of the site dedicated to them.


The Book on B&N: An Analyst's Thumbs Up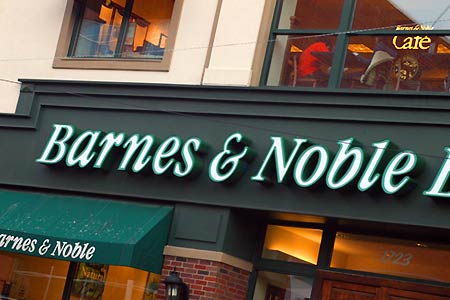 After a Wall Street analyst began coverage of Barnes & Noble with a buy recommendation, B&N shares closed on Friday at $14.37, up 13.1% on more than three times the usual volume.

Janney Capital Markets analyst David Strasser has found promise in the company's Nook e-reader, saying that B&N's "Internet segment" could generate sales of $2.3 billion and profit of $1.56 a share in two years, according to the Wall Street Journal. "Digital book sales generate operating margin at a percentage rate in the high-20s range, compared to the 'mid-teens' from book sales at its about 700 stores, Strasser estimated." He added that B&N's increased spending on e-readers in the past several years will pay dividends "as e-book growth accelerates."

Strasser said that B&N and Amazon are in a "two-horse race" for e-readers since Apple and Google are "not focused on publishing." B&N has plenty of room for growth as the digital book market increases to $5 billion-$6 billion from $2 billion in the next couple of years, even if it just maintains its 30% market share. He estimated e-reader usage currently at more than 6 million Kindles and 2 million-2.5 million Nooks.

Among Strasser's other points: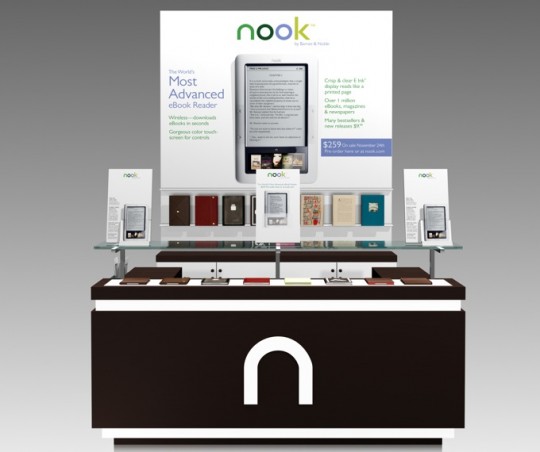 With a 75% store overlap with Borders, B&N "could pick up about $370 million of sales" from the 226 stores Borders is closing.

Because Strasser believes "it will be tough for Borders to emerge from bankruptcy," more store closings will add more opportunity for B&N. But the 226 were enough for Strasser to make the odd comment: "The magnitude of the benefit from just the first round of store closures is pretty exciting."

B&N has an advantage over online rivals because its 700 stores prominently display the Nook and have "a dedicated sales and service staff to sell the device."

The Borders bankruptcy makes B&N all the more important for publishers and "gives it more clout in pricing and book availability, including exclusive digital content."

B&N is growing online in categories where it does not have a strong market share in the printed book world. For example, it has a 2% market share in printed romance books but a 20% market share in digital romance books.


Notes: Bookseller-Writers; Future Ex-Borders Employee

This summer Hachette, Penguin and Simon & Schuster are launching Bookish, a website that aims to "provide readers--from the most casual to the most dedicated--with a personalized experience connecting them with their favorite authors and books through original editorial features, unique tools and more."

Bookish said it will be editorially independent and offer "great content about books and authors from a variety of publishers." Users will be able to buy print and digital books directly or through retailers. Bookish said it is "dedicated to working closely with book retailers, and in the coming weeks will reach out to explore ways to complement the retailers' efforts and enhance all reader experiences."

The AOL Huffington Post Media Group is partnering with the three publishers on the project both to use its content on its sites and to help sell ads. Paulo Lemgruber, who formerly developed and ran digital businesses at Comcast and Reed Elsevier, is the CEO. Charlie Rogers, formerly editor-in-chief of digital media at NBC Universe, is editor-in-chief. Rogers earlier worked at Martha Stewart Living Omnimedia and the Paris Review.

David Shanks, CEO of Penguin Group, told the New York Times: "We thought it would be really good if we could come up with a site that embraced all the amazing marketing materials that publishers have been doing on their own sites and put them together on one site, with the purpose of answering the question for the consumer, 'Which book should I read next?' " Readers will also be able to recommend books to each other.

Lemgruber said Bookish will work with "the entire publishing and bookselling community to make Bookish an exciting destination that will delight readers." According to the Times, the three publishers will finance Bookish until it becomes profitable.
One bitish of confusion already: Booki.sh is an Australian site affiliated with ebooks.readings.com.au, the main digital site of the Melbourne, Australia, bookseller, that connects publishers with independent booksellers and is a personal library application.
---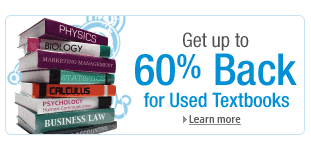 Less than 24 hours after Amazon.com filed a lawsuit against the National Association of College Stores declaring its advertising is true and not misleading, the National Advertising Division of the Better Business Bureau dismissed a NACS complaint about Amazon advertising that had precipitated the lawsuit (Shelf Awareness, May 5, 2011).
The decision by the National Advertising Division came because of the lawsuit, filed by Amazon in its hometown of Seattle. According to NACS's Campus Marketplace, the dismissal letter to the association said that the inquiry was closed because "the challenged claims are now the subject of pending litigation."
NACS general counsel Mark Fleischaker said that Amazon's suit was "simply an effort by Amazon to move to a more friendly forum for a review of its advertising."
Amazon's move also has raised the stakes concerning Amazon's advertising. (NACS has objected to Amazon's assertion that students can save up to 30% on new textbooks and up to 90% on used textbooks.) The Better Business Bureau's review would have been confidential until a decision was made and would have had no enforcement provision. The Amazon suit also seeks a judgment that Amazon is not in violation of the Lanham Act, which prohibits trademark infringement, trademark dilution and false advertising.
Fleischaker added that NCAS plans to file "a motion to dismiss the Amazon complaint and will decide how to proceed on the false-advertising claims at an appropriate time. We are disappointed that NAD decided that it could not proceed because the matter is now pending in court, but in no way do we expect that to be the end of the story."
---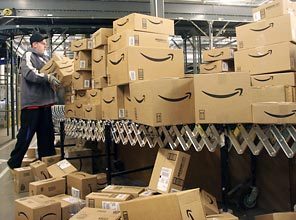 Amazon may "double down on its economic and political bets in Tennessee" by building three more distribution centers in Nashville and/or Knoxville. The Chattanooga Times Free Press reported that an April 29 state filing indicated the company "would invest $180 million and employ about 1,700 full-time workers and 2,000 part-time or seasonal workers within two years. That would more than double the $139 million investment Amazon is making with distribution centers in Hamilton and Bradley counties."

Dave Clark, v-p of Amazon's North American operations, said the company is "looking at expanding our commitment to Tennessee because the state is committed to Amazon." The revelation, which comes in the wake of Amazon's recent sales tax feuds with South Carolina and Texas, "could raise the stakes as some top Republican legislators push to make the company collect sales taxes on Tennessee sales," the Times Free Press wrote.
---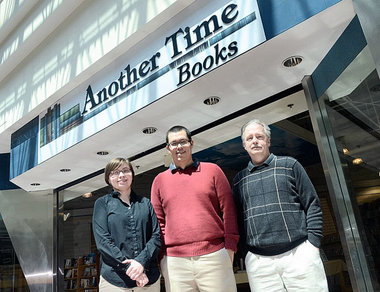 Another Time Books has opened in the ShoppingTown Mall in DeWitt, N.Y., according to the Syracuse Post-Standard.

The store sells new and used books, games and used CDs and DVDs and is owned by Andrew Corely and Bob Gray. Gray is the owner of the late Twilight Books & Games; Corely is a bookselling newbie.

Corely said that the mall managers were "fantastic. Very accommodating. This is the space we had in mind and this was the space they had in mind for us. It came together very quickly."
---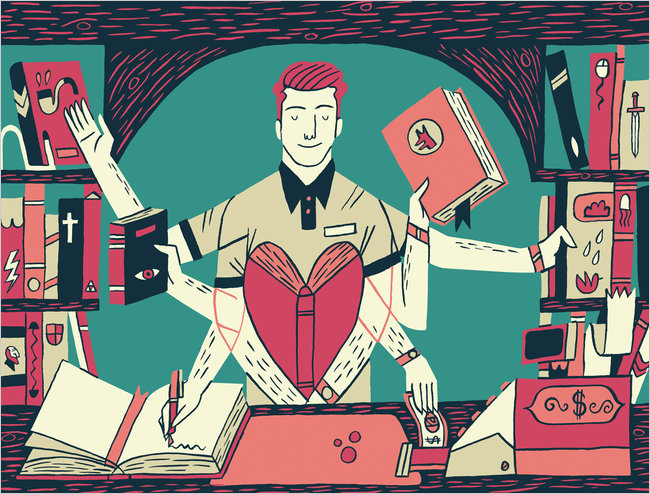 Yesterday's New York Times Book Review featured an essay on booksellers who write--or writers who work or worked or will work in bookstores. Among the current bookseller-writers mentioned are Emma Straub of BookCourt, Brooklyn, N.Y., Ellen Meeropol, the Odyssey Bookshop, South Hadley, Mass., Jennifer Close, Politics & Prose, Washington, D.C.; and Jami Attenburg, who works Saturdays at WORD, Brooklyn, N.Y.

Among authors who used to work in bookstores are rocker Patti Smith, who worked at Brentano's and Scribner's Bookstore in New York City; Jonathan Lathem, who worked in Moe's, Berkeley, Calif., and helped found Red Gap Books, a used bookstore in Blue Hill, Me.; and Larry McMurtry, whose huge store, Booked Up, is in Archer City, Tex.

Then there are bookseller-author-publishers, such as Kevin Sampsell, who works at Powell's Book, Portland, Ore., has a press called Future Tense Books and has published several books.
Book Court stands out in the bookseller-writer world. General manager Zack Zook estimated that three-quarters of the staff, including Emma Straub, are writers. In addition, Adam Wilson is a Book Court alumnus who met his editor of his forthcoming novel at the store. And Zook just hired Martha Southgate, whose fourth novel is coming out this fall.
---
Congratulations to Anderson's Book Shop, Larchmont, N.Y., which celebrated its 65th anniversary on Saturday, according to the Larchmont Patch.

Owner Tamara Greeman's husband, Peter, bought the store in 2000, largely because the founder, Charles Anderson, "had written his college recommendation and shaped what he had read about and talked about," Greeman said. "He considered him to have been a mentor and figured that he owed him something."

Over the years, Greeman has added stationery, picture frames, art supplies, puzzles, games and jewelry to the store's mix. It also has helped that the family bought the store's building.

Anderson's should be celebrating more significant anniversaries: Greeman's son, Tim, "will likely take over when she retires," the Patch noted.

---

Two used bookstores in Fort Wayne, Ind., are closing, the Fort Wayne Examiner reported. The pair are the Book Rack, founded in 1975 and a Book Rack franchise, and Village Books, founded in 2000.
---

The future for indie bookstores in Ann Arbor, Mich., as hometown giant Borders Group contracts was the focus of AnnArbor.com's piece in which Bill Zirinsky, co-owner of Crazy Wisdom Bookstore and Tea Room, said, "Bookstores will make it through these dark ages. We certainly will." He also noted that specializing worked to his shop's advantage: "If you're interested in our core subject areas--integrative medicine and holistic health, spiritual traditions across the globe, and psychological insight--then there are very few bookstores in the country with our depth of inventory."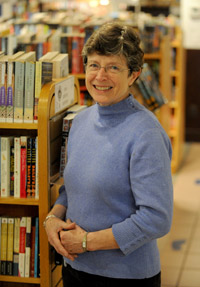 Nicola Rooney, owner of Nicola's Books, said, "I think our peak year was about 2002, and then it has been stable and steadily declining--in terms of sales--ever since then. In terms of profitability, I've gotten cleverer. We don't do a lot of things that we used to do that were not worth doing. Sadly, very sadly, I say this, a lot of advertising, particularly with NPR--underwriting, which was very expensive, it was the right thing to do, but unfortunately not very economically justifiable. We used to advertise regularly three to four times a week in the Ann Arbor paper. We don't do that now."

Robin Agnew, co-owner of Aunt Agatha's bookstore, observed that used books "keep our doors open in the slow months and... get customers in the door."

Rooney added, "Everyone says how wonderful Borders used to be. There is a lot of sadness, and fondness for how it was. It used to be the kind of place where you could walk in and ask them for anything and they would know what you wanted. I think they dug their own grave unfortunately by getting rid of all the people who knew anything about books because the upper levels seemed to feel that you didn't need to know anything about books in order to run a bookstore, and I think they've been proven wrong."

---

A humorous look at bookstore closings may seem like a comedic stretch, but the McSweeney's series "Open Letters to People or Entities Who Are Unlikely to Respond" featured a missive from Jen Mueller, "soon-to-be ex-bookstore employee," to "Customers Shopping the Liquidation Sale at the Bookstore Where I Work." A sampling: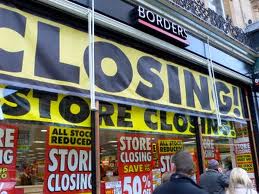 "Yes, this store is closing. I understand the four-foot tall signs that scream STORE CLOSING! in bold primary colors are somewhat subtle and easily overlooked. To be fair, there are only like 500 of them. We really should have more signs if we expect you to get the message.

"You're right: it is completely rude of me to simply nod and point to the nearest sign when you ask me if this store is closing. I should be a lot nicer, especially since my job will die as soon as I finish digging its grave....

"It also makes complete sense to me that you would believe a store that is liquidating its inventory and closing forever is still receiving new books, or that if you can't find a book I can order it for you. I also understand your anger and frustration with the fact that we have no computer system to check our inventory for a book you want despite that you don't remember the title or author, or even whether it's fiction or non. These are all things I would have been able to do a few weeks ago, when we were still a store. The fact that I can't do any of these things now must be baffling."

---

Woody Allen's top five books. For the Guardian, Allen selected "the books that have made most impact on him as a film-maker and comic writer."

---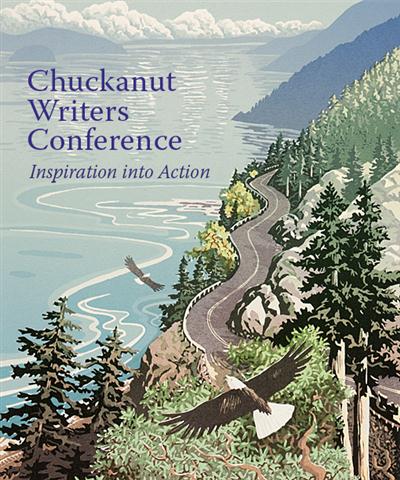 Cool idea of the day: Village Books, Bellingham, Wash., is co-sponsoring the inaugural edition of the Chuckanut Writers Conference, which will be held Friday and Saturday, June 24 and 25, and will be held on the campus of co-sponsor Whatcom Community College. The conference is geared toward emerging and experienced writers, will focus on the craft of writing and is "cross-genre." A portion of the proceeds from the conference go to the Whatcom Literacy Council.

Conference faculty includes a range of writers and agents. Besides panels, breakout sessions, readings and book signings, the conference concludes with open mic events for participants in the Fairhaven district of Bellingham.
---
Book trailer of the day: Queen of Kings by Maria Dahvana Headley (Dutton).
---
Michelle Aielli has been promoted to director of publicity, Little, Brown. She joined the company in 2004 as a publicity manager focusing on James Patterson titles and has worked on campaigns for a range of other imprint authors.

Sabrina Callahan has been promoted to assistant director of publicity, James Patterson. She joined the company in 2007 as a senior publicist and played a major role in the launch of Mulholland Books.


Media and Movies
Movies: Hey, Boo; Priest
Hey, Boo: Harper Lee and To Kill a Mockingbird, a documentary about the author and her much-beloved novel, opens in New York City and Los Angeles this Friday, May 13, and opens nationwide soon afterward. The documentary is by Mary McDonagh Murphy, longtime producer for CBS News who is now an independent filmmaker (and also married to USA Today's Bob Minzesheimer!).

The documentary includes interviews with Anna Quindlen, Tom Brokaw, James McBride, James Patterson, Wally Lamb, Oprah Winfrey and others about the novel and how it shaped their lives and careers. Murphy also interviewed Lee's sister, Alice.

Last year, Murphy published Scout, Atticus, and Boo: A Celebration of Fifty Years of To Kill a Mockingbird, a book based on the documentary (Harper, $24.99, 9780061924071). A Harper Perennial edition will appear July 5.
---
Priest, based on the graphic novel series by Min-Woo Hyung, opens May 13. Paul Bettany, Karl Urban and Cam Gigandet star in this alternate reality, post-apocalyptic sci-fi tale of a man searching for his captive niece amid a war between humans and vampires. Volumes 1-3 are available from Tokyopop ($19.99, 9781427854766).


When to Expect What to Expect
The movie version of What to Expect When You're Expecting, based on Heidi Murkoff's bestselling book, will be released May 11, 2012--which is, appropriately enough, Mother's Day weekend next year. Variety reported that Lionsgate and Phoenix Pictures "are in talks with Cameron Diaz for the lead in Expecting. Kirk Jones has been on board since March to direct."


Media Heat: Chaz Bono's Story
This morning on the Today Show: Glen Handler, co-author of Lies that Chelsea Handler Told Me (Grand Central, $24.99, 9780446584715).

---

This morning on Imus in the Morning: Chaz Bono, author of Transition: The Story of How I Became a Man (Dutton, $25.95, 9780525952145). Bono is also on Good Morning American tomorrow.

---

This morning on Good Morning America: Julie Andrews and Emma Walton Hamilton, authors of The Very Fairy Princess (Little, Brown, $16.99, 9780316040501).

---

This morning on Fox & Friends: DeVon Franklin, author of Produced by Faith: Enjoy Real Success without Losing Your True Self (Howard, $23, 9781439171035).

---

This morning on MSNBC's Morning Joe: Walter Mosley, author of Twelve Steps Toward Political Revelation (Nation, $12, 9781568586427).

---

This morning on NPR's Morning Edition: Seth Fletcher, author of Bottled Lightning: Superbatteries, Electric Cars, and the New Lithium Economy (Hill and Wang, $26, 9780809030538).

---

Today on NPR's Talk of the Nation: Marc Freedman, author of The Big Shift: Navigating the New Stage Beyond Midlife (PublicAffairs, $24.99, 9781586487850).

---

Today on Ellen: Bethenny Frankel, author of A Place of Yes: 10 Rules for Getting Everything You Want Out of Life (Touchstone, $24.99, 9781439186909).

---

Tonight on CNN's Piers Morgan Tonight: Jesse James, author of American Outlaw (Gallery, $26, 9781451627855).

---

Tonight on the Late Show with David Letterman: Albert Brooks, author of 2030: The Real Story of What Happens to America (St. Martin's Press, $25.99, 9780312583729).

---

Tomorrow morning on Good Morning America: Matt Paxton, author of The Secret Lives of Hoarders: True Stories of Tackling Extreme Clutter (Perigee, $14.95, 9780399536656).

---

Tomorrow morning on the Today Show: Carol Ross Joynt, author of Innocent Spouse: A Memoir (Crown, $25, 9780307592095).

---

Tomorrow morning on Imus in the Morning: Alexandra Styron, author of Reading My Father: A Memoir (Scribner, $25, 9781416591795).

---

Tomorrow on Oprah: Bob Greene, author of 20 Years Younger: Look Younger, Feel Younger, Be Younger! (Little, Brown, $27.99, 9780316133784).

---

Tomorrow on NPR's Talk of the Nation: Martin Meredith, author of Born in Africa: The Quest for the Origins of Human Life (PublicAffairs, $26.99, 9781586486631).

---

Tomorrow on the Dr. Oz Show: Michael F. Roizen and Mehmet C. Oz, authors of YOU: Losing Weight: The Owner's Manual to Simple and Healthy Weight Loss (Free Press, $8.99, 9781451640717).

---

Tomorrow on NPR's Diane Rehm Show: Suzanne Marrs, author of What There Is to Say We Have Said: The Correspondence of Eudora Welty and William Maxwell (Houghton Mifflin, $35, 9780547376493).

---

Tomorrow on Conan: Demetri Martin, author of This Is a Book (Grand Central, $24.99, 9780446539708).


Books & Authors
Awards: Benjamin Franklin Finalists
The Independent Book Publishers Association has announced the three finalists in each of the 50 categories of the 2011 Benjamin Franklin Awards. A winner in each category will be announced at the Benjamin Franklin Awards ceremony at the Javits Center in New York City on Monday, May 23, on the eve of BookExpo America.

See the finalists here.


IndieBound: Other Indie Favorites
From last week's Indie bestseller lists, available at IndieBound.org, here are the recommended titles, which are also Indie Next Great Reads:

Hardcover

The Uncoupling: A Novel by Meg Wolitzer (Riverhead, $25.95, 9781594487880). "I loved this story of a suburban high school community--students, parents and teachers--who are adversely affected when the drama department decides to stage a production of Lysistrata by Aristophanes, a play in which women withhold sex in order to stop war. Wolitzer turns her sharp, sometimes dark wit on the people of Eleanor Roosevelt High School with both bitingly funny and surprisingly poignant results"--Terry Lucas, the Open Book, Westhampton Beach, N.Y.

The Reading Promise: My Father and the Books We Shared by Alice Ozma (Grand Central, $24.99, 9780446583770). "This charming memoir has the potential to spark a revolution in reading in homes and schools everywhere. Ozma describes growing up with her single father from the unique perspective of the thousands of nights that he spent reading to her from the age of eight until the day she left for college. The value of reading, or more specifically, of being read to, is celebrated not only as an important part of intellectual and creative development, but also as a way to forge and to nurture relationships."--Lisa Stefanacci, the Book Works, Del Mar, Calif.

Paperback

Seeds: One Man's Serendipitous Journey to Find the Trees That Inspired Famous American Writers from Faulkner to Kerouac, Welty to Wharton by Richard Horan (Harper Perennial, $14.99, 9780061861680). "Seeds is Richard Horan's paean to American icons--writers, musicians, and statesmen--and the trees that were a significant presence in their lives. Horan traveled around the country to visit the homes of Kesey, Twain, Carson, Buck, Armstrong, and others, where he gathered seeds from often-ancient trees. Collecting was sometimes secretive, sometimes welcomed, often comical. With a bit of history, a touch of literary critique, some botany and travelogue, and a dose of personal revelation, Seeds is a joy to read and a natural to want to share."--Becky Milner, Vintage Books, Vancouver, Wash.

For Teen Readers

Death Cloud: Sherlock Holmes--The Legend Begins by Andrew Lane (Farrar, Straus & Giroux Books for Young Readers, $16.99, 9780374387679). "Sherlock Holmes is 14 years old and expecting his father to pick him up from school to go home for summer break. Instead, his brother Mycroft shows up, not to take him home, but rather to take him to stay with an aunt and uncle he has never met. Disappointment turns to adventure, danger, and intrigue. This is a wonderful introduction to a beloved character. We'll all be looking for more of this series!"--Christine Crawford, Epilog Books, Quincy, Calif.

[Many thanks to IndieBound and the ABA!]


Book Brahmin: Deborah Baker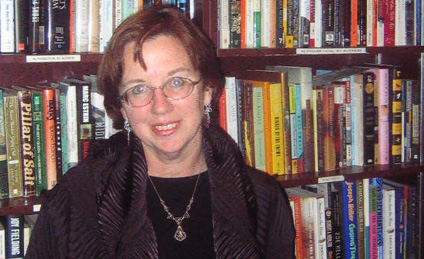 Deborah Baker's The Convert: A Tale of Exile and Extremism (Graywolf Press, May 10, 2011), tells the story of Margaret Marcus, who was raised in suburban Larchmont, N.Y., became fascinated with Islam and moved to Pakistan in 1962, and, as Maryam Jameela, became one of the major voices of Islamic revivalism. Baker's previous books include the Pulitzer-shortlisted In Extremis: The Life of Laura Riding and A Blue Hand: The Beats in India. She and her husband, the writer Amitav Ghosh, divides their time between Goa, India, and Brooklyn.
On your nightstand now:
Eldest Son: Zhou Enlai and the Making of Modern China by Han Suyin, Shah of Shahs by Ryzard Kapuscinski and Dutch: A Memoir of Ronald Reagan by Edmund Morris. I don't generally read political biographies, but these books are so well written and imaginatively conceived that it is like reading a slew of historical epics.
Favorite book when you were a child:
When I was eight, my family moved from rural Virginia to a high-rise in suburban San Juan. I had the odd idea that this vast building was exactly like the one Harriet, of Harriet the Spy, lived in, in New York City. For a time I assumed her spy outfit; notebook, sunglasses without the lens, striped knee socks, flashlight attached to belt and a sorry looking hat. I imagined that in this get-up I would be invisible.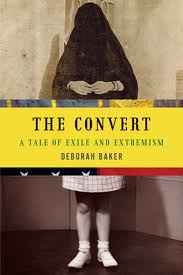 Your top five authors:
I tend to have only one top author at a time: Beatrix Potter, Ernest Thompson Seton and James Thurber were early ones; Faulkner, Woolf and Dostoyevsky came later; and, skipping way ahead, there's my present flame, Orhan Pamuk.
Book you've faked reading:
Usually the one everyone is talking about.
Book you're an evangelist for:
The Forbidden Experiment: The Story of the Wild Boy of Aveyron by Roger Shattuck. A feral child is captured while rooting around in a 19th-century vegetable garden and ends up being studied by a French philosopher. You could not make this up.
Book you've bought for the cover title:
My Family and Other Animals by Gerald Durrell.
Book that changed your life:
Selected Poems by Laura Riding. I was besotted by Riding's poetry in college and then put aside poetry altogether to focus on making a sober living. Seven years later, I stumbled upon this Norton edition in my boss's bookcase and fantasized quitting my unhappy job to write her biography. Instead, the week I finished the proposal, I was fired.
Favorite opening line from a book:
"Bang! Bang! Bang! Bang!
"Four shots ripped into my groin and I was off on the greatest adventure of my life...."--from Sleep Til Noon by Max Shulman
Book you most want to read again for the first time:
Pride and Prejudice. Sigh.


Book Review
Book Review: Miss New India
Miss New India by Bharati Mukherjee (Houghton Mifflin Harcourt, $25 hardcover, 9780618646531, May 17, 2011)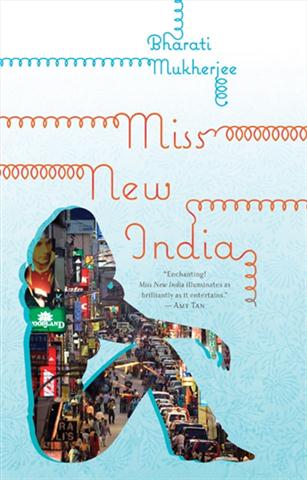 Anjali Bose, 19, lives with her parents in Gauripur, a rural hinterland. She is under the strict rule of Indian tradition, with a father eager to marry her off to the best suitor. Her older sister, whose groom was chosen by her father, is now the divorced mother of a four-year-old, and takes whatever work she can get, however dangerous or unsavory--so Anjali's father feels even more pressure to choose wisely for her.
Anjali alternately chafes under this arranged marriage groom-quest and looks with interest on prospective suitors. She finally agrees to see one of the men. He arrives, all spit and polish, polite and obsequious to her parents and driving a very nice car. Anjali agrees to go for a drive with him, but he forces himself on her, and suddenly she switches from submissive daughter to girl on the run. She waits until the household is asleep, packs a suitcase and decamps.
Anjali has studied English in Guaripur with an American teacher, Peter Champion, and it is to his home she goes. This begins Anjali's education as to the ways of the world. Peter has a male lover, much to Anjali's surprise. Peter gives her money, tells her where to find lodging and to whom she can go for a job in a call center. The destination is never in question: Bangalore! Peter tells her that Bangalore is on fire, it's where the money is, where she should go to seek her fortune and reinvent herself.
Anjali--now Angie--soon learns about the difficulties of leaving the comfort and predictability of home for parts unknown. Much has been written about blending into a new culture, usually involving leaving one's country for another. Angie's shock in another part of her own country is just as great: the many dialects of Bangalore might as well be foreign languages; the young women she meets are free in every sense of the word; the house she moves into is a crumbling ruin that was once a gathering place for members of The Raj, with the owner still trailing tattered clouds of glory.
Mukherjee goes Bollywood after Angie arrives in Bangalore: a series of wildly improbable events catapults the country girl from a new lover's arms to prison to the opulent home of the woman who had decided not to employ her in the call center, off on a canoe trip with a photographer and his friend and, finally, back to visit her old school in Gauripur--where she's hailed as the conquering heroine--all in a period of eight months. Mukherjee leaves quite a few loose ends (plot lines that just peter out) but she has captured the tension between old and new, traditional and postmodern, obligation to family and to self--all that is India today, and the pace at which it is happening. Two of the book's mantras are: "Nothing in the world is as it seems--it's all light and angles" and "We're all Photoshopped." Believe it, as you sign on for the ride.--Valerie Ryan
Shelf Talker: A traditional Indian girl leaves her backwater village for the bright lights of big-city Bangalore.


The Bestsellers
Top-Selling Titles at St. Louis Indies Last Week
The following were the bestselling books at independent bookstores in and around St. Louis, Mo. During the week ended Sunday, May 1:

Adult

1. Bossypants by Tina Fey
2. The Heart and the Fist by Eric Greitens
3. Water for Elephants by Sara Gruen
4. The Help by Katherine Stockett
5. A Visit From the Goon Squad by Jennifer Egan
6. The Bird Sisters by Rebecca Rassmussen
7. Heaven Is For Real by Todd Burpo
8. The Immortal Life of Henrietta Lacks by Rebecca Skloot
9. Major Pettigrew's Last Stand by Helen Simonson
10. Swim Back to Me by Ann Packer

Kids

1. You Are My Little Cupcake by Amy Sklansky
2. Hunger Games by Suzanne Collins
3. Emerald Atlas by John Stephens
4. Oh the Places You'll Go by Dr. Seuss
5. Who Is Coming? by Patricia McKissack
6. My Daddy and Me by Amy Sklansky
7. Of Thee I Sing by Barack Obama
8. Mockingjay by Suzanne Collins
9. Shiver by Maggie Stiefvater
10. Ana's Story by Jenna Bush

Reporting bookstores, all members of the St. Louis Independent Bookstore Alliance: Left Bank Books, Main Street Books, Pudd'nhead Books, Subterranean Books and Sue's News.

[Many thanks to the booksellers!]