Shelf Awareness for Friday, May 20, 2011

News
Image of the Day: Sanders Still Speaking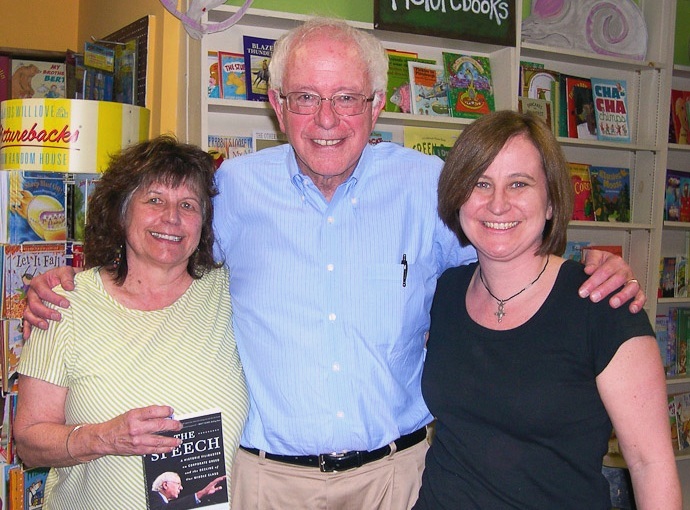 Last Saturday, Bear Pond Books, Montpelier, Vt., hosted Sen. Bernie Sanders, who read from the preface of The Speech: A Historic Filibuster on Corporate Greed and the Decline of Our Middle Class (Nation Books), took questions and signed copies of his book. Here Sanders is flanked by (l.) Bear Pond Books events coordinator Patricia Lyon-Surrey and owner Claire Benedict.


Big Deals: Offer for B&N; Waterstone's Sold
Liberty Media, run by a cable billionaire, has made an offer to buy Barnes & Noble for $1.02 billion, and Waterstone's in the U.K. has been sold to a Russian billionaire. No, it's not April Fool's Day.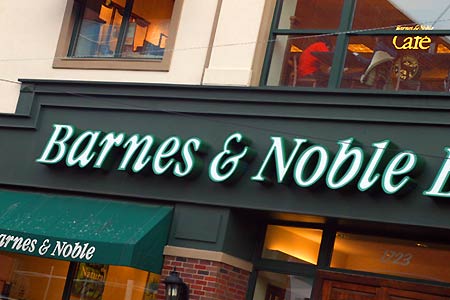 The offer for B&N is the first public offer made since the company put itself up for sale last August. At one point about a dozen groups had shown serious interest. Liberty Media officially expressed appreciation for B&N, saying that the company is "the established leader in bookselling and is at the forefront of the transition to digital, with a management team that has demonstrated expertise in operations and positioned the company for growth in a dynamic marketplace."

Liberty Media is offering $17 a share for B&N, which was 20% higher than the shares' trading level yesterday. In after-market trading, B&N stock jumped up even higher than that level. Liberty Media's offer is, both sides said, "contingent on the participation of founding chairman Leonard Riggio, both in terms of his continuing equity ownership and his continuing role in management." Liberty Media said its stake in the company would be 70%, apparently recognizing that Riggio would keep the third of the company owned by him and his family. Riggio has expressed an openness to working with any acquiring company.

B&N said that its special committee that is entertaining offers has yet to evaluate the Liberty Media bid. Its financial advisor is Lazard Freres.

Liberty Media has investments in a range of traditional and digital companies, including the Home Shopping Network, QVC, Expedia, backcountry.com, drugstore.com, Starz, the Atlanta Braves, McNeil/Lehrer Productions, Sirius XM Radio, Live Nation, Time Warner and Viacom.

One Wall Street analyst saw the move as beneficial to B&N as it continues to grow in the digital world and competes more with Amazon and Apple. Peter Wahlstrom of Morningstar told Bloomberg that ownership by Liberty Media would give B&N the flexibility to close stores faster and give access to capital to invest in its digital initiatives and advertising.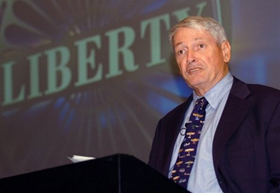 And MSN.money speculated that Liberty Media head John Malone is "interested because he is in the media business, and he sees Barnes & Noble as a media business because of its sizable online operation and its Nook electronic reader."

Malone has been a cable world presence for four decades who has a reputation for being somewhat modest for a multibillionaire and tenacious and crafty in business. (In what might be an apocryphal story, Al Gore once called Malone "Darth Vader.")

Despite the reputation, Malone could be a more beneficial partner-owner than some other corporate and financial tycoons who have gotten into bookselling in recent years, including the Borders bandits Bill Ackman and Bennett LeBow, or Ron Burkle, who still owns nearly 20% of B&N.
---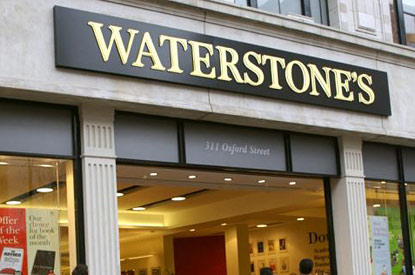 Waterstone's has been sold for £53 million (about $85 million) to A&NN Group, owned by Alexander Mamut, the Russian billionaire who has been close to both presidents Yeltsin and Putin and has publishing and media investments in the U.K. and U.S. A&NN promised "an undiluted commitment to books and bookselling."

Waterstone's has 296 stores in the U.K. and Ireland with 4,500 employees and in the last year had sales of £514 million ($825 million). Like bricks-and-mortar chain booksellers here, Waterstone's has seen sales erode in the last few years--HMV had predicted sales will fall 4% this fiscal year and 11% in the 17 weeks ended April 30. The bookseller was founded by Tim Waterstone, who, after originally selling his company, has been involved in groups that have owned or bid for the retailer several times--and was reported to have been involved with this bid but was not mentioned today.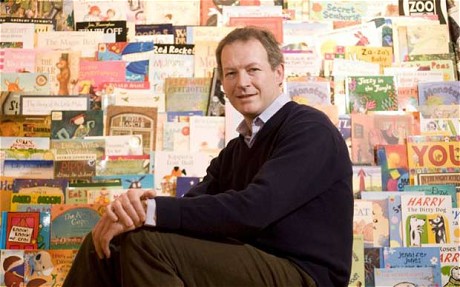 In a surprise move, the new owners have hired as managing director James Daunt, former J.P. Morgan banker and founder of Daunt Books--six beautiful stores in London. The stores will remain independent of Waterstone's. Daunt joins the company July 2. Current Waterstone's managing director Dominic Myers is joining HMV.


The Telegraph called Daunt "to bookselling today what Tim Waterstone was in the 1980s." Daunt appeared undaunted by the task ahead, telling the Bookseller: "This is an important investment from A&NN which will secure a dynamic future for the U.K.'s largest bookshop chain. I look forward to working with Alexander and with the Waterstone's team, and in particular to the challenge of restoring a faith in excellent bookselling to the heart of the business."





Notes: 'Best Reimagined Bookstore'; Seattle's Best to Go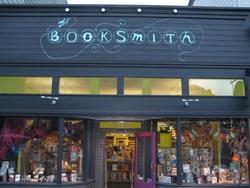 Congratulations to Booksmith, San Francisco, Calif., which won the "best reimagined bookstore" award from SF Weekly in the publication's 2011 Best of San Francisco edition. The citation reads:
"Even in literary-rich San Francisco, it's harder and harder to find a decent bookstore. We've lost Cody's, Stacey's, and A Clean Well-Lighted Place for Books, and even corporate giant Borders has gone bankrupt. When the great 31-year-old establishment Booksmith changed ownership in 2007, we thought, as with many other businesses on Haight, it would lose its homegrown charm. Instead, it got even better. The new owners gutted the clogged entranceway, feng shui-ed the interior, and gave it a cool Victorian steampunk black-and-teal paint job. They expanded the imported magazine and independent zine section, added to the graphic novel and lowbrow art areas, created green living and sustainability shelves, and removed the locked glass around the arty sex books. The knowledgeable staffers place handwritten recommendations next to books they love, and with more than 200 in-store author readings a year, Booksmith is more of a literary mecca than ever."
---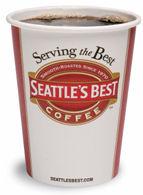 As part of its cost-cutting strategy, Borders Group "plans to end a pact with Seattle's Best Coffee and to begin operating its own in-store cafes as it restructures and tries to become profitable," Reuters reported.

---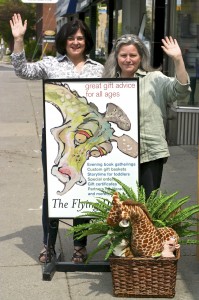 Less than a week after being named specialty bookstore of the year at the Canadian Booksellers Association's Libris Awards, Flying Dragon Bookshop, Toronto, announced it will close June 30, Quillblog reported. On the bookshop's blog, Flying Dragon's owners expressed "heartfelt regret" at the decision, noting that they "have in recent months explored opportunities to embrace the technological advances that have presented themselves with such rapidity in our industry. But at the end of the day we realized that for us, it was all about the books and the tactile, sensory experience they provide."

---


A bookstore choosing not to close is now headline-worthy material. The New York Observer reported that Barnes & Noble "has chosen to extend its lease on one of the busiest retail strips in the outer-boroughs. The bookstore's executives signed a 22,178-square-foot renewal lease for its space at the Muss Development-owned 70-00 Austin Street space in Forest Hills. (Yes, dear reader, it's out in Queens, but it's still New York City.)"

---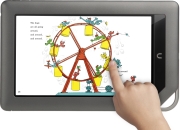 "
Should Children Use an E-Reader?
" asked Technorati's Angela Flynn, who wrote that a trip to her local Barnes & Noble store last week caused her to consider the implications of "a big display promoting the Nook for children. For some reason, this didn't sit well with me. It's not that I have anything against electronic readers. I bought one for my husband on his birthday.... For children, I believe actually holding a book with pages and pictures holds much more value....
"I know kids love electronics. In some cases an e-reader might encourage them to read more. I am all for finding new ways to help children learn. I just wonder why everything has to be a game or interactive. I don't think an electronic device will ever replace books, and I don't think they should."
---
Although the e-book market in the U.S. is growing fast, "there remain significant challenges to overcome in order to see the same level of consumer traction in Asia-Pacific,"
ZDNet
reported.
ABI Research's Larry Fisher cited the unavailability of e-books as a factor, adding that international distributors are apprehensive about offering more products in the region because of "fears of piracy and the difficulty of negotiating license agreements for their content." Fisher also said the appeal of printed content will continue trump digital: "We anticipate nearly 2.5 billion people worldwide will be buying hard-copy books in 2016, nearly four times as many as will be purchasing digital books, magazines and newspapers that year."
---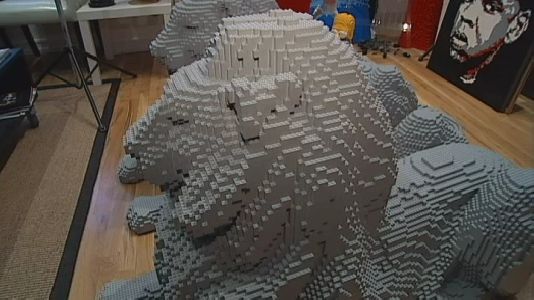 Happy 100th birthday to the New York Public Library's main building on Fifth Avenue at 42nd St.--and to Patience and Fortitude, the lions that flank the entrance to what's officially called the Stephen A. Schwarzman Building. To celebrate, the library commissioned artist Nathan Sawaya to create LEGO facsimiles of Patience and Fortitude. They will be unveiled this morning at 10 a.m. on the library steps. Check out the complete list of the weekend's events
here
, and watch a video of Sawaya bulding the lions
here
.
---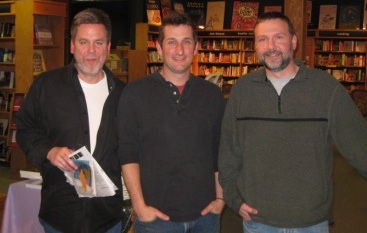 Teamwork: Random House reps Jason Gobble, John Hastie, and Tim Mooney organized a spring Milwaukee rep night last Sunday for three area bookstores: Next Chapter Bookshop of Mequon, Books and Company in Ocomowoc, and Boswell Book Company in Milwaukee. The three (l.) after their spiels.
---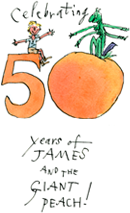 To celebrate the 50 years since the publication of Roald Dahl's classic James and the Giant Peach, Penguin Young Readers Group has kicked off a "Follow that Peach" campaign. Fans can send a "Peach-gram" and follow its path around the Web, watch a tally of "Total Peach Miles" and count the number of "peaches in transit." There's also an option to print out a paper version to send by snail mail.
"Our goal is for each peach to reach 50 people in honor of the 50 years James has been entertaining young readers," according to Jed Bennett, associate director of marketing. "We're excited to see where each peach will travel as the site tallies each stop a peach makes on a giant interactive map."
---
Cliff McNish, author most recently of
The Hunting Ground
, chose his
top 10 most frightening books for teenagers
in the
Guardian
: "Here's a scary little story for you: 'The last man on Earth sat in his living room. There was a knock at the door.' While you think about that, here's my choice of ten stories that in different ways will frighten and enthrall even the most unshakably cocky teenager."
---
A
literary mixtape for the Three Musketeers
was the latest offering in the series from Flavorwire, which suggested that if they were "hanging out today, they'd probably be trekking from adventure to adventure in some kind of van, and they'd have to compromise on tunes, everyone putting in their own two cents and making for a somewhat eclectic mix. Here's what we think they'd duel, woo, and totally turn out to be the Comte de la Fère to."
---
Book trailer of the day:
Man with a Pan: Culinary Adventures of Fathers Who Cook for Their Families
(Algonquin), which includes essays by writer-cooks Stephen King, Mario Batali, Mark Kurlansky, among others, plus dozens of
New Yorker
cartoons and more than 60 recipes.
---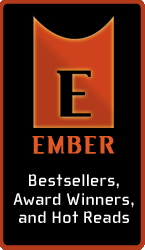 Random House Children's Books has created two new paperback imprints, Ember and Bluefire. Ember will publish middle-grade and YA bestsellers and award winners, such as Amelia Atwater-Rhodes, Judy Blume, Libba Bray, James Dashner, Lauren Kate, Lurlene McDaniel, Sarah Mlynowski, Dana Reinhardt and Michael Scott, and will also offer backlist favorites like Are You There God? It's Me, Margaret; The Chocolate War; Fallen; Nick and Norah's Infinite Playlist; and The Sisterhood of the Traveling Pants.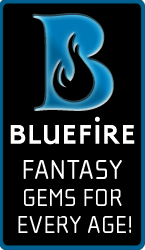 Bluefire will focus on fantasy, with titles by Tamora Pierce, Isobelle Carmody, Esther Friesner, Eoin McNamee, Henry Neff, N.D. Wilson and Janni Lee Simner, among others, as well as bestselling series such as 100 Cupboards, the Beka Cooper trilogy and the Edge Chronicles. Ember and Bluefire join the existing Yearling, Laurel-Leaf and Dragonfly imprints.


Sales: March AAP Figures; Amazon E-Sales Info
In March, net sales of books rose 4.7%, to $484.8 million, as reported by 84 publishers to the Association of American Publishers. For the year so far, net sales of books have dropped 2.5%, to $1.735 billion.
Again e-book sales rose dramatically, rising 145.7%, to $69 million, compared to March 2010. Compared to February, however, e-book sales fell 23.6% from $90.3 million, perhaps because the novelty of e-readers began to wear off for the millions of people who had received them as holiday gifts or because for the moment they have a full e-reading plate. The other strong digital category recently, downloaded audio, fell 6.8%, to $6.4 million.
| | | |
| --- | --- | --- |
| CATEGORY | SALES | % CHANGE |
| E-books | $69 million | 145.7% |
| Religious books | $63.5 million | 27.4% |
| Univ. press paperback | $2.6 million | 7.1% |
| Adult hardcover | $96.6 million | 6% |
| Adult mass market | $55.2 million | 1.2% |
| | | |
| Univ. press hardcover | $4.4 million | -1.9% |
| Professional | $45 million | -5.9% |
| Downloaded audiobooks | $6.4 million | -6.8% |
| Adult paperback | $115.9 million | -7.7% |
| Children's/YA hardcover | $42.1 million | -8.5% |
| Audiobooks | $8.6 million | -11.8% |
| Children's/YA paperback | $34.7 million | -26.3% |
---
In related news, Amazon.com said yesterday that customers are now buying more Kindle e-books than all printed books--hardcover and paperback--combined. Some Amazon "figures": since April 1, for every 100 print books Amazon has sold, it's sold 105 e-books (excluding free e-books); books now have the fastest year-over-year growth rates in over 10 years; and Amazon has sold three times as many Kindle e-books so far this year than it did during the same period in 2010.


Media and Movies
Media Heat: Mattie Stepanek's Mother on Oprah
Today on Oprah: Jeni Stepanek, mother of the late Mattie Stepanek and author of Messenger: The Life and Legacy of Mattie J.T Stepanek and Heartsongs (NAL, $15, 9780451231147).
---
Tomorrow the Today Show will discuss The Notes: Ronald Reagan's Private Collection of Stories and Wisdom by Ronald Reagan edited by Douglas Brinkley (Harper, $25.99, 9780062065131).
---
Tomorrow on NPR's Only a Game: John J. Miller, author of The Big Scrum: How Teddy Roosevelt Saved Football (Harper, $26.99, 9780061744501).


Movies: Stephen Fry Joins Hobbit Cast
Peter Jackson's film adaptation of J.R.R. Tolkein's The Hobbit is "several weeks into production in New Zealand, but new actors are still coming on board," Entertainment Weekly reported. The latest addition is Stephen Fry, who will play "the Master of Laketown, the leader of Esgaroth, a settlement of Men, who is depicted in the book as greedy and cowardly."

Jackson noted that he has "known Stephen for several years, and we're developing a Dambusters movie together. In addition to his writing skills, he's a terrific actor and will create a very memorable Master for us." Jackson also announced that Ryan Gage will play the Master's "conniving civil servant, Alfrid, and Conan Stevens will play an Orc called Azog."


Books & Authors
Book Brahmin: Stefanie Sloane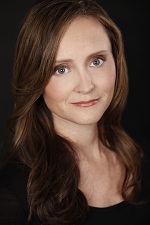 A childhood spent lost in the pages of countless novels led Stefanie Sloane to college where she majored in English. No one was more surprised than Stefanie when she actually put her degree to use and landed a job in Amazon.com's books editorial department. She spent more than five years reading for a living before retiring to concentrate on her own stories. The Devil in Disguise (Ballantine mass market, May 24, 2011) is the first in a trilogy of Regency Rogues novels, with The Angel in My Arms due June 28 and The Sinner Who Seduced Me on July 26. Sloane lives in Seattle with her family. Follow her on Twitter: @stefaniesloane.
On your nightstand now:
Mark Helprin's A Winter's Tale; Blood, Bones & Butter: The Inadvertent Education of a Reluctant Chef by Gabrielle Hamilton; and J.D. Robb's Treachery in Death.
Favorite book when you were a child:
The Laura Ingalls Wilder Little House series. Bottom line, what could be better than churning your butter, sewing your clothes and raising a few barns? My young mind found it all so charming--and so very different from my own world, which, I think, is what made it so attractive. I was intent on growing up, moving to the middle of nowhere and living like an Ingalls. And then I got a little older, discovered lip gloss was really hard to make from scratch, and gave up on my pioneering dreams. But the books will always hold a special place in my heart.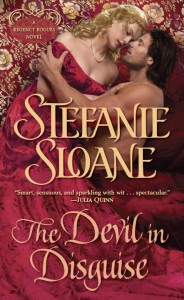 Your top five authors:
I always hesitate when asked to name my favorite anything--favorites seem to change depending on life, love and so on. But if pressed, I would include Albert Camus, Janet Evanovich, Jasper Fforde, Jane Austen and David Sedaris.
Book you've faked reading:
The Histories of Herodotus. Or, to be more precise, a book I very nearly faked reading. I almost added it to my nightstand listing up above, in order to look a touch more cerebral, but thought better of it. In theory, I should love this book. The subject matter is one that I find absolutely fascinating. But I've picked it up a million times, only to put it back down 20 pages in. Actually, maybe I should add it to my nightstand and see what happens.
Book you're an evangelist for:
The Lost Dogs: Michael Vick's Dogs and Their Tale of Rescue and Redemption by Jim Gorant. Emotionally speaking, it's not an easy read--quite the opposite, actually. But as a pit bull owner, I have a responsibility to ensure that people understand exactly what happened and, more importantly, why. So that someday, hopefully, we'll know a world without such hate and abuse.
Book you've bought for the cover:
Millie Waits for the Mail by Alexander Steffensmeier. When my children were younger, I bought a lot of picture books. Something about Millie spoke to me. So many tales for the toddler set are sweet, and nice, and, well, sweet and nice. And that's all well and good. But Millie? She looked to be a crafty cow. And her story does not disappoint. Throw in the chicken sidekicks and you've got one wicked farm tale.
Book that changed your life:
Flannery O'Connor's Everything That Rises Must Converge. This was required reading in a Southern Fiction class I took in college. I can't even tell you precisely why, but I hated it with the burning enthusiasm that only a 20-year-old English major could muster. I'd experienced the power of storytelling before, but never from that particular vantage point. The idea that O'Connor could inspire such intense feelings with her words was, quite frankly, dumbfounding. And amazing. And a gift.
Favorite line from a book:
"I like you very much. Just as you are."--Mark Darcy to Bridget Jones, from Bridget Jones's Diary by Helen Fielding.
Okay, technically two lines. And simple, unadorned lines at that. But within the space of nine words, Fielding manages to convey absolutely everything that Bridget has ever needed to hear--no small feat considering the girl's countless idiosyncrasies and heartbreaking humanness. And Fielding based the book on Austen's Pride and Prejudice, so really, what more could one want? Oh, and extra points for its swoon-worthiness.
Book you most want to read again for the first time:
Jasper Fforde's The Eyre Affair: A Thursday Next Novel. It was like nothing I'd read before--every page literally delighted me with its humor, creativity and rather sly and skillful underpinnings. I reread all of the Thursday Next novels from time to time, but there's nothing like that first read--a whole new world to explore at your leisure. And whoa, can Fforde write whole new worlds.


Book Review
Book Review: Chasing Aphrodite
Chasing Aphrodite: The Hunt for Looted Antiquities at the World's Richest Museum by Ralph Frammolino, Jason Felch (Houghton Mifflin Harcourt, $28 hardcover, 9780151015016, May 24, 2011)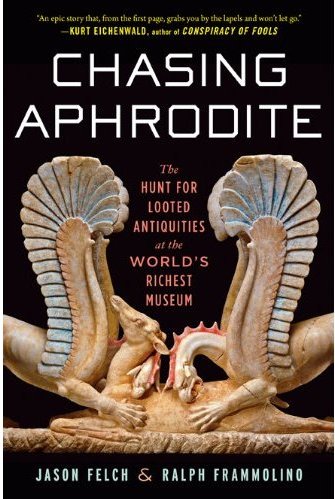 In 1970, UNESCO brokered a landmark international treaty to stem the illicit (and booming) flow of ancient artifacts from source countries like Italy and Greece to private collectors and museums. With primary focus on the acquisition practices and administrative obfuscations of the J. Paul Getty Museum, Jason Felch and Ralph Frammolino, reporters for the Los Angeles Times, show the almost universal disregard of that treaty. The Getty was, of course, not the only museum flaunting the terms of the 1970 treaty, but with a billion-dollar endowment left by its founder at his death in 1976 and the need to spend $50 million a year on acquisitions, it was the richest, as well as a prime customer for any ancient prizes for sale.
From its opening in 1974 through 2007, when many of the Getty's classical treasures were returned to countries from which they had been looted, the museum had followed its mandate to build the finest collection of antiquities that money could buy. Felch and Frammolino chart the shadowy course the mandate set in motion, bringing the Getty's curators into contact with smugglers, art dealers of highly suspect reputation and tax evaders. They do not exaggerate when they write, "The whole thing came off like something out of John le Carré." Reading this book will forever alter the way people will view the dazzling Getty Center in Brentwood or the Getty Villa in Malibu.
At the center of the story stands Marion True, a curator at the Getty since 1982, by which time the museum's practices were well established. As one official has noted of the way business was done, the institution was overpaying for art, making unauthorized acquisitions, blessing inflated and forged appraisals, even offering bribes. True wanted to succeed in the rarefied world of the Getty; at the same time that she developed a reputation as a reformer within curatorial circles, pressing for greater due diligence in purchasing ancient art, she was also acquiring art that she had been warned to avoid.
What Marion True and the administration of the Getty did not count on was the persistence of Italian prosecutor Paolo Ferri in investigating how the trade in antiquities worked. He found the looters, the smugglers, the middlemen, the dealers and the customers--including the museum curators. The trail of evidence was devastating and, in their meticulous reporting of that complex trail, Felch and Frammolino reveal dirty secrets all too similar to the drug and prostitution rackets. As they say about Marion True's life, "Her world was glamorous but not pretty." Their tale is, in turn, irresistible.--John McFarland
Shelf Talker: An irresistible, hair-raising tour of looting, smuggling, corruption and cover-ups, set in the dazzling, billion-dollar enclave of the J. Paul Getty Museum.


Deeper Understanding
Robert Gray: 'Stop, Look and Listen' to the Past at BEA
When some of us gather in New York next week for BookExpo America, we'll once again discuss the future of reading and its potential effects on books (print and digital), bookstores (chain and indie; online and bricks & mortar), publishers, writers, readers and anyone or anything else connected to our wordy world. We will, for the most part, be anxiously, if politely, asking each other: What's going to happen to us?

It's a natural question, since we live in the future most of the time. Even when we talk about the current nature of things, it's hard not to frame these discussions around what might be coming next and next and next, as we glance warily in all directions like a nervous flock of birds, ready to fly at the least provocation.

And while I enjoy this flight toward the future most of the time, it was the past that caught me by surprise earlier this week as I worked on my BEA schedule and finalized travel arrangements.

Quite by chance, I came across a Boston Globe article about author and naturalist Will Curtis, who "died in his sleep April 18 at his home in Woodstock, Vt., where he had moved with Jane Curtis, his wife and writing partner, in the late 1990s after selling their farm in neighboring Hartland. He was 93, and his health had declined in the past few years."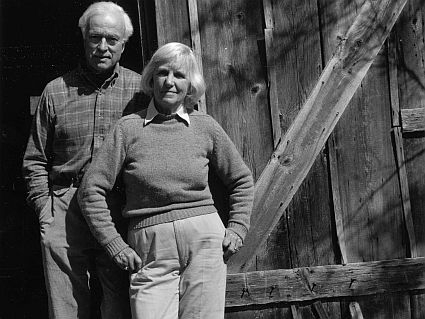 Who was Will Curtis? If the name seems familiar at all, it's probably because you listened to "The Nature of Things," a daily series about his experiences in and observations of the natural world that aired on Vermont Public Radio and was nationally syndicated during the 1980s and 1990s. Curtis had an on-air voice that informed as well as comforted; he sounded like a man in no particular hurry, attuned to the seasons and his surroundings.

Curtis was also an author. In addition to books co-written with Jane, he collected some of his essays in Will Curtis, and this is the Nature of Things (Countryman Press, 1984) and The Second Nature of Things (Ecco Press, 1992). And he was a bookseller, running Woodstock's Yankee Bookshop during the 1960s. In his preface to The Second Nature of Things, he wrote about the genesis of his radio career:


It was on our dairy farm where my real interest in nature began. Much of my time was spent in the fields plowing, planting, haying, and, in the early spring, in the sugarbush gathering sap buckets. Now and then, I would stop, look, and listen. An amazing series of natural events evolved around me. My evenings were often spent reading magazines and books on nature, trying to learn about what I had seen in the fields and woods during the day.

After our herd of Jersey cattle had been sold, Jane and I found ourselves the owners of a bookstore. The object of a bookstore is, of course, to sell books. To help in this we went on the air with reviews on local radio stations.
I met Will and Jane Curtis in 1992, shortly after
The Second Nature of Things
was published. That was also my first year as a bookseller at the Northshire Bookstore, and the event marked my shaky debut hosting and introducing an author at a reading.
Will and Jane arrived early and we grabbed a bite to eat at the Quality Restaurant. For some reason, I still remember that he ordered fried chicken. More importantly, I recall how easy it was to work with him; how much less scary the evening turned out to be because of this quiet, intelligent and humble man. I have a copy of the book, which he signed: "To Bob. With deep appreciation. Will"
A writer died last month and I didn't even know it happened. I feel bad about that.
"Persons to whom the woods are unfamiliar suppose that they see a dying year in the autumn woods. But the woods do not share their secrets with just everyone," Curtis once wrote. "They seem particularly to have deceived poets. For autumn in the woods is not a death stage but a change in life-style. It is a change less profound than the sleep which we mammals accept familiarly and therefore without alarm. The emerging naked limbs may be stark to those not in the know. But they are just a yearly exercise in woodland draftsmanship, a sort of black, geometric architecture puncturing the often deep blue sky."
Next week at BEA, we will talk about the future of our industry, but I suspect that occasionally I'll also heed a nature-of-books version of Will Curtis's wise counsel. Surrounded by visions of the future, I will "stop, look and listen" to a valuable past that is represented there as well... if we're paying attention.--
Robert Gray
(column archives available at
Fresh Eyes Now
)


The Bestsellers
In-Demand: Most Ordered Children's Books
The following were the most-ordered summer children's books on Edelweiss during the last 60 days. The listings include links to the titles on Edelweiss and links to the publishers' e-catalogues:
[Many thanks to Edelweiss and Above the Treeline!]