Shelf Awareness for Monday, July 25, 2011

News
Rebel Bookseller 2.0
Christine Onorati, the owner of WORD, Brooklyn, N.Y., is tired of hearing about how bookstores are doomed. "Half of all restaurants that open close," she said during a panel of New York independent booksellers who gathered last Friday at Greenlight Bookstore to celebrate the reissuing of Andrew Laties's Rebel Bookseller (Seven Stories). "But nobody says restaurants are dying." This was not an academic question for Onorati: her first bookstore never clicked with the Long Island community where it was located and she closed it before opening WORD. "People usually like the idea of a bookstore and what it represents to have one in their neighborhood," she said, but they don't always take the next step of actively shopping there. That's not a problem at WORD though: "We've grown every year since we opened, and our clientele is young."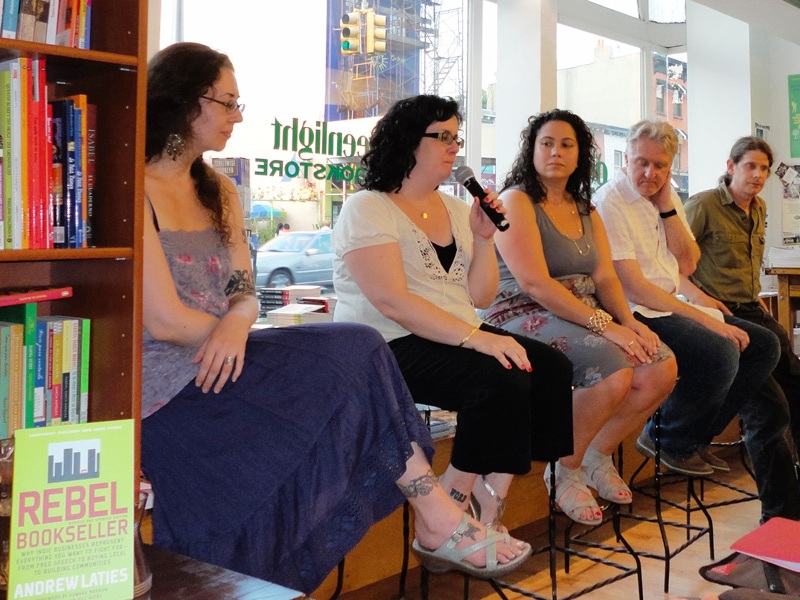 L.-r.: Margarita Shalina, Christine Onorati, Tatiana Nicoli, Denis Loy Johnson, Andrew Laties.
The Borders shutdown was on everybody's mind that evening, but Laties's attitude was a sharp contrast to the wistful farewells that permeated online chatter on the subject. "I have been fighting Borders since 1989," he said at the beginning of the panel, "and I'm very happy that they're going out of business." His anti-corporate attitude was reflected in the short chapter he read, an essay about bookselling in post-communist Latvia that was rejected by the trade publication that commissioned it, he claimed, because it not-so-subtly compared chains like Barnes & Noble and Borders to Soviet-era nationalized retailers who did little more than sell the books they were shipped.
Dennis Loy Johnson, co-founder of Melville House Books (which runs a storefront out of its Brooklyn headquarters), brought a cautionary note to the conversation by observing that however one felt about Borders, hundreds of bookstores had just gone out of business and thousands of booksellers put out of work, and the ramifications for publishers were still unclear. There is a real fear, he explained, that "we won't be able to publish enough books to survive, and the books we do publish will become more expensive."
Margarita Shalina, the small press buyer at St. Mark's Bookshop, New York City, added that independent booksellers who'd been around for decades had a historical perspective from which to view the current situation, but they also needed to keep innovating; she mentioned that St. Mark's had recently begun hosting events, strengthening ties with its East Village community.
Community was also the key to the optimistic spirit exhibited by Tatiani Soli, who opened Boulevard Books in her local neighborhood--Dyker Heights in Brooklyn--in 2010, literally around the corner from her apartment. "I grew up there so I know my community," she said. That's led her to focus on events that reflect broad community interests, rather than trying to lure authors with whom her neighbors might not be familiar to a venue that seems (from a Manhattan perspective) isolated and remote. "And I've never been happier," she said of the past year. "It's the most rewarding experience of my life." --Ron Hogan
Correction: Dennis Loy Johnson emails, "I said that with fewer bookstores publishers won't be able to PRINT enough copies of a given book (meaning margins would worsen and unit prices would have to go up, which would make it harder to compete for surviving indies who can't discount like Amazon).... It would mean that the bankruptcy of Borders, and the shrinkage of B&N, is actually a bad development for indies, counter-intuitive as that might at first seem."


Notes: Apple to Kobo, 'Oh No'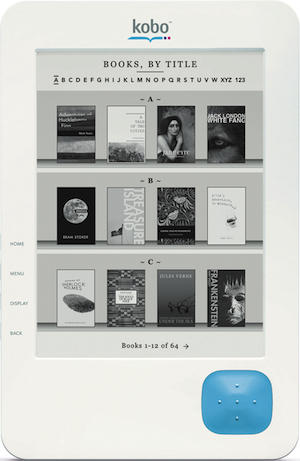 Kobo customers will no longer be able to buy e-books through the company's iPhone/iPad app, as Kobo falls in line with Apple's new rule that prohibits apps from offering direct sales of media content unless Apple can take a 30% share of those sales.
The policy, announced earlier this year, has apparently affected Google Books, too, according to the Wall Street Journal, which added that the newspaper itself no longer sells subscriptions on its Apple app.
On the company's blog, Kobo reassured customers that the change affects purchasing only, which will now have to be done at Kobo.com. "Your books are safe!" Kobo wrote, noting that users "can continue to use the Kobo app to read them, explore Reading Life, and enjoy all the other fun and engaging reading features from Kobo you're familiar with."

---

Panasonic is introducing the Raboo e-reader/tablet hybrid. TechCrunch reported that "Raboo is short for Rakuten Books (Rakuten, Japan's biggest e-commerce company, will offer a total of 10,000 e-books for download from the get-go). Panasonic Japan will start selling the device on August 10 for $445 (don't expect this highly 'Japanized' tablet to be launched anywhere else soon)."
---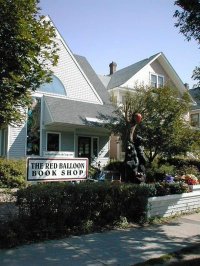 The Red Balloon Bookshop, St. Paul, Minn., is changing hands, according to the Minneapolis Star Tribune. Founder Carole Erdahl and co-owner Michele Cromer-Poiré are selling the 27-year-old children's bookstore on August 1 to Holly Weinkauf and Amy Sullivan, who are from the Twin Cities. The current owners are keeping the building.

Erdahl told the paper that the Red Balloon remains profitable and has broken even during the recession. She decided to sell because "it's time to retire."
---
Cool idea of the day (and Comic-Con coincidence?): Harvard Book Store, Cambridge, Mass., is publishing its first comic anthology that will include work from "some of the New England graphic novel community's most well-known names" as well as contributions from store customers. The store wrote: "Whether it's a few humorous comic strips, an autobiographical mini or a tale of superpowered vengeance, we want your submissions!" Submissions must be made by August 19.
The anthology, called Minimum Paige, will be published on Paige M. Gutenborg, the store's Espresso Book Machine.
---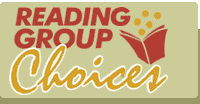 Some 21% of reading group members are now reading all or most of their selections on e-readers, up from 11% in 2009, according to a Reading Group Choices survey; groups representing more than 200,000 members were surveyed online and via a traditional mailing in the first three months of the year.

Of reading group members reading e-books, 59% use Amazon Kindles, 26% use Barnes & Noble's Nook and 20% use a tablet. In 2009, only 7% used the Nook.

Romance, always a popular e-book category, is most frequently read on e-books by book group members: 60% of romance fiction read for the book groups is bought as e-books.

One difficulty that may hold back e-book usage by book group members: many publishers' backlists are not available as e-books.

Reading Group Choices owner Barbara Mead commented: "The use of e-books in concert with printed books only serves to reaffirm book clubs' passion for literature. And e-readers are a great investment for avid readers who are consuming books well in excess of their reading group selections or for book club members with a dwindling amount of free shelf-space."
---

During the most scorching weekend of the summer, Flavorwire showcased the "hottest scenes in literature, from Dante exploring the fiery pits of hell to Gatsby and Tom sweating bullets in their white linen shirts."

---
Book music of the day: Songs About Books, an EP celebrating the paperback publication of The Blind Contessa's New Machine (Penguin). Author Carey Wallace sings five songs about some of her favorite books.


Borders Closing: More Indie Booksellers Respond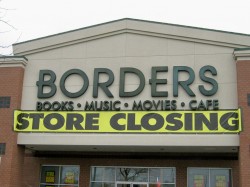 Following the collapse of Borders late last week, local media scrambled for reactions from independent booksellers in their regions. If reporters were hoping for some indie gloating, they may have been a little disappointed. Here's a sampling:

"I think it's very sad to see such a store close up shop. I mean we all do compete, but we are all also in it for the future of books. Borders always had a great local neighborhood feel for a big box store. They were always helpful and they were always supportive. We may see a few more customers come our way because they have fewer options... but in the long run the fewer options really is a sad thing." --Christine Kelly, Sundance Books and Music, Reno, Nev., on KTVN.

"The main thing we think about is this is an opportunity to listen to Borders' customers, listen to where we need to improve. Borders had a lot of customers. Part of the reason is we hadn't reached them, swayed them. We need to have our ears and eyes open.... We're going to expand more quickly into books across our company. And we're going to hire some of the Borders employees, too." --Brett Wickard, Maine's 10-store Bull Moose chain, in the Bangor Daily News.

"Fifteen years ago, I might have been angry about the big bookstores. But now, the Goliath is Amazon.... New York's so well served with bookstores--there's a graver effect in places where customers don't have alternatives." --David Moran, Shakespeare & Co., New York City, in the Village Voice.

"It makes me sad that they're closing because of what it says. I hope it's not a dying business. But we're going to wait and see." --Pat Banning, BookEnds, Kailua, Hawaii, on KITV.

"I think everybody is worried to a degree. I think what independent bookstores have to do going forward is identify their niche and figure out what they can provide to customers that they can't get elsewhere." --Alex Papoulis, Books Inc., Mountain View, Calif., in the Mountain View Patch.

"When we had eight superstores, super bookstores, open within a five-mile radius of us in the early '90s, we compared ourselves to a tugboat as opposed to an oceanliner--in that these mega-chains, to make a change, have to turn about quite slowly, whereas we're the little tugboat that can sort of reinvent, focus, be nimble and keep reinventing ourselves as needed to serve our customers and our community." --Dana Brigham, Brookline Booksmith, Brookline, Mass., on WBUR.

"The bookstores that will stick around are the ones that are going to be nimble and adapt quickly. Small independent bookstores are starting to have a resurgence, especially in places like Lititz, where it's a walking town and where people like coming in and browsing." --Sam Droke-Dickinson, Aaron's Books, Lititz, Pa., in the York Daily Record.

"We also think there is something of a trend away from big box retailing generally and that the small is beautiful concept and specialized more focused stores like ourselves are going to have some benefits from this trend." --Scott Monaghan, Barking Dog Books and Art, Marietta, Ohio, on WTAP.

"My first reaction was, 'Hell, yes!' finally one of the big bad monsters that I have constantly been worried about has had its head cut off! Lemuria has survived the Borders Beast!!! My job has survived the Borders Beast! My second reaction was to empathize with the employees of this company. Now I admit that I don't consider all big box store employees booksellers but I can recognize the concern one feels about not knowing if your job is going to be around for long. That is a fear that independent bookstore owners and employees have been dealing with for years." --Maggie Lowery, Lemuria Bookstore, Jackson, Miss., on the store's blog.


Media and Movies
Media Heat: Brooke Gladstone on Brooke Gladstone
This morning on Good Morning America: Jaycee Lee Dugard's mother, Terry Probyn, and her therapist discuss A Stolen Life (Simon & Schuster, $24.99, 9781451629187).

---

Today on NPR's Diane Rehm Show: Ina May Gaskin, author of Birth Matters: A Midwife's Manifesta (Seven Stories Press, $16.95, 9781583229279).

---

Today on NPR's Fresh Air: Heidi Cullen, author of The Weather of the Future: Heat Waves, Extreme Storms, and Other Scenes from a Climate-Changed Planet (Harper, $15.99, 9780061726941).

---

Today on NPR's Talk of the Nation: Lee Gutkind, editor of Twelve Breaths a Minute: End of Life Essays (Southern Methodist University Press, $23.95, 9780870745713).

---

Today on NPR's On Point: Mary Doria Russell, author of Doc (Random House, $26, 9781400068043).

---

Tonight on the Colbert Report: Brian Cox, co-author of Wonders of the Universe (Harper, $29.99, 9780062110541).

---

Tonight on CNN's Piers Morgan Tonight: Brad Thor, author of Full Black (Atria, $26.99, 9781416586616). Thor also appears tomorrow morning on Imus in the Morning.

---

Tomorrow morning on the Today Show: Denise Richards, author of The Real Girl Next Door (Gallery, $26, 9781451633214). She will also appear on the View.

----

Tomorrow on NPR's Diane Rehm Show: Eric Greitens, author of The Heart and the Fist: The Education of a Humanitarian, the Making of a Navy SEAL (Houghton Mifflin, $27, 9780547424859).

---

Tomorrow on the Rachael Ray Show: Harriett Mogul, author of Syndrome W: A Woman's Guide to Reversing Midlife Weight Gain (Taylor Trade/M. Evans, $16.95, 9781590771617).

---

Tomorrow on a repeat of Ellen: Bristol Palin, author of Not Afraid of Life: My Journey So Far (Morrow, $25.99, 9780062089373).

---

Tomorrow on NPR's Fresh Air: Peter Bergen, author of The Longest War: The Enduring Conflict between America and Al-Qaeda (Free Press, $16, 9780743278942).

---

Tomorrow on the Daily Show: Juan Williams, author of Muzzled: The Assault on Honest Debate (Crown, $24, 9780307952011).

---

Tomorrow on the Colbert Report: Brooke Gladstone, author of The Influencing Machine: Brooke Gladstone on the Media (Norton, $23.95, 9780393077797).




Television: Stephen King's Bag of Bones
The A&E cable network greenlighted Stephen King's Bag of Bones, a two-night, four-hour miniseries that stars Pierce Brosnan and Annabeth Gish. Deadline.com reported that the Sony Pictures Television project, which is directed by Mick Garris from a script by Matt Venne, will premiere on A&E in the fourth quarter of 2011. Filming will begin next month in Nova Scotia.


On Stage: A Clockwork Orange--The Musical
To celebrate next year's 50th anniversary of A Clockwork Orange, songs from Anthony Burgess's musical adaptation of his novel will be performed for the first time by graduates of the Royal Northern College of Music.

Burgess "started working on a stage version of A Clockwork Orange a decade after Stanley Kubrick's controversial 1971 film adaptation," the Guardian reported, adding that while the Royal Shakespeare Company premiered a production based on his script in 1990, songs by U2's Bono and the Edge replaced the original compositions.


Books & Authors
Awards: Will Eisner Comic Industry
Winners of this year's Will Eisner Comic Industry Awards, celebrated during Comic-Con in San Diego over the weekend, included Joe Hill's Lock & Key (IDW) in the Best Writer category; Parker: The Outfit by Darwyn Cooke and Richard Stark (IDW) for Best Writer/Artist; and 75 Years of DC Comics: The Art of Modern Mythmaking by Paul Levitz (Taschen), Best Comics-Related Book.


Book Review
Book Review: 1493: Uncovering the New World Columbus Created
1493: Uncovering the New World Columbus Created by Charles C. Mann (Knopf, $30.50 hardcover, 9780307265722, August 9, 2011)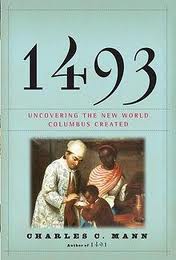 In elementary school we were taught that Christopher Columbus landed on the Caribbean island of Hispaniola in 1492, the first stage in his plan to find a western route to China and circumvent the strangle-hold Venice, Genoa and Islamic nations had on the Silk Road. In this landmark book, Charles Mann (1491: New Revelations of the Americas before Columbus) refreshes our memories of those long-ago lessons, corrects many facts and amplifies our understanding. That voyage from Europe across the Atlantic Ocean turned out to be about more than simply opening an alternative route--it changed the world. Mann focuses on ecological and economic aspects of those changes.
Trade in tobacco and silver between the Americas and Europe provided the spur for what has come to be called the Columbia Exchange, yet the exchange involved much more: large domesticated animals (horses and oxen, the beasts of burden) arrived in North America; common nightcrawlers, red march worm and bees, not seen on the continent since the Ice Age, arrived in Virginia; mosquitoes that carried malaria and yellow fever were brought in from Africa, and so on. As scientist Cindy Hale told Mann, "Four centuries ago, we launched this gigantic unplanned ecological experiment. We have no idea what the long-term consequences will be." Though we can't predict how the experiment will end, Mann's eye-opening stories of what we have learned so far will rivet readers interested in the ecology of the planet and the starting point of globalization. Consider Mann's statement: "The industrial revolution depends on three raw materials: steel, fossil fuels, and rubber. If one member of that triad suddenly vanished, it would have unwelcome effect." Then, read about the leaf blight that decimated rubber plants in Brazil and begin worrying that it could spread elsewhere tomorrow.
Entrancingly provocative, 1493 bristles with illuminations, insights and surprises. Sweet potatoes from Africa came to China and averted a food crisis (and Malthusian limit to population growth); introduction of potatoes from the Andes had the same effect in Europe; and something called the Duffy antigen played a critical role in the slave trade. Mann portrays Mexico City as "a troubled, teeming, polyglot metropolis with an opulent center and seething ethnic neighborhoods... that is struggling to fend off ecological disaster" and sees it as the world's first 21st-century city, although it was already that way in 1642. Setting sail for China, Columbus started it all. --John McFarland
Shelf Talker: An eye-opening study of worldwide ecological changes brought about after Christopher Columbus first set foot on the land in the Caribbean.


The Bestsellers
Top-Selling Titles in St. Louis
The following were the bestselling books at independent bookstores in and around St. Louis, Mo. During the week ended Sunday, July 17:

Adult

1. A Dance with Dragons by George R.R. Martin
2. Go the F**k to Sleep by Adam Mansbach
3. The Immortal Life of Henrietta Lacks by Rebecca Skloot
4. A Stolen Life by Jaycee Dugard
5. Bossypants by Tina Fey
6. A Game of Thrones by George R.R. Martin
7. The Kid by Sapphire
8. State of Wonder by Ann Patchett
9. Nothing Daunted: The Unexpected Education of Two Society Girls in the West by Dorothy Wickenden
10. The Adjustment by Scott Phillips

Children's

1. The Wimpy Kid Do-It-Yourself Book (Revised and Expanded Edition) by Jeff Kinney
2. Catching Fire by Suzanne Collins
3. The Diary of a Wimpy Kid by Jeff Kinney
4. Miss Peregrine's Home for Peculiar Children by Ransom Riggs
5. Thirteen Reasons Why by Jay Asher
6. Forever by Maggie Stiefvater
7. The Hunger Games by Suzanne Collins
8. Invasion of the Potty Snatchers by Dav Pilkey
9. Best Travel Activity Book by Rand McNally
10. Middle School: The Worst Years of My Life by James Patterson

Reporting bookstores, all of which are members of the St. Louis Independent Bookstore Alliance: Left Bank Books, Main Street Books, Pudd'nhead Books, Subterranean Books, Sue's News.

[Many thanks to the booksellers!]