Shelf Awareness for Thursday, August 4, 2011

Quotation of the Day
Reading Aloud & the 'Necessary Musicality of Text'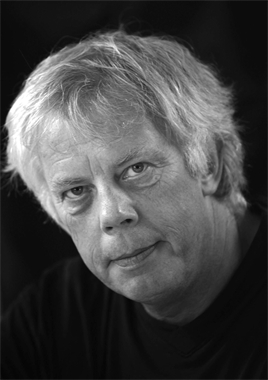 "I was taking my first uncertain steps towards writing for children when my own were young. Reading aloud to them taught me a great deal when I had a great deal to learn. It taught me elementary things about rhythm and pace, the necessary musicality of text. It taught me that books, not just their characters, have voices, and that some are more trustworthy than others. Although I now spend most of my time writing novels for teenagers and adults, 'readaloudability' is still a criterion I try to adhere to. A sentence that clots in your mouth is unlikely to flow in your mind."


News
Image of the Day: Swimming in Sewanee Heat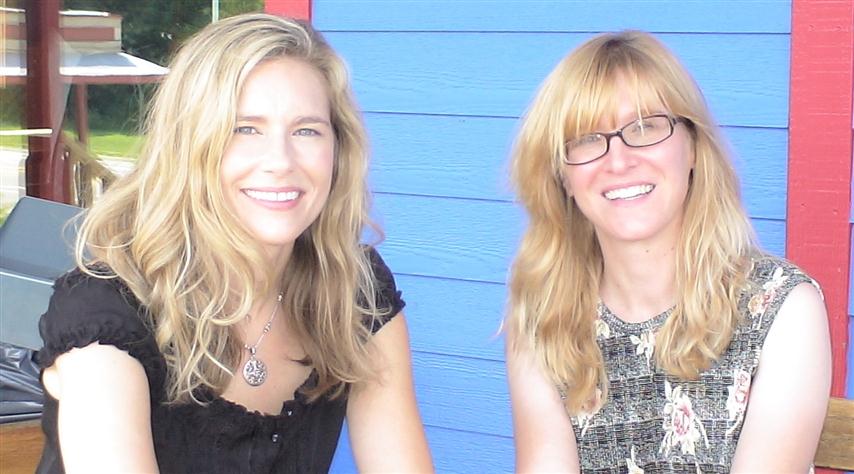 At the Sewanee Writers Conference, where everyone has been "fairly swimming in the heat": (l.) Rae Bryant, whose first book is a collection of stories called The Indefinite State of Imaginary Morals, published this summer by Patasola Press, with her publicist, Caitlin Hamilton.


Notes: B&N's Dog Days; Learning to Love Your EBM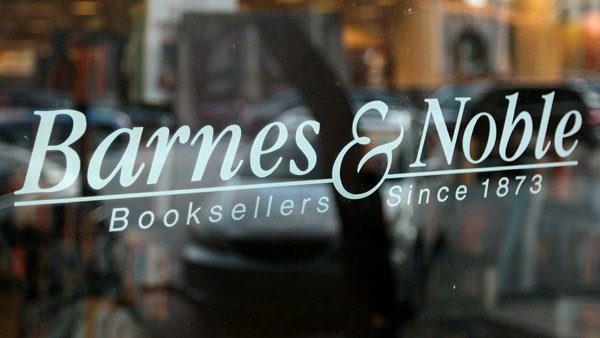 Is Liberty Media's bid for Barnes & Noble proceeding as planned or has it hit a snag? The Wall Street Journal reported that "people familiar with the matter" said Liberty "is working to line up financing" and "is moving from the due-diligence phase of studying the bookseller's financial data and other information to finalizing its offer for the company."

If negotiations between B&N and Liberty progress, a deal could be finalized by the end of this month, but the Journal cited the potential for a Dog Days alternative scenario, noting that "deal activity generally slows in August and credit markets have tightened recently, making financing more expensive, which could cause the negotiations to take longer." Ron Burkle and his 19.74% stake in B&N was described as a "major wild card in a possible deal."

The New York Post claimed the "storybook bromance between Len Riggio and John Malone just took a cruel plot twist," and that talks between the leaders of B&N and Liberty "have hit a rough patch," according to "a source briefed on the process."

---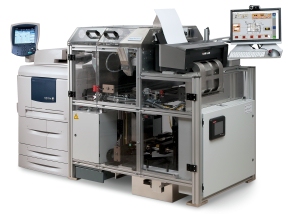 In a Scholarly Kitchen blog post headlined "The Good, the Bad, and the Sexy: Our Espresso Book Machine Experience," Rick Anderson of the University of Utah's J. Willard Marriott Library chronicled their ongoing relationship with an EBM ("Reader, we bought one.") and shared "some of the lessons that we've learned from our experience so far":


Nothing is ever as good as it sounds.
Great concepts don't print books; functional machines print books.
No matter how sexy the delivery mechanism, the content matters more.
No matter how sexy the content, a bad search interface will make it inaccessible.
No matter how sexy the search interface, bad metadata means bad search results.
You can't predict what people will get excited about.
Being an early adopter is expensive.
Start-up companies don't always fully know what they're getting into.

"The bottom line is that I'm kind of cheating by characterizing this as a 'How We Done It Bad' piece," Anderson wrote. "In fact, I'm very glad that we bought our EBM. In hindsight, I might have waited a year or two--but given the unpredictable budget environment, it's not at all clear that we could have done so. Having an EBM has been fun, exciting, and frustrating, and I fully expect that it will continue being all of those things for the foreseeable future--with the mix gradually shifting away from 'frustrating' and towards 'fun' as the technology matures and as we keep discovering new ways to put the EBM to good use for our patrons."

---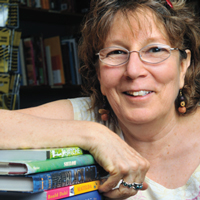 Independent bookstores in Arizona are doing what they do best while seeking new opportunities in the wake of Borders's demise. The Arizona Republic spoke with several booksellers in the region, including Gayle Shanks, owner Changing Hands Bookstore, Tempe, who is "is looking at opening a second location in central Phoenix."

"We sense an opportunity, particularly since Borders is closing," she said, adding that she is not celebrating the chain's end. "Anytime there is one less bookstore, it's a loss for the entire community."

The possibility of a new Changing Hands location sparked a flurry of encouraging comments on the store's Facebook page, with these two being typical:

"YES!!!!! Please come to the West Valley! PLEASE!!!"

"Can you please put a store right next door to me? (Yes, it's a non-commercial neighborhood, but that would be so perfect for me and my book-loving neighbors!) Seriously, a store in central Phoenix or perhaps east Mesa would be fabulous. Another store *anywhere* would be fabulous...."

---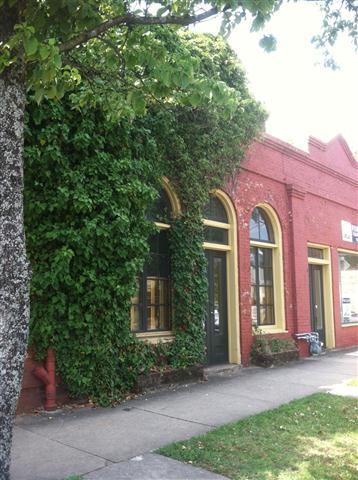 Janet Geddis has found the "perfect location" in Athens, Ga., for her much-anticipated Avid Bookshop. In an e-mail to customers yesterday, Geddis called the space at 493 Prince Avenue, adjacent to the Athens-Clarke Heritage Foundation, "a dream come true. It's the perfect location, really, right smack dab in our dream neighborhood and on one of the most gorgeous historic blocks in town. It's the exact location I've been wishing for for years, never realizing it would ever be up for rent again."

Geddis recalled that "years ago, even before I began formally exploring the option of opening my own bookstore, I would walk by this space and say, 'This should be a bookstore.' Its gorgeous storefront, red brick, and plentiful ivy make it the quintessential setting for a neighborhood bookshop, and we hope you'll agree."

---

Another day, another new BAM store. Books-A-Million will open a shop in the location formerly occupied by Borders at the Carolina Mall in Concord, N.C. The Charlotte Business Journal reported that the Concord store, which will be BAM's 17th in the state, is scheduled to open August 25.

---

Online sales tax dispute video of the day: Stand With Main Street's "Under The Bus Starring Jeff Bezos."

---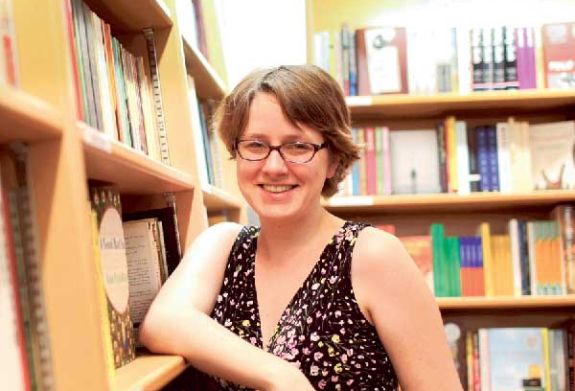 Michele Filgate of McNally Jackson Books, Paul McQuiston of the Strand Book Store and Corey Eastwood of Book Thug Nation were featured as three booksellers "who may have book deals in their future" by amNewYork, which noted that for "every accomplished author with a bestseller, it seems there's an aspiring author who's a bookseller. Writers are toiling away in bookstores, manning the registers, stocking shelves and performing any task that keeps them around their favorite medium."

"It's one of those fantasy jobs for people who love to read," said author Emma Straub (Other People We Married and the upcoming Laura Lamont's Life in Pictures), who works at BookCourt. "You're getting discounts, so you can read as many books as you want, and you're surrounded all day long by people who care about books, which is invaluable."

---

The Gothamist's Staff Picks series featured staffers from Housing Works Bookstore Café in New York City telling you what to read.

---

Cool idea of the day. Greetings & Readings, Hunt Valley, Md., recently hosted a Baby Book Shower. The bookshop reserved a spot in its café for the event. Among the activities, the group went through some of their favorite baby books and eventually bought several to create a baby's first bookshelf. Participant Ashley B. Stewart shared her photos of the event.

---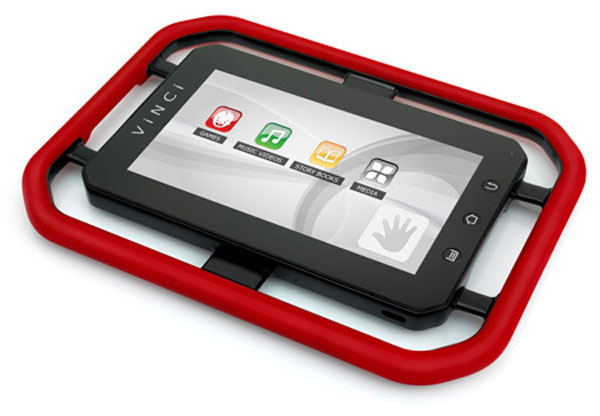 Wondering whether "we're poisoning our kids with too much screen time too early," the Los Angeles Times reported that this month a pair of companies are introducing tablets aimed at children under 10--the LeapPad (for kids 4-9 years old) and the Vinci (0-4 years old).

"As with all tablets, the possibilities for what this product can actually do are infinite. For now, the company has created an interactive storybook, a game and music videos. And the Vinci website is full of additional apps coming soon," the L.A.Times wrote.

The Atlantic noted that with the Vinci, "you can get your kid started on the path to digital literacy before they even know how to read," but raised the question: "Are you so tethered to your iPhone or iPad that you can't allow your baby to play with it, to press a couple of buttons and watch a couple of videos, every once in a while?"

---

Flavorwire asked Jen Kennedy and Liz Linden, who run the Contemporary Feminism website, to recommend "10 books any self-respecting feminist needs on her shelf." Kennedy and Linden chose to make the assignment "a little easier by selecting from what's available in our project book swap, which is part of an exhibition titled 'The Missing Library.' It's a constantly evolving feminist library where visitors are encouraged to take a book from the collection in exchange for leaving one from their own. You can keep these books for a day, a week, or a lifetime, as long as you leave a different book--any other book that you think is feminist--behind."

---

Novelist Tony Parsons (Man and Boy) has become the second writer-in-residence at London's Heathrow Airport, succeeding Alain de Botton, who chronicled his experiences in A Week at the Airport: A Heathrow Diary. Parsons told the Telegraph he is looking forward to "reviving the airport fiction genre." He plans to roam the airport, seeking inspiration for his first collection of short stories, Departures: Seven Stories from Heathrow.

---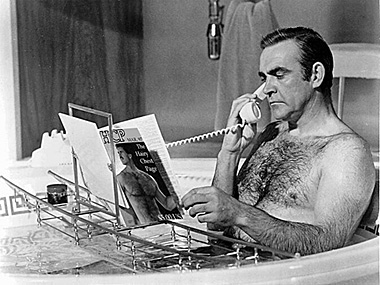 Don't try this with a Kindle. Summer reads will take on a whole new meaning next year when waterproof paperbacks hit the beaches and pools. The Telegraph reported that a "clear wax sealant will prevent running ink and stop pages from becoming soggy and tearing when wet. The tough polymer coating is tear-resistant and promises to increase a title's shelf-life by up to 200%." Alan Cork's The Greater Bad will be the first book to receive the coating, and should be available next May.

---

Book trailer of the day: How to Keep Your Volkswagen Alive by Christopher Boucher (Melville House), a homemade animated trailer by the author's wife, Lisa Bastoni.


Novelist Adopts Bookstore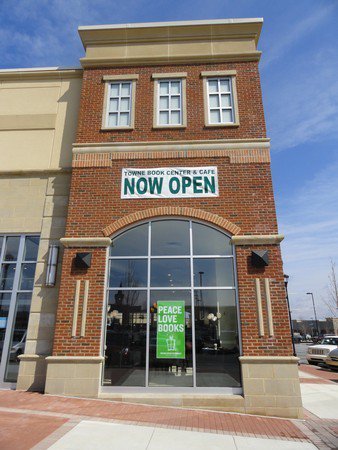 The adoption started the usual way: the adopter wanted to do more.
Novelist Lisa Tucker, whose latest work, The Winters in Bloom (Atria, $24, 9781416575405), will be published in September and is an Indie Next pick, usually buys something whenever she does a reading or signing at a bookstore. But, she said, "I felt like there had to be something more I could do to support bookstores."
So Tucker decided to adopt her local bookstore, Towne Book Center & Cafe in Collegeville, Pa. Her first major project with the store is leading a fiction writing workshop. "The feedback has been tremendous," said Kit Little, the store's marketing director.
The first workshop started in June, ran for four weeks with an hour-long class each week, and garnered 10 sign-ups. It proved such a success that Tucker offered a second session for those participants and others. The four-week continuation workshop, which is currently taking place, has 12 attendees (the maximum allowed). There is already a waiting list for classes being offered in the fall.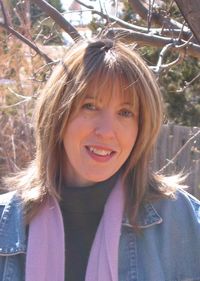 Tucker has taught creative writing at the Taos Writers Conference, UCLA, and the University of Pennsylvania. "This is the first time I've taught in a situation where anyone from the community can join in, and it has been great," she said. The classes at Towne Book Center have drawn a diverse group of attendees, among them a lawyer, a nurse, an English teacher, a new mother and a soon-to-be ninth grader.
Each of the writing workshops costs $40 and, in addition to the instruction and a place to convene, includes an autographed copy of The Winters in Bloom. "Our intention with the workshops is not to make a lot of money," Little said. "It's to offer something to those people that support us and take care of us."
Participants also receive a 15% discount on a class reading list containing such titles as On Becoming a Novelist by John Gardner. Tucker also recommends fiction reads based on each student's interests, both genre-specific suggestions like mystery and YA books as well as ones to illustrate aspects of the craft like Tayari Jones' Silver Sparrow as an example of using two first person narrators.
Being able to hold the workshops and other events in the store is something Towne Book Center wasn't able to do until this February, when the store moved to its current location. (The store was formerly in the nearby town of Trappe and was called the Trappe Book Center.) The new, 8,000-sq.-ft. space is 45% larger and has several new features: a café, an expanded children's section with tables and chairs and a meeting space. Some parents who saw in-store signage promoting Tucker's workshop asked if something similar was going to be offered for children. That is now in the works, along with a one-day short story writing class, an educational seminar with an area doctor and more.
In the great minds think alike department, thriller writer and Author Buzz founder M.J. Rose has been involved in developing an "Adopt a Bookstore" program. "The concept is to come up with actionable and formalized ideas to help bookstores and authors create long-term meaningful relationships that would be mutually beneficial," Rose said. "What Lisa has done proves how potentially exciting this could be."
If teaching creative writing isn't an author's strongpoint, Tucker and Little suggest they try leading a book club discussion or a conversation about modern fiction, offering a Q&A for people who have questions about getting published or teaching kids how to paint and draw. "It's a win-win for the participants and for the store," said Tucker. "And it gives me the chance to give something back to my local community." --Shannon McKenna Schmidt
Editor's Note: Look for more on the "Adopt a Bookstore" program in future issues of Shelf Awareness.
author photo: James Crotinger


Media and Movies
Media Heat: Dirty Secret
Tomorrow on ABC's 20/20: Jessie Sholl, author of Dirty Secret: A Daughter Comes Clean About Her Mother's Compulsive Hoarding (Gallery, $15, 9781439192528).


This Weekend on Book TV: Ann Coulter
Book TV airs on C-Span 2 this week from 8 a.m. Saturday to 8 a.m. Tuesday and focuses on political and historical books as well as the book industry. The following are highlights for this coming weekend. For more information, go to Book TV's website.

Saturday, August 6

2 p.m. At an event hosted by the Tattered Cover Bookstore, Denver, Colo., Michael Wallis, author of David Crockett: The Lion of the West (Norton , $27.95, 9780393067583), talks about the life of the legendary frontiersman. (Re-airs Sunday at 2:30 a.m. and Monday at 7 a.m.)

3 p.m. At an event hosted by Politics & Prose Bookstore, Washington, D.C., John Farrell, author of Clarence Darrow: Attorney for the Damned (Doubleday, $32.50, 9780385522588), recounts the life and career of the noted defense attorney. (Re-airs Sunday at 10 p.m.)

4 p.m. Nicholas Shaxson discusses his book Treasure Islands: Uncovering the Damage of Offshore Banking and Tax Havens (Palgrave Macmillan, $27, 9780230105010). (Re-airs Sunday at 3:30 a.m. and 9:30 a.m.)

7 p.m. Margaret Hoover talks about her book American Individualism: How a New Generation of Conservatives Can Save the Republican Party (Crown Forum, $24.99, 9780307718150). (Re-airs Sunday at 8 a.m. and 11 p.m., and Monday at 4 a.m.)

8 p.m. Gerald Steinacher, author of Nazis on the Run: How Hitler's Henchmen Fled Justice (Oxford University Press, $34.95, 9780199576869), reports on the many Nazi war criminals who averted capture following the end of World War II. (Re-airs Sunday at 5 a.m.)

9 p.m. David Stokes, author of The Shooting Salvationist: J. Frank Norris and the Murder Trial That Captivated America (Steerforth, $27, 9781586421861), chronicles the 1927 trial of one of the leading fundamentalist Christian voices of his time. (Re-airs Sunday at 7 a.m. and 3 p.m.)

10 p.m. After Words. Eric Foner interviews Amanda Foreman, author of A World on Fire: Britain's Crucial Role in the American Civil War (Random House, $35, 9780375504945). Foreman reveals that British citizens fought on both sides of the Civil War. (Re-airs Saturday at 10 p.m., Sunday at 9 p.m. and Monday at 3 a.m.)

11 p.m. Mike Weiss, author of Double Play: How Dan White Got Away with Murder and Changed San Francisco (Vince Emery Productions, $39.95, 9780982565056), talks about the killing of Mayor George Moscone and Supervisor Harvey Milk in 1978. (Re-airs Sunday at 6 p.m.)

Sunday, August 7

12 a.m. Steven Pressfield, author of The Warrior Ethos (Black Irish Entertainment, $9.99, 9781936891009), examines the evolution of the warrior code of honor and mental toughness. (Re-airs Sunday at 7 p.m. and Monday at 5 a.m.)

12 p.m. In Depth. Ann Coulter, author most recently of Demonic: How the Liberal Mob Is Endangering America (Crown Forum, $28.99, 9780307353481), joins Book TV for a live interview. Viewers can participate in the discussion by calling in during the program or submitting questions to booktv@c-span.org or via Twitter (@BookTV). (Re-airs Monday at 12 a.m.)


Movie Music: The Hunger Games
Lionsgate and Universal Republic Records will partner for an album that includes songs played in The Hunger Games movie as well as "music inspired by the film's themes," the Wrap reported, adding that there will also be a soundtrack album of the film score, which was written by T Bone Burnett and Danny Elfman.

The "not-quite-soundtrack" album is being produced by Burnett--executive music producer for the film--and will include performances by "some of music's most successful and acclaimed artists," according to Tracy McKnight, Lionsgate's head of music.

McKnight also noted that "the setting for The Hunger Games ranges from what could be perceived as the rural Southern part of the U.S. all the way to the most advanced metropolis imaginable, and it all takes place in a vividly imagined future. The list of artists that could participate, and the opportunities for them to write and record, are really unlimited."


Books & Authors
Awards: SCIBA Book Finalists
Southern California Independent Booksellers Association booksellers have selected the
finalists for the 2011 SCIBA Book Awards
, which in five of the six categories go to residents of Southern California. (The exception is Glenn Goldman Award for Art, Architecture and Photography.) The winners will be presented at the association's annual Authors Feast & Book Award Dinner, which will be held Saturday, October 22, in Long Beach.


Book Review
Book Review: Ready Player One
Ready Player One by Ernest Cline (Crown, $24 hardcover, 9780307887436, August 16, 2011)
Ernest Cline has a thing for 1980s pop culture the way James Joyce had a thing for the Dublin of June 16, 1904. But you can't re-create a cultural landscape in fictional prose the way you can an actual city, so Cline's come up with a clever workaround: he's created an imaginary online universe programmed by an equally obsessive '80s fan, and then gives his characters (and readers) a compelling reason to explore it.
It's 2044, and teenager Wade Watts is one of the millions of people who are scouring the virtual reality of the Ontologically Anthropocentric Sensory Immersive Simulation (OASIS, for short) for the clues left by its creator, the late James Halliday, that will lead to the "Easter egg" representing his multibillion-dollar fortune--a souped-up version of the extra flourishes that video game designers have been hiding in their work since the days of the Atari 2600. Wade has an intuitive flash that helps him discover the first puzzle, which combines a classic Dungeons & Dragons module with one of the more unusual '80s arcade games, near his high school (given the mess that's become of the real world, of course he's attending school online), but he also crosses paths with Art3mis, a semi-famous egg hunter he's had a crush on for years.
Romance will have to wait, though: not only does Wade need to go through the "you don't know me, you just know me online" conversation, he also faces a threat from a technology corporation that's pouring its resources into making sure Halliday's fortune, and control of the OASIS, will wind up in their hands. The ensuing adventure will take him to a slew of imaginary worlds, drop him into the starring role of cult movies, and even provoke a daring act of real-world industrial sabotage.
One of Cline's greatest challenges is to resist letting the pop culture references do all the heavy lifting; if Ready Player One was just a string of "Ooh, they're talking about Ladyhawke! Hey, he just quoted They Might Be Giants!" scenes, the novelty would wear off fast. It's not enough that readers should want to see the quest solved, they also need to care that Wade's the one who will do it--and the novel largely succeeds on this front, as Wade's online successes are matched by a gradual maturation offline. That said, there's a lot of the '80s crammed in here, and chances are that if you were born between, let's say, 1965 and 1975, you'll be giving the author virtual high-fives for including one or more of your more obscure favorites.--Ron Hogan
Shelf Talker: Cline has concocted an alluring, immersive environment: imagine a novel about playing the iconic 1990s computer game Myst, but with major real-world consequences for the player.


Ooops
100 Writers Writing Separately
Seattle7Writers' October 15 Write Here Write Now workshop will feature 100 writers who will write all day, but they will not write a novel, as we erroneously wrote on Tuesday.
Last year, over the course six days, 36 Seattle7Writers did write a novel, which may explain why we didn't get this writers writing story right.


Deeper Understanding
How Rocket Learned to Read--on an iPad
This year, Anne Schwartz and Lee Wade, the dynamic duo behind the Random House Children's Books imprint, celebrate Schwartz & Wade's fifth anniversary. And they are exploring the outer reaches of what "publishing" means in the 21st century. Here they discuss the way they approached the conversion of their bestselling book How Rocket Learned to Read (featured in a Maximum Shelf) to an app for iPad.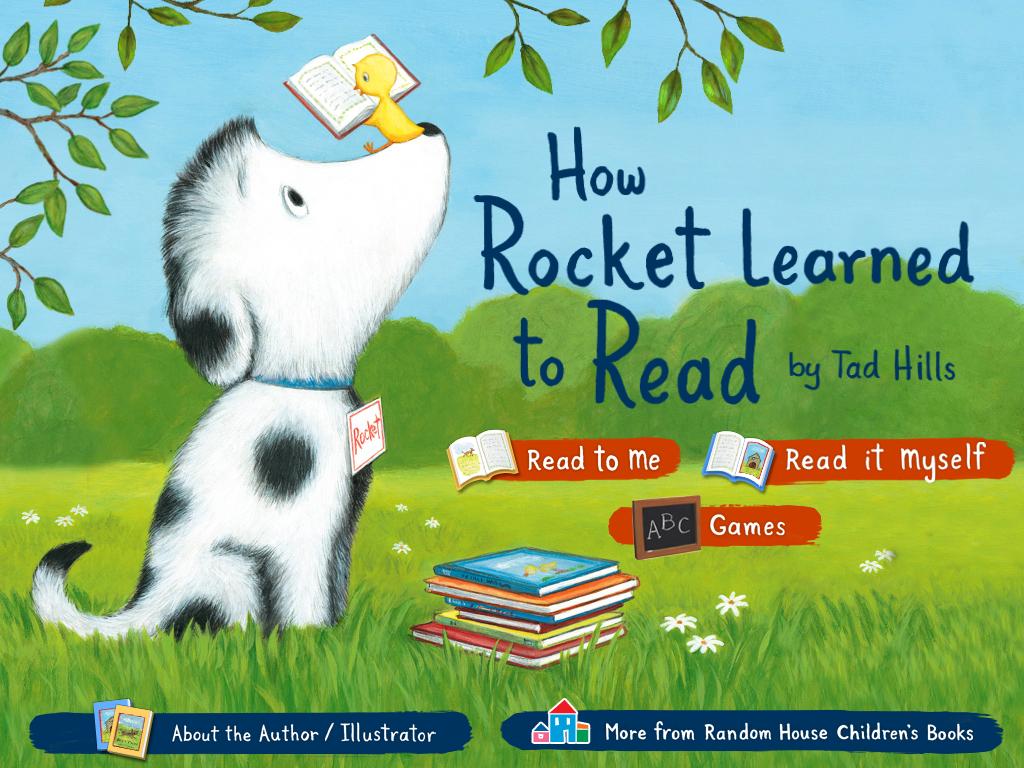 Let's face it.--kids love to grab our iPads and iPhones. As publishers of books for kids, we'd like to think nothing can replace a child's love for a picture book, or the connection a parent and child make when sharing one. But honestly, in this world of babies knowing how to swipe an iPhone and toddlers playing Angry Birds, we are being given a run for our money. So when we set out to create an iPad app for one of our bestselling picture books, How Rocket Learned to Read by Tad Hills, we knew we wanted to make something that parents would feel good about handing to their children. We wanted to make something that was true to the experience of reading the book, that was developmentally appropriate for new readers, that fully used the technology of the iPad and that was fun for kids.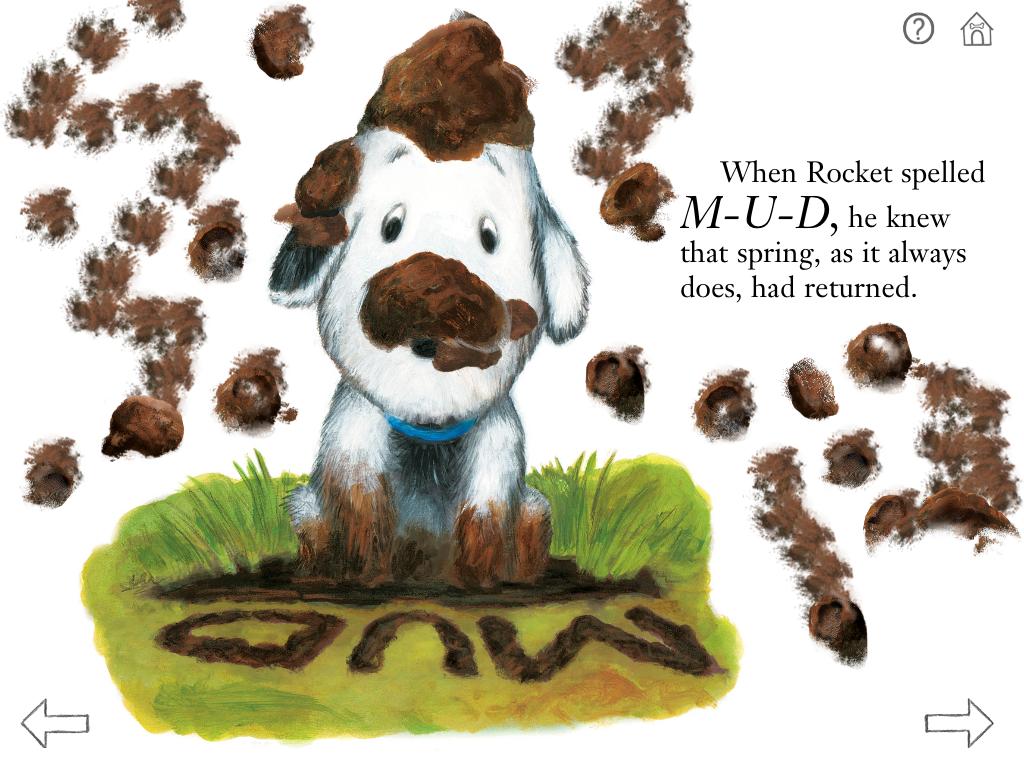 When we worked on the app with Tad and the advertising agency Domani Studios (which happens to be run by Tad's brother), we approached each page with the same question: "What can the unique device that is the iPad bring to the experience of reading this book?" And so, in addition to simple interactive animations on each page, we developed pages where kids could draw in the snow--just like Rocket does--or learn new words that don't appear in the hardcover book by using the letter banner, or finger paint with mud. And since letter identification and sight words are crucial to learning how to read, we added two games that help kids learn while playing.
The bottom line is, we don't think anything can (or should) replace the experience of a child cuddled in a parent's lap turning the pages of a beloved picture book. But with quality apps that are interactive, educational and fun, parents don't need to feel all that guilty.
Now that we have our first app under our belts, we are working on an app that features another one of our bestselling characters, Princess Baby.--Anne Schwartz & Lee Wade


The Bestsellers
Top-Selling Titles on AbeBooks.com in July
The following were the bestselling books on AbeBooks.com during July:

1. The Great Gatsby by F. Scott Fitzgerald
2. How to Win Friends and Influence People by Dale Carnegie
3. The Help by Kathryn Stockett
4. Three Cups of Tea by Greg Mortenson
5. The Seven Habits of Highly Effective People by Stephen R. Covey
6. Harry Potter and the Sorcerer's Stone by J.K. Rowling
7. Their Eyes Were Watching God by Zora Neale Hurston
8. Mythology by Edith Hamilton
9. The Immortal Life of Henrietta Lacks by Rebecca Skloot
10. Narrative of the Life of Fredrick Douglass by Frederick Douglass

The following were the bestselling signed books on AbeBooks.com during July:

1. A Dance With Dragons by George R.R. Martin
2. A Feast for Crows by George R.R. Martin
3. The Stranger's Child by Alan Hollinghurst
4. The Last Werewolf by Glen Duncan
5. Before I Go to Sleep by S.J. Watson
6. Robopocalypse by Daniel H. Wilson
7. State of Wonder by Ann Patchett
8. First Light by John Banville
9. The Greater Journey by David McCullough
10. Harry Potter and the Deathly Hallows by J.K. Rowling

[Many thanks to AbeBooks.com!]