Shelf Awareness for Wednesday, September 7, 2011

News
Image of the Day: Song of Praise on Music Row
Stuart Dill, author of Murder on Music Row: A Music Industry Thriller (John F. Blair, Publisher), which will be released October 1, with country music star Jo Dee Messina (seated next to Dill) and her band. Dill is a veteran of the Nashville country music scene and personal manager for a range of stars, including Messina.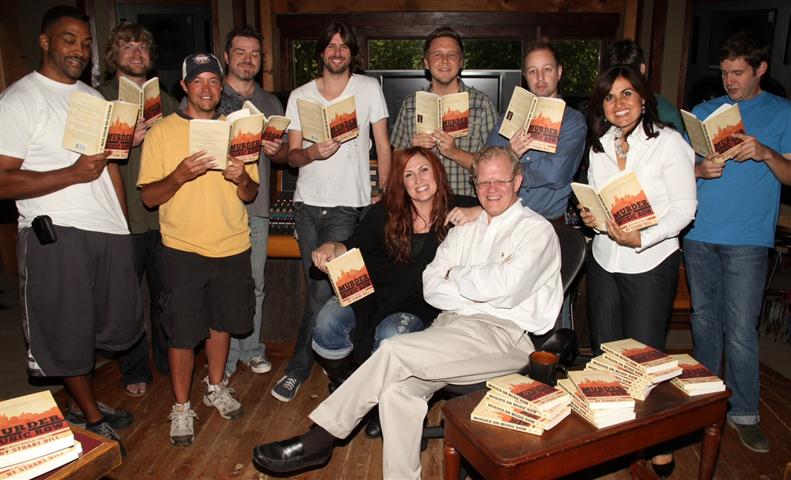 Photo: Randi Radcliff


Notes: Borders Severance; Women Against Women's Fiction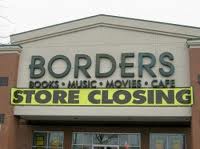 Next Jump and Borders Group, which have fought over Borders's website and customer list, have reached an agreement whereby Next Jump will stop operating the website and purge its lists of Borders customers, Reuters said.

Borders is seeking to sell its intellectual property, including the website and customer lists, this week and had charged that Next Jump was directing Borders customers to its website and transferring their information, which would deflate the value of Borders intellectual property.

Borders said it will still seek damages from Next Jump.

In related news, Borders Group is requesting severance payments for executives that include $125,000 each to former president Mike Edwards, former CFO Scott Henry, executive v-p of store operations Jim Frering and senior v-p of human resources Rosalind Thompson, AnnArbor.com reported. Edwards and Henry were "voluntarily terminated" on July 29 but have been working "on a non-compensated basis" to help sell some store sites and Borders intellectual property. The payments are not the bonuses that had been proposed earlier.

As noted here yesterday, former Borders employee Jared Pinsker has filed a class-action lawsuit on behalf of 300 headquarters employees, charging that they were not given required notice before they were let go.

---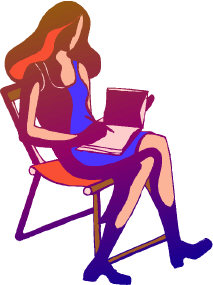 U.K. bookstore chain W.H. Smith plans to eliminate the shelf label "women's fiction" after customers Claire Leigh and Julia Gillick appealed "in sisterhood" to company CEO Kate Swann, the Telegraph reported.

"It was very light, lots of pink fluffiness and there were no classic authors," said Gillick, an English teacher. After seeing the titles collected under the label at a branch in Kent, she wrote to customer complaints, but received no reply.

Then Leigh wrote directly to Swann and said they did not think of women as a "minority or niche area" and were "deeply offended by this condescending practice."

In the Observer, Viv Groskop supported the women's efforts, but suggested there is more to consider regarding the issue: "Unfortunately women's fiction is a genuine market. It's shorthand for most of commercial fiction: written by women for women. Some reckon that women buy up to 80% of fiction sold. Similarly, it is estimated that up to 70% of book groups are all-women affairs.

"Many of these readers see chick-lit (which is, I suspect, what W.H. Smith really means by women's fiction) as a handy indicator for 'stuff I like,' not the disparaging pigeonhole despised by many authors.... It's good to question silly, reductive labels. But it's also important to recognize the power of the shorthand of marketing. I doubt Julian Barnes, that famous men's fiction writer, would sniff at selling three times as many copies. Shall we vajazzle his next book jacket and find out?"

---


Congratulations to Highland Books, Brevard, N.C., where owners Peggy and Tim Hansen are celebrating their 35th anniversary in bookselling with an all-day party on Friday, September 16. Everything in the store will be discounted 20%, and there will be free gelato and other treats.

The Hansens bought the store in 1976 and have had "a very successful family business for 35 years now with no outside income or other business ventures," Peggy wrote. Her mother worked in the store for years; the Hansens' daughters grew up in the store; and two employees have worked there for 25 years. "People still remember seeing our daughter in a bassinet behind the counter (she's now 32!) and followed our other daughter as she traveled the world (she's 29)."

The 3,000-sq.-ft. has an informational website, a large children's department and many loyal customers. Amazon, e-readers and the economy have affected sales, but the store adapted by introducing some sidelines and continuing to be active in the community. "We're still doing pretty well," Peggy added.

Incidentally Highland Books' big anniversary parties have made for good business. On the 20th anniversary, for example, when all items were 20% off, the store did seven times its normal day's volume. But the community feeling was most important. "Customers brought plates of cookies, knowing we'd have a crowd to feed," Peggy said. They also brought flowers and sent notes, and the local newspaper published a story. "That's a small town for you."
---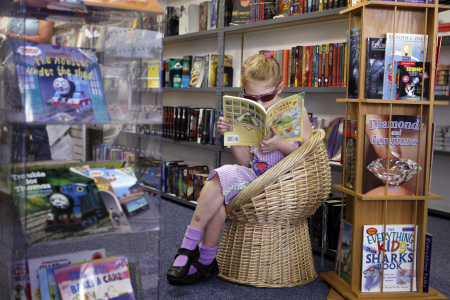 The Book Bank, Largo, Fla., which sells new and used books, has moved across the street to the Piccadilly Square shopping plaza after operating in the Largo Mall for 19 years, the St. Petersburg Times reported.

Owner Amy Schmaedeke said that high rent led to the Book Bank's move to the smaller site. "We've scaled down, but we're more efficient because we don't keep books that are not wanted," Schmaedeke told the paper. She also aims to maintain the store's close ties to customers. "People like to come back to someplace that feels like home," she said. "They know us."
---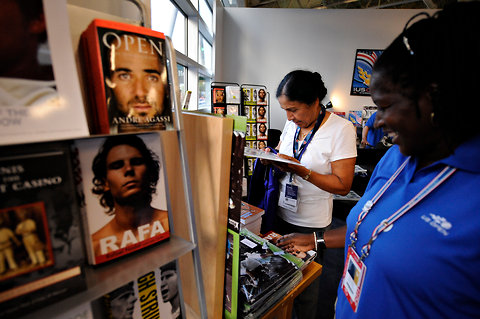 Sunday's New York Times offered a profile of an unusual bookstore: the United States Tennis Association Bookstore at the U.S. Open, which this year has moved from "two smallish booths near Court 10" to "a spacious new venue" inside the Chase Center across from Armstrong Stadium. With a little bit of wonder, the paper called it "a real bookstore, tennis-centric, to be sure, but with actual books to browse--printed words that aren't draw sheets or scoreboards."

In part because of the move, sales are up more than 50% over last year. "Who says bookstores are dying?" manager Rick Rennert said. "We're in the Chase Center, but I tell people we're the cultural center."

Rennert was hired by the U.S.T.A. 15 years ago. Besides running the bookstore during the Open, Rennert is in charge of the association's publishing division, which puts out the Open program, books and more. He had previously been a publisher and editor and was head of Chelsea House.

Last week the store hosted a signing by tennis coach Allen Fox of Tennis: Winning the Mental Match, and last year Andre Agassi signed several hundred copies of Open. This year's hot title is Rafa by Rafael Nadal. The store's most popular titles from year to year are "books on strategy, no-nonsense manuals that promise to lift your game." Spiritual-advice and children's titles are also popular.
---
Very funny book trailer of the day: Record Collecting for Girls: Unleashing Your Inner Music Nerd, One Album at a Time by Courtney E. Smith (Mariner Books).

---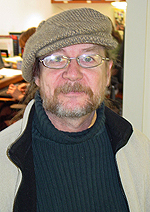 As we noted last week, Inner Traditions, Rochester, Vt., lost telephone and Internet service, power and water for a few days but otherwise was unscathed after Hurricane Irene. Sadly, however, acquisitions editor Jon Graham's (r.) home--and his collection of thousands of books--was destroyed when water undermined the building's foundation.

When director of rights and publicity Cynthia Fowles saw him after the disaster, Graham's first words were, "I lost my suit for Frankfurt in the flood." The next day sales and marketing director John Hays rode to work on a dirt bike and brought a suit for Graham. (He hadn't known Graham had lost his Frankfurt suit, but knew that he would need a suit for the fair.) Fowles wrote to foreign rights agents who will be the show, "Check Jon Graham out at Frankfurt--he'll be in a fabulous suit!"

---
New words, old meanings. In the Telegraph, Sameer Rahim contended that "dictionaries shouldn't try to keep up with the online creative cacophony." Rahim observed the reason the Concise Oxford Dictionary and Chambers Dictionary "are truly invaluable is not because of the publicity-friendly words they have now included. It's because of their authority and reliability--and because amid the creative cacophony of the Internet they, as Samuel Johnson said, 'remove rubbish and clear obstructions from the path of genius and learning.' "
---
Book world headline of the week: "Sinkhole drunks leave librarian feeling down." In a Sydney Morning Herald opinion piece, author Andrew Daddo recalled a recent conversation with a South Australian librarian who was ''beyond gutted'' that a potential front-page article in the local paper about the library's National Book Week event for more than 2,000 kids was bumped because "two drunks got stuck down the bottom of the sinkhole out the front of the library and they had to be rescued.''




Obituary Note: Paul Lindsay aka Noah Boyd
Paul Lindsay, who wrote seven novels as Noah Boyd, died Thursday night. He was 68 and had battled blood cancer since 2005.

Lindsay was a Marine Corps platoon commander in Vietnam, where he was awarded two Purple Hearts and the Silver Star for Bravery. He was then an FBI agent in Detroit for more than 20 years. His novels include Agent X, The Bricklayer and Last Chance to Die. The Bricklayer is being made into movie.

His family wrote that Lindsay "thought of himself as a literary grifter, someone who, in his own words, 'appeals to a publisher's implicit need for profit rather than producing something of literary merit.' "

He once wrote: "Real writers care far more about publishing what they create than the number of commas in their advances. Fortunately, I have never been cursed with that kind of character. So, for a literary con man, an incurable disease is an opportunity, one that has little choice but to exploit."




Media and Movies
Media Heat: Pearl Jam on Jimmy Kimmel
This morning on Imus in the Morning: Thomas L. Friedman, author of That Used to Be Us: How America Fell Behind in the World It Invented and How We Can Come Back (Farrar, Straus and Giroux, $28, 9780374288907).
---
Today on NPR's Talk of the Nation: Carrie Jones, co-editor of Dear Bully: Seventy Authors Tell Their Stories (HarperTeen, $9.99, 9780062060976), along with Carolyn Mackler and Eric Luper, two of the contributors.
---
Tomorrow on NPR's All Things Considered: Sebastian Rotella, author of Triple Crossing (Mulholland Books, $24.99, 9780316105309).

---

Tomorrow on KCRW's Bookworm: Rikki Ducornet, author of Netsuke (Coffee House Press, $14.95, 9781566892537). As the show put it: "Rikki Ducornet, an explorer of sensuality and violator of taboos, allows a predatory psychoanalyst to narrate her new novel, Netsuke. We examine the language that is needed to create a toxic narrator and a fever dream of sensuality."

---

Tomorrow on the Something You Should Know: Brian Clegg, author of Inflight Science: A Guide to the World From Your Airplane Window (Totem Books, $16.95, 9781848312418).

---

Tomorrow on the Colbert Report: Robin Wright, author of Rock the Casbah: Rage and Rebellion Across the Islamic World (Simon & Schuster, $26.99, 9781439103166).

---

Tomorrow on Jimmy Kimmel Live: Cameron Crowe and Pearl Jam discuss Pearl Jam Twenty (Simon & Schuster, $40, 9781439169216). Pearl Jam will also perform.




Movie Casting: Binoche in A Stormy Summer Night
Juliet Binoche will star in director Fabrice Camoin's A Stormy Summer Night, based on the novel 10 heures et demi du soir en ete by Marguerite Duras. Variety reported that Les Films du Poisson will produce the story "of a French couple who spend the night in a small Andalusian town, which has been rocked by a crime of passion committed by an immigrant worker." Shooting begins next year.



Books & Authors
Awards: Scotiabank Giller Prize Longlist
The longlist has been announced for the $50,000 Scotiabank Giller Prize, which honors the author of the best Canadian novel or short story collection published in English. The shortlist will be revealed October 4, with the winner announced in Toronto November 8. This year's longlisted titles are:

The Free World by David Bezmozgis
The Meagre Tarmac by Clarke Blaise
The Antagonist by Lynn Coady
The Beggar's Garden by Michael Christie
The Sisters Brothers by Patrick DeWitt
Extensions by Myrna Dey
Half Blood Blues by Esi Edugyan
The Little Shadows by Marina Endicott
Better Living Through Plastic Explosives by Zsuzsi Gartner
Solitaria by Genni Gunn
Into the Heart of the Country by Pauline Holdstock
A World Elsewhere by Wayne Johnston
The Return by Dany Laferrière (translated by David Homel)
Monoceros by Suzette Mayr
The Cat's Table by Michael Ondaatje
A Good Man by Guy Vanderhaeghe
Touch by Alexi Zentner

Myrna Dey's debut novel, Extensions, is already an early winner, having picked up the most votes in the Readers' Choice contest launched this year in a Scotiabank Giller Prize campaign that invited the public to choose a book for the longlist.



Attainment: New Titles Out Next Week
Selected new titles appearing next Tuesday, September 13:

Quite Enough of Calvin Trillin: Forty Years of Funny Stuff by Calvin Trillin (Random House, $27, 9781400069828) is a collection of humorist Calvin Trillin's work over four decades.

Pearl Jam Twenty by Pearl Jam and Cameron Crowe (Simon & Schuster, $40, 9781439169216) gives an autobiographical account of the band, including many new photos.

Wonderstruck by Brian Selznick (Scholastic, $29.99, 9780545027892) contains two illustrated stories set in the American Museum of Natural History 50 years apart.

Goddess of Vengeance by Jackie Collins (St. Martin's Press, $26.99, 9780312567460) is the latest romance fearturing Lucky Sanangelo.

The Night Circus by Erin Morgenstern (Doubleday, $26.95, 9780385534635) explores a mysterious circus that magically appears overnight.

Perfect by Ellen Hopkins (Margaret K. McElderry Books, $18.99, 9781416983248) follows four teenagers seeking perfection is various aspects of their lives through imperfect means.

Guinness World Records 2012 (Guinness World Records, $28.95, 9781904994671) includes updated pictures and new records.


Now in paperback:

The Belly Fat Cure Fast Track: Discover the Ultimate Carb Swap and Drop Up to 14 lbs. the First 14 Days by Jorge Cruise (Hay House, $19.95, 9781401929145).

Codename: Sailor V 1 by Naoko Takeuchi (Kodansha Comics, $10.99, 9781935429777).

Sailor Moon 1 by Naoko Takeuchi (Kodansha Comics, $10.99, 9781935429746).




Book Brahmin: Nikolai Grozni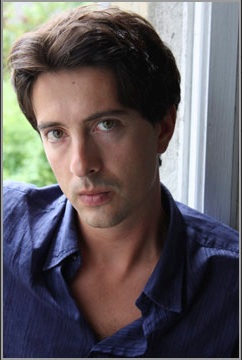 Nikolai Grozni is the author of the memoir Turtle Feet, which recounts the four years he spent as a Buddhist monk in India and was a New York Times Book Review Editor's Choice. His new autobiographical novel, Wunderkind (Free Press, September 6, 2011), set in Bulgaria right before the end of the Cold War, examines the effects of totalitarian society on the lives of piano and violin prodigies studying at an elite music school. Grozni's work has appeared in the New York Times, the Guardian and the Seattle Review. He lives with his wife and children in France.
On your nightstand now:
Livy's History of Rome, books VIII and XI; Walter Friedrich Otto's Theophania; Julio Cortázar's Hopscotch; John Fante's Ask the Dust.
Favorite book when you were a child:
Alice, Girl from the Future by Kir Bulychev, a Russian science fiction author. This was a very popular book on the dark side of the Iron Curtain, back when I was growing up. It told the story of young Alice who incidentally traveled back in time and got stuck for a while in the Soviet Union.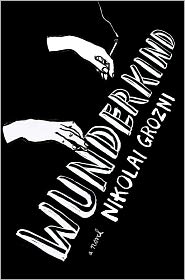 Your top five authors:
Thomas Bernhard, Mikhail Bulgakov, Anton Chekhov, Samuel Beckett, Luis-Ferdinand Celine.
Book you've faked reading:
Tolstoy's War and Peace. This was obligatory reading in my seventh-grade Russian class. We had to memorize long descriptive passages from the novel and recite them in Russian. I think I got a D, and I was cheating, too. If I remember correctly, there was something like a 10-page-long description of a tree. Reading it I felt as if my head had gone numb.
Book you're an evangelist for:
Thomas Bernhard's Wittgenstein's Nephew, which I think is one of the best novels of the 20th century. Bernhard's voice, prose aesthetics, humanity, acute sense of life's sometimes fatal ironies, his storytelling--he is simply outstanding.
Book you've bought for the cover:
The Alexandria Quartet by Lawrence Durrell. I bought it in Barcelona, tried reading it unsuccessfully in the hotel room, and the next day it was stolen by a gang of thieves who broke all the windows of my car and left a trail of my socks and underwear on the sidewalk outside Juan Miró's museum. I really hope that the thieves liked it.
Book that changed your life:
Bodhisattvacharyavatara by Shantideva; The Trouble with Being Born by Emile Cioran; The First and Last Freedom by Krishnamurti.
From Shantideva I got a taste of metaphysics. Cioran added gin. Krishnamurti added tonic.
Favorite line from a book:
From Endgame, by Samuel Beckett:
"CLOV:
Do you believe in the life to come?
HAMM:
Mine was always that."
Book you most want to read again for the first time:
The Master and Margarita by Mikhail Bulgakov.


Book Review
Children's Review: Icefall
Icefall by Matthew J. Kirby (Scholastic, $17.99 Hardcover, 336p., ages 8-12, 9780545274241, October 1, 2011)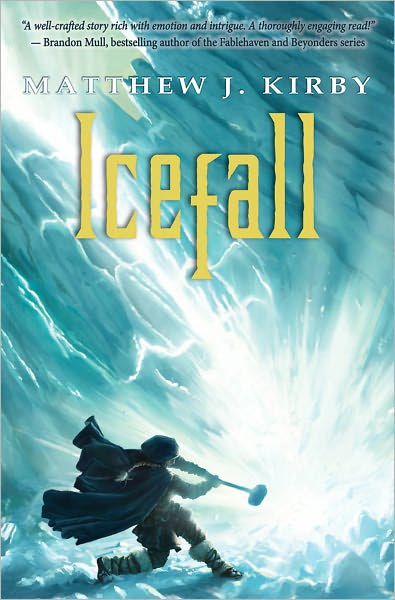 In Matthew J. Kirby's (The Clockwork Three) spellbinding and suspenseful novel, he takes us to the top of the world, when berserkers still waged war wearing animal skins rather than armor, and skalds lifted berserker battles to legend through their stories.
The king of a Northern land, having refused to marry off his eldest daughter and deed some of his holdings to a nearby chieftain, is now at war. He sends his children--Harald, his youngest and heir to his throne; the beautiful Asa, the eldest daughter; and his middle child, the plain Solveig--to a remote land to keep them safe. The king also sends a handpicked group to accompany them: Bera, the woman who has raised them since their mother died giving birth to Harald, and her son Raudi, as well as Per, one of the king's men, and Ole, a slave who has served the king faithfully. As the novel opens, they await supplies before the winter freezes out any vessel's passage by water. A ship eventually arrives with the king's personal guard--20 hearty berserkers, led by Hake, a giant to rival Thor, and the king's skald, Alric. In the king's hall, one among his loyal subjects and family betrays them--someone has poisoned the berserkers and weakened their ability to fend off the enemy, should they arrive.
Solveig, the only one of the king's children who feels she has no purpose, narrates the story. She shies away from the rough ways of Hake and his men, and wonders if the skald has "a true form underneath all his layers." But Alric plants a seed in Solveig that leads her to a sense of purpose: he tells her that she would make a fine skald. "Memory and sight are all that is required," he coaxes, and he has observed both talents in her. At first, the meaning of Solveig's "sight" appears exactly as Alric describes it--as a skillful ability to pick up on all that unfolds around her. But Solveig also has a recurring nightmare that she fears could be a portent--though her visions do not always transpire in quite the way she expects. As she finds her voice during the course of the cold dark days, she comes to appreciate Alric in a new way: "What Alric does is as necessary to us as eating or drinking, but he feeds something else." Solveig also finds a power greater than Alric's--a way to remain true to her beliefs as she weaves her tales.
Kirby's story peels away like layers of an onion. Two-thirds of the way into the book, Solveig reveals a structure to the novel that serves a dual purpose. Every piece of this puzzle, infused with Norse lore, fits together. --Jennifer M. Brown