Shelf Awareness for Friday, October 21, 2011

News
Books 'N' Things: BN.com Marketplace Expands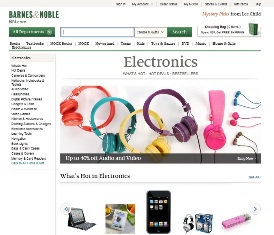 Barnes & Noble has expanded BN.com Marketplace, adding more than a million new products to the catalogue through a deal with several online partners, including Wayfair.com, Right Start, UnbeatableSale.com, School Specialty, Abe's of Maine, Delivery Agent and more.

Five new categories have been added to BN.com Marketplace: Home and Gift, Consumer Electronics, Arts and Crafts, Toys and Games and Baby. Most products from these new third-party partners will have free standard shipping year round.

John Foley, B&N's president of eCommerce, called the expansion "an organic extension of our consumer value proposition. If shoppers are buying cookbooks from BN.com, it's natural to offer them cooking supplies at the same time; if shoppers are buying new baby books, it's natural to offer them baby supplies as well; and so on across all of our categories."



Two Regionals Consider Joint Trade Show--And More

The Great Lakes Independent Booksellers Association and the Midwest Independent Booksellers Association are considering a joint trade show, which, if it happens, would be held in MIBA territory next year and GLIBA territory in 2013.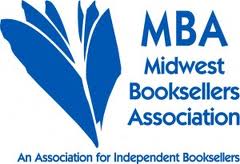 In an association e-mail, GLIBA executive director Deb Leonard asked for members' opinions on the idea. She noted that "the distance is a concern for many of you. We are working on a plan that help defray travel costs, probably based on how far you have to go." A decision will likely be made in the next few weeks.

Leonard emphasized that the associations aim to make the event "more than just a joint trade show. With substantial savings for publishers, and a sizeable increase in the number of booksellers in attendance, we believe that we can continue to attract top-notch authors, and even raise that bar. As a joint venture, we hope to reinvent the regional trade show, and use the Winter Institute as our role model."




Algonquin Founds Young Readers Program
Algonquin Books of Chapel Hill is launching a young readers' program, primarily for young adults and middle-grade readers, that will be headed by Elise Howard, formerly senior v-p and associate publisher of books for young readers at HarperCollins Children's Books, where she worked for 12 years.

The program will start by the end of next year, with up to six titles, and the list will grow gradually. Howard will begin working in Algonquin's New York office in mid-November.

The company publishes about 30 adult titles a year, split evenly between fiction and nonfiction.

Publisher Elisabeth Scharlatt said, "Over the years, a number of Algonquin's adult titles have attracted young adult readers. If we're to grow beyond our adult trade list, then publishing books geared explicitly for younger readers seems to be the most logical way to extend our reach."




Broadway Books: From Transparency to Profit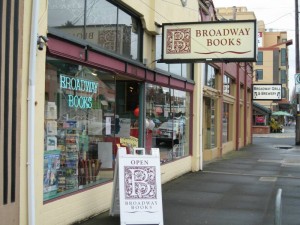 Bookselling This Week profiled Broadway Books in Portland, Ore., noting that earlier this year, when Borders was closing, some of the bookshop's customers expressed concern for the indie.

"People kept asking, 'Are you going to be alright?' " said Roberta Dyer, co-owner of the store with Sally McPherson. "So we felt an honest response was needed."

In April, they produced a "State of the Union" address which, "in addition to explaining the recent changes in the book industry and what they meant for the store, listed 10 things that the store was doing to remain competitive, and 10 things that customers could do, in turn, to keep Broadway Books alive," BTW wrote.

"Oh, we put it everywhere," said Dyer. "We really wanted to make sure we got the word out. The response was terrific. We wanted to be as transparent as possible. We worked really hard on it and carefully considered every word, so we were really gratified when the response was so strong."

The response led to what Dyer said has been the shop's "best year ever" and customers are now "more understanding of how our business works. We're big fans of the 350 movement. It's the same kind of thing, the same instinct--being informed enough to make a decision about where you're shopping or how you're shopping. It empowers people. We're sensing that our customers are smarter about that kind of thing than they used to be."



WORD: New York Times Profiles the Brooklyn Bookstore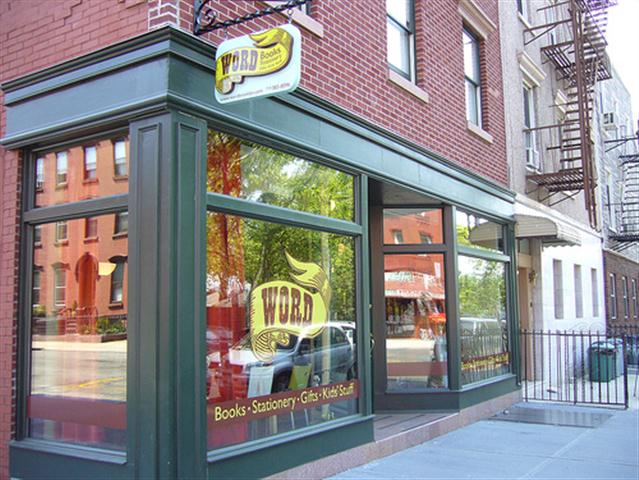 In its City Room section, the New York Times has a great profile of one of our favorite bookstores, WORD, "a cheerful shop" in Brooklyn, N.Y. Congratulations to owner Christine Onorati, manager Stephanie Anderson and events manager Jenn Northington!
One customer said of the staff's ability to suggest books, "You know those perfumeries or apothecaries that mix your specific scent? It's like that, with books. I love it here." A couple who moved away from WORD's Greenpoint neighborhood two years ago said they travel an hour by subway specifically to shop at WORD.
Don't miss the slide show, which includes a shot of a WORD tattoo on Christine's ankle.


Notes
Image of the Day: Shower of Book Praise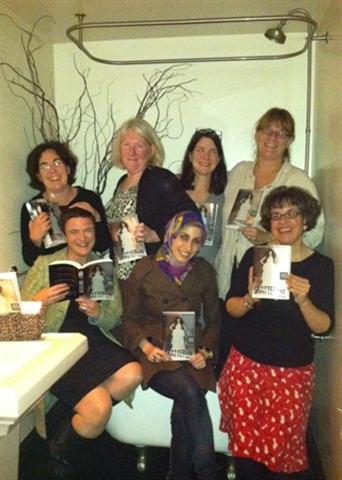 After having dinner with Taherah Mafi, whose debut YA novel, Shatter Me!,will be published by HarperCollins November 15, guests posed with the novelist in the bathroom at Crush, Seattle, Wash. Back row (from l.): Tracy Taylor, Elliott Bay Book Company; Judy Hobbs, Third Place Books; Lauren Mayer, University Book Store; and Renee Kirkpatrick, Third Place Books. Front row (from l.): Stesha Brandon, University Book Store; author Mafi; and Caitlin Baker, University Book Store.
Photo: Tara Weikum, Mafi's editor (and photographer).


Avid Grand Opening This Evening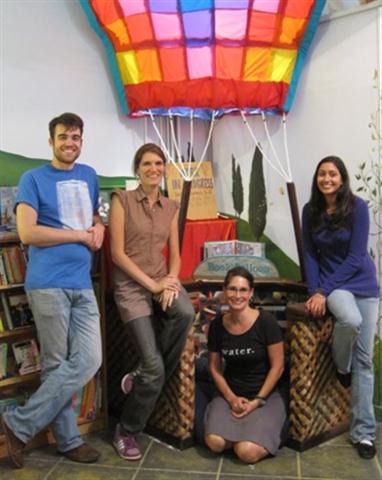 Congratulations to the Avid Bookshop, Athens, Ga., which celebrates its grand opening tonight with a party featuring music, a reading by poet Sabrina Orah Mark and the "ringing in" of the permanent art installation in the children's section. Tomorrow afternoon the store will have a celebration for children that includes story times, visits by storybook characters and more. Here are Avid staff (from l.) Tom Eisenbraun, owner Janet Geddis, Rachel Watkins (sitting) and Sonia Chopra. For more about the Avid Bookshop and the story of how Janet Geddis made a dream come true, see Robert Gray's column (Shelf Awareness, September 9, 2011).




NPR Starts Back-Seat Book Club with Halloween Pick
NPR's All Things Considered has launched the Back-Seat Book Club, which is geared to readers aged 9 to 14. "We're talking about all those young people who listen to NPR programs while riding in the car or sitting at the kitchen table," the show said. It hopes parents will read its selections, too.
The book club will feature one book a month and begins with The Graveyard Book by Neil Gaiman. On Halloween, October 31, Gaiman will be on the show to talk about his book and answer audience questions.


Books & Art at the Met: Self-Portrait with No Kindle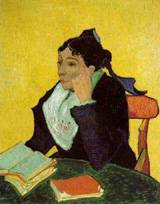 "I think it's going to be many years before there's a formal portrait where the sitter is clutching his or her Kindle or iPad. I'm not at all concerned that the interest in the book is going to disappear," said Ken Soehner, chief librarian at the Metropolitan Museum of Art, in introducing some of his favorite book-related artwork for the Met's Connections series.

"Books have a symbolic importance that goes far beyond the text," he observed, adding: "I think Van Gogh is one of the great painters of books. They are very bookish. They're very much about the materiality of books. They are not props. They're part of the inevitability of everyday life. Oddly enough, they're very often not the sitter's books, but Van Gogh's books. It's the self-portrait in a way through his books."




Top 10 Handselling Lines
Jef Blocker, manager of Bound to Be Read Books, Atlanta, Ga., offered his "Top Ten Best Lines to Sell a Book to a Customer" on his blog, Cult of Jef.

Among our favorites:
"OMG--that book makes you look soo skinny."
"Books are loaded with fiber!"
"I bet you can't even read. Oh yeah? Prove it!"


Page to Stage, A 'Concert of Words'
Hue-Man Bookstore in New York City and Symphony Space are launching a multimedia production called Page to Stage, a "concert of words" in which books will be the "symphonic foundation" for performances and conversation. The first Page to Stage shows will be held November 17 and 18. Several directors, including Ozzie Jones, will re-imagine the works of, among others, filmmaker Melvin Van Peebles, Young and Restless star Victoria Rowell, comedian Paul Mooney, and Vernice "FlyGirl" Armour, the country's first female African-American combat pilot. Then filmmaker Lisa Cortes will moderate a panel and lead an audience discussion. Authors will sign books after the event. Page to Stage benefits the Melvin Van Peebles Foundation to promote literacy.

The series is the brainchild of Marva Allen, CEO of the Hue-Man Bookstore, who said she wanted "to bring the words of ethnic artists to life on stage." She is also planning a Get on the Bus road version of the series that will travel around the country.

Page to Stage is the first in a series of collaborations between the Harlem bookstore and Symphony Space. Next season they plan a multi-disciplinary festival celebrating the Harlem Renaissance.




'Little Free Libraries' in the Midwest
Earlier this week we featured "free-for-all" libraries in Germany, but the American Midwest has a gratis book program of its own. The St. Paul Pioneer Press reported that "handmade, miniature wooden houses holding free books are popping up in neighborhoods throughout the Midwest. The 'little free libraries,' as they're called, are popularizing the concept of paying it forward, one book at a time."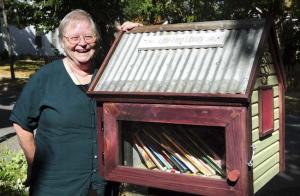 "It's fun watching people go by and looking at it and figuring out. People seem to know (what it is and) they want to know how it got started and why," said Sage Holben, a library technician at Metropolitan State University and the steward of "the sage-green, house-shaped box sits in the middle of a public garden at East Fourth Street and Bates Avenue."

Holben felt there was a need to give neighborhood children "a convenient alternative to--but not a replacement for--a public library," and sent a letter to Todd Bol, co-founder of the Wisconsin-based nonprofit Little Free Library, to install one near her house.

"People have books... but they don't want to sell them for 25 cents because it's an insult to their heart," said Bol, who helped create his nonprofit almost two years ago to improve literacy and build community partnerships.



Holiday Hum: Down South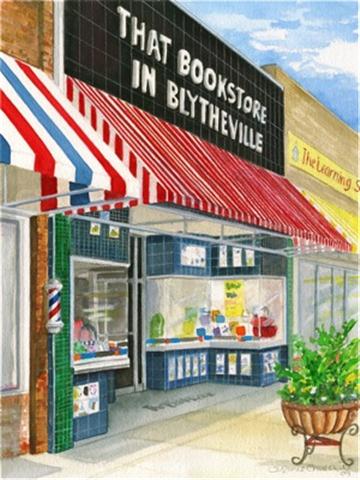 At That Bookstore in Blytheville, Ark., which turned 35 this year, an anticipated top seller has yet to arrive in stores: John Grisham's The Litigators, which goes on sale October 25. The novels Nightwoods by Charles Frazier, When She Woke by Hillary Jordan and The Night Circus by Erin Morgenstern are in the top sales tier at the store, boosted by events, signed copies and handselling. Condoleezza Rice is making a return visit to Blytheville next month, and owner Mary Gay Shipley expects the former Secretary of State's No Higher Honor: A Memoir of My Years in Washington to be a sought-after gift selection.
Other books Shipley and her staffers are excited about include "the usual suspects" like Christopher Paolini's Inheritance, along with a title that has a close-to-home connection: Jeannie Whayne's Delta Empire: Lee Wilson and the Transformation of Agriculture in the New South unfolds the story of a powerful, innovative plantation owner who worked the land in the county where That Bookstore in Blytheville is located.
---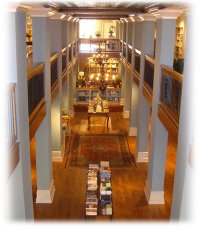 This fall, Turnrow Book Co. in Greenwood, Miss., is implementing a handselling technique to increase sales of staffers' favorite new releases. The Turnrow 20, a mix of titles by both well- and lesser-known authors, are displayed together and marketed via e-mail and take-away fliers. Among the books currently featured are Destiny of the Republic: A Tale of Madness, Medicine, and the Murder of a President by Candice Millard and Ranchero by Rick Gavin, a mystery set in the Mississippi Delta. "Much like the Indie Next List, we've compiled our own list of in-store favorites," owner Jamie Kornegay commented.
The store's bestsellers are an eclectic mix, from Morgenstern's The Night Circus and Ann Patchett's State of Wonder to two volumes by local scribes: Betty Markham's self-published debut novel, Delta Gone, and Martha Hall Foose's latest cookbook, A Southerly Course: Recipes and Stories from Close to Home. All four authors appeared at the store. Another top title at Turnrow is benefitting from some Hollywood glamour. "We've been selling The Help like crazy, ever since they filmed the movie here in Greenwood last summer," said Kornegay.
Turnrow celebrated its fifth anniversary this past August. "We're still growing, which is encouraging," Kornegay said. "We've built a strong following locally and throughout the state." He attributes the store's success in part to its robust and dedicated line-up of author events. "I can't stress enough how important that is to our business. As publishers seem to devote more and more resources to e-books, I hope they realize the value of sending authors out on the road. It still matters to so many readers, and it makes all the difference for independents like us."
Another secret to Turnrow's success will benefit harried holiday consumers. "We work hard to maintain an inviting, unstressed shopping experience, with a helpful, well-informed staff," Kornegay said. "We are fortunate there are still people who recognize the value, and will pay a little extra, to be inspired when they shop." --Shannon McKenna Schmidt
—
If you'd like to share what's going on at your store, now or during the upcoming holiday season, drop Shannon a line.


Media and Movies
Media Heat: Walter Isaacson on Steve Jobs
Today on NPR's Science Friday: Amory Lovins, author of Reinventing Fire: Bold Business Solutions for the New Energy Era (Chelsea Green, $34.95, 9781603583718).
---
Tomorrow on NPR's Weekend Edition: Tony Horwitz, author of Midnight Rising: John Brown and the Raid That Sparked the Civil War (Henry Holt, $29, 9780805091533).
---
Sunday on 60 Minutes: Walter Isaacson, author of Steve Jobs (Simon & Schuster, $35, 9781451648539).


Stage & Screen: Peter & the Starcatcher; Chekhov in the Hamptons
Peter and the Starcatcher, developed by Disney Theatrical Productions from the 2004 novel by Dave Barry and Ridley Pearson, will open next spring on Broadway. The New York Times reported that the production "had a critically acclaimed run at New York Theatre Workshop last spring, starring Christian Borle (Legally Blonde) as the pirate Black Stache (who will go on to become Captain Hook) and Adam Chanler-Berat (now starring in the Off Broadway revival of Rent) as Peter."

Casting has not yet been finalized for the Broadway run, though "executives involved with the production said they believe that Mr. Chanler-Berat, at least, is likely to return," the Times wrote, adding that the production was adapted by Rick Elice (The Addams Family, Jersey Boys) and will include the same creative team as the New York Theatre Workshop production, with Roger Rees directing.

---

After 35 years as an acting coach, Larry Moss will direct a contemporary film adaptation of Anton Chekhov's classic play The Seagull set in the Hamptons. Relative Insanity will star Helen Hunt, David Duchovny, Maggie Grace, Joan Chen and John Robinson. Michael Din and Juri Henley-Cohn wrote the script and will produce with partner Janine Giaime. Filming is scheduled to begin next year. Deadline.com reported that Moss's acting students have included Hunt and Duchovny, as well as Hilary Swank, Leonardo DiCaprio, Tobey Maguire, Jim Carrey, Michael Clark Duncan, Tea Leoni and Justin Timberlake.



Television: Swamplandia
HBO has picked up Swamplandia, a half-hour comedy project from Scott Rudin (Social Network) based on Karen Russell's novel, the Hollywood Reporter wrote, adding that a search is under way for a writer, "with Rudin attached to executive produce the comedy and author Russell consulting." On a literary roll, Rudin is also attached to Noah Baumbach's adaptation of Jonathan Frazen's The Corrections and Cynthia Mort's "half-hour comedy based on Mary Karr's life."



Books & Authors
Awards: T.S. Eliot Prize Shortlist
British poet laureate Carol Ann Duffy's The Bees is among the books shortlisted for the £15,000 (US$23,696) T.S. Eliot prize, which chair of judges Gillian Clarke called the "most demanding of all poetry prizes," the Guardian reported.

"To me an exciting book is one that makes me want to be a poet--to stop and write a poem at that very moment," Clarke observed. "It's a book which is plugging in to the chemistry and excitement about language which we all need before picking up a pen. All these books [we've chosen] are nourishing, exciting and challenging. Some are more challenging, others more nourishing, but all are tremendously important to us in their different ways--in quiet ways and in pizzazzy ways."

This year's finalists are:
Black Cat Bone by John Burnside
The Bees by Carol Ann Duffy
Profit and Loss by Leontia Flynn
Night by David Harsent
Armour by John Kinsella
Grace by Esther Morgan
Tippoo Sultan's Incredible White-Man-Eating Tiger Toy-Machine!!! by Daljit Nagra
November by Sean O'Brien
Farmer's Cross by Bernard O'Donoghue
Memorial by Alice Oswald




Book Trailer of the Day: This Is US
This Is US: The New All-American Family by David Marin (Exterminating Angel Press). The video is the first trailer made by Gerry Donaghy of Powell's Books.


Cool Idea of the Day: In Session
M.J. Rose has come up with a great e-book and audiobook idea--and a great way to help improve literacy.

Published this week, In Session features Dr. Morgan Snow, the sex therapist who is the protagonist in some of Rose's novels, including The Halo Effect, The Venus Fix and The Delilah Complex. In the three stories in In Session, Snow consults with three famous male thriller characters: Jack Reacher, Cotton Malone and John Rain. Their creators--Lee Child, Steve Berry and Barry Eisler, respectively--believed their characters would never agree to therapy unless Rose found a way to get them there.

As Child wrote, "I bet M.J. Rose she couldn't get Jack Reacher into Morgan Snow's office. I lost. Find out how." For his part, Berry wrote, "Seeing another side of Cotton Malone, written from another writer's perspective, was eye opening. Needless to say, the subject matter is not something Cotton normally deals with, but M.J. made sure he handled it with his usual smooth, Southern style. I enjoyed the adventure. You will, too."

The audio version, narrated by Phil Gigante and Natalie Ross, features Dick Hill, Scott Brick and Barry Eisler reprising their roles of Reacher, Malone and Rain.

Proceeds from the audiobook and some from the e-book are going to David Baldacci's Wish You Well Foundation, which supports family literacy. In Session is available at BN.com and on Kindle for $1.99.

Rose's next novel, The Book of Lost Fragrances, will be published in March by Atria Books.




Book Brahmin: John Jeremiah Sullivan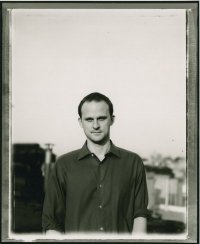 John Jeremiah Sullivan is a contributor to the New York Times Magazine and Southern editor for the Paris Review. He has written for GQ, Harper's and the Oxford American, and is the author of Blood Horses. His new book is Pulphead: Essays (Farrar, Straus & Giroux, October 25, 2011). He is the winner of a Whiting Writers' Award, two National Magazine Awards and the Pushcart Prize. He lives in Wilmington, N.C., with his wife and two daughters and, most weeks, his wife's entire family.
On your nightstand now:
The Mauve Decade by Thomas Beer--beat-up, cup-ringed first edition with faded original mauve boards. A strange and unplaceable book, a spiritual X-ray of the United States in the 1890s. Beer wove his tapestry out of hundreds of little items from small-town gossip columns. Faulkner claimed to have stolen from it. I've never figured out how (except maybe in a certain distance from the material, which is not nothing). The book is a great insomnia-killer, too, not because it's boring, but because you can begin or end anywhere. Beer meant it to be a slipstream.
Favorite book when you were a child:
Couldn't have chosen between Swiss Family Robinson and Shaggy Fur Face. Still can't.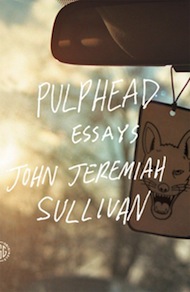 Your top 20 authors/books:
"Top" in the sense that they mean most to me at this moment, and with a proviso that each name is shorthand for maybe 20 others (my issue with lists: they always seem to take a certain pleasure in excluding, whereas reading is about expanding your taste, but everyone knows that...): Willa Cather, Edith Wharton, Defoe (his Journal of the Plague Year), Borges and Melville. Anne Carson. The Twain of A Tramp Abroad. William Byrd of Westover. Witold Gombrowicz's exile diaries. The Question of Hu by Jonathan Spence (given to me by friend fellow local Wilmington writer Dana Sachs--it's about a Chinese man who came to Paris in 1722 and went mad). The Faulkner of Absalom, Absalom! Chekhov's Longer Stories from the Last Decade. Terry Southern's Red-Dirt Marijuana and Other Tastes. William Carlos Williams, his In the American Grain and Paterson. Eudora Welty's The Wide Net and Other Stories. Barry Hannah's Airships and Ray. Flaubert's Sentimental Education and Balzac's Lost Illusions. Frederick Seidel and Mary Gaitskill. Denis Johnson, David Foster Wallace, David Grann. Zora Neale Hurston's folklore, Of Mules and Men and Go Tell My Horse. Cormac McCarthy's Tennessee novels. (That all still feels more or less random.)
Book you've faked reading:
Can't say, 'cause I hope to keep faking it. Although once, I did actually fake reading a book, in the sense that I held it before my face and moved my eyeballs over all the words, despite not knowing how to read. I was four. The book was Gorky Park by Martin Cruz Smith. My brother found me enacting this strange ritual in my closet, with a flashlight. It was like, I knew that adults were doing something important when they held books that way and turned the pages, and I wanted to be part of it.
Book you're an evangelist for:
D.H. Lawrence, Studies in Classic American Literature. I buy every used copy I see and give them to people who visit.
Book you've bought for the cover:
Black Sun: The Brief Transit and Violent Eclipse of Harry Crosby by Geoffrey Wolff. The inside turned out to be excellent, too.
Book that changed your life:
Every one, when I think about it. But in the spirit of the question, probably Rimbaud's Illuminations. Read it my senior year in high school and have essentially never recovered.
Favorite line from a book:
"There was nothing, not even the sand on the paths, that did not utter its cry." --Sam Beckett, Malone Dies.
Book you most want to read again for the first time:
Crime and Punishment. I never felt as complete a suspension of time as when I read that book. Seemed like it could have taken half an hour or half my life. It's as if Dostoevsky has your brain in his hands. It would be fun to feel that again. So few books give you that captivation.


Book Review
Review: Salomé
Salome: A Tragedy in One Act by Oscar Wilde, trans. by Joseph Donohue, illus. by Barry Moser (University of Virginia Press, $24.95 hardcover, 9780813931913, November 2011)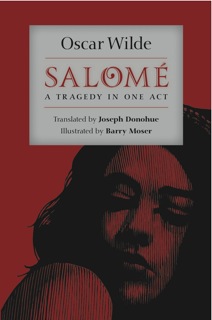 During an 1891 sojourn in Paris, Oscar Wilde was inspired by discussions with Stéphane Mallarmé and other Symbolist poets to set himself a challenge: he would take a tale from the Bible and set it as drama, but he would write it in French, not English. Like the Symbolists, Wilde was drawn to tales of decadence and beauty and he couldn't do much better than the story featuring Salomé. A teenage princess of Judea, she became obsessed with John the Baptist, a prisoner of Herod, her stepfather, and ended up demanding John's head on a platter in exchange for performing the Dance of the Seven Veils. Wilde had a ball piling on out-of-control lust, family dysfunction, artsy striptease, beheading of a prophet and necrophilia for maximum theatrical effect. He did so, however, in highly stylized language that Joseph Donohue argues makes the drama in French one of "the greatest prose poems of them all."
While the play met with success at its French premiere in 1896 and captured the attention of Richard Strauss (who then composed his 1905 opera version), when a German translation from the French was produced in Berlin, Wilde was less well served by the Lord Alfred Douglas English translation that came out in 1894 and has since dominated all discussion of English versions, to the detriment of the actual worth of the piece. Before unveiling his new English translation, Joseph Donohue provides a fascinating essay on Wilde's serious errors of judgment on that score, and readers will take away lessons from Wilde's mistakes, including not hiring your boyfriend for a job when he has no experience and not commissioning Aubrey Beardsley to illustrate a tale that happens somewhere other than an opium den.
Donohue has set himself the task of rendering Wilde's French tragedy in "an up-to-date, colloquial yet spare English translation" that could be performed on stage today. His work reads smoothly, and he's breathed life back into the play (compare his version of Salomé's declaration before she kisses the lips of John the Baptist's severed head: "And that tongue, that red serpent spewing out poisons, it's not wagging any more, it says nothing now," with Douglas's 1894 "And thy tongue, that was like a red snake darting poison, it moves no more, it speaks no words"). The ominous Barry Moser engravings also establish the time and place mercifully free of a single Beardsley peacock feather. --John McFarland
Shelf Talker: A smooth, effective translation of the infamous 1893 Oscar Wilde play, accompanied by a fascinating essay on the play's history, its successes and scandals.


Deeper Understanding
Robert Gray: The ARC Question
We hear a version of the question often. By "we" I mean those of us whose desks, bookcases and floors are essentially buried in an avalanche of advance reading copies. The primary question isn't, as might be expected, "How do we clean this mess up?" The question is: "How do we decide which ARC to read next?"

I tend to make impulsive reading decisions, like a kid in a toy shop ("I want that one! No, that one!"), but a recent experience has me thinking about the question in a new way. I'm currently reading three great ARCs simultaneously, all because of a conversation. The books are:

Wild: From Lost to Found on the Pacific Crest Trail by Cheryl Strayed (Knopf, March 2012), a memoir woven into the chronicle of her solo, three-month hike on the PCT in 1995.

Running the Rift by Naomi Benaron (Algonquin, January 2012), a novel about a gifted young runner caught in the Hutu-Tutsi conflicts of his native Rwanda.

Contents May Have Shifted by Pam Houston (Norton, February 2012), a fictional tour of the world through a series of personal vignettes.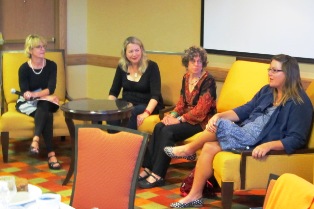 So how did I decide these were the ARCs I would read next? And why read them at the same time? It took a trip across the country to make the decision for me. On October 1, I was in Denver at the MPIBA trade show, where Cathy Langer, lead book buyer for the Tattered Cover Book Store, introduced her three guests--Strayed, Benaron and Houston--at an "Authors of Future Releases Breakfast."

This wasn't a standard writer-talks-up-her-book presentation. It was a conversation. Langer began by asking about the complexities of the "I" character, even when, as is the case with Benaron, the story is told in third person about a man living in another country.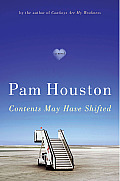 "You take the stuff that happened in your life and you shape it into something beautiful," said Houston, whose protagonist in Contents May Have Shifted shares her first name. She recalled that her editor told her "we want them to think it's Pam and it's not Pam," but Houston also cautioned that she moves freely across the blurred borderline between fiction and nonfiction. "I was James Frey's first writing teacher. He took intro to creative writing from me," she said, drawing a laugh.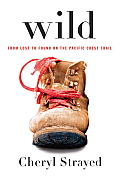 Strayed discussed her approach with Wild, which is an account of something that occurred 16 years ago. "My book is me, but it's sort of the younger me." With her first novel, Torch, "I took my life and made a lot of other stuff up about it. To me, the job of the nonfiction writer is to say, 'Here's me'; to make that personal story a universal one."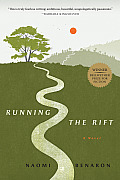 Benaron, who was writing about a country and culture with which she has developed a deep personal connection, observed: "I think this complex layering of truth and fiction makes a powerful statement about art."

Langer also asked the authors how the "physical" aspect of their experiences affects their work.

"I really decided to take this trip at the lowest moment of my life," Strayed said. "I went from weeping and wailing every day to confronting the reality of the hike. You set the boundaries, and every day you go out."

Houston spoke of the advantages of "feeling fluid in the world. That you can go and have a degree of safety no matter what is happening."

Benaron, a triathlete, said, "You get to the point where you don't think you can go on, and then you just take one step at a time. You're so focused on right now, right now, right now."

All three noted the importance--in what is perceived as a solitary profession--of encounters with others in the world, ranging from Benaron's connections with the people and culture of Rwanda to Strayed's experiences on the PCT. "All summer long, I would meet people and we would bond," Strayed recalled. "The hikers had their own subculture and language."

Houston added: "One of the things I'm interested in is the way people use language and the impact it has upon them."

That morning in Denver, the conversation, the language of these writers had an impact upon me. I began reading Wild on the flight home, and soon added Houston's and Benaron's voices to the mix, weaving a pattern--an arc of ARCs--that I am now sorry to see coming to an end as I reach the final pages of three excellent books.

How do we decide which ARC to read next? Sometimes that decision is made for us and it turns out just fine.--Robert Gray (column archives available at Fresh Eyes Now)