Shelf Awareness for Tuesday, November 29, 2011

Quotation of the Day
Indie Booksellers 'Keep Alive an Important Force'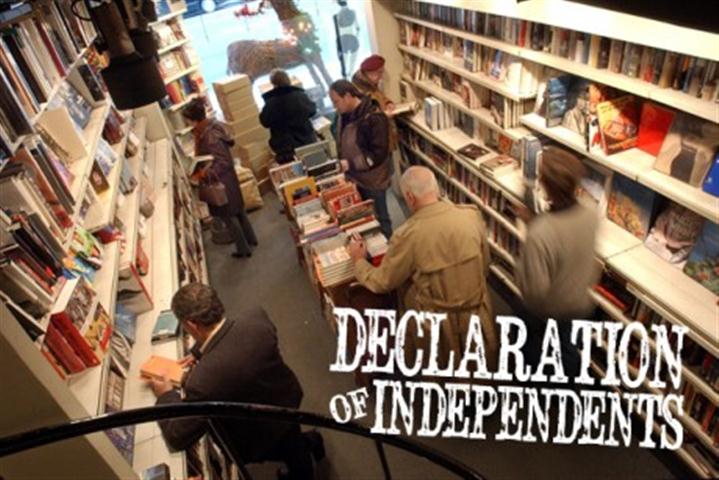 "There are lots of reasons to support local businesses, whether it's mom-and-pop hardware stores or neighborhood farmers' markets. But when you buy from an independent bookseller, you're doing something more. You're helping to keep alive an important force in making our national literary culture more diverse, interesting and delightful. Your shelves are full of books that wouldn't be there if not for indie booksellers you've never met, struggling to get by in shops you've never heard of. That's why it's so important to support the one next door."
--Laura Miller, introducing
Salon
's new project "
Declaration of Independents
," created to "draw more attention to these fantastic local shops by featuring your favorites."


News
Cover Story: New Yorker's 'Bookstore' of the Future
"Black Friday," the cover illustration by Daniel Clowes for this week's issue of the New Yorker magazine, takes a shot at product diversification in bookstores and the effect of the growth of e-books.
The New Yorker's dim view of the evolution of bookstores is ironically timed: from what we're hearing, many indies are having a strong fall--and still selling a lot of books. As Oren Teicher, CEO of the American Booksellers Association, said, speaking of the buy local movement, online sales tax collection and publishers' recognition of the importance of the independent retail channel, "Some things are going our way. It's still an uphill battle--it's always an uphill battle--but at least the wind and boulders aren't coming down on us."


Amazon to Open Second Warehouse in S.C.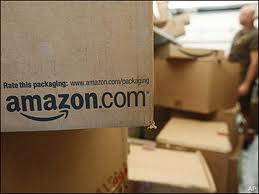 Amazon plans to open its second distribution facility in South Carolina, in Spartanburg County, the Herald-Journal reported. Yesterday, the County Council said Amazon is behind the code-named "Project 300" and is expected to spend at least $50 million to open the warehouse, according to the latest draft of a county ordinance establishing the project's general terms.

The county and Amazon have not yet completed an agreement on economic incentives, but that "could be finalized in the next few days and given final approval by council as soon as this week," the Herald-Journal wrote. A 26-acre distribution center near Cayce has already opened.

"I'm not a betting man, but I'd bet on this one," said Councilman David Britt regarding the deal. "This is right where we want to be, and it's right in our wheelhouse. We have a 20-year track record on incentives and these are very deserved. The performance that they're bringing forward--they've earned every incentive that we're offering."



Borders & Ex-Employees Settle Class Action Suit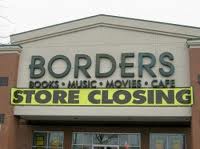 Borders Group agreed to pay $240,000 to settle a class action suit filed by 198 former employees with the U.S. Bankruptcy Court's Southern District of New York, accusing the bankrupt bookstore chain of "violating federal regulations regarding large-scale layoffs," AnnArbor.com reported, noting that the agreement will amount to about $797 per person after legal fees are paid.

The parties settled to avoid a prolonged legal battle. According to the filing, "the trial of this matter likely would be lengthy and complex, adding to cost and potential delay." A U.S. bankruptcy judge in Manhattan must approve the settlement.



Mindy Kaling Crashes Indie Website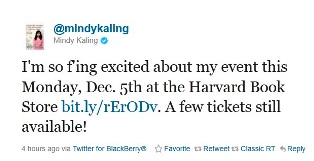 "
Cambridge girl Mindy Kaling is popular
," the
Boston Globe
noted in reporting that the actress and author of
Is Everyone Hanging Out Without Me? (And Other Concerns)
may have caused Harvard Book Store's website to crash yesterday after she tweeted that there might be a few tickets left for her reading there next week. The event is now sold out.
"Your tweet may or may not have just crashed the harvard.com website,"
@HarvardBooks
tweeted back. To which
@mindykaling
responded: "I feel like [Justin] Bieber!"
Later in the day, @HarvardBooks turned the challenging moment into an opportunity: "Since @mindykaling crashed our website (we still love her) we'll extend our #CyberMonday promo code thru Tues. (Free shipping w/ CYBER2011)."


Transylvania University Bookstore Moving Off Campus
As part of an effort to increase involvement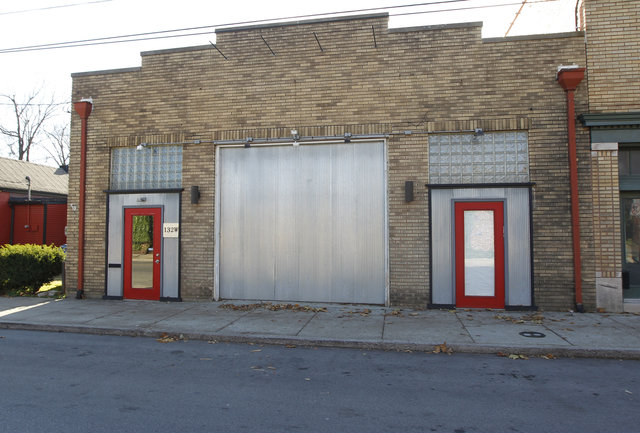 with the city, Transylvania University, Lexington, Ky., is moving its bookstore off-campus by a block "deeper into Lexington's urban core," according to the Lexington Herald-Leader. In the past several years, a series of campus bookstores have moved into the communities near their colleges and universities.

University president Owen Williams told the paper, "It is my intent that the boundary between us and Lexington should be evaporated. We're seeing an opportunity for us to benefit in the growth of Lexington. It's true that Lexington is a major selling point for us."




Murdered Bookseller's Shop May Reopen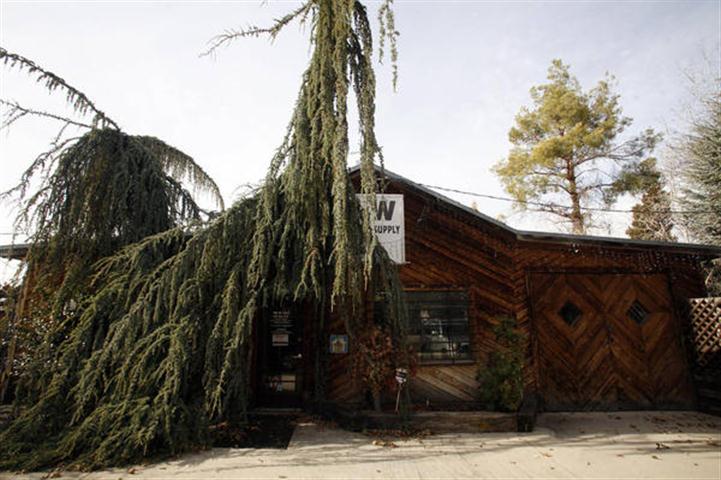 A year ago tomorrow, Sherry Black was found brutally murdered in her bookstore, B&W Billiards and Books, Salt Lake City, Utah (Shelf Awareness, December 3, 2010). Deseret News reported that the shop has been closed since then, but now her husband, Earl, "is preparing to reopen the store, possibly by the beginning of the year."

Although he considered selling the business, his wife's love of books kept Black from doing so. "I just knew I had to keep it," he said, citing his late wife's devotion to the bookshop. "She'd get up in the morning and come out here in her pajamas, turn on the computer and start looking at stuff. She'd spend all day here."

This week, in "an effort to remind the public that the person who killed Sherry Black is still at large," Earl and their daughter, Heidi Miller, allowed the media inside the bookstore for the first time since the murder. Miller found it difficult to be there when they first began to prepare for a reopening, but "ultimately, the family knew that it was also a 'bookstore filled with love' that her mother had put so much effort into building," Deseret News wrote.

A memorial will be held for Sherry Black tomorrow, and a tree at this year's Festival of Trees is being donated in her name.




Notes
Image of the Day: Magic Number Is 20 for Readers' Books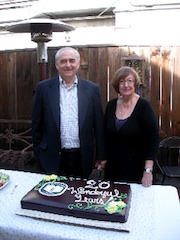 On Saturday, Readers' Books, Sonoma, Calif., celebrated its 20th anniversary, where everything in the store was discounted 20%, customers sampled birthday cake and 20 people won prizes in a raffle. Also part of the festivities: co-owner Andy Weinberger's klezmer band, Simka, played for two hours. Here: owners Andy and Lilla Weinberger.


The 'Simple Twitter Rule' at Omnivore Books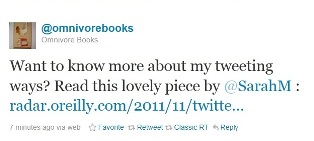 How does Omnivore Books on Food, San Francisco, Calif, use Twitter to help it thrive? O'Reilly Radar noted that the store's co-owner Celia Sack "follows a simple Twitter rule: one-third personal, two-thirds professional."

"You don't want people to feel marketed to all the time," she said. "It's so important that I'm the face of the store--and that's important digitally, too."

Sack was introduced to Twitter in April 2009 and "took to it right away," O'Reilly Radar wrote. "She enjoyed the brevity, she liked posting observations from the store, and it fit with the intermittently busy-slow rhythm of retail. And here's something special: Sack is not at all technical; she didn't then and doesn't now own a cell phone. (She tweets from the store's desktop computer.)"

"The strategy is to make people feel included not excluded, to make them feel part of your world," Sack observed.



E-Partnership for Hachette & Bloomberg Businessweek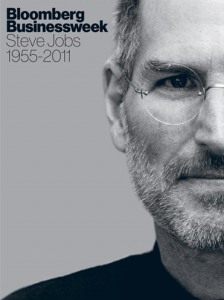 Hachette Book Group will collaborate with Bloomberg Businessweek to publish select special projects from the magazine in e-book form. The initial release is an e-book version of Steve Jobs 1955-2011, drawn from the October 10, 2011, issue of Bloomberg Businessweek. The e-book will be available in the U.S. and Canada for $3.99 on a range of platforms and devices. Featured writers include Steve Jurvetson, Eric Schmidt, John Sculley, Sean Wilsey and William Gibson.



Holiday Shopping: 'The Gift of E'

Open Road Media has launched Gift of E, a holiday season social media and digital marketing campaign to promote authors and to help consumers learn how to give e-books as gifts. Gift of E debuted on Cyber Monday, and will continue to offer last-minute gift suggestions through Christmas, after which the campaign will change to "Starter Packs," featuring book recommendations to fill all those new e-reading devices given as gifts this year.



Mikhli Joins On Demand Books
Karina Mikhli has joined On Demand Books, which markets the Espresso Book Machine, as director of content development, a new position. She will focus on publisher relations and obtaining publisher content for the Espresso, among other things. She has a Master's in Publishing from New York University and 15 years of experience in the industry, most recently as vice-president of publishing operations at Assouline Publishing, a production manager at Oxford University Press, and executive director of production at the Princeton Review.


Media and Movies
Media Heat: Stephen Sondheim on Colbert
This morning on Imus in the Morning: Erica Heller, author of Yossarian Slept Here: When Joseph Heller Was Dad, the Apthorp Was Home, and Life Was a Catch-22 (Simon & Schuster, $25, 9781439197684).
---
Tomorrow on NPR's Diane Rehm Show: James Curtis, author of Spencer Tracy: A Biography (Knopf, $39.95, 9780307262899).

---

Tomorrow night on the Tonight Show with Jay Leno: Bill Cosby, author of I Didn't Ask to Be Born (But I'm Glad I Was) (Center Street, $21.99, 9780892969203).

---

Tomorrow night on the Colbert Report: Stephen Sondheim, author of Look, I Made a Hat: Collected Lyrics (1981-2011) with Attendant Comments, Amplifications, Dogmas, Harangues, Digressions, Anecdotes and Miscellany (Knopf, $45, 9780307593412).




Movie: Coriolanus
Coriolanus, a modern reimagining of Shakespeare's play, opens in limited release this Friday, December 2. Ralph Fiennes directs and stars as the title character, a Roman soldier banished from the city for his extreme political views. Also stars Gerard Butler, Brian Cox and Jessica Chastain.


TV: Hornet's Nest
TNT has greenlighted an original movie version of Hornet's Nest, adapted from Patricia Cornwell's novel, as part of its Mystery Movie Night franchise, Deadline.com reported. The project will star Sherry Stringfield and Virginia Madsen. The TNT Mystery Movie Night series debuts this week with film adaptations of Scott Turow's Innocent and Sandra Brown's Ricochet.



Books & Authors
Awards: William Hill Sports Book of the Year
Ronald Reng won the William Hill Sports Book of the Year Award for A Life Too Short: The Tragedy of Robert Enke, a biography of the German national goalkeeper "who suffered from depression and took his own life two years ago," the Guardian reported, noting that the book was praised by the judging panel "for its powerful and insightful nature as well as its sensitivity and sincerity."

Initially published in Germany as Robert Enke: Ein allzu kurzes Leben and translated into English by Shaun Whiteside, Reng's book is the first translation to win the prize, which includes a £23,000 (US$35,664) check, a £2,000 William Hill bet, a hand-bound copy of the book and a day at the races.



Attainment: New Titles Out Next Week
Selected new titles appearing next Monday and Tuesday, December 5 and 6:

Beyond Religion: Ethics for a Whole World by His Holiness the Dalai Lama with Alexander Norman (Houghton Mifflin, $24, 9780547636351) advocates common secular ethical principles free from individual religions.

Witch & Wizard: The Fire by James Patterson and Jill Dembowski (Little, Brown, $17.99, 9780316101905) continues the young adult fantasy Witch & Wizard series.

Death Comes to Pemberley by P.D. James (Knopf, $25.95, 9780307959850) continues Jane Austen's Pride and Prejudice, subjecting her characters to a murder mystery.

Inside SEAL Team Six: My Life and Missions with America's Elite Warriors by Don Mann and Ralph Pezzullo (Little, Brown, $27.99, 9780316204316) chronicles the service of a SEAL team member and instructor.

420 Characters by Lou Beach (Houghton Mifflin, $22, 9780547617930) is a collection of very short stories structured as Facebook status updates.

The Artist of Disappearance by Anita Desai (Houghton Mifflin, $23, 9780547577456) includes three novellas in which individuals struggle with modernization and Indian culture.

Murder in Mount Holly by Paul Theroux (Mysterious Press, $22, 9780802126047) follows a draftee, his mother and her amateur criminal lover during the 1960s.

The World of Downton Abbey by Jessica Fellowes (St. Martin, $29.99, 9781250006349) explores the television show about an aristocratic family in 1912.

Arrows of the Night: Ahmad Chalabi's Long Journey to Triumph in Iraq by Richard Bonin (Doubleday, $27.95, 9780385524735) examines an Iraqi exile's ultimately successful attempts to have Saddam overthrown.

Ruthless by Sara Shepard (HarperTeen, $17.99, 9780062081865) is book ten of the Pretty Little Liars series.


Now in paperback:

Big Nate and Friends by Lincoln Peirce (Andrews McMeel, $9.99, 9781449420437).

Lawe's Justice by Lora Leigh (Berkley, $7.99, 9780425243954).

It's All Greek to Me by Katie MacAlister (Signet, $7.99, 9780451235367).

Sports Illustrated Almanac 2012 by the Editors of Sports Illustrated (Sports Illustrated, $14.99, 9781603209038).

Padre Pio: Miracles and Politics in a Secular Age by Sergio Luzzatto (Picador, $22, 9780312611668), which just won the Cundill Prize in History at McGill University.




IndieBound: Other Indie Favorites
From last week's Indie bestseller lists, available at IndieBound.org, here are the recommended titles, which are also Indie Next Great Reads:

Hardcover

The Boy in the Suitcase by Lene Kaaberbol and Agnete Friis (Soho Crime, $24, 9781569479810). "Not just another Scandinavian thriller, this book catches your attention from page one! Red Cross nurse Nina Borg gets caught up in a terrible series of events, when her erstwhile friend asks for help and leaves her a key to a public locker. The locker contains a suitcase that is unbearably awkward to carry, and when Nina opens it, she finds a naked, unconscious little boy. Who is this boy, and what does he have to be saved from? A great introduction to an award-winning team of Danish authors." --Margaret Brennan Neville, the King's English, Salt Lake City, Utah

White Truffles in Winter: A Novel by N.M. Kelby (Norton, $24.95, 9780393079999). "This richly layered novel is based on the life of legendary chef Auguste Escoffier, who popularized French cooking methods at his restaurants at the Savoy and the Ritz at the beginning of the 20th century. Escoffier's love for two women: the beautiful, iconic actress Sarah Bernhardt and his lovely, poetess wife, Delphine Daffis, is at the heart of this complex tale. The characters are vivid and the food--oh, the food--is delicious!" -- Erica Caldwell, Present Tense, Batavia, N.Y.

Paperback

The Best American Noir of the Century edited by James Ellroy and Otto Penzler (Mariner, $16.95, 9780547577449). "This is an amazingly delicious and dark collection. Every decade from the 1920s forward is represented by at least one classic selection, with many from the last 20 years included. These stories invariably end in a nastier manner than you'd first suspect. I hope a second volume is considered very soon!" --Carl Hoffman, Boswell Book Company, Milwaukee, Wis.

For Ages 4 to 8

A House in the Woods by Inga Moore (Candlewick, $16.99, 9780763652777). "I love this book! The spectacular Inga Moore illustrations accompany a story that will appeal to kids and grownups alike. Two pigs, a moose, and a bear decide they want a house where they can live together. They plan it and hire a group of hard-hat-wearing beavers as their contractors. We watch the house go up, and--in the best scene of all--the beavers being paid in peanut-butter sandwiches. Delightful!" --Deborah Johnson, Barstons Child's Play, Washington, D.C.

[Many thanks to IndieBound and the ABA!]




Book Review
Review: The Translation of the Bones
The Translation of the Bones by Francesca Kay (Scribner, $24 hardcover, 9781451636819, January 2012)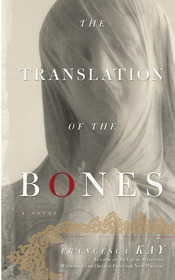 Francesca Kay, winner of the 2009 Orange New Writers Award for An Equal Stillness, the biography of a fictitious artist, has not fallen prey to "sophomore slump." Her second novel is as polished as one by an author with many years of experience. The title refers to the removal of holy relics to a place where they may be venerated--appropriate, since one of the themes of this book is the place of faith and religion in life.
Mary-Margaret O'Reilly is a member of the Church of the Sacred Heart in Battersea, London. She is a slow-witted young woman who tidies and cleans the church. One day during Lent, she decides to wash the corpus on the crucifix in the Chapel of the Holy Souls. When she is cleaning the statue, she falls, sustains a very bloody head wound and is discovered unconscious on the floor by Stella Morrison, another parishioner.
While in hospital, Mary-Margaret talks with Kiti Mendoza, an attendant on the evening shift, about how the Lord saved her from any real harm, how He opened his eyes to look at her, blinked, and she could see "how badly He was hurting." She tells Kiti she believes that she reopened Our Lord's wounds and how desperately sorry she is. Kiti takes this news out to her friends and a mania descends upon the quiet church, one born of religious fervor and the wish to believe that a miracle has taken place.
Father Diamond does not believe that any such thing has happened; the blood is clearly from Mary-Margaret's head wound. He has always prided himself on keeping the church open and welcoming to anyone at any hour; now he has to lock it to keep out the fanatics who want to touch the statue.
Mary-Margaret's mother, Fidelma, forms another part of the story. She is irreligious, dreaming of past glories as a femme fatale who used her charms to get what she wanted. She is now an obese invalid, trapped on the 19th floor of a tower block, unable to leave. Mary-Margaret had taken care of her, until her accident.
Stella is married to a Member of Parliament and has two older children out in the world, but it is the youngest one, Felix, away at boarding school, for whom she pines. They both count the days until he can come home for term break. Motherhood is very important in this sad story: Mary-Margaret hasn't and never will have any children, so she baby-sits the child of immigrant neighbors; Fidelma knows that she was a bad mother to Mary-Margaret; Stella berates herself for ever allowing her son to be sent off to boarding school. Her husband is indifferent at best and never wanted the third child.
The intersection of these women's and children's lives culminates in one horrific incident that will forever change all of them. All the holy relics of their respective pasts will have to be translated to accommodate the new reality. --Valerie Ryan
Shelf Talker: Religious mania, motherhood and tragedy combine in this well-told tale, at times lyrical and always poignant.