Shelf Awareness for Thursday, December 8, 2011

News
U.S. Justice Department Also Investigating Agency Pricing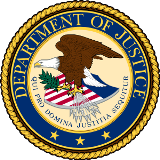 A day after the European Union announced that it has begun formal antitrust proceedings against five international publishers and Apple over the agency pricing program for e-books, the Justice Department confirmed that it, too, is investigating "whether there was improper collusion by Apple Inc. and publishers to prevent discounting," the Wall Street Journal reported.

The investigation had been rumored for some time, but yesterday a Justice Department official confirmed the matter. State attorneys general in Texas and Connecticut also are investigating.




Amazon's $5 Price Check: Indie Responses & a Counter Offer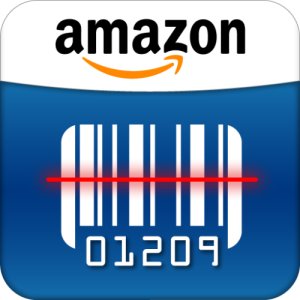 Third Street Books, McMinnville, Ore., has taken up the challenge of Amazon's upcoming "pay for price checking" move (Shelf Awareness, December 7, 2011). Along with sister store Yamhill Valley Dry Goods, Third Street is sponsoring a "Ditch Amazon Day" this weekend. The counter offer was unveiled in an e-mail to customers: "This Saturday, December 10th, bring in proof that you have closed your Amazon account, and you will receive 15% off your purchase, plus a $5 gift certificate." Third Street also detailed its objections to Amazon's spy game on the shop's blog.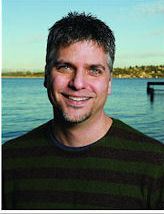 Author Garth Stein (The Art of Racing in the Rain) tweeted his own strategy: "I like to do the Reverse Amazon: hear about a book, read about it on Amazon, then go buy it at my local bookstore! It's fun! #ReadLocal."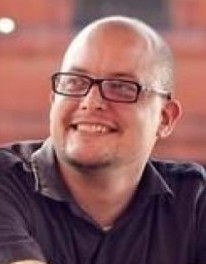 In a blog post headlined " 'This is the Part Where Amazon Jumps the Shark' or 'Go Forth and Destroy Your Community Sayeth Amazon,' " Jarek Steele, co-owner of Left Bank Books, St. Louis, Mo., observed: "Meanwhile, I can offer this--if you shop at my bookstore, I will not pay you five dollars to spy on my competitors. In fact, I'll probably recommend them if we can't get what you need. I won't degrade your favorite author by giving away a lifetime of her work so that I can sell electronics. I will not make you feel bad for reading traditional books, nor will I mock you for choosing an e-reader, e-book or anything else I offer even if I don't personally like it. After all, customers are people, not pawns. We still like to shop with people who respect us."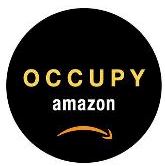 On Facebook, Occupy Amazon: Shop Local offered a personal challenge from Kim Gavin of Powell's Books, Portland, Ore.: "Physical retail establishments are not merely showrooms for products. Your local indie store offers you knowledgeable employees that don't adhere to a mathematical formula to provide recommendations, physical products to peruse at your leisure, and a place to meet with members of your community.... I personally challenge everyone to buy local this Saturday (and every day thereafter). It's worth $5 to keep our local businesses alive."



Canadian Booksellers Association: The Adjustment Bureau

In the wake of incoming president Lee Trentadue's unexpected resignation last month (Shelf Awareness, November 30, 2011), Quill & Quire reported that the Canadian Booksellers Association has made the following adjustments:

Current CBA board member Christopher Smith of Collected Works Bookstore and Coffeebar, Ottawa, is now the organization's v-p, taking over Trentadue's position.

Ellen Pickle of Tidewater Books, Sackville, N.B., will assume Smith's role as treasurer. Mark Lefebvre will remain CBA president until the annual general meeting next May.




Wizarding World of Harry Potter Goes Hollywood
California will get its own Wizarding World of Harry Potter at the Universal Studios Hollywood theme park, providing a bicoastal bookend to the one that opened in Orlando, Fla., in 2010.

In announcing the project yesterday, Universal and Warner Bros. did not specify a timeline for construction, stressing instead "the jobs that would be created (one union rep estimated there would be 800 in construction alone) and the positive effect the Harry Potter draw would have on the Los Angeles economy. County supervisor Zev Yaroslavsky estimated that the Universal park currently generates $4.4 billion for the local economy," the Hollywood Reporter wrote.

Governor Jerry Brown invoked the potential for Potter magic while acknowledging the "tough times" Californians are facing: "You hear about people moving to Texas. But we're building the dream that never dies. We're truly a state of imagination. And the Harry Potter ride pushes us further down that uncertain road California is on." The press conference concluded with a Butterbeer toast.



Council Oak Books Moving to San Francisco, PGW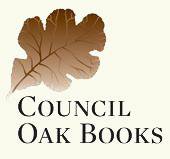 Council Oak Books, owned by filmmaker, inventor and philanthropist Maurice Kanbar, is moving its trade operations to the San Francisco Bay Area from Tulsa, Okla., where it was founded in 1985, and will be distributed to the book trade by Publishers Group West.

The company will be headed by James Connolly, CEO and publisher, who was formerly publisher for the books division of University Games of San Francisco and for many years was publisher of BAY/SOMA Books.

Connolly commented: "While Council Oak has 'heartland roots,' it was established in a city founded by migrants, especially Native Americans, and the westward progression seems to be another evolutionary step in that journey. Council Oak Books has published significant works from the Native American community and other popular fiction, non-fiction, health, feminist and spiritual works. We are pleased to carry on this fine tradition and trust that we'll continue to build a publishing house that will continue to be a significant independent publisher that recognizes and celebrates the new and worthy voices of today and tomorrow."


Notes
Image of the Day: Raptor Rapture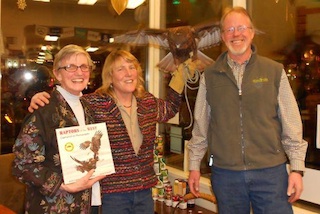 Last Friday, Fact & Fiction, Missoula, Mont., hosted an event for Raptors of the West by Kate Davis (Mountain Press), which recently won a National Outdoor Book Award for layout and design. The star of the show was Alisa Clancy, a red-tailed hawk, who was, Fact & Fiction's Barbara Theroux said, "quite a draw on the busy First Friday in downtown Missoula." Here: (from l.) Theroux, Davis, Alisa and Mountain Press publisher John Rimel.


Booksellers Rock!: Stacie Michelle Williams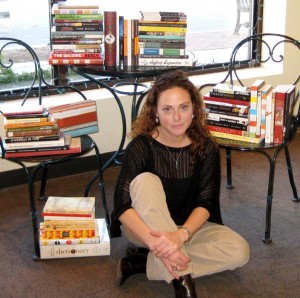 Algonquin's latest Booksellers Rock! q&a is with Stacie Michelle Williams, a bookseller at Boswell Book Company, Milwaukee, Wis. Our favorite parts:

Why our store kicks ass:

Our T-shirts are designed by local artists, which is pretty kick-ass. We're mind-readers when it comes to what you might be seeking. We aren't afraid to be smart AND silly. And while it might seem a bit macabre, the truth is that if you're one of our regular customers and you pass away, we will go to your funeral."

Why I do what I do:

I believe that books have the power to change lives and by helping connect people to them, I become a gateway to effecting great, positive change in the world. Like the guy who told me about his ex-girlfriend calling him to say she's been in Maine for the last few years and that he's the father of her child and wanted to know if there was a book that could help him--I recommended a road atlas, a parenting book and a relationship book. On Thanksgiving I was at the dog park chatting up a woman, when her husband turned and said "Don't we see you in Boswell's?" and I knew his name. Or, there was the kid who said to me, "You recommended a book to me a year ago and it was the best thing I've ever read. Thank you." That. Hearing that is why I do what I do. That, and it's not such a bad gig getting to wear a Llama costume, meet amazing authors, make a pirate ship from boxes & galleys, and drink with other book people (writers and booksellers alike).




Presidential Signing: Just Ask Nicely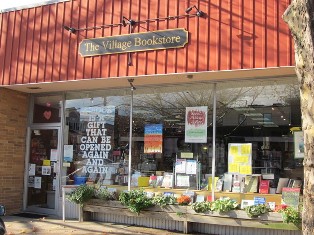 The Village Bookstore, Pleasantville, N.Y., is the new book "go-to spot" for Bill and Hillary Rodham Clinton. The Pleasantville--Briarcliff Manor Patch reported that when the Clintons visited recently, every copy of Back to Work: Why We Need Smart Government for a Strong Economy "sold out within minutes."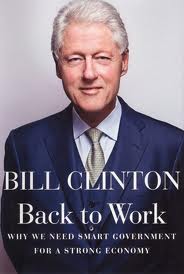 "They were there for quite a long time," said Roy Solomon, co-owner of the bookstore with his wife, Yvonne van Cort. "They are a couple of people who seem to genuinely enjoy having people come up and talk to them. They did their shopping and it was really very pleasant and very exciting."

Van Cort added the power couple's cordiality inspired her to suggest the former president arrange a book signing locally. "He said he might be able to fit that in," she recalled. An event was quickly organized for tomorrow at the library in Chappaqua, where the Clintons have a home, and Solomon will be there with 700 copies of his book.



Book Trailer of the Day: The Winslow Incident
The Winslow Incident by Elizabeth Voss (Five Star), which appears December 16.


Media and Movies
Media Heat: Henry Louis Gates Jr. on Morning Joe
This morning on Imus in the Morning: Craig Shirley, author of December 1941: 31 Days that Changed America and Saved the World (Thomas Nelson, $24.99, 9781595554574).
---
Tomorrow morning on MSNBC's Morning Joe: Henry Louis Gates Jr., author of Life Upon These Shores: Looking at African American History, 1513-2008 (Knopf, $50, 9780307593429).

---

Tomorrow morning on Imus in the Morning: Donald Trump, author of Time to Get Tough: Making America #1 Again (Regnery, $27.95, 9781596987739). He will also appear on CBN's 700 Club and Fox's America Live with Megyn Kelly.

---

Tomorrow on Tavis Smiley: Lawrence Lessig, author of Republic, Lost: How Money Corrupts Congress--and a Plan to Stop It (Twelve, $26.99, 9780446576437).

Also on Tavis Smiley: Florence Henderson, author of Life Is Not a Stage: From Broadway Baby to a Lovely Lady and Beyond (Center Street, $25.99, 9781599953885).

---

Tomorrow on Charlie Rose: Steven Naifeh, co-author of Van Gogh: The Life (Random House, $40, 9780375507489).

---

Tomorrow night on the Tonight Show with Jay Leno: Bill O'Reilly, co-author of Killing Lincoln: The Shocking Assassination that Changed America Forever (Holt, $28, 9780805093070).




Movie Trailer: The Pirates! Band of Misfits
Sony Pictures Animation and the U.K.'s Aardman Animations (Wallace & Gromit) have released a trailer for the stop-motion 3D movie The Pirates! Band of Misfits, which is directed by Peter Lord (co-directed by Jeff Newitt) and based on the books by Gideon Defoe. The voice cast includes Hugh Grant, Salma Hayek, Jeremy Piven, Imelda Staunton and David Tennant. The Pirates! opens March 30.



This Weekend on Book TV: Niall Ferguson Explores Civilization
Book TV airs on C-Span 2 this week from 8 a.m. Saturday to 8 a.m. Monday and focuses on political and historical books as well as the book industry. The following are highlights for this coming weekend. For more information, go to
Book TV's website
.
Saturday, December 10
12 p.m. BookTV interviews
Sarah Weinman
, news editor for Publishers Marketplace, about "the year in books." (Re-airs Sunday at 5:30 a.m. & 6:45 p.m.)
1 p.m.
Craig Shirley
, author of
December 1941: 31 Days That Changed America and Saved the World (Thomas Nelson
, $24.99, 9781595554574), presents a history of the attack on Pearl Harbor. (Re-airs Saturday at 9 p.m.)
3:30 p.m.
Catherine Crier
, author of
Patriot Acts: What Americans Must Do to Save the Republic
(Threshold Editions, $26, 9781439194928), argues that partisan politics are hurting the U.S. (Re-airs Sunday at 11 p.m.)
4:30 p.m.
Mark Bowden
, author of
Worm: The First Digital World War
(Atlantic Monthly Press, $25, 9780802119834), talks about Conficker, the computer worm that infected more than seven million computers around the world in 2008-2009. (Re-airs Sunday at 7:45 p.m.)
7 p.m. At an event hosted by Hue-Man Bookstore in New York City,
Melissa Harris-Perry
, author of
Sister Citizen: Shame, Stereotypes, and Black Women in America
(Yale University Press, $28, 9780300165418), argues that negative stereotypes of African-American women affect their political engagement.
8:15 p.m.
Ian Toll
, author of
Pacific Crucible: War at Sea in the Pacific, 1941-1942
(Norton, $35, 9780393068139), examines the first months of the war in the Pacific between Japan and the U.S. (Re-airs Sunday at 6 p.m. and Monday at 2:15 a.m.)
10 p.m. After Words. Susan Jacoby interviews economist and historian
Niall Ferguson
, author most recently of
Civilization: The West and the Rest
(Penguin, $35, 9781594203053). (Re-airs Sunday at 9 p.m., and Monday at 12 a.m. & 3 a.m.)
11 p.m.
John Carlos
and
Dave Zirin
, co-authors of
The John Carlos Story: The Sports Moment That Changed the World
(Haymarket Books, $22.95, 9781608461271), chronicle the life of the 1968 Olympic medalist who raised a gloved fist in protest at the awards ceremony. (Re-airs Sunday at 4 p.m.)
Sunday, December 11
1:30 a.m.
Frank Schaeffer
, author of
Sex, Mom, & God: How the Bible's Strange Take on Sex Led to Crazy Politics--and How I Learned to Love Women (and Jesus) Anyway
(Da Capo Press, $26, 9780306819285), talks about his mother, evangelical writer Edith Schaeffer. (Re-airs Sunday at 10 p.m.)


Books & Authors
Awards: Flaherty-Dunnan First Novel; Bad Sex in Fiction
Bonnie Nadzam won the $10,000 Flaherty-Dunnan First Novel Prize for Lamb and Scribner editor-in-chief Nan Graham received the Maxwell E. Perkins Award for Achievement in Fiction at the annual benefit for the Center for Fiction earlier this week, the Wall Street Journal reported.

---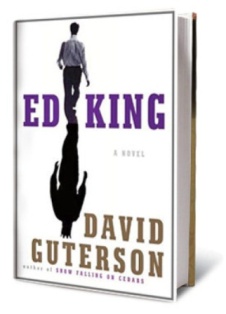 David Guterson won the "dubious accolade" of this year's Bad Sex in Fiction Award from the Literary Review, the Guardian reported, noting that his fifth novel, Ed King, was cited for its "over-reliance on coy terms such as 'family jewels,' 'back door' and 'front parlor.' " Guterson is now a two-time winner, having nabbed the prize in 1994 for his debut novel, Snow Falling on Cedars.

Although he couldn't be present to accept the award, Guterson did say that his modern reimagining of the Oedipus myth was perhaps a logical winner: "Oedipus practically invented bad sex, so I'm not in the least bit surprised."



Reviewer's Choice: Top 10 of 2011
Each December, our reviewers choose their top books; today's list is by Ron Hogan, founder of Beatrice.com.
1Q84 by Haruki Murakami (Knopf)
Yes, Murakami's prose has some difficult patches, but there are also some fantastic passages. His Philip K. Dick fandom has never been more overt than in this massively strange and unsettling novel.
Among Others by Jo Walton (Tor)
Is it fantasy or mainstream fiction? Is it for adults or YA readers? Either way, it's an absolutely brilliant story about a teenage girl who turns to books for the emotional solace her family life sorely lacks.
The Exegesis of Philip K. Dick edited by Pamela Jackson and Jonathan Lethem (Houghton Mifflin Harcourt)
Philip K. Dick spent the last seven years of his life trying to understand a series of potentially mystical experiences, and filled thousands of pages with his theories, at turns baroque, paranoid, and incisive. Jackson and Lethem have sifted through to select some of the most compelling of all that material.
The Heroes by Joe Abercrombie (Orbit)
If maverick film director Sam Fuller had ever made a fantasy sword epic, it would have looked a lot like this. Abercrombie's got no time for the glories of war; his novel about a three-day battle between two rival kingdoms is filled with grim pragmatism and even grimmer mortality.
Ganymede by Cherie Priest (Tor)
The third novel in a series set in a steampunk 19th-century America, and possibly the most exciting yet (although I'm a big fan of Dreadnought, its immediate predecessor). This is a rollicking adventure, but Priest also takes the time to give all her major characters, and many of her minor ones, depth and personality.
Moondogs by Alexander Yates (Doubleday)
This debut novel is constantly shifting between realistic emotional drama and zany magic realism, but it never knocks you out of the story. The quirks in Moondogs won't be to everyone's tastes, but readers who are willing to accept Yates's world on its own terms will find much to appreciate.
The Night Circus by Erin Morgenstern (Doubleday)
I didn't review this novel; I just really love it. I thought I'd never care about another circus story after The Circus of Dr. Lao, but Morgenstern hooked me with her sumptuously magic sensibility.
Rule 34 by Charles Stross (Ace)
A high-tech thriller set in near-future Scotland, and if you're not a science fiction fan, don't worry. Underneath all the futuristic gadgets, Stross has a solid footing in the police procedural, too.
Reamde by Neal Stephenson (Morrow)
Bracket out a long weekend for yourself; once you get started on Reamde, you'll want to see it all the way through. I don't have anywhere near the space to go into detail; let's just say it's the biggest, smartest action movie of a novel you'll read all year.
Salvage the Bones by Jesmyn Ward (Bloomsbury)
I know, I'm going out on a real limb, recommending the National Book Award winner, right? But Jesmyn Ward really does have an amazing literary voice, and there's an emotional power to this story that will stay with you long after you're done reading.


Book Review
Review: Mr g: A Novel About the Creation
Mr g: A Novel About the Creation by Alan P. Lightman (Pantheon, $24.95 hardcover, 9780307379993, January 24, 2012)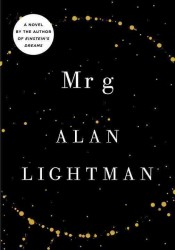 "As I remember, I had just woken up from a nap when I decided to create the universe." From that offhanded beginning, Alan Lightman spins a beguiling tale of the birth of a universe called Aalam-104729, which bears a striking resemblance to our own, as told from the perspective of none other than the Creator himself, a humble character known only as Mr g.
Mr g. shares the Void with two bickering relatives, Aunt Penelope and Uncle Deva, who are skeptical about the wisdom of their nephew's decision to disturb their eternal slumber to create his science project. They're a pair of kibitzers, second-guessing nearly every detail of his audacious undertaking. The Creator's most intriguing conversations are reserved for a being known as Belhor, who jousts with him on the subjects of free will, the nature of good and evil, and the problem of human suffering, all poignantly summed up in the story of a young girl observed stealing food to feed her starving family.
There's nothing dogmatic about Lightman's approach to his material. One hears familiar echoes of the biblical creation narrative when Mr. g "created darkness and light" and "decided that these things were also good," but the novel refers only obliquely to some of the elements of that story. Mr g studiously avoids intervening in the workings of his universe, instead establishing three fundamental laws (symmetry, relativity and causality), and then setting it in motion so that everything "happened on its own by trial and error, with no need for meddling by outside parties." There are even moments of humor, as when an impatient Creator decides to perform an "experiment" to speed up the process by which consciousness emerged from "billions of planetary years" to "mere moments."
As he demonstrated in his 1992 bestseller, Einstein's Dreams, Lightman is able to write with the keen insight of a scientist and the lyricism of a poet. From describing newly formed matter in the shape of "ellipsoids and spheroids and topological hyperboloids" to imagining the oceans, with their "liquid waves" that "glided across the surfaces, crest to trough to crest, glittering with starlight and reflecting the colored atmospheres above," he brilliantly conveys a sense of the awesome power and mystery of the universe's origins.
Whether you are a believer, an atheist or occupy some position in between, if you approach it with an open mind you are certain to find something worth pondering in this delightfully original novel. Who knew cosmology could be such a blast? --Harvey Freedenberg
Shelf Talker: Theoretical physicist Alan Lightman offers a beguiling version of the Creation, as told by God himself.