Shelf Awareness for Monday, December 19, 2011

Quotation of the Day
Why America Needs Its Indies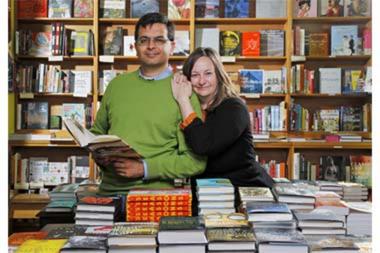 "You are no more likely to discover a book buried in the stacks of a bookstore than you are to find it perusing Amazon's webpages. But you are more likely to discover something different, because there is a unique group of people reading, selecting, and promoting titles at each store.... It's not about whether one store makes better choices than another in regard to what it stocks and displays on its shelves; it's about the variety of choices. ... In almost all other industries, we value experts and their opinions, and often reward their experience monetarily.... It is alarming that we don't place that same value on professionals working in the book business... Anyone who claims to value literary culture should be advocating for more: more books, more readers, more access, more services, more exposure, more formats. More choices."


News
Holiday Season Highs: Online Sales Rise 15%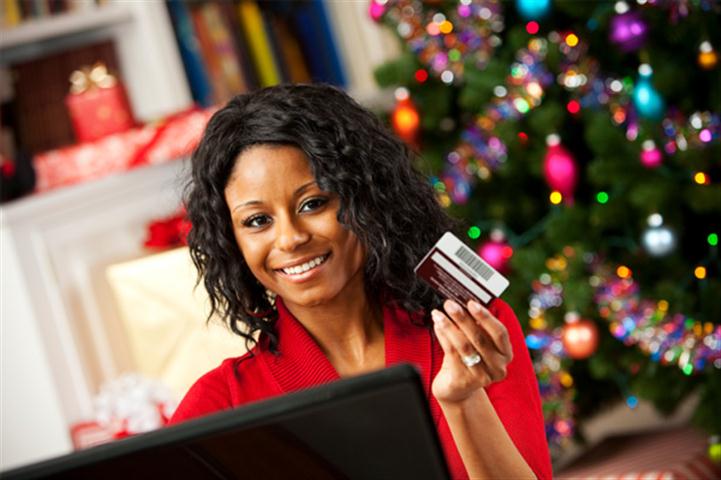 Spending online in the U.S. for the holiday season so far, starting November 1, has risen 15%, to $30.9 billion, ComScore has estimated, as reported by Bloomberg. Last week sales were $6.32 billion, also up 15%, and included four days with sales greater than $1 billion each day.

ComScore predicted sales will slow this week, which likely will make Cyber Monday, November 28, the day with the highest online sales this year, $1.25 billion, followed by $1.13 billion on December 12 and $1.07 billion on December 16.




At Amazon, Long Term Is Long Term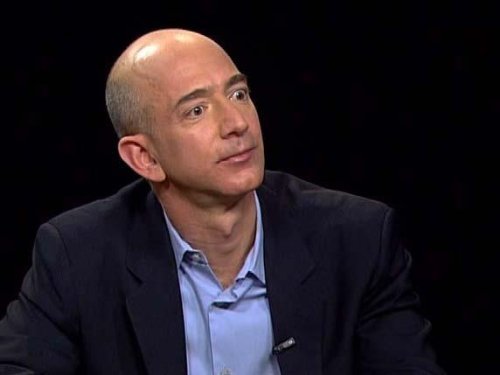 In a column in the New York Times called "Amazon Says Long Term and Means It," James B. Stewart reminded readers that as far back as 1997, when Amazon.com became a public company, founder Jeff Bezos emphasized that the company was taking a long-term approach, "but shareholders seem never to have gotten the message." They have repeatedly "hammered the stock" over poor earnings results even though they result from the company's growth strategy.

The investor impatience is all the more striking, Stewart continued, because managing for the long term "is pretty much gospel among good-governance proponents and management experts." He added: "Amazon, in particular, has been true to its word to manage for the long term. It remains one of the world's leading growth companies and its stock has soared 12,200% since its public offering. In late October it reported quarterly revenue growth of 44% to almost $11 billion, which came on the heels of 80% growth a year ago."

The Kindle Fire, which is likely sold below cost, is yet another example of the company's long-term strategy: it's not meant to compete with the iPad but to promote customer shopping on Amazon.

Stewart ended, "But one of these days Amazon has to deliver on its promise of higher margins and profits, however long term that may turn out to be. 'To many investors, long term is a year,' [Morgan Stanley analyst Scott Devitt] said. 'For Bezos, he's looking at a 10- to 20-year time line. When he says long term, he means 2020 or 2030.' "




Game On: eBay's 'Anti-Amazon' Discount
The long week of backlash over Amazon's Price Check Saturday promotion got a bit longer over the weekend with eBay's introduction of a deal offering consumers who spend $100 online a $10 discount for purchases in certain bricks-and-mortar stores. Bloomberg reported that participating shoppers have to buy online from Toys R Us, Dick's Sporting Goods or Aeropostale, and use eBay's PayPal payments service. The promotion runs through today.

Analyst Colin Sebastian said eBay is "trying to be the anti-Amazon in a sense." He also noted that the company is "positioning itself as a partner with traditional retailers, whereas Amazon is trying to accelerate that shift away from stores."

While eBay does have a price check app of its own, analyst Brian Blair said the difference is that "Amazon is a direct competitor to bricks-and-mortar retailers."



Nook Looking for Niche in U.K. Soon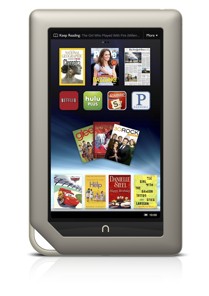 Barnes & Noble will sell the Nook in the U.K. in the "not too distant future"
either through a partnership or directly, B&N v-p for digital content Theresa Horner told the Publishers Associations' International Conference last Thursday. As reported by the
Bookseller
, she said, "Our focus originally was very much on providing a successful platform in the U.S. to work from, before taking our product overseas.... We are working a lot more closely [on that], and I imagine that in the not too distant future you'll be able to find one of these devices here."
The
Bookseller
added that "speculation has grown" that B&N will work with Waterstone's, which itself has said it will offer an e-reader early next year. Horner commented: "I think B&N would say that having a chain of book stores is a great asset for selling book products, and if you think creatively about selling content, there is an endless well of possibilities for doing that."


Timely Tomes: Books on North Korea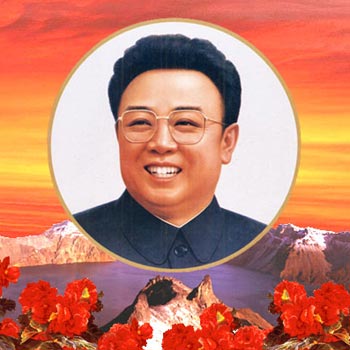 On the occasion of the death of Kim Jong-Il, head of North Korea (and just in time for the holidays), Sarah Weinman offers a list of "novels and nonfiction works that help further understand this oppressive dictatorship that was often stranger than satire." See the list on her blog, Off on a Tangent.


Ann Patchett's 'Best Thing About Owning a Bookstore'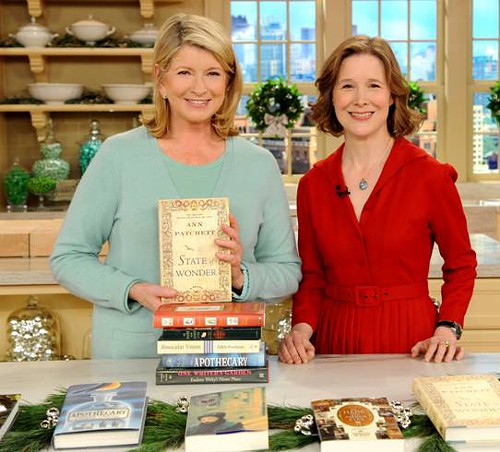 Author and bookseller Ann Patchett appeared on the Martha Stewart Show last week (it reairs today) and shared her five holiday book picks, as reported by the Tennessean:

The Family Fang by Kevin Wilson
Binocular Vision by Edith Pearlman
The Hare with Amber Eyes by Edmund de Waal
One Writer's Garden by Susan Haltom and Jane Roy Brown
The Apothecary by Maile Meloy.

Concerning her new bookstore, Parnassus Books, Nashville, Tenn., Patchett said: "The best thing about owning a bookstore is recommending books. I've been forcing books on people my whole life, and now I can do it professionally."




Notes
Image of the Day: A Pizza Rustica 'Revelation'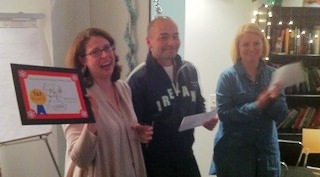 Hyperion Books held its annual holiday party last Thursday, at which this year's inaugural Holiday Bake Off was judged by Gail Simmons, host of Bravo's Top Chef: Just Desserts and author of the upcoming memoir, Talking with My Mouth Full; blogger Lisa Fain, author of The Homesick Texan; and Edward Ash-Milby, Barnes & Noble's cookbook buyer. Here (l.) is sales director Sarah Rucker, judged the top chef in the savory category for her Pizza Rustica ("a revelation"), with Ash-Milby and Fain.


Book Trailer of the Day: The Smartest Money Book You'll Ever Read
The Smartest Money Book You'll Ever Read: Everything You Need to Know About Growing, Spending, and Enjoying Your Money by Dan Solin (Perigee), which will be released later this month, just in time for New Year's resolutions.


Anthony Astarita Goes from B&N to Rodale
Effective January 3, Anthony Astarita is joining Rodale Press as senior v-p and general manager for digital and brand development, the New York Times reported. Astarita has been v-p and general manager for e-commerce and digital products at Barnes & Noble and was one of the creators of the Nook.


Casey McIntyre to Join HarperCollins Children's Books
Effective January 9, Casey McIntyre will join HarperCollins Children's Books as publicity manager. She has been a senior publicist at Penguin Young Readers Group.


Media and Movies
Media Heat: Richard Rhodes on Hedy's Folly
Today on NPR's Diane Rehm Show: P.M. Forni, author of The Thinking Life: How to Thrive in the Age of Distraction (St. Martin's Press, $21.99, 9780312625719).

---

Today on Dr. Phil: Laura Schroff and Alex Tresniowski, co-authors of An Invisible Thread: The True Story of an 11-Year-Old Panhandler, a Busy Sales Executive, and an Unlikely Meeting with Destiny (Howard, $25, 9781451642513).

---

Tonight on the Late Late Show with Craig Ferguson: Regis Philbin, author of How I Got This Way (It, $25.99, 9780062109750).

---

Tomorrow morning on Good Morning America: Pearl Jam, co-authors of Pearl Jam Twenty (Simon & Schuster, $40, 9781439169216).

---

Tomorrow on NPR's Diane Rehm Show: Richard Rhodes, author of Hedy's Folly: The Life and Breakthrough Inventions of Hedy Lamarr, the Most Beautiful Woman in the World (Doubleday, $26.95, 9780385534383).

---

Tomorrow night on a repeat of the Colbert Report: Jack Abramoff, author of Capitol Punishment: The Hard Truth About Washington Corruption From America's Most Notorious Lobbyist (WND Books, $25.95, 9781936488445).

---

On Wednesday on the Bob Edward Show: William Joyce, author of The Man in the Moon (Atheneum Books, $17.99, 9781442430419).




Theater: The Notebook Broadway Bound
On Friday, Nicholas Sparks told viewers of CBS's Early Show that his novel The Notebook, which was adapted for a 2004 movie, "will open a new chapter on Broadway" as a musical, the New York Daily News reported, adding that Sparks said that the project is still a work in progress and no dates have been set.

"We're still in development of this process, but the best way that I've always found--and it's what I've done in Hollywood or whether it's working with the publishers that I've worked with for a long time--is to work with people that you really trust who understand what it's about and they want to take that and mold it into something new," Sparks said.



Movie Trailer: Salmon Fishing in the Yemen
CBS Films released a trailer for Salmon Fishing in the Yemen, adapted from Paul Torday's novel and directed by Lasse Hallstrom from a script by Oscar winner Simon Beaufoy (Slumdog Millionaire). Deadline.com reported the film, which stars Ewan McGregor, Emily Blunt and Kristin Scott Thomas, was seen "as a possible awards contender after it premiered at Toronto in the fall, but the distributor decided it was too late for the tale of Middle East politics and fly-fishing to enter this year's Oscar race. It instead has set it for a limited-run release March 2, 2012."



Books & Authors
Awards: Charles Taylor Prize Longlist
For the first time, a longlist of 11 books has been announced for the $25,000 Charles Taylor Prize for literary nonfiction, "proving that the season for book awards knows no bounds," the Toronto Globe and Mail noted. You can see the nominated titles here.

"Last year, at our 10th anniversary, the jury informed us that there were so many additional titles so close to being named to the shortlist that we realized it was time to issue a longlist," said prize founder Noreen Taylor. "Now, as I look at the longlisted titles, it is clear that it was the right decision."

The shortlist will be announced on January 10 and a winner on March 5.



Book Review
Review: The Tender Hour of Twilight
The Tender Hour of Twilight: Paris in the '50s, New York in the '60s: A Memoir of Publishing's Golden Age by Richard Seaver, edited by Jeannette Seaver (Farrar Straus & Giroux, $35 hardcover, 9780374273781, January 3, 2012)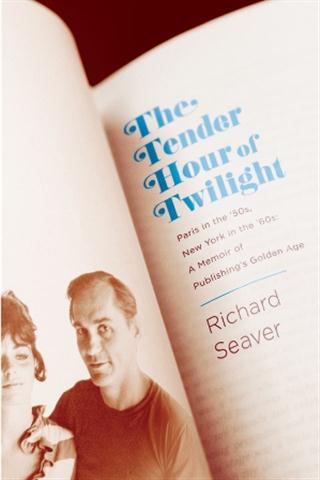 In his introduction to The Tender Hour of Twilight, James Salter describes Richard Seaver as "a man of character, charm, and a New England-bred integrity." He was a publisher who cared about fine writing, willing to promote an author even when it might get his press in trouble. He had been writing this lively, in-depth memoir for many years, but died before it was published--leaving his wife, Jeannette, to sort through thousands of manuscript pages to bring us this important memoir.
Seaver's story begins in 1950s France, a world with plenty to offer a bright, energetic young man who loved literature--and life. Using his Fulbright scholarship to work on his dissertation at the Sorbonne, he met and fell in love with Jeannette, wrote an important essay on the work of Samuel Beckett and co-founded a literary journal, Merlin, that published several writers then largely unknown to American readers, many of whom he was translating himself. And he still had time to hobnob with the likes of Orson Welles and Brendan Behan. The conversational and entertaining memoir is crammed full of details, but one can't help but be carried along by Seaver's enthusiasm as he writes with so much joy about one exciting literary encounter after another.
Seaver also first met Barney Rosset in France; later, when he arrived in New York City, he fit in perfectly at Rosset's Grove Press, where he was reunited with Beckett, helping to shepherd his greatest works into print. Things were never quiet at Grove: Naked Lunch, then City of Night, then Last Exit to Brooklyn, closely followed by The Autobiography of Malcolm X and Story of O (which Seaver translated himself, under a pseudonym). All these books faced hard publication battles, taking a financial toll on the company, but Grove didn't do P&L statements. Luckily, Eric Berne came along, promising that his guidebook to transactional psychology, Games People Play, would sell hundreds of thousands of copies. It did, and more after that, and became the book "that saved our skin," so successful its title entered the popular lexicon.
Eventually, after new financial problems and conflicts with Rosset, Seaver felt he had to leave. He describes their last meeting affectionately; they parted as friends, with a "hug as hearty as any I'd ever had." The memoir ends here, in 1971: afterward, Seaver went to Viking, from there to Holt, Rinehart, and Winston and then his own Arcade imprint. He died in 2009 at the age of 82, still publishing the dynamic new voices in literature he loved. --Tom Lavoie, former publisher
Shelf Talker: A fascinating inside look at modern publishing from one of its most esteemed and respected members--so conversational it's like drinking white wine with Seaver in a small French café.