Shelf Awareness for Wednesday, February 8, 2012

News
Online Sales Tax Bill Advances in Virginia Legislature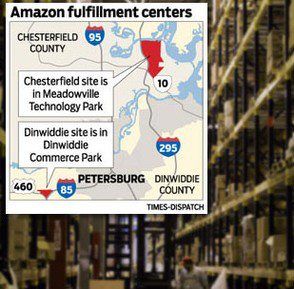 The Virginia Senate Finance committee voted unanimously yesterday to advance a bill that would require Amazon to collect the state's 5% sales tax, amid talk that Governor Bob McDonnell's administration "has been having discussions with Amazon to reach an agreement on the sales tax issue," the Richmond Times-Dispatch reported. The meeting was attended by owners and managers of approximately 50 bricks-and-mortar retailers, who support the legislation.



Senator Frank Wagner (R, Virginia Beach), who introduced the bill, told the committee: "I just want to level the playing field. Let the ones with the best products, the best innovation, the best ideas and the cheapest prices win that particular battle. I think it is time now that we start to address this."

He added that under current law, "what effectively we have done, in my humble estimation, is put all the (traditional) retailers--the moms and pops, even the big boxes, and the stores on the corner, the people that hire your constituents to work in those stores--at a 5% disadvantage."

McDonnell's administration has been in discussions about a tax deal with Amazon, which announced in December it was planning to invest $135 million to open distribution centers in Chesterfield and Dinwiddie counties later this year.

"The governor's office has met with all parties involved," said Jeff Caldwell, the McDonnell's press secretary. "We are monitoring the process as it evolves in the General Assembly."



Google Doodle as Dickensian Bookseller

To celebrate the 200th birthday of Charles Dickens yesterday, a fanciful Google Doodle showcased some of the author's best-loved characters, but CNET asked, with Scrooge-like cynicism, "who would have thought--other than the most venal--that the company might even use its lovely doodles to, ultimately, make lovely oodles of cash?... When you click on the doodle--hoping, perhaps, for it to animate, play, sing, or generally jiggle--you are whipped straight through to the search results for Dickens. The first words that your eyes fall upon--at least in Google's dreams--are 'free Google e-books.' "

CNET speculated that while the Google Books-pointing doodle might not seem like a moneymaker, "surely, the aim is gravitate your mind and habits over to the Google eBookstore, where money is exchanged for enlightenment."



Obituary Notes: John Sargent Sr.; Anthony Horton
John Sargent Sr.
, "a publisher, editor and socialite who as CEO of Doubleday worked with authors from Dwight Eisenhower to Stephen King and helped recruit his friend Jacqueline Kennedy as an editor," died Sunday, the Associated Press (via the
Wall Street Journal
) reported. He was 87.
Sargent was the father of current Macmillan CEO John Sargent Jr., who said, "He died without any regrets. He lived life at an extraordinary level."
---
Anthony Horton, a writer and artist who collaborated with Youme Landowne on the graphic novel
Pitch Black
(Cinco Puntos Press), died Sunday in a fire in the New York subway system. He was 43. The
New York Times
reported that Horton, who was homeless, "found solace in the blackness of the tunnels. He made the subway the subject of his canvases, the muse for a graphic novel that he co-wrote, and the place he called home for the better part of his adult life, even when he had other places to stay."


Notes
Image du Jour: Paris versus New York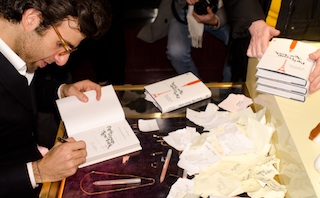 Last Thursday, the Standard Shop in New York City hosted an event for Vahram Muratyan and his new book, Paris versus New York: A Tally of Two Cities (Penguin) that drew 300 people.
Photograph: willandersonphotography.com


Perfect Literary Match: Beers & Bookshops
The latest issue of Algonquin Annotations featured a useful travel guide for brew aficionados in the book trade. Under the headline "Top 10 Beers Enjoyed While Visiting Bookstores Around the Country," Algonquin recommended:


Jai Alai IPA, Cigar City Brewing, Tampa, Fla. Store: Inkwood Books
Double Stout Black Ale, Green Flash Brewing, San Diego, Calif. Store: Warwick's Books
Sweet Child of Vine, Fulton Brewing, Minneapolis, Minn. Store: Magers & Quinn
Boundary Bay Scotch Ale, Boundary Bay Brewing, Bellingham, Wash. Store: Village Books
AleSmith IPA, AleSmith Brewing, San Diego, Calif. Store: Warwick's Books
Pliny the Elder, Russian River Brewing Co., Santa Rosa, Calif. Store: Diesel Books
512 IPA, 512 Brewing Company, Austin, Tex. Store: BookPeople
Kilt Lifter, Pike Brewing Co., Seattle, Wash. Store: Elliott Bay Book Co.
The Sixth Glass, Boulevard Brewing, Kansas City, Mo. Store: Rainy Day Books
Otter Creek Copper Ale, Otter Creek Brewing, Middlebury, Vt. Store: Northshire Books

Also noted was the fact that Otter Creek Brewing Company "gets coffee beans from Julia Alvarez's organic coffee farm in the Dominican Republic for its Wolaver's Alta Gracia Coffee Porter."



Video: 'Books Shape You'
The New Zealand Book Council posted an intriguing book-art video called "Books Shape You," and noted that the organization "promotes books through the power they have to inspire and shape a person."



'Amazing Green' Bookstores & Libraries
Inhabitat showcased "
7 amazing green bookstores and libraries
from around the world.... from an old church cathedral transformed into a stunning space stacked with books to an archaic theater revamped into a stage for modern and classic literature!"


Book Trailer of the Day: Matchbox Girls
Matchbox Girls by Chrysoula Tzavelas (Candlemark & Gleam).


Media and Movies
Media Heat: Wayne Koestenbaum on KCRW's Bookworm
Tomorrow morning on Imus in the Morning: Laurie Puhn, author of Fight Less, Love More: 5 Minute Conversations to Change Your Relationship without Blowing Up or Giving In (Rodale, $24.99, 9781605295985)
---
Tomorrow on the Jim Bohannon Show: Scott Rasmussen, author of The People's Money: How Voters Will Balance the Budget and Eliminate the Federal Debt (Threshold Editions, $26, 9781451666106).
---
Tomorrow on KCRW's Bookworm: Wayne Koestenbaum, author of Humiliation (Picador, $14, 9780312429225). As the show put it: "Most everyone has a skeleton in the closet. Wayne Koestenbaum talks about those gruesome and hideous moments most of us would rather not remember. His inquiry into humiliation takes us from the shocking incidents in the lives of writers (Antonin Artaud) to the horrific moments of certain celebrities who seem to almost thrive on embarrassment (Liza Minelli.) Koestenbaum outs himself as the aesthete of shame."
---
Tomorrow on Access Hollywood: Taylor Armstrong, author of Hiding from Reality: My Story of Love, Loss, and Finding the Courage Within (Gallery, $25, 9781451677713).


TV Trailer: Hemingway & Gellhorn
HBO Films has released a teaser trailer for Hemingway & Gellhorn, a TV movie "about the tempestuous romance" between war journalists Ernest Hemingway and Martha Gellhorn, the novelist's third wife and inspiration for For Whom the Bell Tolls, Indiewire reported.

Directed by Phil Kaufman, the project, which will air in May, stars Nicole Kidman and Clive Owen, with a supporting cast that includes David Strathairn, Robert Duvall, Joan Chen, Molly Parker, Parker Posey, Rodrigo Santoro, Santiago Cabrera, Peter Coyote, Saverio Guerra, Diane Baker and Tony Shalhoub.



Movies & Multimedia: Dark Eden
Dan Angel (Door to Door) will develop multimedia YA thriller Dark Eden by Patrick Carman "as a series of movies with multimedia components," Variety reported, noting that the novel, which was published by HarperCollins imprint Katherine Tegen Books, "includes digital components--such as still images, audio recordings, videos, scans, and text entries--delivered through a mobile application that transmits new episodes sequentially as the story unfolds."



Books & Authors
Awards: Kingsley and Kate Tufts Poetry Prizes
Timothy Donnelly won Claremont Graduate University's $100,000 Kingsley Tufts Poetry Award for his collection The Cloud Corporation (Wave Books). In addition, Katherine Larson won the $10,000 Kate Tufts Discovery Award for her debut collection Radial Symmetry (Yale University Press). Both writers will be honored at an awards ceremony April 19.



Attainment: New Titles Out Next Week
Selected new titles out next Monday-Wednesday, February 13-15:
The Wolf Gift
by Anne Rice (Knopf, $25.95, 9780307595119) gives a modern take on the classic werewolf transformation story.
Robert Ludlum's The Janson Command
by Robert Ludlum and Paul Garrison (Grand Central, $27.99, 9780446564502) continues the Paul Janson thriller series.
Private Games
by James Patterson and Mark Sullivan (Little Brown, $27.99, 9780316206822) follows a renowned security firm contracted to protect the 2012 London Olympics.
I've Got Your Number: A Novel
by Sophie Kinsella (The Dial Press, $26, 9780385342063) is a chaotic matrimonial comedy told through prose, texts and e-mails.
Accidents of Providence: A Novel
by Stacia Brown (Houghton Mifflin Harcourt, $25, 9780547490809) is a historical fiction tale of love and legal drama set in tumultuous 1649 England.
Enemies: A History of the FBI
by Tim Weiner (Random House, $30, 9781400067480) chronicles the Bureau's history of covert intelligence gathering and its fight against anyone deemed subversive.
The Mindful Carnivore: A Vegetarian's Hunt for Sustenance
by Tovar Cerulli (Pegasus, $26.95, 9781605982779) is a philosophical exploration of what, why and how we eat.
Now in paperback:
Where's Waldo? The Search for the Lost Things
by Martin Handford (Candlewick, $12.99, 9780763658328).


Book Brahmin: Nate Powell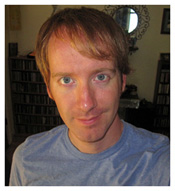 Nate Powell is the author and illustrator of the graphic novel Swallow Me Whole (a Los Angeles Times Book Prize finalist; 2009 Eisner Award winner for Best Graphic Novel; and an Ignatz Award winner). His latest book as illustrator, The Silence of Our Friends (First Second, January 17, 2012), has been called "powerful" by Booklist and "fearless" by Shelf Awareness. He is working with author Cecil Castellucci on an illustrated novel for Roaring Brook Press. Powell lives in Bloomington, Ind., with his wife and a very new baby.



Book Review
YA Review: Grave Mercy
Grave Mercy: His Fair Assassin, Book I by Robin LaFevers (Houghton Mifflin Harcourt, $16.99 hardcover, 528p., ages 14-up, 9780547628349, April 3, 2012)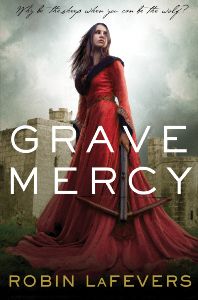 Part spy novel, part feminist coming-of-age tale, LaFevers's riveting story set in 15th-century Brittany begins with Ismae Rienne describing a "deep red stain that runs from my left shoulder down to my right hip." It's a trail left by the herbwitch's poison at Ismae's birth. "That I survived, according to the herbwitch, is no miracle but a sign I have been sired by the god of death himself," Ismae continues.
Ismae has been promised by her father to a repulsive man who, upon discovery of her "stain," beats her and locks her in a closet. Rescued by the hedge priest who performed Ismae's marriage and the herbwitch who delivered her, Ismae finds refuge in the convent of Saint Mortain, the patron saint of death ("older than any saint, older even than Christ," the abbess tells Ismae). LaFevers, who proved her deft touch with mysteries in her Theodosia series, skyrockets to new heights here. At the center of her tale lies a traitor who is leaking the secrets of Brittany's court to France. The author layers atop the mystery the tensions between a monarchy in Brittany that wishes to remain independent of France, the Bretons' loyalty to their gods despite pressures to convert to Catholicism, and Ismae's personal struggles between carrying out the orders of her convent and her own instincts about whom she can trust. LaFevers renders secondary characters as fully as leading players.
In exchange for carrying out the convent's orders, Ismae receives training in weaponry, poisons and "the womanly arts." Each of her victims bears a mark from Mortain that only Ismae and her sisters can see. The amount of research LaFevers conducted comes through in the level of detail that informs Ismae's selections of the appropriate weapon, poison or gown for each situation that arises. When Chancellor Crunard, a patron of the convent and a member of Brittany's inner council, enlists the convent's help in discovering whether Gavriel Duval--one of the duchess's most trusted confidantes--is a traitor to Brittany, the responsibility falls to Ismae.
As she gets drawn deeper into court, Ismae begins to trust Duval's loyalty to the duchess. During one of her early assignments, Sister Vereda, the convent's seer, told Ismae, "Remember, true faith never comes without anguish." What if Mortain's mark is not always what it appears to be? Is her own growing attraction to Duval muddying Ismae's perceptions? LaFevers's story of betrayal, intrigue and romance will keep readers burning the midnight oil until the very last page, and leave them impatient for the next two tales, which follow fellow pledges in the convent of St. Mortain. --Jennifer M. Brown
Shelf Talker: Proven mystery writer LaFevers outdoes herself with this tale of court intrigue, betrayal and romance, narrated by a trained assassin in 1485 Brittany.


Ooops
Up-to-Date Apology for Outdated Information
Our story yesterday on rumors about Amazon opening bricks-and-mortar stores included a link to an article about stores in the U.K.; that article was published several years ago (though Amazon still hasn't opened any stores there).


Deeper Understanding
YA Novelist Predicts the Near Future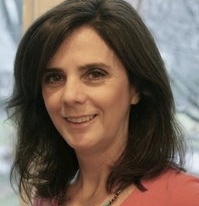 For reasons both maddeningly obvious and impossibly elusive, young adult literature is particularly prone to categorization and trends--fenced in by labels, discriminated for or against, sold according to headline. Teeth sink. Wings ascend. Murderous games hold court. Landscapes are annihilated, and then annihilated again. It's a package deal.
Those hoping to decode what's next? for books written for the young might do well to study the 2012 slate of Michael L. Printz and Newbery books. Categorization (thankfully) sits on a shelf. Weird has been elevated to noteworthy. The unexpected wins the prize.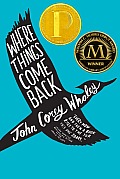 The winner of the Printz award is John Corey Whaley's Where Things Come Back--a story about brothers, disappearance and the "apparent return of a long-extinct woodpecker." We haven't seen that before in a YA book description. We don't even know how to slot expectations. We do know that the book has been labeled thought-provoking, wonderful and, yes, weird, that it has been called--and what is not to love about this word?--rare.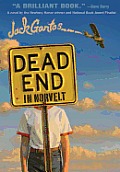 Rare might also be applied to the Newbery Medal winner, Dead End in Norvelt, a Jack Gantos creation featuring, among other vaunted things, bloody noses, obituary writing, Hells Angels, Eleanor Roosevelt history, and autobiography with a fantastical punch. Weird once again is right. Oddball, deliciously, is good. The prodigiously and brilliantly haven't-seen-it-before wins the Newbery and, with the Newbery, a readerly crowd.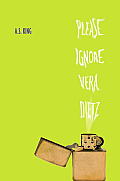 It's all quite promising, I think--an indication that we're poised on the edge of a new era in which YA and middle grade books that lie outside code and classification will be given their proper due. The 2012 Printz and Newbery winners aren't just leading the way. So is A.S. King, who, with her vaguely magically realistic novels (Please Ignore Vera Dietz and Everybody Sees the Ants), elevates dreams and visions into a place of rescue, as is Markus Zusak, whose The Book Thief was narrated by a most-conflicted Death. Books like these aren't sold as type. They sell because they're good.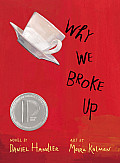 There's more that the 2012 Printz and Newbery lists can teach us. Consider the Printz honoree Why We Broke Up, a teen novel written by Daniel Handler and illustrated by Maira Kalman. It's the illustrated by part that's the point: a teen book with pictures. We've seen an explosion of this book species in recent months--Ransom Riggs's Miss Peregrine's Home for Peculiar Children (illustrated with b&w photographs); Maile Meloy's The Apothecary (images by Ian Schoenherr); Patrick Ness's A Monster Calls (illustrated by Jim Kay); and Scott Westerfeld's Leviathan series (illustrated by Keith Thompson), among the many. Clearly, illustrated books aren't just for younger readers any more, and by honoring Why We Broke Up, the Printz committee underscores another emerging trend: the ascendance of the illustrated YA novel.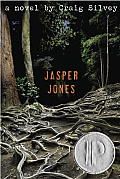 There's one more key signal in the prizes announced this week--and that is the focus on history, not just U.S. history, but on stories of a global past. Craig Silvey's Jasper Jones sits on the Printz list--a boy's mystery set in 1960s Australia. Inside Out & Back Again, the National Book Award winner by Thanhha Lai, is a Newbery Honor book; history is here, too, and so is Vietnam.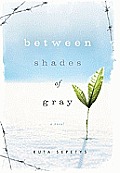 Those who doubt that history will lie at the heart of future YA books might consider the enormous international success of Between Shades of Gray, Ruta Septys's debut novel about a 15-year-old Lithuanian girl sent to a Stalin work camp, or the deserved popularity of Mitali Perkins, who writes skillfully about places like India in the mid-1970s. Well-researched, well-written historical novels are, for obvious reasons, favorites among teachers and librarians, parents and grandparents; they use their potent powers of persuasion to suggest that stories framed by the past count most explicitly today.
Ten years ago, when I chaired the National Book Awards Young People's Literature Jury, I yearned for the dawning of a movement much like the one that I believe we are seeing today--for a time when the dominant YA books were the risk-taking books, tantalizing in their shape and form, fresh and original in their language, soulful. I believed then, and I believe now, that enduring YA books have the capacity to alert, embolden and inspire; to live outside marketing labels; to stretch young readers' ideas about how words can take them to places they've never gone. --Beth Kephart
Beth Kephart is the author of numerous young adult books, most recently You Are My Only (Egmont USA). Her 14th book, Small Damages, is set in Seville and due out from Philomel in July.