Shelf Awareness for Thursday, April 5, 2012

News
WSJ: Some Pubs Want to Settle Agency Model Issue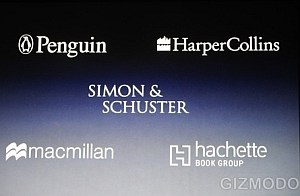 Simon & Schuster, HarperCollins and Hachette--three of the five major U.S. publishers in negotiations with the Justice Department over
alleged e-book agency model collusion
--are "inclined to settle," according to the
Wall Street Journal
, which cited "people familiar with the matter." By contrast, Penguin and Macmillan "so far have indicated they aren't inclined to settle," and Apple is "reluctant" to settle as well.
The settlement under discussion "would likely involve tearing up contracts the publishers signed with Apple when it first introduced the iPad tablet computer in 2010" and "would likely have to allow market leader Amazon.com resume discounting their e-books."
But apparently after a "cooling-off" period of undetermined length, publishers could "resume the arrangement." The Justice Department "has argued that the waiting period would allow publishers and booksellers to resume a one-to-one relationship, free of the taint of collusion."
If publishers drop and then reinstall agency pricing on e-books, it's unclear whether they could make it the standard term of sale for all accounts again. The
Journal
said that some of the publishers had proposed keeping the agency model with Apple and dropping it with other retailers, but the Justice Department has been adamant that they drop it with Apple for a while.


Marshall Cavendish Books Returning to B&N's Shelves

Barnes & Noble has agreed to an Authors Guild request that the chain return Marshall Cavendish children's books to its store shelves. In December, Amazon acquired more than 450 children's titles from the press to publish under an imprint of Amazon's New York publishing unit. Subsequently, B&N said it would not sell titles published by Amazon's imprints in its bricks-and-mortar stores.

"By our count, more than 250 authors and 150 illustrators have been affected" by B&N's decision to remove the titles, the Authors Guild wrote in announcing the policy change. While noting concern "with Amazon's rapidly growing dominance of bookselling" and sympathy with "the position of brick-and-mortar booksellers, even the largest of them," the organization said it was "essential that authors and readers not become collateral damage. The authors and illustrators who signed contracts with Marshall Cavendish had no way of anticipating that the publisher would assign their contracts to Amazon."

The Authors Guild also expressed its "fear that more and bigger battles in bookselling and book publishing loom in the months ahead. For the sake of authors and readers, we hope those fighting it out will avoid using access to vital literary marketplaces as a weapon."

That prospect "seems unlikely," the Authors Guild conceded, noting that "Amazon is seizing an ever-growing share of the bookselling market, but it's after far bigger game." At the same time, "Barnes & Noble isn't backing down. Its executives made clear to us that it is making this exception because it announced the policy after Amazon announced its purchase of the Marshall Cavendish titles. For any new Amazon acquisitions, Barnes & Noble's policy is to ban the books from their shelves."



Amazon: U.K. Tax Issues; 'The Empty Chair'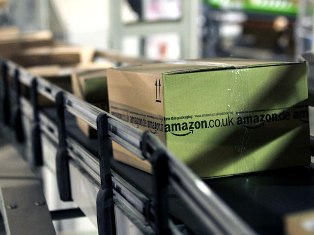 Amazon.co.uk is being investigated by British tax authorities. The Guardian reported the online retailer "generated sales of more than £3.3 billion [US$5.5 billion] in the country last year but paid no corporation tax on any of the profits from that income."

According to regulatory filings by parent company Amazon.com with the U.S. Securities and Exchange Commission, the HM Revenue & Customs tax inquiry is focusing on a period when ownership of the British business was transferred to a Luxembourg company, Amazon EU Sarl. The U.K. operation "is classed only as an 'order fulfillment' business. All payments for books, DVDs and other goods go directly to Luxembourg. The U.K. business is simply a delivery organization," the Guardian wrote.

Amazon's U.K. sales during the past three years were between £7.6 billion and £10.3 billion, and "would have generated taxable profits of £266 million to £360 million and yielded notional U.K. corporation tax of up to £100 million," the Guardian noted, adding that between 2003 and 2011, "the U.K.-registered company has reported a cumulative net tax bill of just £3 million--of which £1.9 million was incurred in 2011. This is not the tax actually paid to HMRC; that information is not available because the U.K. company is not required to produce a cash flow statement."

Amazon declined to respond to specific questions, but said: "Amazon EU serves tens of millions of customers and sellers throughout Europe from multiple consumer websites in a number of languages, dispatching products to all 27 countries in the EU. We have a single European headquarters in Luxembourg with hundreds of employees to manage this complex operation."

---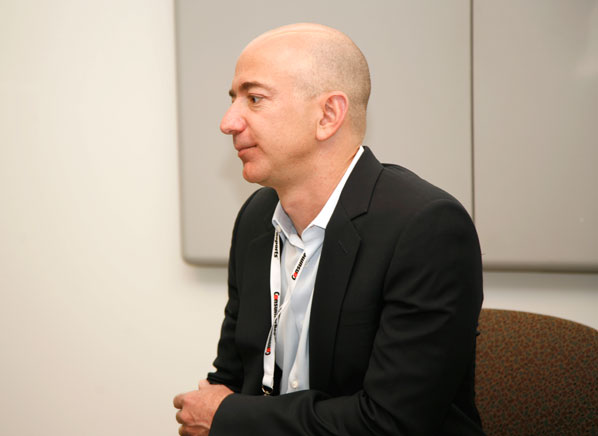 Managers at Amazon may find Jeff Bezos a formidable presence, but "the figure that overwhelms their lives goes by the internal nickname 'the empty chair,' " according to a Forbes story headlined "Inside Amazon's Idea Machine: How Bezos Decodes the Customer."

The company's chairman and CEO "periodically leaves one seat open at a conference table and informs all attendees that they should consider that seat occupied by their customer, 'the most important person in the room.' If the empty chair is the ultimate boss at Amazon, then Bezos is its billionaire enforcer, the guardian of what he calls the 'culture of metrics' that tries to give that inanimate object a loud, clear voice," Forbes wrote, noting that Amazon tracks its performance against about 500 measurable goals and nearly 80% relate to customer objectives.
Bezos photo: Consumer Reports


Pew Research Center Study: Americans Are E-Reading
One-fifth of American adults (21%) say they have read an e-book during the past year, according to the Pew Research Center's Internet & American Life Project study, which also noted a marked increase in e-readership following the holiday season. In mid-December 2011, 17% of American adults had reported they read an e-book in the previous year.

The study, which was funded by the Bill & Melinda Gates Foundation, found that about 43% of Americans age 16 and older read long-form digital text (e-books and magazines) and many said they are reading more because the material is in a digital format. Among respondents, the average e-book consumer read 24 books (the mean number) in the past 12 months, compared with an average of 15 books by a non-e-book consumer.

The study also noted that 88% of those who read an e-book during the past year also read a printed book. Overall, 72% of adults read a print book, compared to the 21% who read an e-book and 11% who listened to an audiobook.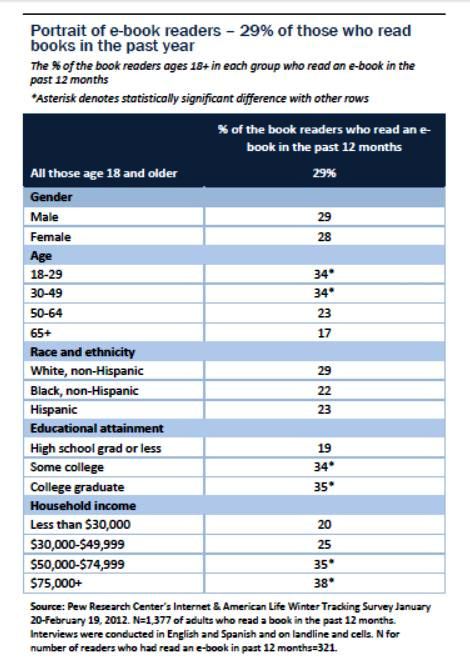 Among the 14% of Americans age 16 and up who read both print books and e-books, readers preferred e-books when they wanted to get a book quickly (83%), when they were traveling or commuting (69%) and when they were looking for a wide selection (53%). However, print editions were strongly preferred when it came to reading to children (81%) and sharing books with others (69%).

Other significant findings from the Pew Internet Project survey:
Owners of e-reading devices are more likely than all Americans 16 and older to get book recommendations from people they know (81% vs. 64%) and bookstore staff (31% vs. 23%). In addition, compared with the general public, owners of e-reading devices who use the Internet are also more likely to get recommendations from online bookstores or other websites (56% vs. 34%).
Amazon's Kindle Fire grew in market share from 5% in mid-December to 14% of the tablet market by mid-January. Apple's iPad dominates the market, with a 61% share, as of this past February.
Among those who do not own tablet computers or e-book reading devices, the main reasons people said they do not own the devices are: 1) they don't need or want one, 2) they can't afford one, 3) they have enough digital devices already or 4) they prefer printed books.


Notes
Image of the Day: 'Power of a Book'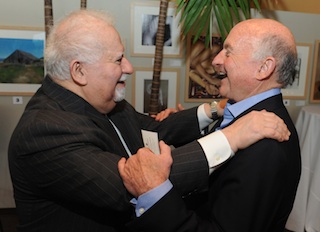 Last week Scholastic hosted a "Power of a Book" event to honor the publishers and partners who make possible the Asia Foundation's Books for Asia program's donations to nine million people a year. Here (l.) Dr. Vartan Gregorian, former president of the New York Public Library and current president of the Carnegie Corporation of New York, greets Dick Robinson, president of Scholastic.
Photo: Don Pollard


Fifty Shades & Martinis at R.J. Julia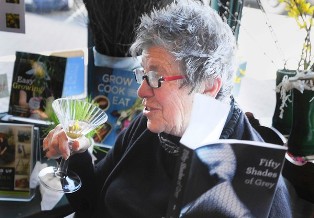 R.J. Julia Booksellers, Madison, Conn., celebrated Tuesday's release of the Vintage paperback edition of E.L. James's Fifty Shades of Grey with afternoon martinis and a visit from ABC's 20/20, which filmed a segment on the book and customer reactions as they purchased copies, the Hartford Courant reported.

"I just hope I don't end up being scandalized," joked bookseller Jill Sweet, who was interviewed by the TV crew. "Actually I live with my mom and when I told her about the book she said she might read it, too!"

Store owner Roxanne Coady told WTNH-8: "No one can put this book down." She added that "women are unabashed in getting their hands on the trilogy."
photo: Michael McAndrews, Hartford Courant

---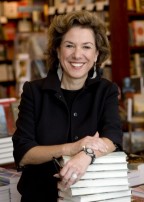 In her most recent "Dear Reader" letter, Coady offered customers an update on her previously announced plan to sell her bookstore. "More than 20 people have expressed interest in the store." she wrote. "Some didn't realize how many members on staff we have, how many moving parts there are, and the kind of time and resources it would take to successfully operate a bookstore. However, a dozen hardy souls are undaunted and equipped and have advanced through several steps of the purchasing process. I am in the process of meeting with each of them. We are naturally looking for someone who has vision, skills, and resources. Happily, it looks like we will have a number of people who understand the endeavor of running a bookstore, realizing that we are a hub of traffic, business, ideas, and people... all of it in constant motion. It is incredibly exciting to hear potential owners' enthusiasm and eagerness to preserve what is great about R.J. Julia, as well as all the ways in which it can evolve."



Cool Ideas of the Day: 'Veloci-Reader'; RiverRun vs. Amazon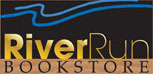 Bookseller Liberty Hardy (@MissLiberty) is the resident "Veloci-reader" at RiverRun Bookstore, Portsmouth, N.H. She helps customers find the "book you didn't know you had to have--delivered to your door" as part of RiverRun's Paperback to the Future program.



For $20 per month (or $100 for six months), Hardy "will interact with you via e-mail to get a sense of your reading taste. Then, using a complex, furtive, and unscientific formula, we will send you a paperback book to read. It will be a surprise! It's 90% likely that you will have never heard of it, and 100% guaranteed that you will like it. Or your money back.... The longer this goes on, the more we'll understand what you like to read: we'll be right inside your brain!!!"

---

Measuring up. RiverRun is holding a 20% off sale through Saturday to celebrate the bookshop's 10th anniversary. On its store blog, RiverRun asked, "What have we accomplished in 10 years?? Let's take a look at how we measure up against Amazon":


Local employees--RiverRun: 6 on average. Amazon: 0
Local Property taxes paid--RiverRun: $85,000. Amazon: 0
Cash and Gift Card contributions to local schools and charities--RiverRun: $70,000 Amazon: 0
Cultural Events Produced--RiverRun--1000+ Amazon-- 0
Cheap Used Books--RiverRun: yes Amazon: yes
Discounts--RiverRun: discounts to schools and nonprofits, frequent buyer program, book group program Amazon: Lots

"So they beat us on straight discounts, but over the years I hope we've showed Amazon a thing or two about the importance of community building (because I know they are watching us closely!!)."



Katrina's Legacy Still Affects Mississippi Bookseller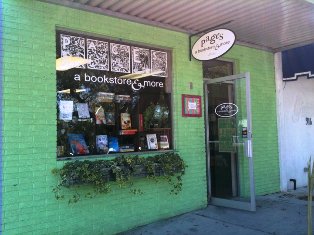 Gulf Coast Business had five questions for Kathy Roberts, co-owner of Pages: A Bookstore & More, Ocean Springs, Miss., including: "How have locals reacted to your store, and what are your plans for the business?"

"We have been supported by locals and visitors alike," she replied. "Approximately 40% of our business is from special ordering. My son and co-owner, Nathaniel, is excellent at finding those hard-to-find or out-of-print books. My hope for the business is simply that we're still here and able to maintain our presence within the community and our ability to assist customers. When we opened, we decided we would have no Hurricane Katrina books in the store because Katrina is over and we all went through it. I don't need to look at a book and see what used to be. But there are people who lost things in the storm, and we try to help them replace what books they lost, which are sometimes very old books. Visitors will often ask if we have anything specifically on Katrina, but we don't. We send them to the larger bookstores for that."



Book Trailer of the Day: ADHD in HD
ADHD in HD: Brains Gone Wild by Jonathan Chesner (Free Spirit Publishing).


Media and Movies
Media Heat: Jim Abbott MSNBC's Hardball
Today on the Tavis Smiley Show: Paul K. Chappell, author of Peaceful Revolution: How We Can Create the Future Needed for Humanity's Survival (Easton Studio Press/Perseus, $15.95, 9781935212768).

---

Tomorrow morning on MSNBC's Morning Joe: R. A. Dickey, co-author of Wherever I Wind Up: My Quest for Truth, Authenticity and the Perfect Knuckleball (Blue Rider Press, $26.95, 9780399158155).

---

Tomorrow morning on Fox & Friends: Robin Gaby Fisher and Angelo J. Guglielmo Jr., authors of The Woman Who Wasn't There: The True Story of an Incredible Deception (Touchstone, $26, 9781451652086).

---

Tomorrow on MSNBC's Hardball: Jim Abbott, author of Imperfect: An Improbable Life (Ballantine, $26, 9780345523259).

---

Tomorrow on the View: Dr. Jorge E. Rodriguez, co-author of The Acid Reflux Solution: A Cookbook and Lifestyle Guide for Healing Heartburn Naturally (Ten Speed Press, $21.99, 9781607742272).




Movie Trailer: Tess of the D'Urbervilles in India
A new trailer has been released for Trishna, Michael Winterbottom's adaptation of Thomas Hardy's classic novel Tess of the D'Urbervilles. Trishna is set in Rajasthan, India "and follows the tragic romance between the lower class daughter of a rickshaw owner, and the upper class son of a property developer," Indiewire reported. The film opens July 13.



This Weekend on Book TV: The Richer Sex
Book TV airs on C-Span 2 this week from 8 a.m. Saturday to 8 a.m. Monday and focuses on political and historical books as well as the book industry. The following are highlights for this coming weekend. For more information, go to Book TV's website.

Saturday, April 7

8 a.m. At an event hosted by the Elliott Bay Book Company, Seattle, Wash.,
Amy Reading talks about The Mark Inside: A Perfect Swindle, a Cunning Revenge, and a Small History of the Big Con (Knopf, $26.95, 9780307272485). (Re-airs Sunday at 10 p.m.)

1 p.m. Book TV presents highlights from the Virginia Festival of the Book, held last month in Charlottesville.

12 p.m. Book TV features a live call-in program with former U.S. Navy SEAL Chris Kyle, co-author of American Sniper: The Autobiography of the Most Lethal Sniper in U.S. Military History (Morrow, $26.99, 9780062082350). Viewers can join the discussion by calling in during the program or submitting questions/comments to booktv@c-span.org or Twitter (@BookTV). (Re-airs Saturday at 9 p.m.)

7 p.m. At an event hosted by Book Soup, West Hollywood, Calif., James Hormel discusses Fit to Serve: Reflections on a Secret Life, Private Struggle and Public Battle to Become the First Openly Gay U.S. Ambassador (Skyhorse Publishing, $24.95, 9781616083984). (Re-airs Monday at 5:15 a.m.)

7:45 p.m. Ben Carson, director of pediatric neurosurgery at Johns Hopkins, presents his book America the Beautiful: Rediscovering What Made This Nation Great (Zondervan, $19.99, 9780310330714). (Re-airs Sunday at 3:30 p.m.)

10 p.m. After Words. American Urban Radio White House correspondent April Ryan interviews Liza Mundy, author of The Richer Sex: How the New Majority of Female Breadwinners Is Transforming Sex, Love and Family (S&S, $27, 9781439197714). (Re-airs Sunday at 9 p.m. and Monday at 12 a.m. & 3 a.m.)

11 p.m. At an event hosted by DIESEL bookstore, Oakland, Calif., Thomas Peele talks about his book Killing the Messenger: A Story of Radical Faith, Racism's Backlash and the Assassination of a Journalist (Crown, $26, 9780307717559). (Re-airs Sunday at 2 p.m.)

Sunday, April 8

8 a.m. Discussion on the future of authors, books and libraries with Scott Turow and Richard Posner. (Re-airs Sunday at 4:45 p.m.)

12:15 a.m. Former Treasury Under Secretary of International Affairs John Taylor talks about his book First Principles: Five Keys to Restoring America's Prosperity (Norton, $24.95, 9780393073393). (Re-airs Sunday at 7 p.m.)

7:45 p.m. Theda Skocpol and Vanessa Williamson discuss The Tea Party and the Remaking of Republican Conservatism (Oxford University Press, $24.95, 9780199832637).

11 p.m. At an event hosted by at Poisoned Pen Bookstore, Scottsdale, Ariz., Barrett Tillman presents his book Enterprise: America's Fightingest Ship and the Men Who Helped Win World War II (S&S, $27, 9781439190876).



Books & Authors
Awards: Bram Stoker; Donner Prize
The Bram Stoker Awards, which recognize superior achievement in horror writing and are sponsored by the Horror Writers Association, have gone to:

Novel: Flesh Eaters by Joe McKinney (Pinnacle)
First novel: Isis Unbound by Allyson Bird (Dark Regions Press)
YA novel (tie): The Screaming Season by Nancy Holder (Razorbill) and Dust and Decay by Jonathan Maberry (S&S Books for Young Readers)
Graphic novel: Neonomicon by Alan Moore (Avatar Press)
Long Fiction: "The Ballad of Ballard and Sandrine" by Peter Straub (Conjunctions: 56)
Short Fiction: "Herman Wouk Is Still Alive" by Stephen King (Atlantic magazine, May 2011)
Anthology: Demons: Encounters with the Devil and his Minions, Fallen Angels and the Possessed, edited by John Skipp (Black Dog and Leventhal)
Collection: The Corn Maiden and Other Nightmares by Joyce Carol Oates (Mysterious Press)
Nonfiction: Stephen King: A Literary Companion by Rocky Wood (McFarland & Company)
Poetry: How to Recognize a Demon Has Become Your Friend by Linda Addison (Necon Ebooks)
Screenplay: American Horror Story, episode #12: "Afterbirth" by Jessica Sharzer (20th Century Fox Television)

---

Nominees have been announced for the $50,000 Donner Prize, which celebrates the best public policy book written by a Canadian, the National Post reported. A winner will be named May 1. This year's Donner finalists are:

Democratizing the Constitution: Reforming Responsible Government by Peter Aucoin, Mark D. Jarvis and Lori Turnbull
Toward Improving Canada's Skilled Immigration Policy: An Evaluation Approach by Charles M. Beach, Alan G. Green and Christopher
Museum Pieces: Toward the Indigenization of Canadian Museums by Ruth B. Phillips
XXL: Obesity and the Limits of Shame by Neil Seeman and Patrick Luciani



Attainment: New Titles Out Next Week
Selected new titles appearing next Tuesday, April 10:

Calico Joe by John Grisham (Doubleday, $24.95, 9780385536073) takes place in 1973, when a rookie baseball player breaks records playing for the Cubs.

Come Home by Lisa Scottoline (St. Martin's Press, $27.99, 9780312380823) focuses on a pediatrician whose freshly stabilized life is thrown into chaos by the suspicious death of her ex-husband.

The Red Circle: My Life in the Navy SEAL Sniper Corps and How I Trained America's Deadliest Marksmen by John David Mann and Brandon Webb (St. Martin's, $26.99, 9780312604226) is the memoir of an accomplished SEAL sniper.

No, They Can't: Why Government Fails--But Individuals Succeed by John Stossel (Threshold Editions, $27, 9781451640946) argues against government involvement in anything.

The Storytelling Animal: How Stories Make Us Human by Jonathan Gottschall (Houghton Mifflin Harcourt, $24, 9780547391403) explores the social and biological reasons behind why humans create narratives.

Unholy Night by Seth Grahame-Smith (Grand Central, $24.99, 9780446563093) is a dark re-imagining of the biblical tale of the three wise men.

The Extraordinary Education of Nicholas Benedict by Trenton Lee Stewart, illustrated by Diana Sudyka (Little, Brown, $17.99, 9780316176194) is the latest installment of the Mysterious Benedict Society children's series.

Blue Asylum by Kathy Hepinstall (Houghton Mifflin Harcourt, $24, 9780547712079) follows a Civil War-era Virginian plantation wife, unjustly sentenced to an asylum, who falls for a traumatized Confederate veteran.


Now in paperback:

The Free World: A Novel by David Bezmozgis (Picador, $15, 9781250002518).

These Girls: A Novel by Sarah Pekkanen (Washington Square Press, $15, 9781451612547).

The Jersey Sting: Chris Christie and the Most Brazen Case of Jersey-Style Corruption---Ever by Ted Sherman (St. Martin's Griffin, $16.99, 9781250001931).




Book Review
Review: Memoirs of a Porcupine
Memoirs of a Porcupine by Alain Mabanckou, trans. by Helen Stevenson (Soft Skull/Counterpoint, $15.95 paperback, 9781593764364, April 10, 2012)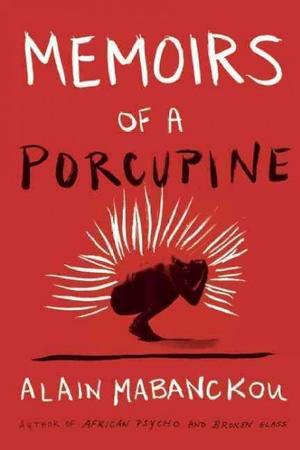 Don't look for any periods in Memoirs of a Porcupine, Alain Mabanckou's rushing, frothing, darkly comic narrative--there aren't any. It's a one-sentence, madcap plunge into African lore with a porcupine harmful double (like a spirit animal, only more wicked) telling his sad story--the tale of his human counterpart's short, murderous life--to a baobab tree.
Mabanckou drags the reader into an alien, unpredictable world of Congolese lore where palm rats are hostile, squirrels are friendly, and babies come back from the dead, delightfully captured by a sentence that won't end and won't let go. It begins with the porcupine narrator defying the old patriarch of the porcupines, and his brave defection to the village of the child Kibandi. The scenes of Congolese magic are spare, swift and appropriately chilling. Papa Kibandi, the boy's father, drags his 10-year-old son off into the forest and forces him to drink an initiatory potion called mayamvumbi (part palm wine, part swamp mud). His harmful double, the porcupine, stays hidden just outside the village of Séképembé and only goes to him late at night for special missions.
By age 17, Kibandi has become a skinny, intelligent, inquisitive young man who has learned everything there is to know about roofing. Though he sets out to be different from his father, his harmful double soon makes his life just as murderous. Brick makers and palm wine tappers fall from the porcupine's quills, as well as pretty girls who refuse Kibandi's advances, postmen, farmers and tam-tam makers. Even the blind old witch doctor who knows the dark arts can't stand up to him. The bodies pile up--people die for teasing Kibandi for being thin, calling him a sorcerer, opposing him for village council, even for refusing to give him credit on his groceries--and he always gets away with it, thanks to a strategically placed palm nut. Slowly these deaths become more and more disturbing, increasingly less comic, but Kibandi and his harmful double continue to rampage unchecked until he makes one mistake, ignoring a basic prohibition of Congolese magic: never attack twins.
Mabanckou has a grand time telling a story you've never read before, and though it's the chronicle of an unstoppable serial killer, he keeps it light and haunting, a tale to amuse adults and terrify children on long dark jungle nights. --Nick DiMartino
Shelf Talker: A porcupine's life as a harmful double to a Congolese serial killer makes a darkly comic tour de force.