Shelf Awareness for Thursday, May 3, 2012

News
Target Drops Amazon Kindle Line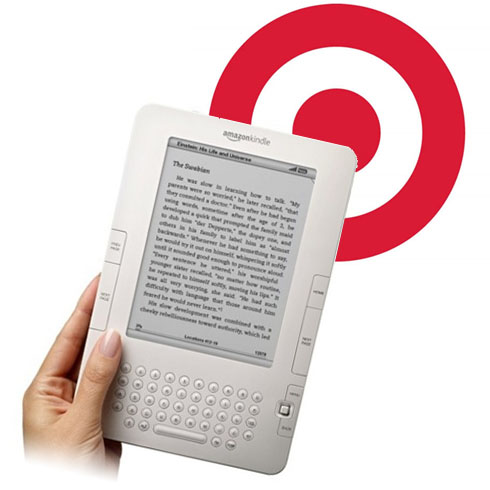 Target plans to stop selling Amazon Kindle e-readers and tablets, and has already removed the products from its website. The Verge reported that an internal Target memo said "the company will be removing Amazon hardware from its locations starting this month. Certain accessories will remain in stock, but shipments of Kindles themselves will cease as of May 13."

Target representative Molly Snyder confirmed the move, telling CNN that the retailer, which started selling the devices about two years ago, is "phasing out Kindles and Amazon- and Kindle-branded products in the spring of 2012." Apple recently partnered with Target for a number of "mini-stores" at 25 of its locations and is now selling the iPad.

Fortune magazine observed: "If Target did make the decision in an effort to mollify Apple, that would be sort of a retro-chic move in an era when big retailers tend to dictate terms to manufacturers rather than the other way around. There aren't many manufacturers with market power like Apple's, however."

Reuters noted that "Amazon ran Target's website for several years, but that relationship ended last year amid a legal battle."

"This is evidence that Target is getting more serious about Amazon as an enemy rather than a partner," said analyst Matt Nemer of Wells Fargo. "That's probably something Target now regrets. It put them behind in the world of multi-channel retail and let a serious competitor learn a lot about their business."

The New York Times reported that as retailers like Target address the challenge of "showrooming," carrying Amazon's Kindle is, as Michael Norris of Simba Information put it, "like Starbucks selling Dunkin' Donuts gift certificates."

The warning signs for Target's move were there in January, the Times wrote. According to a Citi analyst Deborah Weinswig, a letter sent by Target executives to vendors stated: "What we aren't willing to do is let online-only retailers use our brick-and-mortar stores as a showroom for their products and undercut our prices."

At Mobylives, Dennis Johnson suggested that "opponents can take some satisfaction in the interesting suggestion made by the Times reporters that anger at Amazon's price check app hasn't dissipated, and six months later may still be motivating a wide range of retailers to fight back.

"Which makes the notion that others may indeed follow suit not so far-fetched at all, but an equally simple, elegant and possible development."



Judge's Ruling Weakens E-Pricing Class Action Suit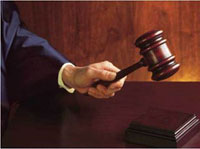 On Tuesday, Hachette and HarperCollins "slipped further away from the class action lawyer who wants them to pay over an alleged e-book price-fixing conspiracy" after Justice Denise Cote signed an order in New York federal court ruling the "class action could be halted on the grounds that the publishers are close to a consumer restitution settlement with state governments," paidContent reported.

A consumer rights law firm filed the lawsuit last summer. Paidcontent noted that lead class action lawyer Steve Berman sent a letter to the judge arguing "the court should only suspend part of the proceedings because many states might not take part in the agreement." He also said the publishers should be required to share documents related to the Justice Department's antitrust investigation, but with the judge's order this will not happen for now.

Hachette and HarperCollins "have entered a memorandum of understanding with several states, and have suggested a deal with all 50 states is imminent. The publishers would likely have to pay millions under a settlement, but it would allow them to escape the class action proceedings and avoid the risk of a jury award that could be even higher," paidContent wrote, adding that Simon & Schuster "is also in talks with the state governments but did not receive a stay this week because it hasn't signed a formal memorandum."



Digital Market in U.K. Now 8% of Book Sales Value
E-book sales to consumers in the U.K. were up 366% last year, to £92 million (US$149 million), according to the Publishers Association's Statistics Yearbook 2011, which was published this week. The Bookseller reported that sales across all digital formats--e-books, audiobook downloads and online subscriptions--accounted for 8% of the total value of book sales in the country.

Richard Mollet, PA's CEO, said the "story of the year is a decline in physical sales almost being compensated for by a strong performance in digital.... For many years now publishers have invested in digital products and services and this is being reflected in the increasingly mixed economy for books in the U.K.... physical books remain the format of choice for the vast majority of British readers, underlining the continued importance of a strong 'high street' sector."

Combined sales of digital and physical books decreased by 2% to £3.2 billion. Consumer e-book sales are equivalent to 6% of consumer physical book sales by value, with overall digital sales growing by 54% to a value of £243m, the Yearbook reported.


B&N Teams with HMH for Student Digital Reading Program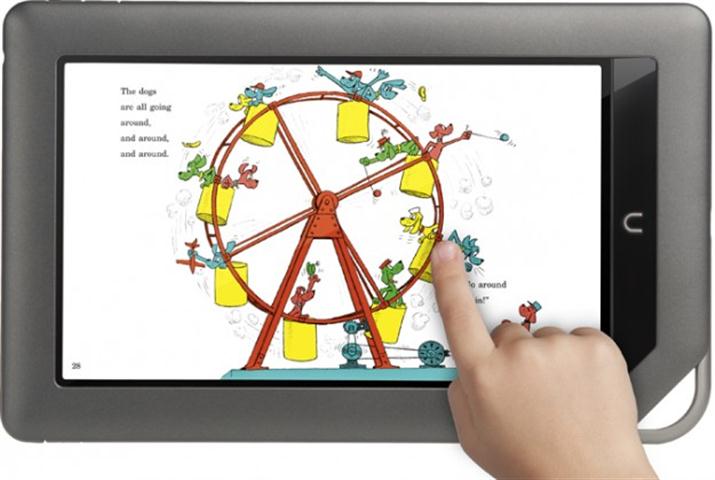 Houghton Mifflin Harcourt and Barnes & Noble have partnered for a program in which schools can acquire HMH digital titles, categorized for students at each grade level, on preloaded Nook e-readers. Many of the titles are age-appropriate, International Reading Association-recommended selections.

"As one of the world's largest providers of K-12 educational content, we aim to change students' lives by fostering passionate, curious learners. This partnership with Barnes & Noble will ensure that students are inspired and encouraged to continue their learning through a love for reading," said Linda K. Zecher, HMH president and CEO. "By giving students access to quality content in a format that lets them consume it anytime, anywhere, we hope to increase overall student achievement and engagement."




Broadway Books: 'Saved by a Tweet' & Turning 20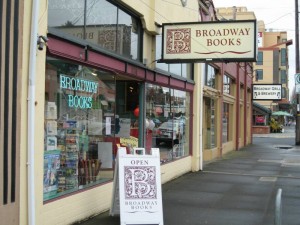 Congratulations to Roberta Dyer and her shop, Broadway Books, Portland, Ore., which will launch the celebration of its 20th anniversary this weekend with a party featuring "cake and bubbly," as well as numerous other treats and promotions.

You may remember Broadway as the bookstore that was saved by a tweet in 2008.

As the store's website noted, "We think surviving 20 years as a small independent bookseller is a big deal. And we owe a lot to all of you for helping us to ride the waves that have carried us up and down over the years. We promised you a big celebration, and we're going to deliver: a party, lots of prizes, and specials all year long."

The Oregonian agreed: "Twenty years as an independent bookseller in contemporary times is plenty reason to celebrate."



Notes
Image of the Day: Cooking the Book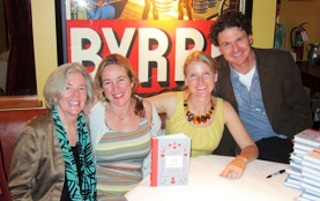 Last Sunday at the Left Bank Restaurant, Larkspur, Calif., Book Passage's Cooks with Books event series featured dishes from At Home on the Range by Margaret Yardley Potter, a cookbook originally published in 1947 and just published in a new edition by McSweeney's that features an introduction by Elizabeth Gilbert, Potter's great-granddaughter. All of Gilbert's proceeds from the book will benefit 826 National and ScholarMatch, which helps send students to college by connecting them with donors. Celebrating (from l.): Book Passage's Elaine Petrocelli; author Vendela Vida; Gilbert; and Dave Eggers, author and co-founder of 826/ScholarMatch (aka Mr. Vendela Vida).


Conference: What Makes a Children's Book Great?
What Makes a Children's Book Great?, a half-day conference on children's publishing, hosted by Publishing Perspectives and sponsored by Scholastic and School Library Journal, will be held in New York City on May 31. Speakers include agents, authors, booksellers, publishers and digital experts who will offer insight into the present and future of this fast-evolving area of publishing.
For program details and registration information, visit http://bit.ly/PPkidsconf.


Cool idea of the Day: Just 1 Book Gets Wheels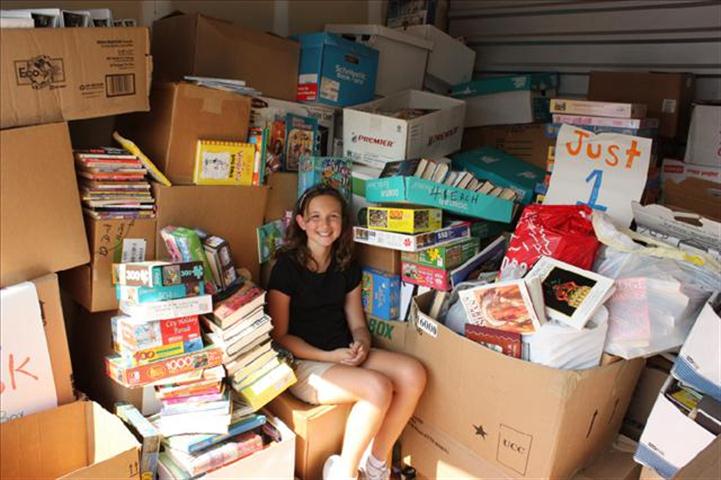 Thanks to a recently donated bookmobile, Just 1 Book, an organization started by 12-year-old Sarah Dewitz and her family two years ago, can hit the road to reach more families in need. The East Orlando Sun reported that Just 1 Book has collected and donated more than 75,000 books to kids "who might otherwise not be able to afford them, set up mini libraries in community and Head Start centers in areas where reading material is more scarce, and created state and nationwide partnerships to expand Just 1 Book's reach."

A bookmobile, however, was Sarah's dream. "I wrote down a list of things I'd like to see with Just 1 Book when it started. On that was an ice cream truck but for books," she said.

After the family discovered the existence of a no longer utilized bus on a county lot last year, they began working to acquire it, an effort that paid off last month when Mayor Teresa Jacobs arranged for the vehicle, which needs some work, to be donated to the cause.

"I can't think of anyone in this county who could do better with a bookmobile than Sarah Dewitz," said Jacobs. "This is the most remarkable young woman.... If we could clone her, we could change the world and even if we don't, she could change the world herself." Give Back Central Florida, a nonprofit organization, has offered financial assistance to fix up the bookmobile.

In August, the Florida Kiwanis Governor "is scheduled to announce Just 1 Book as the statewide service project, which means all 261 clubs in the state will be collecting books and dispersing them to kids in need," the Sun wrote.

"I thought it would take longer for it [Just 1 Book] to catch on and for people to realize that kids want and need books," Sarah said. "People say, 'Oh, kids don't like to read anymore.' They do."



Kempe to Shire U.S. Sales and Marketing
Robert Kempe has joined Shire Publications, Oxford, England, as U.S. director of sales and marketing and will be the "cornerstone" of the launch of Shire USA, a new line of books celebrating aspects of American culture and nostalgia. The initial titles being published this year are on muscle cars, classic video games, brewery collectibles and ghost towns of the Old West, among other subjects. He will also be responsible for Shire's classic line showcasing the best of Britain.
Kempe has more than 18 years of publishing experience and has worked at Seven Footer Press, Random House, Dutton and Simon & Schuster. He will be based in Shire's New York City office and can be reached at robert.kempe@ospreypublishing.com.


Book Trailer of the Day: The Solitary House
The Solitary House: A Novel by Lynn Shepherd (Delacorte).


Media and Movies
Bookish Soundtracks: On the Road; What to Expect
A little traveling music, please. The soundtrack for Walter Salles's film adaptation of Jack Kerouac's On The Road "is comprised largely of original score from Academy Award-winning composer Gustavo Santaolalla, who won consecutively for his work in Brokeback Mountain and Babel, and brings his sun-drenched polish to the film. Also included are blues selections from Son House, Slim Gaillard, Coati Mundi, and Greg Kramer, as well as Ella Fitzgerald singing 'I've Got the World on a String,' " Indiewire reported. In addition, there will be an audio recording of Kerouac reading his novel "as a tribute as well as possibly a subtle reminder to pick up the re-released tie-in."

---

Capitol Records is releasing the original soundtrack to the movie version of the bestselling book What To Expect When You're Expecting May 15 (digital) and May 22 (physical). The film, which stars Cameron Diaz, Jennifer Lopez, Brooklyn Decker, Chace Crawford and Chris Rock, opens nationwide May 18.

According to Indiewire, the 13 tracks include "an electro-pop song Elizabeth Banks sings called, 'The Hormone Song'... songs by Chiddy Bang, Black Lips, Edward Sharpe and the Magnetic Zeros, David Gray and newcomers Sleeper Agent and Graffiti6. The disc also features a Jimmy Buffett cover band A1A, as well as two previously unreleased tracks, NiRé All Dai's 'Inside Out' and A Fine Frenzy's 'Now Is The Start.' "



This Weekend on Book TV: Tom Brokaw
Book TV airs on C-Span 2 this week from 8 a.m. Saturday to 8 a.m. Monday and focuses on political and historical books as well as the book industry. The following are highlights for this coming weekend. For more information, go to Book TV's website.

Saturday, May 5

8 a.m. George Dyson, author of Turing's Cathedral: The Origins of the Digital Universe (Pantheon, $29.95, 9780375422775), talks about the team, led by John von Neumann at Princeton, who built the first computer.

9:45 a.m. Harriet Washington presents her book Deadly Monopolies: The Shocking Corporate Takeover of Life Itself--and the Consequences for Your Health and Our Medical Future (Doubleday, $28.95, 9780385528924). (Re-airs Sunday at 6:45 p.m.)

11 a.m. Jonah Lehrer talks about his book Imagine: How Creativity Works (Houghton Mifflin Harcourt, $26, 9780547386072). (Re-airs Saturday at 8 p.m.)

2:45 p.m. Peter Popham discusses his book The Lady and the Peacock: The Life of Aung San Suu Kyi (The Experiment, $27.50, 9781615190645).

4 p.m. Ross Douthat, author of Bad Religion: How We Became a Nation of Heretics (Free Press, $26, 9781439178300), contends that Christianity in the U.S. has devolved. (Re-airs Sunday at 10 p.m. and May 13 at 2:45 a.m.)

7 p.m. At an event hosted by Full Circle Bookstore, Oklahoma City, Okla., Andrew Gumbel, presents his book Oklahoma City: What the Investigation Missed--and Why It Still Matters (Morrow, $27.99, 9780061986444). (Re-airs Sunday at 10 a.m.)

9 p.m. U.S. Representative Tim Ryan talks about his book A Mindful Nation: How a Simple Practice Can Help Reduce Stress, Improve Performance and Recapture the American Spirit (Hay House, $19.95, 9781401939298). (Re-airs Sunday at 4 p.m.)

10 p.m. After Words. Kimberly Dozier interviews Seth Jones, author of Hunting in the Shadows: The Pursuit of Al Qa'ida Since 9/11 (Norton, $27.95, 9780393081459). (Re-airs Sunday at 9 p.m., Monday at 3 a.m. and May 13 at 12 p.m.)

11 p.m. A panel discussion about Zora Neale Hurston's Their Eyes Were Watching God, featuring Ruby Dee, Sonia Sanchez and Alice Walker. (Re-airs Monday at 5:30 a.m. and May 13 at 8:15 a.m.)

Sunday, May 6

12 p.m. In Depth. Tom Brokaw, author most recently of The Time of Our Lives: A Conversation about America (Random House, $26, 9781400064588), joins Book TV for a live interview. Viewers can participate in the discussion by calling in during the program or submitting questions to booktv@c-span.org or via Twitter (@BookTV). (Re-airs Monday at 12 a.m. and May 12, at 9 a.m.)

5 p.m. Robert Draper, author of Do Not Ask What Good We Do: Inside the U.S. House of Representatives (Free Press, $28, 9781451642087), offers an inside look at the 112th Congress.

8 p.m. Christopher Daly, author of Covering America: A Narrative History of a Nation's Journalism (Univ. of Massachusetts Press, $49.95, 9781558499119), examines the current arguments that journalism is in danger. (Re-airs Sunday at 6 a.m.)



Books & Authors
Awards: Bread and Roses; ECPA Christian Books
David Graeber won the inaugural £1,000 (US$1,622) Bread and Roses Award for Radical Publishing for Debt: The First 5,000 Years (Melville House), the Bookseller reported. In praising Debt, Judge Nina Power said the book "breaks many rules, and does so excellently in each case: this is a book that covers so much material, refers to so many historical periods and geographical spaces, that the reader is dazzled--not only by the easy erudition of the writer but about how much it is possible to learn and with so little pain."

The other shortlisted titles were Counterpower: Making Change Happen by Tim Gee (New Internationalist); Tweets from Tahrir: Egypt's Revolution as it Unfolded, in the Words of the People Who Made It, edited by Nadia Idle and Alex Nunns (OR Books); Chavs: The Demonization of the Working Class by Owen Jones (Verso); Magical Marxism by Andy Merrifield (Pluto Press) and Penny Red: Notes from the New Age of Dissent by Laurie Penny (Pluto Press).

---

The Evangelical Christian Publishers Association chose Billy Graham's Nearing Home (Thomas Nelson) as its Christian Book of the Year and announced the Christian Book Awards category winners:

Bibles: ESV Student Study Bible (Crossway)
Bible reference: Dictionary of Christian Spirituality by Glen G. Scorgie (Zondervan)
Children: The Story for Children: A Storybook Bible by Max Lucado, Randy Frazee, and Karen Davis Hill (Zonderkidz)
Fiction: The Queen by Steven James (Revell/Baker Publishing Group)
New author: Love Amid the Ashes by Mesu Andrews (Revell/Baker Publishing Group)
Nonfiction: Close Enough to Hear God Breathe by Greg Paul (Thomas Nelson)
Inspiration: The Law of Happiness by Dr. Henry Cloud (Howard Books)



Books for Understanding: The 99% and Economic Rights
The latest Books for Understanding bibliographic resource from the Association of American University Presses offers a guide to the economic injustices faced by most Americans and includes nearly 100 titles. Among them:
Class War? What Americans Really Think about Economic Inequality by Benjamin I. Page and Lawrence R. Jacobs (University of Chicago Press, 2009)
(Not) Keeping Up with Our Parents: The Decline of the Professional Middle Class by Nan Mooney (Beacon Press, 2008)
Why Don't American Cities Burn? by Michael B. Katz (University of Pennsylvania Press, 2011)
The AAUP commented: "The Occupy movement has spread from Wall Street across the world since last fall, and is increasingly present at corporate centers and college campuses nationwide. May Day, known globally as International Workers' Day, will mark a planned renewal to the protests. The underlying theme of 'the 99%' demands examination and understanding, which can be found within the highly relevant scholarly works from university presses."




Book Review
Review: How to Cook Like a Man
How to Cook Like a Man: A Memoir of Cookbook Obsession by Daniel Duane (Bloomsbury, $24 hardcover, 9781608191024, May 8, 2012)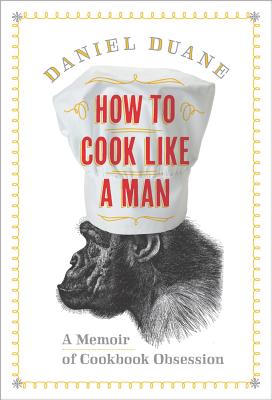 When Daniel Duane (A Mouth Like Yours) and his wife welcomed their first daughter into the world, Duane found his writing, surfing and rock-climbing skills of little use in his life as a new father. With his wife's energy completely consumed by the baby, Duane, finding himself disinterested in changing diapers, decided to contribute to domestic life by becoming the family cook. While his initial repertoire consisted of basic burritos and stir-fry, Duane had long ago attended a preschool taught by Alice Waters, the famed executive chef of Chez Panisse, a slight connection that had inspired him years later to purchase a few of her cookbooks. So he opened up his copy of Chez Panisse Vegetables and got to work.
From this simple beginning sprang an eight-year obsession with cookbooks, kitchen techniques and obtaining the freshest ingredients. Ignoring the reservations of his wife, who grew up in a restaurateur family and was ready to leave complicated cuisine behind, Duane embarked on a journey that would eventually include butchering his own meat, diving for live abalone and taking a two-day steak-eating tour of Las Vegas. While his adventures in the culinary world sustained him through personal tragedies, they also put an occasional strain on his relationships with family and friends, finally leading him to question whether his enthusiasm stemmed from a desire to feed his family or from pure self-interest. The pitfalls he recounts, including an over-the-top truffle-themed dinner party that left his friends with a lifelong truffle aversion, range from amusing to harrowing, as Duane finds that learning to cook like a man is not as important as learning to be one.
Although Duane shares his life's triumphs and heartbreaks with readers, How to Cook Like a Man remains a lighthearted examination of how food shapes our lives and how our lifestyles in turn define our eating habits. Duane describes his evolution as a cook as it entwines with his evolution as a father, from the days when he disguised his reluctance and fear of parenthood with duck legs braised in Zinfandel to happy trips to the market with two-year-old Hannah. As he learns to relax into a simpler, more self-assured culinary style, Duane also learns to let go and fall in love with family life. Readers of any culinary skill level will relate to this funny, reflective and honest memoir of one man's struggle to find his place in the kitchen and in life. --Jaclyn Fulwood, blogger, Infinite Reads
Shelf Talker A memoir of one man's journey toward true manhood through both culinary mastery and fatherhood.


The Bestsellers
Top-Selling Titles on AbeBooks.com in April
The following were the bestselling books on AbeBooks.com in April:

1. The 7 Habits of Highly Effective People by Stephen Covey
2. Fifty Shades of Grey by E.L James
3. The Hunger Games by Suzanne Collins
4. Catching Fire by Suzanne Collins
5. Who Moved My Cheese? by Spencer Johnson
6. The Great Gatsby by F. Scott Fitzgerald
7. The Five Love Languages by Gary Chapman
8. The Nature of Hope by Adrian Rogers
9. A Game of Thrones by George R.R. Martin
10. Good to Great by Jim Collins

The following were the bestselling signed books on AbeBooks.com in April:

1. City of Bohane by Kevin Barry
2. Sacre Bleu by Christopher Moore
3. The Lifeboat by Charlotte Rogan
4. Drift: The Unmooring of American Military Power by Rachel Maddow
5. The Beginner's Goodbye by Anne Tyler
6. Steve Jobs by Walter Isaacson
7. Game of Thrones by George R.R. Martin
8. The Unlikely Pilgrimage of Harold Fry by Rachel Joyce
9. Calico Joe by John Grisham
10. The Night Circus by Erin Morgenstern

[Many thanks to AbeBooks.com!]