Tuesday, May 15, 2012: Dedicated Issue: Owlkids Books

Editors' Note
Owlkids
In this issue, with the support of Owlkids, Shelf Awareness takes an in-depth look at Owlkids' origins as a magazine publisher and its growth over the past six years into a full-fledged book publisher, informed by the feedback of more than 200,000 young magazine subscribers. The interviews are by Jennifer M. Brown.


Books & Authors
Owlkids: From Children, for Children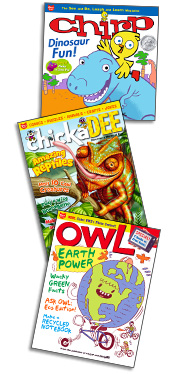 Owlkids, based in Toronto, Canada, may be best known for nearly four decades of magazine publishing in North America, but in the past six years, the publisher has been steadily building a book publishing program to match its magazines' success. With its purchase of Maple Tree Press in 2008, Owlkids gained a backlist of more than 100 titles, predominantly in the area of nonfiction, and has been expanding and diversifying its mix of titles, from preschool up to junior high, ever since.
Long before social media, letters to the editor proved the most effective means for editors at Owlkids to learn what their readers liked and disliked. For 36 years, Owlkids has heard directly from its more than 200,000 subscribers in North America through the readers (and parents) of Chirp (aimed at ages 3-6), chickaDEE (ages 6-9) and OWL (9-13) magazines. Owlkids has used what it's learned from those direct ties to kids to inform publishing decisions for the magazines as well as the books.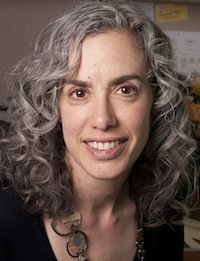 Recently, Owlkids brought Karen Boersma on board as publisher of the book division, formerly publisher of Kids Can Press, with a mandate to expand both the scope and the size of the list. Owlkids currently publishes 20 books a year, and Boersma said the house intends to double that within the next three to five years.
Nonfiction will continue to be a key part for the program, but the approach will likely continue to evolve in new directions. "I think most publishers who publish nonfiction feel like we're competing with the Internet," Boersma said. "So here at Owlkids, we're working to make sure all of our books supply the additional context necessary for children to truly understand a topic." Boersma cited The Secret Life of Money by Kira Vermond, illustrated by Clayton Hanmer, as a perfect example: "We wanted kids to understand the history and cultural side of money as well as the emotional side of it."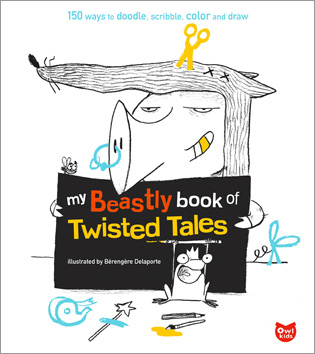 Another example of the approach to nonfiction from this season is Pick Up Your Pen: The Art of Handwriting by Monica Dengo, which teaches kids how to write in cursive. It's a skill that's not taught much anymore in schools, Boersma explained. And the editorial team's years of focusing on crafts and activities in the magazines informed the bestselling Beastly series, which now includes four titles at 150 pages each. This fall Owlkids will publish My Beastly Book of Tangled Tinsel for the holidays.
Judy Brunsek, sales director for Owlkids, noted that the company also wants to reach children as they begin reading: "That's where we put a lot of focus, starting last fall and moving through this year." Moving beyond nonfiction and into character-based picture books has also paved the way from the school and library market into the trade, according to Brunsek: "We're looking to grow a broader trade presence at national accounts and independent stores." To that end, Owlkids is working with ABA programs to raise booksellers' awareness; last fall they mailed all children's bookstores a poster featuring the Vole Brothers, characters originally created by Roslyn Schwartz for Chirp, whose popularity warranted a book of their own.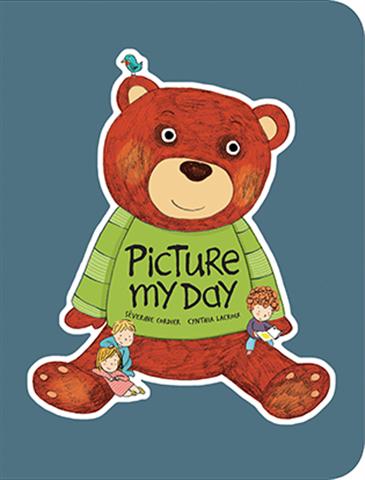 Most of the Owlkids spring picture books, however, started as original projects completely independent of the magazines. Picture My Day, created by Séverine Cordier and Cynthia Lacroix, introduces first words to children as it follows three siblings through their daily routine. This fall's follow-up title, Picture My World, follows the same children through more event-based experiences, such as a birthday party, a first pet and scraping a knee. This spring's highly lauded Martin on the Moon by Martine Audet, illustrated by Luc Melanson, celebrates creativity in both the student hero and his teacher, and All By Myself!, an exploration of a child's (or chick's) first foray into independence by Geraldine Collet, illustrated by Coralie Saudo, has also been receiving strong reviews. Such character-based titles address Owlkids' mission to create books that "speak to the whole child," as Jennifer Canham, group publisher of Owlkids books and magazines, put it.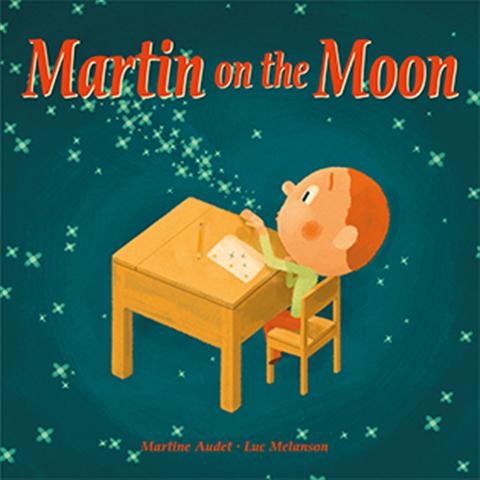 Because the magazines serve as a direct tie to children, they offer an opportunity to "audition" various talents, too, to see which themes and artwork strike a chord with young people. The sibling stars of Roslyn Schwartz's The Vole Brothers are one example, as is the artwork of Dave Whamond, who created My Think-a-ma-Jink and the upcoming fall book Oddrey. "We know what resonates with children, parents, and teachers," Canham said. "We have a lot of experience working with authors and illustrators to develop characters that mean a lot to kids." Canham believes Owlkids' magazines can serve not only as a kind of field-testing resource but also as word-of-mouth. "For a small children's publisher, there's not always an easy way to advertise to a broad audience," she said, "but we have 200,000 children in our audience, and an opportunity to feature the books in our magazines, which in turn leads our readers to head out to bookstores to find our books."


Soyeon Kim: Reinventing a 3-D World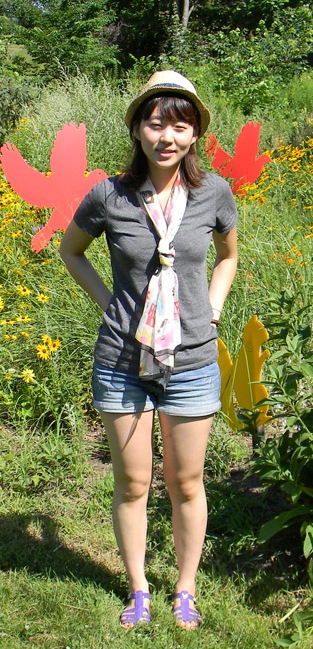 In her extraordinary debut, artist Soyeon Kim creates a visual narrative with three-dimensional artwork that's both arresting and also representative of Elin Kelsey's text in You Are Stardust (September 15, 2012). The picture book reflects Kelsey's (Not Your Typical Book About the Environment) deeply held belief that if children care about their world, they will take care of it. In You Are Stardust, Kelsey and Kim illustrate in words and pictures how closely connected human beings are to their environment. Here Soyeon Kim discusses her process and the challenges of illustrating a child's connection to his or her world.
Tell us about your process, it's so unusual.
The first step of my creative process is rough sketches or thumbnails. Once I have these thumbnail sketches, I put together a box. In order to give a three-dimensional quality to the drawing, I often work with boxes that are made from recycled canvas frames. For You Are Stardust, I purchased olive-colored wood sticks, then I measured and cut them in the proper size to put together a box. Once a skeleton of a box is made, I attach linen cloth on the top and bottom of the box so that I will be able to hang the drawings. Then I produce rough drawings, which take size and space into consideration. When I am done with roughs, I do my colored drawings with pen, ink and watercolor, cut them and hang them in each box using fish string and hot glue.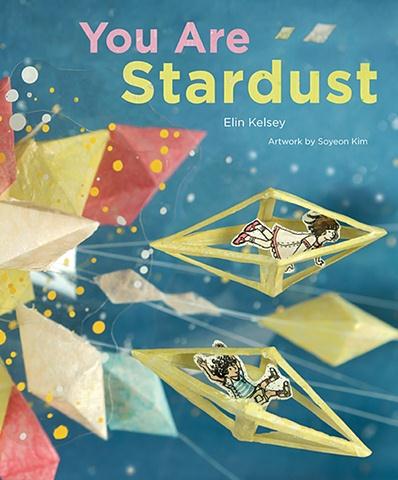 Do you work with the photographer on how best to shoot your models?
I was actually with the photographer and my editor, John Crossingham, when we shot the artwork. We've talked about how to show depth and the camera angles to use to photograph some of the works, but all the credit goes to the photographer and editor. I was mainly at the photo shoot to tweak the artwork in case some elements were hidden or blocked by other drawings, etc.
Did you look for ways to connect the characters and animals throughout? Or did that come naturally?
To be honest, the connection of the characters and animals actually came together naturally. I limited the characters to five and showed animals that were provided from the text, or animals that would just fit perfectly in terms of text and artwork.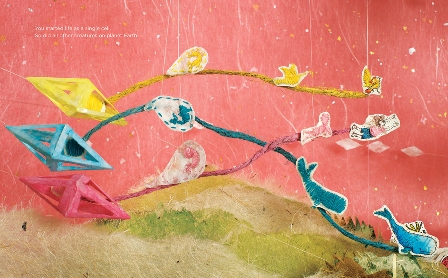 Was it challenging to think of the simplest way to show a concept? For example, the image of the cells that become a bird, a person, and a whale?
Yes, there were definitely some challenging moments to figure out the simplest way to show a concept. In fact, the example that you have provided, "You started life as a single cell. So did all other creatures on planet Earth," was one of the most difficult. I did not want the interpretation of the text to be too scientific and straightforward, because I wanted to create images that are more poetic, so that children would read the text to understand the artwork, and explore what the text and picture meant for them.


Catherine Ripley: Taking Her Cue from the Kids
As editor of chickaDEE magazine for 10 years, beginning in the early 1990s, Catherine Ripley knows her readers. Her first book, Why?, grew directly out of the questions that readers asked for chickaDEE's annual q&a issue. "We invited kids to submit their questions, and we'd answer perhaps 10 questions in an issue," Ripley explained. "Their voice was very strong in the magazine." Her latest book, How?, a companion volume, comes out of that same approach.
Ripley and her team not only solicited questions from five- to eight-year-olds, they also field-tested the magazine to make sure it passed muster with their audience. They visited kindergarten through third grade classrooms with sample issues of the magazine and asked, "What do you think? How are we doing?" The editorial team then modified its approach based on the kids' reactions. Why? began as a collection of six books (among them Why Is Soap So Slippery? and Do the Doors Open by Magic?); Owlkids released them as a single volume in 2001. The 10th anniversary edition came out in January 2011.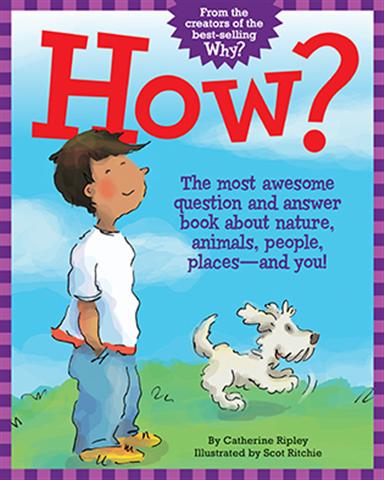 When asked if she's always conscious of the children's voices, Ripley responded, "Kids are so engaging and they're so honest, and they come at things so differently than I do as an adult." She added, "It really pays to go back into the classroom again and again. You get taken aback by the wonderful world we live in, as seen through a child's eyes."
Ripley works closely with artist Scot Ritchie on the illustrations and the layout. As an example of how they collaborate to make sure the words and pictures work together, she pointed to a nine-step explanation for "How are roads built?" It could have come across as complicated, but flows very logically for readers if they simply follow the road itself, like a pathway through the numbered steps. An advantage to conceiving of How? as a complete book from its inception was that Ritchie could feature a single family throughout.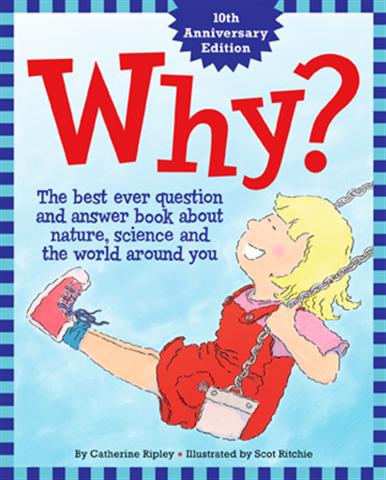 The organization of How? also owes a debt to Ripley's magazine experience, with chapters such as "Happy Birthday!," which includes everything from "How did birthday parties get started?" to "Why do balloons pop?" and "How does batter turn into cake?" She believes that the book had to be "really rooted in a kid's experience." The annual q&a issues, for instance, always focused on a theme, such as volcanoes. The chapter called "Airport Good-byes" came from the students Ripley visited in schools. She asked children where they went in the car, and one answer was, "To the airport to pick up my grandmother." Ripley began with 839 questions, then whittled them down to the nearly 75 that appear in the book.
Why has Why? been so popular? "One reason is these are real questions rooted in children's experiences, and coupled with that is the idea that these are experiences that they have with their parents," Ripley said. "Parents have heard their children ask these questions and now they can answer them."
---
This issue made possible with the support of the Ontario Media Development Corporation.