Shelf Awareness for Tuesday, August 21, 2012

News
Second Quarter Results: Barnes & Noble, Hastings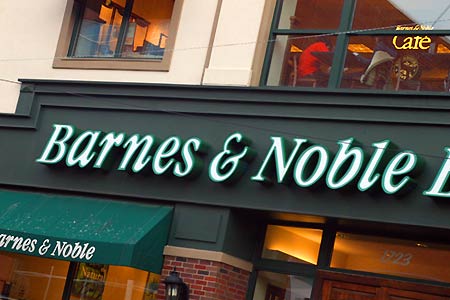 Consolidated revenues at Barnes & Noble in the first quarter ended July 28 rose 2.5%, to $1.5 billion, and the consolidated net loss was $41 million, an improvement over the net loss of $56.6 million in the same period last year. Sales were slightly above analysts' prediction of $1.48 billion and, most important for the company, the net loss of 78 cents a share was well below analysts' consensus of 96 cents a share.

Sales at bookstores open at least a year rose 4.6% and "continued to benefit from the liquidation of Borders bookstores in fiscal 2012 and strong sales of the Fifty Shades of Grey series," the company said. Excluding Nook products, sales at bookstores open at least a year rose 7.6%. Total bookstores sales, including B&N stores and BN.com, rose 2%, to $1.1 billion.

Sales at B&N College stores open at least a year fell 2%, reflecting "the retail selling price of a new or used textbook when rented, rather than solely the rental fee received and amortized over the rental period." Total College sales rose 0.1%, to $221 million.

Nook sales rose 0.3%, to $192 million. While digital content sales increased 46%, device sales fell "due to lower average selling prices and production scaling issues surrounding the popular newly launched Glowlight product resulting in unmet demand."

CEO William Lynch commented: "The growth in comps at retail and the continued strong growth of our digital content business, as well as increased cost management focus, were drivers in the business turning from an EBITDA loss last year to slightly positive EBITDA in the first quarter of this year."
---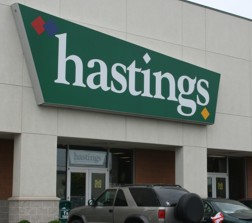 In the second quarter ended July 31, revenues at Hastings Entertainment fell 5.9%, to $104.1 million, and the net loss improved to $3.4 million from $4.1 million in the same period a year earlier.
Sales of books at stores open at least a year rose 2.5%, compared to an 11.4% drop in the same period in 2011. Hastings attributed the gain "primarily due to strong trade paperback sales driven by the 50 Shades series, as well as strong used book sales, partially offset by declining hardcover sales due to a weak release schedule and the continued adoption of digital books in fiction categories." Excluding Nextbook sales, digital books and accessories, book sales increased 1.2% for the quarter.
Hastings operates 140 multimedia stores, mostly in the West and South. At the end of the quarter, it had seven fewer stores than a year earlier.


Bookstore Sales Up 3.8% in June
June bookstore sales rose 3.8%, to $1.04 billion, compared to June 2011, according to preliminary estimates from the Census Bureau. For the year to date, bookstore sales have risen 0.6%, to $6.979 billion.

In January, bookstore sales were even with the same period in the previous year while in February and March bookstore sales dropped 4% and 3.8%, respectively, then rebounded in April by 3.8% and May by 5.7%.

Total retail sales in June rose 3.3%, to $405.8 billion, compared to June 2011. For the year to date, total retail sales have risen 6.3%, to $2,385 billion.

Note: under Census Bureau definitions, bookstore sales are of new books and do not include "electronic home shopping, mail-order, or direct sale" or used book sales.




MSU Bookstore Director Embezzles $400,000
A longtime employee of the Missouri State University bookstore has embezzled at least $400,000 from the bookstore over the past three years and has resigned, the university said. Police are investigating the case.
Mark Brixey, the bookstore director since 2000, had been a fulltime staff member since 1991, rising through the ranks. The school said that two weeks ago during a routine audit, irregularities were discovered and "more than $81,000 in cash" was found in Brixey's desk. The store has annual revenue of more than $15 million.
"We now have reason to suspect that Mr. Brixey transacted business off the regular books for multiple years by cashing checks payable to the university and keeping some or all of the cash," the university said. "We have gone back three years, but at this time we don't know exactly how long this has been going on or the total amount of money missing." The audit is continuing.
Kent Thomas, special assistant to the president, has been named interim director of the bookstore, and will report to interim university president Clifton M. Smart III.
Thomas told KSPR that "the way the book buy-back was documented in our papers just showed the bottom line. So if for example $30,000 worth of books was sold for $10,000, it would just show a bottom line number, not the steps in that transaction including payment." Only Brixey looked at many of those transactions.
To avoid any recurrence of this kind of theft, Thomas will implement auditors' recommendations, which include adding an assistant director, a new position.


R.I.'s Island Books Opening Second Store, in Newport
Island Books, Middletown, R.I., is opening a second store, in neighboring Newport, with a soft opening September 1 and a grand opening in mid-September.

"It was something that had been in the back of my mind the past few years," Island Books owner Judy Crosby said. "I kept scouting in downtown Newport, looking for just the right location. Around July 4, the right location became available, and I figured it was now or never."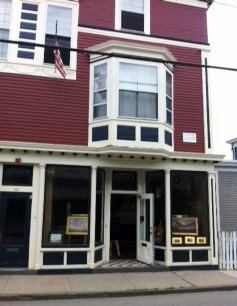 The 600-sq.-ft. store is on Spring Street, one of Newport's main streets and in the official historic district, next to Trinity Church, a tourist destination. The space has a fireplace and two rooms, one of which will be devoted to children's books, and didn't need much work to turn into a bookstore. (Crosby obtained many of the store's fixtures from Baker Books in nearby Dartmouth, Mass., which downsized earlier this year.) The store will be the first new-book-only bookstore in Newport since a Waldenbooks closed.

Crosby aims to have the same feel and appeal as the Middletown store but with fewer sections. The sections will include history, biography and local interest as well as general nonfiction, current issues and nature and science. Crosby said she expects to sell more bestsellers "because we'll have more of the tourist and visitor trade," although she believes the store will be "a locals' bookstore."

Although the stores are only five miles apart, because of their very different locales, Crosby doesn't expect the new store will hurt sales at the older store. (The Middletown store has 1,500 square feet of selling space and is celebrating its 20th birthday this year.) Already Crosby said, she has heard positive feedback from Newport residents and other merchants. "There is a historical hotel and lots of b&bs, where people ask about bookstores all the time," she said.

Island Books' staff of three, all of whom live in Newport, will spend some shifts in the new store "and get to know customers there, too," Crosby said. She is also adding other employees to help run the new store.




Powerhouse Arena to Open Branch in Park Slope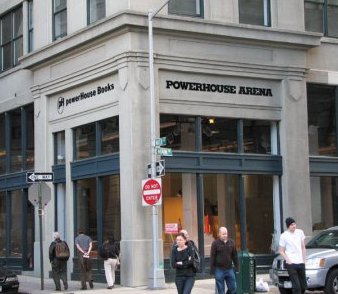 Powerhouse Arena, the combination gallery/boutique/bookstore/performance and event space that is home to art book publisher Powerhouse Books in Dumbo in Brooklyn, N.Y., is opening a branch in Park Slope in October, HeresParkSlope.com reported. The site is on Eighth Avenue between 11th and 12th Streets.

According to Powerhouse on 8th's website, the new location will be a "bookstore, reading club, mini-gallery, and community space" and will emphasize stationery, kids, YA, novelty, cooking, decorating and style books and may sell coffee, hard candy and "other items one might find in a general store (that was also a mini-gallery and reading space!)."




Notes
Image of the Day: Galactic Help in Comic Book Store Move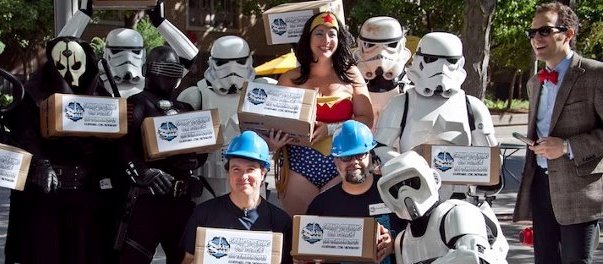 Last Saturday, superheroes came to the rescue of Toronto's Silver Snail comic book store, which needed help moving boxes from 367 Queen Street West to its new location at 329 Yonge Street, the Canadian Press reported. Silver Snail is scheduled to open in its new space next month.

The Torontoist noted that more than 400 volunteers and staff showed up to assist with the move, including "members of the Canadian Garrison 501 Legion (that is, people who like dressing up in Star Wars storm trooper costumes), a real-life Boba Fett, at least one Doctor (as in 'Who'), and a whole bunch of other people in nerdy getups."



Coolest Niche Bookstores Around the World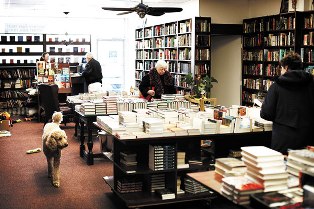 To celebrate the news that Singularity & Co., a new sci-fi bookshop, is opening in Brooklyn, Flavorwire showcased "10 of the coolest niche bookstores from around the world," noting: "We're so excited about this shiny new (and also very old) bookstore that we decided to round up a few more awesome bookstores specializing in everything from murder mysteries to the sea, just waiting to fill your every need." Unfortunately, one of the choices--Partners & Crime in New York City--recently announced it will be closing.



Indie Bookseller Video of the Day: Hello Hello Books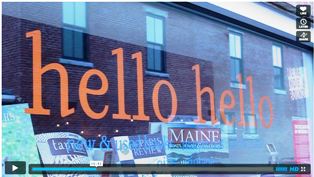 On the Facebook page for Hello Hello Books, Rockland, Maine, owner Lacy Simons wrote: "In honor of our first birthday, my best friend Val (day job: video producer for Time magazine, no big deal) interviewed me and made a tiny video about the shop when she was visiting a few weeks ago. Here are the magical results!"



Personnel Changes at HarperCollins, Chronicle, S&S
Michael Barrs has been promoted to associate director of marketing for It Books and Harper Design. He has been at HarperCollins for seven years, most recently as senior online marketing manager, and helped launch It Books.
---
Kim Burns is joining Chronicle Books as national account manager. She was formerly director of children's trade and digital marketing at Bloomsbury and earlier was a Barnes & Noble account manager for Macmillan and Harper for five years.
---
Effective September 4, Christine Foye is joining Simon & Schuster as retail account manager for the Pacific Northwest. She has worked the last 14 years at Wilcher Associates, selling the lists of more than 35 publishers to independent and university bookstores as well as regional wholesalers, museums, gift and specialty stores in the Pacific Northwest.


Book Trailer of the Day: Caveat Emptor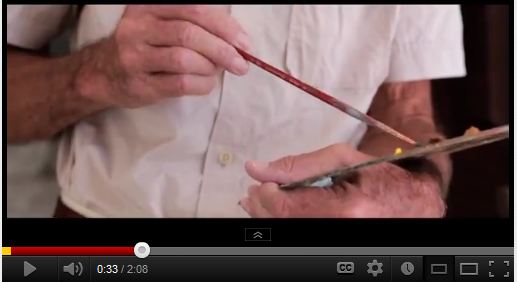 In Caveat Emptor: The Secret Life of an American Art Forger (Pegasus), Ken Perenyi, one of America's most prolific art forgers, tells how he pulled it off.


Media and Movies
Media Heat: Seth Rosenfeld's Subversives
Today on NPR's Fresh Air: Seth Rosenfeld, author of Subversives: The FBI's War on Student Radicals, and Reagan's Rise to Power (Farrar, Straus & Giroux, $40, 9780374257002).
---
Tomorrow on MSNBC's Politics Nation: Michael Grunwald, author of The New New Deal: The Hidden Story of Change in the Obama Era (Simon & Schuster, $28, 9781451642322).

---

Tomorrow on NPR's Diane Rehm Show, readers review Presumed Innocent by Scott Turow (Grand Central, $9.99, 9781455500406).

---

Tomorrow on Sirius XM's Bob Edwards Show: Kati Marton, author of Paris: A Love Story (Simon & Schuster, $24, 9781451691542).

---

Tomorrow on CNBC's Squawk Box: Neil Barofsky, author of Bailout: An Inside Account of How Washington Abandoned Main Street While Rescuing Wall Street (Free Press, $26, 9781451684933).

---

Tomorrow on a repeat of the View: Dan Rather, author of Rather Outspoken: My Life in the News (Grand Central, $27.99, 9781455502417).




Books & Authors
Attainment: New Titles Out Next Week
Selected new titles appearing next Tuesday, August 28:

Fire in the Ashes: Twenty-Five Years Among the Poorest Children in America by Jonathan Kozol (Crown, $27, 9781400052462) revisits children raised in extreme poverty.

Thrall: Poems by Natasha Trethewey (Houghton Mifflin Harcourt, $23, 9780547571607) is an exploration of family, race, and American history by Mississippi's Poet Laureate and, starting next month, the U.S. Poet Laureate.

A Sunless Sea: A William Monk Novel by Anne Perry (Ballantine, $26, 9780345510648) is the latest Victorian London mystery featuring River Police commander William Monk.

The Demon Catchers of Milan by Kat Beyer (Egmont USA, $16.99, 9781606843147) is young adult fantasy about a demon-possessed girl.


Now in paperback:

Freud's Sister: A Novel by Goce Smilevski and Christina E. Kramer (Penguin, $16, 9780143121459).




Book Review
Review: NW
NW by Zadie Smith (Penguin Press, $26.95 hardcover, 9781594203978, September 2012)
In NW, her third novel since White Teeth, Zadie Smith uses lean stream-of-consciousness narration tethered to taut skeins of dialogue to portray the aspirations and agitations of a trio of characters who have migrated varying distances from their shared roots in a northwest London housing estate. (The London postal code "NW" covers a broad range of districts, from working class to fairly posh, with NW10 being a far socio-economic cry from NW8). Smith's characters are ethnically "diverse," but the subject of her novel is more existential than multicultural--all three principals struggle to inhabit their adult, free-will professional and personal lives with conviction after emerging from childhoods confined by cultural norms, familial expectations, geographical allegiance and immigrant anxiety.
The two main female characters, Leah Hanwell and Natalie De Angelis (née Keisha Blake) have been friends from age four to their present mid-30s; Felix Cooper is a contemporary who lives in their periphery and whose noble story arc bridges their sections. NW begins with Leah contemplating her reproductive ambivalence in a hammock, an opening that would have been fatally limp if Smith's language were less lithe and lyrical. A begging female tough prises Leah from her stupor and NW delivers the first of many great scenes powered by dialogue. The novel illuminates contemporary cultural frictions by investigating the progress of Leah's and Natalie's relationships and careers. Felix's quest takes the reader across London and depicts the fraught pressures of modern manhood. Smith establishes her characters' dilemmas with astute insight; although there is plenty of dramatic incident, the only actions that strain credulity occur at the height of Natalie's ontological crisis.
Readers seeking a conventional narrative may be frustrated by NW's challenging stream-of-consciousness segues, hodgepodge typography, dearth of dialogue tags and fungible structure (the third major section, Keisha/Natalie's coming-of-age story, is told in numbered text fragments that work surprisingly well), but only about 10% of the text requires actual puzzling out.
By limiting most of her authorial prose to character thought and by delivering gobs of visceral dialogue Smith virtually embeds the reader alongside her broad cast of NW residents. One does not read NW so much as eavesdrop on it. Smith has moved beyond the somewhat hyper comic tone of White Teeth and the descriptive indulgences of On Beauty to write her most empathetic, humanly vulnerable novel to date. NW is a novel of voices, all of which deserve to be heard." --Holloway McCandless, blogger at Litagogo: A Guide To Free Literary Podcasts
Shelf Talker: Smith offers a transatlantic counterpoint to A Visit from the Goon Squad in a portrait of young Londoners struggling to design their lives against external expectations.