Shelf Awareness for Thursday, September 20, 2012

Quotation of the Day
Community 'Cannot be Limited to a Small Geographic Space'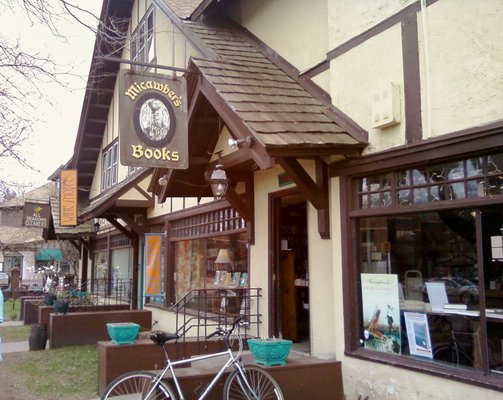 "The community bookstore is, I think, doing about as well as any type of store right now because lots of consumers are looking beyond simple ideas of the cheapest product or the largest selection. The idea of shopping locally has become pervasive in a good way. Small, focused, stories are doing well across the country. Butcher shops, wine shops, shoe/clothing stores, etc. Bookstores have to be a part of that to keep it going. Community, however, cannot be limited to a small geographic space. We're a part of the Twin Cities book community as well as the St. Anthony Park community. We partner with all kinds of non-profits, schools and other businesses. That's a necessary part of the deal."


News
Jennifer M. Brown Interim Director at Center for Children's Lit
Jennifer M. Brown, children's editor at Shelf Awareness, is adding another feather to her cap: she is becoming the part-time interim director of the Center for Children's Literature at the Bank Street College of Education in New York City, one of two interim replacements for Lisa Von Drasek. Von Drasek is leaving to become curator of the Children's Literature Research Collections, which includes the Kerlan Collection, at the University of Minnesota, effective November 1.
The Center includes the Children's Book Committee (where Brown has served as a member for three years and part of the executive committee for two years); BookFest @ Bank Street, an annual conference celebrating children's literature with authors, artists, librarians and teachers; the Irma Simonton Black Award and the Cook Prize; and the Writers' Lab.
At the same time, Allie Bruce has become the new full-time interim children's librarian at Bank Street's School for Children. She is a former bookseller at Politics & Prose in Washington, D.C., who earned an MLS and served as intern at the Bank Street Library.


Brightline: Hollywood Group Launches E-Book Publisher
Confirming reports earlier this summer, Hollywood moguls Barry Diller and Scott Rudin are teaming up to establish a publishing company. With longtime publishing executive Frances Coady, they will launch Brightline to "publish e-books and eventually physical books in a partnership with Atavist, a publisher based in Brooklyn with expertise in producing electronic books and articles," the New York Times reported.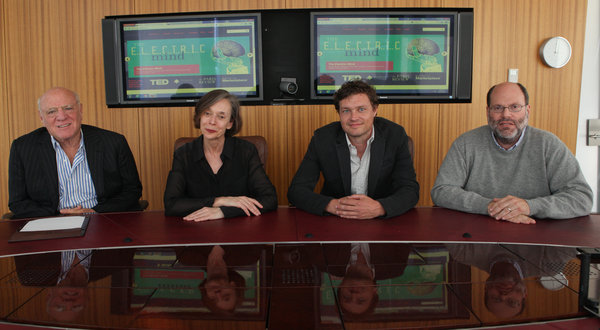 "The book business has a concentrated number of players and is unquestionably in transition," said Diller. "There is a possibility here that if we start with a blank piece of paper that you could hit the opportunity that exists in the book business now."

Brightline and Atavist "will remain separate for the time being and the books will be published under the Atavist name," the Times wrote, adding that no author has thus far been signed by Brightline, which "will pay big advances to compete for big-name authors, but many questions remain, including how the new company will share revenue with its authors and how it will get printed books into stores."
photo: Fred R. Conrad/the New York Times


Co-Reading Survey: Parents and Kids Opt for Print Books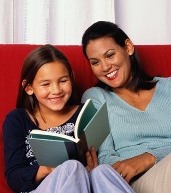 Print books are preferred over e-books by parents as well as children when they read together, according to a new study from the Joan Ganz Cooney Center at Sesame Workshop that found 89.9% of iPad owners read "mostly print books and some e-books" with their children, 7.5% read both formats equally with their children, and 2.7% read "mostly or exclusively" e-books.

Almost 75% of the responding parents said they prefer co-reading print books, with more than 50% of their children agreeing. Fewer than 10% of parents or children prefer co-reading e-books exclusively.

The center noted "these preliminary findings suggest that many parents likely perceive children's print books and e-books differently, particularly in terms the experience and expectations of co-reading. Moreover, in practice, e-books may be playing a different role in homes than print books are. Print books appear to serve as iPad owners' preferred co-reading medium even in homes where e-books are available. E-books, on the other hand, may play supporting roles for developing kids' literacy skills particularly when a parent can't be around to read to them or when families are outside of the home."



Obituary Note: Ashbel Green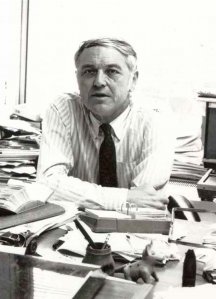 Legendary Knopf editor Ashbel "Ash" Green, who "started working at the publishing house in 1964 and went on to edit over 500 books by a stable of well-known authors, political figures and journalists such as Gabriel Garcia Marquez, Vaclav Havel, George H.W. Bush and Walter Cronkite," died Tuesday, the New York Observer reported. He was 84.

Knopf editor Gary Fisketjon called him "an editor's editor. Those kind of people are rare in any generation."

John Siegel, Knopf v-p and senior editor, said Green's "default was to help young editors. He was part of the fabric of this place. He was such a decent, decent man. The thing with Ash was that he always took the high road."

The New York Times noted that Green "earned a reputation for balancing discretion in altering an author's language with a distaste for the most minute mistakes, including punctuation."


photo: Martha Kaplan


Notes
Image of the Day: Okun Goes Hollywood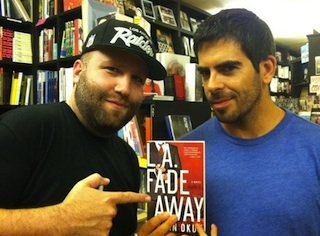 Last Friday, Book Soup, West Hollywood, Calif., hosted an event for Jordan Okun, author of L.A. Fadeaway (Touchstone). Here Okun (l.) was joined by Eli Roth, writer and director of Hostel and star of Inglourious Basterds.
Photo: Adam Wilkins


Call Housekeeping: Fifty Shades Is 'Most Discarded' Book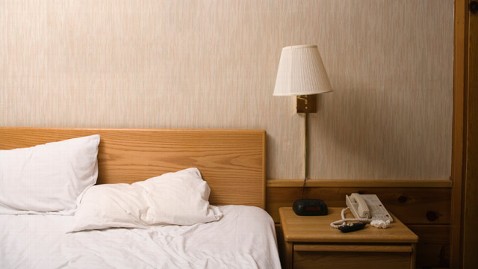 "Hotels may be creating packages around the novel Fifty Shades of Grey to attract visitors, but turns out visitors are leaving their copies behind when they check out of hotels," according to ABC News, which reported that E.L. James's erotic bestseller was the book most often left behind at Travelodge U.K. properties.

The hotel chain's annual survey found that 7,000 copies of the novel were discarded, amounting to nearly one-third of the total 21,786 books left behind in 36,500 Travelodge hotel rooms.

"It is interesting to see that our list is not dominated by celebrity biographies and chick lit books, which it has been in the past," a Travelodge spokeswoman told the Telegraph.

---

But if you're in more of a trading than leaving behind mood, publisher OR Books is currently featuring a "Bonnets for Bondage Giveaway" promotion through which OR will "send the first fifty respondents a free, illustrated copy of Fifty Shades of Louisa May... which is simply a superior read, and might actually rock your world, old school style."



Book Trailer of the Day: Unaccountable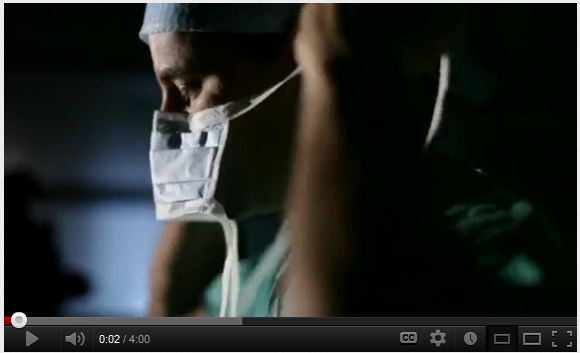 Unaccountable: What Hospitals Won't Tell You and How Transparency Can Revolutionize Health Care by Marty Makary (Bloomsbury).


Media and Movies
Media Heat: Jamie Lee Curtis on Tavis Smiley
Tomorrow on MSNBC's Andrea Mitchell Presents: Lynn Povich, author of The Good Girls Revolt: How the Women of Newsweek Sued their Bosses and Changed the Workplace (PublicAffairs, $25.99, 9781610391733).
---
Tomorrow on Tavis Smiley: Jamie Lee Curtis, author of My Brave Year of Firsts: Tries, Sighs, and High Fives (HarperCollins, $16.99, 9780061441554).



TV: American Masters: The Day Carl Sandburg Died
American Masters: The Day Carl Sandburg Died, commemorating the 45th anniversary of the author's death, makes its premier Monday, September 24, at 10 p.m. on PBS stations. Film outtakes featuring Peter Seeger, Studs Terkel, Norman Corwin, a Sandburg playlist, podcast and more can be found here. The film will be available next Tuesday on DVD and for streaming.
website (http://pbs.org/americanmasters) & PBS Video (http://pbs.org/video).


This Weekend on Book TV: National Book Festival
Book TV airs on C-Span 2 this week from 8 a.m. Saturday to 8 a.m. Monday and focuses on political and historical books as well as the book industry. The following are highlights for this coming weekend. For more information, go to Book TV's website.

Saturday, September 22
10 a.m. Book TV offers live coverage of the 12th annual Library of Congress National Book Festival from the National Mall in Washington, D.C. Programming includes event coverage from the history and biography pavilion as well as interviews and national viewer phone calls with many authors. (Re-airs Sunday at 12 a.m.)

7 p.m. Akhil Reed Amar presents his book America's Unwritten Constitution: The Precedents and Principles We Live By (Basic Books , $29.99, 9780465029570). (Re-airs Sunday at 10 p.m.)

8:15 p.m. At an event hosted by City Lights Bookstore, San Francisco, Calif., David Barsamian and Richard Wolff talk about their book Occupy the Economy: Challenging Capitalism (City Lights, $14.95, 9780872865679).

10 p.m. After Words. Forbes.com columnist Karlyn Bowman interviews Richard Miniter, author of Leading from Behind: The Reluctant President and the Advisors Who Decide for Him (St. Martin's, $25.99, 9781250016102). (Re-airs Sunday at 9 p.m. and Monday at 12 a.m.)

11 p.m. Actor Tony Danza discusses his book I'd Like to Apologize to Every Teacher I Ever Had: My Year as a Rookie Teacher at Northeast High (Crown Archetype, $24, 9780307887863). (Re-airs Sunday at 8 p.m.)

Sunday, September 23
12 p.m. Book TV's live coverage of the National Book Festival continues. (Re-airs Monday at 1 a.m.)

6:30 p.m. Robert Kaplan presents his book The Revenge of Geography: What the Map Tells Us About Coming Conflicts and the Battle Against Fate (Random House, $28, 9781400069835).



Books & Authors
Awards: NBF Lifetime Achievement Awards
At this year's National Book Awards ceremony, novelist Elmore Leonard will be honored with the Medal for Distinguished Contribution to American Letters "in recognition of his outstanding achievement in fiction writing," the National Book Foundation announced yesterday.

New York Times chairman and publisher Arthur O. Sulzberger, Jr. will receive this year's Literarian Award for Outstanding Service to the American Literary Community "for his continuing efforts through the New York Times Book Review and online book coverage to ensure an ongoing conversation about books in American culture."

Martin Amis will present the medal to Leonard November 14 at the 63rd National Book Awards ceremony and benefit dinner in New York City, hosted by Faith Salie.



From Telegraph Avenue to 826 Oakland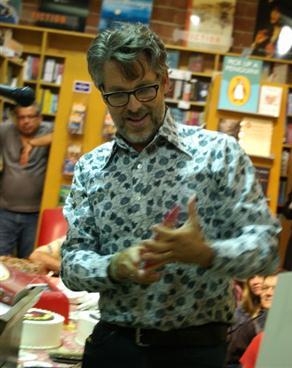 Last week's launch party for Michael Chabon's Telegraph Avenue (Ecco) at Diesel, a Bookstore, in the Rockridge neighborhood where Berkley and Oakland, Calif., converge, was a very personal affair: Chabon lives in Berkeley with his wife, Ayelet Waldman, and their family, and Diesel is their neighborhood store, where their four children once nibbled the edges of books that their parents then had to buy. It was also personal because proceeds from the event went to the organization 826 Oakland, which hopes to open a tutoring and writing resource center in Oakland.

Dave Eggers--who lived in Berkeley when he first moved to California--started the evening by noting that while the launch of Telegraph Avenue at Diesel had long been in the works, "Michael and Ayelet being Michael and Ayelet" wanted to do something more than just have a party. Thus the benefit.

Diesel being Diesel eagerly complied when the Pulitzer Prize-winning author, his bestselling novelist wife and his publisher asked if the store would promote the book's publication by transforming itself into Brokeland Records--the independent jazz record store at the center of Telegraph Avenue that, in 2004, is fighting for its survival against an impending multimedia megastore. So Diesel changed its façade, which confused some of its customers who believed it was actually morphing into Brokeland Records. (One customer came in in tears, prematurely mourning the loss of a beloved neighborhood haven.)

Chabon called the night's launch for Telegraph Avenue a "culmination" of his five years of working on the book. "There's no place in the world that I would rather have this culmination than at Diesel," he said. (He also gave a shout-out to Amy Thomas, owner of Pegasus Bookstore down the street, for her store's place in the neighborhood and for supporting Diesel's transformation for the night by providing an LP browser.)

Chabon then read from a section of the book in which Archy, one of the owners of Brokeland Records, is worn down by everything--Oakland, his pregnant wife fed up with his shortcomings, but mostly for being a holdout, "a sole survivor, the last coconut hanging on the last palm tree on the last little atoll in the path of the great wave of late-modern capitalism, waiting to be hammered flat."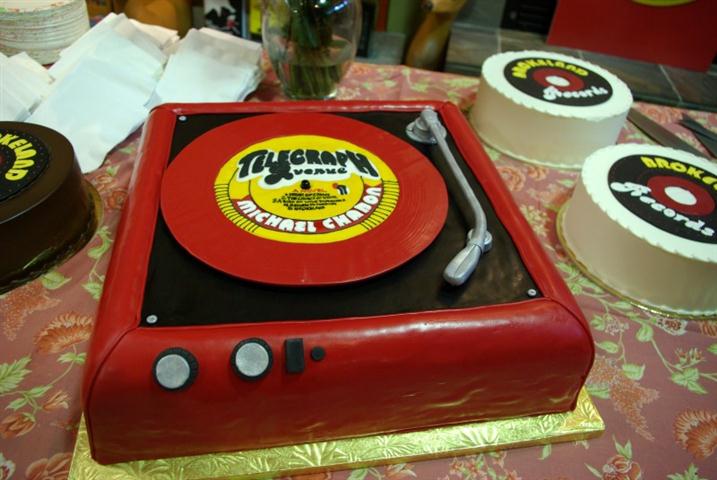 All Archy wants is to find refuge in a "Dream of Cream" cake from a local bakery, which is also struggling to stay in business. As he read, Chabon motioned toward a table that featured a "Dream of Cream" cake and several others shaped as a turntable and records. Those cakes were created by a local bakery for the event.

Chabon then read his pitch-perfect description of 41st Street "all sky and wires and broken rooflines," the freeway bisecting it and the homeless man occupying a corner in a part of the city that has seen better days. By coming up with creative ways to raise and match funds for 826 Oakland, Chabon and Waldman may well give voice to young writers who will describe their own "Oaklands" someday.

Since 826 opened its first writing, publishing and tutorial center on Valencia St. in San Francisco in 2002, the organization has opened seven more centers in Ann Arbor, Boston, Chicago, the District of Columbia, Los Angeles, New York City and Seattle. "We do not choose the cities, the cities choose us," said Gerald Richards, CEO of 826 National. And it seems that Oakland has chosen 826.

It will be months before 826 Oakland will open, and that night, at Brokeland Records/Diesel Books, some 200 attendees got to be a part of bringing a new institution to this city through Chabon's Telegraph Avenue--and enjoy some pretty decadent cake from a local bakery while they did it. --Bridget Kinsella




IndieBound: Other Indie Favorites
From last week's Indie bestseller lists, available at IndieBound.org, here are the recommended titles, which are also Indie Next Great Reads:
Hardcover
The Other Woman by Hank Phillipi Ryan (Forge, $24.99, 9780765332578). "Political scandals, power plays, and deception--the twists and turns in this first of a new series will leave you gasping and wanting more. Jane Ryland, a rising young reporter, is scarred from the fallout of protecting a source, but she still delves into the biggest story gripping Boston: Who is killing young women and leaving them under bridges, and why? And just who is the 'other woman?' Agatha, Anthony, and Macavity award-winner Ryan's writing is compelling, and her insight into the characters creates a gripping page-turner that will leave you eager for the next chapter in the life of Jane Ryland." --Joan Lang, Front Street Book Shop, Scituate Harbor, Mass.
The People of Forever Are Not Afraid: A Novel by Shani Boianjiu (Hogarth, $24, 9780307955951). "An utterly explosive debut, this novel in stories follows three young women who serve in the Israeli army, and it is not for the faint of heart. Boianjiu is not interested in preaching politics or rehashing battle scenes as a lesser writer might; she sticks to her characters, tracing their often uncertain progress toward adulthood. There are no pat endings here. The army, compulsory to Israeli citizens, is not, after all, some summer camp. No matter how you feel about the conflicts that Boianjiu describes, you will be riveted by her fresh perspective on them." --Danielle DuBois Diamond, Brazos Bookstore, Houston, Tex.
Paperback
I Married You for Happiness: A Novel by Lily Tuck (Grove Press, $14, 9780802145918). "Lily Tuck's new novel is a gem. Sitting beside the body of her husband who has died unexpectedly while she was making dinner, Nina spends the whole night with his body, remembering their marriage of 43 years--the early years as well as the highlights, both the good and the difficult. Written with honesty by a woman who clearly understands relationships and all of the intimacies and secrets that go along with marriage, this is a novel to be savored." --Penny McConnel, Norwich Bookstore, Norwich, Vt.
For Ages 4 to 8
Maya Makes a Mess by Rutu Modan (Toon, $12.95, 9781935179177). "Modan brings her Eisner Award-winning talents to emerging readers in this graphic novel. Maya's parents don't like her messy table manners, so what will the queen think? Well, it turns out that the queen is willing to offer allowances for a guest and declares the evening one of messy manners. The result is ridiculous and hysterical, perfect for messy eaters and those who are forbidden to have their own fun at the table." --Marika McCoola, Odyssey Bookshop, South Hadley, Mass.
[Many thanks to IndieBound and the ABA!]


Book Review
Review: Dancing Dogs: Stories
Dancing Dogs: Stories by Jon Katz (Ballantine Books, $24 hardcover, 9780345502681, September 2012)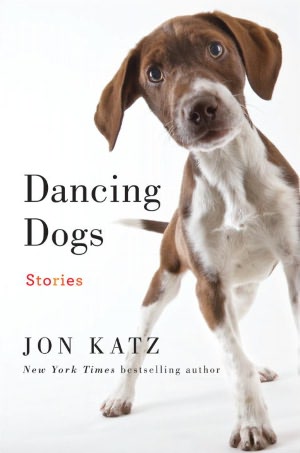 Jon Katz is best known for charming readers with autobiographical observations of the assorted animals who live with him at Bedlam Farm, particularly his dogs. In Dancing Dogs, his first collection of short stories, Katz introduces readers to a new canine cast who may not be real but nonetheless capture the multifaceted spirit of dogs and the ease with which we humans come to love them.
In "Away to Me," a dog grows depressed when the farmer gives her herding job to a slick new border collie, only to have her life changed by a surprising revelation. At "The Surrender Bay," an animal control worker comforts surrendered animals and their distraught owners during the first throes of the Great Recession. In "Luther and Minnie in Heaven," a deceased woman is reunited with her beloved dog but finds that dogs inhabit a separate heaven, a place that perfectly fits the nature of dogs but routinely horrifies the more puritanical human sensibility. A woman with an out-of-control border collie wants desperately to train her dog but finds she must first retrain herself in "Instinct Test," while the protagonist of "The Dog Who Kept Men Away" teaches her single-and-looking owner that sometimes "must love dogs" can become "dog must love you." And these are just a few of the treasures in Katz's sometimes imaginative, sometimes true to life inventory of tales.
Although dogs and their owners predominate in this collection, a loyal barn cat with a surprising best friend also makes her way into a starring role, and Katz pulls a fast one more than once on readers who make assumptions about a character's species. Katz's unornamented style makes his short fiction accessible to a younger audience, although parents will want to pick and choose their storytime selections as occasional thematic elements are more appropriate to an adult audience. Fans of Katz, and any other readers looking for a rainbow of moving tales to remind them of the varied and amazing qualities of dogs, will smile, chuckle and occasionally wipe away a stray tear at Dancing Dogs. --Jaclyn Fulwood
Shelf Talker: Jon Katz's first story collection is sure to win dog-lovers' hearts with its warm, insightful glimpses of life at both ends of the leash.