Shelf Awareness for Monday, November 5, 2012

News
Sandy: Some Stores Back, Many Still Struggling
For many bookstores in the path of Hurricane Sandy, power--and some semblance of normalcy--returned in the last few days. But some continue to have no power, and others are just beginning the long, laborious task of cleaning up from disastrous flooding.
Over the weekend, the floors at Bank Square Books, Mystic, Conn., which was flooded in the storm, were being sanded and primed in preparation for the new tile that will replace the waterlogged carpeting. A sewer line is also being re-routed through the floor.
Co-owner Annie Philbrick wrote that she hopes the work will be finished by the end of this week and the store will reopen next Monday, November 12. She added: "Although we have insurance, this does not make up for the loss of daily customers and their shopping. We are working on placing a PayPal donation tab onto our website so that anyone who would like to help us out can do so."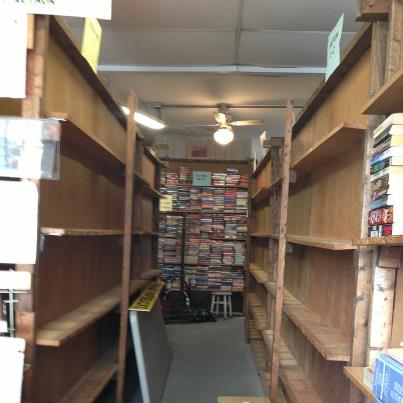 The Bookateria Two, Ocean City, N.J., also had flooding and "water damage to the bottom row of books." The store is moving books in order to replace the floor. Sadly, repairs will take a while: the store hopes to reopen by the new year.
Brooklyn's powerHouse Books, which was flooded in the storm, reopened Saturday afternoon, "six days after waterwitch #Sandy took our books," the store tweeted.
The store had prepared for storm surges of up to 11 feet but not for 14 feet, which led, powerHouse said on its website, to "an inundation of 28 feet throughout our 5,000-sq.-ft. main floor. Tubs of kids' books, event copies, and stationery and totes were lifted off the Arena steps and sunk; cabinets bobbed in the rushing onslaught; in 20 short minutes the Arena was flooded and then emptied, breaking out the front door glass window and taking more than a few items with it."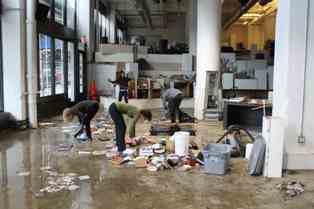 Losses are in "the several tens of thousands of dollars" and powerHouse has no flood insurance. "We're still trying to deep clean window sashes and sofa areas, and source new display tables and shelves. We're also contacting our wonderful suppliers to re-ship holiday orders and event copies." The store asked supporters to attend events and do "your holiday shopping in Dumbo."

The store is holding a day-long fundraising book fair on Saturday, November 17, 12-8 p.m., that will feature drinks, music and "some of our favorite authors." In the meantime, anyone wishing to help the store rebuild and restock can donate on the store's website.
Watchung Booksellers, Montclair, N.J., still has had no power since last Monday but has been open part of each day. On Facebook, the store made this poignant post:
"We truly hope this post finds you warm, connected, and safe. Our hearts go out to those who suffered losses from the storm. As you've noticed, Watchung Plaza is still dark and quiet. For a small business like ours dark and quiet is devastating. When our 'book' colleagues ask us why we remain a strong, successful independent bookstore, we say a lot of hard work and an INCREDIBLY supportive and loyal community. Well, we're not too proud to say that we really need your support now. For now, we will be open as close to normal as possible. The children's room is nice and bright and we'll have lanterns for you to use throughout the rest of the store. We're kicking it old school, processing payment by hand and we can't look stuff up on the computers but we can still talk books, kids can still look at books and above all we can laugh together. So many of you have come in already and supported us with your purchases, your company and your gratitude. So, please don't forget about us now and during the holiday season... and, most of all, spread the word. We thank you!"
---
For many bookstores in lower Manhattan, things improved markedly on Friday evening when power was restored to most areas. St. Mark's Bookshop wrote, "Lower Manhattan is a little bruised and battered but essentially intact." The store reopened on Saturday: "Awash in the soft glow of light to read by we are open for business!"
Housing Works Books also reopened on Saturday. As a store tweet put it: "Employees & vols who could make it in on foot bike or bus are helping out; please come visit. Our books missed you."
Three Lives & Co. in Greenwich Village was undamaged by the storm. Owner Toby Cox wrote: "I rode my bike in on Tuesday afternoon after the East River bridges were reopened to find the shop just as we left it on Sunday evening. It was a tough week, though, as the neighborhood essentially emptied out as folks fled uptown or to the boroughs in search of heat and hot water and a recharged cellphone. We opened every day from about 11 a.m.-4 p.m. to give folks a place to wander to and share stories but there were very few people out and about. I was not surprised we did almost no business but was surprised by just how quiet it was."
On Saturday, after power was restored, Three Lives & Co. reopened but closed early "to allow my employees to navigate a still seriously compromised subway system."
McNally Jackson also reopened, noting in an e-mail that "with power finally restored, the two pre-conditions for book-reading--what we like to think of as the big L's, Light and Literacy--can finally be met. So come on down, our bulbs are burnin' and our doors are open."
The event schedule is returning to normal today and one cancelled event has been "salvaged." Joan Wickersham, author of The News from Spain, who was going to appear last Thursday, is now joining A.M. Homes, author of May We Be Forgiven, for a reading and discussion on Wednesday, November 14.
Power was also restored Friday evening at Books of Wonder, on West 18th St., and the store, which was undamaged in the storm, reopened on Saturday. Books of Wonder noted that its Indiegogo.com campaign "is now in its second week and we are pleased to announce that we are getting closer to our goal everyday. Thank you to everyone that has contributed so far, and shared the news with their friends and families."
WORD in Brooklyn is donating 10% of the past weekend's sales to Occupy Sandy, and Greenlight Bookstore is giving 10% of its sales from last Tuesday through Sunday to hurricane recovery efforts.

Incidentally, Occupy Sandy is accepting donations through Amazon's wedding registry for its efforts both in Brooklyn and New Jersey. People can purchase from a range of suggested cleaning products, power strips, batteries, blankets and clothing, generators, trash bags, diapers, clothing and food.
The wedding registry formula notes that the "couples' style" is "warm, non-perishable." In addition, "the couple" has requested no giftwrap.
---
Although the offices of the American Booksellers Foundation for Free Expression at the South Street Seaport in New York City were undamaged, the building had four feet of water in the lobby and much of the equipment in the basement was ruined, according to ABFFE board member Suzanna Hermans of Oblong Books & Music, Rhinebeck, N.Y. ABFFE president Chris Finan is hoping to be able to return to the office this week.
In the meantime, ABFFE continues to seek donations to its online Children's Art Auction, which is scheduled to launch November 27. For more information, click here.
---
On Friday, Bookazine, Bayonne, N.J., reported that all employees were safe and its warehouse did not have major damage. But the wholesaler did not have power, telephone or Internet. Until normal service is restored, Bookazine offered these contacts:

Cindy Raiton at raitonc@aol.com or 908-727-5554 or 908-500-7971
Richard Kallman at bzrichk@aol.com or 917-922-6433





Northshire Reaches Fundraising Goal for Saratoga Expansion
Plans for a second location in Saratoga Springs, N.Y., have cleared a major hurdle now that the owners of Northshire Bookstore, Manchester Center, Vt., have reached their goal for raising community funding to back the project, Saratoga Wire reported. Northshire's general manager Chris Morrow had signed a letter of intent in July to occupy 9,000 square feet of a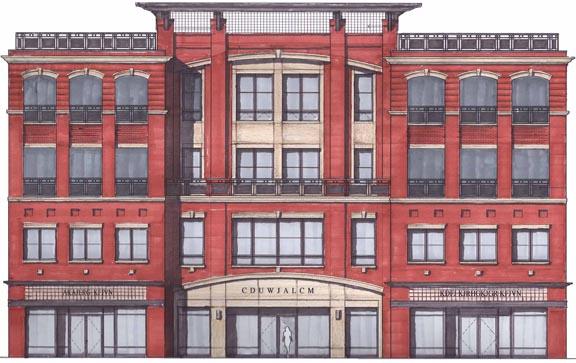 new building currently under construction on Broadway, but the deal was contingent upon raising enough funding locally by the middle of December, combined with Northshire's investment and bank financing.

Morrow said the Northshire asked for a local financial commitment not only because it was a way to raise funds, but also because it gave the Northshire a way of "testing the waters, so to speak. It's a way for me to find out how strongly the community is behind this endeavor. For a good independent bookstore to survive and thrive in this day and age, the community needs to be supporting it."

Now that the funding target has been reached, "I feel great, excited," he said. "I'm pumped to be able to move on to the design phase and the details of making it all happen." Though cautious because this is an ambitious undertaking, Morrow noted that the goal is to be open by mid-2013. "I'm going to be able to get in there sometime in June, and I should be open in July."

Morrow also noted that one of the most important tasks will be putting together a staff of great booksellers: "One of the main reasons people come to us and keep coming to us is that we have people on staff who read and can talk about books and write recommendation tags, or can help people find the right book at the right time for them.... Putting together the staff is going to take some time and training. And that's really a key element to develop in the first year or two."

Despite the risks involved, Morrow expressed confidence in Saratoga's potential as a location for an indie bookstore. His meetings with people in the city "reinforced the feeling that this would be a strong place to open a bookstore, given the quality of people here in terms of their interests, leading interesting lives, you know, most of them are readers and writers, and it's a demographic a good bookstore needs."



Amazon Titles: Continued Problems Finding Shelf Space
The Washington Post and New York Times have both discovered that books published by Amazon are not being regularly carried by Barnes & Noble and most independent booksellers.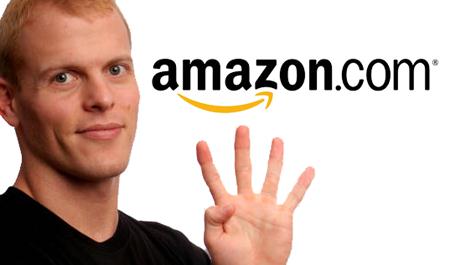 The Times focused on the example of The 4-Hour Chef by Timothy Ferriss, which is being published November 20. Last year, when Amazon bought the book for seven figures, Ferriss said, "I don't feel like I'm giving up anything, financially or otherwise." More recently he said, "By signing with Amazon, I expected this type of blowback. I've been girding my loins." The "irony," he continued, is that the book was, the Times wrote, "meant to be inviting to the casual browser. Amazon can do many things, but it still cannot let readers examine a book before buying."

For its part, the Post wryly noted that "if enough bookstores refuse to sell Amazon's books, they could become just the kind of hard-to-get, underappreciated gems that independent bookstores typically champion."




Random Penguin: Storm Before the Storm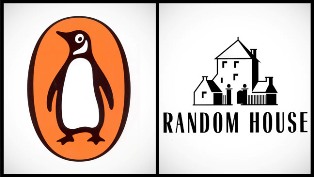 New York Magazine's Daily Intel column has a sketch of some of the background of the Random House-Penguin deal announced exactly a week ago, something akin to "a merger between the Yankees and Red Sox," and done with equal parts secrecy and urgency--because Hurricane Sandy was approaching and because of the News Corp. bid for Penguin.

Random House CEO Markus Dohle was "hammering out the details" of the deal while on a trip to China and just made it back to New York City before the storm. Penguin CEO John Makinson was sworn to secrecy, and told New York, "This is the first time I've tried to deliver a message without having either the message, a means to deliver the message, or an audience to receive it."

At noon on Monday, Penguin offices were evacuated. "Downtown, it was a complete ghost town," he continued. "And there we were, trying to communicate the details of this merger." New York said that in the afternoon, Makinson "decided to unwind with a drink, following the news via Wi-Fi. At the next table, a woman brushed against a glass, and it exploded from the hurricane pressure."

Starting Sunday morning, Random House head of communications Stuart Applebaum was at his desk for 32 hours, he said. He was so intent on work that when he finally left the building on Monday evening, he was surprised to learn of the frightening crane collapse nearby in Midtown.




River Reader Bookstore Closes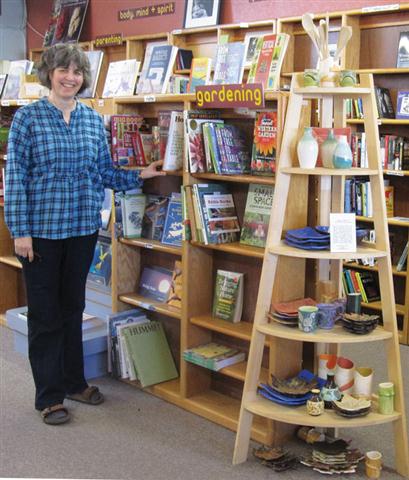 River Reader bookstore, Guerneville, Calif., closed last week after 17 years in business, the Santa Rosa Press Democrat reported. Susan Ryan, who has owned the store for the past five years, said that during the past year, "I sold half as many books as I needed to break even, and it has been that way for the last few years.... I think it is the economy, this community is struggling, and people buying books online. She added that she will miss her life as a bookseller: "This is my passion, I love this, I love being part of the community," Ryan said.
photo: Sonoma County Gazette


Obituary Note: Richard N. Current
Richard N. Current, "a Civil War historian whose award-winning scholarship helped demythologize Abraham Lincoln and raise Lincoln studies to a professional level of scholarly inquiry," died on October 26, the New York Times reported. He was 100.



Notes
Image of the Day: Let Them Eat Cake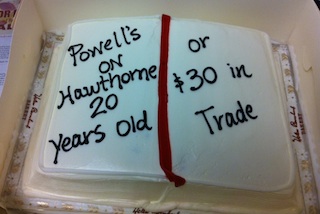 Last week, Powell's Books celebrated the 20th anniversary of its store on Hawthorne Boulevard. Part of the festivities: this cake, which says it all.


Cool Idea of the Day: My Bookstore Lit Crawl
Five bookstores in Washington State are teaming up to stage a "lit crawl" to celebrate the publication November 13 of My Bookstore: Writers Celebrate Their Favorite Places to Browse, Read, and Shop, edited by Ronald Rice (Black Dog & Leventhal). In the book, more than 80 authors pay tribute to their favorite independent bookstores.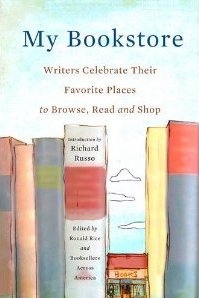 The lit crawl centers on five events, one at each of the five stores, over eight days. At their first event, attendees receive a My Bookstore passport, and then at each event thereafter they'll get a stamp. With three or more stamps, customers will be entered for a chance to win prizes sponsored by the lit crawl consortium, which include gift cards to Third Place and University Book Store, copies of My Bookstore and a prize pack of all attending authors' most recent work.

The events, all beginning at 7 p.m., are:

November 12: Ivan Doig at the University Book Store, Seattle.
November 13: Tom Robbins at Village Books, Bellingham
November 14: Jonathan Evison at Eagle Harbor Books, Bainbridge Island
November 16: Stephanie Kallos and members of the Seattle 7 at Third Place Books, Lake Forest Park
November 20: Timothy Egan at Elliott Bay Books, Seattle

"We're so pleased to be working with other area independents on hosting this lit crawl," Stesha Brandon, manager of PR and events at University Book Store. "We're all honored to be toasted by such respected authors, of course, but as a whole we also view the publication of My Bookstore as a celebration of not only the wonderful authors who stock our shelves but our customers, too.


Book Trailer of the Day: Jan and Mike Berenstain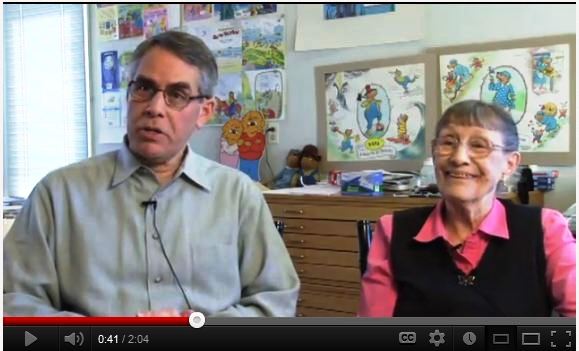 In celebration of the 50th anniversary of the Berenstain Bears, a video of Mike Berenstain talking with his mother, Jan Berenstain, last year about Nothing Ever Happens at the South Pole by Stan and Jan Berenstain (HarperCollins)--one of the last images of Jan Berenstain before her death.


Media and Movies
Media Heat: Andrew Solomon on Colbert
This morning on CBS This Morning: Darrell Hammond, author of God, If You're Not Up There, I'm F*cked: Tales of Stand-Up, Saturday Night Live, and Other Mind-Altering Mayhem (Harper, $25.99, 9780062064554).

---

This morning on Imus in the Morning: Richard M. Cohen, author of I Want to Kill the Dog (Blue Rider, $21.95, 9780399162039).

---

Today on NPR's Diane Rehm Show: Alex Danchev, author of Cezanne: A Life (Pantheon, $40, 9780307377074).

---

Today on Anderson: Kyle Richards, author of Life Is Not a Reality Show: Keeping It Real with the Housewife Who Does It All (HarperOne, $14.99, 9780062113504).

---

Today on NPR's Fresh Air: John Schwartz, author of Oddly Normal: One Family's Struggle to Help Their Teenage Son Come to Terms with His Sexuality (Gotham, $26, 9781592407286).

---

Today on Tavis Smiley: Oliver Stone and Peter Kuznik, authors of The Untold History of the United States (Gallery, $30, 9781451613513).

---

Tonight on the Colbert Report: Nate Silver, author of The Signal and the Noise: Why So Many Predictions Fail-but Some Don't (Penguin Press, $27.95, 9781594204111).

---

Tomorrow on CBN's 700 Club: Jennifer Tuma-Young, author of Balance Your Life, Balance the Scale: Ditch Dieting, Amp Up Your Energy, Feel Amazing, and Release the Weight (HarperOne, $25.99, 9780062117007).

---

Tomorrow night on the Colbert Report: Andrew Solomon, author of Far From the Tree: Parents, Children and the Search for Identity (Scribner, $37.50, 9780743236713).


Movie Projects: Colin Firth Is Max Perkins; Parkland

Colin Firth and Michael Fassbender will star in Genius, based on the National Book Award-winning Max Perkins: Editor of Genius by A. Scott Berg. The film "will chart the real-life relationship between literary giant Thomas Wolfe (Fassbender) and renowned editor Max Perkins (Firth), who developed a tender, complex friendship that changed the lives of both men forever," the Hollywood Reporter wrote. Michael Grandage will direct from an adapted script by John Logan.

---

Tom Hanks and Gary Goetzman are producing Parkland, a film based on Vincent Bugliosi's Reclaiming History: The Assassination of President John F. Kennedy and starring Paul Giamatti, Billy Bob Thornton and Jacki Weaver. The project "recounts the true story of the chaotic events that occurred at Parkland Hospital in Dallas on the day Kennedy was murdered in November 1963. The film, to be shot in Austin, is eyeing a 2013 theatrical release timed to the 50th anniversary of the assassination," the Hollywood Reporter wrote.



Books & Authors
Awards: World Fantasy Winners; U.K. Indie Booksellers' Book Prize
The World Fantasy Awards winners are:

Life Achievement: Alan Garner and George R.R. Martin
Novel: Osama by Lavie Tidhar (PS Publishing)
Novella: "A Small Price to Pay for Birdsong" by K.J. Parker (Subterranean, Winter 2011)
Short Story: "The Paper Menagerie" by Ken Liu (F&SF, 3-4/11)
Anthology: The Weird edited by Ann and Jeff VanderMeer (Tor)
Collection: The Bible Repairman and Other Stories by Tim Powers (Tachyon and Subterranean Press)
Artist: John Coulthart
Special Award, Professional: Eric Lane, for publishing in translation, Dedalus books
Special Award, Non-professional: Raymond Russell and Rosalie Parker, for Tartarus Press


---
Jeanette Winterson won the 2012 Independent Booksellers' Book Prize for Why Be Happy When You Could Be Normal?, which garnered the most public votes among the 10 books shortlisted for the award, the Bookseller reported. Winner in the children's book category was One Dog and His Boy by the late Eva Ibbotson.

Winterson called the award "particularly important to me because independent bookshops are the life of the book business and those men and women who own and run them have read everything. They love books."



Book Review
Review: Life Among Giants
Life Among Giants by Bill Roorbach (Algonquin, $24.95 hardcover, 9781616200763, November 13, 2012)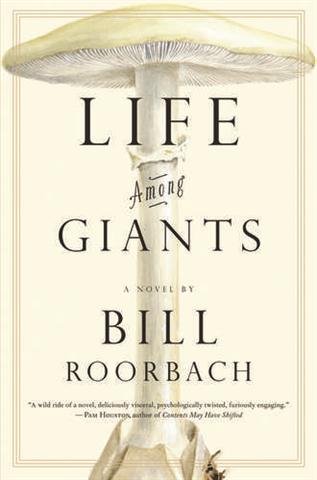 Bill Roorbach's Life Among Giants is a novel of extravagant imagination about David "Lizard" Hochmeyer, a sweet high school quarterback from suburban Connecticut who loses his parents in a double murder and falls under the sway of the famous, preternaturally fey ballerina next door. As Lizard goes on to college and then the pros, he and his older sister, Kate, spend the first half of their adulthood struggling separately to solve the mystery of their parents' demise. Lizard relates their post-orphaning story in retrospect, and by letting the revelations unfold over the decades, Roorbach makes the novel a leisurely mystery as well as a bildungsgroman. It's also a playful anthropological portrait of American preoccupations in the late 20th century: country club aspirations, 9-to-5 chicanery, Ivy League bumptiousness, the use of touchy-feely psychology in pro sports, the deification of prima ballerinas and the sloppy hedonism, naïve philanthropy and louche moochiness funded by the bottomless suède pocketbooks of 1960s rock-and-roll stars.
"High Rise," the mansion that looms on the other side of the pond at the bottom of the Hochmeyers' back yard, plays a pivotal role in Life Among Giants; it's home to English rock star Dabney Stryker-Stewart, his Norwegian ballerina-wife "Sylphide," and Linsey, his disabled son from a previous marriage. One of the novel's seductions is discovering the extent of the connections between the modest Hochmeyers and the bohemian goings-on at High Rise, and Roorbach lavishes plenty of ink on its architectural particulars, including an adjacent folly burgeoning with bizarre plumbing.
Life Among Giants serves up other descriptive bounty, including details on football, ballet, esoteric foodiness, restaurant management, touch-based bodywork and classic sailboats. Roorbach keeps these details interesting and close to the story, skirting preciousness, and skillfully uses significant objects and nicknames as plot talismans. He also successfully creates a dozen unusual characters, from the slippery-yet-sturdy Sylphide down to the High Rise's fleet of eccentric factotums. (And every one of his characters' names sticks effortlessly in the reader's memory--a rare treat.)
Similar to the work of John Fowles, Life Among Giants contains flashes of fantasy and obsession, though thankfully without the frustration of a pick-your-outcome finish. With Lizard, the story's path all the way down the field is in safe hands. --Holloway McCandless
Shelf Talker: An unusually imagined novel--half bildungsroman, half mystery--in which a sweet suburban quarterback falls under the sway of a preternaturally fey ballerina.