Shelf Awareness for Wednesday, November 21, 2012

Editors' Note
Happy Thanksgiving!
For the rest of the week, we're taking a break to give thanks for so many things. This is our last issue until Monday, November 26. Enjoy the holiday, and may all booksellers have an excellent Black Friday and Small Business Saturday!



News
Next: HarperCollins & Simon & Schuster?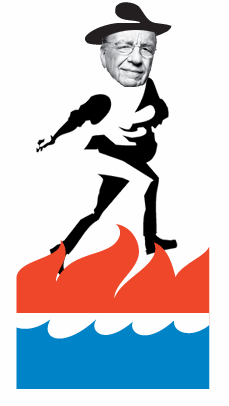 Here we go again!

HarperCollins parent company News Corp. has "expressed interest" in acquiring Simon & Schuster from its parent company, CBS Corp, according to the Wall Street Journal (a News Corp. newspaper), which cited the usual "people familiar with the talks." The discussion is "preliminary," and a deal is "not imminent," the sources said.

The move comes just three weeks after the Random House-Penguin Group merger, which was announced just before News Corp. was going to make an offer to buy Penguin, according to News Corp.'s Times of London. After a flurry of rumors, the Random House-Penguin merger was confirmed by owners Bertelsmann and Pearson only four days before the deal was completed.

News Corp. is in the process of splitting into two companies, one that consists of the "entertainment" parts of News Corp., including Twentieth Century-Fox and Fox News, and the other that consists of the print side of the business, including HarperCollins and a range of newspapers such as the Wall Street Journal and the Times. The Journal said that the new print publishing company "is expected to have a significant amount of cash on its balance sheet, potentially to be used for acquisitions." At its current size, HarperCollins would account for more than a fifth of the new company's business.
After a period of quiet because of the U.K. phone-hacking and bribery scandal involving top News Corp. executives, the company is again making acquisitions. Yesterday it announced that it is buying 49% of the YES Network, which broadcasts New York Yankees games.

Founded in 1924 by Richard L. Simon and M. Lincoln "Max" Schuster, S&S had several corporate owners before being bought by Viacom in 1994. In 2005, Viacom morphed into two companies, one of which is CBS Corp., S&S's current owner. CBS's majority shareholder is National Amusements, Inc., a privately owned theater company headed by Sumner Redstone, who built Viacom (and the current CBS) into an international media company.
While there has been no official comment yet on the story, on November 8, after the Random House-Penguin merger was announced, CBS president and CEO Leslie Moonves appeared on Wall Street Journal Live, where in the course of a long interview, he was asked "how much money would it take for you to part with" Simon & Schuster.

He responded: "We would never put a price on it. If somebody came to us with a big offer, we'd obviously have to listen. But it's not something we're planning on doing." He then said that despite rapid change in book publishing, business and profits remain very strong. A few minutes later, asked again about an offer, Moonves mentioned News Corp. chairman and CEO Rupert Murdoch's reported interest in buying Penguin, adding, "If Mr. Murdoch called, I'd always be interested in what he had to say."

Simon & Schuster's sales are about $1.6 billion. According to the Journal, with about 20% of the book publishing market, a HarperCollins-S&S combo would become the second-largest publisher next to Random House-Penguin, which has nearly a 30% share.
If a HarperCollins-S&S deal is made, in a matter of a month the Big Six publishers would become the Big Four, including also Hachette and Macmillan. Most observers attribute the consolidation, after a long period of consolidation calm, to the effects of the digital revolution on traditional book publishing and the power and willingness of Amazon to battle publishers.




Third-Quarter Results: BAM Sales Up 11%, Net Loss Declines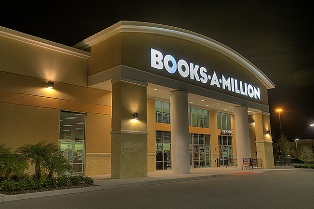 In the third quarter ended October 27, net sales at Books-A-Million rose 11%, to $104.7 million, and the net loss declined 26.3%, to $2.8 million. Sales at stores open at least a year fell 3.6%.

BAM CEO and president Terrance G. Finley commented: "Sales for the third quarter reflect stabilization in our core book business and improvements in our toys & game, and other general merchandise sales. We are focused on the upcoming holiday season and bringing our customers an expanded offering of gifts across a broad range of categories; the best books, toys, tech and more."

A year ago, following the collapse of Borders Group, BAM opened new stores, some in old Borders sites, and closed a few older stores, for a net gain of about 10%. It also expanded beyond its base in the South and now has 257 stores in 31 states and the District of Columbia.




The Quotable Small Business Saturday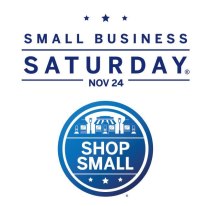 Media outlets are checking in with indie booksellers nationwide about prospects for Small Business Saturday. Here's a sampling:

Gay D. Kolodzik, owner of the Frugal Frigate children's bookstore, Redlands, Calif. recalled last year's SBS for the Contra Costa Times: "It was fantastic. It was our best sales day of the year. I don't do a lot of the Black Friday shopping, but being in the store that day was a warm and friendly feeling. Everyone got attention. We wrapped gifts for people, helped pick gifts out. It's hard to find that nowadays.... We don't have some big special merchandise that's marked down drastically to get (customers) to come in, but what we do have is what they may need and what they may never see again. You're not going to find many of these products in the big stores."

---

"This is a unique town and we can't compete with those kinds of bargain deals that people get on Black Friday, because these are such small shops," said Christine Myskowski, owner of Salt & Pepper Books, Occoquan, Va., in the Lake Ridge-Occoquan Patch. "I think people come here for a different reason. People are always more relaxed when they get here."

---

Patricia Hutchinson, owner of RiverRead Books, Binghamton, N.Y., echoed that opinion in the Press & Sun-Bulletin as she prepared for her second SBS: "Black Friday has usually not been that great for us. We provide a venue here for people to have readings, we sell cards people make, people publish their own books and we also sell them here. People are pleasantly surprised by the atmosphere... and I think that keeps them coming back."

---

"Not too long ago someone walked in our front door and they looked around and said 'you do not see this' and they could smell the pages of the books and said, 'you do not smell this when you go to Amazon,' " Holly Weinkauf, owner of the Red Balloon Bookshop, St. Paul, Minn., told CBS Minnesota. "Everyone who works here, lives here. So when you shop here, your money is staying here. I try to remind people that when they come here they're not just buying a book. You can buy books many places, but when you come here you can have a conversation with our great staff about what kind of book would be the best book, you can't get that type of service at most big box stores."



The Hobbit Case: Tolkien Estate, Publisher Sue Warner Bros.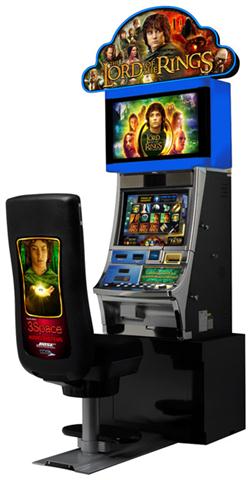 J.R.R Tolkien's estate and HarperCollins filed an $80 million lawsuit against Warner Bros., charging the studio, its New Line subsidiary and the Saul Zaentz Company's Middle-earth Enterprises division with copyright infringement and breach of contract regarding "merchandising that the estate says was never anticipated as part of its original deal back in 1969," Deadline.com reported.

According to the complaint, "The original contracting parties thus contemplated a limited grant of the right to sell consumer products of the type regularly merchandised at the time (such as figurines, tableware, stationery items, clothing and the like). They did not include any grant of exploitations such as electronic or digital rights, rights in media yet to be devised or other intangibles such as rights in services."

The lawsuit does not involve Peter Jackson's Hobbit film trilogy, which Warner Bros. distributes, since the Tolkien Estate, HarperCollins and New Line came to an out-of-court settlement in 2009 over studio profits from the Lord of the Rings movies.



Pottermore: Digital Gifts & New E-Book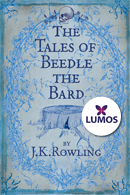 J.K. Rowling's Pottermore.com now allows users to buy and send e-books and digital audiobooks as gifts, the Bookseller reported, noting that "shoppers buy the gift via shop.pottermore.com, and can add a personal message, as well as selecting the date on which the e-book or audiobook should arrive."

In addition, The Tales of Beedle the Bard is available as an e-book for the first time, with all proceeds from the sale of the title given to Lumos, the international children's charity founded by Rowling.



ABFFE Previews Holiday Children's Art Auction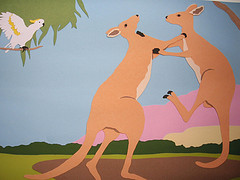 The American Booksellers Foundation for Free Expression has posted an online preview of the original children's art it will auction on eBay between November 27 and December 3.

"The Holiday Children's Art Auction gives the public a rare opportunity to bid on art from some of the book industry's leading artists and illustrators," ABFFE president Chris Finan said. "At the same time, they will be supporting the free speech rights of kids."



Notes
Image of the Day: Wimpy Kid Thwarts Vordak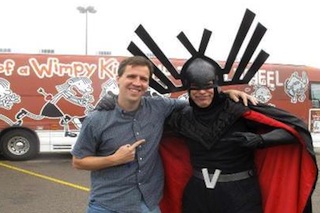 Monday at the Book Beat bookstore, Oak Park, Mich., Vordak the Incomprehensible tried (and failed) to steal the Diary of a Wimpy Kid bus, but settled for a photo with Jeff Kinney instead.


Apostrophe Books: 'Bibliophiles' Delight'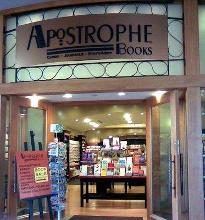 "Long Beach is home to 35,000 businesses of all shapes, sizes and purposes," the Gazette noted in introducing the most recent profile in its month-long series highlighting "retail and service businesses that are proven survivors."

Valerie Kingsland, co-owner (with Lisa Somerville) of Apostrophe Books, on Belmont Shore, said, "We want our customers happy. We want to pique their interest and we want them to feel comfortable in this space and find what they are looking for, and even what they aren't looking for."



Book Trailer of the Day: Five Days of Fear
Five Days of Fear by David Kovach (Light Messages).


Media and Movies
Media Heat: David Mitchell Talks About Cloud Atlas
Tomorrow on a timely repeat of KCRW's Bookworm: David Mitchell, author of Cloud Atlas (Random House, $15, 9780812984415). As the show put it: "Cloud Atlas, by the extravagantly gifted David Mitchell, traces the consequences of greed from the beginnings of imperialism far into the future and the end of civilization. It's a wild ride with a new generation's wunderkind."

---

Tomorrow on a repeat of the View: Oliver Stone, co-author of The Untold History of the United States (Gallery, $30, 9781451613513).

---

Tomorrow on a repeat of NPR's Diane Rehm Show: Bob Spitz, author of Dearie: The Remarkable Life of Julia Child (Knopf, $29.95, 9780307272225).

Also on a repeat of Diane Rehm: Shawn Colvin, author of Diamond in the Rough: A Memoir (Morrow, $25.99, 9780061759598).

---
Friday morning on Fox & Friends: Donna Lyons, co-author of Now You Tell Me!: 12 Army Wives Give the Best Advice They Never Got (Arundel Publishing, $15.95, 9781933608310).
---
Friday on a repeat of NPR's Diane Rehm Show: Akhil Reed Amar, author of America's Unwritten Constitution: The Precedents and Principles We Live By (Basic, $29.99, 9780465029570).

---

Sunday on Face the Nation: Bob Woodward, author of The Price of Politics (Simon & Schuster, $30, 9781451651102).

Also on Face the Nation: Doris Kearns Goodwin, author of Team of Rivals: The Political Genius of Abraham Lincoln (Simon & Schuster, $21, 9780743270755).
---
Sunday on NPR's Weekend Edition: Todd Andrlik, author of Reporting the Revolutionary War: Before It Was History, It Was News (Sourcebooks, $40, 9781402269677).




This Weekend on Book TV: Chrystia Freeland
Book TV airs on C-Span 2 this week from 8 a.m. Saturday to 8 a.m. Monday and focuses on political and historical books as well as the book industry. The following are highlights for this coming weekend. For more information, go to Book TV's website.

Saturday, November 24
9:30 a.m. At an event hosted by Politics and Prose Bookstore, Washington, D.C., Chrystia Freeland presents her book Plutocrats: The Rise of the New Global Super-Rich and the Fall of Everyone Else (Penguin, $27.95, 9781594204098). (Re-airs Sunday at 11 p.m.)

12 p.m. Damien Echols talks about his book Life After Death (Blue Rider Press, $26.95, 9780399160202). (Re-airs Sunday at 7:45 p.m.)

7 p.m. Brian Latell discusses his book Castro's Secrets: The CIA and Cuba's Intelligence Machine (Palgrave Macmillan, $27, 9780230621237).

7:30 p.m. Martha Nussbaum presents her book The New Religious Intolerance: Overcoming the Politics of Fear in an Anxious Age (Belknap Press, $26.95, 9780674065901).

8:45 p.m. James Hagerty talks about his book The Fateful History of Fannie Mae: New Deal Birth to Mortgage Crisis Fall (History Press, $21.99, 9781609497699).

10 p.m. After Words. The National Review's Richard Brookhiser interviews Gautam Mukunda, author of Indispensable: When Leaders Really Matter (Harvard Business Review Press, $28, 9781422186701). (Re-airs Sunday at 9 p.m. and Monday at 12 a.m. and 3 a.m.)

11 p.m. A conversation on the state of the economy between Paul Krugman, author of End This Depression Now! (Norton, $24.95, 9780393088779), and Joseph Stiglitz, author of The Price of Inequality (Norton, $27.95, 9780393088694). (Re-airs Sunday at 2:45 p.m.)

Sunday, November 25
10 p.m. Harlow Giles Unger discusses his book John Quincy Adams (Da Capo, $27.50, 9780306821295)



Books & Authors
Awards: Costa Finalists; Bad Sex Shortlist
Finalists have been named for this year's Costa Book Awards, which recognize the most enjoyable books in five categories--first novel, novel, biography, poetry and children's book--published during the past year by writers living in the U.K. and Ireland. For the first time, the shortlists feature two graphic works: Days of the Bagnold Summer by Joff Winterhart in the novel category and Dotter of her Father's Eyes by Mary and Bryan Talbot (biography). Category winners will be named January 2, with the overall winner of the Costa Book of the Year announced January 29. You can find the complete shortlists at the Independent.

---

Finalists have been named for the 2012 Literary Review Bad Sex in Fiction Award, the Guardian reported, noting that "two authors heavily tipped to take this year's most coveted and dreaded literary prize have failed to make the shortlist." Neither J.K. Rowling's first adult novel nor E.L. James's Fifty Shades trilogy are on the list, though the latter actually did not qualify "because the prize's rubric explicitly excludes pornographic and erotic literature," according to Jonathan Beckman, senior editor at the Literary Review.



IndieBound: Other Indie Favorites
From last week's Indie bestseller lists, available at IndieBound.org, here are the recommended titles, which are also Indie Next Great Reads:

Hardcover
The Stockholm Octavo: A Novel by Karen Engelmann (Ecco, $26.99, 9780061995347). "Emil Larsson, a mid-level bureaucrat in late 18th century Stockholm, is drawn into a web of intrigue and magic when Mrs. Sparrow, the proprietress of his favorite gambling den, insists on reading his cards because he is a 'Seeker' who must find his 'Eight' to ensure a positive outcome in an event of historical importance. Fans of historical fiction will enjoy this sumptuous novel and appreciate the expertly explored Scandinavian setting." --Susan Taylor, Book House of Stuyvesant Plaza, Albany, N.Y.

Consider the Fork: A History of How We Cook and Eat by Bee Wilson (Basic Books, $26.99, 9780465021765). "Interest in the evolution of human food culture has always been popular. In Consider the Fork, Wilson invites readers to examine this evolution in a new light. She discusses the transformation of kitchen tools and utensils throughout human existence as well as the implications these transformations have on how humans cook and eat. Wilson's air of curiosity and amusement makes for an enjoyable read; pots and pans have never been more interesting, and the intermingling of anthropology, history, and sociology is certain to spark further thought next time a spork or a blender is encountered." --Lucy Beeching, Avid Bookshop, Athens, Ga.

Paperback
Leon and Louise by Alex Capus, translated by John Brownjohn (Haus Publishing, $15, 9781908323132). "On the cusp of World War I, while visiting the seashore on the coast of France, Leon and his new love, Louise, lose touch with one another when they are caught in the crosshairs of battle. Each believes the other is dead. Years later they discover they have both been living in Paris, blocks from each other. During World War II, Leon and his family struggle with living in a Nazi-occupied city, while Louise is encamped in Africa, working to protect French gold from the enemy. This charming novel follows the two through the decades as they continue to live their lives apart, yet never out of each other's hearts." --Robin Allen, Forever Books, Saint Joseph, Mich.

For Teen Readers
Ask the Passengers by A.S. King (Little Brown, $17.99, 9780316194686). "This touching, challenging story about a small-town girl struggling to be honest with herself while she has to keep secrets from everyone around her is as finely wrought as any of King's previous award-winning novels." --Todd A. Dickinson, Aaron's Books, Lititz, Pa.

[Many thanks to IndieBound and the ABA!]




Book Brahmin: Christine Schutt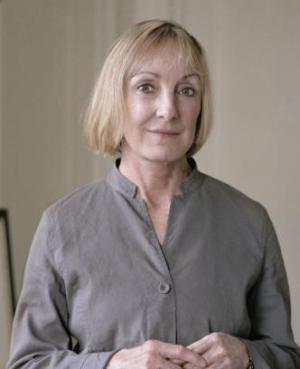 Christine Schutt is the author of two collections of stories, Nightwork and A Day, a Night, Another Day, Summer. She is also the author of the novels Florida, a National Book Award finalist, and All Souls, a finalist for the Pulitzer Prize. Her new novel, Prosperous Friends, was published by Grove/Atlantic Press on November 6, 2012.
On your nightstand now:
Antonio Munoz Molina's Sepharad, recommended to me by Mark Strand, a deeply affecting novel about nothing.
Favorite book when you were a child:
Margaret Flack's The Story About Ping, about a domesticated Chinese duck lost on the Yangtze River. Spanking as a punishment terrified me then, as did the perils that befall Ping in avoiding this punishment.
Your top five authors:
This difficult question demands refinement: here are five dead fiction writers whose fictions I never tire of reading: Barry Hannah, William Faulkner, Virginia Woolf, Flannery O'Connor and W.G. Sebald.
Book you've faked reading:
I've not faked reading anything, but I have failed to finish many, many books and dismissed them, mumbling over the endings. I am ashamed of this behavior.
Book you're an evangelist for:
Sleepless Nights. Anyone who so much as brushes against Elizabeth Hardwick's novel--is it a novel?--is converted.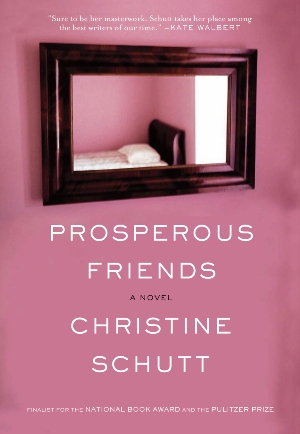 Book you've bought for the cover:
I haven't, but if I did, it would be Ben Marcus's The Flame Alphabet.
Book that changed your life:
I have had only romances with books, some heartbreaks, some lasting loves: The Summer Anniversaries by Donald Justice is one such long love. The wonder of the reading life are these enduring encounters.
A favorite line from a novel:
From Cormac McCarthy's Child of God: "Were there darker provinces of night he would have found them." A rivery sentence to carry a reader away.
Book you most want to read again for the first time:
Great Expectations.


Book Review
Children's Review: The Vengekeep Prophecies
The Vengekeep Prophecies by Brian Farrey, illus. by Brett Helquist and (HarperCollins, $16.99 hardcover, 400p., ages 8-12, 9780062049285, November 2012)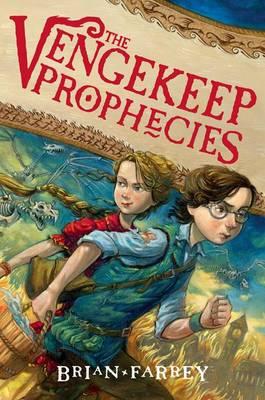 A family of thieves creates a con so clever it backfires in Farrey's (With or Without You) middle-grade adventure with a hint of magic.
In a medieval-type kingdom called Vengekeep, where a High Laird rules all and a local magistrate keeps order, the Grimjinx family has prowled the streets and pickpocketed the rich for generations. They live by the Lymmaris Creed, which states in part, "You can't convict what you can't confirm." The whole family makes sure the top lawmakers see them at the Festival of the Twins--where every year they unveil the prophetic tapestry that lays out the year ahead. Then 12-year-old Jaxter and his father slip off to rob the town's magistrate of his prized flute. Although the entire Grimjinx family are gifted grifters, narrator Jaxter is not: he is a klutz. What he lacks in grace, however, he makes up for in his gift for mixing herbs into healing elixirs and countering magic spells. Jaxter's skills get him and his Da into Jorn's house, but the boy's clumsiness causes a fire. Luckily, his mother, a gifted weaver, has tampered with the tapestry, creating a scene that foretells cataclysmic events but with the Grimjinxes saving the day. When the events start to come true, though, the family looks less fortunate. Jaxter comes up with a possible solution to their predicament, but it involves traveling throughout the Five Provinces to gather the ingredients for the antidote to the tapestry's magic.
At the core of Farrey's gripping quest tale is a wonderful friendship between Jaxter and his newfound friend, Callie Strom. Their journey exposes them to exotic beasts, double-crossing thieves, rogue mages, and one mark who shares Jaxter's passion for the power of herbs and chemistry. Jaxter's family never loses faith in him, including his grandmother, who tells him, "The things you learn in books will outshine all of us someday." At a poignant moment at the book's climax, Jaxter realizes, "I was much better at fooling myself than I was at fooling everyone else." Farrey creates a complete and satisfying read with this coming-of-age novel, but readers will be happy to know that two more are planned. --Jennifer M. Brown
Shelf Talker: A middle grade novel populated with mages and magistrates doubles as a quest tale for 12-year-old Jaxter Grimjinx, who must find an antidote to reverse his family's bad fortune.


Ooops
Kobo Mini Holiday Sale Begins Friday
There was an error in yesterday's news note regarding the two-day holiday sale on Kobo Minis at participating ABA member stores later this week. The deal actually runs Friday and Saturday.



Deeper Understanding
Robert Gray: Giving Thanks for the Three Rs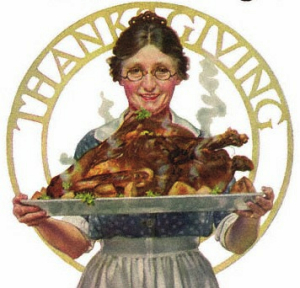 Thanks. That's all I've got to say. Stick to the basics. This is Thanksgiving week and I'm thankful to work in the book industry, even during a time when the terrain seems to shift with every step. Maybe because of the instability, which has sharpened our focus.

Before we all launch headlong into the holiday thrill ride that is Thanksgiving and Black Friday and Small Business Saturday and Cyber Monday, I just want to share a few personal reasons for gratitude. Call them the Three Rs: reading, 'riting and 'rithmetic, which I'll consider in reverse order, business first.

'Rithmetic
I'm thankful for the amazing opportunity I've had to witness an evolution in the bookselling world during the past 20 years, beginning with the moment I stepped onto a sales floor in 1992 and continuing well after I left that bookshop in 2006 to join Shelf Awareness, where I've had a ringside seat ever since.

I learned early that booksellers face "the numbers" on a daily basis, and the profound, ongoing and sometimes hazardous industry changes (you know the list) have required an adaptive New Math. All the more reason to enjoy the measure of hard-won, tentative optimism I noticed this year. If you did a word search of headlines for articles covering BookExpo or the autumn regional bookseller trade shows, the terms "mood" and "upbeat" would probably be high on the list.

The numbers are always a little scary, even when they show promise. I think that's the job description for numbers. But so many of the longtime indie booksellers who are still in business (who have "survived and thrived," as a recent profile of Fran Keilty's Hickory Stick Bookshop, Washington Depot, Conn., so aptly put it) as well as those who courageously opened new bookstores in recent years, are finding ways to make the numbers work for them by sticking to the basics, weaving irresistible magic spells out of the Three Rs.

'Riting
"Everyone has to scratch on walls somewhere or they go crazy."--Michael Ondaatje, In the Skin of a Lion

I'm unexpectedly thankful--well, it might be more correct to say I'm not unthankful--that everybody seems to be writing now. For no logical reason, I've begun to lose my concern about the dire warnings of a word dystopia where we're all scratching on walls (virtual and otherwise); where "published" and "printed" books cascade around us in a madcap frenzy only Lewis Carroll might conjure ("Now here, you see, it takes all the reading you can do, to keep in the same place.").

There is, if you focus, still a method to sorting out the madness. Every day I observe writers and readers finding each other through means traditional (indie bookstores, print reviews when you can find them, Indie Next Picks) and evolving (focused Web communities, Facebook, Twitter, Goodreads, etc.). It's like conversation in any crowded room. You listen more closely to the people who interest you. Certainly it is a challenging time for good writers to make a living and to find their audience, but readers are searching for them everywhere.

Reading
I'm thankful for unexpectedly noting a connection between two men who died last week. Shelf Awareness ran, as we often do, brief obituary notes for Isaiah Sheffer and Jack Gilbert, but something haunted me about their passing. Eventually I realized the link was personal, a reflection of one of the things I love most about being a reader.

Last April, I picked up a copy of Gilbert's Collected Poems (Knopf) as part of my annual Poetry Month shopping ritual. I've read and re-read his poems since then, and now mourn him only a brief time after having discovered him.

Everyone forgets that Icarus also flew.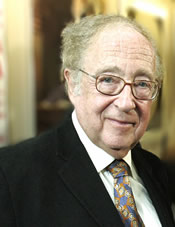 Sheffer, on the other hand, affected my reading life long before I really knew much about him or the extraordinary work he'd done at Symphony Space in New York City. Back in the 1980s, when I lived in a small Vermont city with little or no access to author events, those eloquent reading voices that wafted from my radio during Selected Shorts broadcasts were one of my rare links to a literary community.

I believe Icarus was not failing as he fell,
but just coming to the end of his triumph.
Anyway... Thanks. --Robert Gray, contributing editor (column archives available at Fresh Eyes Now).