Shelf Awareness for Tuesday, November 20, 2012

Quotation of the Day
B&N's CEO: 'I Like to Read Digitally'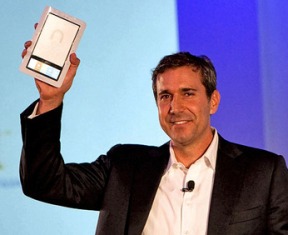 "I don't really read physical books that much anymore. I like to read digitally."
--
William Lynch
, Barnes & Noble CEO, in an interview with Bloomberg's Nicole Lapin at one of B&N's retail stores.


News
Small Business Saturday: Indie Bookshops a Prime Destination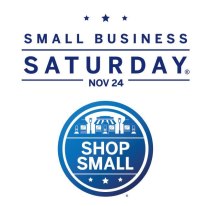 Consumers will be shopping independent retailers in force on Small Business Saturday later this week, and bookshops rank among their favorite destinations, according to the Small Business Saturday Consumer Insights Survey, which was released yesterday by the National Federation of Independent Business.

The survey found that among Americans familiar with SBS, 67% are planning to "shop small" on November 24 (44% said they participated last year). In addition, 70% of those consumers who shopped last year on SBS plan to spend more or the same amount this year, averaging $100.

The top five SBS destinations for consumers will be restaurants (52%), bakeries (35%), clothing stores (34%), gift shops (31%) and bookshops (29%).

Other highlights of the study:
The number one reason consumers are taking part in SBS: they value the contributions small businesses make to their community (76%), with customer service number two (59%).
50% of SBS participants plan to "shop small" with a friend.
67% plan to eat at a small, independently owned restaurant.
Word-of-mouth is the top way consumers find small, independently owned shops and restaurants in their communities (79%).


ABA & SBS: 'Thanks for Shopping Indie'; Kobo Deal
Independent booksellers are gearing up for Small Business Saturday by reminding current and potential customers--through e-mail newsletters, social networking sites and traditional media--of the importance of shopping local.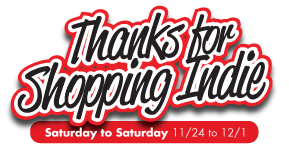 On Saturday, the ABA will launch Thanks for Shopping Indie, its inaugural multi-publisher promotion through which more than 20 publishers worked with the association to select 66 titles, all Indie Next List picks, to be offered at an additional discount to booksellers, who have "their own unique plans for the promotion," Bookselling This Week reported.

"Because we love so many of the titles on the list, we decided to go pretty big with the promotion," said Libby Cowles, community relations manager for Maria's Bookshop, Durango, Colo., which will display 25 of the staff's favorite titles in the front of the store with signage promoting "Books We Love." Cowles added: "We love the message of thanking our customers for supporting independent businesses during the Thanksgiving holiday."

Focusing on TFSI's children's titles, Storybook Cove, Hanover, Mass., is offering customers who purchase titles from the promotion double credit on their loyalty cards as well as a small Christmas stocking. "I think a lot of people will be coming into the store for these books, so this promotion is a good way to bring more people in, and keep them coming back," said owner Janet Bibeau.

Green Apple Books, San Francisco, Calif., will be in a gift-giving mood with customers who purchase a TFSI title: they can choose either one of the store's canvas book bags or ceramic coffee mugs.

---

In an e-mail letter to "friends and fans," Greenlight Bookstore, Brooklyn, N.Y., announced that it will be offering "a new kind of shopping special." From November 23 to December 2, customers will get a 20% discount for featured books on Greenlight's Thanks for Shopping Indie display. "We won't be the first to say this, or the most original, but... we've got a lot to be thankful for this year," Greenlight noted. "Even in the face of challenging times, in the book industry and in our city, we've seen our community come together to support each other and the things they care about. We're grateful to all of you for all you've made possible for us at Greenlight."

---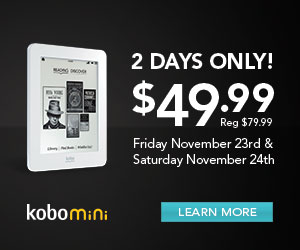 Many bookstores will also be featuring a two-day sale on the Kobo Mini for $49.99 (normally $79.99) this coming Saturday and Sunday. Among them is Village Books, Bellingham, Wash. The Herald reported that co-owner Chuck Robinson "had been reluctant to get into the e-reader business but said they are finding that people are buying both print and electronic books these days. Robinson said he's noticed some of Village Books' customers preferring the e-book when traveling but reading print copies at home."

Robinson expressed optimism about the coming holiday season, noting that "sales of holiday décor items are already off to a fast start at Paper Dreams and that business is picking up again at Village Books after the traditional slowdown that takes place during a national election," the Herald wrote.



Third-Quarter Results: Hastings' Book Sales Slip 1.4%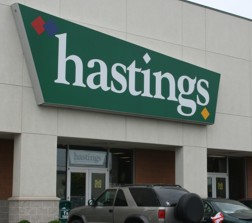 In the third quarter ended October 31, total revenues at Hastings Entertainment fell 6.7%, to $101.3 million, and the net loss rose 45.5%, to $8 million.

Sales of books at stores open at least a year fell 1.4%, compared to a 4.5% drop in the same period a year earlier. The company said that the fall was "primarily due to book signings and promotional events taking place during the same quarter of the prior fiscal year, partially offset by continued strong sales of the 50 Shades series." Excluding Nextbook sales, digital books and accessories, book sales decreased 2.4% in the quarter.

CEO and chairman John Marmaduke commented generally about Hastings results: "Our revenues continue to be impacted by the increasing popularity of digital delivery, rental kiosks and subscription-based services. We also saw a significant negative impact on rental revenues during the early part of the current third quarter due to the Olympic Games. Additionally, the November elections negatively impacted fall revenues."




Turning an E-Page: Apple Now Owns the Patent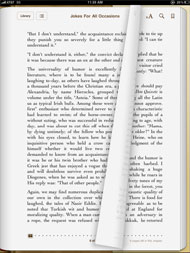 Citing the decision as an example of "just how broken the patent system is," the New York Times Bits blog reported the U.S. Patent Office has approved Apple's digital page-turn patent application (D670,713: "Display screen or portion thereof with animated graphical user interface"), giving the company exclusive rights to the page turn in an e-reader application. The patent was filed last December.

Bits blogger Nick Bilton expressed skepticism regarding the decision: "Yes, that's right. Apple now owns the page turn. You know, as when you turn a page with your hand. An 'interface' that has been around for hundreds of years in physical form. I swear I've seen similar animation in Disney or Warner Brothers cartoons. (This is where readers are probably checking the URL of this article to make sure it's the New York Times and not the Onion.)"



U.K.'s Indie Booksellers: 'We Pay Our Taxes!'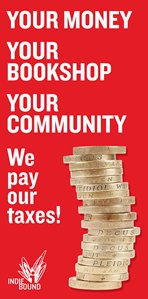 Independent booksellers throughout the United Kingdom are now displaying "We Pay Our Taxes" posters in response to Amazon's unimpressive appearance before the Public Accounts Committee last week. The Bookseller reported that "striking red point-of-sale materials," which were created by the Booksellers Association for its IndieBound members, are available for download in two options: "The first of the two POS styles reads: 'Your Money, Your Bookshop, Your Community,' with a stack of pound coins followed by the message 'We Pay Our Taxes'; the second features a Union Jack-patterned purse with the message 'Can Pay Do Pay!' followed by 'We Pay Our Taxes.' "

Frances Smith of Kenilworth Books commented: "We pay tax on everything, rates, rents, staffing as well as corporation tax. Rates on out of town and industrial parks are lower than high street rates. Perhaps with the decline of the high street, local authorities should look at their ratings structures and reduce the amount small businesses pay and government should seriously look at ways of rejuvenating the high street."



Notes
Image of the Day: Northshire II Coming Soon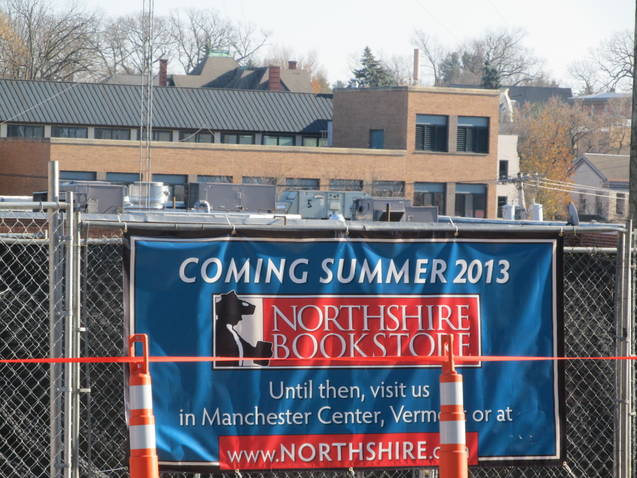 One sign of progress was literally evident last weekend at the construction site for the building that will eventually house the Northshire Bookstore's second location, on Broadway in Saratoga Springs, N.Y. The bookseller, based in Manchester Center, Vt., hopes to open its new shop by mid-2013. Another good sign: While this photo was being taken, a passerby was overheard saying: "It's so great we're going to have a bookstore here."



Hickory Stick Bookstore Has 'Survived & Thrived'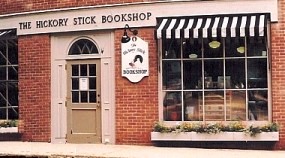 For more than 60 years, the Hickory Stick Bookshop, Washington Depot, Conn., has "survived and thrived" thanks to its patrons and staff, the Litchfield News reported in its profile of the bookstore and co-owner Fran Keilty.

"We're still here because of our loyal customers," said Keilty. "Litchfield County is a very literate area, and, hopefully it will be for a long time to come. But I think what makes us stand out [from box stores and chains] is that we try to be a part of the community." That and the shop's philosophy: "To always say 'yes.' We do everything we can for our customers. But our real secret ingredient is our great staff. They are knowledgeable and love what they do."

Keilty, who purchased Hickory Stick in 2003 with her husband, Michael, acknowledged that "e-books have affected our business, but with any industry, you need to move with the times to survive. Our first major threat was stores like Waldenbooks, which are gone. The next threat was Barnes & Noble and the café bookstore chains, which have certainly seen a decline in recent years. Now it's e-books. I don't expect them to disappear, but we are adapting to the times. The goal is to give customers what they want.... And we have seen that people still want books. Parents bring their children in to pick out books.... The most rewarding thing is seeing small children, who are used to two different experiences, still wanting books."

Looking to the future, she noted that there "is a whole discussion about independent booksellers, and if they survive. Independent booksellers are passionate about what they're reading and then want to share it with others. And you're seeing new independent booksellers popping up everywhere. The tide has shifted, and you are seeing them thrive.... We've adapted and evolved with the times. That's how you survive."



Kobo Launch Promo: Free Algonquin E-Book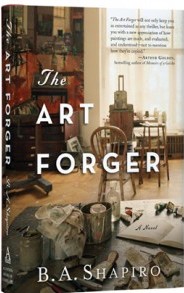 To celebrate the association of Kobo and the American Booksellers Association, Algonquin is offering a free e-book of The Art Forger by B.A. Shapiro (the #1 IndieNext Pick for November) to anyone who purchases a Kobo e-reading device at an independent bookstore.

To launch the Algonquin promotion, Kobo is shipping packets of 36 postcards printed with a special promo code to participating bookstores. Between November 19 and 26, anyone who purchases a Kobo Glo or Kobo Mini in one of the stores will receive a card that can be redeemed through the store's website for a free e-book copy of The Art Forger until January 2.



Book Trailer of the Day: Bedside Book of Bad Girls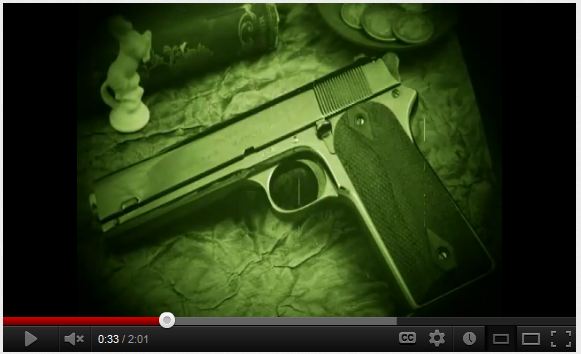 Bedside Book of Bad Girls: Outlaw Women of the Midwest by Chris Enss (Farcountry Press).


Media and Movies
Media Heat: Tony Bennett on CBS This Morning
Tomorrow morning on CBS This Morning: Tony Bennett, author of Life Is a Gift: The Zen of Bennett (Harper, $28.99, 9780062207067).

Also tomorrow morning on CBS This Morning: Philip Galanes, author of Social Q's: How to Survive the Quirks, Quandaries, and Quagmires of Today (Simon & Schuster, $14, 9781451605792).

---

Tomorrow on NPR's Tell Me More: Richard Hetzler, author of The Mitsitam Cafe Cookbook: Recipes from the Smithsonian National Museum of the American Indian (Fulcrum, $23.95, 9781555917470).

---

Tomorrow on Katie: Ina Garten, author of Barefoot Contessa Foolproof: Recipes You Can Trust (Clarkson Potter, $35, 9780307464873).

---

Tomorrow on the Dennis Miller Show: Peter Hannaford, author of Presidential Retreats: Where the Presidents Went and Why They Went There (Threshold, $16, 9781451627145).

---

Tomorrow night on a repeat of the Daily Show: Andrew Napolitano, author of Theodore and Woodrow: How Two American Presidents Destroyed Constitutional Freedom (Thomas Nelson, $24.99, 9781595553515).

---

Tomorrow night on a repeat of the Colbert Report: Ken Burns, co-author of The Dust Bowl: An Illustrated History (Chronicle, $40, 9781452107943).

---

Tomorrow night on the Tonight Show with Jay Leno: Joseph Gordon-Levitt, author of The Tiny Book of Tiny Stories: Volume 2 (It, $14.99, 9780062121639).




Lights, Camera... Write!
Yesterday at 6 a.m., 43 "bona fide New York authors" gathered at Kos Kaffe in Brooklyn's Park Slope neighborhood to be extras in a scene shot by author and director Michael Maren for his debut feature, A Short History of Decay. As Vulture described it, a "volunteer cast eagerly follows his direction, which consists mainly of the orders 'Look up,' 'Look down,' and 'Get back to work!' 'Work' happens to be their day job, the distinctly unfilmable act of writing."


(l.-r.) Tad Friend, Jennifer Egan, Michele Filgate (events manager at Community Bookstore), Kurt Andersen, Roxana Robinson, Philip Gourevitch, Ryan Britt, John Burnham Schwartz, Rich Benjamin.
The bookselling community was ably represented by Michele Filgate, a writer as well as events manager at Community Bookstore. The literary acting talent on hand also included Elissa Schappell, Darin Strauss, Mary McGarry Morris, Nick Flynn, Michael Cunningham, Myla Goldberg, Joshua Henkin, Jesse Scheidlower, Tad Friend, Gary Shteyngart, Alexandra Styron, Kurt Anderson, Roxanna Robinson, Philip Gourevitch, Jennifer Egan, Ryan Britt, John Burnham Schwartz and Rich Benjamin.

"I really, really wanted this shot," Maren said. The scene's premise is that Decay protagonist Nathan Fisher (Bryan Greenberg) tries to drown his sorrows in a literary latte after being dumped, "but instead he's confronted by the world's nerdiest sight gag--a café chock full of famous writers, each in possession of an expert withering glare. 'It's a little bit of a dream sequence,' Maren added. "He literally can't find a seat at the table."



Books & Authors
Attainment: New Titles Out Next Week
Selected new titles appearing next Monday and Tuesday, November 26 and 27:

The Black Box by Michael Connelly (Little, Brown, $27.99, 9780316069434) is the latest Harry Bosch mystery.

The Legend of Broken by Caleb Carr (Random House, $28, 9781400062836) takes place in a militant fantasy city beset by enemies.

Dream More: Celebrate the Dreamer in You by Dolly Parton (Putnam, $19.95, 9780399162480) expands on the star's University of Tennessee commencement speech.

Margaret Truman's Experiment in Murder: A Capital Crimes Novel by Margaret Truman and Donald Bain (Forge, $24.99, 9780765326102) follows a CIA assassin and a rogue mind control project.

Cold Days: A Novel of the Dresden Files by Jim Butcher (Roc, $27.95, 9780451464408) continues the urban fantasy adventures of Harry Dresden.

Antifragile: Things That Gain from Disorder by Nassim Nicholas Taleb (Random House, $30, 9781400067824) explores events that thrive on chaos.

Brothers: On His Brothers and Brothers in History by George Howe Colt (Scribner, $30, 9781416547778) is a memoir and history of brotherhood.

The Virgin Diet: Drop 7 Foods, Lose 7 Pounds, Just 7 Days by JJ Virgin (Harlequin, $25.95, 9780373892716) advocates specific dietary restrictions.




Book Review
Review: Me and the Devil
Me and the Devil by Nick Tosches (Little, Brown, $26.99 hardcover, 9780316120975, December 4, 2012)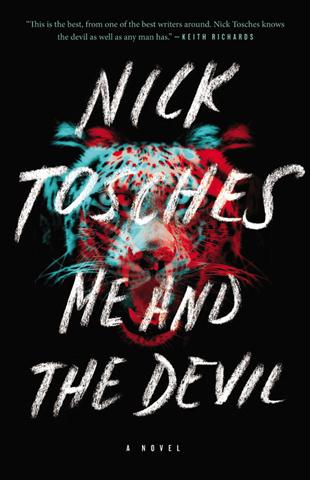 Is Nick, the narrator of Me and the Devil, really Nick Tosches? There are certainly resemblances: Nick's an aging writer who lives in lower Manhattan and is familiar with the same cultural undercurrents as Tosches, an acclaimed musical historian and novelist (In the Hand of Dante). But the novelistic Nick is headed to some seriously dark places--places that could be even scarier if they proved to exist outside of Nick Tosches's imagination.
It starts when Nick picks up a woman in a bar. As they have sex, he bites her thigh and swallows a few drops of her blood. "It was as if I suckled on her very soul and the inmost mystery of her," he reports, and that experience, as well as the physical rejuvenation that follows, sets him off in pursuit of more young flesh. Eventually, he gets involved with a college student named Melissa--even though, on one of their earliest dates, he accidentally severs her femoral artery--and they fall into a weird conversational groove that caroms from Hermann Hesse to the shared linguistic roots of the words rape and rapture in classical Latin. Eventually, though, Nick realizes that his relationship with Melissa won't work if he drains her completely, so he needs to find other victims. He meets Lorna at an AA meeting; she instantly recognizes the desire in his eyes and, looking for a solution to her own traumas, surrenders herself to him.
Tosches plays up the Gothic aspects of his story, but with a hardboiled spin: "Somewhere along the line," he warns us in the opening lines, "something went wrong." In addition to the blood drinking, an eerie manuscript turns up, in Nick's own hand--yet he remembers nothing of writing it. And Lorna isn't the only one to recognize his vampiric tendencies; Keith Richards (yep, Keith Richards) also instantly figures out the situation and warns him to stop while he still can: "From what I saw, kicking it makes kicking smack look like a frolic in the daisies."
Just when you think you know where things are headed, though, Tosches abruptly changes gears. It's not just a plot twist, but an entire reframing--one that will likely frustrate some readers, but ultimately strikes closer at the novel's deepest psychological themes. Me and the Devil is a profoundly disturbing novel, even more so for refusing to disturb readers in the most obvious fashions. --Ron Hogan, founder of Beatrice.com
Shelf Talker: By turns profane, obscene, perhaps even blasphemous, Tosches's fictional account of "the most diabolically f*¢&ed-up year of my life" is like a cross between William S. Burroughs and J.K. Huysmans.


The Bestsellers
Top-Selling Self-Published Titles
The bestselling self-published books last week as compiled by IndieReader.com.

1. Guinness World Records 2013
2. The Elf on the Shelf by Carol V. Aebersold and Chanda B. Bell
3. The Science of Good Cooking by the Editors of America's Test Kitchen and Guy Crosby
4. LEGO Ninjago: Character Encyclopedia
5. Checkmate by R.L. Mathewson
6. Fade into You by Kate Dawes
7. Losing It by Cora Carmack
8. The Unwanted Wife by Natasha Anders
9. All In by Raine Miller
10. Fade into Me by Kate Dawes

[Many thanks to IndieReader.com!]