Shelf Awareness for Wednesday, December 5, 2012

News
Amazon Award Breakthrough: No More Penguin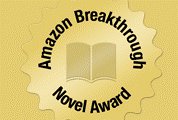 In what it called "an exciting new chapter," Amazon yesterday launched the sixth annual Amazon Breakthrough Novel Award with changes that increase the number of winners and the pool of money for advances and make the program more Amazon-oriented.

For the first time, winners will be published by Amazon Publishing, not Penguin. Categories have been expanded to five--general fiction, mystery/thriller, romance, science fiction/fantasy/horror and YA fiction--from two--general fiction and YA fiction. And four of the five category winners receive $15,000, while the grand prize winner receives a $50,000 advance. Last year, the two winners received $15,000 advances.

In an eyebrow-raising comment, Amazon said that jettisoning Penguin and having books published by Amazon Publishing "means a faster publishing timeline, higher royalties, ability to launch the books in multiple formats (print, audio, e-book) and worldwide distribution."

The contest begins January 14, when authors of unpublished and self-published English-language novels have two weeks to make submissions. Part of the judging process resembles the pattern of past prizes: Amazon reviewers will narrow the initial pool, and Publishers Weekly will pick semi-finalists in each category. But instead of having Penguin editors and a panel composed of authors and industry people involved, Amazon Publishing editors will choose the winners. The five finalists will be announced May 21, and the grand prize winner will be honored in June.




NCIBA Stores Begin Promoting Goodreads Award Winners
Don Watson, manager of Books Inc., Opera Plaza, San Francisco, with Jessica Donaghy, features editor of Goodreads.
The pilot program under which Goodreads is partnering with the American Booksellers Association and the Northern California Independent Booksellers Association to promote the winning books in this year's Goodreads Choice Awards began yesterday in 27 stores in Northern California.
The stores have displays featuring Goodreads posters and shelf-talkers, and customers can enter sweepstakes to win 20 books from their to-read shelf on Goodreads.
Goodreads is e-mailing members living near the stores about the books and contest to encourage them to visit the stores. Entries can be made only at the stores, not online.


Holiday Hum: Merry in Middlebury
It's been a sweet couple of years for the Vermont Book Shop in Middlebury. Sales during the holiday season in 2011 were the highest since Becky Dayton and her husband, Chris, purchased the store in 2005. Sales were also up overall last year, a trend that has continued this year. In addition, the store won the Addison County Chamber of Commerce Business of the Year Award in September.
Photo: vermontguides.com
For Dayton, sales and the public recognition are indications "that people have accepted my ownership of the store and like what I've done with it." The biggest thing she did: a complete remodeling of the store's interior in 2007, while maintaining the building's historic features. Before that, little had changed since the beloved institution's founding in 1949 (bard Robert Frost was among its earliest clientele).
So far this season, daily sales at the Vermont Book Shop are solid, although shoppers traditionally don't buy in abundance until closer to Christmas. The shop local movement is strong in Middlebury--customers make purchases and share with others that they're keeping their business in the community. Residents from neighboring towns help boost sales in December, drawn in by the robust line-up of "A Very Merry Middlebury" festivities taking place throughout the month, as do people who come to visit family in the area and shop at the last minute.
This year Dayton has increased the number of holiday-themed e-newsletters, sending one per week and each focusing on a different type of book: nonfiction, fiction, children's picture books and local authors. The newsletters "really do seem to help people figure out what they want," noted Dayton. The tomes promoted are also given visibility in the window and on a front-of-the-store table display.
Three of the Vermont Book Shop's current top sellers were featured in the nonfiction newsletter, along with a coupon for a 15% discount--Jon Meacham's Thomas Jefferson: The Art of Power, Cheryl Strayed's Wild: From Lost to Found on the Pacific Crest Trail and Andrew Solomon's 976-page Far from the Tree: Parents, Children, and the Search for Identity.
Among the titles touted in the fiction newsletter are B.A. Shapiro's The Art Forger, a Dayton favorite (she describes herself as a junkie for books featuring art history), and signed copies of One Last Thing Before I Go by Jonathan Tropper, an author the store's buyer turned her on to. Not a frequent thriller reader, she delved into William Landay's Defending Jacob at the suggestion of a sales rep and enjoyed the "fun, Grisham-like" story.
In the highly popular staff picks section, Dayton recommends Eowyn Ivey's "absolutely magical" novel, The Snow Child, and Jeanne Darst's "hilarious" memoir, Fiction Ruined My Family. Another favorite staff handsell is the picture book Hippo and Monkey by Josh Yunger, a woodcut artist and former Vermont Book Shop employee.
Vermont-related merchandise, including offerings by local writers, is particularly popular this time of year. Some of the titles highlighted for gift-giving are the YA novel Walking into the Wild by Nancy Means Wright, the story of three siblings and their journey through the state in 1782, and Gary Margolis's Seeing the Songs: A Poet's Journey to the Shamans in Ecuador. Megan Price has a good shot at a repeat performance as the store's #1-selling scribe this holiday season. Volumes one and two in her humorous series Vermont Wild: Adventures of Fish & Game Wardens--equally enticing to both kids and grown-ups--were runaway hits in 2010 and 2011. The recently published third installment could cement Price's place in Vermont Book Shop history by unseating J.K. Rowling on the store's bestselling author roster.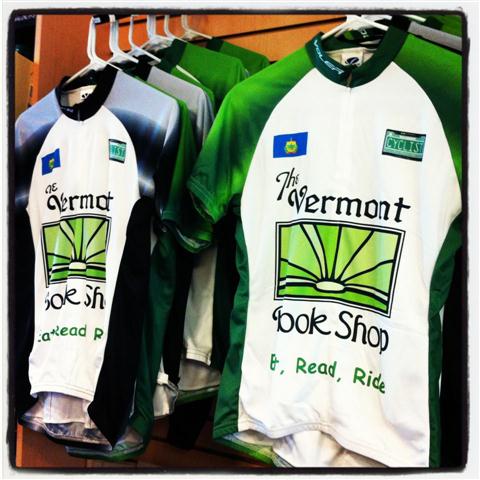 Items only to be found at the Vermont Book Shop are cycling jerseys emblazoned with the store name, available in men's and women's sizes and a variety of styles. "It's where the other part of my life touches my work," said Dayton, an avid road biker. (Area novelist Chris Bohjalian's wife bought him a jersey.)
Dayton sometimes makes home deliveries to elderly customers who no longer drive and occasionally to others as well. A regular who does his annual holiday shopping at the store recently placed a $600 order. Felled by the flu, he couldn't make it to the shop to pick up the merchandise and so Dayton drove it to his doorstep.
"He was horrified that I had gone so far out of my way, but I enjoy doing that kind of thing for customers," Dayton said. "One thing we can do really different from Amazon is personally deliver you your books. It felt good to do it, and it served us well because we now have more room on our hold shelf for other people's books." --Shannon McKenna Schmidt


Notes
Image of the Day: Humor in Truth in Advertising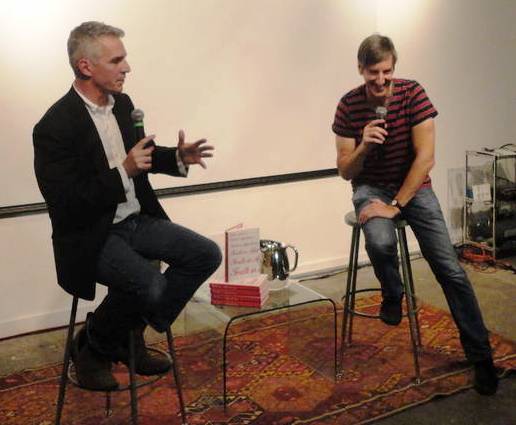 Last night, the advertising and design firm Mother NY hosted a party for debut novelist--and former ad man--John Kenney to celebrate the publication of Truth in Advertising (Touchstone, January 22), culminating in a q&a session with fellow New Yorker contributor Andy Borowitz. (Borowitz's participation, joked Mother NY partner Michael Ian Kaye, was a returned favor, for the time Kenney lent Borowitz a diaper for his baby daughter while they were waiting out a five-hour flight delay. Diapers figure in the plot of Kenney's novel.) As the two talked about Kenney's ad career, and why his novel isn't just another advertising satire, a dog wandered around the studio, making its way back to the interview every few minutes--giving them repeated opportunities for laugh lines, as if they needed more openings. --Ron Hogan


Library Tour: 'Gorgeous European' & 'Beautiful School'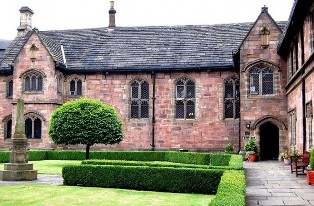 Mental Floss, which has "seen great libraries from all over the world," including Asia, Africa, South America, North America, Australia/New Zealand and Europe, showcased "9 more gorgeous European libraries."

---

Buzzfeed highlighted its picks for the "10 most beautiful school libraries in the world."



Personnel: Davidson to Hachette; Ziccardi Leaves S&S
Effective January 7, Gary Davidson is joining Hachette Book Group as Hachette Nashville's v-p of Christian Booksellers Association sales and marketing. He has worked at Thomas Nelson for 15 years, most recently as senior v-p, sales, and senior v-p and Bible Group publisher.
---
Anthony Ziccardi has left his position as deputy publisher of Gallery Books, Threshold Editions and Pocket Books. He has worked at the group for seven years.


Book Trailer of the Day: Irene the Elephant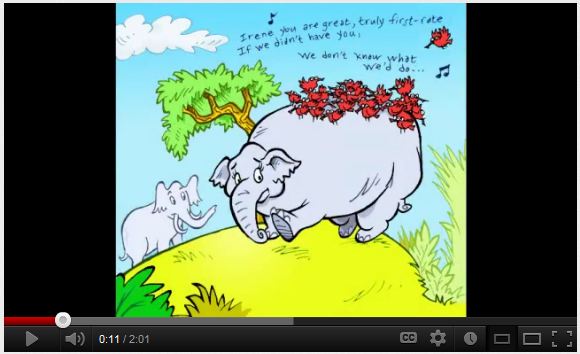 Irene the Elephant by Geraldine Guadagno, illustrated by Jeffrey Zwartjes (New City Press).


Media and Movies
Media Heat: Christine Schutt Introduces Prosperous Friends
Tomorrow on KCRW's Bookworm: Christine Schutt, author of Prosperous Friends (Grove Press, $24, 9780802120380). As the show put it: "Two artists find themselves in an inexplicable and unhappy marriage in Christine Schutt's Prosperous Friends, a novel written in hypnotic prose. Schutt describes the writing process as one in which concrete detail, poetic rhythm, and instinctual knowledge of character replace conventional narrative propulsion. The results are gripping, suspenseful, and thoroughly ambiguous."

---

Tomorrow night on the Tonight Show with Jay Leno: Bill O'Reilly, co-author of Killing Kennedy: The End of Camelot (Holt, $28, 9780805096668).




Movie Trailers: Foxfire; Boxing Day
The first trailer, new images and a poster have been released for Foxfire, director Laurent Cantet's (The Classic) adaptation of the novel by Joyce Carol Oates. Indiewire noted that despite being based on a work by an American author, the film still lacks North American distribution, but will open in France January 2.

---

Bernard Rose's new film Boxing Day is an adaptation of Leo Tolstoy's story "Master and Man" and stars Danny Huston "as an ambitious businessman being driven around Colorado by his forthright chauffeur (Matthew Jacobs)," the Guardian reported.



Books & Authors
Awards: Golden PEN; Bad Sex
Linton Kwesi Johnson, the "father of dub poetry," won this year's Golden PEN Award, which recognizes a lifetime's distinguished service to literature, the Guardian reported. Previous winners of the prize include Harold Pinter, J.G. Ballard and Doris Lessing.

English PEN president and author Gillian Slovo described Johnson as "an artistic innovator, a ground-breaker who has used poetry to talk politics and who first gave voice to, and who continues to give voice to, the experience of moving country and of living in this one."

Johnson commented: "I hope that by conferring on me this award, English PEN will involve more black writers in its important work and that more black writers will support English PEN."

---

Conceding that a "long, shuddering gasp of relief will no doubt have been heard from the losers," the Guardian reported that Canadian author Nancy Huston won the Literary Review's Bad Sex Prize for Infrared. The judges noted her vivid imagery, including such descriptions as "flesh, that archaic kingdom that brings forth tears and terrors, nightmares, babies and bedazzlements" and "my sex swimming in joy like a fish in water."

Huston was not present to accept the award, but issued a statement: "I hope this prize will incite thousands of British women to take close-up photos of their lovers' bodies in all states of array and disarray."



Pennie Picks The Paris Wife
Pennie Clark Ianniciello, Costco's book buyer, has chosen The Paris Wife by Paula McLain (Ballantine, $15, 9780345521316) as her pick of the month for December. In Costco Connection, which goes to many of the warehouse club's members, she wrote:


"If I were to say the name Ernest Hemingway, would a love story come to mind? My guess is that most of you would think of his time spent as a war correspondent, his novels or his tragic end. In this month's book buyer's pick, readers get a look at an oft-hidden side of the great writer: Hemingway in love.

"The novel begins the day Hadley Richardson meets a young--and already larger-than-life--Ernest Hemingway. After a whirlwind courtship, they sail to Paris, where they are part of the Lost Generation.

"Hadley was the first of Hemingway's four wives, so it's no secret that their relationship didn't last. Nonetheless, I kept hoping for the best. At the end, all that was left was praise for McLain for giving readers such a lovely, moving and haunting book."




Book Brahmin: Ania Ahlborn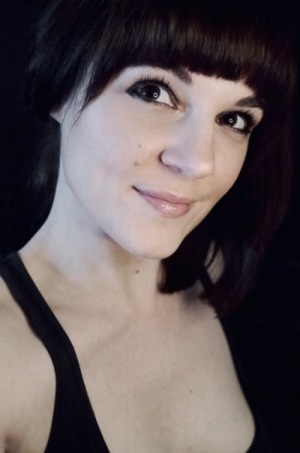 Born in Ciechanow, Poland, Ania Ahlborn has always been drawn to the darker and sometimes morbid sides of life. Her earliest childhood memory is of crawling through a hole in the chain link fence that separated her family home from the cemetery next door. She'd spend hours among the headstones, breaking up bouquets of silk flowers so that everyone had an equal share. Her second novel, The Neighbors (Thomas & Mercer, November 27, 2012), is a tale of psychological suspense. Ahlborn lives in New Mexico with her husband and two dogs.
On your nightstand now:
Those Across The River by Christopher Buehlman. I'm a fan of period books that still manage to feel fresh and modern. The fact that Buehlman manages to give the 1900s a contemporary feel while blending it with the grit of Southern gothic, well... how could I resist?
Favorite book when you were a child:
Where the Sidewalk Ends by Shel Silverstein. I wasn't a big reader when I was a kid, partly because I didn't speak a word of English when we moved to the States. Shel was accessible, and the rhyming made the language easier. I catch myself dissecting the cadence of sentences when I write, sometimes rewriting it to give it a lyrical quality. I like to fool myself into thinking that I do this because of an early poetic influence, not because I'm slowly developing writer's OCD.
Your top five authors:
Stephen King, Bret Easton Ellis, John Ajvide Linqvist, J.T. Leroy, Poppy Z. Brite.
Book you've faked reading:
Nearly all of Hemingway's oeuvre. Leave it to an author-dedicated college course to suck the life out of an entire body of work. The only pieces I trekked through fully were The Old Man and the Sea and A Farewell to Arms, which were assigned in high school. Surprisingly enough, Cliffs Notes are easier to get away with in college.
Book you're an evangelist for:
Not that Stephen King needs more people championing his work, but Full Dark, No Stars blew me away. There's something so incredibly menacing about that book. Human beings are capable of such mind-bending acts of evil, and Full Dark explores that beautifully.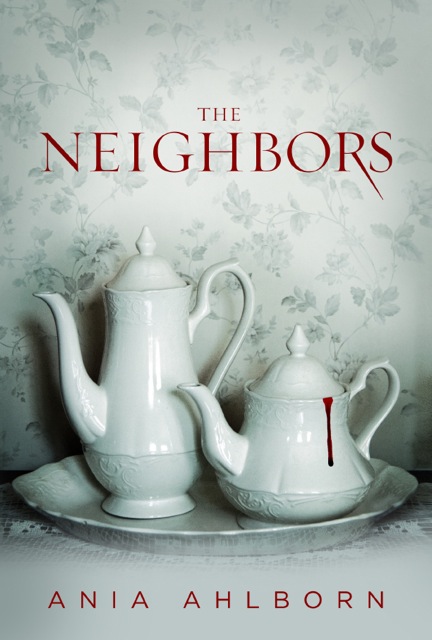 Book you've bought for the cover:
Mr. Peanut by Adam Ross. I bought the version with the pixelated skull on the cover. Leave it to me to be charmed by a dot-matrix cranium.
Book that changed your life:
American Psycho by Bret Easton Ellis. Ellis had already convinced me that I needed to be a writer with his earlier work, but American Psycho taught me a dangerous lesson--anything goes as long as you do it well. American Psycho was the first book that ever made me physically react to prose. Some of the scenes had me crawling out of bed so that I could bend over a toilet. Granted, I read it while sick with the stomach flu, but I stand firm when I say my illness was 10% virus and 90% unflinching literary carnage.
Favorite line from a book:
It's a line from Bret Easton Ellis's American Psycho. A date asks Patrick Bateman what he does for a living: "I'm into, oh, murders and executions mostly. It depends." She doesn't even flinch, understanding "mergers and acquisitions." It's hilarious and terrifying all at once. I think that woman went home with him later, and you can guess what happened to her. Poor girl.
Book you most want to read again for the first time:
The Strain (book one) by Guillermo del Toro and Chuck Hogan. I'll be honest, I'm not into techno-horror, and The Strain really lays it on thick toward the end, so it pretty much lost me about 75% of the way in. But the first half of that book is incredible. The tension, especially in the first few chapters, is what I love about the horror and thriller genres.
Biggest horror novel pet peeve:
Indian burial grounds and aliens. I can't stand it when these two clichés are used as answers. And I don't mean alien abductions, those are fine. I mean just plain ol' aliens. "Why is all this crazy stuff happening?" asks character one. "Aliens," replies character two. I've seen it done, and I had to drop my Kindle to smack my hand against my forehead. Endings are hard, but the cop-outs make me nuts.


Book Review
Children's Review: Lincoln's Grave Robbers
Lincoln's Grave Robbers by Steve Sheinkin (Scholastic, $16.99 hardcover, 224p., ages 10-14, 9780545405720, January 1, 2013)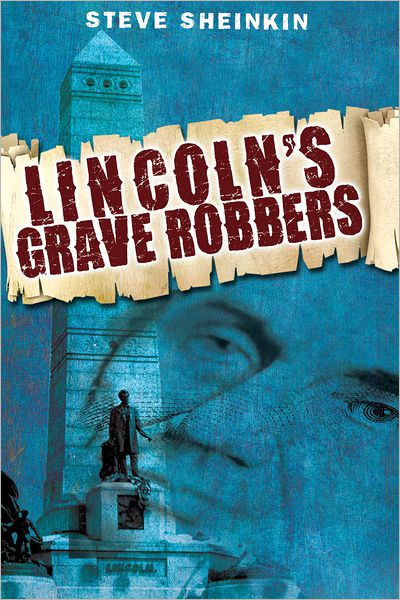 National Book Award finalist Steve Sheinkin (Bomb) starts his latest nonfiction odyssey with Pete McCartney's great train escape in 1864 western Pennsylvania. A counterfeiter who'd bribed his way out of many a jam, McCartney thought it might be harder to buy a pass from Old Capitol Prison in Washington, D.C., and so decided to leap from a moving train.
McCartney's brother-in-law Benjamin Boyd was an even more gifted counterfeiter. Boyd's father, a master engraver, trained his son well, and his talents came to the attention of Nat Kinsey, a gifted platemaker himself. Kinsey trained the younger Boyd in the art of counterfeit plates. Boyd was "considered the best letterer on steel in the country, or the world." He was so good that the guys in his ring plotted to steal President Lincoln's corpse and hold it for ransom: Boyd's freedom from prison in exchange for the 16th president's body restored to his sarcophagus. (Ironically, President Lincoln was the one who signed into law the Legal Tender Act, which allowed the U.S. Treasury to print paper currency.)
Sheinkin begins with a true crime set-up as an entry point, then fills in details about the logistics of counterfeiting and the original mission of the Secret Service (to catch the counterfeiters), and spices up the account with delicious slang. "Shovers" moved the "coney" (counterfeit money) around; "ropers" informed on their pals; "body snatchers" or "ghouls" plucked newly buried corpses from the graves, often for good pay from the medical profession. The author sticks to the facts and never speculates. While describing a key meeting of the grave robbery plotters, he writes, "None of the participants kept a record of this closed-door meeting, but we can piece one together based on later events."
Sheinkin admitted on a BEA panel a couple years ago that, as a former textbook writer, "his best stories were rejected" by the textbook editors. Luckily for us, he kept those best stories for his own books. For budding history buffs and fans of detective stories, this tale of a thieving crew will keep readers riveted from start to finish. --Jennifer M. Brown
Shelf Talker: NBA finalist Steve Sheinkin's tale of a counterfeiting ring that plots to steal Lincoln's corpse to spring a skilled platemaker from jail will fascinate readers.


The Bestsellers
Top Book Club Picks in November
The following were the most popular book club books during November based on votes from readers and leaders of more than 80,000 book clubs registered at Bookmovement.com:

1. Gone Girl by Gillian Flynn
2. The Light Between Oceans by M.L. Stedman
3. The Night Circus by Erin Morgenstern
4. The Casual Vacancy by J.K. Rowling
5. What Alice Forgot by Liane Moriarty
6. The Immortal Life of Henrietta Lacks by Rebecca Skloot
7. Wild: From Lost to Found on the Pacific Crest Trail by Cheryl Strayed
8. Unbroken: A World War II Story of Survival, Resilience, and Redemption by Laura Hillenbrand
9. The Kitchen House by Kathleen Grissom
10. The Paris Wife by Paula McLain

Rising Stars:

The End of Your Life Book Club by Will Schwalbe
Killing Lincoln: The Shocking Assassination that Changed America Forever by Bill O'Reilly and Martin Dugard

[Many thanks to Bookmovement.com!]