Shelf Awareness for Thursday, January 24, 2013

Quotation of the Day
'A Really Good Bookstore Is Not a Doughnut Shop'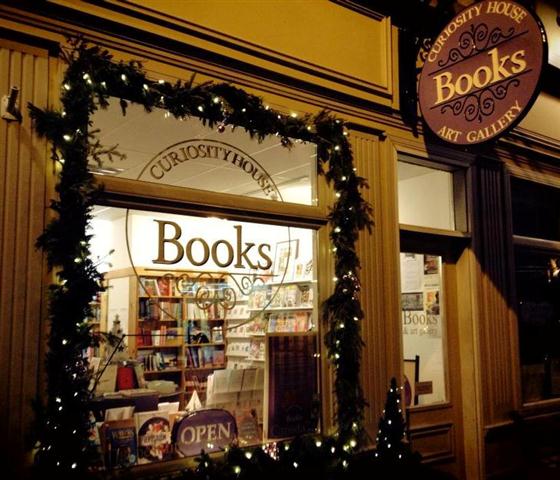 "Maybe the solution [for independent bookstores] is to stop viewing such places simply as businesses that must succeed or fail according to the market, like doughnut shops or nail salons. A really good bookstore is not a doughnut shop; it is a social good. As citizens--and even potential investors--we need to put our money where our moany old mouths are."


News
WH Smith Adding New Stores in U.K.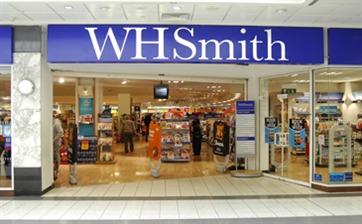 U.K. bookstore chain WH Smith is celebrating a successful holiday season with plans to open about six more stores this year "as better buying terms in the Far East, less discounting after Christmas and a shift towards more profitable stationery products offset a 5% drop in underlying sales in the 20 weeks to January 20," the Guardian reported, noting that the company "found £4 million [US$6.3 million) of savings at its high street stores."

"We were pleased with our performance in a tough environment," said CEO Kate Swann. "We are in a fortunate position that we know we have got a good balance sheet and are very cash generative so can keep growing."

WH Smith will also spend £5 million this year expanding Funky Pigeon, the online card store it bought three years ago that had "strong double-digit sales growth this Christmas," the Guardian wrote. Swann said the company's online business would become profitable this year.


Personnel Changes: Dupuis, Boyle, Belfiglio, Polito
Kobo has hired Jean-Marc Dupuis, a former Apple sales director, as its new managing director for Europe, the Middle East and Africa. Based in Paris, Dupuis has more than 25 years of experience in the technology industry and will work with Wayne White, Kobo's executive v-p and general manager of devices, to oversee the company's expansion strategy in EMEA.

Kobo CEO Michael Serbinis said Dupuis's "knowledge of the digital space, coupled with his experience running billion dollar businesses at companies like Apple, make him an integral part of the Kobo team. Together we'll push forward the company's 2013 objectives, with European expansion being a top priority."
---
Effective February 4, David Boyle will join HarperCollins as senior v-p, consumer insight, a new position. He will work with all divisions of the company globally to "incorporate consumer insight into the company's main practices--from acquisition to sales," Harper said. "By providing the business with a better and deeper understanding of consumer behavior and attitudes towards books, authors, book discovery and purchase, he will support and guide product and business development activities, as well as inform the creation of our direct-to-consumer and marketing capabilities.
Boyle reports to chief digital officer Chantal Restivo-Alessi, who commented: "As digital becomes a greater part of our business, we have to better understand our consumers. Having David join us in this consumer insight role will enable us to better extend the reach of our authors from both a marketing and sales perspective."
Boyle was formerly senior v-p of insight for EMI Music, and earlier was director of insight at zeebox and worked at New Philanthropy Capital and L.E.K. Consulting and DSG International. He has also done work for the Labour Party in the U.K. and the Democratic Party in the U.S.
---
As part of the recent reorganization that created the Scribner Publishing Group of Simon & Schuster, effective February 19, the Scribner and Touchstone publicity departments will both report to Brian Belfiglio, v-p, director of publicity. He joined Scribner in 2007.
At the same time, Marcia Burch, v-p, director of publicity for Touchstone, is leaving the company on February 15.
---
Effective July 8, poet, critic and biographer Robert Polito will become president of the Poetry Foundation. Until then, John Barr, who announced his retirement last year, will continue as president and help the transition.
For more than 20 years, Polito has been director of creative writing at the New School, where he founded the MFA Program in Creative Writing and the Riggio Honors Program: Writing and Democracy.


Amazon.ca Selling Kindle E-Readers

Effective yesterday, Canadian customers can now order Kindle e-readers through Amazon.ca, marking the latest move by the company in Canada following December's launch of the Kindle Store as well as the addition of the Prime option last month.

Pricing for the devices through Amazon.ca are comparable to U.S. retails, with the Kindle selling for $89, Kindle Paperwhite for $139 and Kindle Paperwhite 3G for $199. The Kindle Fire is not available through Amazon.ca at this point.


The Wild Detectives Bookstore to Open in Dallas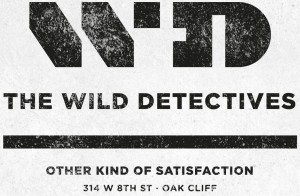 Calling it a "developing plot," the Dallas Morning News reported that a group of investors is working on a deal to open a bookstore called the Wild Detectives in Bishop Arts district of the city's Oak Cliff neighborhood.

"We love the neighborhood. There's a lot of cool places there," said Javier Garcia del Moral, one of the investors. "We want to have a place for creative people to hang out."

He and business partner Paco Vique chose the name as "a word play on the title of a novel [The Savage Detectives] by a favorite author, Roberto Bolaño," the Morning News wrote. They hope to open the Wild Detectives, "a venue for readings and lectures, browsing and buying with offerings of coffee, wine, beer, food and vinyl records," by late spring.


Last Borders Auction: Flagship Sign for Sale Online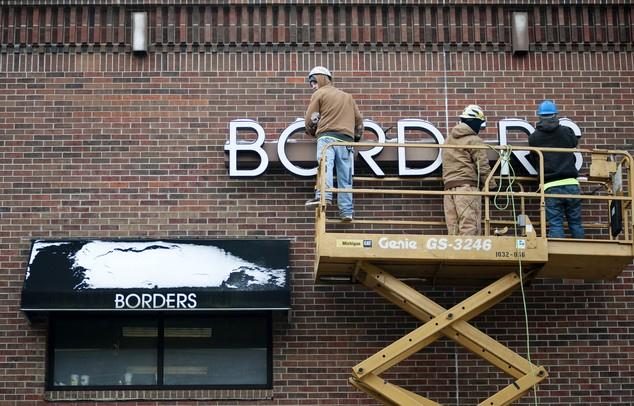 photo: Daniel Brenner
The Borders Books & Music sign from the flagship Borders store in Ann Arbor, Mich., has been put up for charitable auction by the Book Industry Charitable Foundation, with all money raised going to Foundation programs that assist bookstore employees with emergency financial grants. The sign had been removed New Year's Eve and was donated by building owner Malcolm Properties to the Foundation.
Through January 31, anyone can bid on the letters online. The two-foot-tall letters, made out of metal and Plexiglas, "are waiting to adorn your bookshelf, wall, cupboard, indoors or out--wherever you want a little fun," the Foundation says. "Whether you want one of the distinctive B's, your initials, a favorite letter, or enough letters to spell out a special word or name, be sure to bid early and often!"


Lance Armstrong Lawsuit: It's About the Bilk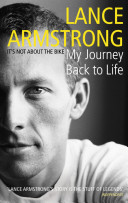 Two readers of Lance Armstrong's It's Not About the Bike filed suit Tuesday against him and his publishers in U.S. District Court of California, claiming the book (as well as his Every Second Counts) "is a fraud based on lies and false advertising," USA Today reported, adding that the suit "seeks class-action status on behalf of other readers and is asking for refunds and other costs." In a highly publicized interview with Oprah Winfrey last week, Armstrong admitted he had cheated during his cycling career.


Notes
Image of the Day: Happy Panel Subject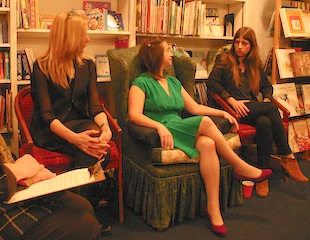 Last Wednesday, Watchung Booksellers, Montclair, N.J., hosted a combination party and Writing Matters event for Jenny Milchman, creator of Take Your Child to a Bookstore Day and co-host of the very same Writing Matters series, on the occasion of the publication of her first novel, Cover of Snow (Ballantine). Some 80 people heard the panel talk about "From Conception to Publication: Bringing a Novel Out from a Major House Today." From left: Milchman's editor, Linda Marrow, senior v-p at Ballantine; Milchman; and her agent, Julia Kenny of the Markson Thoma Literary Agency.


Barbara Meade: 'Able to Absorb New Books Gradually'
The Washington Post has a q&a with the delightful Barbara Meade, longtime co-owner of Politics & Prose, who earlier this month announced that she has retired from bookselling.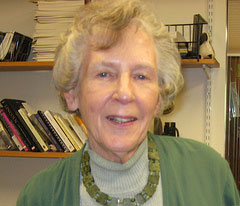 In our favorite part, which makes retirement tempting, Meade was asked what it's like being a book customer now. She responded: "I enjoy being able to sit down and read a chapter of a book, see whether I'm interested in buying it or not. I'm learning a lot about what it feels like to be a customer. It feels--I'm trying to think of the right word--overwhelming, in the sense that there are so many to look at, so much that is new all the time. When you have a regular schedule, you don't have to deal with such an onslaught of new books. You can absorb them gradually."


Videos of the Day: Daedalus Does Downton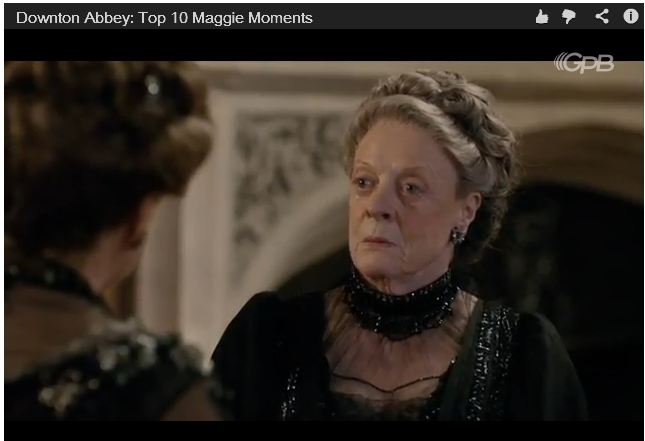 Daedalus Books has assembled an entertaining collection of Downton Abbey-related videos. We especially enjoyed "Top 10 Maggie Moments."


Book Trailer of the Day: Indiscretion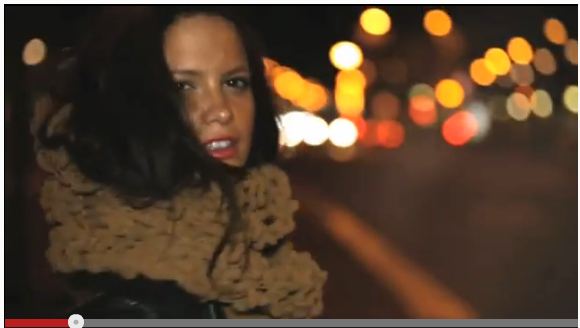 Indiscretion, a debut novel by Charles Dubow (Morrow).


Media and Movies
Media Heat: After the Music Stopped
Tomorrow on CNBC's Squawk Box: Alan S. Blinder, author of After the Music Stopped: The Financial Crisis, the Response, and the Work Ahead (Penguin Press, $29.95, 9781594205309). He will also appear on Bloomberg's Taking Stock with Pimm Fox and Bloomberg Radio's Hays Advantage.


This Weekend on Book TV: Sonia Sotomayor
Book TV airs on C-Span 2 this week from 8 a.m. Saturday to 8 a.m. Monday and focuses on political and historical books as well as the book industry. The following are highlights for this coming weekend. For more information, go to Book TV's website.

Saturday, January 26
5 p.m. Barbara Matusow talks about the life and career of her late husband, Jack Nelson, and his memoir Scoop: The Evolution of a Southern Reporter (University Press of Mississippi, $26, 9781617036583) with former President Jimmy Carter, Andrew Young and Terry Adamson. (Re-airs Sunday at 8 p.m.)

7 p.m. Max Boot presents his book Invisible Armies: An Epic History of Guerrilla Warfare From Ancient Times to the Present (Liveright, $35, 9780871404244). (Re-airs Monday at 2 a.m.)

8 p.m. Supreme Court Justice Sonia Sotomayor discusses her memoir, My Beloved World (Knopf, $27.95, 9780307594884). (Re-airs Sunday at 10 p.m.)

9 p.m. John Allison talks about his book The Financial Crisis and the Free Market Cure: Why Pure Capitalism is the World Economy's Only Hope (McGraw-Hill, $28, 9780071806770). (Re-airs Sunday at 5 p.m.)

10 p.m. After Words. Russell Wild, Saturday Evening Post financial contributor, interviews Helaine Olen, author of Pound Foolish: Exposing the Dark Side of the Personal Finance Industry (Portfolio, $27.95, 9781591844891). (Re-airs Sunday at 9 p.m. and Monday at 12 a.m. & 3 a.m., and February 3 at 11 a.m.)

11 p.m. Jared Diamond presents his book The World Until Yesterday: What Can We Learn from Traditional Societies? (Viking, $36, 9780670024810). (Re-airs Sunday at 2 p.m.)

Sunday, January 27
9 a.m. Co-authors Flynt Leverett and Hillary Mann Leverett talk about their book Going to Tehran: Why the United States Must Come to Terms with the Islamic Republic of Iran (Metropolitan, $32, 9780805094190). (Re-airs Sunday at 11 p.m.)

6:45 p.m. William Rhodes discusses his book Banker to the World: Leadership Lessons From the Front Lines of Global Finance (McGraw-Hill, $25, 9780071704250) with Harold McGraw III, president and CEO of McGraw-Hill Companies. (Re-airs Monday at 6:45 a.m.)


Books & Authors
Awards: Man Booker International Shortlist; RoNA Finalists
A shortlist of 10 authors, including two Americans, has been announced for the Man Booker International Prize, which awards £60,000 (US$ 94,966) to the winner, who can also choose a translator of their work to receive an additional £15,000. This year's prize recipient will be named May 22 in London. The 2013 Man Booker International Prize finalists are:

U.R. Ananthamurthy (India)
Aharon Appelfeld (Israel)
Lydia Davis (U.S.)
Intizar Husain (Pakistan)
Yan Lianke (China)
Marie NDiaye (France)
Josip Novakovich (Canada)
Marilynne Robinson (U.S.)
Vladimir Sorokin (Russia)
Peter Stamm (Switzerland)

---

Finalists for the 2013 Romantic Novelists' Association Awards have been named. The category winners will be announced February 26 in London. Each category winner will receive a crystal trophy and move on to contest the RNA's Romantic Novel of the Year, which will be announced on May 16. See the complete RoNA shortlist here.


Attainment: New Titles Out Next Week
Selected new titles appearing on Tuesday, January 29:

Until the End of Time: A Novel by Danielle Steel (Delacorte, $28, 9780345530882) follows two couples separated by several decades.

The Future: Six Drivers of Global Change by Al Gore (Random House, $30, 9780812992946) tracks technological and social trends shaping the world.

The Tin Horse: A Novel by Janice Steinberg (Random House, $26, 9780679643746) recalls an elderly woman's adolescence in 1930s Los Angeles.

Fresh Off the Boat by Eddie Huang (Spiegel & Grau, $26, 9780679644880) is the memoir of a Taiwanese restaurant owner.


Now in paperback:

Tuf Voyaging by George R.R. Martin (Bantam, $16, 9780345537997).

Love Unrehearsed: The Love Series, Book 2 by Tina Reber (Atria, $15.99, 9781476718972).


Book Review
Review: All This Talk of Love
All This Talk of Love by Christopher Castellani (Algonquin, $13.95 paperback, 9781616201708, February 5, 2013)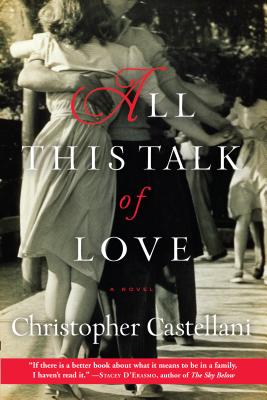 All This Talk of Love is the conclusion of a trilogy Christopher Castellani began with 2004's A Kiss from Maddalena, and it is by far the best of the three novels. Castellani has hit his writerly stride in exploring the hopes, wishes and dreams of an Italian-American family: Antonio and Maddalena Grasso, their daughter, Prima, and their son, Frankie. Another son, Tony, died at 15; his presence and his absence hover over all of them.
Prima decides, unilaterally, that she is taking the whole family--including her husband and their four sons--to Santa Cecilia, the Italian village where her mother was born. She makes this grand announcement at the birthday of her teenage twin boys, Matt and Zach. The tickets are paid for, the itinerary decided--then Maddalena balks. She has no desire to go back to the town she left more than 50 years ago. She is estranged from her brother and sister; furthermore, her sister married Vito, the man she really loved. (A Kiss from Maddalena tells the full story.) A full-blown soap opera ensues with Prima and Maddalena at odds about everything, not just the trip. The men in the family mostly stay out of the way.
Castellani, in this third novel, adds dimension to his characters, giving each of them believable reasons for their actions, making the reader's sympathies alternate between Maddalena and Prima. Even Frankie, a Mama's boy, is endearing, making us root for him when he finally meets the right girl.
Fate intervenes in three ways: Prima and her youngest son, Patrick, are in an automobile accident that leaves Prima needing therapy; Frankie moves home to finish his Ph.D. dissertation; Maddalena begins the long slide into Alzheimer's, suffering from memory lapses and sometimes failing even to recognize Antonio. The trip is off.
But Antonio, seeing Maddalena slipping away, knows he must get his house in order. He arranges for his eldest grandson, Ryan, to manage his very successful restaurant for the summer, just to see how he takes to it, then insists that the trip to Italy is on again. Maddalena goes along without objection. Prima hopes that when her mother sees her sister and brother she will recognize and forgive them. What happens in Italy is an act of kindness on Antonio's part that gives Maddalena back to Prima and Frankie for a moment--a pure act of love. --Valerie Ryan
Shelf Talker: A lovely and loving story of an Italian-American family, not far from their roots, coping with loss, old myths and memories.