Shelf Awareness for Friday, January 25, 2013

News
Macmillan to Start E-Lending Program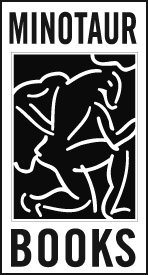 On the eve of the ALA Midwinter Meeting, Macmillan is making "a select group" of e-books available to libraries for e-lending, the publisher's first such program.

The pilot program will begin in the next two months and include more than 1,200 backlist titles from Minotaur Books, the mystery and crime fiction imprint at St. Martin's Publishing Group. Using the agency model, the books will be available in the beginning through Baker & Taylor's Axis 360 Digital Media Library, OverDrive and the 3M Cloud Library. Libraries will be able to lend the purchased e-book for two years or 52 transactions, whichever comes first.

Macmillan CEO John Sargent commented: "Librarians have been asking for e-books from Macmillan for their collections. Among the many titles we publish, mystery and crime fiction makes up one of the largest categories and Minotaur Books is the primary source. And, as the library market has always been one of Minotaur's largest customers, we think that this pilot will provide books especially desired by library patrons. At the same time we do not expect it will heavily impact our retail sales over time."


GABBS & SIBA in the Springtime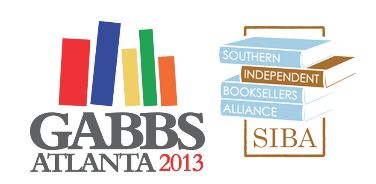 The Southern Independent Booksellers Alliance and Atlanta's Great American Bargain Book Show will partner March 15-17 for GABBS and SIBA in the Springtime, which will be held in conjunction with the Atlanta Spring Gift, Home Furnishings & Holiday Market Show. In addition to the benefits of SIBA education sessions and access to GABBS, this new partnership also includes entry to AmericasMart Atlanta.

On the Thursday before GABBS, SIBA will offer "Diversification, the Key to Increased Sales," a new $99 Day of Education addressing the following topics:
Increasing your profit margin with the care and repair of remainders and antiquarian books
Adding used books to the mix
Buying used books for the general bookstore
Personal success stories from some of the best booksellers in the country who are finding and keeping customers in new and inventive ways

Faculty Members include Gayle Shanks of Changing Hands Bookstore, Tempe, Ariz.; Janet Bollum of the Muse Book Shop, DeLand, Fla.: Jamie Fiocco of Flyleaf Books, Chapel Hill, N.C.; and Shane Gottwals of Gottwals Books, with five locations in Georgia.


Booksellers Love Valentine's Day Sales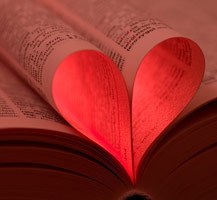 Consumers spent an estimated $17.6 billion for Valentine's Day gifts last year and independent booksellers nationwide are currently making plans to capture some of those sales next month, Bookselling This Week reported.

"We keep it varied to have something for everyone while staying uniquely Housing Works," said Amanda Bullock, director of public programming at New York City's Housing Works, which hosts a week of Valentine's Day activities. She added that bookstores and Valentine's Day fit well together "because books make us all better lovers.... And because book nerds are my favorite people, I love excuses to hang out with them and force them to try to date each other, it's so much fun."

At Vroman's Bookstore, Pasadena, Calif., several events are planned for the week before Valentine's Day. "Bookstores are filled with shelf after shelf of love stories" said Rachel Ormiston, digital media coordinator. "We know that people who look for Valentine's Day gifts at our store are looking for something exciting and different, so it's a wonderful opportunity to show people that Valentine's gifts are about more than fancy dinners and flowers and chocolate-giving, sometimes a book is a perfect way to tell someone that you love them!"

Children's booksellers are prepping for Valentine's Day as well. Broche Fabian, buying and events manager at the Curious George Store, Cambridge, Mass., said, "We love big holidays like this. The customers understand the theme, we have books and toys to display that are subject-specific, and it provides us a great opportunity to interact with our community. There are so many different types of love to celebrate on Valentine's Day, with a book out there for each type."


Name Change for Wyoming's University Bookstore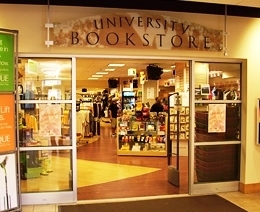 Sign of the times. The University Bookstore, owned by the University of Wyoming in Laramie, is being renamed the University Store.
Store manager Misty Eaton said, "Our goals for the rebranding were simple. First, we are much more than a bookstore and wanted our name to accurately reflect the broad range of services and products we make available on a daily basis. Second, we are proud to be part of UW and felt there was an opportunity to further UW's brand with a revision to our logo."


Beijing Gets 24-Hour Bookstore
Beijing will get its first 24-hour bookstore at the China Beijing Publishing Creative Industry Park, China.org reported. The bookstore is being opened by Beijing Genuine & Profound Culture Development Co., "whose current bookstores only have daytime business hours. But the parent company has applied for a 24-hour license."


China.org noted that Taiwan and Hong Kong already have successful 24-hour bookstores, but Feng Junke, head of the Beijing Municipal Bureau of Press and Publication, denied a recent rumor that Taiwanese bookstore chain Eslite will also land in Beijing soon. "There is no such application yet," he said.


Obituary Note: Richard G. Stern
Author Richard G. Stern, praised by Philip Roth as "an inspiring figure as a literature professor and an ace of great virtuosity as a novelist, short story writer, essayist and raconteur," died yesterday, the New York Times reported. He was 84. "I was faculty, but I used to go to his class and sit at the back," Roth said of Stern, who taught at the University of Chicago. "It was there I met Bellow. It was there I met Lowell and Berryman and Mailer." The author of 20 books of fiction and nonfiction, Stern's best-known novel was Other Men's Daughters (1973).


Notes
Image of the Day: Here Comes the Judge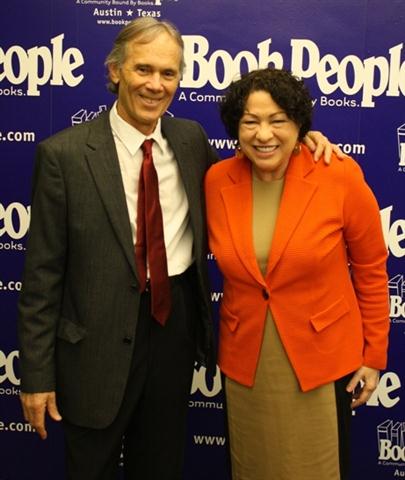 Supreme Court Justice Sonia Sotomayor spoke to a crowd of more than 1,000 at BookPeople in Austin, Tex., Wednesday evening. Afterward, she signed more than 1,000 copies of her memoir, My Beloved World (Knopf). Here Justice Sotomayor poses with Steve Bercu, CEO of Bookpeople and v-p/secretary of the ABA.


Beagle Booklovers Brave the Elements
Sub-zero temperatures and a wind chill factor in the -20s didn't keep bibliophiles from turning out last Saturday for the fourth annual "Night-In" at Beagle Books & Bindery in Park Rapids, Minn. The event, which is primarily for book club members seeking suggestions, is held the third Saturday in January for a reason, explained store manager Jennifer Wills Geraedts. It's enough time to have recovered from the holidays and, furthermore, the reality has begun to set in that months of winter are still on the horizon.


Attendees warmed up with hot cider and wine while Geraedts and her mother, Beagle Books owner Sally Wills, presented 21 discussion-worthy titles. They also received goodie bags containing Indie Next lists, posters, calendars and a brochure featuring the evening's spotlighted titles. Among the recommendations Daniel Smith's Monkey Mind: A Memoir of Anxiety and N.M. Kelby's White Truffles in Winter, a novel centered on French chef Auguste Escoffier. In addition, publishers provided some 70 books that were given away as prizes.

Fifty people came to this year's event, the biggest crowd yet. The inaugural Night-In gathering drew 17 people and was held in the store's basement. By the next year, it had been moved to a larger space on the main level. If the trend continues and even more book lovers brave the elements in 2014, said Geraedts, "We're either going to have to do some serious rearranging to more comfortably accommodate attendees or move off site." --Shannon McKenna Schmidt


Eowyn Ivey: 'How a Bookstore Changed My World'
"In the fall of 2001, a sign appeared in a storefront in Palmer, Alaska. 'Bookstore... Coming Soon,' " Eowyn Ivey, author of The Snow Child, wrote in an essay for the Pacific Northwest Booksellers Association's blog NW Voices headlined "How a Bookstore Changed My World."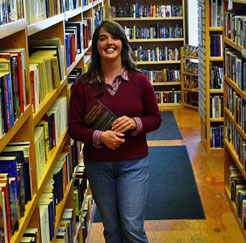 The Alaskan author/bookseller, a recent PNBA Award-winner, recounted her introduction to the world of bookselling in 2003 at Fireside Books in Palmer: "When I walked into Fireside Books and asked owner David Cheezem if they were hiring, I feared it might be one of the more insane, foolish things I had done.... Within a few weeks of getting the job, I no longer doubted myself--I was happy and inspired. My work days were about books and readers and literary discussions. I studied publisher catalogues, helped customers find and order books, dug through boxes of fascinating used books brought in for credit. Rather than draining me, my new occupation filled me with ideas and energy. Of course, every job has its downsides--the occasional rude customer, strippable returns, lost orders, damaged books. But all these are insignificant annoyances when you are doing something you love."


Book Trailer of the Day: Data, A Love Story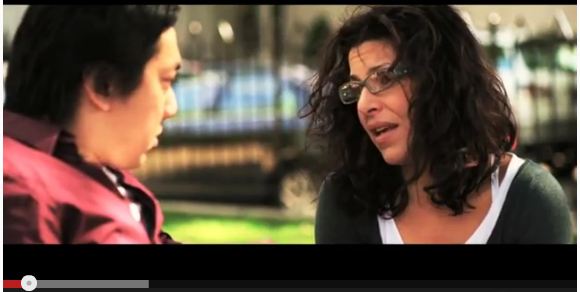 Data: A Love Story: How I Gamed Online Dating to Meet My Match by Amy Webb (Dutton).


Media and Movies
Media Heat: Dave Barry on Weekend Edition
Tomorrow on NPR's Weekend Edition: Dave Barry, author of Insane City (Putnam, $26.95, 9780399158681).
---
Tomorrow on Huckabee: Hoda Kotb, author of Ten Years Later: Six People Who Faced Adversity and Transformed Their Lives (Simon & Schuster, $25, 9781451656039). She will also appear on Sunday on NBC's Weekend Today in New York.
---
Sunday on CNN's Sunday Morning: Lisa Gardner, author of Touch & Go (Dutton, $26.95, 9780525953074).


Austenland: Clips, Stephenie Meyer & Summer Release
A pair of clips were released from Austenland, "showcasing the film's quirky, offbeat charm," Indiewire reported, adding: "You also get a pretty good taste of some of the cast, which includes Keri Russell, Jennifer Coolidge and Flight of the Conchords star Bret McKenzie."

At the Sundance Film Festival, where Austenland premiered last Friday, Twilight Saga author Stephenie Meyer, one of the producers, spoke with Deadline.com about the screen adaptation of Shannon Hale's novel that is the first feature movie from Meyer's Fickle Fish Films.

"I've always loved book adaptations," said Meyer. "I don't always love what comes out of it but I love the idea of it. Every time I read a book I'm casting it in my head. So producing for me started out as really cool hobby and Austenland was the perfect place to start."

Fickle Fish has also optioned other properties that are in the script stage now. "We found out that the only Lois Duncan book that was available to option was my favorite Lois Duncan book Down a Dark Hall," Meyer said. "So we acquired it and we're working on a script for it. It is really something to take a book that you loved when you were nine and have a chance to play around with it like that. It wasn't the plan, but we also have Kendare Blake's Anna Dressed in Blood too, so right now we are focusing on women authors. Maybe, I think, that books and then movies by women more naturally speak to women. But there are a lot of books by men that would be pretty exciting to do too so I'm sure that focus will change for us."

Sony Pictures Worldwide Acquisitions picked up the world rights to Austenland at Sundance for "midway between $4 million and $5 million, and Sony Pictures Classics will release the film in the summer," Deadline.com reported.


Books & Authors
Awards: Marsh for Children's Lit in Translation
Howard Curtis won the Marsh Award for Children's Literature in Translation "for his powerful translation of a bestselling Italian novel," In the Sea There Are Crocodiles" by Fabio Geda, the Guardian reported. Marsh judge Wendy Cooling praised the winning title, which tells the true story of a boy who escapes Taliban-occupied Afghanistan for asylum in Italy, as "a book to inspire and nourish young people."


Book Brahmin: Pam Jenoff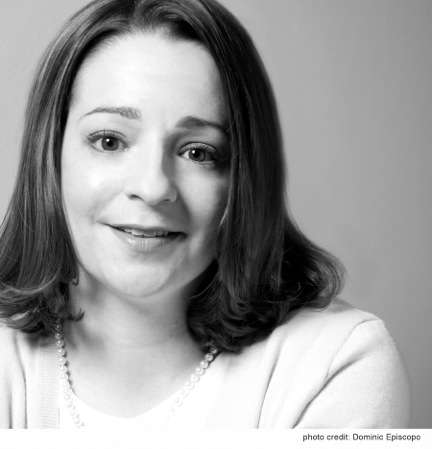 Pam Jenoff is the author of The Kommandant's Girl, The Diplomat's Wife and their prequel, The Ambassador's Daughter, to be published by Harlequin Mira on January 29, 2013. She served as special assistant to the Secretary of the Army at the Pentagon and was a Foreign Service officer in Poland. Jenoff lives with her husband and three children near Philadelphia where, in addition to writing, she teaches at Rutgers University's School of Law.
On your nightstand now:
It isn't on my nightstand yet, but I'm eager to read Flight Behavior by Barbara Kingsolver. I'm sure her prose will be as rich and insightful as ever, and I hope it will stay with me as much as The Poisonwood Bible.
Favorite book when you were a child:
Too many to name. Young adult and children's books are still my favorites, and I think that children's authors--Judy Blume, Paula Danziger, Beverly Cleary and the like--are deities! But one series, the Betsy/Tacy series by Maud Hart Lovelace (about a young girl in Minnesota at the turn of the 20th century), stands out. I also read a lot of children's Holocaust literature. I Am Rosemarie by Marietta Moskin and The Endless Steppe by Esther Hautzig were particularly memorable.
Your top five authors:
This is tough! I adore Tracy Chevalier (Girl with a Pearl Earring), Anita Shreve (The Pilot's Wife), Laura Lippman (What the Dead Know) and Kate Atkinson (Case Histories). And since I've listed only four authors, I'm going to step out of line for the fifth and mention some single titles I love: Air and Angels by Susan Hill (some of the most beautiful prose I've ever read); A Soldier of the Great War by Mark Helperin (I remember being stuck during a rail strike in a station in Lille, France, completely oblivious because I was lost in this wonderful tale); Away by Amy Bloom (incredibly moving); and People of the Book by Geraldine Brooks (it is the thinking Jewish woman's Da Vinci Code).
Book you've faked reading:
I haven't faked reading many books, but I have put down a number of books when the first few chapters didn't hold my attention. These include several books from my favorite authors, and I'm sure if I met those authors, I might bluff having finished their books. Of course, if I say which books, I won't be able to bluff!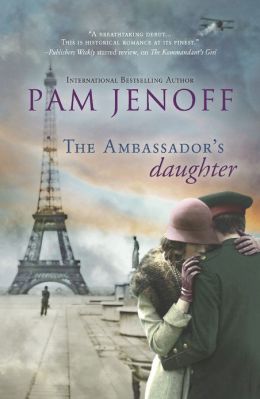 Book you're an evangelist for:
The Postmistress by Sarah Blake. As an author of 20th century historical fiction, I'm frequently asked about the wave of recent novels set during the Second World War. The Postmistress stands head and shoulders above the others for me because of the stunning way in which Blake captures the mood and detail of the era.
Book you've bought for the cover:
All That I Am by Anna Funder. I was intrigued by the evocative, historical cover and the time period, which spans both world wars and the years between. The book did not disappoint--it is historical, moving and very suspenseful. I have a book event with Funder in a few months, and I can't wait to gush about her book!
Book that changed your life:
Writing Down the Bones by Natalie Goldberg. She combines her practice of Zen Buddhism with creative writing that just broke me wide open. Her approach really got me writing in the mid-'90s, which paved the way to my career as a novelist.
Favorite line from a book:
I'm going to cheat a bit here and offer a quote from the fabulous Anne Lamott that comes not from one of her books, but from an interview: "I used to not be able to work if there were dishes in the sink. Then I had a child and now I can work if there is a corpse in the sink." As a mother of three small children, nothing has ever rung truer. I repeat this quote almost every time I speak about my work, because I think it is as equally applicable to other things that people may be trying to achieve in their lives as it is to the discipline of writing.
Book you most want to read again for the first time:
The Lord of the Rings trilogy by J.R.R. Tolkien. Someone actually read me the entire trilogy aloud in college, chapter by chapter, night by night. It was magical.
Books you hold controversial, unorthodox views of:
Fifty Shades of Grey by E.L. James. Not sure if this will make you respect me more or less, but it just wasn't my speed.


Book Review
Review: Autobiography of Us
Autobiography of Us by Aria Beth Sloss (Holt, $25 hardcover, 9780805094558, February 5, 2013)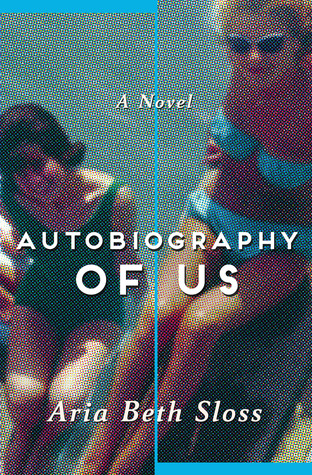 When they first meet in high school, Rebecca and Alex could hardly be more different from one another: Rebecca is reticent and plain, hiding in a world of books, while Alex is beautiful, brash and determined to become a stage actress in New York City. These two women and their tragically limited choices in 1960s California are the focus of Autobiography of Us. Aria Beth Sloss, in her debut novel, charts the course of their friendship over a span of decades. The intense connection they form in high school will endure, albeit unsteadily, through romantic betrayal, marriages and a distance of thousands of miles. Throughout that time, Rebecca and Alex find themselves confronting harsh challenges in an era when marriage was upheld as the ultimate goal for women and a career unthinkable.
Though they come from dramatically different backgrounds--Alex is wealthy and upper class, while Rebecca is barely middle-class--the women's struggles are remarkably similar: Alex finds that no one will take her seriously as an actress; Rebecca is compelled to hide her ambitions from the world. Unbeknownst to her parents and even to her college professors, Rebecca aspires to become a doctor, taking every opportunity to study biology in secret. It's a dream that is not only contrary to societal expectations, but to those of her parents: Rebecca's mother comes from poverty, and dreams of her daughter attending debutante balls and becoming a bride. But her hopes are dashed--and the friendship between Alex and Rebecca imperiled--when Rebecca's life takes a disastrous turn that forces her to question her place in the community where she grew up.
With a compelling friendship at its center, Autobiography of Us is unflinching in its confrontation of the darkest consequences of a world without choices for women. Even the ravages of the Vietnam War are depicted as a backdrop to the more subtle catastrophes unfolding for the women left at home. Using elegantly wrought turns of phrase, Sloss delves into a wide range of difficult topics, from illegal abortions to closeted homosexuality. At its heart, the novel is a tragic elegy to spirited women in decades past who were forced to silence their dreams and desires, and whose lives were not what they might otherwise have been. --Ilana Teitelbaum
Shelf Talker: A debut novel focusing on an intense and complicated friendship that begins in 1960s California, and the agonizing challenges of an era that offered few choices for women.


Deeper Understanding
Robert Gray: I'm Worried About My Desk
My desk is too neat. I've seen many other book trade people's desks over the years. Most glory in an organized--"I know where to find what I need"--chaos of paper, ARCs, mail (opened, half-opened and unopened) and other necessary detritus, ranging from science project coffee mugs to inkless pens.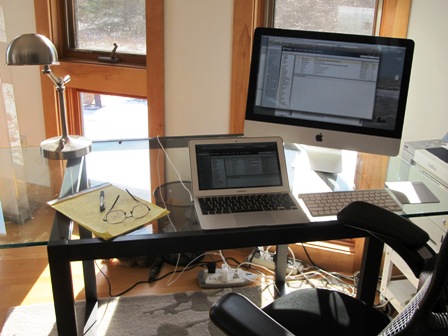 But my desk? Barren.

I'm certainly not lacking for material to correct the situation. There's a large room downstairs, furnished with packed bookshelves, and the volume of incoming ARCs and comp copies never slackens. My desktop, however, remains unnervingly pristine.

Whether you're a bookseller, writer or publisher, you probably log a majority of your workday in Deskland. Even frontline booksellers, who spend hours on their feet, are also tied umbilically to sales floor information desks or POS counters (which are really just high desks cluttered with impulse-buy items).

One of Garrison Keillor's writing desks used to be on the sales floor at the old Cathedral Hill location of Common Good Books, St. Paul, Minn. And when he led a media tour of the new store last year, Keillor said: "I don't know where I'll hang out--I'll need a desk."

In Christopher Morley's The Haunted Bookshop, proprietor Roger Mifflin is introduced sitting "tilted back in a swivel chair, in a corner which seemed the nerve center of the establishment. The large pigeon-holed desk in front of him was piled high with volumes of all sorts, with tins of tobacco and newspaper clippings and letters. An antiquated typewriter, looking something like a harpsichord, was half-buried in sheets of manuscript."

Desks matter.

That's why I'm worried about my desk. I consulted an expert on the subject for perspective. Valerie Kohler owns Blue Willow Bookshop, Houston, Tex., and her store blog's name is More Letters from the Messy Desk.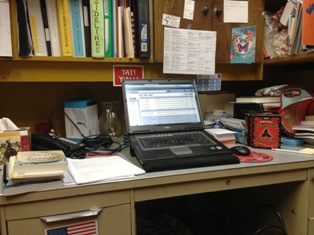 "My messy desk probably looks like most," she observed. "Our backroom is only 200 square feet and that includes the tiny restroom. Most people can't believe that we have three computers back here and at any time four-plus people might be working here. So there is no privacy and lots of interruptions. But we remain friends. My desk is vintage 1970s, which means it's not ergonomically correct and the drawers except for the one file drawer are pretty useless."

As of yesterday morning, she said her desk's inventory included:
A few ARCs that I really want to read
Two applications from some very qualified people whom I don't have room for
At least 12 catalogues dropped off by reps that haven't made it to the catalogue shelf (Thanks to Edelweiss, I can keep this one tidy.)
My lunch bag
Some pretty Blue Willow pottery that a book club gave me. What am I going to do with it?
Gobs of scratch paper
A small Rolodex (Again, thanks to computers, I don't need two big ones like I used to have.)
Lotion
About six inches of paper that I need to deal with, including a Kobo order, a co-op clarification, notes from our World Book Night Committee meeting and a cool idea I printed from a tweet for our summer reading challenge.
My paper calendar, which is my life support
Two magnetic poetry boxes (???)
A broken mouse
Photos of my boys when they were young in swimming trunks with blue tongues; of my husband and I with lots of hair and no gray; and a great picture of my parents with me at the MPIBA show I attended.
My water bottle

Valerie called her desk "command central and I love it when I see the gray metal on the bottom. This is where I read e-mails, send the Messy Desk letter, take phone calls and I love every minute!"

Should I mess up my desk?

Research doesn't help. For every study that finds a "messy desk can actually lead people towards clearer thinking," there's another countering that "office clutter undermines productivity and motivation."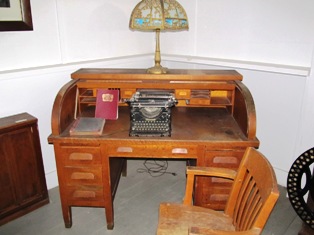 Earlier this week, I visited a museum showcasing items from a now-defunct marble company. It occurred to me that the old desk on display in a mock office looked as sparse as mine does now. And yet, that desk was much too weatherbeaten to have been so neat when it was in daily use during the first half of the 20th century.

I probably can't alter my ways, but I did just put an ARC on the desk. It's lying there now, bugging me. I want to shelve it, but I won't just yet. Every journey begins with a single step, they say, and perhaps every messy desk begins with a single, unshelved ARC. --Robert Gray, contributing editor (column archives available at Fresh Eyes Now).


The Bestsellers
Top-Selling Self-Published Titles
The bestselling self-published books last week as compiled by IndieReader.com.

1. Hopeless by Colleen Hoover
2. Someone to Love by Addison Moore
3. Up to Me by M. Leighton
4. Fallen Too Far by Abbi Glines
5. The Valentine's Arrangement by Kelsie Leverich
6. Down to You by M. Leighton
7. Wait for Me by Elisabeth Naughton
8. Hard to Love by Kendall Ryan
9. Rule by Jay Crownover
10. Beautifully Damaged by L.A. Fiore

[Many thanks to IndieReader.com!]