Shelf Awareness for Monday, January 28, 2013

News
B&N to Close 200-Plus Stores in Next Decade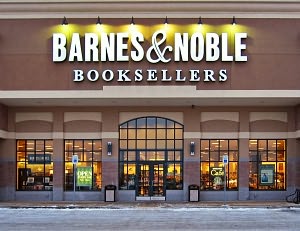 Over the next decade, Barnes & Noble will likely close a third of its 689 general retail stores, or about 20 a year, Mitchell Klipper, CEO of B&N's retail group, told the Wall Street Journal. Slimmed down to 450 to 500 stores, the retail stores represent "a good business model," he said, emphasizing that today only about 20 B&N trade stores--3% of the total--lose money. B&N also operates some 674 college stores, which are run separately from the general retail stores.

As recently as 2009, when the economy tanked, B&N was opening 30 or more stores a year. Since then it has had a net loss of 35 stores, and in this fiscal year it opened only two stores. Discussing the change from the era of frenzied book superstore expansion, Klipper said, "You have to adjust your overhead, and get smart with smart systems. Is it what it used to be when you were opening 80 stores a year and dropping stores everywhere? Probably not. It's different. But every business evolves."

The interview might be intended calm concerns about B&N's retail business, following a disappointing holiday season, when B&N retail sales fell 10.9%, sales of non-Nook products in stores fell 3.1%, and Nook sales overall fell 12.6%. Some people inside and outside the business have begun drawing comparisons with former B&N rival Borders Group, which closed in 2011, after a succession of problems, including strong competition from online book retailers and from e-books.

Klipper maintained that because many consumers read both e-books and printed books, "we're going to be around for a long time. Digital is a convenient format. It could be expanding the market in fiction. I think the combined book market is growing."

B&N will have many opportunities in the near future to close stores in an orderly way: over the next three years, 442 of its store leases--almost two-thirds of the total--are up for renewal. In negotiations with landlords, the company has an advantage because many malls like having bookstores, which draw traffic. As Klipper put it: "You go to Barnes & Noble to forget about your everyday issues, to stay a while and relax. When you go to Bed Bath & Beyond, you don't sit down on the floor and curl up with your blender and your kid."


AAP Sales: Mixed September
In September, total net book sales fell 14.6%, to $1.342 billion, representing sales of 1,186 publishers and distributed clients as reported to the Association of American Publishers. For the year to date, net book sales have slipped 1.4%, to $11.356 billion.
Despite the overall drop in September, sales of e-books continued to grow, although at less stratospheric levels than a year earlier. Hardcovers had solid sales while paperbacks titles showed drops. The biggest laggards were professional books, down 24.5%, and K-12 instructional materials, down 41.8%.
| | | |
| --- | --- | --- |
| Category | Sales | % Change |
| Univ. press e-books | $1.2 million | 159.8% |
| Children's/YA e-books | $12.9 million | 44% |
| Adult e-books | $103.9 million | 30.6% |
| Religious e-books | $5.2 million | 21.9% |
| Downloaded audiobooks | $9.6 million | 18.9% |
| Physical audiobooks | $10.7 million | 13.1% |
| Adult hardcovers | $179.8 million | 3.1% |
| Children's board books | $9.1 million | 1.2% |
| | | |
| Univ. press hardcovers | $5.6 million | -0.2% |
| Univ. press paperbacks | $7.2 million | -1.5% |
| Children's/YA hardcovers | $80.2 million | -3.9% |
| Religious hardcovers | $37 million | -4.8% |
| Adult paperbacks | $124.7 million | -8.7% |
| Mass market | $29.5 million | -14.6% |
| Children's/YA paperbacks | $38 million | -16.9% |
| Religious paperbacks | $20.4 million | -23% |
| Professional publishing | $50.3 million | -24.5% |


HarperCollins Heading Downtown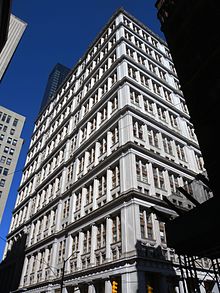 HarperCollins is moving in spring 2014. The publisher, which has long had headquarters on E. 53rd St. in Midtown Manhattan, has signed a lease for new space at 195 Broadway, which is in lower Manhattan near City Hall and the World Trade Center site. The company said, "We are excited to return to the neighborhood where Harper Brothers founded what is now HarperCollins in 1817, and begin our third century of publishing where it began so many years ago."


Pushkin Press Launching Children's Imprint
Pushkin Press will launch a children's imprint "to publish works that have seen success overseas but have not yet been published in the U.K.," the Bookseller reported, adding that publisher and marketing director Adam Freudenheim and associate publisher Stephanie Seegmuller, who bought the publishing house last year, "are aiming to release 10 to 15 titles annually, covering the five-to-12 age range and a mix of commercial and more literary works."


Obituary Note: Stanley Karnow
Stanley Karnow, the journalist and historian who spent decades reporting from Southeast Asia, died yesterday, according to the New York Times. He was 87. Karnow's major works were Vietnam: A History, a 1983 companion to the PBS documentary Vietnam: A Television History, and In Our Image: America's Empire in the Philippines, which won a Pulitzer Prize for history.


Notes
Image of the Day: This Is How You Like a Bookstore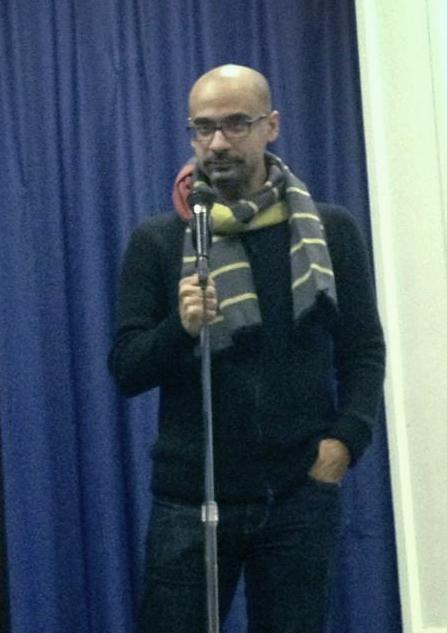 On Friday, La Casa Azul Bookstore in New York City hosted a reading and signing for Junot Díaz and his latest novel, This Is How You Lose Her (Riverhead). A fan of the bookstore since long before its opening on June 1, Díaz commented: "The last good thing that's happened to New York in the last 10 years is La Casa Azul Bookstore."


Cool Idea of the Day: The Lexington Tattoo Project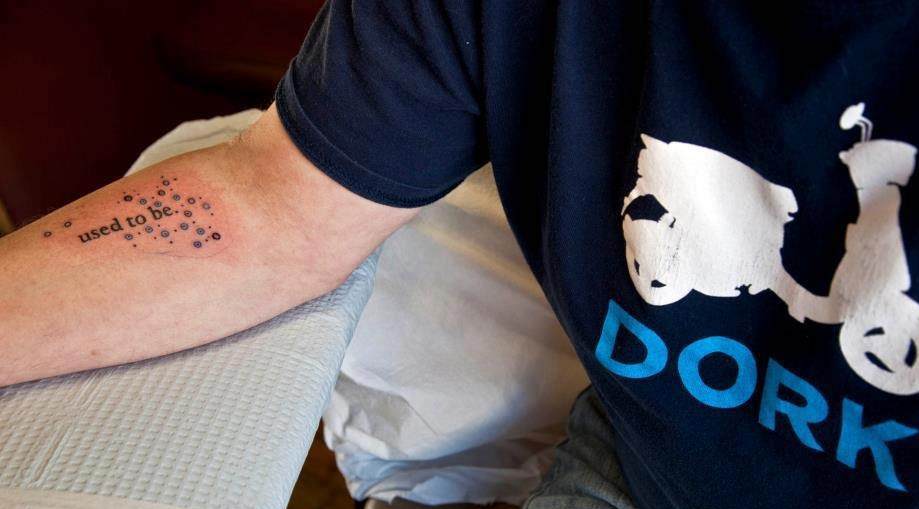 Photo: Kurt Ghode
Created by Transylvania University professors Kurt Gohde and Kremena Todorova, the Lexington Tattoo Project involves 250 residents of Lexington, Ky., having a part of a poem about Lexington tattooed on them. The organizers are photographing each tattoo and creating a video that animates the poem, which will be read by the poet, Bianca Spriggs. (Read the full poem here.)
The Morris Book Shop is a sponsor of the project, and participants include several staff members and spouses and store owner Wyn Morris, who said, "I just got my first tattoo at 49!" Morris and some of the artists and others involved are discussing publishing a book on the project, which he called "one of the neatest things we've been involved with in a while." In photo: "used to be," Morris's part of the poem.


Somerville Bookseller 'Doesn't Fit the Mold'
Gil Barbosa, owner of the Book Shop, Somerville, Mass., "doesn't fit the mold of a typical bookstore owner," the Somerville Beat reported in a profile of the shop that opened in 2011. "For starters, he spent a couple of decades working in the towing industry. But after speaking with him for just a few minutes, you know he is deeply passionate about what he does."

"I was always a reader," Barbosa said. "I wanted to open my own store." His customers have been supportive of the effort: "They say, 'thank you for being here.' And I say, 'No, thank you for buying a book.'" He also noted that Somerville is a great location for his venture: "The city, it's always been a great place to be. All walks of life come in here, it's a great thing. I'm excited about what's to come. People are finding out what longtime residents have always known--it's a great place to be."


Bookish Barns
Baldwin's Book Barn, West Chester, Pa., "is pretty amazing," the Huffington Post observed in showcasing the 1822 barn that "has five floors of books, and is our favorite bookstore of the moment."



---

If that doesn't fully satisfy your thirst for bookish barns, you might want to check out the ones featured on That Long Yellow Line blog, which noted: "In our travels across the northeast, we've come across several 'book barns.' These are exactly what they sound like: bookstores housed in barns. They're generally a little out-of-the-way, but certainly worth the detour since they are an attraction themselves. The barns are usually centuries old and teeming with fascinating books. They also seem to have at least one cat on the premises."


Midpoint Distributing Digital Leaf
Midpoint Trade Books is handling distribution for Digital Leaf, London, England, a children's book and app publisher that was founded in 2011. Digital Leaf aims to "use digital technologies to make exciting children's fiction that contributes positively to children's entertainment and educational needs."
Upcoming lead titles from Digital Leaf include Oh, What a Tangle!, a modern fairy tale written by Anita Pouroulis and illustrated by Monika Filipina Trzpil; Feed-'Em Fred: The Chef of Dread, a picture book for picky eaters written by Dustin Brooks and illustrated by Betty Le Bon; and Pancake Pandemonium, a rhyming story about the breakfast-food favorite, written by Anita Pouroulis and illustrated by Tom Bonson.


Book Trailer of the Day: Six-Gun Tarot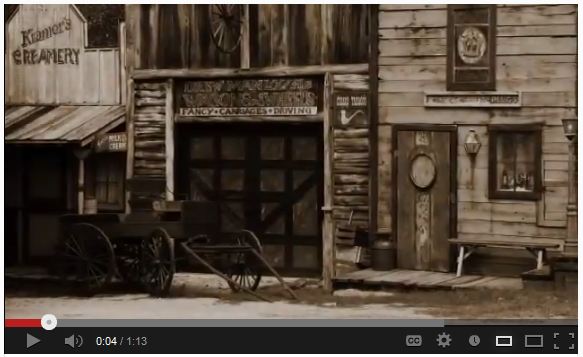 Six-Gun Tarot, a horror-western set in 1869, by R.S. Belcher (Tor).


Media and Movies
Media Heat: Al Gore on The Future
This morning on CBS This Morning: T.D. Jakes, author of Let It Go: Forgive So You Can Be Forgiven (Atria, $25, 9781416547297). Let It Go is the show's "Morning Reads" pick for February.

---

This morning on the Today Show: Dave Barry, author of Insane City (Putnam, $26.95, 9780399158681). Tomorrow he will appear on MSNBC's Morning Joe and on NPR's On Point.

---

Today on NPR's Fresh Air: Nick Turse, author of Kill Anything That Moves: The Real American War in Vietnam (Metropolitan Books, $30, 9780805086911).

---

Today on NPR's Diane Rehm Show: Alan S. Blinder, author of After the Music Stopped: The Financial Crisis, the Response, and the Work Ahead (Penguin Press, $29.95, 9781594205309). Tomorrow he will be on NPR's the Takeaway.

---

Today on ESPN Radio's Sporting Life: Rosie Schaap, author of Drinking with Men: A Memoir (Riverhead, $26.95, 9781594487118).

---

Tomorrow on Tavis Smiley: Taylor Branch, author of The King Years: Historic Moments in the Civil Rights Movement (Simon & Schuster, $26, 9781451678970).

---

Tomorrow night on the Late Show with David Letterman: Al Gore, author of The Future: Six Drivers of Global Change (Random House, $30, 9780812992946).

---

Tomorrow night on the Colbert Report: George Saunders, author of Tenth of December: Stories (Random House, $26, 9780812993806).


Diane Rehm Panel Tunes into Audiobooks
Tomorrow NPR's Diane Rehm Show will focus on "the growing popularity of audiobooks," which the show described this way: "Audiobooks have come full circle. Once just for the blind, books on cassette then CD first became available to the general public three decades ago--mostly in libraries or by subscription. Soon they popped up in bookstores--taking up a shelf or two. By the late '90s, big box stores featured whole walls of audiobooks. Now, in the age of digital downloads, book shelves are sparse once more. But the industry is thriving--it's currently estimated to be worth $1.2 billion. Many love the convenience of audiobooks and enjoy being read to. Critics argue listening to a narrated book is not the same as reading."

Panelists are:
Michele Cobb, president of the Audio Publishers Association and v-p of sales and marketing, AudioGO
Peter Osnos, founder and editor-at-large, Public Affairs Books, and media fellow, the Century Foundation
John Schwartz, national correspondent for the New York Times, who has written about the audiobook industry and recently narrated his memoir, Oddly Normal
Katherine Kellgren, audiobook narrator
Vailey Oehlke, director of libraries at Multnomah County Library in Portland, Ore.


TV: Game of Thrones Season 3 Pics
HBO released more than 20 images from the upcoming third season of Game of Thrones, based on the novels by George R.R. Martin. Indiewire noted that "the ensemble is expanding with some new faces popping up, and here's what you should be keeping an eye out for below: Ciaran Hinds as Mance Ryder, the King Beyond The Wall who's getting ready to enter Westeros with some Wildlings; Dianna Rigg as Lady Oleanna, grandma of Margaery and Loras Tyrell, and the red priest Thoros played by Paul Kaye."


Books & Authors
Awards: DSC for South Asian Lit; Minnesota Book Shortlists
Jeet Thayil became the first Indian author to win the $50,000 DSC Prize for South Asian Literature for his novel Narcopolis. Jury chair K. Satchidandan said the winning book "mixes fantasy and reality to create a powerful story that deals with a less known aspect of life in a metropolis like Bombay, where episodes collapse into one another, as in the tales of Vikramaditya, telling an interminable tale about the less fortunate and the less visible human beings of the city."

---

Finalists were named for this year's Minnesota Book Awards, which "is studded with the names of authors and books that have already won major prizes," the Minneapolis Star Tribune reported. Winners will be announced April 13 in Minneapolis.


Book Review
Review: See Now Then
See Now Then by Jamaica Kincaid (Farrar, Straus & Giroux, $24 hardcover, 9780374180560, February 5, 2013)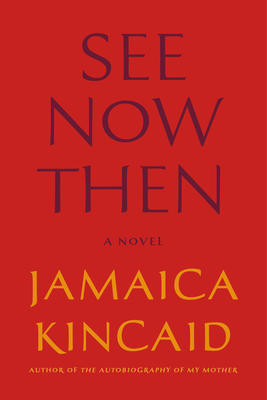 Taking a cue from her own The Autobiography of My Mother, Jamaica Kincaid's See Now Then might better have been entitled My Autobiography. Deeply rooted in Kincaid's quarter-century marriage to composer Allen Shawn, the novel is a chilling portrait of a failed relationship that, in the disdain it displays for an ex-spouse, brings to mind Philip Roth's takedown of Claire Bloom as the fictional Eve Frame in I Married a Communist.
Mr. and Mrs. Sweet and their children, "the beautiful Persephone and the young Heracles," as they're described throughout the novel, live in a small Vermont village ("in the Shirley Jackson house"). From the opening pages we learn that Mrs. Sweet's husband, "the dear Mr. Sweet, hated her very much," comparing her appearance to "Charles Laughton as he portrayed Captain Bligh" and composing a nocturne called This Marriage Is Dead. It's thus no surprise that at the climax of this brief novel, Mr. Sweet declares, "I love someone else and I will not give her up." In Mrs. Sweet's telling, her agoraphobic spouse is a "rodent" who "had not grown a half inch since he turned twelve," and she plainly intends that to serve as much more than a bit of physical description. She takes refuge in her writing and her gardening, striving against seemingly insurmountable odds to preserve something resembling a normal family life.
What appeal See Now Then possesses doesn't lie in its depiction of the Sweets' ugly, claustrophobic relationship (James Salter's Light Years is a much more compelling and emotionally engaging portrait of a marriage's decay.) Instead, as its title suggests, it's best read as an extended reflection on the passage of time and the insistent tug of memory. Kincaid repeatedly teases out the ways "now" and "then" merge in the mind, "as if the past only becomes past when you render it Now." The novel's long, looping sentences have a rhythmic, almost hypnotic, character, their images often arresting, as in the way Mrs. Sweet describes how she has been "unraveling various parts of the garment that had been her own life" or Mr. Sweet's claim that his wife is "like walking into barbed wire in the dark."
Despite its grim subject matter and raw, stream-of-consciousness style, See Now Then does have moments of beauty and pathos. It's most definitely not a novel for the casual or impatient, and those who've encountered and appreciated Kincaid's work will want to read it. --Harvey Freedenberg
Shelf Talker: In a heavily autobiographical novel, Jamaica Kincaid portrays the demise of a long-term marriage.


The Bestsellers
Top-Selling Christian Books in 2012
The bestselling books in Christian retail outlets in 2012, as compiled by the Evangelical Christian Publishers Association:

1. Jesus Calling by Sarah Young (Thomas Nelson)
2. Be a Better Dad Today! by Gregory Slayton (Gospel Light)
3. Heaven Is for Real by Todd Burpo (Thomas Nelson)
4. Jesus Calling, Large-Print Deluxe Edition by Sarah Young (Thomas Nelson)
5. The Harbinger by Jonathan Cahn (Charisma Media)
6. Jesus Calling, Deluxe Edition by Sarah Young (Thomas Nelson)
7. Not a Fan by Kyle Idleman (Zondervan)
8. One Thousand Gifts by Ann Voskamp (Zondervan)
9. The Jesus Storybook Bible by Sally Lloyd-Jones (Zondervan)
10. The 5 Love Languages by Gary Chapman (Moody)

The bestselling Christian books sold in multiple retail channels in 2012:

1. Heaven Is for Real by Todd Burpo (Thomas Nelson)
2. Jesus Calling by Sarah Young (Thomas Nelson)
3. The Harbinger by Jonathan Cahn (Charisma Media)
4. Not a Fan by Kyle Idleman (Zondervan)
5. One Thousand Gifts by Ann Voskamp (Zondervan)
6. The Jesus Storybook Bible by Sally Lloyd-Jones (Zondervan)
7. Jesus Today by Sarah Young (Thomas Nelson)
8. Jesus Calling for Kids by Sarah Young (Thomas Nelson)
9. The 5 Love Languages by Gary Chapman (Moody)
10. Heaven Is for Real for Kids by Todd Burpo (Thomas Nelson)
[Many thanks to the ECPA!]