Shelf Awareness for Monday, February 11, 2013

News
After Storm Damage, Longfellow Books Hopes to Reopen Soon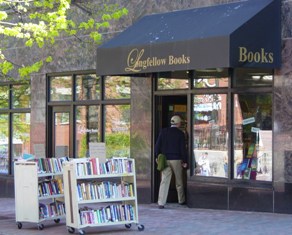 While many bookstores in the Northeast closed early and opened late after the Friday night blizzard and lost power for a time, sadly Longfellow Books, Portland, Maine, suffered disastrous water damage. As the store explained on its Facebook page, "Apparently the wind blew in a window on the second floor, which caused pipes to freeze." When the pipes burst, the sprinkler system turned on and drenched the store's books. Snow also accumulated in an office room and then began melting and dripping on books below.
Longfellow Books co-owner Chris Bowe told the Press Herald that the store hopes to reopen by Thursday night, in time for a Valentine's Day reading to benefit the campaign to free members of Pussy Riot, the feminist punk rock band whose members are in prison in Russia for staging a protest in a Moscow cathedral.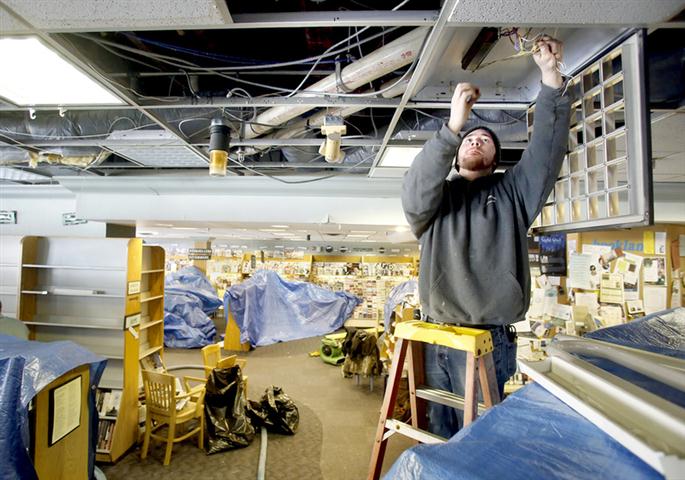 photo: Tim Greenway/Maine Sunday Telegram
Bowe estimated that 40%-50% of the store's 30,000 titles were damaged and praised firefighters for saving the rest. After answering the alarm, the firefighters took some books outside and covered others with tarps. "There were maybe 20 of them, and they were amazing," Bowe told the paper. "Instead of standing around and letting the water fall, they were carrying books to safety. It was a reverse Fahrenheit 451. I couldn't believe how fast they worked to save the books. They saved an enormous amount of stock."
Bowe said he doesn't know how much of the damage insurance will cover but is optimistic that the store can reopen this week. "Never underestimate the power of an independent bookstore," he said. "We have survived the chains. We have survived Amazon. We have survived the Kindles. The bookstore is one of those good places in the community. We will struggle, but we will get there."
Hundreds of customers and friends have already expressed their sympathy and desire to help Longfellow Books rebuild.


Last Man Standing, Macmillan Settles Justice Department Suit
On Friday, Macmillan settled with the Justice Department in the case brought against five of the top six publishers and Apple alleging collusion in adopting the agency model for e-book pricing. The other four publishers have already settled. (Hachette, HarperCollins and Simon & Schuster settled immediately; Penguin settled last December as a prelude for its merger with Random House, which was not sued.) A trial with Apple is scheduled to begin in June.

It was a sad day for many in the industry, who continue to find it puzzling that the Justice Department has been so eager to go after publishers and Apple over possible collusion while ignoring monopolistic, anti-competitive behavior by Amazon--with the obsessive goal of creating low prices for consumers, even if the ultimate cost is the destruction of book publishing and book retailing.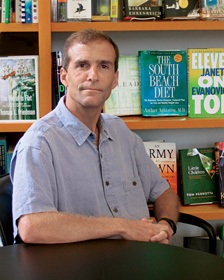 In a letter to Macmillan authors, illustrators and agents, Macmillan CEO John Sargent said the company decided to settle because "the potential penalties became too high to risk even the possibility of an unfavorable outcome.... As each publisher settled, the remaining defendants became responsible not only for their own treble damages, but also possibly for the treble damages of the settling publishers (minus what they settled for). A few weeks ago I got an estimate of the maximum possible damage figure. I cannot share the breathtaking amount with you, but it was much more than the entire equity of our company."

Sargent emphasized that the company did not admit guilt. In fact, one reason Macmillan didn't settle earlier, he wrote, was because "I had an old fashioned belief that you should not settle if you have done no wrong. As it turns out, that is indeed old fashioned." (When the suit was filed in April, Sargent wrote in part: "After days of thought and worry, I made the decision [to adopt the agency model] on January 22, 2010 a little after 4 a.m., on an exercise bike in my basement. It remains the loneliest decision I have ever made, and I see no reason to go back on it now.")

Macmillan also delayed settling, Sargent wrote, because for much of last year, after the suit was brought, three of the six major publishers weren't discounting in the way the Justice Department prescribed, which he called "harmful to the industry." But when Penguin settled (and Random House agreed to those terms should the merger go through), Macmillan became the only major publisher not selling e-books in the "wholesale" manner, and it became apparent that "Macmillan's stand-alone selling at full agency price would have no impact on the overall marketplace."

Sargent thanked authors, illustrators and agent for their support. "And also thanks to the many booksellers and others who voiced their opinions. I'm disappointed it ended this way. But this round will shortly be over, and it is time for us to move on to the next."

Under the settlement, which mirrored those accepted by the other publishers, Macmillan will for the next two years use the wholesale plan for e-book sales; for five years will not designate "most favored nation" clauses; and will follow strict guidelines to discourage collusions.

Coincidentally, on the same day that Macmillan settled, the judge in the related case brought by 49 states and the District of Columbia approved the $69-million settlement with the original three settling publishers. Under the settlement, some 22.5 million consumers should receive payments to compensate them for alleged overpayment for e-books purchased before the settlements.


Bookin' It Bookstore to Close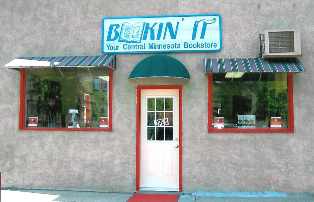 After 20 years in business, Bookin' It bookstore, Little Falls, Minn., plans to close in the spring. In a note to customers, owner Laura Hansen offered a "HUGE Thank You for being a part of our bookselling adventure."

Bookin' It has initiated a going-out-of-business that will run through April 5, and noted on its Facebook page: "For all of you mourning the news of our closing this spring, remember that we are still open for at least another 60 days and able to place orders for the books you are craving. AND, we are still chock full of great recommendations and amazing sale prices on books, greeting cards, plush toys, games, even some of our bookshelves, framed book art and fixtures."


BAM Closing Charlotte, N.C., Store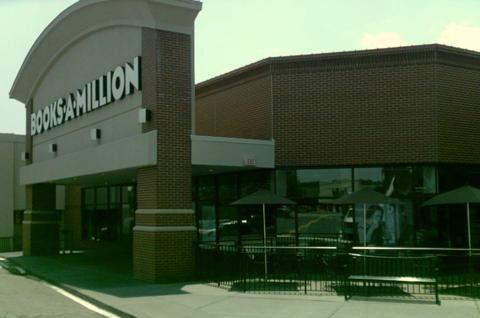 Books-A-Million is closing another store, this time in Charlotte, N.C., in the Cotswold Village shopping center, according to the Charlotte Observer. The store has begun a liquidation sale and should shut by mid-March.
BAM opened the store in 2005, the same year a Joseph-Beth branch opened in Charlotte. The Joseph-Beth store closed in 2010, and a Borders closed the following year. Park Road Books and Barnes & Noble are the main larger bookstores left.


Possible Bookstore Play: Pay to Browse?

One solution for the showroom problem: charge for browsing?
On a BBC Radio program about the future of publishing, HarperCollins U.K. CEO Victoria Barnsley suggested a new tack for bookstores, according to the Bookseller: make customers "pay for the privilege of browsing," something she said that some shoe stores in the U.S. do.
Barnsley called the idea "not insane," considering the precarious state of many bricks-and-mortar bookstores. She predicted that e-book sales growth will level off and the proportion of e-book and print books sales will be 50/50. "Readers still do quite like physical books, the question is, will they be able to buy them, actually," she said.


Obituary Note: Werner Mark Linz
Werner Mark Linz, longtime director of the American University in Cairo Press and founder of Continuum, died in London on Saturday of cancer, according to Arabic Literature in English. He left the press in January 2012 and had been director since 1995. He had earlier been director at AUC from 1983 to 1986. He also held executive positions at McGraw-Hill and Seabury Press.

Under Linz, the press grew to become the largest English-language publisher in the Middle East. Its authors include Alaa Al Aswany and Nobel-winner Naguib Mahfouz. The press has been Mahfouz's primary English-language publisher and worldwide agent for translation rights.

In an interview with Arab News a year ago, months after the fall of President Hosni Mubarak, Linz said, "This revolution time has been very close to us, physically because we are 20 meters from Tahrir Square, and because we have been vandalized and inspired at the same time. This is, of course, an exciting time for publishing, and we have published a lot of books about Egypt and the Middle East on politics, economics and social issues over the last 20 years. We are in a post-revolution period, which is interesting from an editorial point of view, but miserable from a sales point of view. However, international sales in Europe, America and Asia are up because of a higher interest."


Notes
Image of the Day: Books, Beer, 'Burns and Beards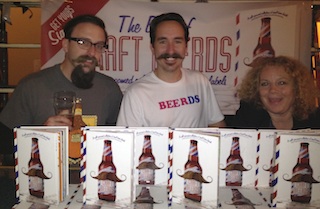 The brewpub Taps in Petaluma, Calif., hosted a book signing last Thursday for The Craft Beerds Book: A Well-Groomed Collection of Craft Beer Labels with 'Staches', Burns, Beards, and All Lengths in Between by Fred Abercrombie (Cameron + Company). Among the many celebrants: (from l.) Abercrombie; photographer Tyler Warrender; and (sans 'stache) Copperfield's Books marketing and events director Vicki DeArmon.


Snow Books in the Blizzard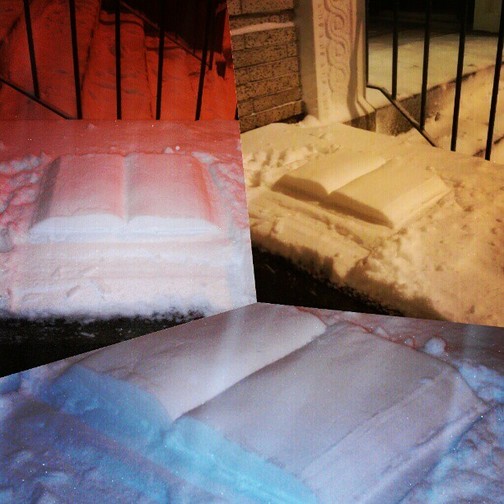 While the many in the Northeast were sledding and digging out our cars, artist Sarah Cohen made the most out of the abundant snowfall in Boston this past weekend. She explained: "My books are usually made from ice and melt, referring to the melting icecaps, global warming, and the loss of books through newer technologies like the e-reader. It's all related. And just like ice, the snow books will also disappear over time--representing that permanence is always fleeting and that books may also disappear from contemporary culture."


America's Most Literate City: 'Seven Bookstores We Love'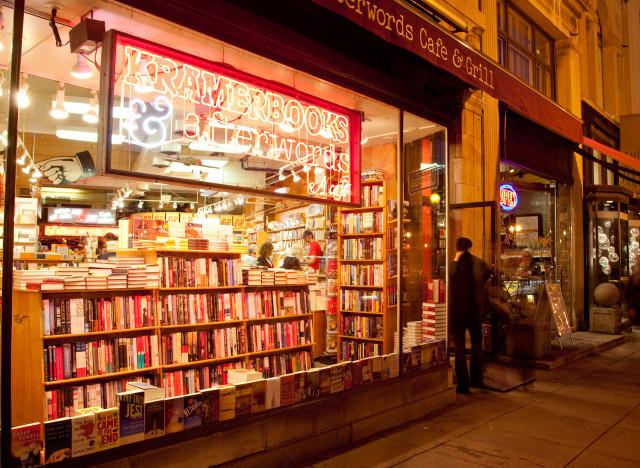 In response to news that Washington, D.C., was named "America's Most Literate City" for the third straight year, the Huffington Post showcased "seven bookstores we love" there, noting that "while some big box bookstores have been pushed out (so long, Georgetown Barnes & Noble), plenty of independent bookshops are still going strong thanks to loyal patrons who support the same stores for decades."





Hanas New Director of Audience Development at HarperCollins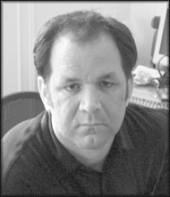 Jim Hanas is joining HarperCollins as director of audience development, where he will work with imprints "to grow audiences in our existing marketing channels (e.g. Facebook, Twitter, newsletters), as well as identifying new channels that we should be engaging in, and helping to develop strategies around that engagement," his new boss, Angela Tribelli, wrote in announcing his appointment. Hanas will also "identify and manage content syndication opportunities, all with the goal of increasing the reach of our content on behalf of our authors."
Hanas formerly worked at the New York Observer, focusing on social media and audience expansion, and earlier was strategy director of Sonnet Media and worked at NYC & Company.
He is also a writer. In 2010 ECW Press published his Why They Cried, a story collection, as a Joyland eBook. His work has also appeared in in McSweeney's, Advertising Age, Fast Company, Radar and Slate, as well as last year's Forty Stories: New Writing from Harper Perennial, an e-original anthology.


Book Trailer of the Day: If You Hold a Seed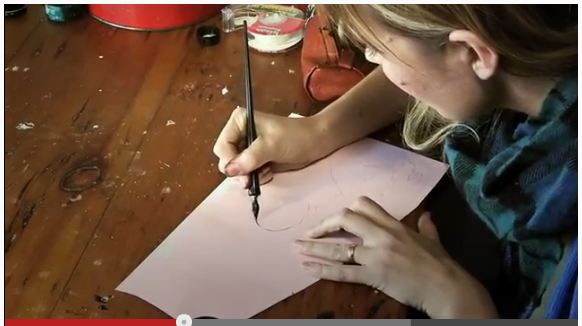 If You Hold a Seed by Elly MacKay (Running Press Kids), in which the author explains how she makes miniature worlds inside of paper theaters and the genesis of the book.


Media and Movies
Media Heat: Mike Piazza Steps Up to Publicity Plate
This morning on MSNBC's Morning Joe: Mike Lupica, author of Game Changers Book 2: Play Makers (Scholastic, $16.99, 9780545381833).

---

This morning on Imus in the Morning: Laurie Puhn, author of Fight Less, Love More: 5-Minute Conversations to Change Your Relationship Without Blowing Up or Giving In (Rodale, $14.99, 9781609618896).

---

This morning on CBS This Morning: Gavin Newsom, author of Citizenville: How to Take the Town Square Digital and Reinvent Government (Penguin Press, $25.95, 9781594204722). He will also appear today on CNN's Piers Morgan Tonight, Fox's Hannity and Fox Radio's Alan Colmes Show and tomorrow on Fox's Huckabee.

---

Today on NPR's Here and Now: Danny Gregory, author of A Kiss Before You Go: An Illustrated Memoir of Love and Loss (Chronicle, $19.95, 9781452101941).

---

Today on NPR's Diane Rehm Show: Anne Fletcher, author of Inside Rehab: The Surprising Truth About Addiction Treatment--and How to Get Help That Works (Viking, $27.95, 9780670025220).

---

Today on NBC's Steve Harvey Show: Tyrese Gibson and Rev Run, authors of Manology: Secrets of Your Man's Mind Revealed (Touchstone, $24.99, 9781451681840).

---

Today on Fox's O'Reilly Factor: Mike Piazza, author of Long Shot (Simon & Schuster, $27, 9781439150221). Tomorrow night he appears on the Daily Show.


---

Tonight on the Colbert Report: Garry Wills, author of Why Priests?: A Failed Tradition (Viking, $27.95, 9780670024872). Tomorrow night he'll be on Charlie Rose.

---

Tonight on the Late Late Show with Craig Ferguson: Julie Andrews, co-author of The Very Fairy Princess Follows Her Heart (Little, Brown, $16.99, 9780316185592). Tomorrow she'll be on CBS's the Talk.

---

Tomorrow morning on Good Morning America: Pamela Druckerman, author of Bebe Day by Day: 100 Keys to French Parenting (Penguin Press, $19.95, 9781594205538).

---

Tomorrow morning on the Today Show: Jackie Collins, author of The Power Trip (St. Martin's Press, $27.99, 9780312567477).

Also on the Today Show: Brandi Glanville, co-author of Drinking and Tweeting: And Other Brandi Blunders (Gallery, $25, 9781476707624). She will also appear on Access Hollywood.

---

Tomorrow morning on NPR's Morning Edition: Major General John Borling (retired), author of Taps on the Walls: Poems from the Hanoi Hilton (Master Wings Publishing, $19.95, 9780615659053). He will also appear on Fox & Friends.

---

Tomorrow on NPR's Diane Rehm Show: George Saunders, author of Tenth of December (Random House, $26, 9780812993806).

---

Tomorrow on Ellen: Al Gore, author of The Future: Six Drivers of Global Change (Random House, $30, 9780812992946).

---

Tomorrow on the View: Wendy Plump, author of Vow: A Memoir of Marriage (And Other Affairs) (Bloomsbury USA, $25, 9781608198238).

---

Tomorrow on BBC World Service's the World Today: Charlie LeDuff, author of Detroit: An American Autopsy (Penguin Press, $27.95, 9781594205347).

---

Tomorrow on E! News: Heather McDonald, author of My Inappropriate Life: Some Material Not Suitable for Small Children, Nuns, or Mature Adults (Touchstone, $24.99, 9781451672220).

---

Tomorrow night on the Colbert Report: Roger Hodge, editor of Oxford American: The Southern Magazine of Good Writing.


Movies: The Reluctant Fundamentalist; Oz the Great & Powerful
A trailer has been released for The Reluctant Fundamentalist, the film adaptation of Mohsin Hamid's novel directed by Mira Nair (Mississippi Masala; The Namesake). The cast includes Kate Hudson, Riz Ahmed, Kiefer Sutherland and Liev Schreiber. The movie opens in limited release April 24.

---

Disney's new trailer for director Sam Raimi's Oz the Great and Powerful "takes viewers on an extended ride over a re-imagined vision of L. Frank Baum's literary creation. For instance, it's comforting to see Oz play with familiar traits of the good witch Theodora (Michelle Williams), who was introduced via bubble in the original film; more than anything, it should be interesting how that adds to the iconic story established in Wizard," the Film Stage reported. Oz the Great and Powerful, starring James Franco in the title role, hits theaters March 8.


Books & Authors
Awards: CWA Diamond Dagger; Grammys; PROSE; South Bank Sky Arts
Lee Child won this year's Crime Writers Association's Diamond Dagger award, which recognizes an author whose career is "marked by sustained excellence" and who has "made a significant contribution to crime fiction published in the English language, whether originally or in translation." Child will be honored at a ceremony next summer.

Peter James, chair of the CWA, said Child "is one of the few British crime thriller authors to have become a global brand name; he is also an extremely charming and open person and a tireless promoter of our genre."
---
At the Grammys last night, the winner of the best spoken word album was Janis Ian for Society's Child: My Autobiography (Audible), based on her book of the same title.
---
The Professional and Scholarly Publishing Division of the Association of American Publishers has announced the winners of the 2012 American Publishers Awards for Professional and Scholarly Excellence (the PROSE Awards). A full list of PROSE winners can be found here.
The winner of the top PROSE prize, the R.R. Hawkins Award, was Princeton University Press for Through the Eye of a Needle: Wealth, the Fall of Rome, and the Making of Christianity in the West, 350-550 A.D. by Peter Brown. The book also won the PROSE Award for Excellence in Humanities and the Classics & Ancient History category.
---

Hilary Mantel and Will Self "will battle it out for another literary prize six months after Mantel beat Self to the Man Booker Prize," the Independent observed in its report on the finalists for this year's South Bank Sky Arts Awards. In addition to Mantel's Bring Out the Bodies and Self's Umbrella, Kerry Hudson's debut novel Tony Hogan Bought Me an Ice-cream Float Before He Stole My Ma has been shortlisted for prize in the literature category. Winners will be announced March 12.


Book Review
Review: The Ecopoetry Anthology
The Ecopoetry Anthology by Ann Fisher-Wirth and Laura-Gray Street, editors (Trinity University Press, $24.95 paperback, 9781595341464, February 12, 2013)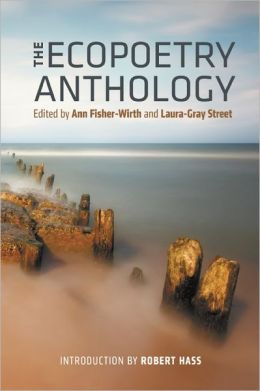 What drew us to the magnet of your dying?...
Voyager, chief of the pelagic world,...
Master of the whale-roads,
let the white wings of the gulls
spread out their cover.|
You have become like us,
disgraced and mortal.
These powerful lines are from Stanley Kunitz's "The Wellfleet Whale," one of the many poems in Ann Fisher-Wirth and Laura-Gray Street's rich and generous The Ecopoetry Anthology. Nature poetry has been around as long as poetry, Fisher-Wirth and Gray tell us, but, sometime around 1960, more people began to pay attention to an environment and nature in crisis--and poetry began to reflect this renewed attention.
"Poetry does not tamper with the world," as William Carlos Williams wrote, "but moves it." So here is an abundance of poems--praising songs, incantations, lists, elegies, rhapsodies, jeremiads--each in their very different ways bearing the power "to break through our dulled disregard, our carelessness, our despair, reawakening our sense of the vitality and beauty of nature." All told, 320 poems by 208 poets--abundance indeed.
Part one presents poets, from Walt Whitman to Denise Levertov, who predate the environmental revolution. Next come 176 contemporaries, from A.R. Ammons to Robert Wrigley. It's apropos that the first poem in this middle section is Ammons's seminal piece, "Corson's Inlet," where he observes nature as he walks along his Jersey Shore dunes: "in nature there are few sharp lines: there are areas of/ primrose/ more or less dispersed."
Fisher-Wirth and Gray have done a superb job of providing works by both well-known and lesser known poets. Alongside such luminaries as W.S. Merwin, Gary Snyder and Mary Oliver, one can discover beautiful and moving pieces by Patrick Lawler, Davis McCombs or Annie Boutelle. Some readers may be disappointed at the absence of a favorite poem, but most of the "great" nature pieces of the modern era are here, including Galway Kinnell's overwhelming "The Bear," Robert Bly's moving prose poem "The Dead Seal" and Robert Hass's mini-epic, "State of the Planet." Hass also provides a wise introduction, noting that The Ecopoetry Anthology reveals the ways our "nature poetry developed toward an ecopoetics, toward the necessity of imagining a livable earth." --Tom Lavoie
Shelf Talker: Here is bounty indeed--an innovative anthology drawing upon 150 years of American poetry about nature, animals and our precious environment.