Shelf Awareness for Thursday, March 14, 2013

News
Happy New Year: Bookstore Sales Up 5.5% in January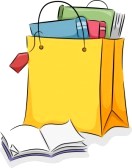 January bookstore sales rose 5.5%, to $2.1 billion, compared to December 2012, according to preliminary estimates from the Census Bureau.
Total retail sales in January rose 6.1%, to $382.4 billion, compared to the same period a year ago.
Note: under Census Bureau definitions, the bookstore category consists of "establishments primarily engaged in retailing a general line of new books. These establishments may also sell stationery and related items, second-hand books, and magazines."


Main Point Books to Open in Bryn Mawr, Pa.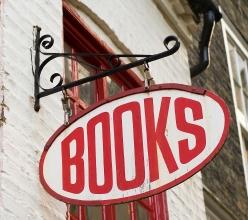 Cathy Fiebach, a graduate of the University of Pennsylvania and the Wharton business school who has had a career in marketing and brand management, plans to open Main Point Books in Bryn Mawr, Pa., by June, mainlinemedianews.com reported.

The 1,700-square-foot general store will be on West Lancaster Avenue, next to a cupcake store that is opening this week. Fiebach said she has been "thinking about it for well over a year, doing my due diligence," which includes attending seminars. She will offer author events and hopes to make the store a community center.

The store's name is a reference to the Main Point coffeehouse that "hosted stellar folk musicians in the 1960s and '70s," the paper said. In choosing Main Point Books, "I was trying to channel that old Bryn Mawr feeling of being able to discover things, of seeing things for the first time," Fiebach commented.


Book Documenting Superstorm Sandy to Be Reprinted
"People want it," said Rita Maggio, owner of Booktowne, Manasquan, N.J., referring to one of her store's bestsellers, the coffee-table book When Sandy Hit: The Storm That Forever Changed New Jersey. "People usually buy three or four copies. They want to give it to relatives, to people they know who used to come to the Jersey Shore."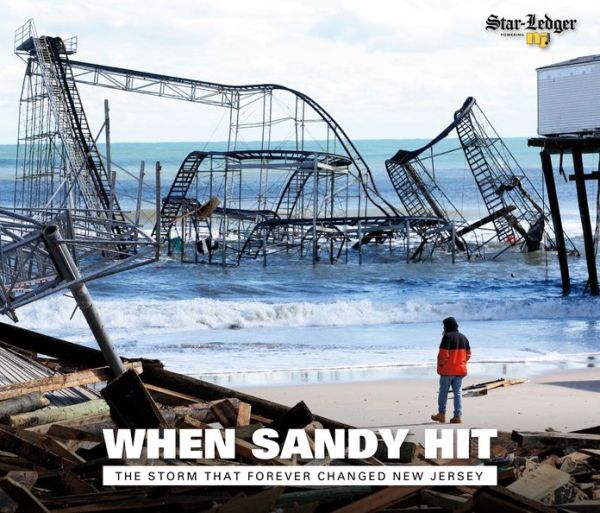 And so Maggio was concerned last month as stocks of the book began to dry up, and there were no plans for a second printing.
The $39.95 commemorative tome, written and edited by journalists at the Star-Ledger, was published on January 14 by Pediment Publishing, Battle Ground, Wash., which specializes in publishing coffee-table books with media partners. The book provides an historical overview of the hurricane that hit the eastern seaboard in late October, including how towns and cities on the Jersey Shore prepared for the storm, pictures of the destruction that it wreaked and the ensuing recovery efforts, as well as tributes to first responders and those who lost their lives. Initially, neither the Star-Ledger nor Pediment planned for another print run.
"I was so surprised that they were not reprinting," said Maggio. "People see [the book] as historical. They're upset when they go through it, but they want a copy of it. They want to remember. Some people cry when they look at it. We've sold hundreds of copies. For a small store, that's a lot. People are still asking for them."
Such demand surpassed the expectations of the Star-Ledger. According to Doug Hutton, the newspaper's marketing manager, there was some debate about whether or not to order another print run. The Star-Ledger now plans to print another 6,200 copies.
Although Booktowne was not physically damaged by the storm, it was closed for 11 days. Beachfront homes in Manasquan were all severely damaged; there are approximately 120 homes to which people have yet to return. And further south along the shore, towns such as Bay Head and Point Pleasant still look like war zones, as Maggio put it. A portion of the book's proceeds will go to the Community Foundation N.J.'s Hurricane Sandy Relief Fund. --Alex Mutter


Amazon Lowers Price of Kindle Fire HD, Launches it in Europe, Japan

Amazon will lower the price of the 8.9" Kindle Fire HD in the U.S. at the same time that it launches the device elsewhere in the world, the retail giant announced.
In the U.S., the 8.9" model--the largest of the Kindle Fire tablets--will now start at $269 for the wi-fi version and $399 for the 4G version, down from $299 and $499, respectively. The device is now available for sale in the U.K., Germany, France, Italy, Spain and Japan.


The U.K.'s Literature Prize Now the Folio Prize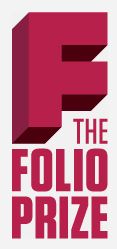 The Folio Society, a publisher of slipcased and illustrated editions of fiction and nonfiction books, has become the title sponsor of the Literature Prize, which will be renamed the Folio Prize.
The inaugural Folio Prize will be awarded, along with £40,000 (almost $60,000), in March 2014, to "recognize and celebrate the best English-language fiction from around the world, published in the United Kingdom in any given year regardless of form, genre or the author's country of origin." The first judges panel will be revealed this summer, while the shortlist of nominees will be released in February 2014. Each year the Folio Society will publish a hardcover, illustrated special edition of the winning title.
"The Folio Society pays loving and meticulous attention to the books they publish--their edition of The Handmaid's Tale is now definitive," said Margaret Atwood. "I'm sure the Folio Prize will be of equally high quality: much needed in a world in which money is increasingly becoming the measure of all things."
Philip Pullman added, "I have always admired the Folio Society's dedication to the book as a physical object, and I think their generous sponsorship of this new prize is a recognition that while literature can become manifest in many different forms, the book--the codex--is at the heart of what we understand literature to be."
The Folio Prize Academy will include more than 100 writers and critics and will help decide which titles are nominated for the prize. The panel of judges will be pulled from among the Academy's members. The panel will consist of three judges from the U.K. and two from elsewhere in the world, and there will be no more than three judges of the same gender.


WI8: Media Training to Prepare for Any Story at Any Time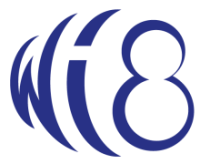 At the Winter Institute's Media Training session, panelist Kiona Gross from Curious Cup Bookstore in Carpinteria, Calif., addressed how to manage day-to-day interactions with media, and Jamie Fiocco from Flyleaf books in Chapel Hill, N.C., discussed how to be prepared for and deal with possible emergencies related to the media.

Gross, who previously worked at CNN, said that in her very small community--"if you blink, you miss it"--she took the time to develop a relationship with the local newspaper and takes out an ad once a month, because she sees it as mutually beneficial relationship. "It's a two-way street," she said. The store also sells tickets for the local community theater and gets some attention that way.

"If I don't see our name in the paper at least three or four times a month, something's wrong," she said.

At Flyleaf Books, Fiocco said the store had almost the opposite problem: being in the news for hosting controversial speakers. She discussed two recent events--one that featured an oil company executive and another a pro-Palestinian author--that had people in the community threatening a boycott.

"In general, I look at is a win-win," said Fiocco. "I think about how to turn it into positive publicity for the store." The key to that, no matter what the issue, is to avoid taking sides, she said. "Our job is to allow a discussion to take place." But, Fiocco stressed, it is best to instruct your staff about not talking to the press and knowing what the store's position is on any issue.

"Don't think on your feet when you are speaking with the press," she emphasized; have talking points ready. One difficult moment came when Andrew Young's The Politician, about former Senator John Edwards, was published. The store had to be very careful about its position because the Edwards family is among its customers.

If a store does not stay neutral, Fiocco said, "You could get caught twixt and between, and that makes for a juicier story. But you really don't want that."

Over time, both panelists said, they developed their own ways to deal with the media. At the Curious Cup, Gross created an electronic media kit that she gives to authors to send to media so that the information looks like it is coming from the store.

In an emergency, Fiocco suggested booksellers be prepared for anything--and call on the American Booksellers Foundation for Free Expression, if need be. But if people want to protest, she said, find out how and where they can legally protest. Do not send people away, she warned. And, finally, determine if the event is worth it for the store. "We no longer do Middle Eastern events," Fiocco noted, "because we found that people don't want to buy books, they just want to argue."

Of course, both panelists conceded that the up side of being controversial is that a store can go from being mentioned in the features sections to being on the news pages. If managed well, that can bring more positive attention to the store than negative. --Bridget Kinsella


Notes
Image of the Day: Story Prize Winner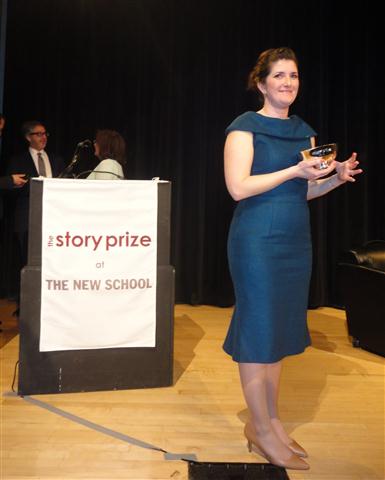 Claire Vaye Watkins accepted the ninth annual Story Prize for her debut story collection, Battleborn (Riverhead Books), last night. During the awards ceremony at Manhattan's New School, Watkins read from the story "Ghosts, Cowboys," which uses her father's association with the Manson family as a springboard. During a conversation with Story Prize director Larry Dark, she confided that the story was hardly reliable as public or personal history, but remained coy about the exact placement of the line between fiction and reality. "I once had to answer that question truthfully," she teased, "but only to the Riverhead lawyers, and never again."
Judges for the $20,000 Story Prize included critic Jane Ciabattari, McNally Jackson owner Sarah McNally and former finalist Yiyun Li. The two runners-up, Junot Diaz (This Is How You Lose Her) and Dan Chaon (Stay Awake), received $5,000 each. This year, the organizers also created the Story Prize Spotlight Award, which went to Drifting House by Krys Lee. --Ron Hogan


Prime Lit Real Estate: Japanese Home & Bookshop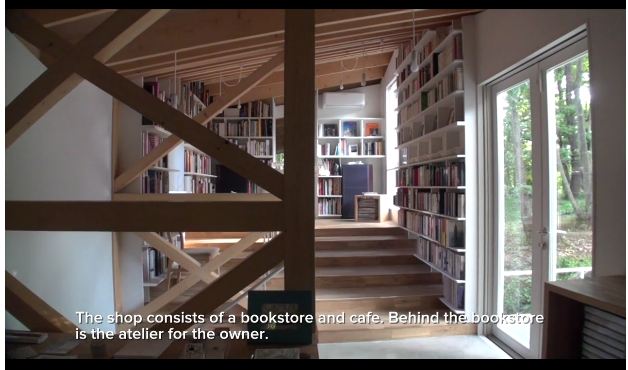 "Ever wish you had a bookstore in your living room?," asked GOOD, which featured a Japanese residence owned by a couple who wanted "to design a home that's intended to be open to the public. When the couple retired, they moved to Izu, a vacation area in Japan, and decided to build a home. They told the architects they wanted 'a house with a bookshop and a cafe where neighbors and visitors can stop by,' according to Japan Architecture Urbanism. A bedroom and guest room are tucked behind the shop and cafe."

Book Patrol observed that "There are countless booksellers scattered across the country that sell out of their home and are available by appointment only. Even though I have the book gene as strong as anyone else I have rarely visited a bookseller in his or her home - it just never feels comfortable. But a well-designed, healthy separation..."


Personnel Changes at Abrams
At Abrams:

Jeffrey Yamaguchi has joined the company as director of digital marketing, a new position. He was formerly director of digital marketing for the Knopf Doubleday Publishing Group at Random House.

In the marketing department:

Veronica Wasserman has been promoted to associate director, marketing operations, licenses, and brands.
Nancy Lambert has been promoted to senior marketing manager.
Maya Bradford has been promoted to associate publicist.
Nico Cassanetti has been promoted to marketing coordinator.
Ellie Levine has been promoted to marketing manager and social media specialist.

In the children's marketing and publicity department:

Laura Mihalick has been promoted to associate manager.
Morgan Dubin has been promoted to publicity and marketing associate.


Distribution: S&S & Good Books; Consortium Adds Six
Effective June 1, Simon & Schuster will handle all sales, distribution and fulfillment in the U.S., Canada and open market for Good Books. Sales and distribution have been handled by the company.
Founded in 1979 by Merle and Phyllis Good, Good Books, Intercourse, Pa., specializes in cooking, health, inspirational fiction, family/parenting, quilting, restorative justice and Amish and Mennonite subjects. Its bestsellers include the Fix-It and Forget-It Cookbook series and The Mayo Clinic Diet.
Steve Black, S&S v-p of client publisher services, said of Good Books: "Their books are as advertised: good ideas and topics with great appeal to a broad base of book buyers."
---
Consortium Book Sales & Distribution is adding six new publishers for the fall season:

And Other Stories, High Wycombe, England, a new publisher of fiction in translation, including Down the Rabbit Hole (shortlisted for the Guardian First Book Award) and Swimming Home (shortlisted for the Man Booker Prize 2012). Forthcoming titles include All Dogs Are Blue by Rodrigo de Souza Leão, a tale of life in a Rio de Janeiro insane asylum, and Open Door by Iosi Havilio, a word-of-mouth cult hit in Argentina.

Curbside Splendor Publishing, Chicago, Ill., a publisher of literary fiction, creative nonfiction, poetry and art, as well as a producer of music and literary events. Its recent story collection May We Shed These Human Bodies by Amber Sparks was named "best small press debut of 2012" by the Atlantic Wire.

Gallic Books, London, England, specializes in the "the best of French writing in English" and is best known for publishing The Elegance of the Hedgehog in the U.K. Gallic is launching two historical crime series: the Nicolas Le Floch Investigations by Jean-François Parot, set in pre-Revolution, 18th Century Paris, and the Napoleonic Murders from Armand Cabasson.

D. Giles Limited, London, England, a specialist visual publisher that focuses on co-publishing projects with museums, galleries and other institutions, including the Museum of Fine Arts in Boston, the National Air & Space Museum, the New-York Historical Society and the Smithsonian American Art Museum. The list comprises exhibition catalogues, permanent collection titles and souvenir and visitor guides. Forthcoming titles include The Armory Show at 100: Modernism and Revolution and George Catlin's American Buffalo.

Koyama Press, Toronto, Canada, focuses on fine art and cartooning. Forthcoming titles include Fata Morgana, a graphic novel by Jon Vermilyea, and Everything Takes Forever, a collection of ink-and-wash comics by Victor Kerlow.

Stockholm Text, Stockholm, Sweden, specializes on Scandinavian literature, from bestselling crime fiction to niche areas. Forthcoming titles include Swedish crime author Anna Jansson's Strange Bird, involving a vicious strain of "bird flu," and Mari Jungstedt's Killer's Art, set in the Swedish art world.


Book Trailer of the Day: Opportunity, Montana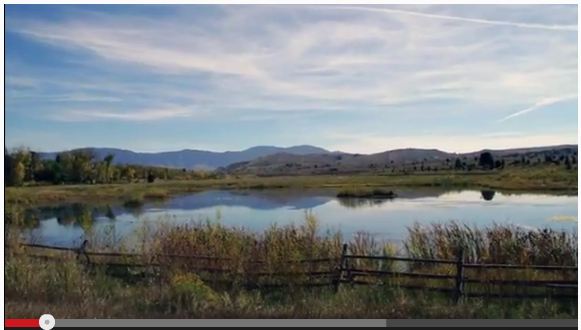 Opportunity, Montana: Big Copper, Bad Water, and the Burial of an American Landscape by Brad Tyer (Beacon Press).


Media and Movies
Media Heat: Bob Knight and The Power of Negative Thinking
Today on CBS's the Talk: Gesine Bullock-Prado, author of Bake It Like You Mean It: Gorgeous Cakes from Inside Out (Stewart, Tabori & Chang, $29.95, 9781617690136).

---
Today on NPR's Talk of the Nation: Bob Garfield, co-author of Can't Buy Me Like: How Authentic Customer Connections Drive Superior Results (Portfolio, $25.95, 9781591845775).
---

Tomorrow on CNBC's On the Money: Joe Peta, author of Trading Bases: A Story About Wall Street, Gambling, and Baseball (Not Necessarily in That Order) (Dutton, $27.95, 9780525953647).

---

Tomorrow on the View: Bob Knight, co-author of The Power of Negative Thinking: An Unconventional Approach to Achieving Positive Results (New Harvest, $25, 9780544027718).


This Weekend on Book TV: Literary Alexandria, Va.
Book TV airs on C-Span 2 this week from 8 a.m. Saturday to 8 a.m. Monday and focuses on political and historical books as well as the book industry. The following are highlights for this coming weekend. For more information, go to Book TV's website.

Saturday, March 16
12 p.m. BookTV goes to Alexandria, Va., to speak with some of the city's authors and tour literary and historical landmarks. (Re-airs Sunday at 11 a.m.)

2:30 p.m. At an event hosted by R.J. Julia Booksellers in Madison, Conn., Edward Ball speaks about his book The Inventor and the Tycoon: A Gilded Age Murder and the Birth of Moving Pictures (Doubleday, 29.95, 9780385525756).

3:30 p.m. Alec Forge discusses his book about "modern-day Ben Franklins and Thomas Edisons," The Tinkerers: The Amateurs, DIYers, and Investors Who Make America Great (Basic Books, $26.99, 9780465009237). (Re-airs Sunday at 7:30 p.m.)

7 p.m. A panel made up of NYU journalism professor Katie Rophie, New Yorker staff writer Ariel Levy, novelist Anne Rophie and author Gail Sheehy discusses Betty Friedan's The Feminine Mystique on its 50th anniversary (Norton, $16.95, 9780393322576). (Re-airs Sunday at 3:45 p.m.)

10 p.m. After Words. Jamie Weinstein, senior editor of the Daily Caller, interviews Kim Ghattas, author of The Secretary: A Journey with Hillary Clinton from Beirut to the Heart of American Power (Times Books, $27, 9780805095111). (Re-airs Sunday at 9 p.m.)

Sunday, March 17
8:15 a.m. In an event held at the Council of Foreign Relations in New York City, Benn Steil talks about his book The Battle of Bretton Woods: John Maynard Keynes, Harry Dexter White, and the Making of a New World Order (Princeton University Press, $29.95, 9780691149097). (Re-airs Monday at 2 a.m.)

10 p.m. Tim Naftali, former director of the Richard Nixon Presidential Library and Museum, interviews Jeffrey Frank, author of Ike and Dick: Portrait of a Strange Political Marriage (Simon & Schuster, $30, 9781416587019). (Re-airs Monday at 6:30 a.m.)


Books & Authors
Awards: Yale Younger Poets Winner
Eryn Green, a doctoral candidate at the University of Denver, has won the 2013 Yale Series of Younger Poets competition for his manuscript Eruv. He will also receive a fellowship at the James Merrill House in Stonington, Conn.
Yale University Press will publish Eruv next spring. Last year's winner, Westerly by Will Schutt, will see publication this April.
Poet Carl Phillips judged this year's competition, along with the two before it. Past winners include Adrienne Rich, John Ashbery and Jack Gilbert.


Attainment: New Titles Out Next Week
Selected new titles appearing next Tuesday, March 19:

Lina and Serge: The Love and Wars of Lina Prokofiev by Simon Morrison (Houghton Mifflin Harcourt, $26, 9780547391311) explores the marriage between composer Serge Prokofiev and wife, Lina.

The Tragedy of Mister Morn by Vladimir Nabokov, translated by Thomas Karshan and Anastasia Tolstoy (Knopf, $26, 9780307960818) is an unpublished play that the literary legend completed in 1924.

Clockwork Princess by Cassandra Clare (Margaret K. McElderry Books, $19.99, 9781416975908) concludes the Infernal Devices trilogy.

Family Pictures by Jane Green (St. Martin's Press, $25.99, 9780312591830) follows two women connected by a secret.

Operation Storm: Japan's Top Secret Submarines and Its Plan to Change the Course of World War II by John Geoghegan (Crown, $28, 9780307464804) examines Japan's planned use of underwater aircraft carriers.

Still Points North: One Alaskan Childhood, One Grown-up World, One Long Journey Home by Leigh Newman (Dial, $26, 9781400069248) chronicles a childhood split between the Alaskan wilderness and Baltimore.


Book Review
Review: The Blue Book
The Blue Book by A.L. Kennedy (New Harvest, $25 hardcover, 9780544027701, March 12, 2013)
Glaswegian A.L. Kennedy writes fiction (and nonfiction) that's dark, complex and littered with scathing shards of British wit--well regarded by American book reviewers, but not as yet reaching as many readers in this country as she deserves. Perhaps The Blue Book will be the breakout novel to expand her U.S. audience.
Kennedy tells the story of Elizabeth "Beth" Barber, her two lovers and a kindly pensioner couple as they travel by ship across the Atlantic. Beth is a reluctant traveler--"Why are we here? We're not cruise people. We're not quoits-and-gin-slings-and-rubbers-of-bridge people"--and reluctantly involved with Derek, an attentive but boring companion intent on proposing marriage on this trip. (Derek, Beth tells us, is like his lovemaking: "Cute. Not that he knows any tricks. But still cute. Sort of.") The weather is windy and rough; Derek spends most of the voyage in their cabin sweating, vomiting and expecting commiseration and care. Beth, however, refuses to hole up below deck and instead takes in the buffets and shows, where she discovers her former lover Arthur is aboard and intent on winning her back.
Kennedy's journey into the hearts of her characters is not an easy one to follow. Several chapters are addressed to an unidentified "you" with references to a mysterious "blue book" that become clear only at the novel's end. Throughout Beth's narration of events on board, she digresses into internal monologues that reveal not only her sharp wit, but also her history and vulnerability. From a difficult childhood she found herself caught up in the worlds of magic and psychic counseling, eventually joining with the gifted Arthur as an ostensible brother-sister team conning the bereaved with contact with their lost loved ones. "Everyone always wants to be naked and opened and seen and touched, but still loved," she says of their deceived clients. "In an unforgiving world, what can be wrong with reassuring falsehoods?"
In this contained shipboard world of past and present, lies and brutal truth, sickness and health, obsession and indifference, Francis and Bunny take Beth in and help her untangle her conflicted love life and her uneasiness with Arthur's ill-gotten wealth. They become the stable beam of Kennedy's complexly crafted ship, a voice to calm the stormy high drama of Beth's story. --Bruce Jacobs
Shelf Talker: A.L. Kennedy explores a complex world of magicians, psychics and imperfect lovers aboard a cross-Atlantic ocean liner.