Shelf Awareness for Monday, April 1, 2013

News
Big Six Become Big One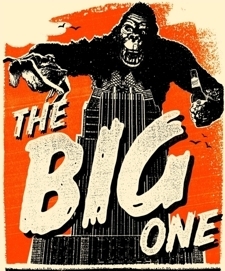 It's been a tumultuous weekend in publishing.
Following the purchase of Goodreads by Amazon and reports that the European Union will approve the Random House-Penguin merger--which has already been blessed by antitrust regulators in the U.S., Australia and New Zealand--American publishers jumped on the consolidation bandwagon. The result, announced late last night: the merger of the Big Six into a single U.S. mega-publisher. As one senior publishing executive said, "If you can't beat 'em, become 'em."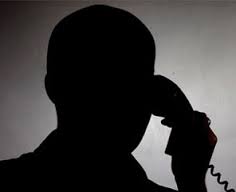 High-level conversations began Thursday night after the Amazon-Goodreads announcement with a few furtive chats between U.S. heads of houses on burner phones and via handwritten notes folded into paper airplanes. Initially, HarperCollins and Hachette were in discussions to merge, while Simon & Schuster and Macmillan worked on an agreement to hook up. But soon those two groups began discussing a larger merger that would be a counterweight to Penguin Random House. That development alarmed executives at Random House and Penguin, who argued that there was a larger force to reckon with. As night fell on Easter Sunday, executives of the Big Six came to a historic agreement, after which they celebrated with a dinner at Picholine.
"In the interests of a semblance of competition," the publishing giant said it will have two operating groups. One, under the aegis of Random House, combines HarperCollins and Hachette and will be called Random Ha Ha, while the other, under Penguin, comprises Macmillan and Simon & Schuster, and will be called SSMac Penguin.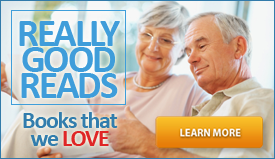 The CEOs of all six publishers will constitute a managing directorate and be co-co-co-co-co-co CEOs. Efficiencies resulting from the mergers will lead to downsizing in less essential areas such as editorial, publicity, sales and marketing, warehouse operations and customer service. In one of its first moves, Random Ha Ha/SSMac Penguin indicated that it is absorbing Bookish, which will be rebranded ReallyGoodReads.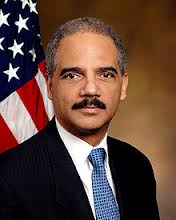 While the new company has not received formal approval of the U.S. Justice Department, speaking yesterday at the White House at a ceremony honoring his appointment to the Amazon board of directors, Attorney General Eric Holder spoke favorably of the megamerger, saying, "Frankly I'm surprised that even with the lawsuit, it took publishers so long to understand that the Obama administration supports monopolies. With this change, we may have to revisit the e-book agency model pricing case."
The creation of a single mega publisher will have many ramifications in the business. For example, while the new house may not take as much space overall at BEA as it would separately, its five booths are still likely to be one of the largest sections at the Javits Center. Parties during BEA may be held at the same site on consecutive nights, serving the same food and drink.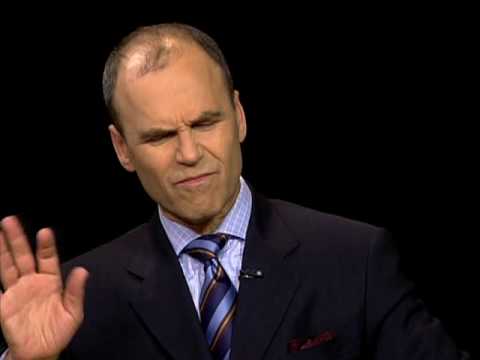 Reaction to the merger varied. Authors Guild president Scott Turow issued a statement decrying the move as "a further blow to the culture of diversity in our diverse culture" while several literary agents expressed concern that publishers will no longer offer "a diversity of bids" for clients' work.
In the spirit of the holidays, several observers noted a Holy Week parallel, saying that while the publishing industry had recently been crucified by Amazon and the Justice Department, through the merger it has been resurrected. Others drew inspiration from Passover, which also took place during the past week, and, of course, celebrates the people of the book's liberation from slavery and their trek to the Promised Land. --John Mutter


Barnes & Noble Sees Ominous New Trend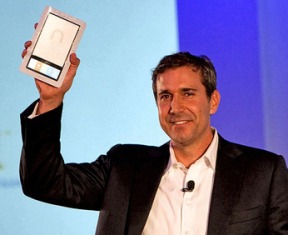 Explaining Barnes & Noble's disappointing third-quarter results during a conference call with investors in February, CEO William Lynch noted a new trend that is upending the bookselling giant's long-term strategic plans and calling for a soul-searching reevaluation of what it means to be a bookseller in the 21st century.

"Physical book sales will have a longer [life expectancy] than previously anticipated," Lynch said. "No one thought two years ago that books would be around this long. The problem for us is that all of our business plans are based upon not having to sell books."

At the same time, he acknowledged big drops in sales of Nook e-readers and e-books--the areas where the company had expected major growth--saying, "We kind of got snookered on that one."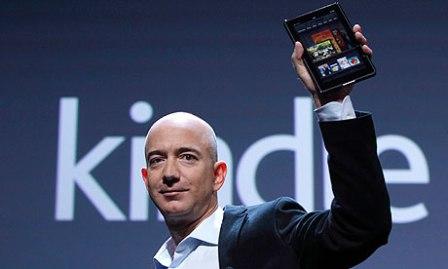 B&N's competitors are facing the same dilemma. During the gala presentation of Amazon's first e-reader, CEO Jeff Bezos had said, "We believe we will not be selling books within two weeks after the Kindle hits shelves."

Contacted last week for comment, an Amazon spokesperson expressed some exasperation about the durability of printed books, "Books have never been our primary focus because we were aware early on that the trend was away from physical packets of information and towards electronic products that you can take with you--on the bus or to a park--and read at your leisure."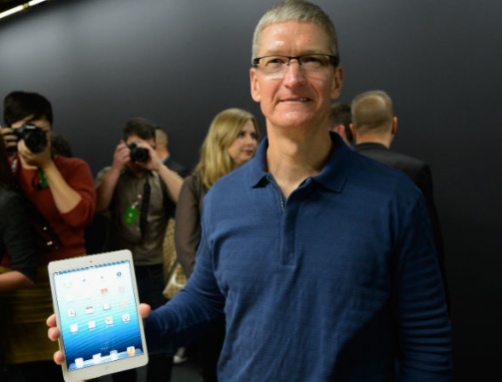 Apple CEO Tim Cook offered a similar assessment, saying, "Books are not well designed. There is no index system, you can't 'bookmark' portions or highlight passages or transfer the content from one user to the next. The infrastructure required for use and storage lacks clarity."

Wall Street analysts were forgiving to the retailers for miscalculating the future. As Jeff Goldberg of CodexBGone put it, "No one in the know expected people to buy books for this long. I mean, when you look at the trends, they all point toward no books. So, it is not surprising that a major bookseller like Barnes & Noble or even Amazon has been caught unaware by the persistence of reading." He promptly pushed up his target price for Amazon to $1,000 a share. --Christopher Priest


Green Love: Chelsea Green Launches Apocalyptica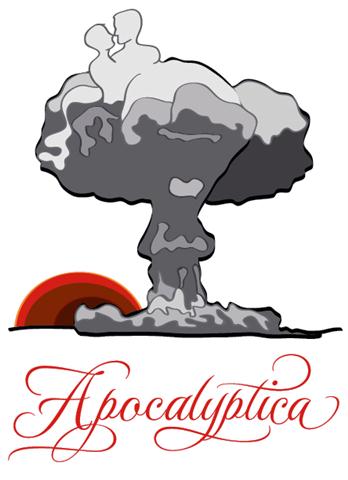 Drawing on nearly 30 years of experience as a publisher for all things sustainable and seeking to flourish in a fertile genre, Chelsea Green Publishing is using some of the proceeds from its record-breaking sales year of 2012 to launch Apocalyptica, a new e-book-only imprint for "green" erotica.

"When I saw the runaway success of Fifty Shades of Grey, I thought, you know, they've really got something there," president and publisher Margo Baldwin said. "But who's writing erotica for the permaculture activists, horse farmers, fermentos and orchardists? No one. It's an open market. We decided to jump in bed right away."

She added that with all the doom and gloom in the world, at least one publisher should focus on what remains good--love. Sustainable, holistic and organic love.

With the tagline "What's hotter than the end of the world?" Apocalyptica will focus on stories that speak to "the often hidden, sensual and romantic world of homesteaders, preppers, doomers and sustainable living devotees. From Gaia-themed romance novels to practical, how-to manuals on growing and making your own aphrodisiacs and pleasure aids, the Apocalyptica imprint will couple nicely with Chelsea Green's conventional DIY and how-to books."

The initial list includes:
Peak Love: Renewing Romance in a Post-Oil World
Holistic Hot Beds: Heating Up the Garden
The Four-Season Lover: Strategies for Love in Cold Climates
Life, Liberty, and the Pursuit of Pleasure: The Escalating Battle Over Deciding Who We Can Love
Local Dollars, Local Love: How to Shift Relationships from the Boardroom to the Bedroom
The Polyamorous Handbook: Planning. Erecting. Using. Maintaining.


DNA-Books Could Revolutionize Publishing... Again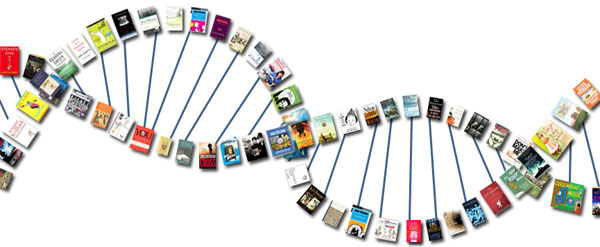 Less than a year after scientists found a way to use DNA to encode the contents of a 53,000-word book (while predicting that a practical application for humans was unlikely in the near future), a Chinese company is rumored to be on the verge of unveiling the first commercially viable DNA-Book serum, capable of injecting the contents of a nearly unlimited number of books directly into customers' brain cells, according to early reports from concerned upstream digital device parts suppliers.
Due in large part to an unexpected plummet in the cost of DNA coding, as well as radical tweaks that solved most of the complications and risks involved while working with living organisms, the DNA-Book may soon be a commercial reality. For an industry already struggling to come to grips with the e-book revolution, an accelerated DNA-Book program raises even greater concerns that it would effectively eliminate the entire publishing industry, placing the future of books in the hands of the scientific and medical communities.

Plans call for DNA-Book injections to be field tested in several countries--which have yet to be named--before any consideration is given to wholesale or retail prospects, the sources said. Scientists had predicted last August that eventually it "could be cheaper to store information using this method than in conventional digital devices," the Guardian reported. Suddenly, however, the timetable has changed dramatically. --Robert Gray


Goodreads Fallout; Amazon's New 'Drone Home' Program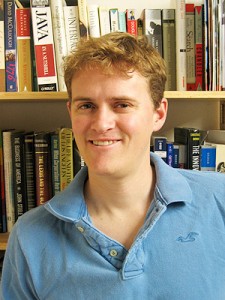 The fallout from the Amazon purchase of Goodreads continues. This morning, from his new home in the Cook Islands, Goodreads co-founder Otis Chandler issued a statement saying that he is retroactively withdrawing all public remarks and data shared at conferences and on panels the last seven years. He added that he would like to deny that the move has anything to do with the Amazon purchase but hadn't yet been cleared to say so by the corporate communications department in Seattle.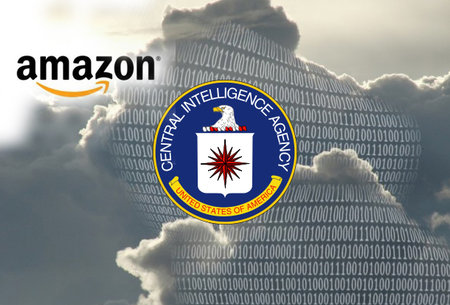 image: 21st century wire
In other Amazon news, reports have surfaced that the retailer's recent 10-year, $600-million agreement with the CIA to build a secure cloud for the agency has a secret protocol: Amazon is making an investment in the CIA, buying a 10% interest each year, which even using Amazon math, means it will own the spy agency after a decade.
CIA director John O. Brennan said that the deal made sense because, as he put it, "Thanks to Wall Street, which the poverty-stricken federal government bailed out, Amazon has more money than god, money that we can use."
For his part, Amazon CEO Jeff Bezos said, "We see this as a new model for a public-private partnership--and how appropriate that we finally make the Company a company. The mutual benefits are enormous: we can teach them about secrecy and fudging numbers while they can teach us that there are other ways to neutralize the competition besides buying them."
Bezos also indicated that he's particularly interested in commercial adaptation of the agency's drone program. "We foresee a kind of ultrafast, combined weapons and product delivery service," he said. "It will be the ultimate in customer choice: accept Amazon or meet your maker." --John Mutter


Borders to Re-Launch as a 'New Adult' Line
Borders has returned--with an edge. The reborn company is opening a New Adult boutique store on Manhattan's Upper West Side. The bookseller will also launch a line of books called Borders; Dan Weiss, formerly of St. Martin's Press, will spearhead the enterprise. "We wanted the imprint's name to indicate the permeable gray area from adolescence to adulthood," Weiss said. The store and imprint will launch on Friday, May 24, in time to capitalize on BEA in New York City and the summer beach-reading season.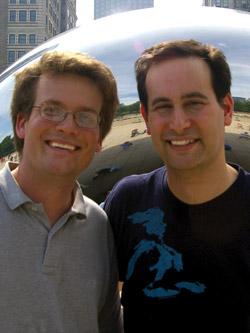 The lead title will be 50 Shades of Will Grayson, Will Grayson by John Green and David Levithan. "Why should New Adult be relegated to Chick Lit?" said Levithan and Green. Their story centers on will grayson and Tiny falling in love when the curtain goes down on Tiny's autobiographical high school musical. Tension develops with Will Grayson when Tiny starts spending all his time with will grayson, and neglects his longtime best friend. Weiss said a musical based on their romance called Cuff Me, Will Grayson, Will Grayson will be produced in tandem; it's scheduled to open this season at the Actors Temple Theater in Manhattan.
New Adult Borders has also signed Stephenie Meyer to do a line of fang fiction centering on characters who, until now, have had secondary roles in her Twilight novels. The new series will be called After Midnight and will be set in Transylvania. And Joyce Carol Oates will create 12 love stories, released monthly, set in the dank dungeons of medieval castles. "It's been fascinating to research the means of torture in those days, and to think about them as metaphors for the pain of love," Oates said.
To celebrate the launch, Weiss said, Borders will give away beach bags filled with all the accoutrements New Adult readers need: handcuffs, blindfolds and other paraphernalia that's inappropriate to mention in a family newsletter. --Jennifer M. Brown


Notes
Just Read It: Paris Librairies Sell Prototype 'Nike Readers'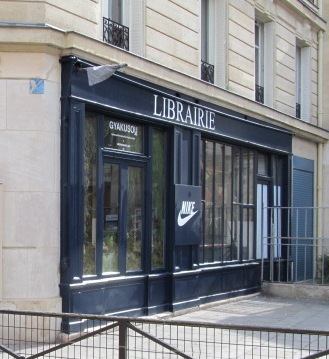 Exploring the possibility of tapping into a lucrative new market, Nike has begun test-marketing its prototype "Nike Readers" line of book-themed casual shoes in several Paris bookshops. A Nike spokesman said the shoe line is "meant to expand the public's perception of the Nike lifestyle, while incorporating some of the more dynamic aspects of a reading life. Comfort and fashion make these shoes an intelligent choice for the well-read consumer, while generous margins give booksellers a high-end, internationally branded sideline option."

Paris was chosen as the initial test market for its literary heritage, beautiful librairies and renown as a great walking city with an incomparable sense of fashion. Among the first offerings on display in the bookshops are the already popular Nike Flâneur loafers ("for aimless strolling and sidewalk café reading"), Nike Ulysses walking shoes ("for those all-day roaming & reading odysseys"), Nike Great White boat shoes ("for slippery decks and epic reading quests"), soft-soled Nike 007 slippers ("for stealthy, late-night reading assignations") and the Stephen King signature edition Nike Chiller cross-trainers ("for scary-quick escapist workouts"). --Robert Gray


Houghton Mifflin Harcourt E-Promotion
Starting today and running through the end of the month, Houghton Mifflin Harcourt is running an e-book overstock promotion to clear excess inventory. For more information, contact HMH's Carla Gray.


Trailer of the Day: Paper vs. Digital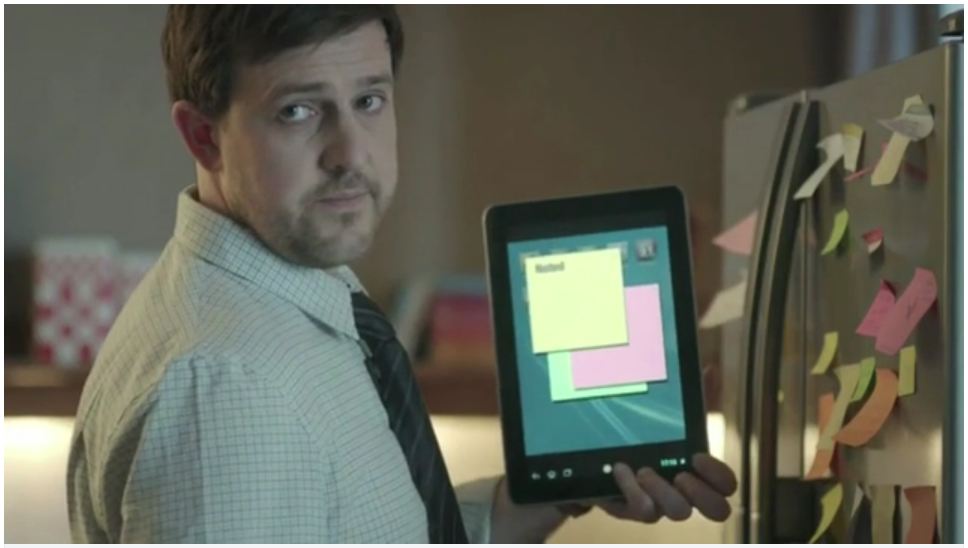 A ruling from the throne has been made in the debate over paper vs. digital. See which mode is the wave of the future here.


Media and Movies
TV: The Amazing Author Book Tour!
The creators of CBS TV's hit reality-competition show The Amazing Race! are currently developing a spinoff series called The Amazing Author Book Tour!, which will pit two dozen writers against each other in a series of "readings" nationwide as they race for precious "bookmarks" to build up points and stave off elimination. During the competition, clues--or "plot points"--are provided that lead the authors to their next event sites, which will include bookstores, libraries and "exotic, surprise locations to be determined." Bonus bookmarks are also awarded based upon audience evaluations of the "readings" in four categories: content, presentation, interaction and attitude.

"Writers have long complained about the tedium of book tours, and we thought this was the perfect solution," said a spokesperson for CBS. Although the company also owns Simon & Schuster, the network stressed that competitors will be drawn from publishing houses both large and small.

Author contestants will be progressively eliminated during weekly episodes of The Amazing Author Book Tour! until a Final Four is determined, at which point a winner-take-all event will be filmed at the Javits Center during BookExpo America 2014. --Robert Gray


Books & Authors
Awards: Hallmark Author Acknowledgments Winner
April Calhoun won this year's $10,000 Hallmark Author Acknowledgments Award, which honors a writer who, in his or her debut book, thanks the most people with the fewest words while "exhibiting Hallmark's high standards of graciousness, gratitude and brevity." The judges praised the acknowledgments section in Calhoun's novel Where from Here? for its "deft blend of the personal and professional, admirably compact inclusiveness, emotional force and deeply heartfelt connection to family and friends."

"We live and breathe that delicate combination of sentiment and brevity here at Hallmark every day," said company spokeswoman Jennifer Carlson. "April's acknowledgments section sets a very high standard for future contenders." --Robert Gray


Book Brahmin: Jim Gaffigan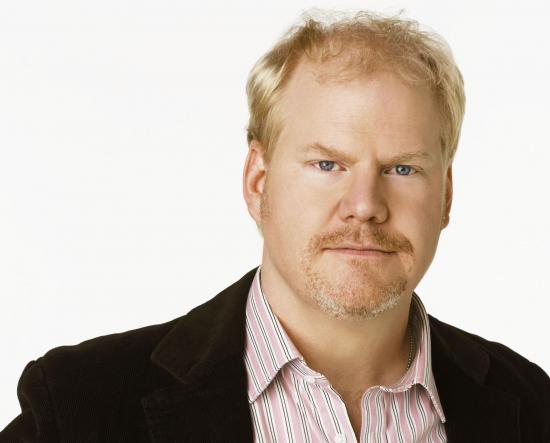 Comedian and actor Jim Gaffigan, best known for his riffs on Hot Pockets, bacon, manatees and McDonald's, is now an author, too. Dad Is Fat, which Crown Archetype is publishing May 7, is, he says, "all about the joys and horrors of my life with my five young children. I'm not sure if it's a memoir, a confession, an apology or a cry for help, but my wife Jeannie and friends have told me it's really funny." Here he answers questions from Shelf Awareness:
On your nightstand now:
There's an empty bag of peanut butter-filled pretzel nubs. Amazing! I couldn't put them down. Wait. Am I supposed to say, "A book?"

Favorite book when you were a child:

Harry the Dirty Dog by Gene Zion, illustrations by Margaret Bloy Graham. I'm still surprised that black dog with white spots was Harry.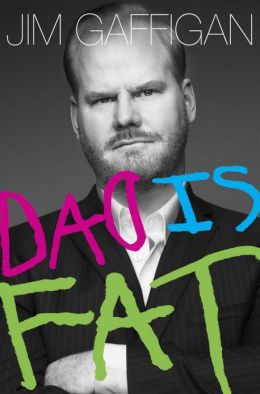 Your top five authors:

Mark Twain. He's the original American humorist and was essentially a standup comedian. His essay "How to Tell a Story" is more or less about how to tell a joke. He's a great example of how comedy is self-taught, how you have to find your own path and solution.

Malcolm Gladwell. His work is smart, simple and accessible, and he has intriguing analyses. He fulfills the inner nerd in all of us.

David Sedaris. The level of efficiency in his writing in communicating humor is staggering. He changed the landscape for comedy writing so that now it's pretty hard to be measured against him. Somehow he has a narrow point of view but has a broad attraction; usually a narrow point of view draws a narrow audience. He's a master.

Dr. Seuss. I like him for a lot of different reasons. One reason is that it's impossible to read one of his books without sounding a little bit drunk.
When you read Dr. Seuss to kids, you realize that some creativity is stifled as we grow older. Dr. Seuss never really put a kibosh on that.

Charles Dickens. We know him for his storytelling, but he's also so accessible. David Copperfield had a big impact on me. Wow.

Book you've faked reading:

Books by the above authors.

Book you're an evangelist for:

The Tipping Point by Malcolm Gladwell. He motivated me to write my book the way I did. I wanted it to be like his work: accessible and inviting so that you might grab it when you're on the subway or on the plane or about to fall asleep. You have an ongoing relationship with it.

With Gladwell, you're not wasting your time even if you don't like a particular book or article. No matter what, at the end you've gained 3,000 facts you didn't know before.
Book you've bought for the cover:
The Bacon Cookbook. I do jokes about bacon so I've received many books about bacon from fans.

Book that changed your life:

Nope.

Favorite line from a book:

Do menus count? I really like that cheeseburger at Shake Shack.

Book you most want to read again for the first time:

Goodnight Moon by Margaret Wise Brown, illustrated by Clement Hurd. I read Goodnight Moon to my one-and-a-half year old regularly, and after reading it to four kids, I can recite it from memory. It's like doing the same joke again and again for five years. You love it and appreciate the brilliance of the joke, but you wish you could go back and discover it for the first time again.


Review: Book Reviewing for Dummies
Book Reviewing for Dummies by Todd Rutherford (Wiley, $17.95 paperback, 97804702460, April 1, 2013)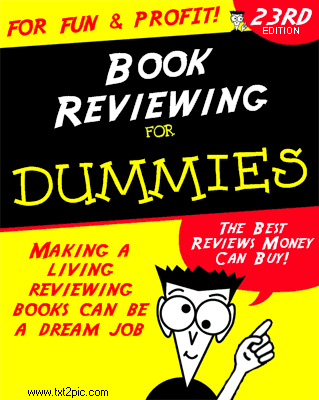 For many readers and writers, making a living reviewing books can be a dream job. And as more and more opportunities develop to offer opinions, especially online, the market for skilled book reviewers is growing. In the 23rd edition of Book Reviewing for Dummies, prolific reviewer Todd Rutherford starts with the basics: Read a book and then think about whether you liked it; this is called "forming an opinion." Depending on where the review will be published, the reviewer may need to back up his or her "opinion" with actual facts. Rutherford recommends making notes as you read the book you will be reviewing. This can be done, he instructs, using technology, such as small pieces of paper called "sticky notes." (This won't work as well, however, if you're reading the book on a screen of some sort.) This note-taking process will help the reviewer distill a whole bunch of information into a few pithy words.
Before embarking on what will surely be a lucrative career as a book reviewer, Rutherford suggests studying the work of successful book review professionals like Michiko Kakutani, Harriet Klausner and Ron Charles for tips on style and vocabulary. Practice using key terms like limn, lyrical, poignant and tour-de-force in everyday conversation. And he quotes the philosopher Crash Davis: "You're gonna have to learn your clichés. You're gonna have to study them, you're gonna have to know them. They're your friends."
When writing a review, Rutherford emphasizes, it is often important to be balanced. This means that for every nice thing you say, you must also write something mean. There are exceptions to this, of course; if you're writing a paid review for Amazon, for example, you'll want to be really, really positive. Exclamation points can help you get your message across, and there's a whole chapter on how and when to use them!
For this revised updated 23rd edition, Rutherford has added an extensive section on sockpuppetry, with helpful tips on spoofing your IP address, how to generate multiple e-mail addresses and creative use of adjectives. Other chapters cover how to acquire review copies and how to resell them, as well as proper etiquette when contacting editors. Rutherford devotes little space in this edition to spelling and, punctuation; these clearly are less important that they used to be.
Useful, cogent and written in an accessible and engaging style, Book Reviewing for Dummies 23rd Edition will prove valuable for all who want to share their thoughts on a book, from those just starting a Goodreads account to those already earning a so-called living at it. --Robin Lenz