Shelf Awareness for Wednesday, April 3, 2013

Quotation of the Day
Bookseller's Message to Customers: 'You Are Not Data'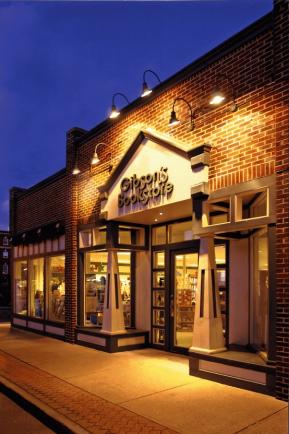 "Privacy of reader information is viewed as a sacred trust by booksellers and librarians.... No librarian or bookseller wants to give the government or anyone else access to your private information. It's in our DNA. We're a community center and a community resource. You want to be able to come in and talk to us about books. You don't want us to gossip about your reading habits to the next guy who comes in, whether that guy is your neighbor or from the FBI. We don't do it. We won't do it.

"When we remember what you like, it's in service of a personal relationship. It's not 'data' to 'exploit.' This is a profession with professional standards.... At your next book club meeting, picture me sitting quietly in the corner, taking notes on your preferences. Imagine the next day you get an e-mail from me trying to sell you a new grill--or a book--or accessories for your Glock. That's the Amazon/Goodreads deal. It's appalling.... That's not the world we want to live in. That's the world we're fighting against, every day we open our bookshops and libraries to the public. Join us. You are not data."


News
Kobo Now Selling E-Readers Online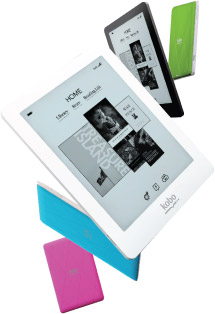 Kobo is now offering its line of e-reading devices and accessories for purchase directly from its website, Kobo.com, for customers in Canada and the U.S. Kobo said it "believes e-reading is a global movement and is focused on rapidly expanding its footprint through retail and publishing partners around the world."

The company also noted that it "continues to make its devices available at premier retail organizations across North America," including members of the American Booksellers Association.

"Pre-Christmas we focused on in-store availability and we've now pushed sales online," a Kobo spokesperson told Digital Book World.


No Joke: Atomic Books Is Expanding
In a "special announcement" on Monday, Atomic Books, Baltimore, Md., said it and Celebrated Summer records will expand into 3616 Falls Rd., with the bookshop occupying the entire first floor of the Oddfellows building.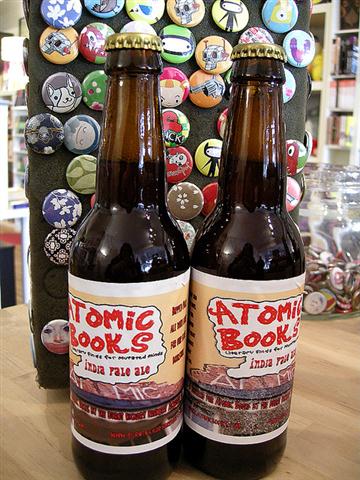 In addition, since the bookstore becomes "a legal adult" this year by turning 21, "the back of the current Atomic Books location, the space of the record store and our office will be converted into a bar area for our events and clubs. We're calling it the Dead Poets Society and it will be open during store hours. Dead Poets Society will also be a bottle shop where we'll be carrying our own Atomic Books beer as well as a selection of bottles related to music, comics and literature."

Monday. April Fool's Day.

Yesterday, Atomic Books offered clarification: "Did you really think we'd open a bar and name it Dead Poets Society? April Fool's! But EVERYTHING ELSE in that announcement is TRUE! Yes, we are expanding. Yes, we will have a bar. Yes, yes, yes."


National Poetry Month Round-Up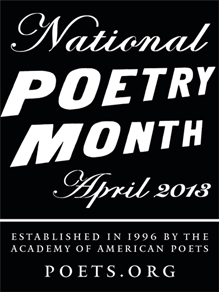 The Academy of American Poets, which founded National Poetry Month in 1996, has created a new initiative called the Dear Poet Project, in conjunction with this year's theme of correspondence. Young readers and aspiring poets are encouraged to read poems written by the poets on the Academy's Board of Chancellors and respond to those poems by handwritten letter.

In addition to orchestrating the Dear Poet Project, the Academy is hosting the 11th Poetry & the Creative Mind reading at Lincoln Center on April 17 and is a partner for Poem in Your Pocket Day on April 18. The Lincoln Center event includes celebrity readers such as Mario Batali, Glen Hansard, Patricia Clarkson and Stew.

An in-depth look at the Academy's many National Poetry Month resources can be found here.

The Poetry Foundation, meanwhile, will honor National Poetry Month by giving out 50,000 free copies of the April issue of Poetry magazine. Among other things, the April issue includes "A Few More Don'ts," a follow up and homage to Ezra Pound's "A Few Don'ts by an Imagiste," originally published in 1913. The Harriet Monroe Poetry Institute will publish, in conjunction with McSweeney's, two new titles: Open the Door: How to Excite Young People About Poetry, edited by Dorothea Lasky, Dominic Luxford and Jesse Nathan, and The Strangest of Theaters: Poets Writing Across Borders, edited by Jared Hawkley, Susan Rich and Brian Turner.

The Poetry Foundation will also host frequent events, most of them free, throughout the month of April; a detailed schedule can be found here.

New York Review Books is launching a series called NYRB/Poets. The first two titles are Miguel Hernández, a collection of the writer's poems selected and translated by Don Share, and An Invitation for Me to Think by Russian poet Alexander Vvedensky, translated by Eugene Ostashevsky and Matvei Yankelevich.

Coffee House Press and Tin House Books have teamed up to create Buy One, Give One, a National Poetry Month program in which participating publishers will send a free book of poetry with every book of poetry bought from their respective websites. Poetry readers are encouraged to send the free book of poetry to someone unfamiliar with poetry. Participating publishers include Archipelago Books, BOA Editions, Coffee House Press, Copper Canyon Press, Milkweed Editions, Red Hen Press, Sarabande Books and Tin House Books.

Throughout April, five National Student Poets will travel to communities across the U.S. as "literary ambassadors for poetry," conducting workshops and readings to help spread interest in poetry and the written arts. A panel of jurors chose the five teenagers last year from a nationwide pool of writers from grades 9-11. The National Student Poets Program is part of the President's Committee on the Arts and the Humanities. --Alex Mutter


BEA: Schwalbe, Zuckerberg Headline Bloggers Conference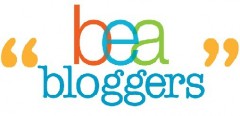 Will Schwalbe, publishing industry veteran and author of The End of Your Life Book Club, will be the opening keynote speaker and Randi Zuckerberg, CEO and founder of Zuckerberg Media (and Mark Zuckerberg's sister), will give the closing keynote address during this year's BEA Bloggers Conference May 29 at the Javits Center in conjunction with BookExpo America. Last year's Bloggers Conference drew more than 400 attendees.

Other panelists who will be featured at the BEA Bloggers Conference include Mandy Boles (The Well-Read Wife), Thea James (Booksmugglers), Josh Kendall (editorial director, Mulholland Books), Hut Landon (Northern California Independent Booksellers Association), Jenn Lawrence (Jenn's Bookshelves), Jane Litte (Dear Author), Andrew Loskowsky (books editor, the Huffington Post), Cindy Minnich (Nerdy Book Club), Mandi Schreiner (Smexy Books), Malle Vallik (director of digital content and social Media, Harlequin), Sarah Wendell (Smart Bitches).

"Book bloggers are very important to the book world and they are instrumental in developing and spreading the word about books," said Steve Rosato, BEA show manager. "I know that Will and Randi, as well as the other terrific panelists, will provide a lively day of discussion."


Notes
Image of the Day: Standing Ovation for The Dark Stars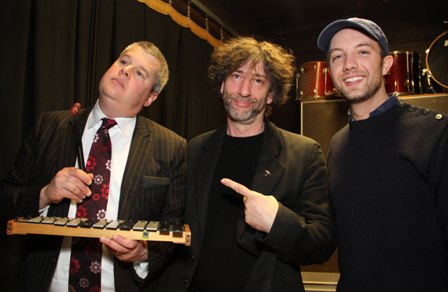 For yesterday's launch of The Dark (Little, Brown), Daniel Handler (left, standing in for no-show author Lemony Snicket) and illustrator Jon Klassen (r.) were joined by Neil Gaiman at the Bank Street School for Children in New York City. The trio got a standing ovation from the audience of second-, third- and fourth-graders. Gaiman is the narrator for the audio version of the book; it is the only book that he has narrated which he did not author himself.
Photo: Cheryl Simon


Cool Idea of the Day: Jonathan Evison 'On Tap'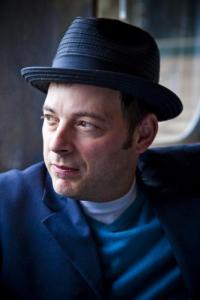 On its Facebook page, Maria's Bookshop, Durango Colo., noted: "Just in case you're wondering what inspired the idea to have our upcoming event on 4/22 with author Jonathan Evison at Ska Brewing, have a look at the great graphic on the homepage of his website."


Audiobook Trailer of the Day: Isabella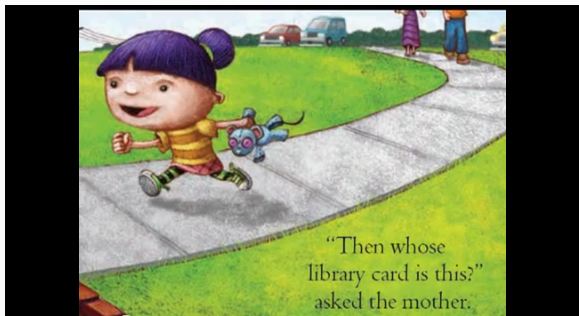 Nancy Pearl records her first children's audiobook, Isabella: Star of the Story by Jennifer Fosberry, illustrations by Mike Litwin (Sourcebooks).


Last Gasp to Distribute PIE International/PIE Books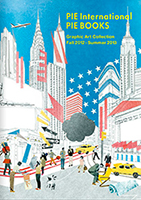 Effective July 1, PIE International/PIE Books, Tokyo, will be distributed in the U.S. and Canada by Last Gasp. PIE's titles were previously distributed by Rizzoli International Publications and Random House.
Founded in 1971, PIE specializes in graphic design and art books, as well as Japanese cultural titles. It publishes about 100 new titles annually and has an active backlist of more than 350 titles. New and recent titles include: Nobu Vegetarian Cookbook; Maija Isola: Art, Fabric, Marrimekko; Hokusai Manga; Shunga: Japanese Erotic Art; Genga by Katsuhiro Otomo; and Hero & Heroines: Japanese Video Game + Animation Illustration.
"Our strength lies in presenting high quality 'sweet & fresh' creative works from all over the world in the field of design, art, and culture books," PIE International president Hiromoto Miyoshi said. "I am very honored to have a partnership with Last Gasp, as we both share a uniqueness in the market. I wish from the bottom of my heart that our books will enrich the lives of creative professionals and art lovers in North America."


Book Trailer of the Day: On God's Side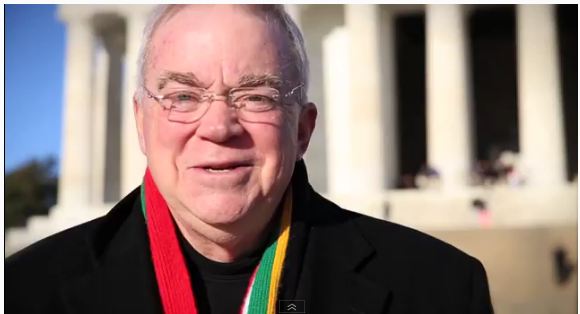 On God's Side: What Religion Forgets and Politics Hasn't Learned About Serving the Common Good by Jim Wallis (Brazos Press).


Media and Movies
Media Heat: David Sheff on Fresh Air
Today on NPR's Fresh Air: David Sheff, author of Clean: Overcoming Addiction and Ending America's Greatest Tragedy (Eamon Dolan/Houghton Mifflin Harcourt, $25, 9780547848655).
---
Tomorrow morning on the Today Show: Donna Freitas, author of The End of Sex: How Hookup Culture is Leaving a Generation Unhappy, Sexually Unfulfilled, and Confused About Intimacy (Basic, $25.99, 9780465002153).

---

Tomorrow on Dr. Oz: Sampson Davis, co-author of Living and Dying in Brick City: An E.R. Doctor Returns Home (Spiegel & Grau, $25, 9781400069941).

---

Tomorrow on KCRW's Bookworm: Joyce Carol Oates, author of The Accursed (Ecco, $27.99, 9780062231703). As the show put it: "Joyce Carol Oates says the first scary book she read was Alice in Wonderland. This is apt, because her current novel transports readers into a fearsome world where the realms of the human and the nightmare overlap. Set on the Princeton campus in 1905, The Accursed is a penetrating social commentary masquerading as a classic American Gothic. Oates talks about this tale of consciousness, repression, and American high society's unspeakable demons."

---

Tomorrow on CNBC's Squawk Box: Neil Irwin, author of The Alchemists: Three Central Bankers and a World on Fire (Penguin Press, $29.95, 9781594204623).

---

Tomorrow on NPR's All Things Considered: Charles V. Bagli, author of Other People's Money: Inside the Housing Crisis and the Demise of the Greatest Real Estate Deal Ever Made (Dutton, $28.95, 9780525952657).


Movies: Out of Print at Tribeca Film Festival
Out of Print, a documentary narrated by Meryl Streep and directed by Vivienne Roumani, will have a special screening this month during the Tribeca Film Festival in New York City. The movie, which examines "questions confronting the modern word industry and proves that more is at stake than how quickly we can access the latest bestseller," features interviews with numerous people deeply connected to the world of books, including Jeff Bezos, Scott Turow, Ray Bradbury, Fred Bass, Jane Friedman and more.


Books & Authors
Awards: British Science Fiction Association
Adam Roberts won the British Science Fiction Association best novel prize for Jack Glass, which awards administrator Donna Scott called "an amazing book which successfully blends crime and science fiction into a triptych of appealing narratives concerning--of all things--a sociopathic protagonist. It's highly intelligent and skillful storytelling." You can find a complete list of BSFA category winners here.


Attainment: New Titles Out Next Week
Selected new titles appearing next Tuesday, April 9:

Don't Go by Lisa Scottoline (St. Martin's Press, $27.99, 9781250010070) features a military doctor who suddenly becomes a widower and single father.

The Lost Daughter: A Memoir by Mary Williams (Blue Rider, $26.95, 9780399160868) is the memoir of Jane Fonda's adopted daughter.
The Interestings: A Novel by Meg Wolitzer (Riverhead, $27.95, 9781594488399) follows the lives of a group who met at an arts summer camp in 1974 into adulthood and middle age.

The Creation of Anne Boleyn: A New Look at England's Most Notorious Queen by Susan Bordo (Houghton Mifflin Harcourt, $27, 9780547328188) examines the life and cultural legacy of Anne Boleyn.

Unintended Consequences by Stuart Woods (Putnam, $26.95, 9780399159879) continues the Stone Barrington thriller series.


Book Brahmin: Lucy Knisley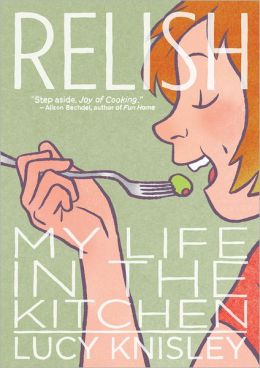 Lucy Knisley was born in New York City, raised in Rhinebeck, N.Y., and educated in Chicago. She has come home to roost in a tiny apartment in Manhattan, where she can be closer to her mom's cooking. Her comics about life, food, travel and her adventures have gained her a devoted audience on the Internet, and she is now doing food comics for the magazine Saveur, which just sent her to Africa. Knisley's first book, French Milk, is a travelogue about a trip to Paris. Her new book is Relish: My Life in the Kitchen (First Second, April 2, 2013).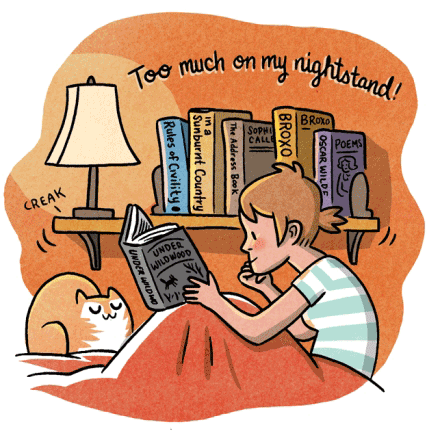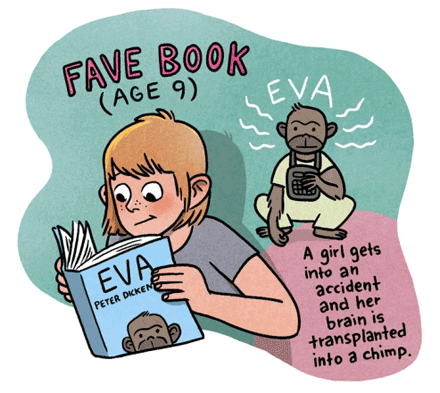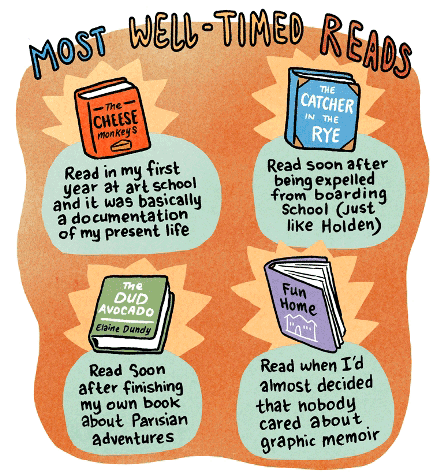 Book Review
Children's Review: Doll Bones
Doll Bones by Holly Black, illus. by Eliza Wheeler (McElderry/S&S, $16.99 hardcover, 256p., ages 10-14, 9781416963981, May 7, 2013)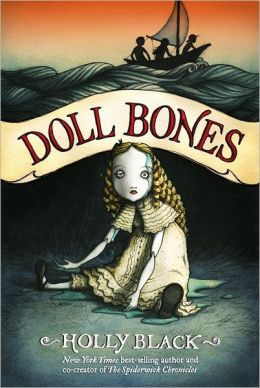 Holly Black (the Curse Workers series) breaks new ground with this tale of a haunted doll that acts as a catalyst in a friendship between three 12-year-olds. The author captures the moment when a child crosses the threshold into adolescence--when boy-girl friendships come into question and imaginative games come under fire.
Zach, Poppy and Alice have been friends since they were small. Poppy used to ride her bike past Zach's house, and befriended Alice at a carnival. Zach is the first of the three to outwardly show signs of maturing. He shoots up physically and feels torn between continuing the role-playing games he enjoys with Poppy and Alice, and the ridicule he'd receive from his basketball teammates if they ever found out. Together, the three use action figures to create elaborate story lines. Zach's favorite is William the Blade, pirate captain of the Neptune's Pearl. Alice's Lady Jaye is "loud and wild, almost nothing like Alice," who acquiesces to her grandmother's overprotection. Poppy, as ringleader, often sets the story lines. One doll, the Queen, scares them. Polly's mother keeps her in a locked glass case. The Queen is "a bone china doll of a child with straw-gold curls and paper-white skin."
One day, while Zach is at school, his father throws out his toys. Tension between them escalates, and Zach contemplates running away. He cuts off ties with Alice and Poppy rather than tell them the truth--that William the Blade is gone and the game is over. Then the Queen starts talking to Poppy, explaining that she's a girl whose ashes are trapped inside the doll and who longs to be buried in a cemetery a bus ride away. The three sneak away to fulfill the ghost girl's wish, and they are forever changed by their quest.
This is realistic, contemporary fiction for middle graders with gothic overtones. It's as psychologically haunting as the ghost girl's physical haunting. Holly Black taps into the children's feelings of being pulled in several directions at once--questioning what they thought they knew of their families, their friends and themselves. They go from playing by the rules to making them up as they go along. The author also reveals the damaging effect of keeping a secret. Zach says, "[I]t seemed as though not telling Poppy and Alice what had happened to his action figures or why he didn't want to play made it hard to tell about other things, too." Black demonstrates how the children growing up also plays into the adults' fears. As her eyesight diminishes, Alice's grandmother exerts control over her grandchild; Zach's father is afraid his son will be just like him.
Black begins with an ordinary experience of childhood and gives it a wicked twist to reveal the truth at the center of the impulse for storytelling. --Jennifer M. Brown
Shelf Talker: In Holly Black's contemporary story with gothic overtones, a haunted doll acts as a catalyst in a friendship between three 12-year-olds.


The Bestsellers
Top Book Club Picks in March
The following were the most popular book club books during March based on votes from more than 80,000 book club readers from more than 35,000 book clubs registered at Bookmovement.com:

1. Gone Girl by Gillian Flynn
2. Defending Jacob: A Novel by William Landay
3. What Alice Forgot by Liane Moriarty
4. The Kitchen House: A Novel by Kathleen Grissom
5. The Great Gatsby by F. Scott Fitzgerald
6. The Secret Keeper: A Novel by Kate Morton
7. The Round House by Louise Erdrich
8. The Dinner by Herman Koch
9. The Fault in Our Stars by John Green
10. Unbroken: A World War II Story of Survival, Resilience, and Redemption by Laura Hillenbrand

Rising Stars:

Wonder by R.J. Palacio
Me Before You by Jojo Moyes

[Many thanks to Bookmovement.com!]