Shelf Awareness for Wednesday, June 12, 2013

News
ABFFE Joins Protest over NSA Surveillance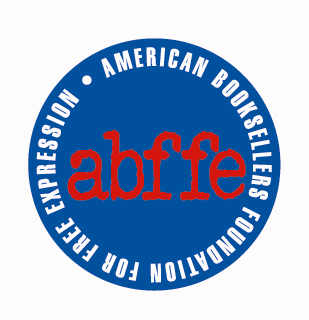 The American Booksellers Foundation for Free Expression has joined the ACLU, the American Library Association and more than 80 civil liberties, government reform and digital advocacy groups--as well as several companies--in protesting the National Security Administration's recently revealed surveillance of the telephone records and Internet activity of American citizens, an issue that has been making international headlines recently.

A letter sent to members of Congress criticized a program of "blanket surveillance" by NSA that includes the collection of the telephone records of all customers of Verizon under Section 215 of the USA Patriot Act. The coalition letter renews the call for reform of Section 215 and urges Congress to investigate and report the extent of the government's domestic spying and to hold accountable public officials who are responsible for unconstitutional surveillance.

"Booksellers, librarians and other members of the publishing community have been trying to amend Section 215 for years because it threatens the privacy of bookstore and library records," said ABFFE president Chris Finan. "The fact that NSA is collecting the phone records of every Verizon customer in the United States demonstrates that the threat to our privacy is very real. How can we speak and associate freely if we fear the government is watching us?"


It's 1984 All Over Again: Orwell's Book Sales Spike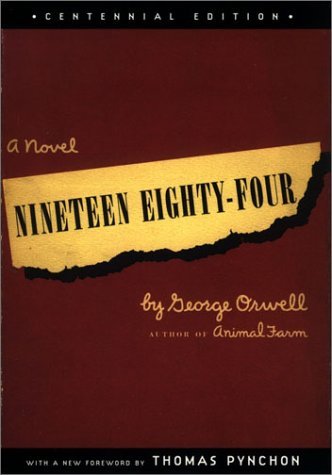 Daily disclosures about America's surveillance apparatus have sparked renewed interest in George Orwell's novel Nineteen Eighty-Four. The Wall Street Journal reported that by early yesterday, sales of the dystopian classic had jumped noticeably, with one edition rising more than 7,000% in its Amazon rankings, moving from #13,074 on Monday to the top 200.

The paperback edition Plume published on the centennial of Orwell's birth in 2003 was ranked #80 on Amazon this morning, and the 60th anniversary edition #149. Elizabeth Keenan, a spokeswoman for the publisher, told the Journal that the sales jump is "symptomatic of all the surveillance coverage," adding that while sales typically increase this time of year because of high school summer reading lists, this spike was unusual and "Plume wasn't ruling out a relaunch of the book to capitalize on the interest."


Kenn Nesbitt Is Children's Poet Laureate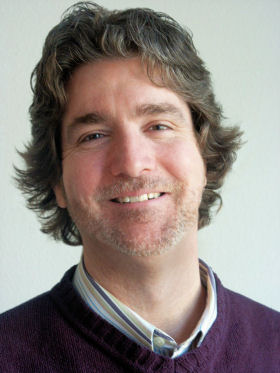 Kenn Nesbitt has been named the new Children's Poet Laureate: Consultant in Children's Poetry to the Poetry Foundation, which noted that the two-year position comes with a $25,000 prize and "aims to raise awareness that children have a natural receptivity to poetry and are its most appreciative audience, especially when poems are written specifically for them." He succeeds J. Patrick Lewis.

"With the appointment of Kenn Nesbitt, we welcome a new generation of poets who will continue to delight the hearts and excite the minds of children everywhere," said Poetry Foundation president John Barr.

At 51, Nesbitt is the youngest poet ever to hold the title. His books of poetry for children include The Tighty-Whitey Spider, My Hippo Has the Hiccups and Revenge of the Lunch Ladies. In addition to publishing his work in anthologies, magazines and textbooks worldwide, his poems have also been adapted to other media, including music and film.


New U.K. Distribution for Chelsea Green

Effective immediately, Chelsea Green has set up a sales and distribution partnership in the U.K. with Publishers Group U.K. Fulfillment is now through Grantham Book Services.

"Their track record representing U.S. publishers in the U.K. is excellent, and they really 'get' our books," said Michael Weaver, Chelsea Green's trade and export sales manager.

Cathy Parson, PGUK joint managing director, said the company has "a great respect and affinity for their publishing program and look forward to working closely with them to develop sales in the U.K. and Europe."


Audible to Delete '$1 Honoraria Benefit' for Authors

Effective June 30, Amazon's Audible digital audiobook company will discontinue the $1 honoraria benefit of its Author Services program launched last year. A note to authors on Audible's website thanked them "for their participation in Author Services to date" as well as their "feedback over the life of the program." The company also credited the "insights" of participating authors for helping Audible "launch new programs and features to better support all authors, including a sales dashboard for authors who make their titles available through ACX.com and distribution of free author copies of your audiobooks as they are released."

The note also offered a suggestion: "To continue to maximize your earnings from your audiobooks, we encourage you to continue to promote the format and to make sure all of your books--frontlist and backlist--are available at Audible as audiobooks."

Audible's Matthew Thornton told paidContent that "programs like this one do have a lifespan, and we initially forecast Audible Author Services through the end of 2012, but kept it going longer because it was so successful in getting some authors to recognize the value of their audiobooks and to raise awareness of their audiobooks alongside their print and ebooks. We've now shifted our focus to testing the potential of some other innovative author-focused programs, and you may well see a variation on Audible Author Services down the road."


Obituary Note: Yoram Kaniuk
Yoram Kaniuk, an author (Adam Resurrected was one of almost 30 books) and journalist "from Israel's founding generation who often expressed bleak views about what the country had become," died Saturday, the New York Times reported. He was 83.


Notes
Image of the Day: Celebrating Creston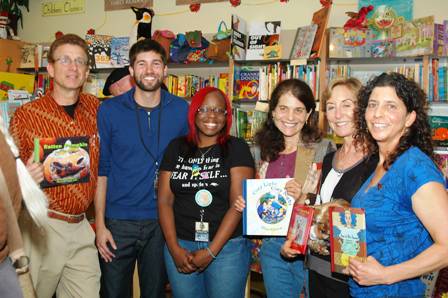 Creston Books, a new small press specializing in children's books, celebrated its launch with a party at Books Inc. in Berkeley, Calif. Pictured are author David Schwartz; store manager Andy Perham and Melanie Knight of Books Inc.; author-illustrator Elisa Kleven; author Marcia Goldman; and Creston Books' publisher and author Marissa Moss.


Cool Idea of the Day: 'Local Gossip' as Income Stream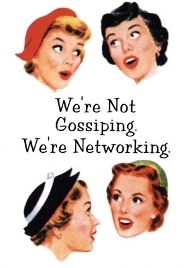 From Pamela Grath, owner of Dog Ears Books, Northport Mich.: "Need new income stream for bookstore. Am considering the following: 'LOCAL GOSSIP: 5 min./$20.' Too cheap?"


Japan: E-Book Stealing & Book Stacking
Two men were arrested last week in Japan for allegedly using an illegal iAP Cracker app for smartphones and similar devices to steal more than ¥200,000 (about US$2,068) worth of e-books from Kinoppy, an online bookstore operated by the Kinokuniya chain. The Japan Times reported that Takahito Kano and Shuho Kikuzawa were charged with acquiring 259 e-books "using an application that sends a false message to an online store's server that a payment has been completed. Both admitted the wrongdoing." It is the first time police have investigated e-book theft.

---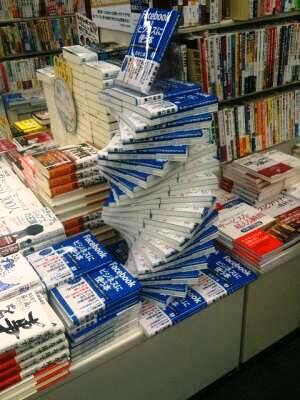 The "avant-garde art of book stacking" is an increasingly popular option for Japanese booksellers hoping to "to stand out and get noticed," RocketNews24 reported, noting that while "style is important, size and strength seem to be the goals of this style."




Book Trailer of the Day: Belle Epoque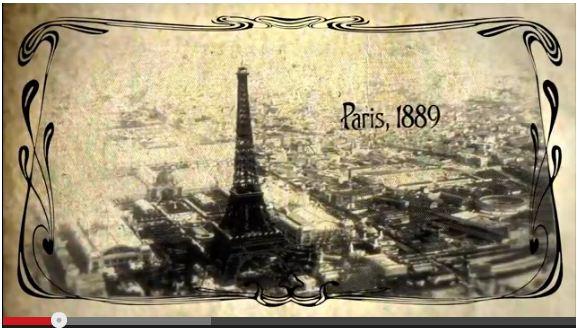 Belle Epoque, Elizabeth Ross's YA debut novel (Delacorte).


Media and Movies
Media Heat: Kjerstin Gruys on the Colbert Report
Tomorrow on KCRW's Bookworm: Marisa Silver, author of Mary Coin (Blue Rider, $26.95, 9780399160707). As the show put it: "Inspired by an iconic American image, Marisa Silver's Mary Coin imagines the fabric of life behind Dorothea Lange's Depression-era photograph Migrant Mother. Silver is interested in the chance operations of history and the stark divides between our internal and external selves."
---
Tomorrow on Fox Business's Markets Now: Glen Hubbard and Tim Kane, authors of Balance: The Economics of Great Powers from Ancient Rome to Modern America (Simon & Schuster, $28, 9781476700250).
---
Tomorrow on NPR's Diane Rehm Show: Shohreh Aghdashloo, author of The Alley of Love and Yellow Jasmines (Harper, $26.99, 9780062009807).
---
Tomorrow night on the Colbert Report: Kjerstin Gruys, author of Mirror, Mirror Off the Wall: How I Learned to Love My Body by Not Looking at It for a Year (Avery, $26, 9780399160172).


Movies: New World War Z Pics & TV Spots
Hoping to build anticipation for the June 21 release of Brad Pitt's World War Z, adapted from the novel by Max Brooks, Paramount has released more than 20 new photos and seven TV Spots. Indiewire reported that "Paramount, and particularly Pitt--who hit four cities in one day to pop in and wave to crowds at advance screenings--are pushing this one with all the muscle they've got" to promote the high-budget movie.


TV: Someone Knows My Name
Production will begin this fall in South Africa on a screen adaptation of Canadian writer Lawrence Hill's The Book of Negroes, the award-winning 2007 novel that was published in the U.S., Australia and New Zealand under the title Someone Knows My Name, CBC News reported.

The miniseries, a joint Canada/South Africa production, will eventually air on CBC and the American network BET. Toronto-based filmmakers Clement Virgo and Damon D'Oliveira of Conquering Lion Pictures own the film rights and will collaborate on writing the forthcoming miniseries, with Virgo directing.


Books & Authors
Awards: Bodleian Bookbinding Prize
British designer Dominic Riley won the £10,000 (about US$15,615) Sir Paul Getty Bodleian Bookbinding Prize. BBC News reported that, given the theme of William Shakespeare, Riley "produced a binding made of brown and black goatskin which depicts the story of Pyramus and Thisbe." His work has been donated to the Bodleian Library at the University of Oxford.


Book Brahmin: Laura Andersen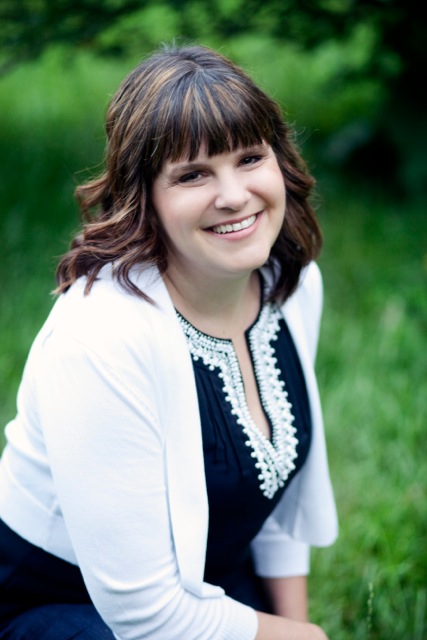 photo: Mandy Baker
Laura Andersen has one husband, four children and a college degree in English that she puts to non-profitable use by reading everything she can lay her hands on. Books, shoes and travel are her fiscal downfalls, which she justifies because all three "take you places." She loves the ocean (but not sand), forests (but not camping), good food (but not cooking) and shopping (there is no downside.) She lives in Massachusetts with her family. Her first book, The Boleyn King, was published last month by Ballantine.
On your nightstand now:
Quiet by Susan Cain: for the introvert in me. Jane by April Lindner: Who doesn't love a good Jane Eyre re-imagining? The Flight of Gemma Hardy by Margot Livesey: Who doesn't love a second good Jane Eyre re-imagining? Speaking from Among the Bones by Alan Bradley: because I'm always reading a mystery and I adore Bradley's young narrator, Flavia de Luce.
Favorite book when you were a child:
The Westing Game by Ellen Raskin. I must have checked this book out of my school library 50 times. I adored the eccentric characters, the brilliant puzzle, and especially Turtle Wexler, the 13-year-old genius who puts it all together.
Your top five authors:
Do you have any idea how painful it is to winnow down this number? I decided to narrow the field to my Top Five Authors Who are Alive and Currently Writing. Louise Penny: for the generosity and humanity of Chief Inspector Armand Gamache and her other flawed and complex characters. P.D. James: for the elegance of her writing and the psychological depth of her mysteries--and also the enigmatic Adam Dalgliesh. Sharon Kay Penman: for the details and brilliance of her settings and the emotional relevance she brings to history. Juliet Marillier: for the way she weaves magic and folklore into the fabric of history and for her enduringly powerful women. Brandon Sanderson: for epic original fantasy that creates worlds that make me say, "I want to believe."
Book you've faked reading:
My mother: "You've never faked reading a book in your life!"
Me: "I was an English major; I've faked reading many."
But the first was in high school, for junior year honors English: As I Lay Dying by William Faulkner. The title perfectly described how I felt while attempting to read it.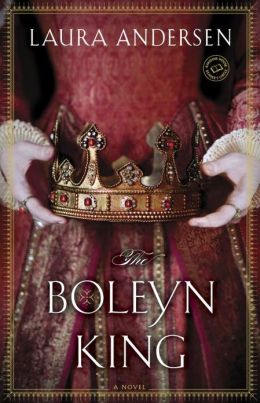 Book you're an evangelist for:
How the Irish Saved Civilization by Thomas Cahill. Through the centuries of the Dark Ages, literary scholarship almost vanished from continental Europe. Only on the remote, unconquered island of Ireland was the heritage of Western learning valued. Irish scribes labored lovingly to preserve the written records, and Irish missionaries returned those records to Europe. A must-read book for any lover of language and literature.
Book you've bought for the cover:
Mistress of Mellyn by Victoria Holt. As a young teenager, I stumbled upon Holt's gothic novels and discovered I'm a sucker for covers featuring stormy weather, shadowy architecture, and darkly dangerous heroes.
Book that changed your life:
One Corpse Too Many by Ellis Peters. My senior year of college, I took a mystery novels seminar in which I encountered the 12th-century crime-solving monk Brother Cadfael. Before then I had read mysteries and I had read historical fiction, but this book introduced me to a combination that had me singing: "I didn't know you could do this!" This book led me into an entirely new arena of fiction that I continue to revel in today.
Favorite line from a book:
"I wish it need not have happened in my time," said Frodo.
"So do I," said Gandalf, "and so do all who live to see such times, but that is not for them to decide. All we have to decide is what to do with the time that is given us."
--From The Fellowship of the Ring by J.R.R. Tolkien. I have delivered that last line so often to my children that they have been known to say, "Watch out--mom's going all Gandalf again."
Book you most want to read again for the first time:
Harry Potter and the Deathly Hallows by J.K. Rowling. Just to relive those hours of fulfillment for which I had waited so many years. Though I can (and have) re-read all the Harry Potter books, nothing matches the experience of discovering for the first time the fullness of what happens to Harry and Ron and Hermione and weeping right along with them.
Which English royal would you most like to meet?
I should probably say a Tudor, but frankly every single one of them scares me to death. I would probably choose Henry V, to see if he's as noble as history makes him out to be. Or Anne Neville, so briefly queen to Richard III, to see what a wife has to say of her much-maligned husband.


Book Review
Children's Review: The Time Fetch
The Time Fetch by Amy Herrick (Algonquin Young Readers, $16.95 hardcover, 320p., ages 10-up, 9781616202200, August 13, 2013)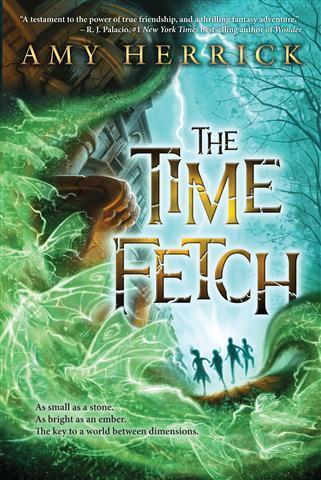 Have you ever wondered where the time goes? Why hours seem to leak out of the day? Amy Herrick's (The Happiness Code) charming and clever first book for children offers up an answer: it's because eighth-grader Edward disturbed a Fetch in the middle of December, "a dangerous time." The Fetch collects the stray minutes, the moments you won't miss--and disperses them where they're needed. But Edward's interference puts the Fetch's job in jeopardy.
Edward forgets the rock he was supposed to bring for Mr. Ross's science class, so he grabs the nearest one in the backyard of the house he shares with his kooky Aunt Kit. It offers some resistance, but he tears it away. Aunt Kit, with a sense of foreboding, tells him to come straight home because "it's the short end of the year," when "the curtain between here and there grows thin." As cryptic as her phrases seem, they begin to make sense to Edward. Odd occurrences rise up around this unusual rock. A stranger appears to Edward and wants to take it; a twister spins around him; and his neighbor and nemesis, Feenix, tries (and succeeds in her attempt) to take it during science class. Edward, who's always avoided Danton (a "decent student and Lord of the Inflated Rubber Ball") finds himself accepting Danton's help to reclaim his rock from Feenix. And Briget, a mute new girl to the school, also joins in the effort.
Herrick leads the classmates on a fantastical journey, weaving in ideas about the nature of time. Edward's Aunt Kit first broaches the subject ("Without time everything would happen at once," says she), then Mr. Ross introduces the topic of time as the fourth dimension (along with length, width and height). As the foragers (tiny time gobblers) within the Fetch leak out and multiply, the fabric of the world (which Aunt Kit calls "the Great Web") becomes vulnerable. The author strategically places all the clues needed in the first chapters, and as her story unfolds, their significance comes to light. Sophisticated readers will enjoy the sly allusion to Macbeth and the exploration of time's qualities. All readers will enjoy this novel as an adventure story featuring a team of unlikely friends with an array of talents--each essential to their mission to restore the Fetch to its proper place. --Jennifer M. Brown
Shelf Talker: After an eighth-grader interrupts the ancient ritual of keeping time in balance, he must band together with a scrappy crew of classmates to undo the damage.